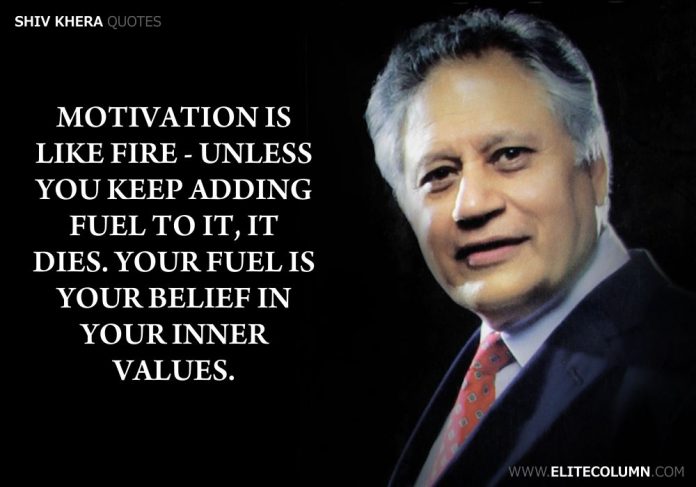 Shiv Khera is an Indian author, activist and motivational speaker. He launched a movement against caste-based reservation in India. He also founded an organization named Country First Foundation and commenced the Bhartiya Rashtravadi Samanta Party. Before becoming a motivational speaker, he worked as a car washer, a franchise operator, and a life insurance agent. In 1998, he published his first book 'You Can Win'. EliteColumn offers the best Shiv Khera quotes.
52 Motivational Shiv Khera Quotes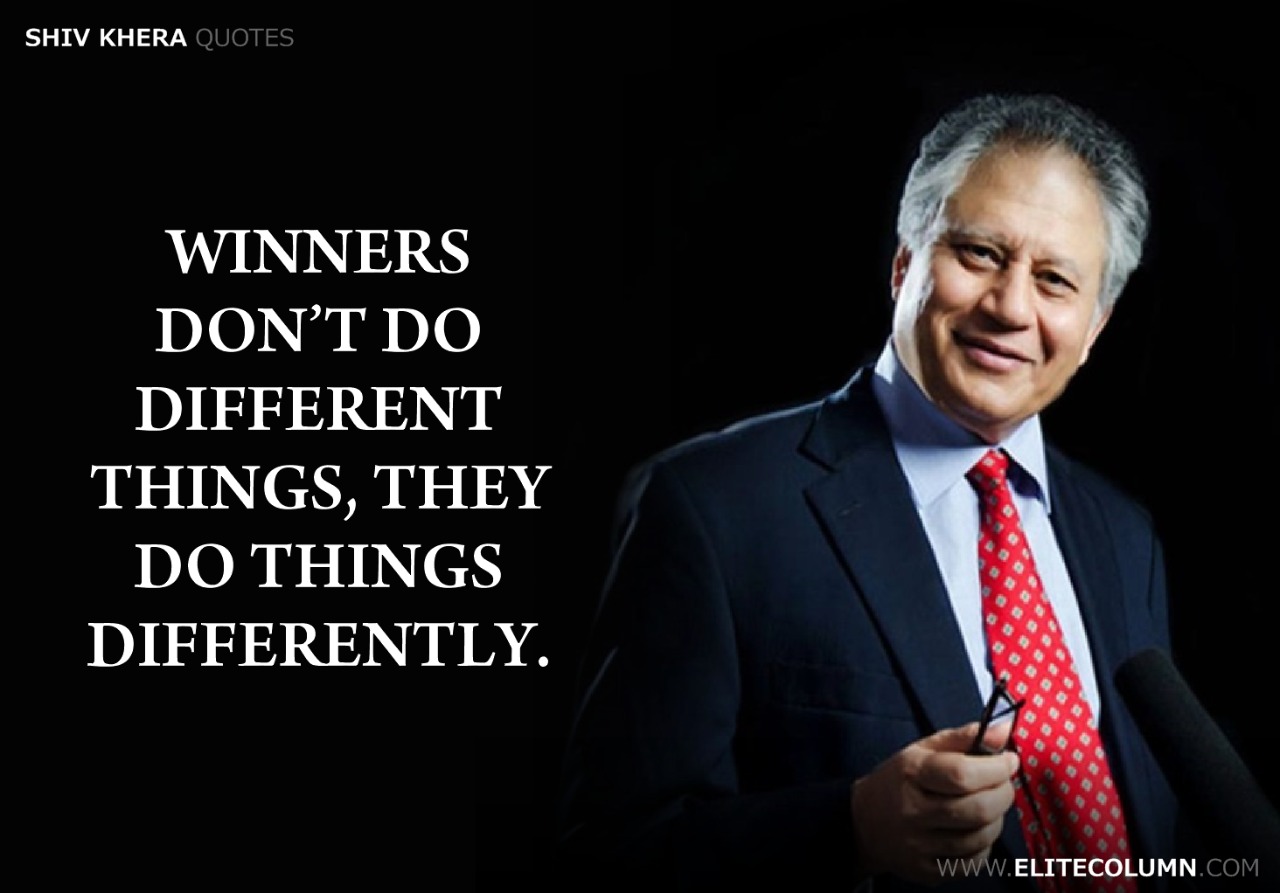 1. "Winners don't do different things, they do things differently." – Shiv Khera
2. "Direction is more important than speed. Many people are going nowhere fast." – Shiv Khera
3. "Human multitasking is the ability to do multiple things, but one at a time." – Shiv Khera
4. "Winners see the gain; losers see the pain." – Shiv Khera
5. "The way to get started is to stop talking and get started." – Shiv Khera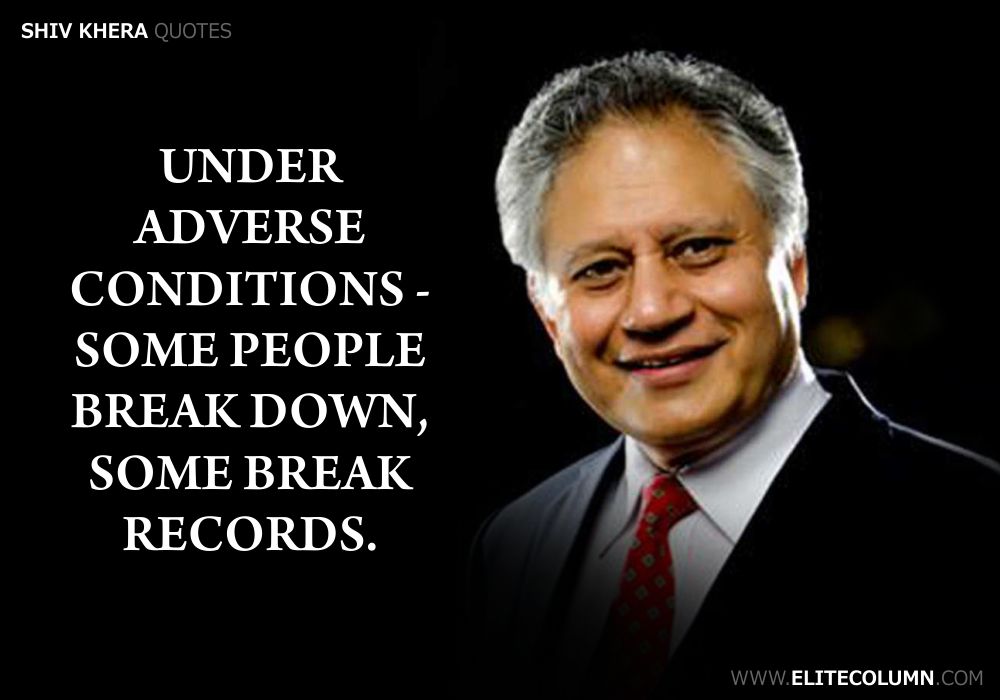 6. "Under adverse conditions – some people break down, some break records." – Shiv Khera
7. "Leadership is about persuasion, presentation, and people skills." – Shiv Khera
8. "Maintain an idea book, ideas evaporate faster than we think." – Shiv Khera
9. "Ninety percent of selling is conviction, and ten percent is persuasion." – Shiv Khera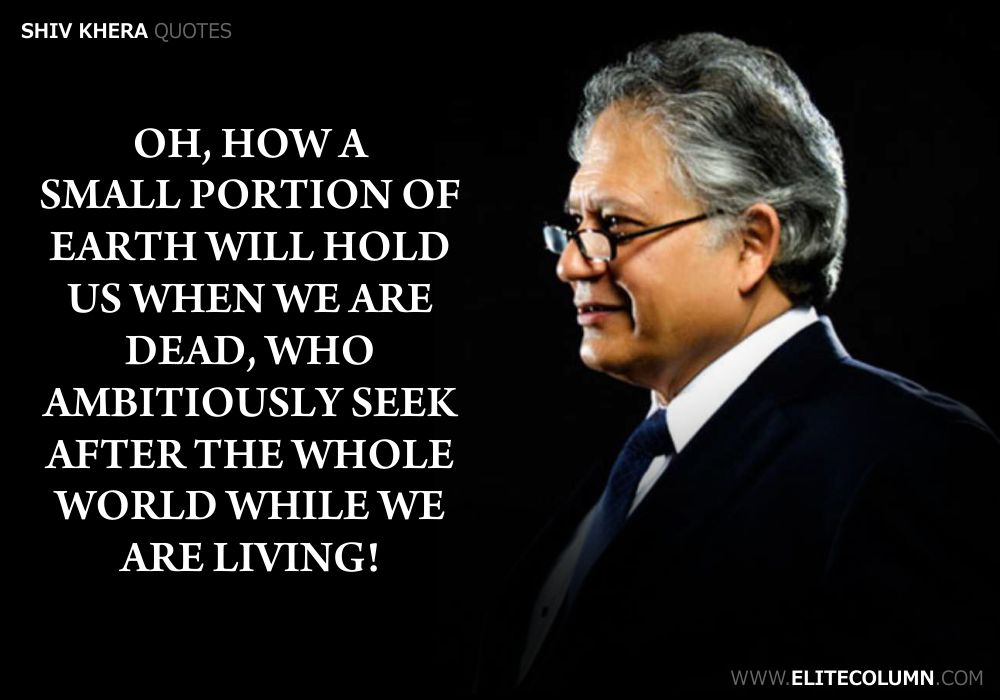 10. "Oh, how a small portion of earth will hold us when we are dead, who ambitiously seek after the whole world while we are living!" – Shiv Khera
11. "Success is not an accident. It is the result of your attitude and your attitude is a choice." – Shiv Khera
12. "So long as you have your eyes on the goal, you don't see the obstacles." – Shiv Khera
13. "It is easier to make money but much tougher to make a difference." – Shiv Khera
14. "Have a vision. It is the ability to see the invisible. If you can see the invisible, you can achieve the impossible." – Shiv Khera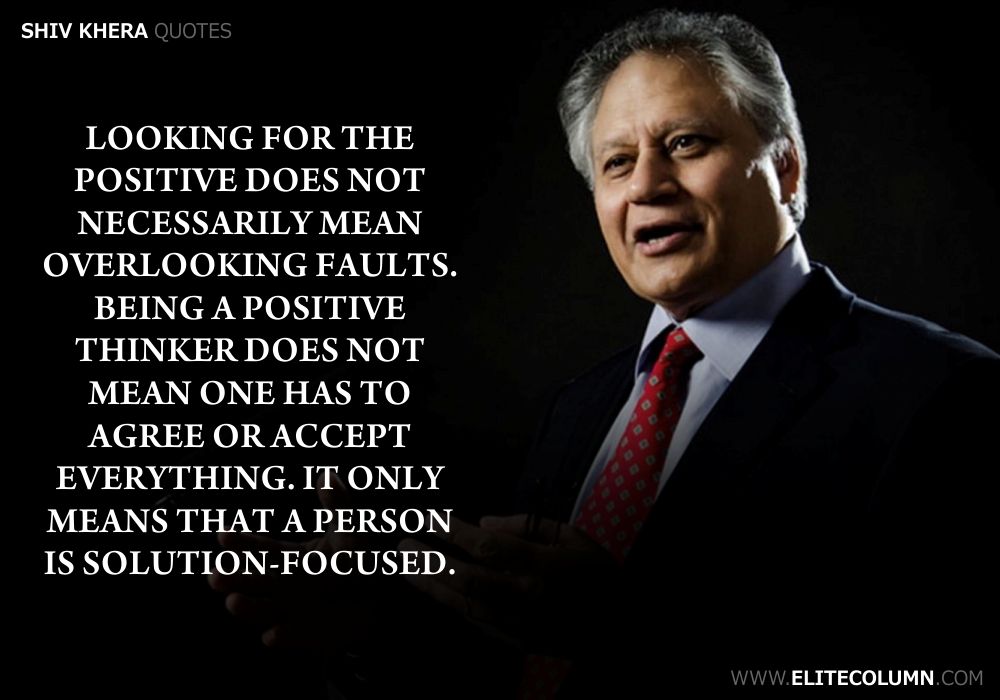 15. "Looking for the positive does not necessarily mean overlooking faults. Being a positive thinker does not mean one has to agree or accept everything. It only means that a person is solution-focused." – Shiv Khera
16. "I think it's the person's conviction that really carries a person." – Shiv Khera
17. "Your positive action combined with positive thinking results in success." – Shiv Khera
18. "There is no substitute to hardwork." – Shiv Khera
19. "People who wish to go into the future should have two skills to succeed – the ability to deal with people and the ability to sell." – Shiv Khera

20. "An uneducated thief may steal goods from the train but an educated one may steal the entire train. We need to compete for knowledge and wisdom, not for grades." – Shiv Khera
21. "When we take care of our people problems our business problems are automatically solved." – Shiv Khera
22. "If you think you can – you can. If you think you can not – you cannot. And either way, you are right." – Shiv Khera
23. "Negative people will always criticize." – Shiv Khera
24. "Where are the people who don't have goals headed? Those 97 percent end up working for the 3 percent." – Shiv Khera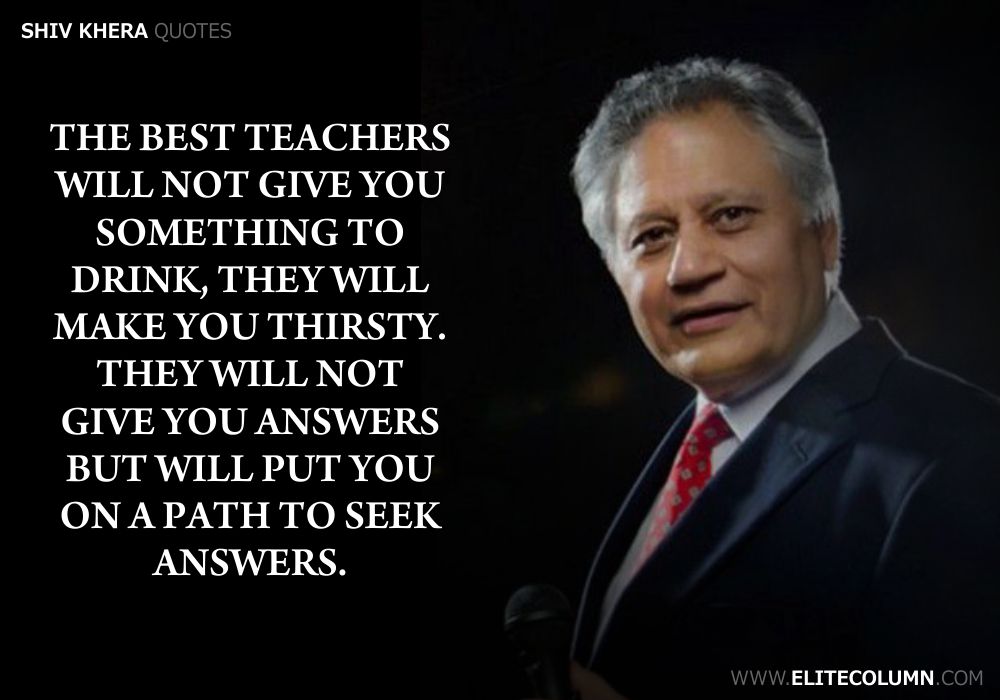 25. "The best teachers will not give you something to drink, they will make you thirsty. They will not give you answers but will put you on a path to seek answers." – Shiv Khera
26. "A person with a positive attitude is like a fruit for all seasons." – Shiv Khera
27. "Ability teaches us how to do, motivation determines why we do, and attitude decides how well we do." – Shiv Khera
28. "Money is a very important tool to make a big difference in people's lives. It is positive or negative depending on the values." – Shiv Khera
29. "My first objective is to invest, and if I have anything spare, then I spend." – Shiv Khera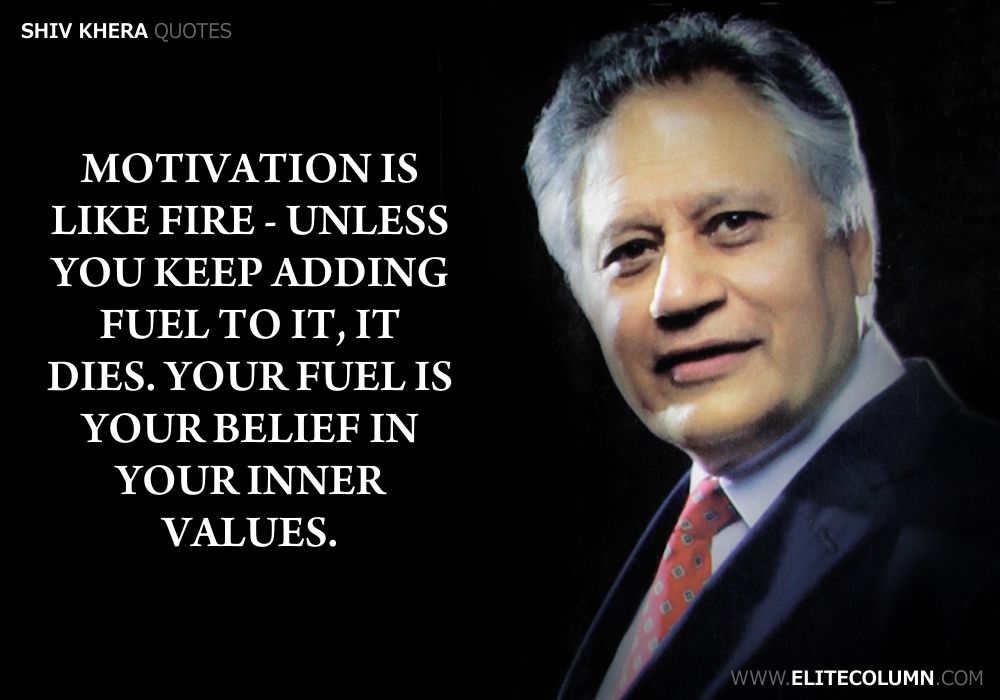 30. "Motivation is like fire – unless you keep adding fuel to it, it dies. Your fuel is your belief in your inner values." – Shiv Khera
31. "One cannot be a good teacher unless he is a good student." – Shiv Khera
32. "Opportunity is always under our feet. We don't have to go anywhere. All we need to do is recognize it." – Shiv Khera
33. "Winners see the gain; losers see the pain." – Shiv Khera
34. "The difference if I buy a photocopier from you, I have made a transaction and am considered a customer." – Shiv Khera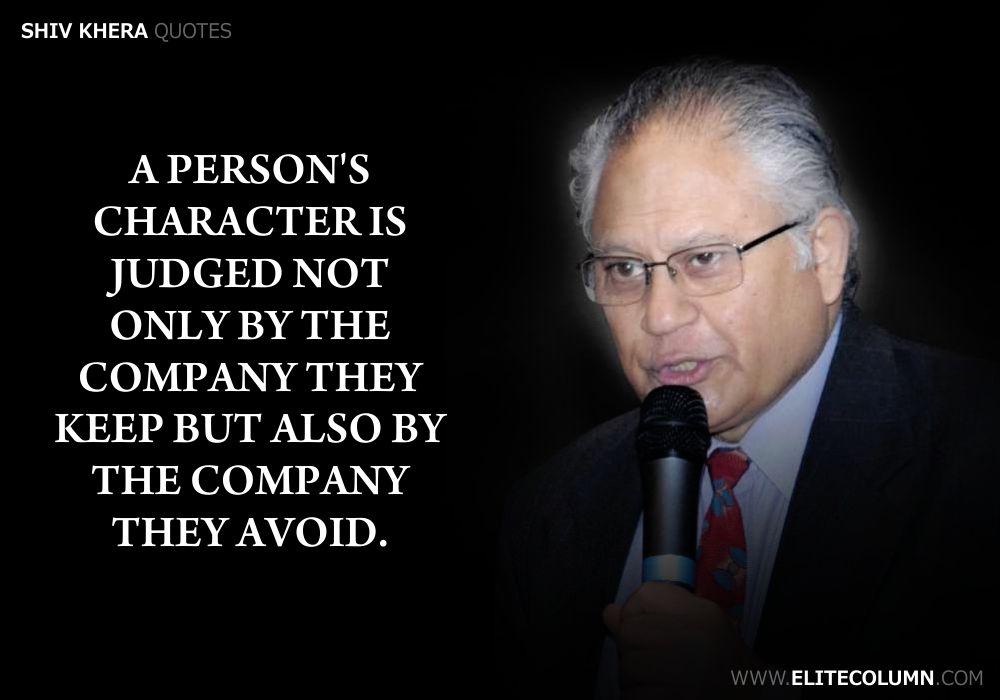 35. "A person's character is judged not only by the company they keep but also by the company they avoid." – Shiv Khera
36. "It is crucial to make the right decision at the right time." – Shiv Khera
37. "The difference between a great man and a little man is their commitment to integrity and hardwork." – Shiv Khera
38. "Everything that we enjoy is a result of someone's hard work. Some work is visible and other work goes unseen, but both are equally important." – Shiv Khera
39. "Ability will get you success; character will keep you successful." – Shiv Khera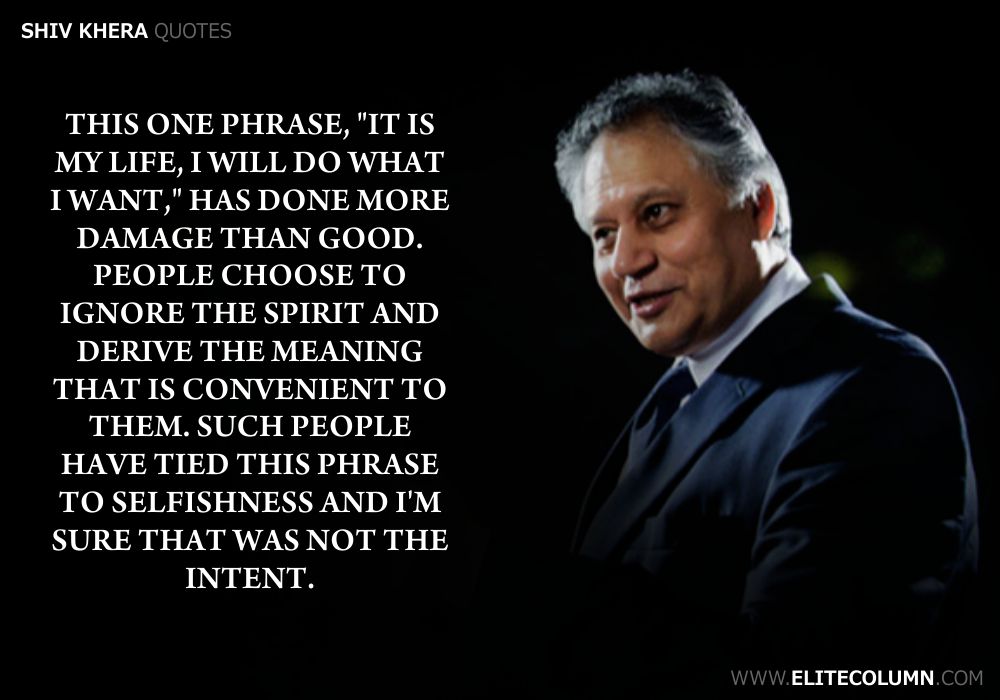 40. "This one phrase, "It is my life, I will do what I want," has done more damage than good. People choose to ignore the spirit and derive the meaning that is convenient to them. Such people have tied this phrase to selfishness and I'm sure that was not the intent." – Shiv Khera
41. "True character is doing the right thing even when no one is watching." – Shiv Khera
42. "Wise people prefer to benefit from constructive criticism rather than be ruined by false praise." – Shiv Khera
43. "Be courteous to all, but intimate with a few and let those few be well tried before you give them your confidence." – Shiv Khera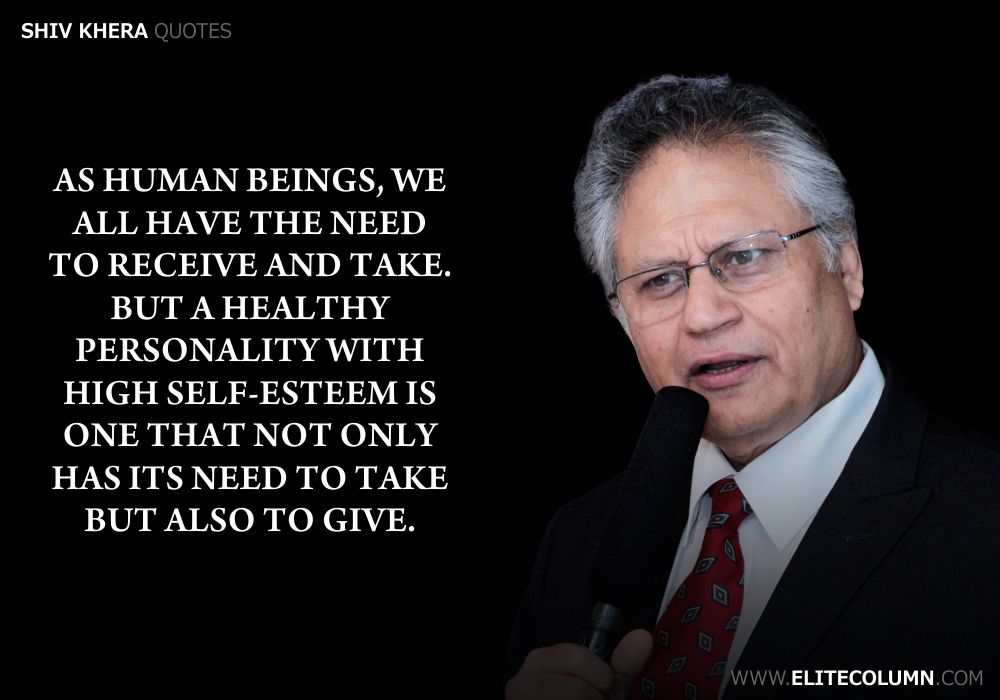 44. "As human beings, we all have the need to receive and take. But a healthy personality with high self-esteem is one that not only has its need to take but also to give." – Shiv Khera
45. "If we are not part of the solution, then we are the problem." – Shiv Khera
46. "Lot of things depend on the upbringing of the child." – Shiv Khera
47. "Feeling good is a natural outcome of doing good; and doing good is a natural outcome of being good." – Shiv Khera
48. "Humans can create their own environment, whereas animals have to adapt to their environment." – Shiv Khera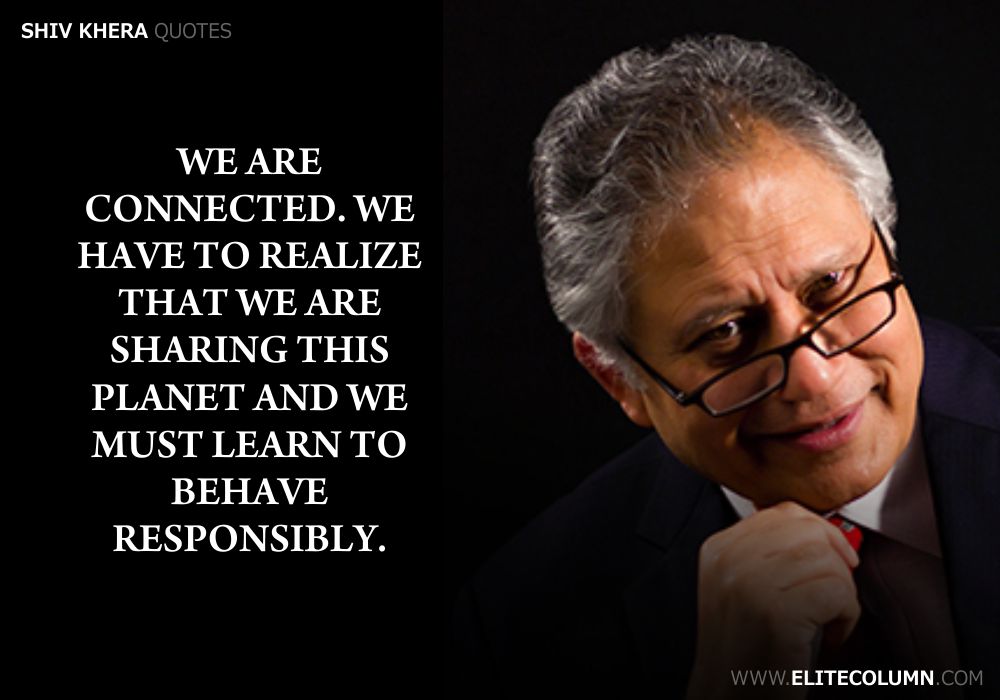 49. "We are connected. We have to realize that we are sharing this planet and we must learn to behave responsibly." – Shiv Khera
50. "Many people don't understand the difference between idle time and leisure time. Idle time amounts to wasting or stealing time; leisure time is earned." – Shiv Khera
51. "Intellectual education influences the head and values-based education influences the heart." – Shiv Khera
52. "The essence of relationship selling is when we convert a customer into a client and the seller gains the status of a supplier." – Shiv Khera
Thanks for checking out the best Shiv Khera quotes. Feel free to share the quotes with your friends. Leave a comment below and which are your favorite Shiv Khera quotes ?
See also:
Jack Canfield Quotes | Joe Dispenza Quotes | Dandapani Quotes | Les Brown Quotes | Malcolm Gladwell Quotes | Robin Sharma Quotes | Shawn Achor Quotes
You can find us at – Facebook | Instagram | LinkedIn | Pinterest | Twitter