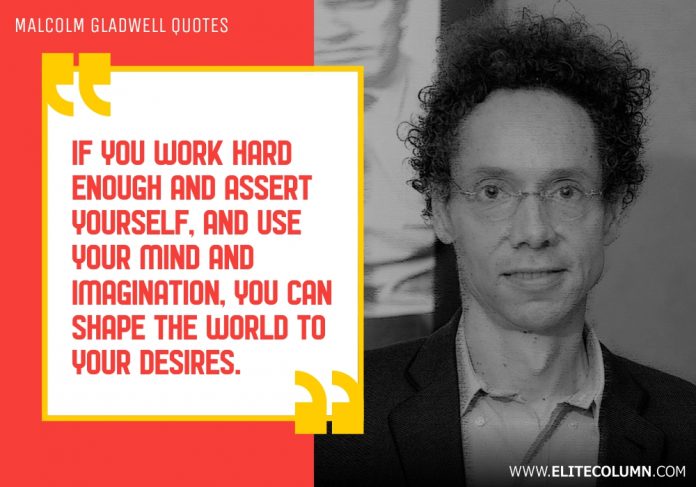 Malcolm Timothy Gladwell is a Canadian journalist, author, and public speaker. He has been a staff writer for The New Yorker since 1996. When he was 11, his father, a professor of mathematics and engineering, allowed him to wander around the offices at his university, which stoked the boy's interest in reading. He introduced the concept of the "talent myth" that companies and organizations, supposedly, incorrectly follow. EliteColumn has handpicked best Malcolm Gladwell quotes from this famous speaker.
36 Inspirational Malcolm Gladwell Quotes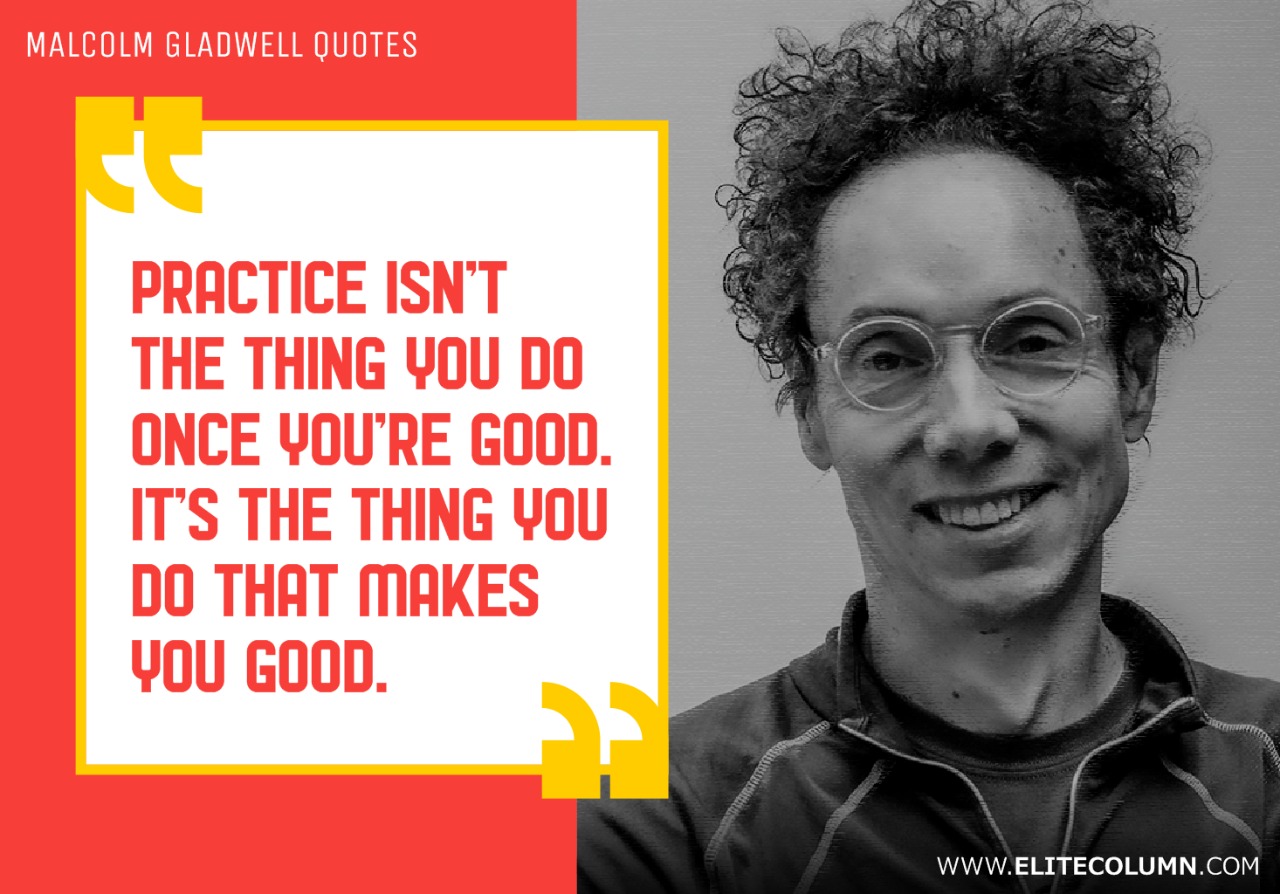 1. "Practice isn't the thing you do once you're good. It's the thing you do that makes you good." – Malcolm Gladwell
2. "The world we could have is so much richer than the world we have settled for." – Malcolm Gladwell
3. "The values of the world we inhabit and the people we surround ourselves with, have a profound effect on who we are." – Malcolm Gladwell
4. "Achievement is talent plus preparation." – Malcolm Gladwell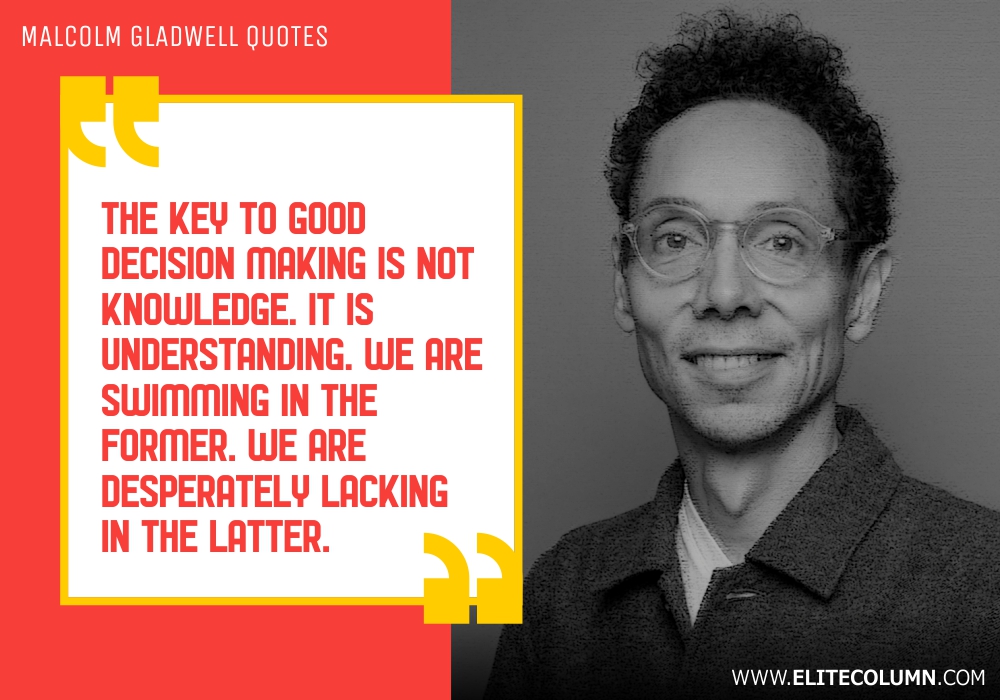 5. "The key to good decision making is not knowledge. It is understanding. We are swimming in the former. We are desperately lacking in the latter." – Malcolm Gladwell
6. "Some pretend to be rich, yet have nothing; others pretend to be poor, yet have great wealth." – Malcolm Gladwell
7. "Those three things – autonomy, complexity, and a connection between effort and reward – are, most people will agree, the three qualities that work has to have if it is to be satisfying." – Malcolm Gladwell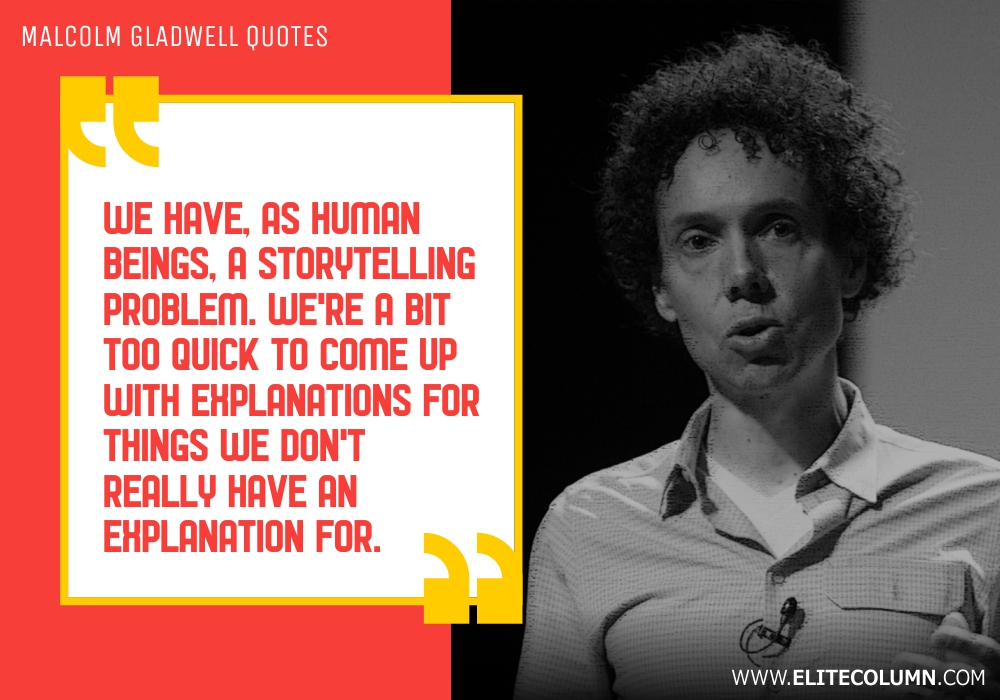 8. "We have, as human beings, a storytelling problem. We're a bit too quick to come up with explanations for things we don't really have an explanation for." – Malcolm Gladwell
9. "Extraordinary achievement is less about talent than it is about opportunity." – Malcolm Gladwell
10. "Truly successful decision-making relies on a balance between deliberate and instinctive thinking." – Malcolm Gladwell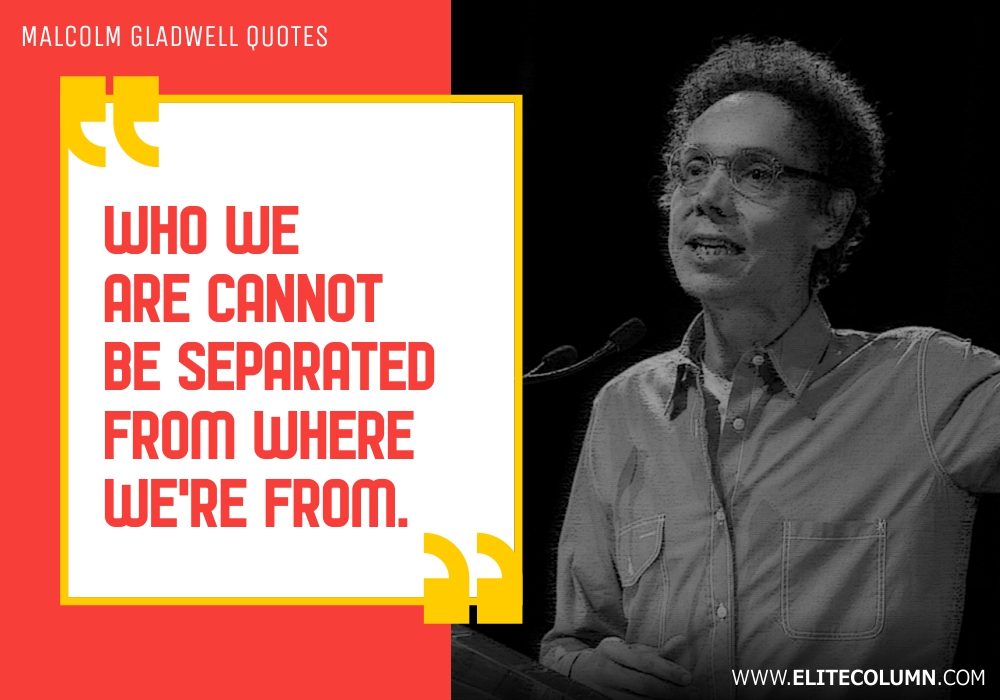 11. "Who we are cannot be separated from where we're from." – Malcolm Gladwell
12. "Outliers are those who have been given opportunities – and who have had the strength and presence of mind to seize them." – Malcolm Gladwell
13. "What is learned out of necessity is inevitably more powerful than the learning that comes easily." – Malcolm Gladwell

14. "It is those who are successful, in other words, who are most likely to be given the kinds of special opportunities that lead to further success." – Malcolm Gladwell
15. "To be someone's best friend requires a minimum investment of time. More than that, though, it takes emotional energy. Caring about someone deeply is exhausting." – Malcolm Gladwell
16. "Success is not a random act. It arises out of a predictable and powerful set of circumstances and opportunities." – Malcolm Gladwell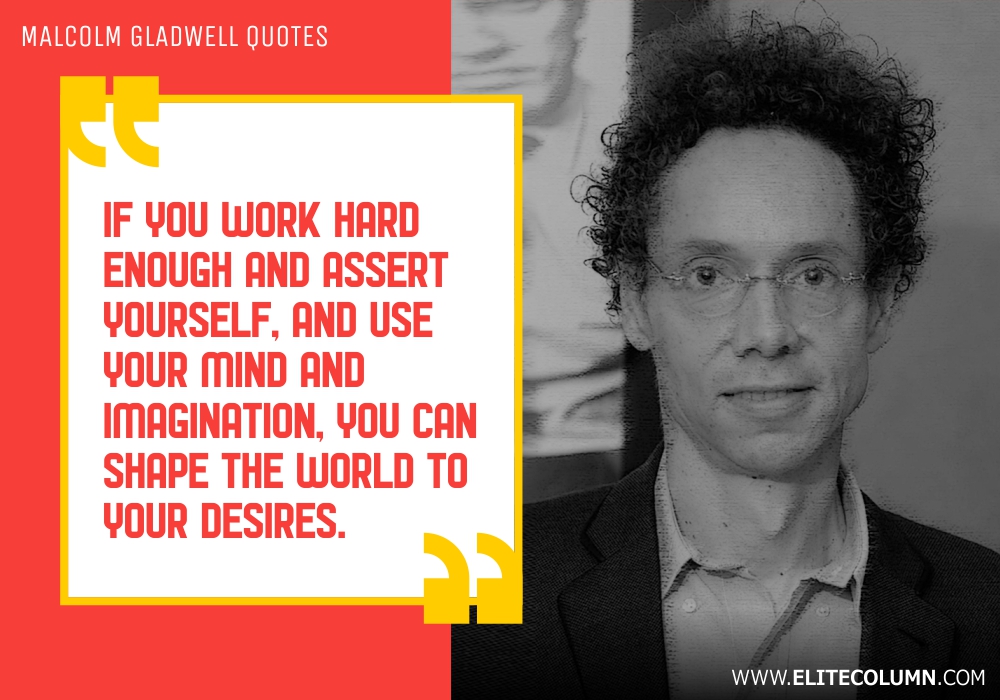 17. "If you work hard enough and assert yourself, and use your mind and imagination, you can shape the world to your desires." – Malcolm Gladwell
18. "In the act of tearing something apart, you lose its meaning." – Malcolm Gladwell
19. "The poorer children were, to her mind, often better behaved, less whiny, more creative in making use of their own time, and have a well-developed sense of independence." – Malcolm Gladwell

20. "No one who can rise before dawn three hundred sixty days a year fails to make his family rich." – Malcolm Gladwell
21. "The only true way to listen is with your ears and your heart." – Malcolm Gladwell
22. "I try to be unafraid of making a fool of myself." – Malcolm Gladwell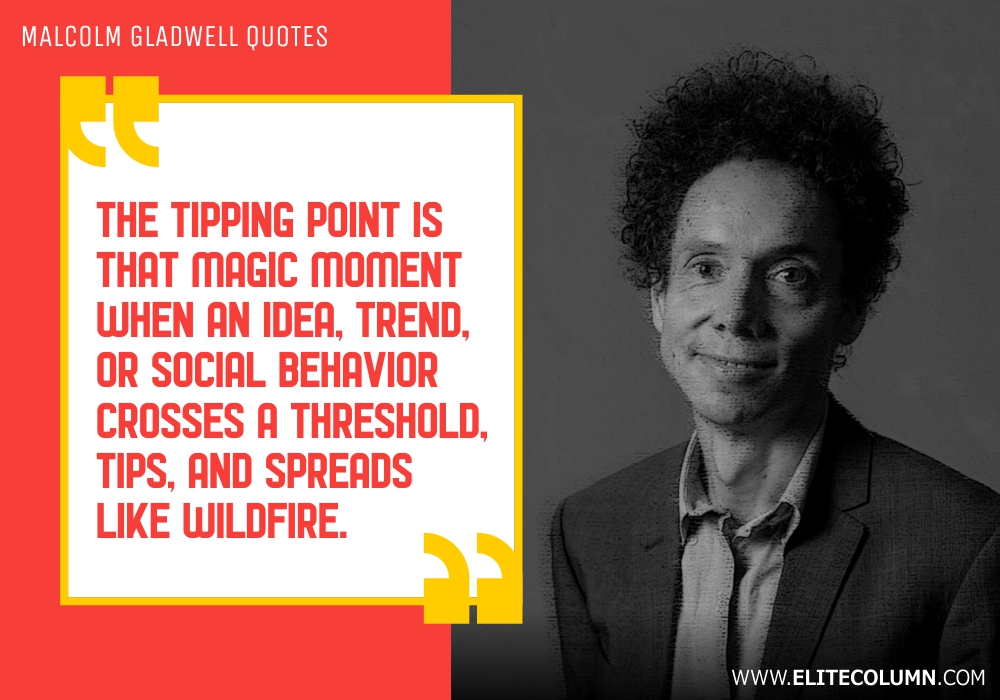 23. "The tipping point is that magic moment when an idea, trend, or social behavior crosses a threshold, tips, and spreads like wildfire." – Malcolm Gladwell
24. "Success is a function of persistence and doggedness and the willingness to work hard for twenty-two minutes to make sense of something that most people would give up on after thirty seconds." – Malcolm Gladwell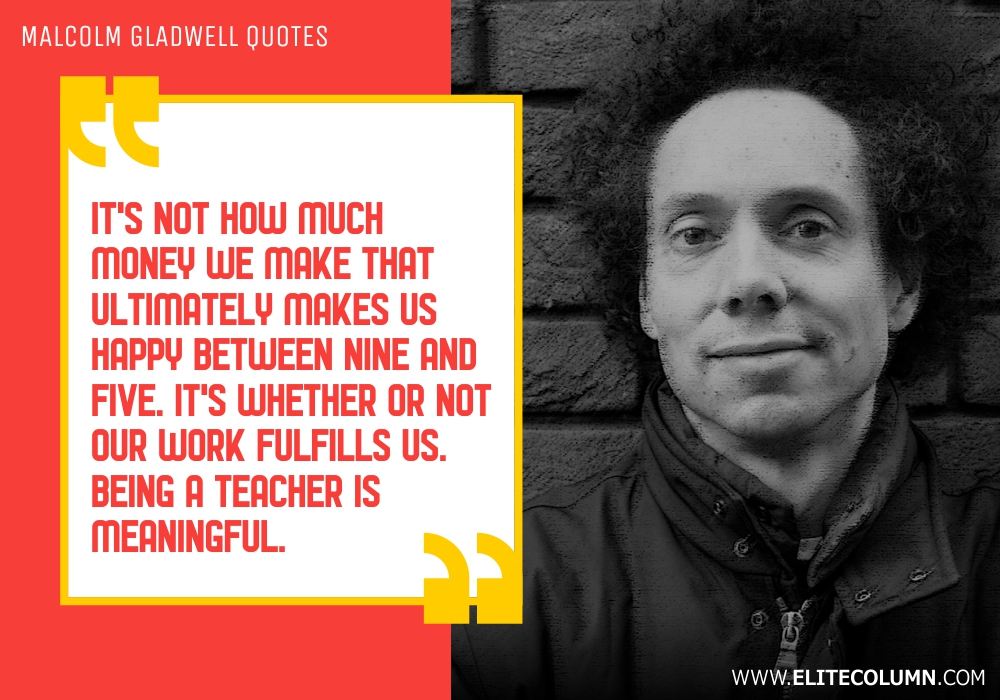 25. "It's not how much money we make that ultimately makes us happy between nine and five. It's whether or not our work fulfills us. Being a teacher is meaningful." – Malcolm Gladwell
26. "It would be interesting to find out what goes on in that moment when someone looks at you and draws all sorts of conclusions." – Malcolm Gladwell
27. "Much of what we consider valuable in our world arises out of (these) one-sided conflicts. Because the act of facing overwhelming odds, produces greatness and beauty." – Malcolm Gladwell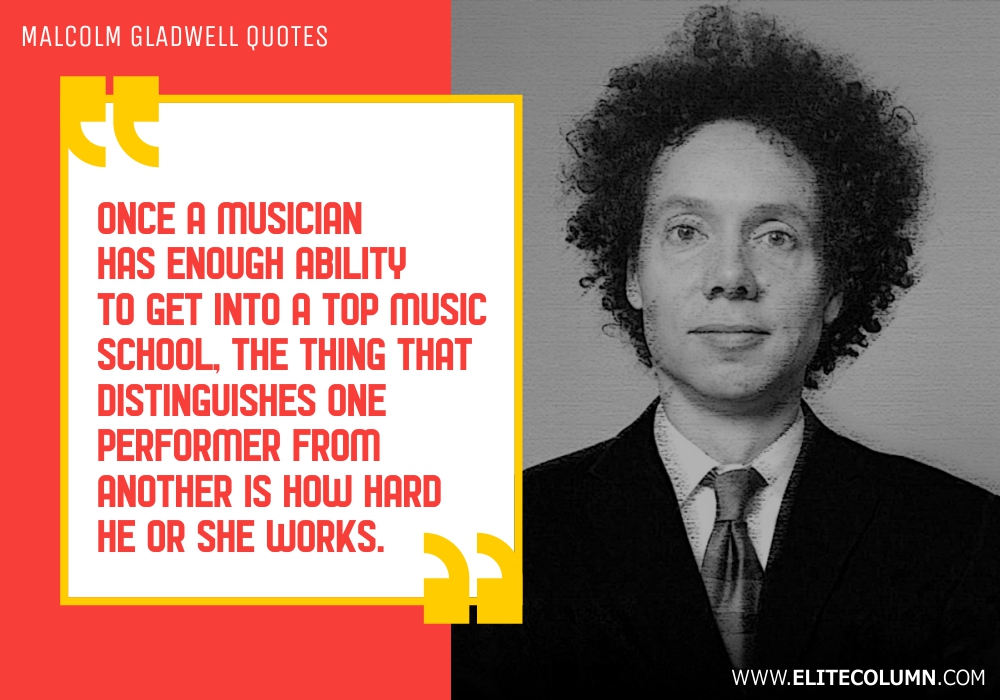 28. "Once a musician has enough ability to get into a top music school, the thing that distinguishes one performer from another is how hard he or she works." – Malcolm Gladwell
29. "Emotion is contagious." – Malcolm Gladwell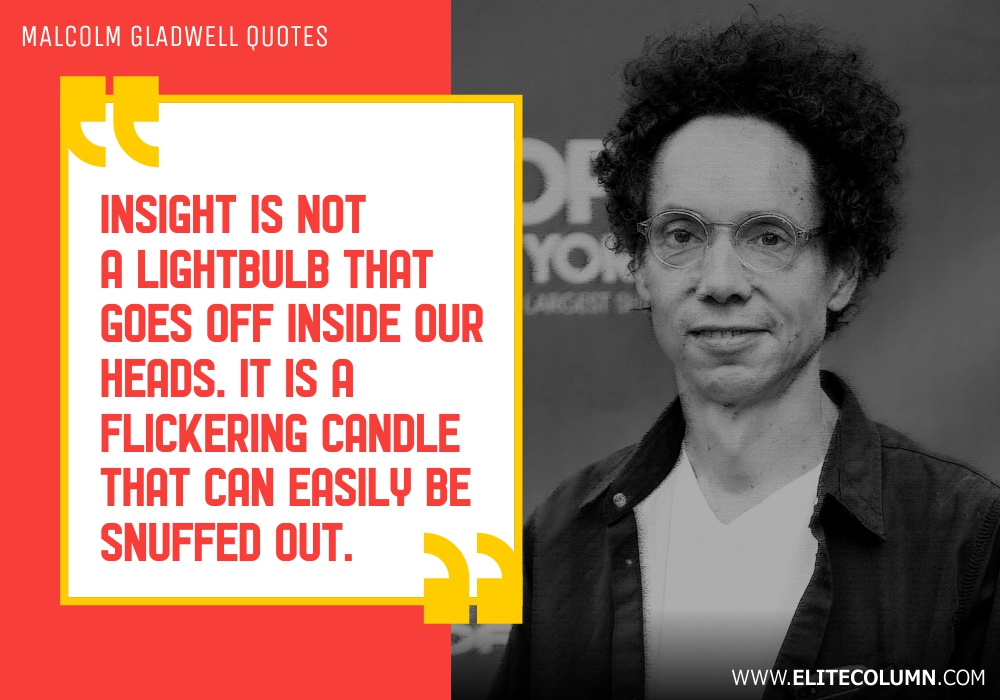 30. "Insight is not a lightbulb that goes off inside our heads. It is a flickering candle that can easily be snuffed out." – Malcolm Gladwell
31. "Hardwork is a prison sentence only if it does not have meaning." – Malcolm Gladwell
32. "We don't know where our first impressions come from or precisely what they mean, so we don't always appreciate their fragility." – Malcolm Gladwell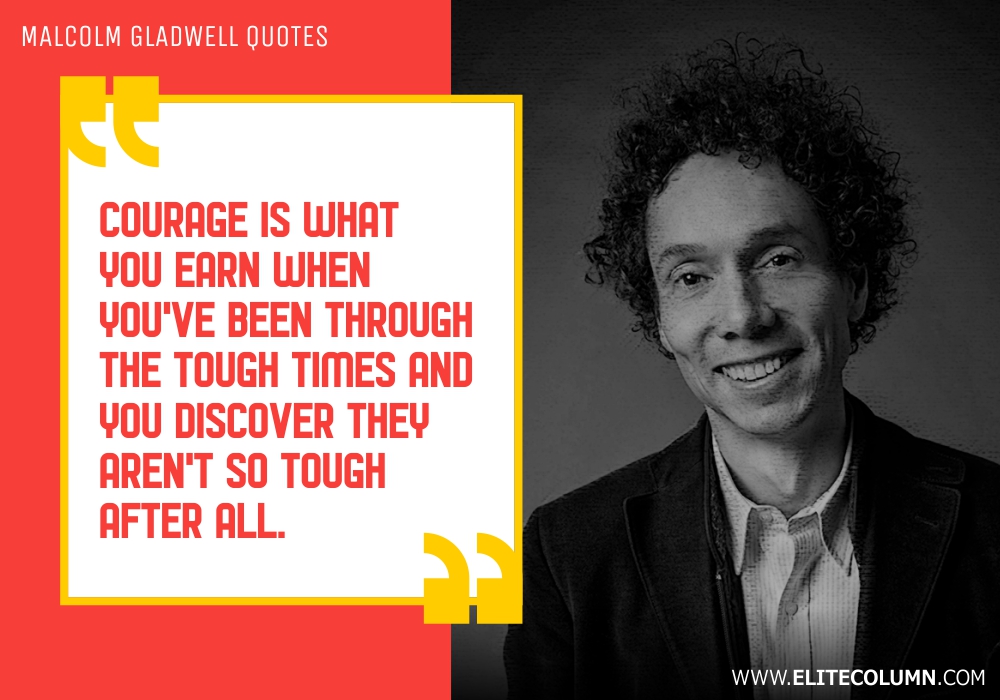 33. "Courage is what you earn when you've been through the tough times and you discover they aren't so tough after all." – Malcolm Gladwell
34. "We learn by example and by direct experience because there are real limits to the adequacy of verbal instruction." – Malcolm Gladwell
35. "When we talk about analytic versus intuitive decision making, neither is good or bad. What is bad is if you use either of them in an inappropriate circumstance." – Malcolm Gladwell
36. "The older I get, the more I understand that the only way to say valuable things is to lose your fear of being correct." – Malcolm Gladwell
Thanks for checking out the best Malcolmn Gladwell quotes. Feel free to share the quotes with your friends. Leave a comment below and which are your favorite Malcolm Gladwell quotes ?
See also:
Robin Sharma Quotes | Shawn Achor Quotes | Joe Dispenza Quotes | Shiv Khera Quotes | Jack Canfield Quotes | Joe Dispenza Quotes | Dandapani Quotes | Les Brown Quotes
You can find us at – Facebook | Instagram | LinkedIn | Pinterest | Twitter