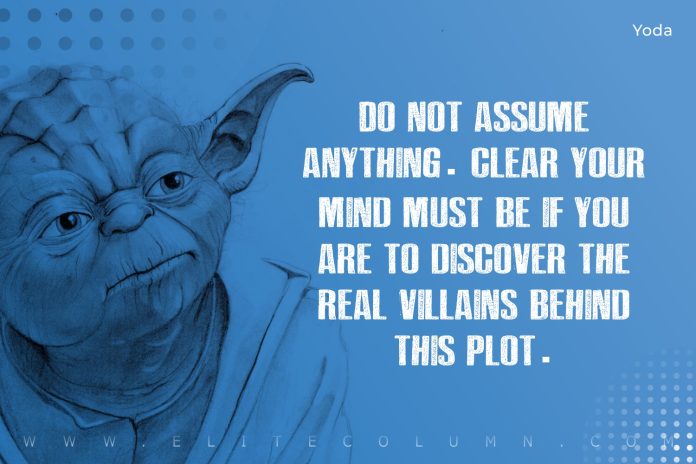 Check out 50 Yoda Quotes today.
50 Best Yoda Quotes
1. "Named must your fear be before banish it you can." – Yoda
2. "If routine you count on, disappointed your hopes will be." – Yoda
3. "Do not assume anything. Clear your mind must be if you are to discover the real villains behind this plot." – Yoda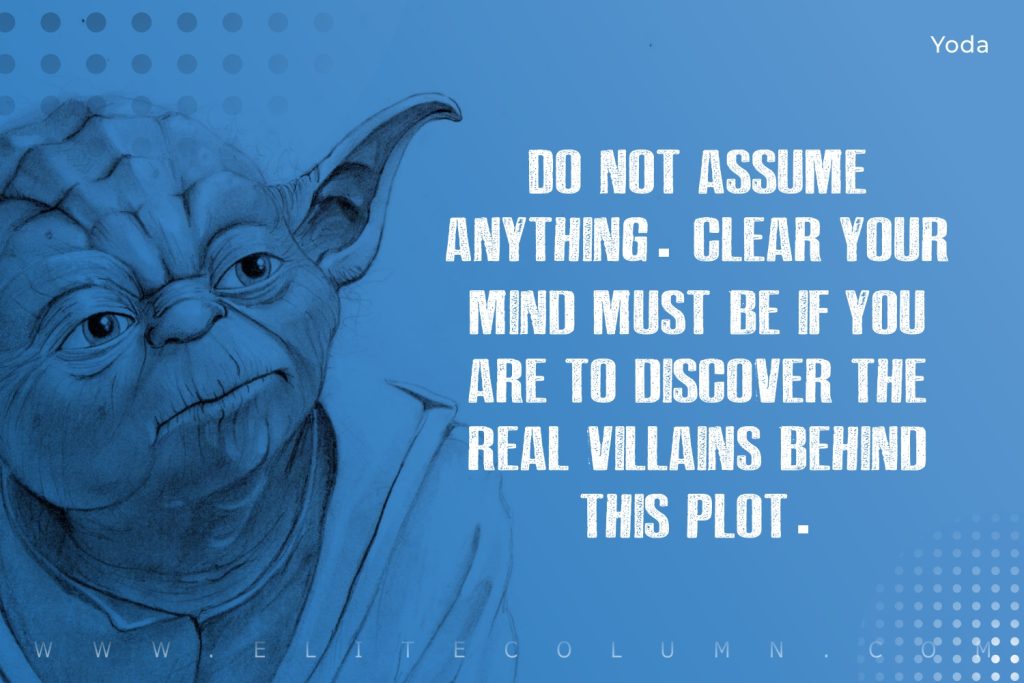 4. "Never step in the same river twice can you. Each time the river hurries on. Each time he that steps has changed." – Yoda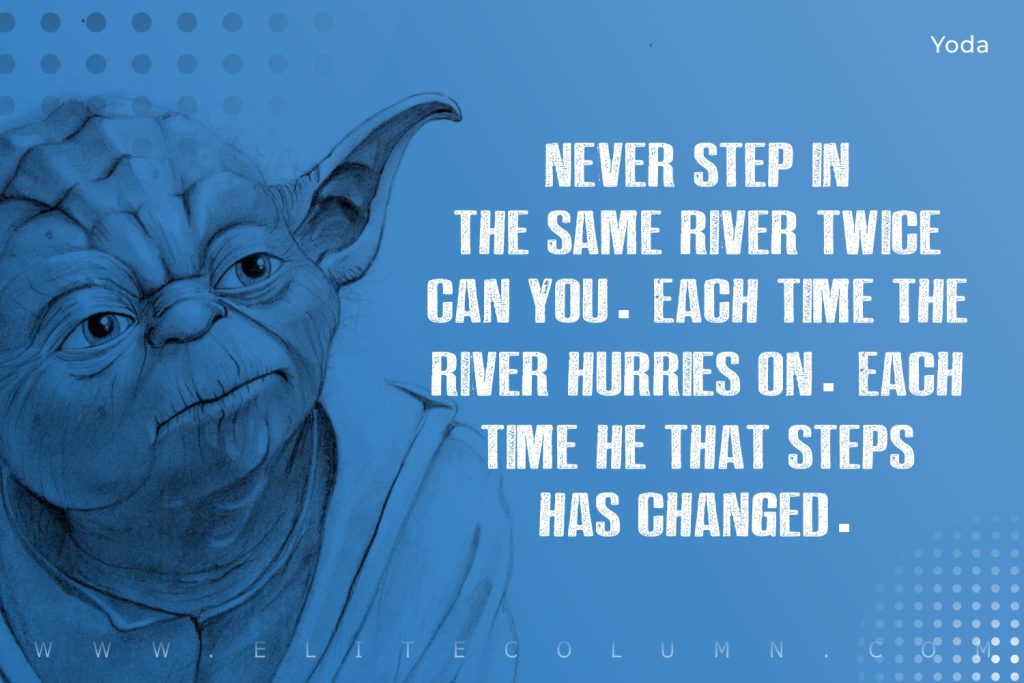 5. "If no mistake have you made, yet losing you are, a different game you should play." – Yoda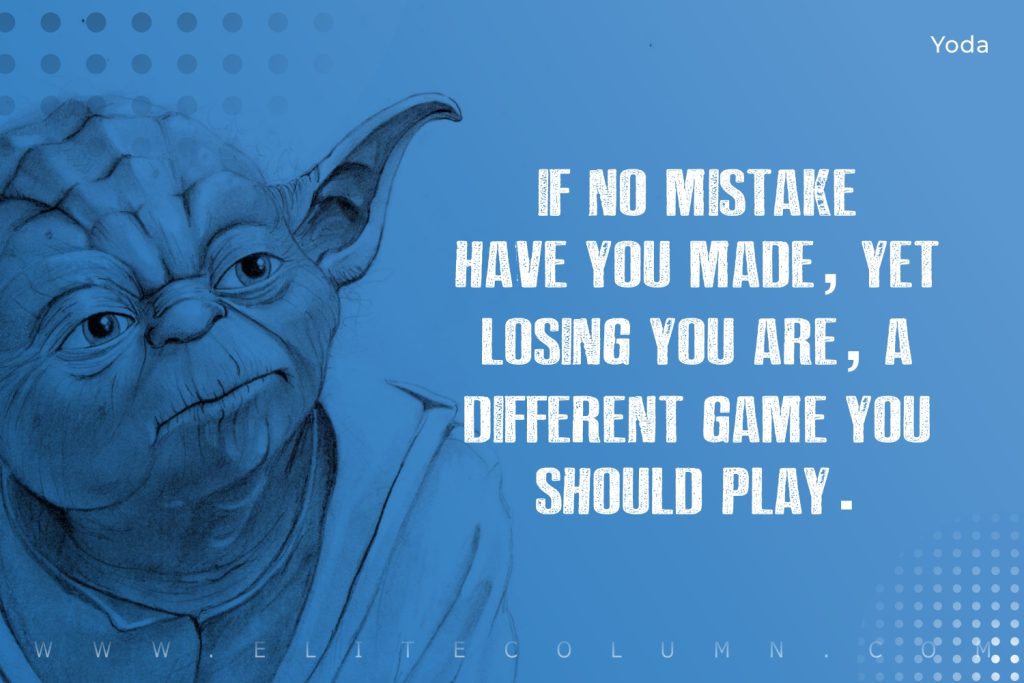 6. "When you look back, lose your place on the path, you do." – Yoda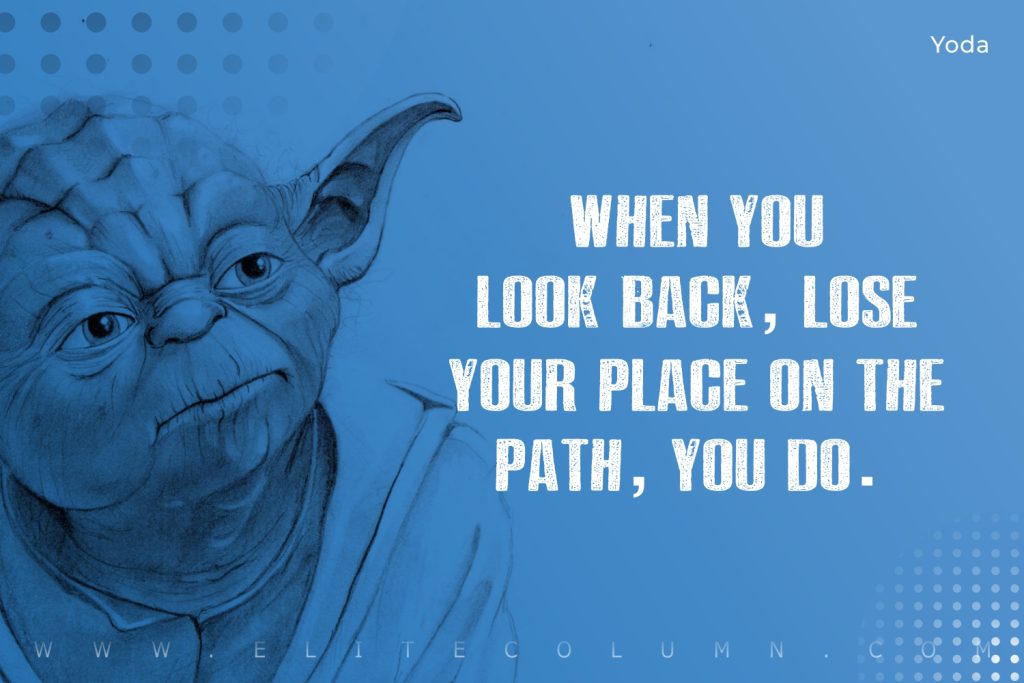 7. "In this war, a danger there is, of losing who we are." – Yoda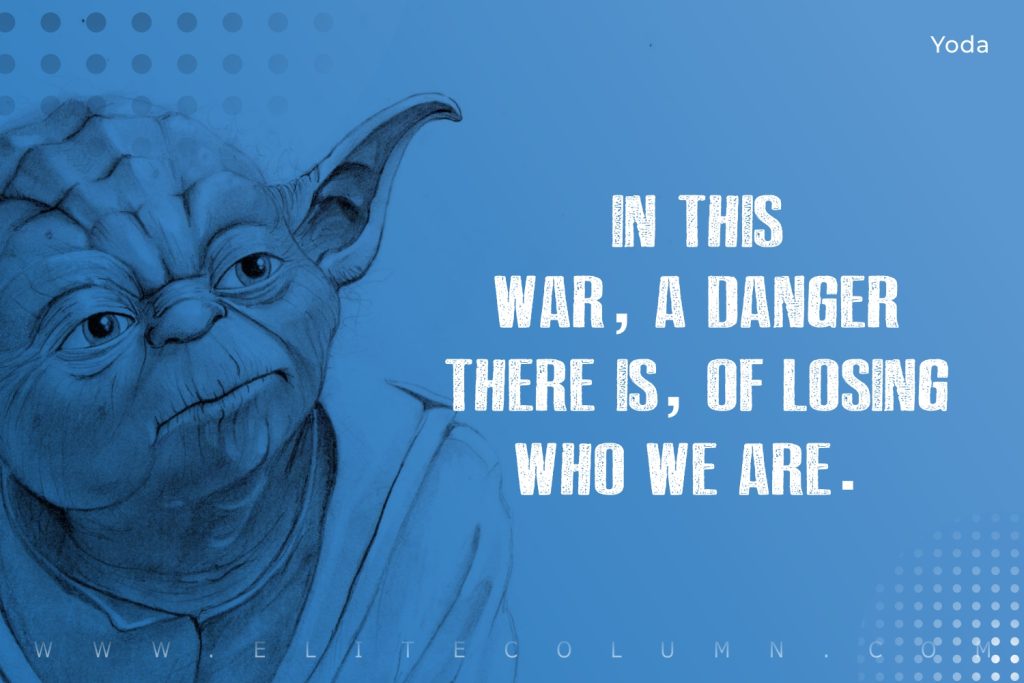 8. "Make the decision, make another. Remake one past, you cannot." – Yoda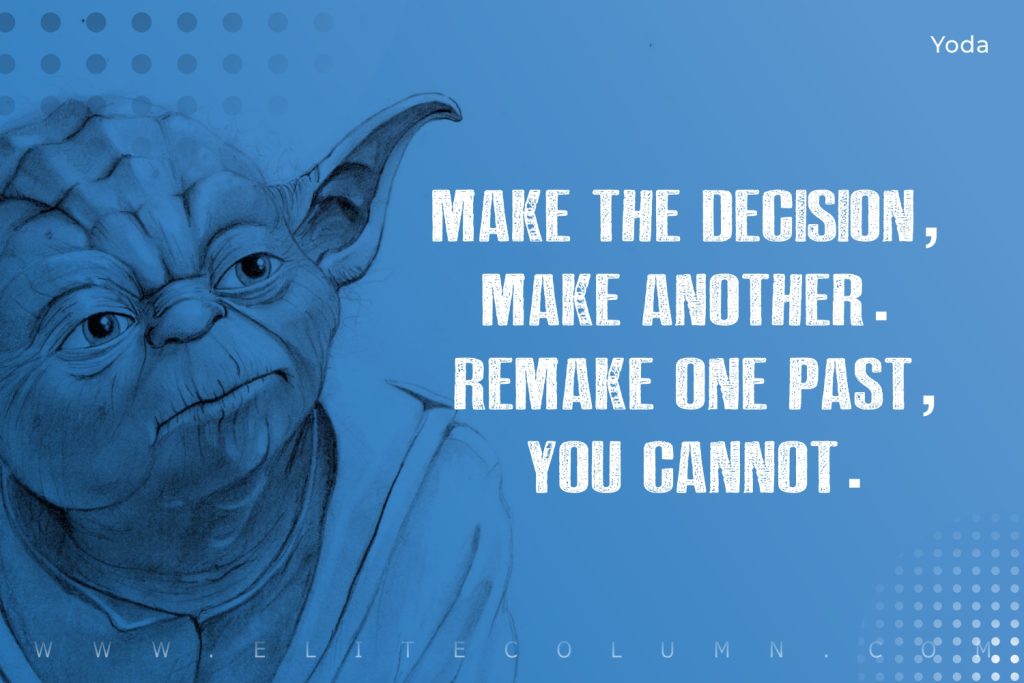 9. "Already know you that which you need." – Yoda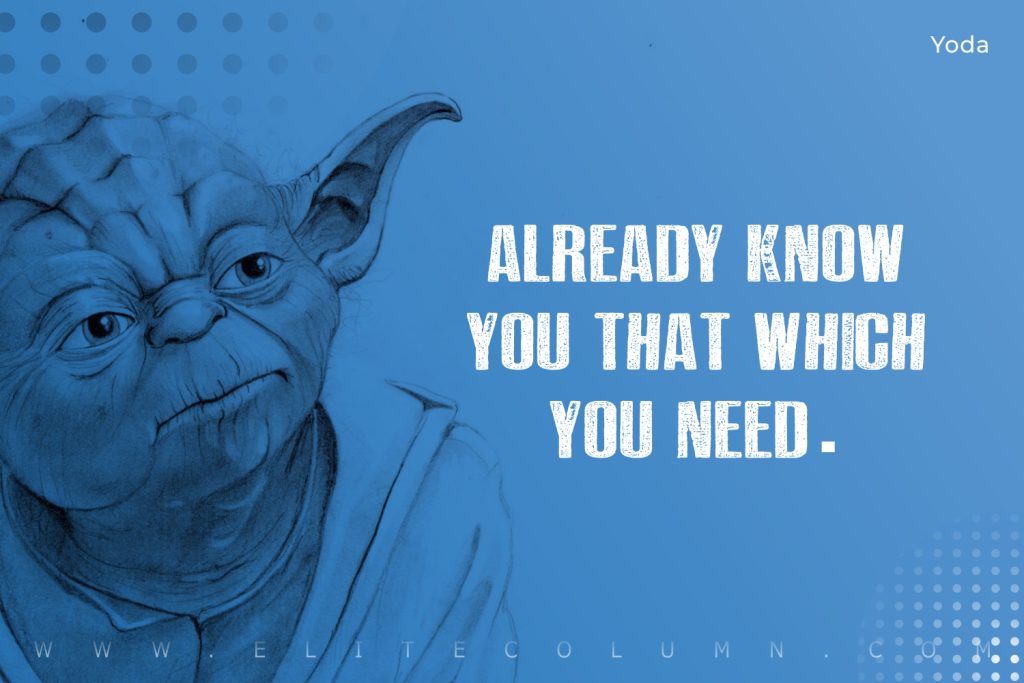 10. "Attachment leads to jealousy. The shadow of greed, that is." – Yoda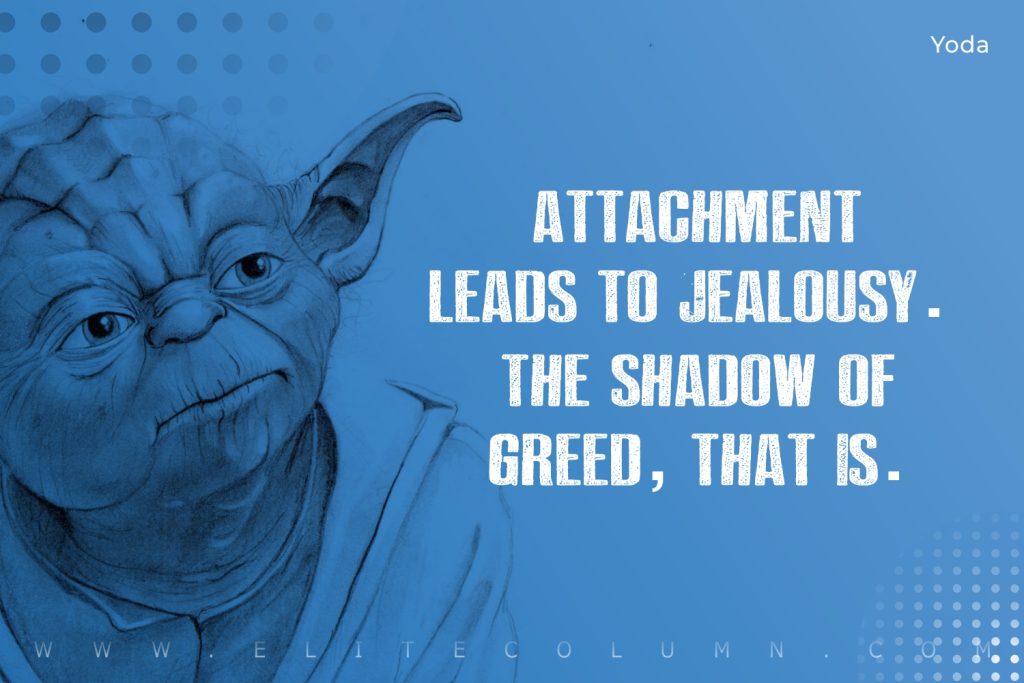 11. "You will find only what you bring in." – Yoda
12. "Mind what you have learned. Save you it can." – Yoda
13. "Luminous beings are we, not this crude matter." – Yoda
14. "So certain were you. Go back and closer you must look." – Yoda
15. "Always two there are, no more, no less. A master and an apprentice." – Yoda
16. "Out of acceptance comes wisdom. Not an acquirement wisdom is, not knowledge wisdom is, not information. This quality of tremendous acceptance is wisdom." – Yoda
17. "Difficult to see. Always in motion is the future." – Yoda
Bottom of Form
18. "Arduous is discovering oneself, going on the greatest exploration it is." – Yoda
19. "Looking? Found someone you have, eh?" – Yoda
20. "A way there always is." – Yoda
21. "To live totally fear allows you not, hold you back it always does." – Yoda
22. "Like reflections in the mirror thoughts are, clouds passing in the sky, but not the clouds the sky is. Desires, memories, imagination, they all come and go." – Yoda
23. "Your past can ruin your future if you allow it." – Yoda
24. "When all choices seem wrong, choose restraint." – Yoda
25. "Too long sorrow makes a stone of the heart." – Yoda
26. "A Jedi uses for the Force for knowledge and defense, never for attack." – Yoda
27. "Size matters not. Look at me. Judge me by my size, do you?" – Yoda
28. "Great warrior. Wars not make one great." – Yoda
29. "If in anger you answer, then in shame you dwell." – Yoda
30. "Train yourself to let go of everything you fear to lose." – Yoda
31. "In the end, cowards are those who follow the dark side." – Yoda
32. "Fear is the path to the dark side. Fear leads to anger. Anger leads to hate. Hate leads to suffering." – Yoda
33. "Give off light, or darkness, Padawan. Be a candle, or the night." – Yoda
34. "You will know when you are calm, at peace. Passive." – Yoda
35. "Happens to every guy sometimes this does." – Yoda
36. "Of the moment, be. In the moment, live. The art of remaining in the present, learn. Neither the past nor the future exists." – Yoda
37. "Once you start down the dark path, forever will it dominate your destiny, consume you it will." – Yoda
38. "Close your mouth and open your ears, you must. Then hear what your true heart is seeking, you will." – Yoda
39. "You must unlearn what you have learned." – Yoda
40. "A challenge lifelong it is, not to bend fear into anger." – Yoda
41. "In a dark place we find ourselves, and a little more knowledge lights our way." – Yoda
42. "The greatest teacher, failure is." – Yoda
43. "Many of the truths that we cling to depend on our point of view." – Yoda
44. "You fail because you don't believe." – Yoda
45. "Do or do not. There is no try." – Yoda
46. "Patience you must have my young Padawan." – Yoda
47. "Close your mouth and open your ears, you must. Then hear what your true heart is seeking, you will." – Yoda
48. "Ready are you? What know you of ready?" – Yoda
49. "No greater gift there is, than a generous heart." – Yoda
50. "All his life has he looked away to the future, to the horizon. Never his mind on where he was." – Yoda
Thanks for checking out the best Yoda Quotes. Feel free to share the quotes with your friends. Leave a comment below and which are your favourite Yoda Quotes ?
See also:
Denzel Washington Quotes | Tom Cruise Quotes | Robert De Niro Quotes | Keanu Reeves Quotes | Jackie Chan Quotes | Matthew McConaughey Quotes | Vin Diesel Quotes | Shahrukh Khan Quotes | Sylvester Stallone Quotes
N | Jhene Aiko Quotes | Epictetus Quotes | Seneca Quotes
You can find us at – Facebook | Instagram | LinkedIn | Pinterest | Twitter