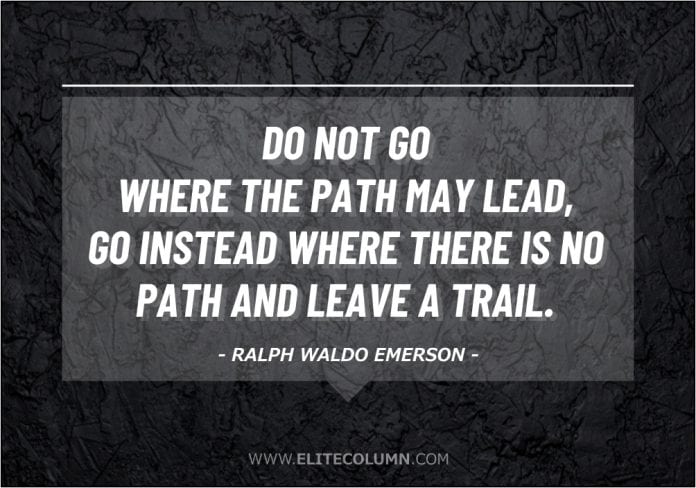 Wisdom is the ability to think and act using knowledge, experience, understanding, common sense and insight. It is associated with attributes such as unbiased judgment, compassion, experiential self-knowledge, self-transcendence and non-attachment and virtues such as ethics and benevolence. Wisdom has been defined in many different ways – including several distinct approaches to assess the characteristics attributed to wisdom. EliteColumn brings you top wisdom quotes from various famous personalities.
44 Wise Wisdom Quotes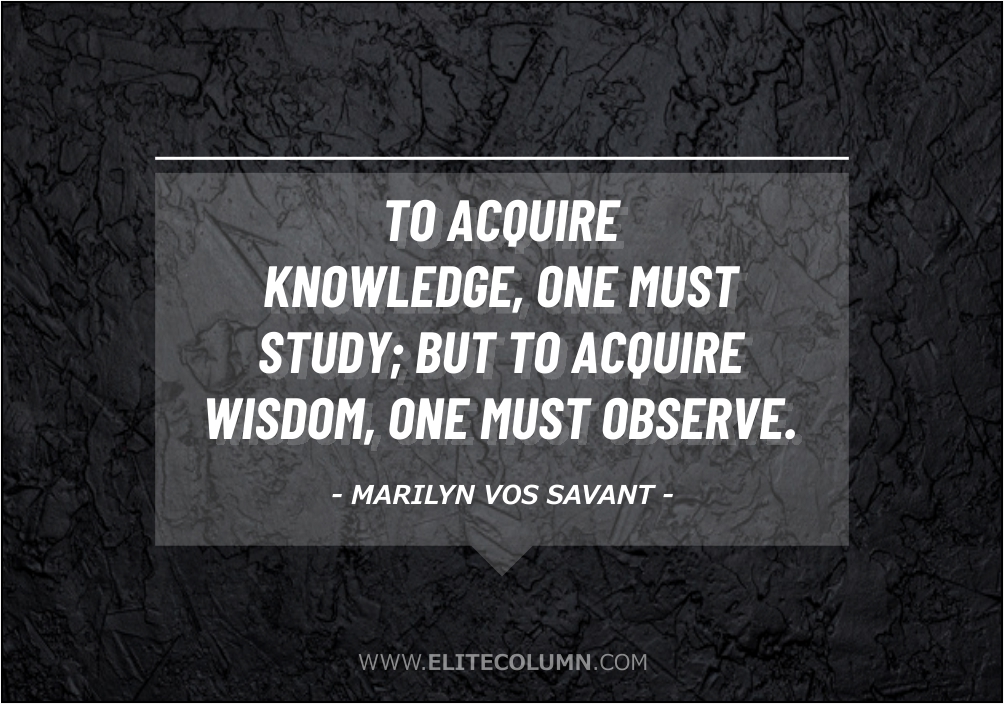 1. "To acquire knowledge, one must study; but to acquire wisdom, one must observe." – Marilyn vos Savant
2. "In every walk with nature one receives far more than he seeks." – John Muir
3. "Science is organized knowledge. Wisdom is organized life." – Immanuel Kant
4. "Never, no, never did nature say one thing and wisdom say another." – Edmund Burke
5. "The invariable mark of wisdom is to see the miraculous in the common." – Ralph Waldo Emerson
6. "Seek the wisdom of the ages, but look at the world through the eyes of a child." – Ron Wild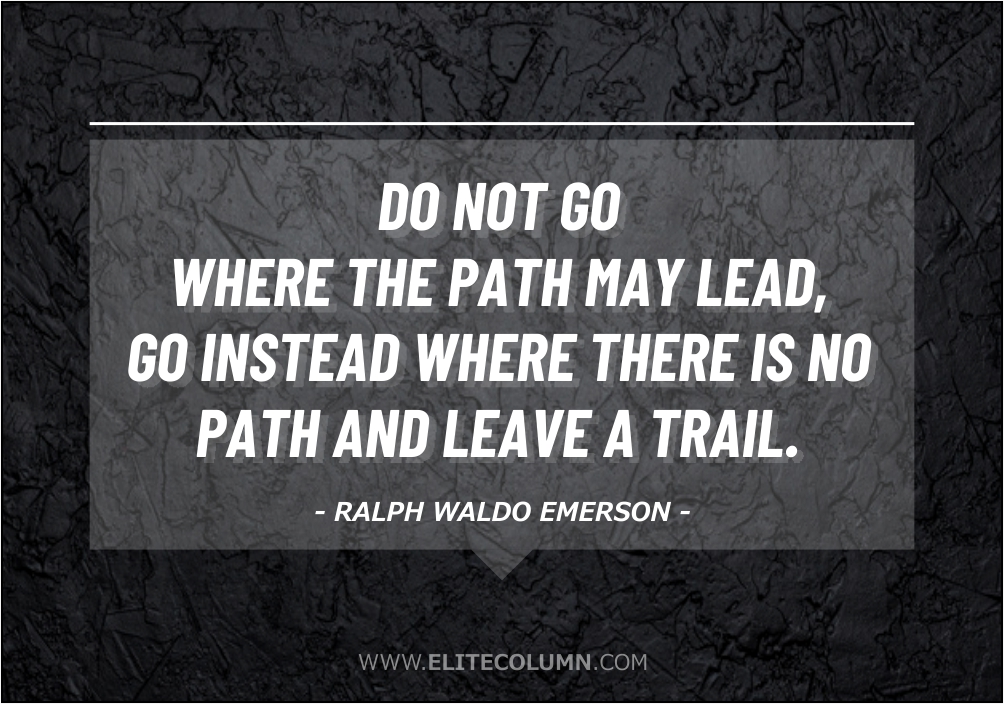 7. "Do not go where the path may lead, go instead where there is no path and leave a trail." – Ralph Waldo Emerson
8. "It is the province of knowledge to speak, and it is the privilege of wisdom to listen." – Oliver Wendall Holmes
9. "It is said that wisdom lies not in seeing things, but seeing through things." – Manly P. Hall
10. "Knowledge is learning something every day. Wisdom is letting go of something every day." – Bruce Lee
11. "Silence is the sleep that nourishes wisdom." – Francis Bacon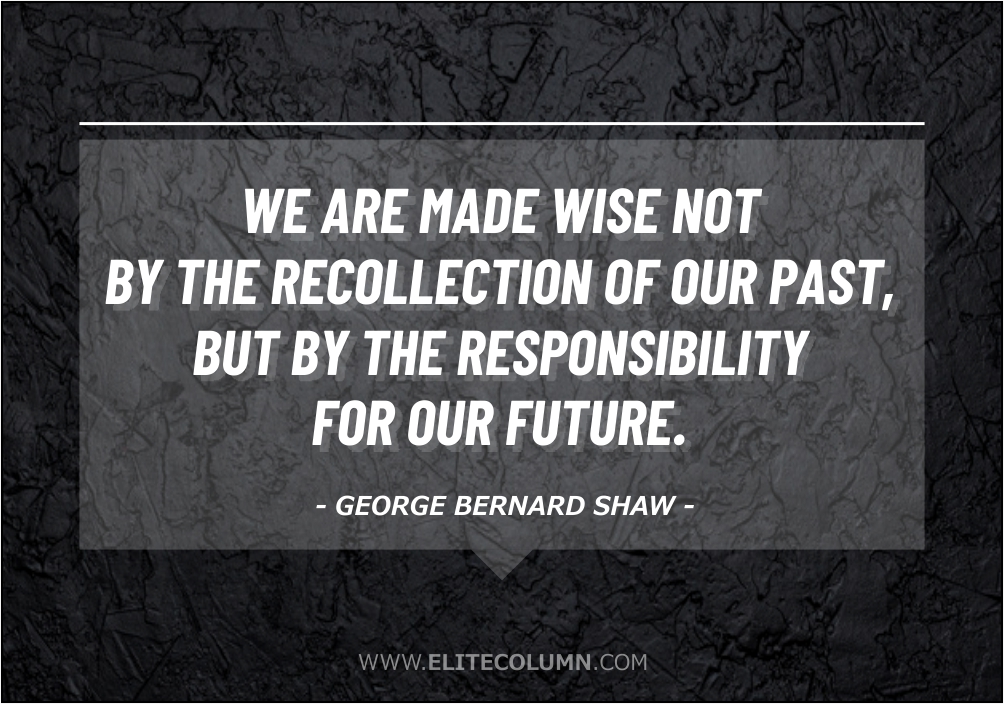 12. "We are made wise not by the recollection of our past, but by the responsibility for our future." – George Bernard Shaw
13. "A loving heart is the truest wisdom." – Charles Dickens
14. "The wise man hath his thoughts in his head; the fool, on his tongue." – Ivan Panin
15. "Honesty is the first book of wisdom." – Thomas Jefferson
16. "Patience is the companion of wisdom." – Saint Augustine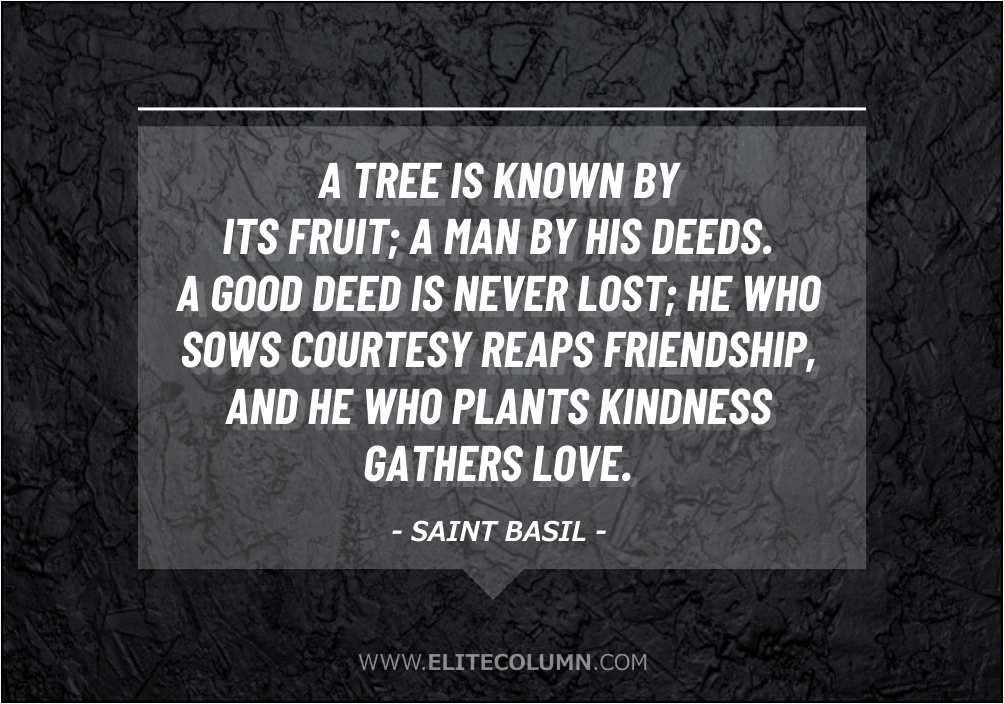 17. "A tree is known by its fruit; a man by his deeds. A good deed is never lost; he who sows courtesy reaps friendship, and he who plants kindness gathers love." – Saint Basil
18. "Knowledge speaks, but wisdom listens." – Jimi Hendrix
19. "It is characteristic of wisdom not to do desperate things." – Henry David Thoreau
20. "Wisdom is the supreme part of happiness." – Sophocles
21. "A wise owl sat on an oak, the more he saw the less he spoke, the less he spoke the more he heard. Why aren't we like the wise old bird?" – Charles M Schulz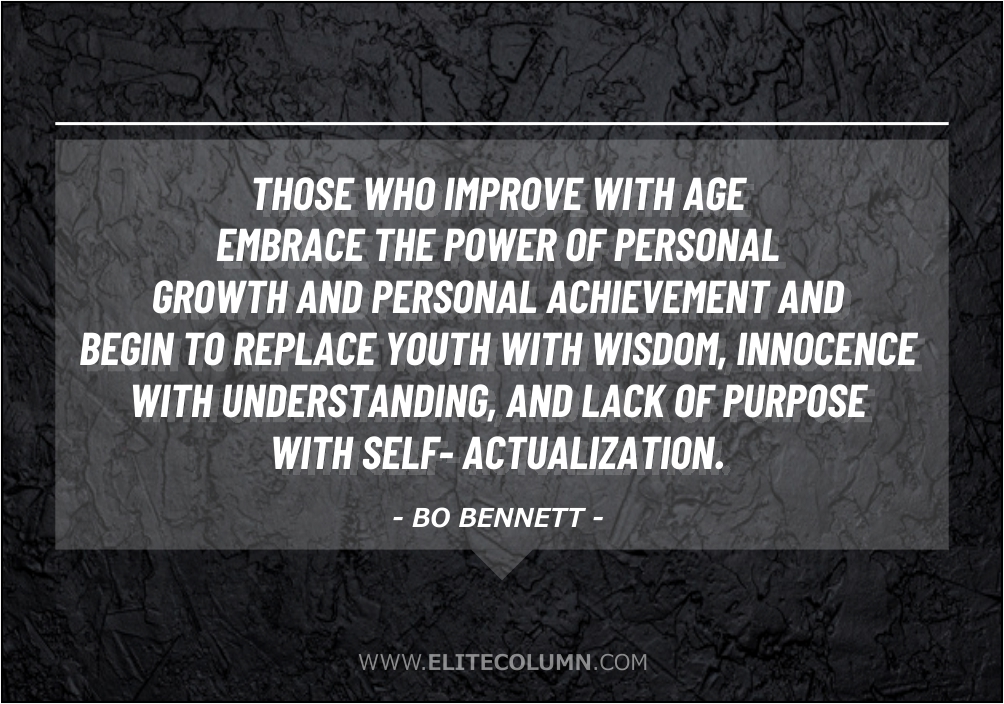 22. "Those who improve with age embrace the power of personal growth and personal achievement and begin to replace youth with wisdom, innocence with understanding, and lack of purpose with self-actualization." –Bo Bennett
23. "Wisdom is the right use of knowledge." – Charles Spurgeon
24. "Wonder is the beginning of wisdom." – Socrates
25. "If you have the guts to keep making mistakes, your wisdom and intelligence leap forward with huge momentum." – Holly Near
26. "Wisdom is not a product of schooling but of the lifelong attempt to acquire it." – Albert Einstein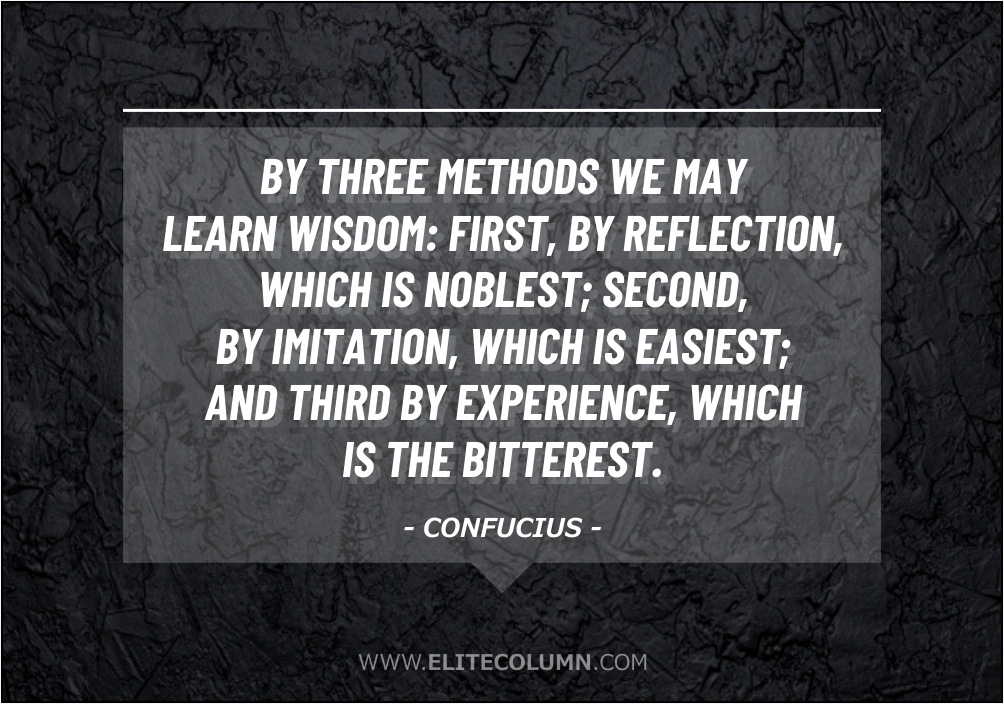 27. "By three methods we may learn wisdom: First, by reflection, which is noblest; Second, by imitation, which is easiest; and third by experience, which is the bitterest." – Confucius
28. "Turn your wounds into wisdom." – Oprah Winfrey
29. "When anger enters the mind, wisdom departs." – Thomas A Kempis
30. "Let your actions demonstrate your wisdom." – Charles F. Stanley
31. "To conquer fear is the beginning of wisdom." – Bertrand Russell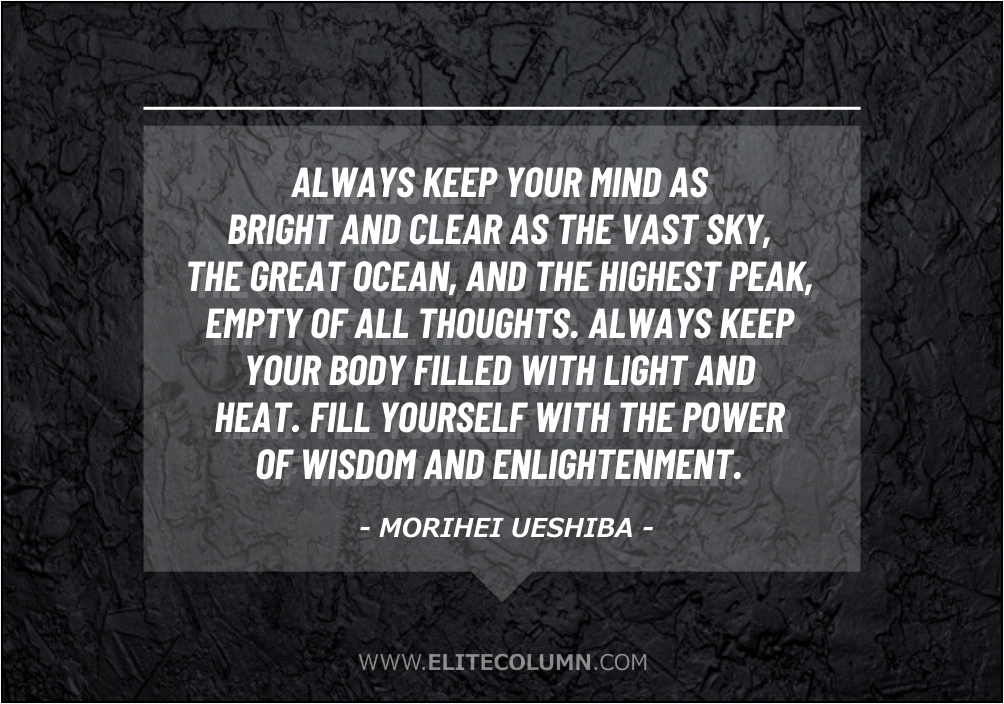 32. "Always keep your mind as bright and clear as the vast sky, the great ocean, and the highest peak, empty of all thoughts. Always keep your body filled with light and heat. Fill yourself with the power of wisdom and enlightenment." – Morihei Ueshiba
33. "Knowledge comes from learning. Wisdom comes from living." – Anthony Douglas Williams
34. "You will repeatedly feel like giving up on your goal. Do not ever give up." – Avinash VS
35. "The simple things are also the most extraordinary things, and only the wise can see them." – Paulo Coelho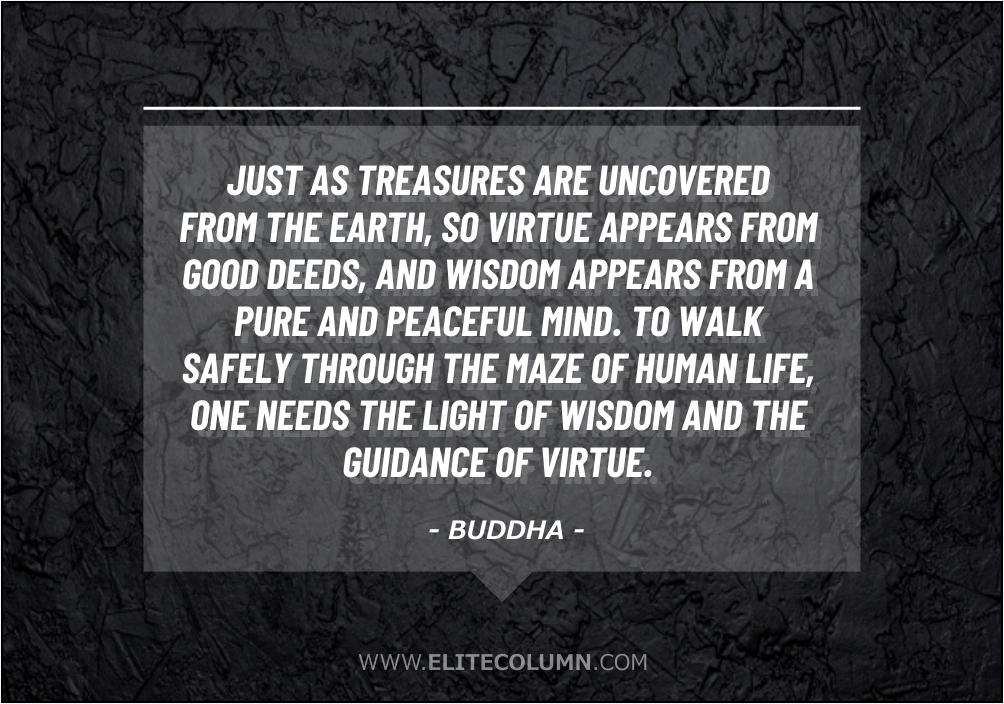 36. "Just as treasures are uncovered from the earth, so virtue appears from good deeds, and wisdom appears from a pure and peaceful mind. To walk safely through the maze of human life, one needs the light of wisdom and the guidance of virtue." – Buddha
37. "If we manage ego wisely, we get the upside it delivers followed by strong returns." – Dave Marcum
38. "Nothing is impossible, the word itself says 'I'm possible'!" – Audrey Hepburn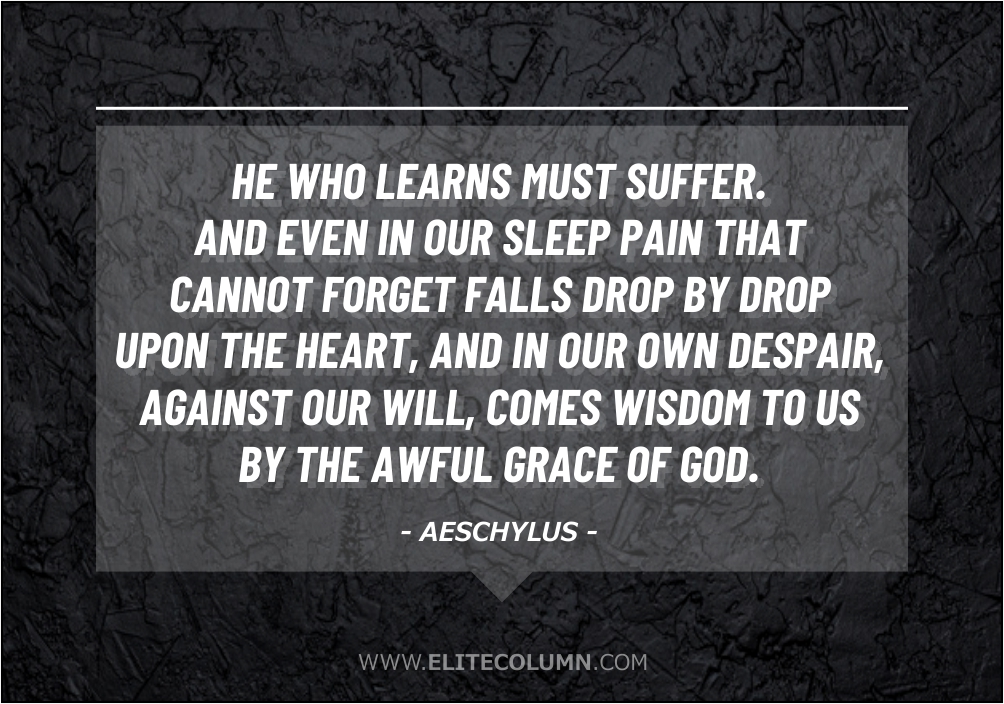 39. "He who learns must suffer. And even in our sleep pain that cannot forget falls drop by drop upon the heart, and in our own despair, against our will, comes wisdom to us by the awful grace of God." – Aeschylus
40. "You can always change a situation in your favour if you choose to pause, evaluate, and act." – Avinash VS
41. "Pain can change you, but that doesn't mean it has to be a bad change. Take that pain and turn it into wisdom." – Dalai Lama
42. "A clever person solves a problem. A wise person avoids it." – Albert Einstein
43. "Some of us think holding on makes us strong, but sometimes it is letting go." – Hermann Hesse
44. "The magic happens when you spend 20 minutes working towards your dream every day." – Avinash VS
Thanks for checking out the best Wisdom quotes. Feel free to share the quotes with your friends. Leave a comment below and which are your favorite Wisdom quotes ?
See also:
Karma Quotes | Plato Quotes | Sun Tzu Quotes | Dalai Lama Quotes | Sadhguru Quotes | Confucius Quotes | Lao Tzu Quotes | Positive Quotes | Happiness Quotes | Inspirational Quotes | Life Quotes
You can find us at – Facebook | Instagram | LinkedIn | Pinterest | Twitter