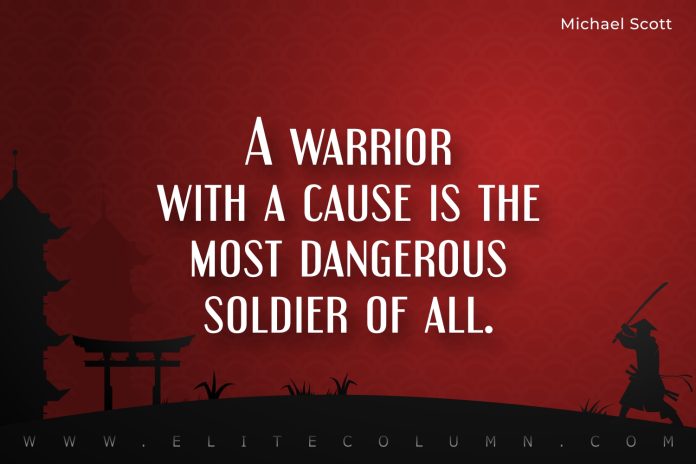 Check out 50 Warrior Quotes today.
50 Best Warrior Quotes
1. "A warrior with a cause is the most dangerous soldier of all." – Michael Scott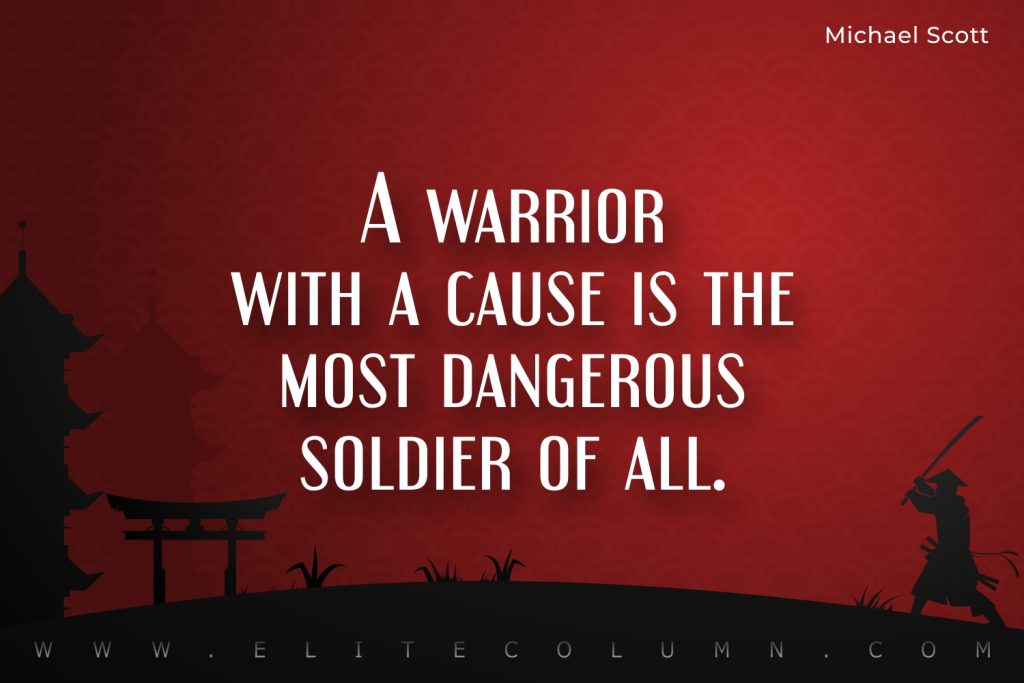 2. "The warrior must never get angry in war." – Lailah Gifty Akita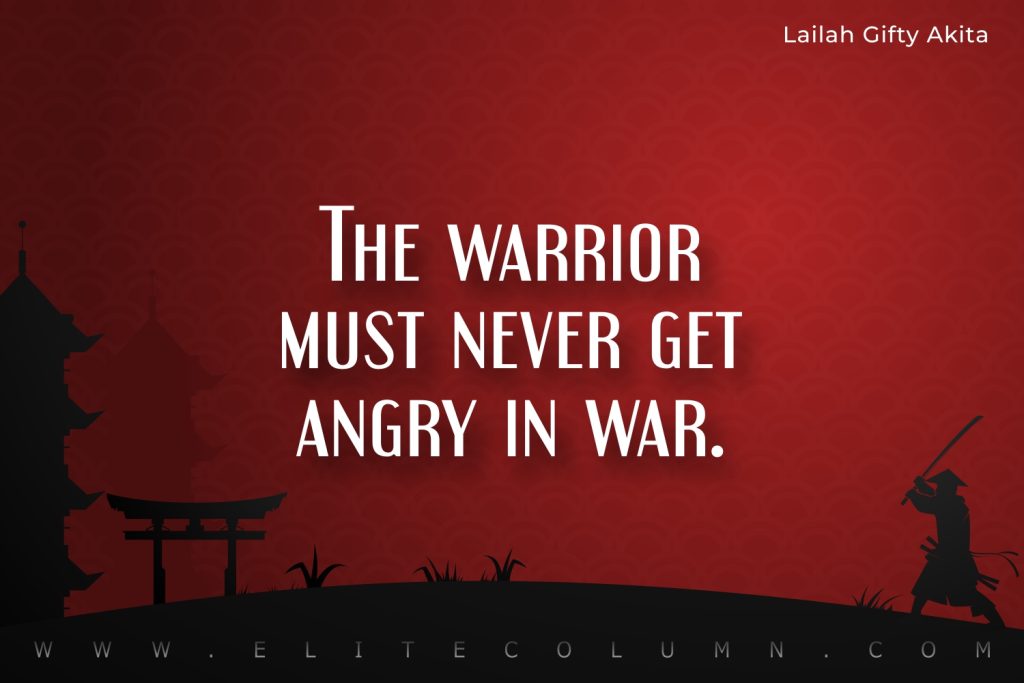 3. "Any great warrior is also a scholar, and a poet, and an artist." – Steven Seaga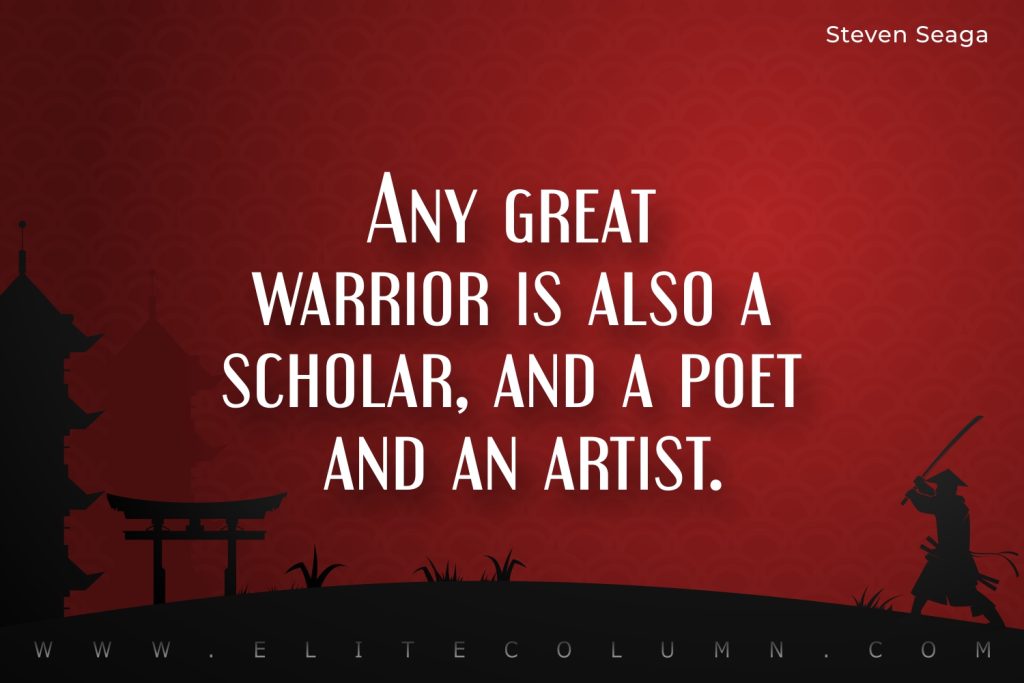 4. "The successful warrior is the average man with laser like focus." – Bruce Lee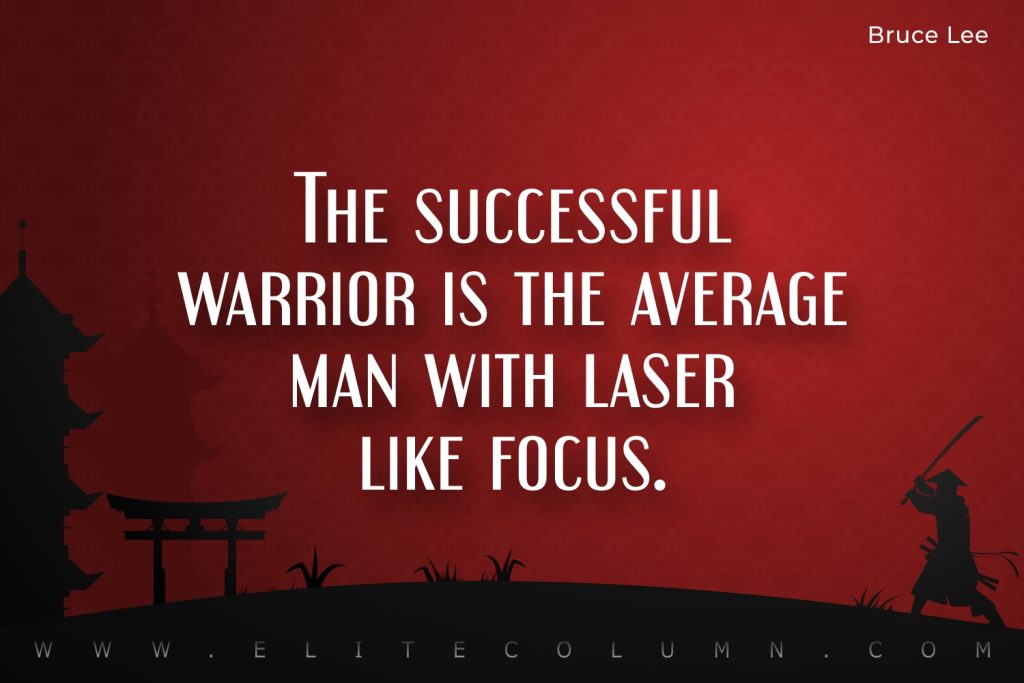 5. "Ideas are the great warriors of the world, and a war that has no idea behind it is simply a brutality." – James A. Garfield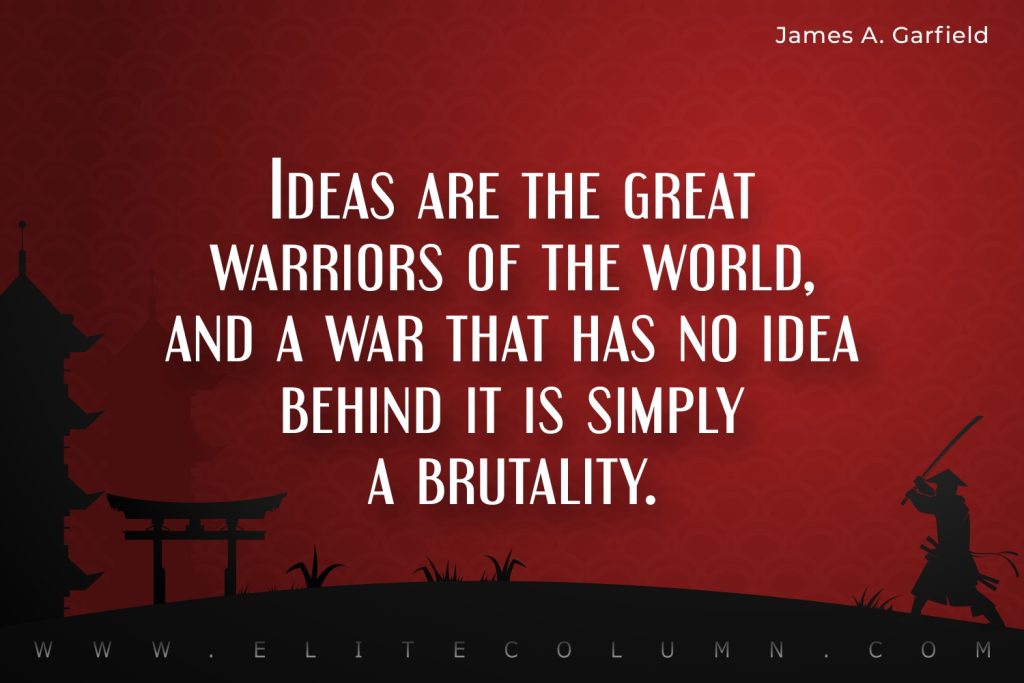 6. "He who conquers himself is the mightiest warrior." – Confucius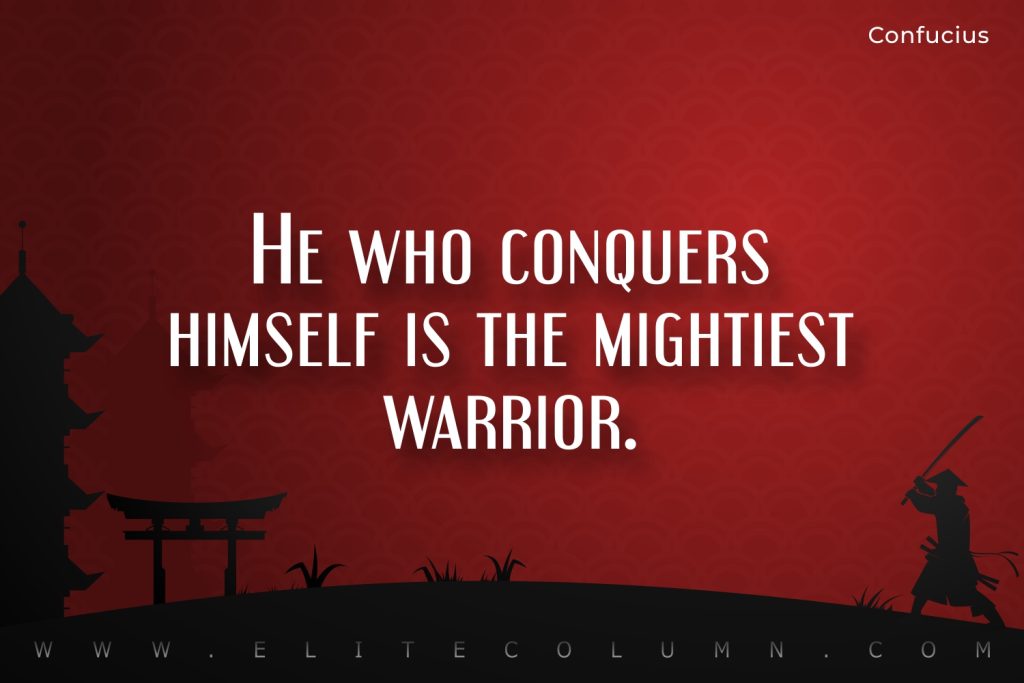 7. "Courage, above all things, is the first quality of a warrior." – Karl von Clausewitz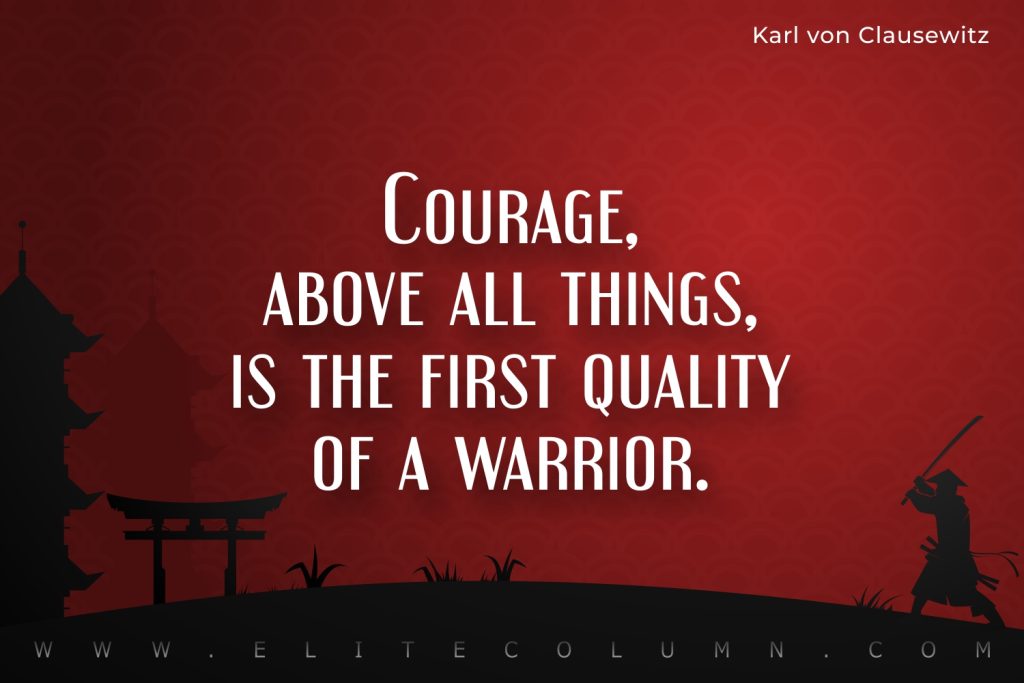 8. "You never know how strong you are, until being strong is your only choice." – Bob Marley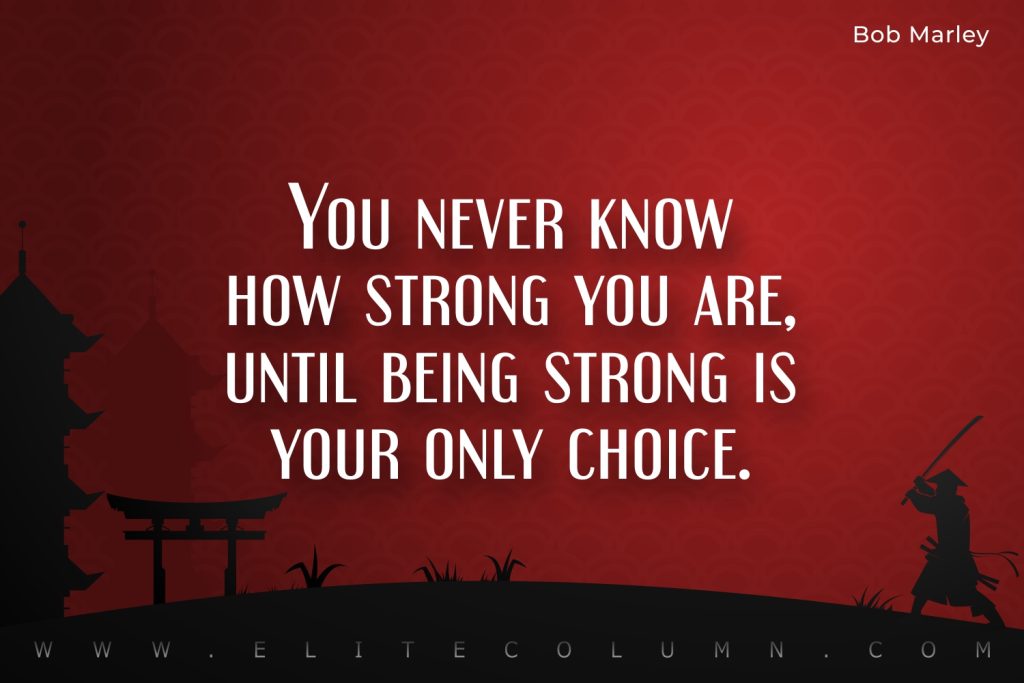 9. "Warriors do not win victories by beating their heads against the walls, but by overtaking the walls. Warriors jump over walls; they don't demolish them." – Carlos Castaneda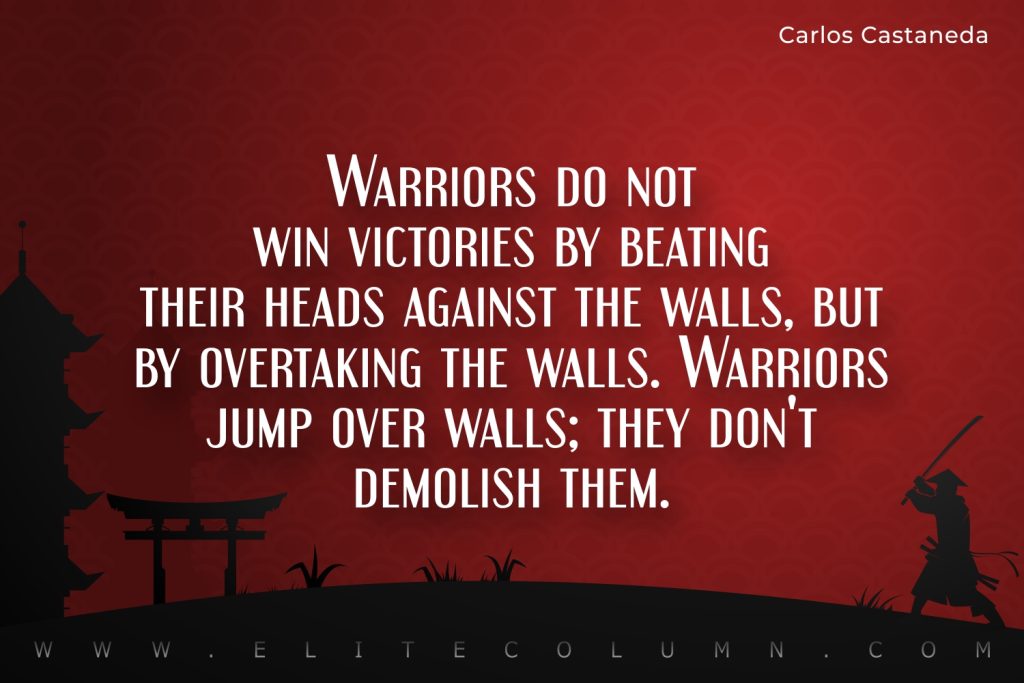 10. "The path of a warrior is lifelong, and mastery is often simply staying on the path." – Richard Strozzi-Heckler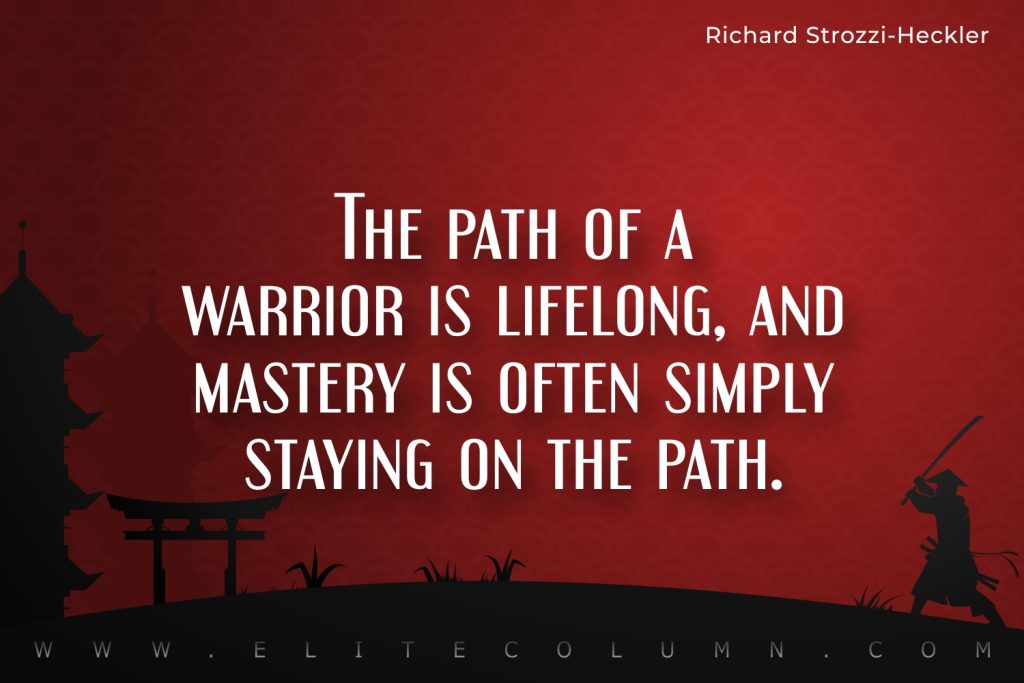 11. "Being a warrior is an attitude." – Santosh Kumar
12. "I was on the path of the warrior, when I realized I was the warrior." – Neetal Parekh
13. "The warrior guided by the spirit serves humanity, the warrior without, serves the ego." – Soke Behzad Ahmadi
14. "Protecting yourself is self-defense. Protecting others is warriorship." – Bohdi Sanders
15. "You're the hunter, the warrior. You're stronger than anyone else here, that's your tragedy." – Anne Rice
16. "The true warrior isn't immune to fear. She fights in spite of it." – Francesca Lia Block
17. "Cowards hide but warriors lie and wait the only difference is whether you're motivated by fear or purpose." – Neal Shusterman
18. "A warrior of light does not postpone making decisions." – Paulo Coelho
19. "Warriors train, everyone else works out." – Lahong Guro Earles
20. "Let your plans be dark and as impenetrable as night, and when you move, fall like a thunderbolt." – Sun Tzu
21. "A warrior takes everything as a challenge while an ordinary man takes everything as a blessing or a curse." – Carlos Castaneda
22. "Warriors suffer for their dreams. Cowards pay for their fears." – Matshona Dhliwayo
23. "Victorious warriors draw their strength from the highest source; their love." – Tapan Ghosh
24. "Every warrior wants a worthy opponent. There is no redress in fighting the pathetic." – Donna Lynn Hope
25. "Victorious warriors win first and then go to war, while defeated warriors go to war first and then seek to win." – Sun Tzu
26. "A warrior never worries about his fear." – Carlos Castaneda
27. "I'm a warrior for the middle class." – Barack Obama
28. "A true warrior fights not because he hates what is in front of him, but because he loves what is behind him." – G.K. Chesterton
29. "There is no greater warrior than a mother protecting her child." – N.K. Jemisin
30. "Victory are reserved for those warriors who are willing to pay it's price." – Sun Tzu
31. "Every single girl, whether we want to recognize it or not, is a warrior." – Marjorie Liu
32. "For a warrior it is not enough to win a war; it is more important to organize the peace." – Aristotle
33. "A warrior has to believe, otherwise he cannot activate his intent positively." – Theun Mares
34. "Warriors should suffer their pain silently." – Erin Hunter
35. "To be a warrior is to learn to be genuine in every moment of your life." – Chogyam Trungpa
36. "A warrior lives by acting, not by thinking about acting, nor by thinking about what he will think he has finished acting." – Carlos Castaneda
37. "A warrior's greatest glory is not in never falling, but in rising every time we fall." – Confucius
38. "A warrior does not give up what he loves, he finds the love in what he does." – Dan Millman
39. "The greatest warriors know when to retreat." – Maureen Joyce Connolly
40. "A warrior seeks to act rather than talk." – Carlos Castaneda
41. "I'm a warrior when it comes to pursuing roles." – Daniel Day Lewis
42. "A warrior must only take care that his spirit is never broken." – Shissai
43. "A warrior has to believe, for his belief is an essential part of his being." – Theun Mares
44. "Warriors don't raise to the level of expectations, they fall to the level of their training." – Archilochus
45. "Competition doesn't scare a true warrior, it makes him better." – Andrew Whitworth
46. "Every great warrior must learn to endure and overcome the adversities of life." – Lailah Gifty Akita
47. "The only thing a warrior cannot fight is her own fierce nature." – Bianca Marais
48. "The two most powerful warriors are patience and time" – Leo Tolstoy
49. "All men are warriors and life for everything in our universe is nothing but war." – David Zindell
50. "We choose whether to be warriors or to be ordinary." – Carlos Castaneda
Thanks for checking out the best Warrior Quotes. Feel free to share the quotes with your friends. Leave a comment below and which are your favourite warrior Quotes ?
See also:
Moon Quotes | Pandemic Quotes | Life Lesson Quotes | Get Over It Quotes | Breakfast Quotes | Dinner Quotes | First Impression Quotes
You can find us at – Facebook | Instagram | LinkedIn | Pinterest | Twitter