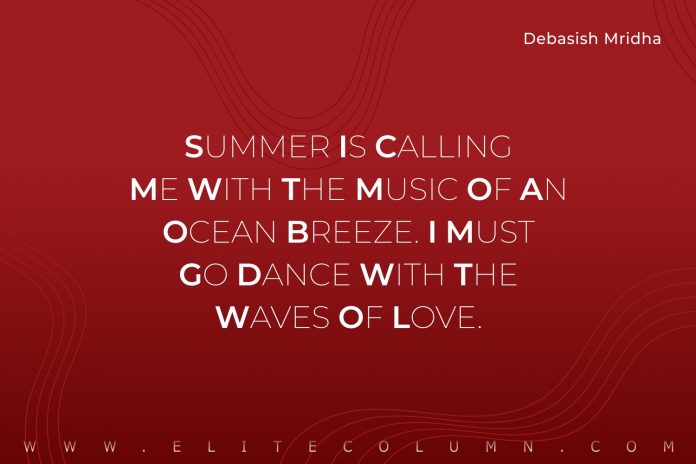 Check out 45 Summer Quotes today.
45 Best Summer Quotes
1. "In the summer, we write life's summary with the slow waves of love flowing over the sandy beach. The slow breeze and the warm sun write our memories." – Debasish Mridha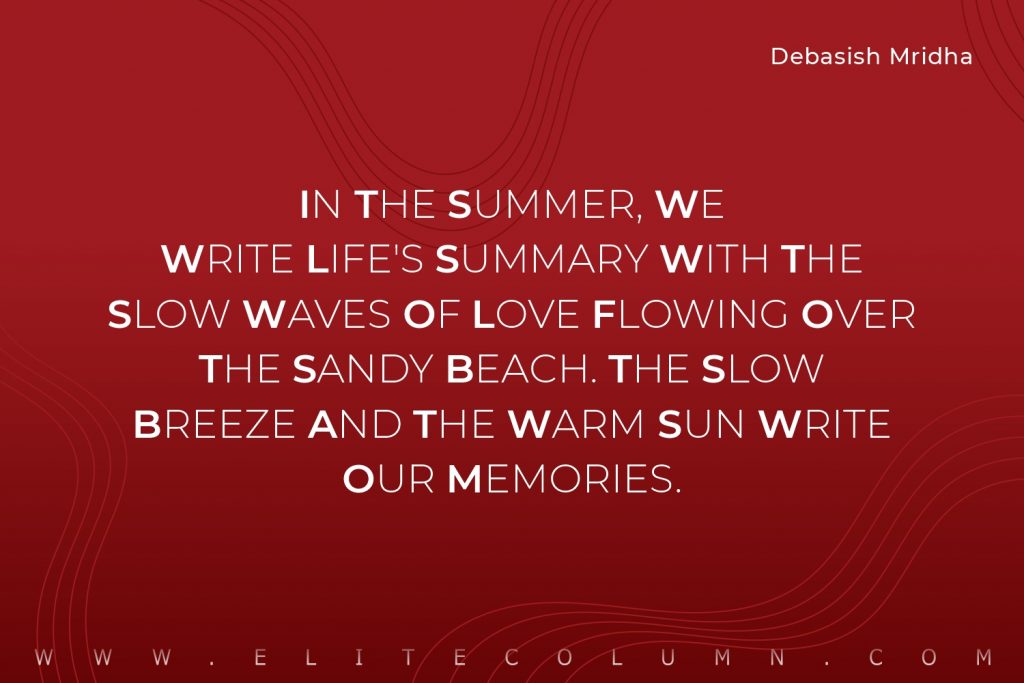 2. "Keep your face to the sun and you will never see the shadows." – Helen Keller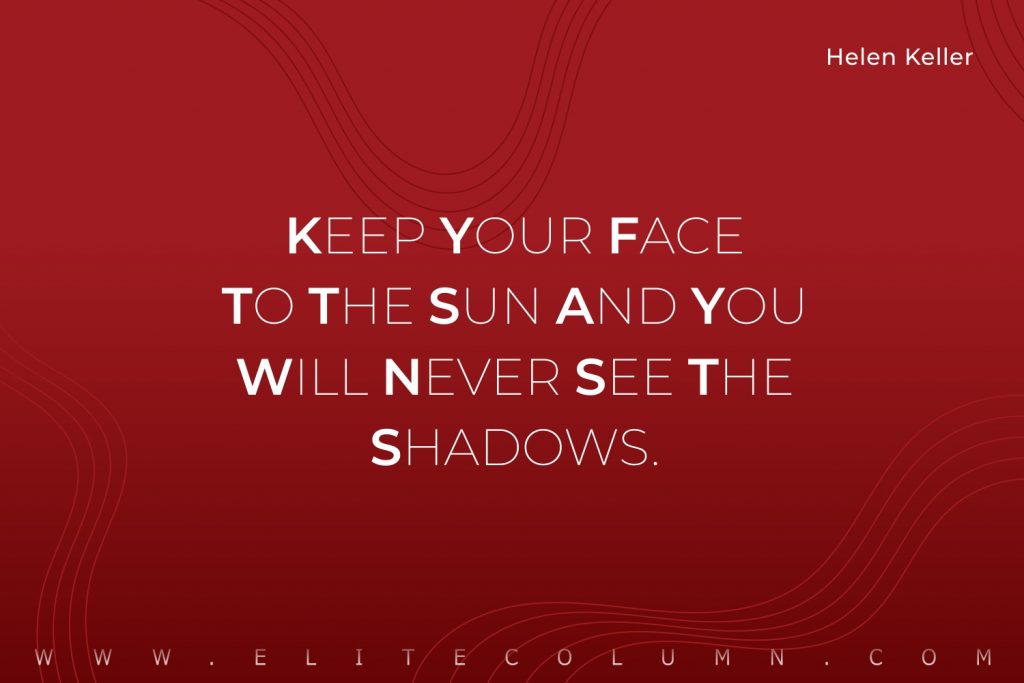 3. "The soles of her feet were summer-tough, numb to the jagged shells and bits of pinecone." – Denise Hunter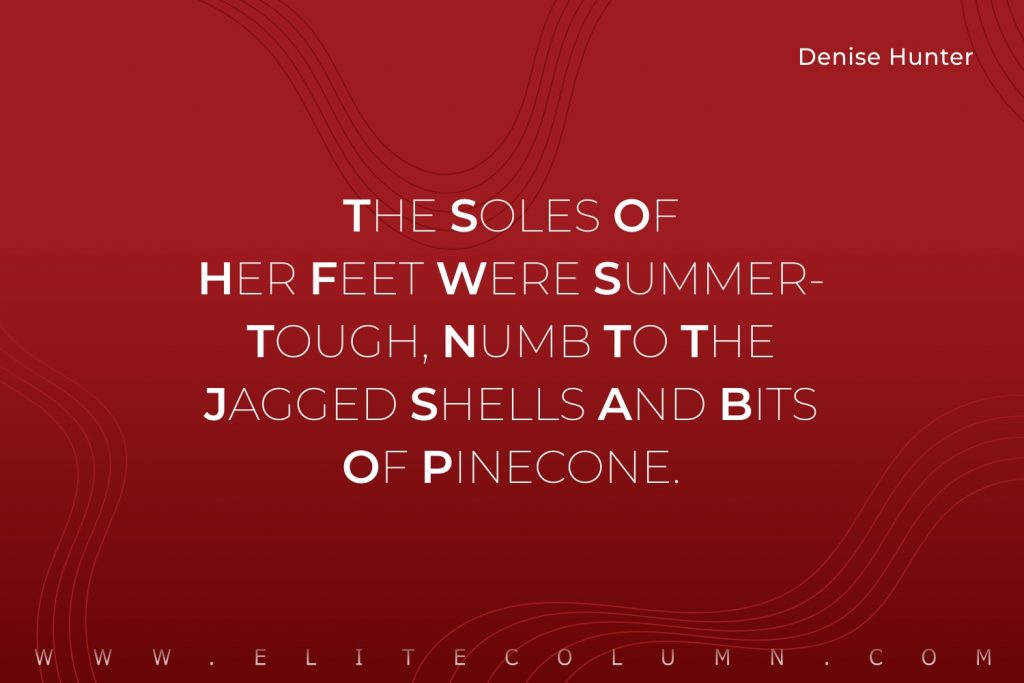 4. "Whatever happens in the rest of this summer, whatever happens the rest of your life, it's important that you are happy, and stay that way." – Kailin Gow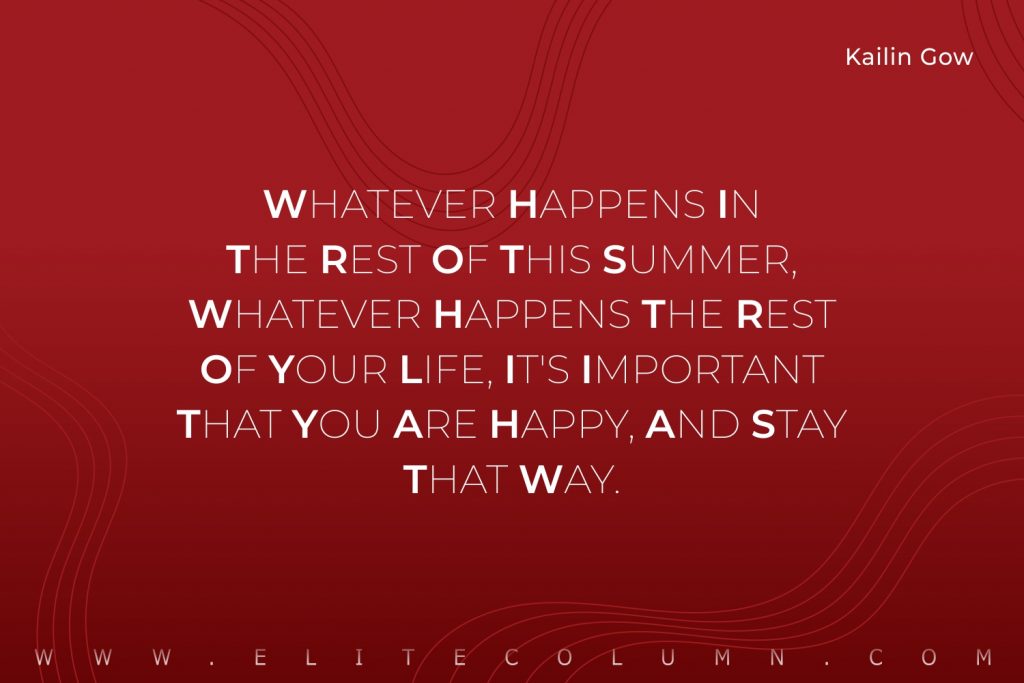 5. "Summer is calling me with the music of an ocean breeze. I must go dance with the waves of love." – Debasish Mridha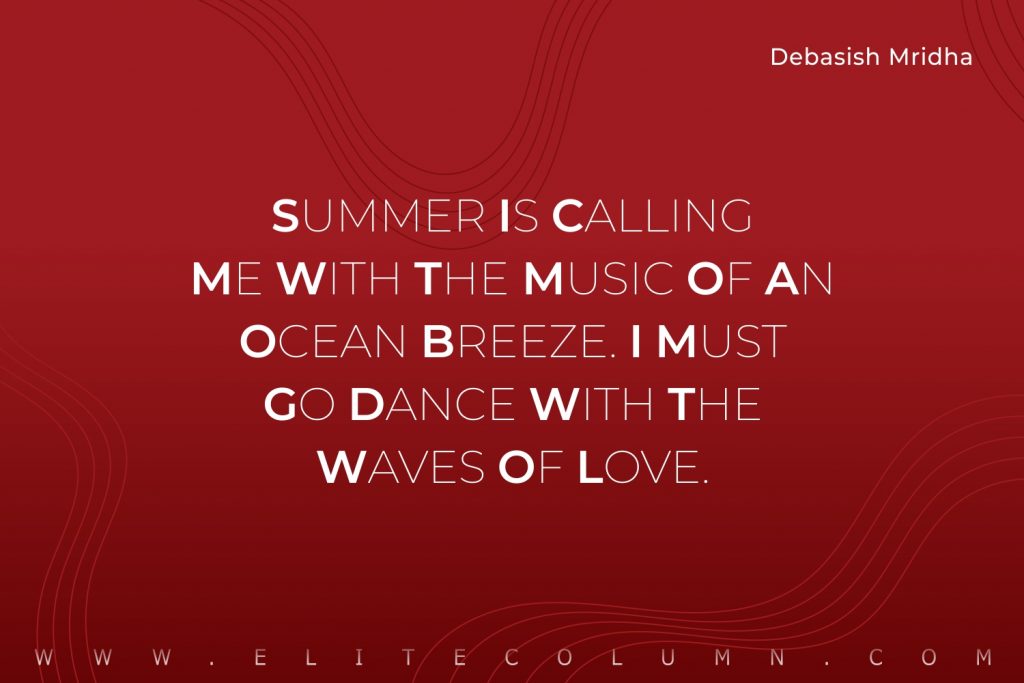 6. "It is easy to forget how effervescent and free we all felt that summer." – Anna Godbersen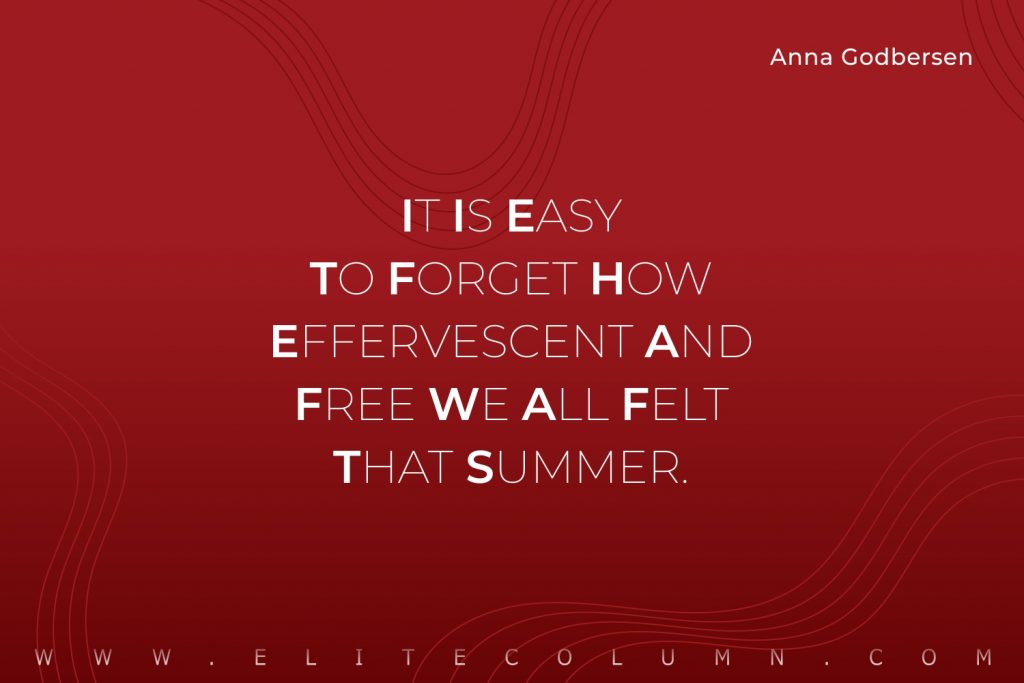 7. "Summertime is always the best of what might be." – Charles Bowden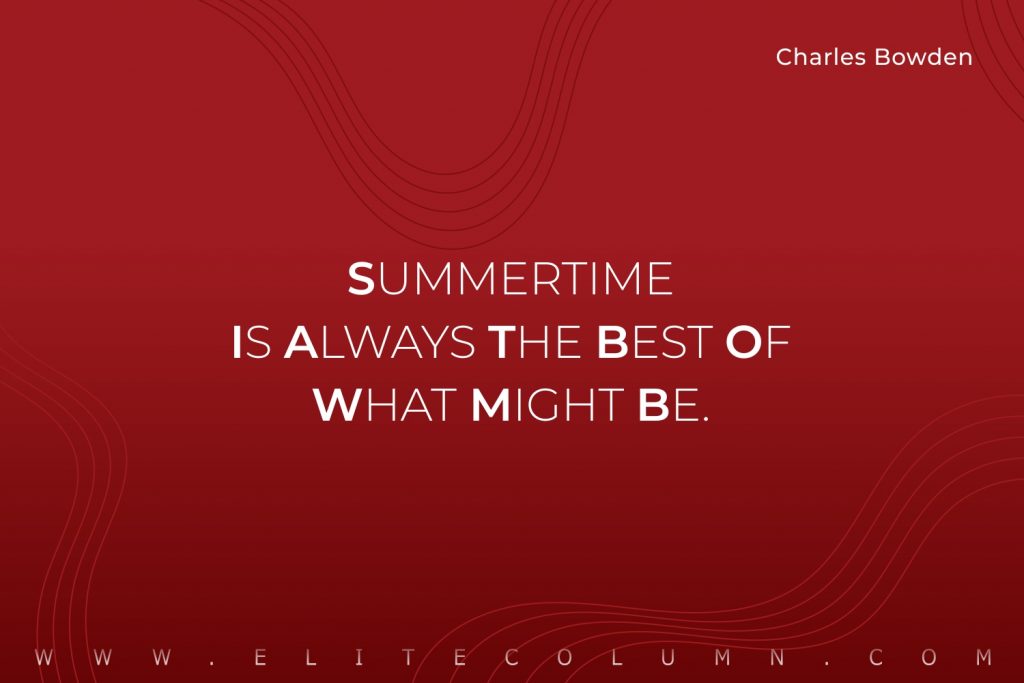 8. "The summer night is like a perfection of thought." – Wallace Stevens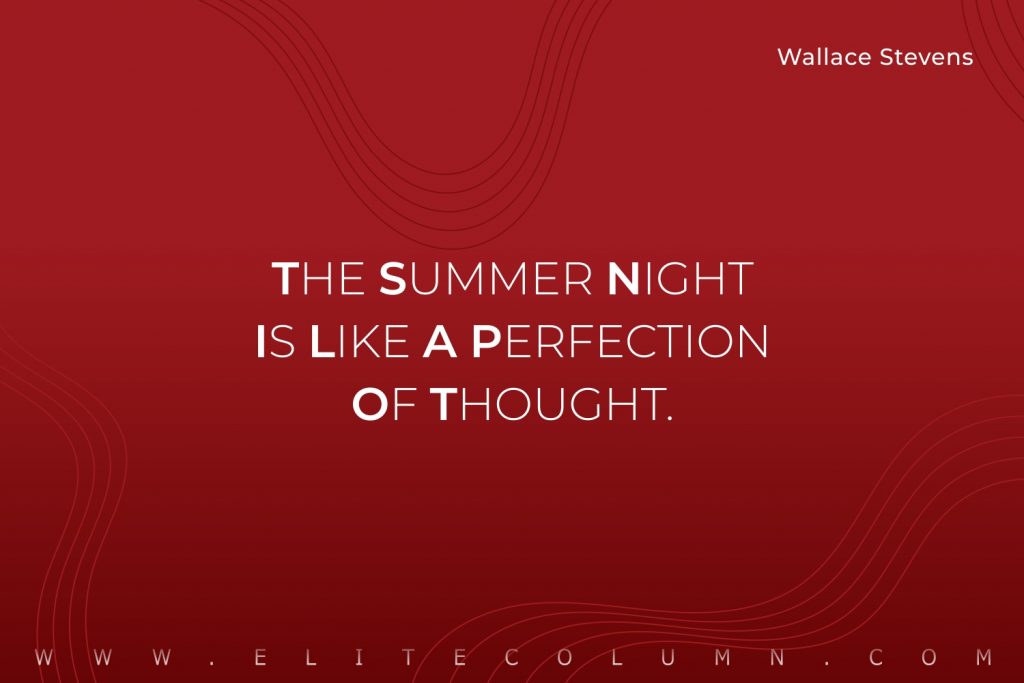 9. "One must maintain a little bit of summer, even in the middle of winter." – Henry David Thoreau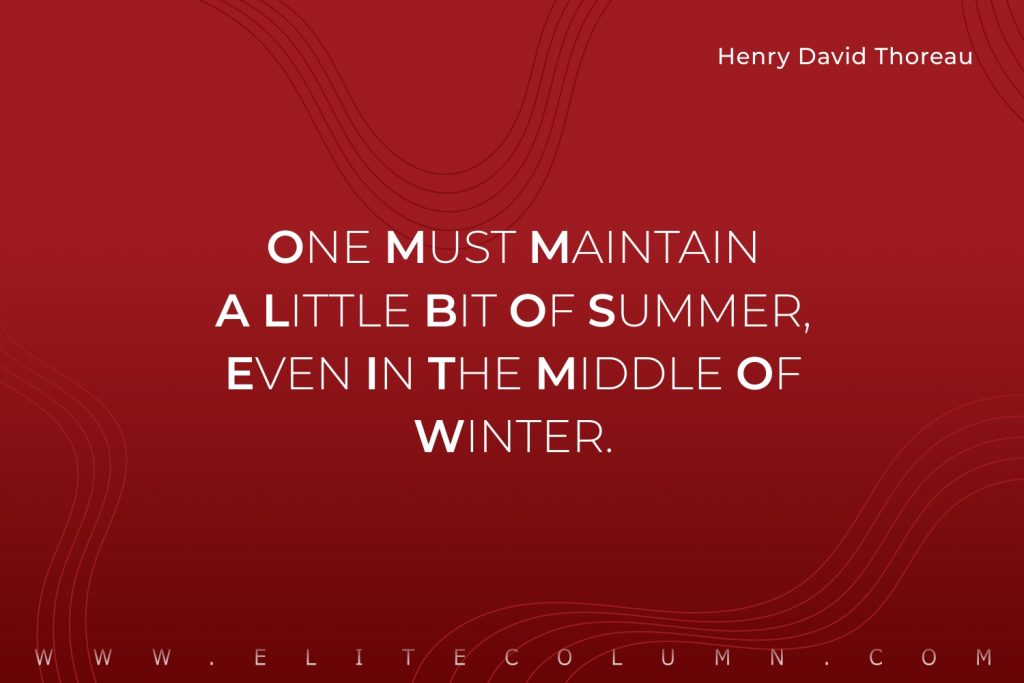 10. "There shall be eternal summer in the grateful heart." – Celia Thaxter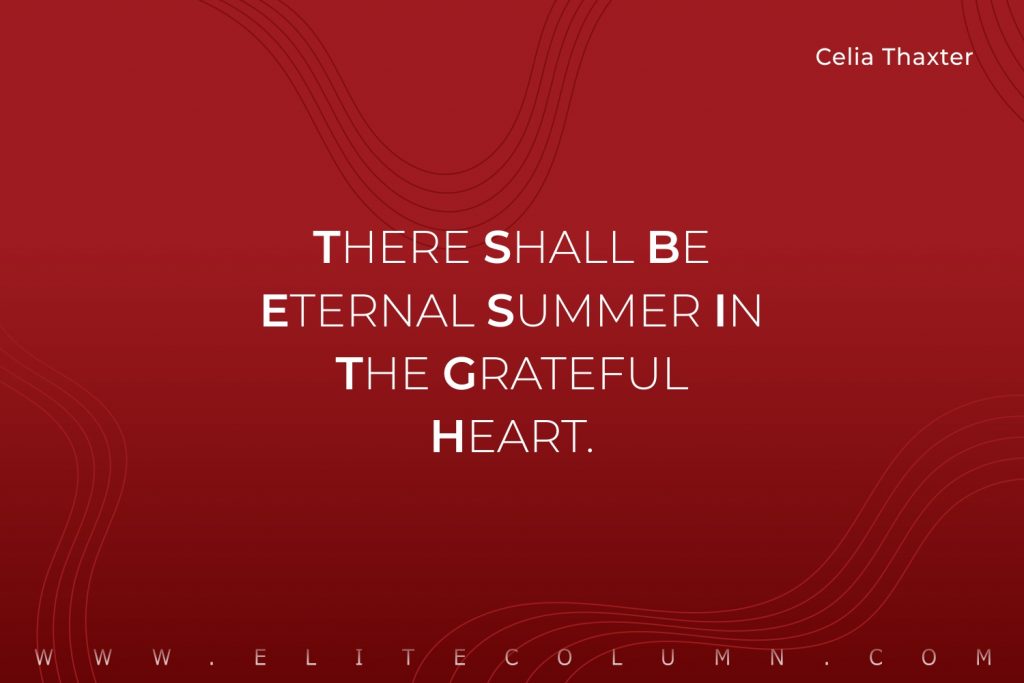 11. "I could taste the salt on her lips, each kiss like a summer wave breaking on an empty beach." – Michael Faudet
12. "Tears of joy are like the summer rain drops pierced by sunbeams." – Hosea Ballou
13. "Summer has always been my favorite season. I feel happier." – Zooey Deschanel
14. "Live in the sunshine, swim the sea, drink the wild air." – Ralph Waldo Emerson
15. "Sweet, sweet burn of sun and summer wind, and you my friend, my new fun thing, my summer fling." – K.D. Lang
16. "If you have a garden and a library, you have everything you need." – Marcus Tullius Cicero
17. "Just living is not enough… one must have sunshine, freedom, and a little flower." – Hans Christian Andersen
18. "Summertime. It was a song. It was a season. I wondered if that season would ever live inside of me." – Benjamin Alire Saenz
19. "You are so much sunshine in every square inch." – Walt Whitman
20. "I like summer. I like warmer weather and long days. I'm one of those silly people who still enjoy lying in the sun my children are horrified!" – Danielle Steel
21. "If it could only be like this always always summer, always alone, the fruit always ripe." – Evelyn Waugh
22. "Oh, Sunlight! The most precious gold to be found on Earth." – Roman Payne
23. "Rise above the storm and you will find the sunshine." – Mario Fernandez
24. "Summer afternoon, summer afternoon; to me those have always been the two most beautiful words in the English language." – Henry James
25. "Summer has filled her veins with light and her heart is washed with noon." – C. Day Lewis
26. "It was June, and the world smelled of roses. The sunshine was like powdered gold over the grassy hillside." – Maud Hart Lovelace
27. "When I figured out how to work my grill, it was quite a moment. I discovered that summer is a completely different experience when you know how to grill." – Taylor Swift
28. "When the sun is shining I can do anything; no mountain is too high, no trouble too difficult to overcome." – Wilma Rudolph
29. "Some of the best memories are made in flip flops." – Kellie Elmore
30. "Smell the sea and feel the sky. Let your soul and spirit fly." – Van Morrison
31. "Everything good, everything magical happens between the months of June and August." – Jenny Han
32. "Spring being a tough act to follow, God created June." – Al Bernstein
33. "Rejoice as summer should… chase away sorrows by living." – Melissa Marr
34. "She smelled of sun and daisies with a hint of river water." – Katie Daisy
35. "Summer means happy times and good sunshine. It means going to the beach, enjoying the scenery, having fun with family and friends." – Brian Wilson
36. "Like a welcome summer rain, humor may suddenly cleanse and cool the earth, the air and you." – Langston Hughes
37. "I love how summer just wraps its arms around you like a warm blanket." – Kellie Elmore
38. "Cause a little bit of summer is what the whole year is all about." – John Mayer
39. "Deep summer is when laziness finds respectability." – Sam Keen
40. "One benefit of summer was that each day we had more light to read by." – Jeannette Walls
41. "It's a smile, it's a kiss, it's a sip of wine… it's summertime!" – Kenny Chesney
43. "A vacation is having nothing to do and all day to do it in." – Robert Orben
44. "Summer passes and one remembers one's exuberance." – Yoko Ono
44. "Summer bachelors like summer breezes, are never as cool as they pretend to be." – Nora Ephron
45. "Summer will end soon enough, and childhood as well." – George R.R. Martin
Thanks for checking out the best Summer Quotes. Feel free to share the quotes with your friends. Leave a comment below and which are your favourite Summer Quotes ?
See also:
Finding Yourself Quotes | Good Quotes | Thanksgiving Quotes |Moving Forward Quotes |Autumn Quotes |Winter Quotes |Spring Quotes
You can find us at – Facebook | Instagram | LinkedIn | Pinterest | Twitter