Check out 50 Sister Quotes today. Sister Quotes will help you rejoice and revisit your early memories.
50 Best Sister Quotes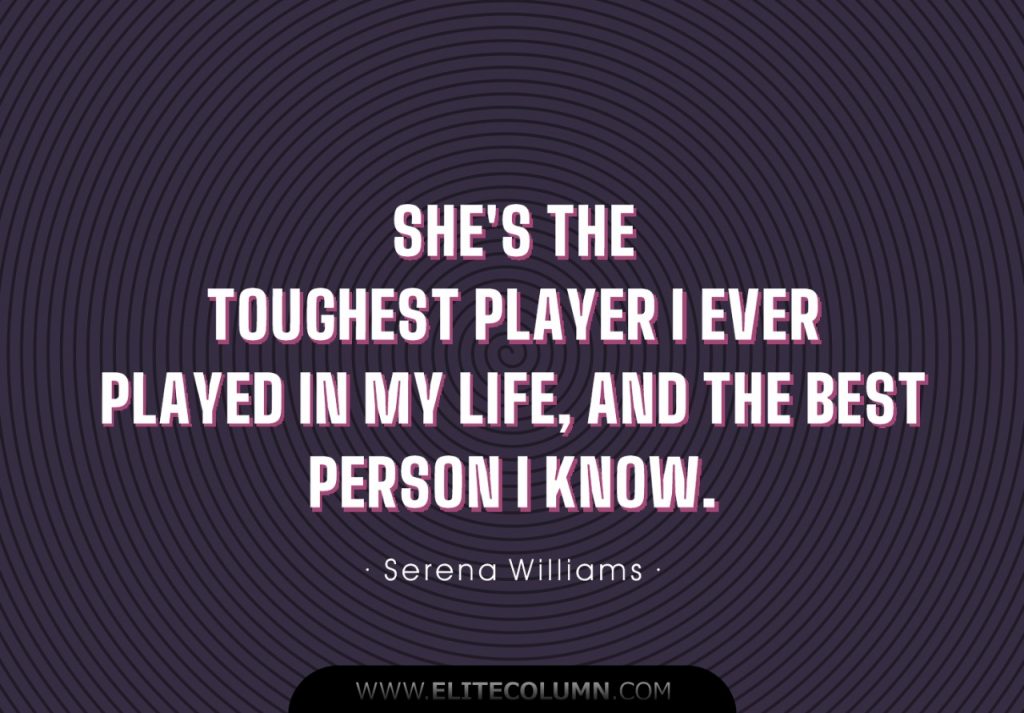 1. "She's the toughest player I ever played in my life, and the best person I know." – Serena Williams
2. "The best thing about having a sister was that I always had a friend." – Cali Rae Turner
3. "A sister is a gift to the heart, a friend to the spirit, a golden thread to the meaning of life." – Isadora James
4. "A sister is a little bit of childhood that can never be lost." – Marion Garretty
5. "Sisters function as safety nets in a chaotic world simply by being there for each other." – Carol Saline
6. "You can kid the world, but not your sister." – Charlotte Gray
7. "There's a lot of baggage that comes with us. But it's like Louis Vuitton baggage—you always want it." – Kim Kardashian
8. "My sister 'was the light of my life'" – Solomon Thomas
9. "She is your partner in crime, your midnight companion, someone who knows when you are smiling even in the dark." – Barbara Alpert
10. "There's nobody in the world that knows me better than my sister." – Tia Mowry
11. "When traveling life's journey it's good to have a sister's hand to hold on to." – Anonymous
12. "My sister is the one person who truly knows me, as I know her." – Lisa See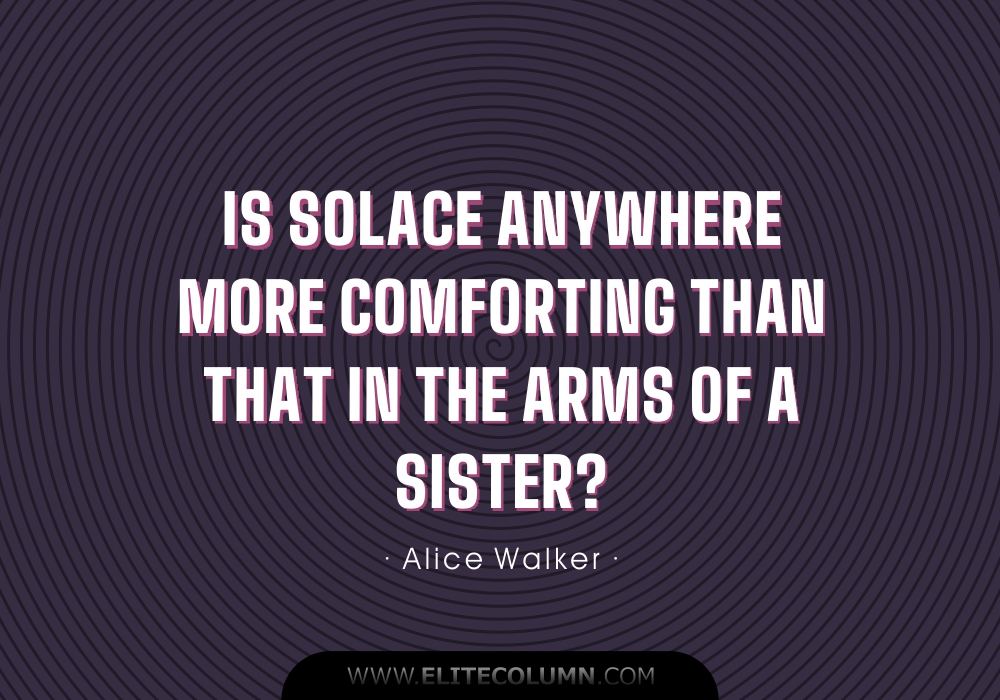 13. "Is solace anywhere more comforting than that in the arms of a sister?" – Alice Walker
14. "Sisters are the people we practice on, the people who teach us about fairness and cooperation and kindness and caring – quite often the hard way." – Pamela Dugdale
15. "We acquire friends and we make enemies, but our sisters come with the territory." – Evelyn Loeb
16. "How do people make it through life without a sister?" – Sara Corpening
17. "As I grew up, one of my strongest allies has been my sister." – Patti Smith
18. "A sister's love is forever, and on your birthday I wish you nothing but the best." – Danielle Duckery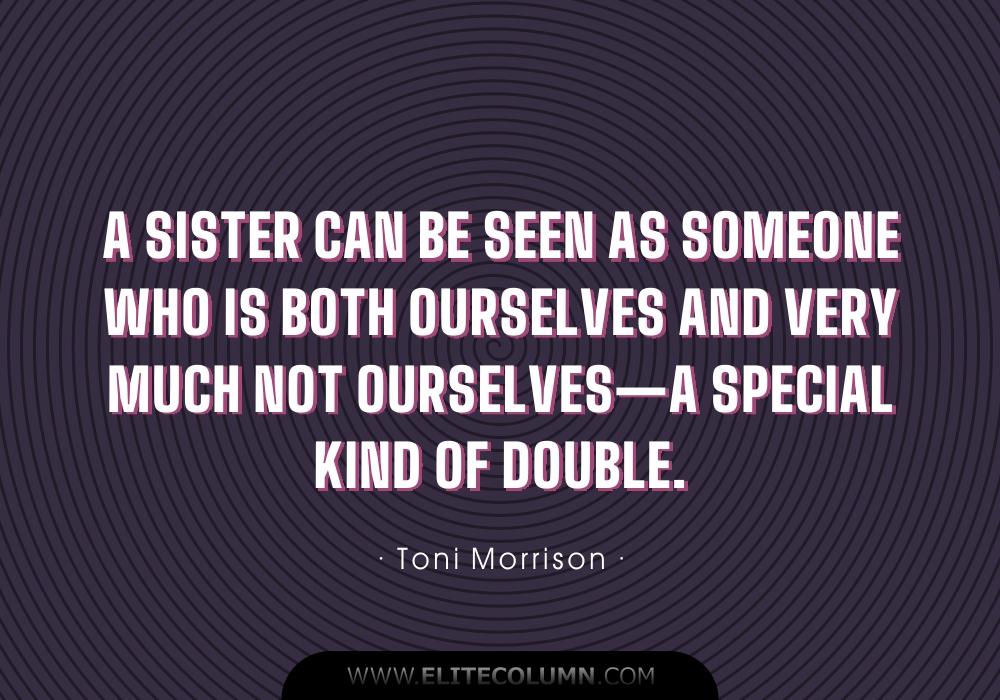 19. "A sister can be seen as someone who is both ourselves and very much not ourselves – a special kind of double." – Toni Morrison
20. "My sister and I are so close that we finish each other's sentences and often wonder who's memories belong to whom." – Shannon Celebi
21. "Sisterly love is, of all sentiments, the most abstract. Nature does not grant it any functions." – Ugo Betti
22. "Without her and her sickness, I would not be here. And without me being a perfect match for my sister, she would not be here as well." – Marissa Ayala
23. "She's always there for me when I need her. She's my best friend. She's just my everything." – Ashley Olsen
24. "To have a loving relationship with a sister is not simply to have a buddy or a confident, it is to have a soulmate for life." – Victoria Secunda
25. "Don't try to love me because you want to be anti-Beyoncé. I am all for Beyonce" – Solange Knowles
See also:
Buddha Quotes | Funny Quotes | Depression Quotes | Deep Quotes | Short Quotes | Sad Quotes | Hardwork Quotes | Strength Quotes | Beauty Quotes
26. "A sister is like yourself in a different movie, a movie that stars you in a different life." – Deborah Tannen
27. "An older sister is a friend and defender – a listener, conspirator, a counselor and a sharer of delights. And sorrows too." – Pam Brown
28. "A sister smiles when one tells stories—for she knows where the decoration has been added." – Chris Montaigne
29. "Look inside any sister relationship and you'll find a wealth of interesting stories." – Colleen Sell
30. "That's the best thing about little sisters: They spend so much time wishing they were elder sisters that in the end they're far wiser than the elder ones could ever be." – Gemma Gurgess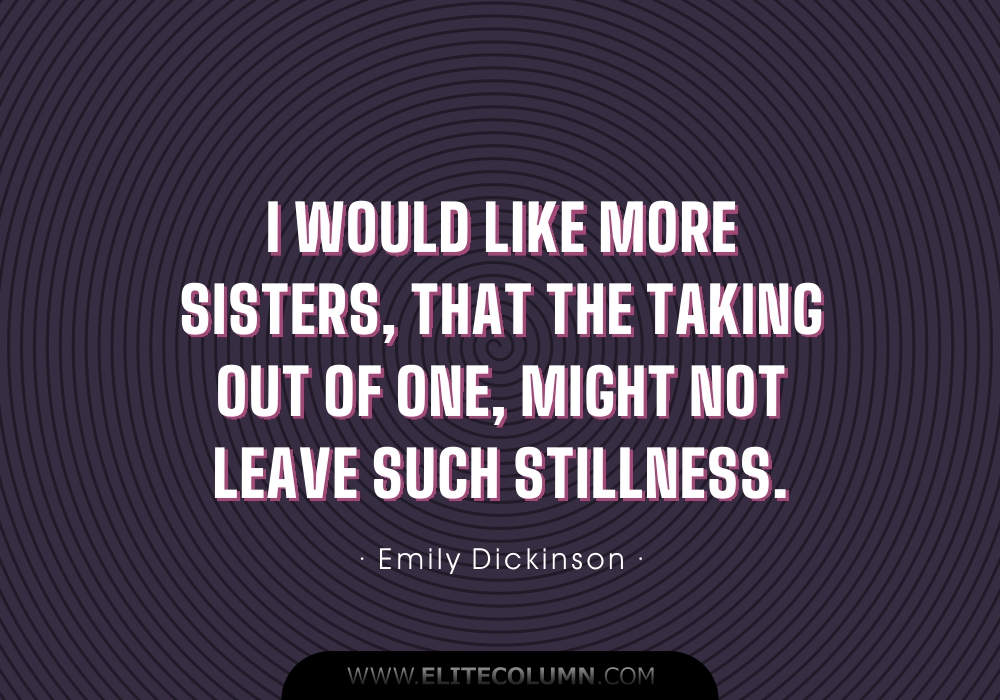 31. "I would like more sisters, that the taking out of one, might not leave such stillness." – Emily Dickinson
32. "What are sisters for if not to point out the things the rest of the world is too polite to mention." – Claire Cook
33. "I always like to win. But I'm the big sister. I want to make sure she has everything, even if I don't have anything. It's hard. I love her too much. That's what counts." – Venus Williams
34. "Sisters will always love you tomorrow no matter what you do today." – Marinela Reka
35. "My sister and I truly are best friends." – Solange Knowles
36. "Sister is our first friend and second mother." – Sunny Gupta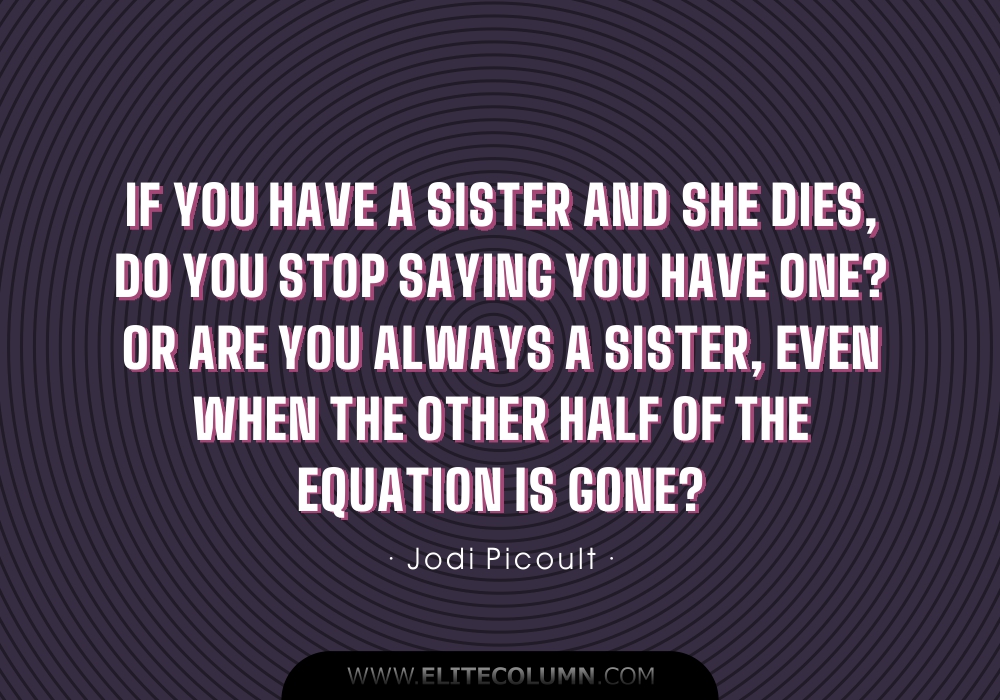 37. "If you have a sister and she dies, do you stop saying you have one? Or are you always a sister, even when the other half of the equation is gone?" – Jodi Picoult
38. "Come on Grace, I'm not going to tell on you. I'm your sister.' And that's all she has to say." – Robin Epstein
39. "Help one another, is part of the religion of sisterhood." – Louisa May Alcott
40. "She is the only person left in the world who shares my memories." – Lisa See
41. "When sisters stand shoulder to shoulder, who stands a chance against us?" – Pam Brown
42. "My sister taught me everything I really need to know, and she was only in sixth grade at the time." – Linda Sunshine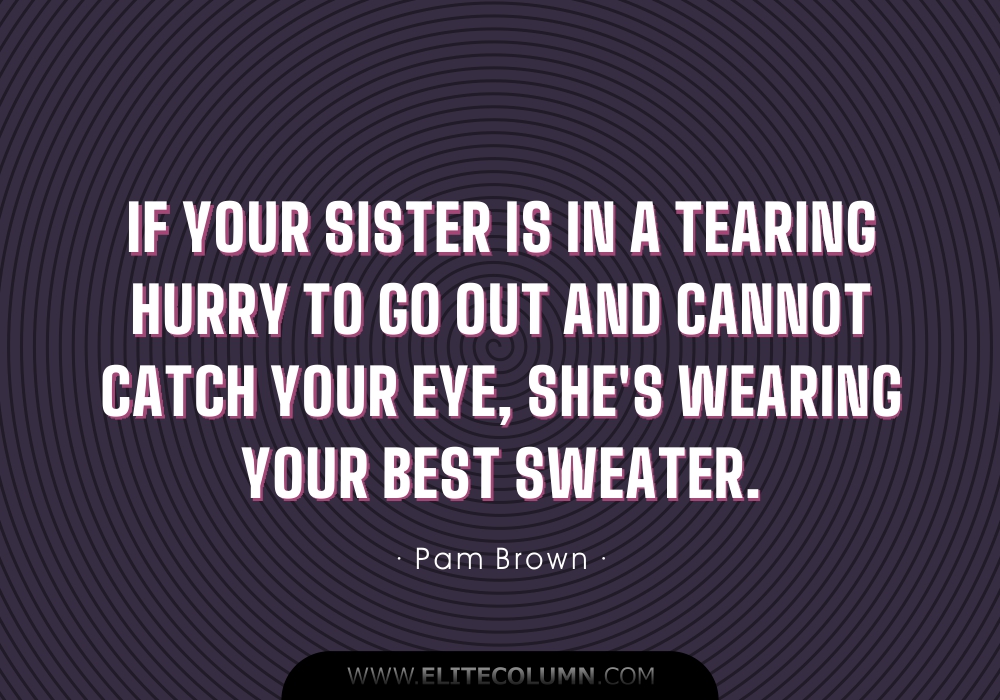 43. "If your sister is in a tearing hurry to go out and cannot catch your eye, she's wearing your best sweater." – Pam Brown
44. "Husbands come and go; children come and eventually they go. Friends grow up and move away. But the one thing that's never lost is your sister." – Gail Sheeny
45. "Having a sister is like having a best friend you can't get rid of. You know whatever you do, they'll still be there." – Amy Li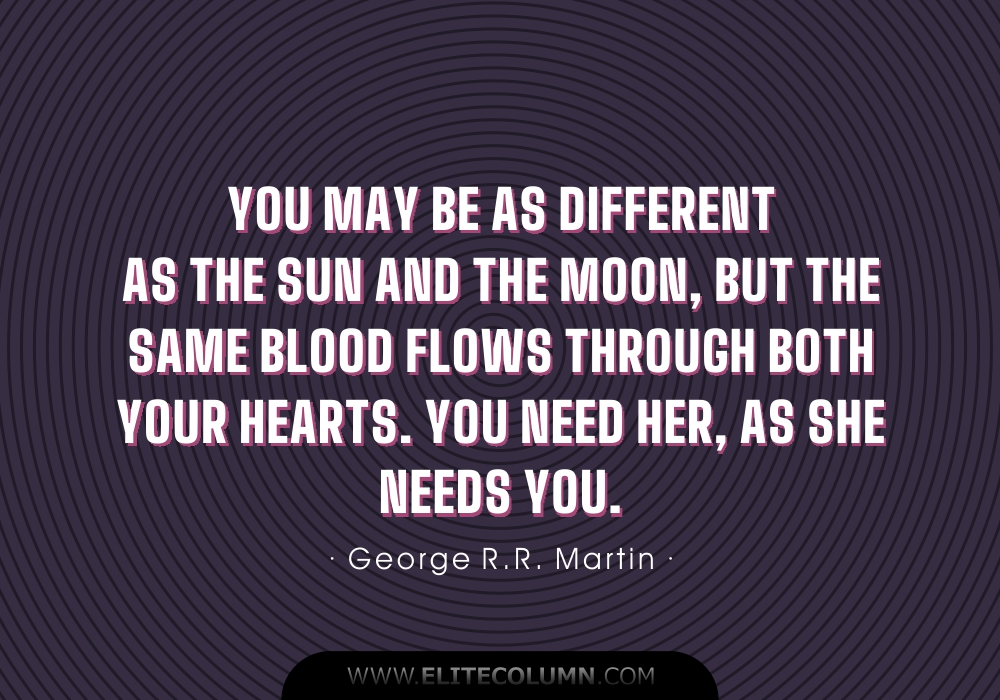 46. "You may be as different as the sun and the moon, but the same blood flows through both your hearts. You need her, as she needs you." – George R.R. Martin
47. "A sister is a dearest friend, a closest enemy, and an angel at the time of need." – Debasish Mridha
48. "My sister is a big part of my actual style. Our style is not similar whatsoever, but she helped me find myself and find what I really liked." – Sofia Richie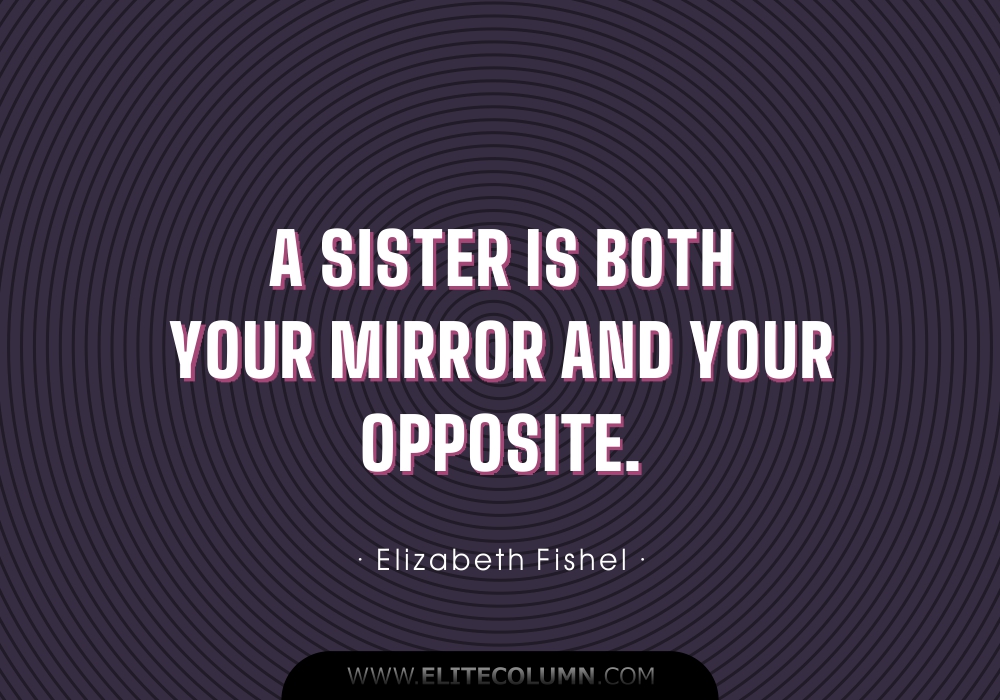 49. "A sister is both your mirror and your opposite." – Elizabeth Fishel
50. "When our hair is white, we'll still have our sister love." – Lisa See
Thanks for checking out the best Sister Quotes. Feel free to share the quotes with your friends. Leave a comment below and which are your favourite Sister Quotes ?
See also:
Leadership Quotes | Death Quotes | Respect Quotes | Brother Quotes | Hope Quotes | Loneliness Quotes | Nature Quotes | Kindness Quotes
You can find us at – Facebook | Instagram | LinkedIn | Pinterest | Twitter