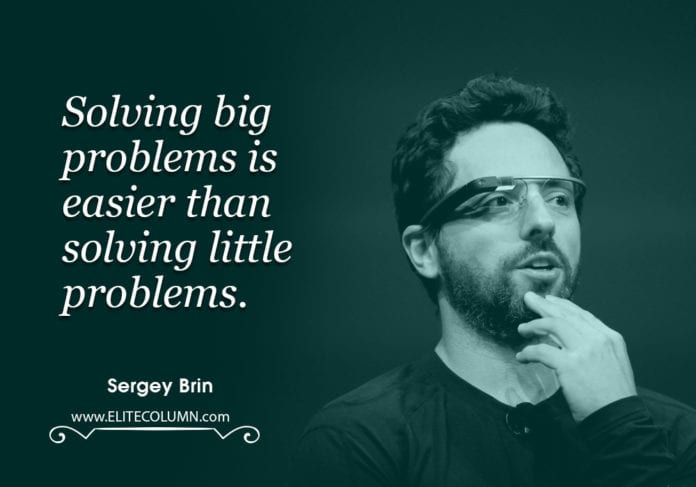 Explore the greatest Sergey Brin quotes and let yourself be enriched with his genius vision. The billionaire, entrepreneur, and philanthropist Brin has a lot to say about life. Sergey Brin is the co-founder of world's most powerful company, Google. He lived an unorthodox and successful life. Those who wish to understand the meaning of success are welcomed to be inspired by Sergey quotes. The maker of the most successful technologies of the world, Sergey's quotes gives an insight into his way up to the ladder of success. Learn how he became what he is today.
43 Motivational Sergey Brin Quotes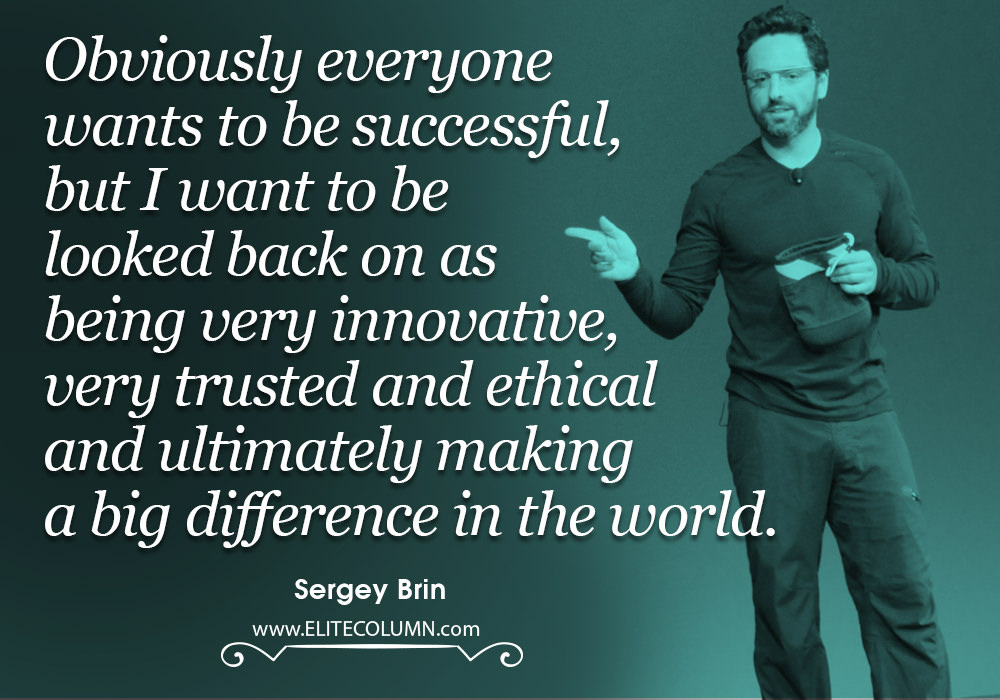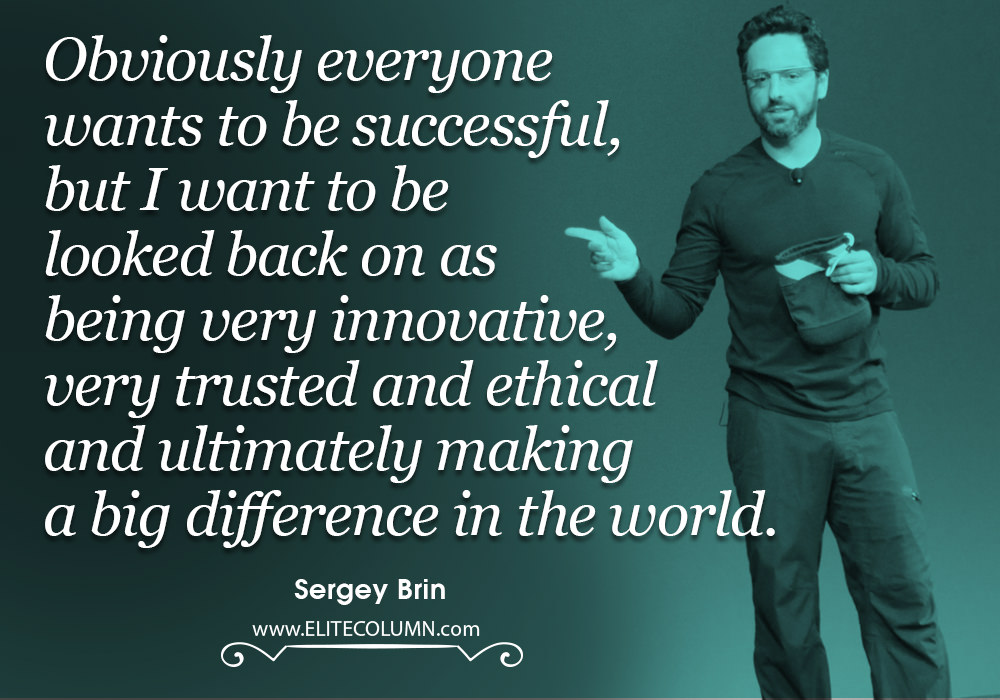 1. "Obviously everyone wants to be successful, but I want to be looked back on as being very innovative, very trusted and ethical and ultimately making a big difference in the world." – Sergey Brin
2. "To me, this is about preserving history and making it available to everyone." – Sergey Brin
3. "If I were seriously interested in something important to me, I wouldn't just click on the first search result, read it and take it as God's word." – Sergey Brin
4. "If Google Books is successful, others will follow." – Sergey Brin
5. "The revolution in deep nets has been very profound. It definitely surprised me, even though I was sitting right there." – Sergey Brin
6. "I had no dreams of such economic success. You should have fun and not be so weighed down by expectations." – Sergey Brin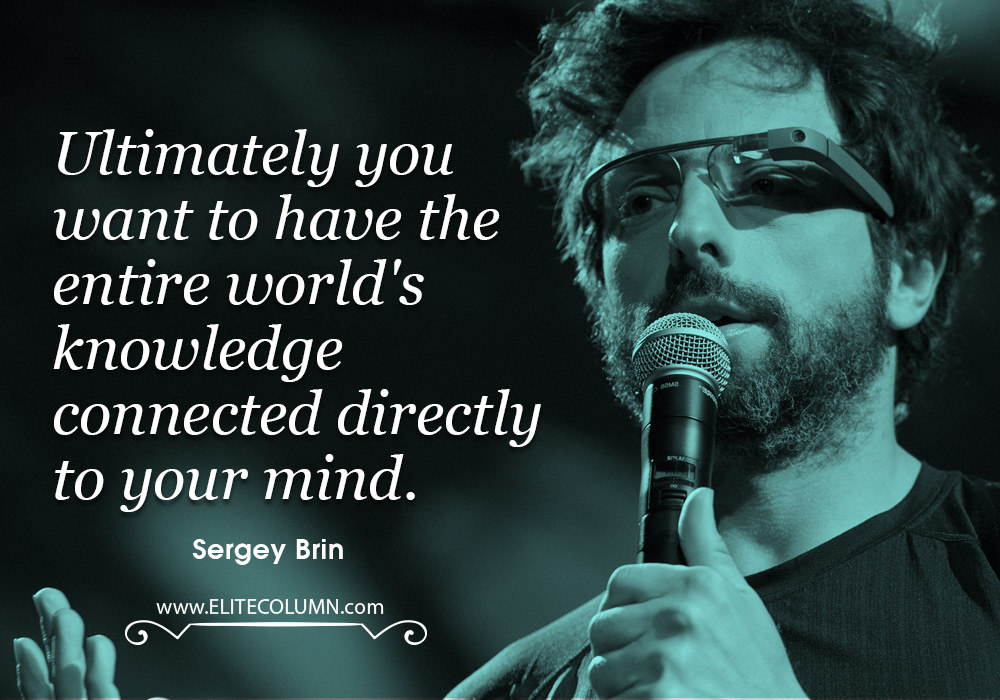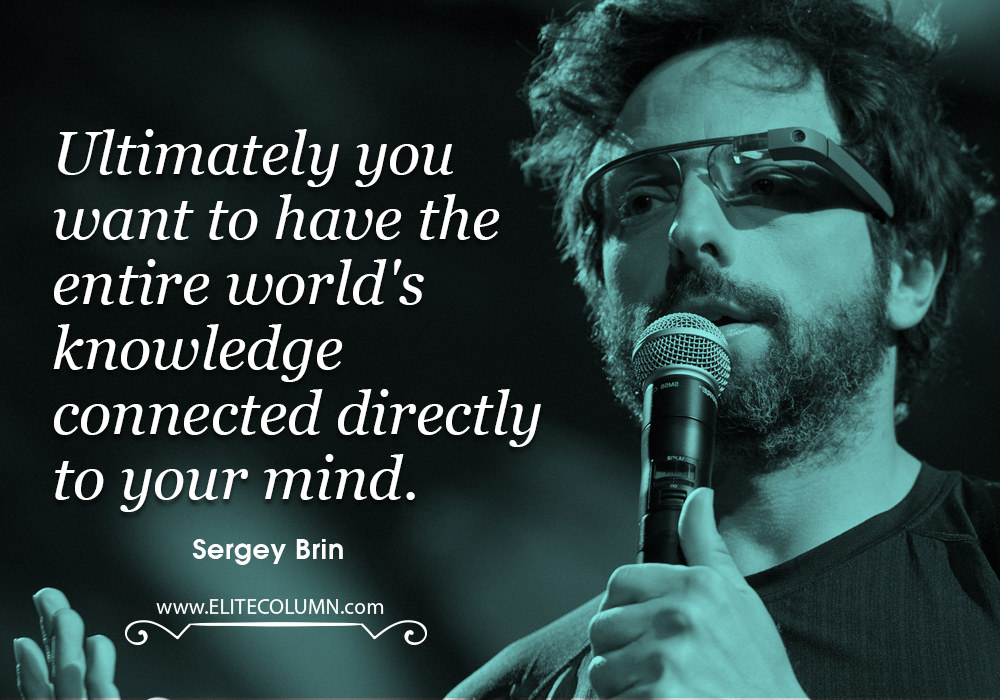 7. "Ultimately you want to have the entire world's knowledge connected directly to your mind." – Sergey Brin
8. "We should be building great things that don't exist." – Sergey Brin
9. "Any conversation I have about innovation starts with the ultimate goal." – Sergey Brin
10. "The only way you are going to have success is to have lots of failures first." – Sergey Brin
11. "As we go forward, I hope we're going to continue to use technology to make really big differences in how people live and work." – Sergey Brin
12. "Too many rules stifle innovation." – Sergey Brin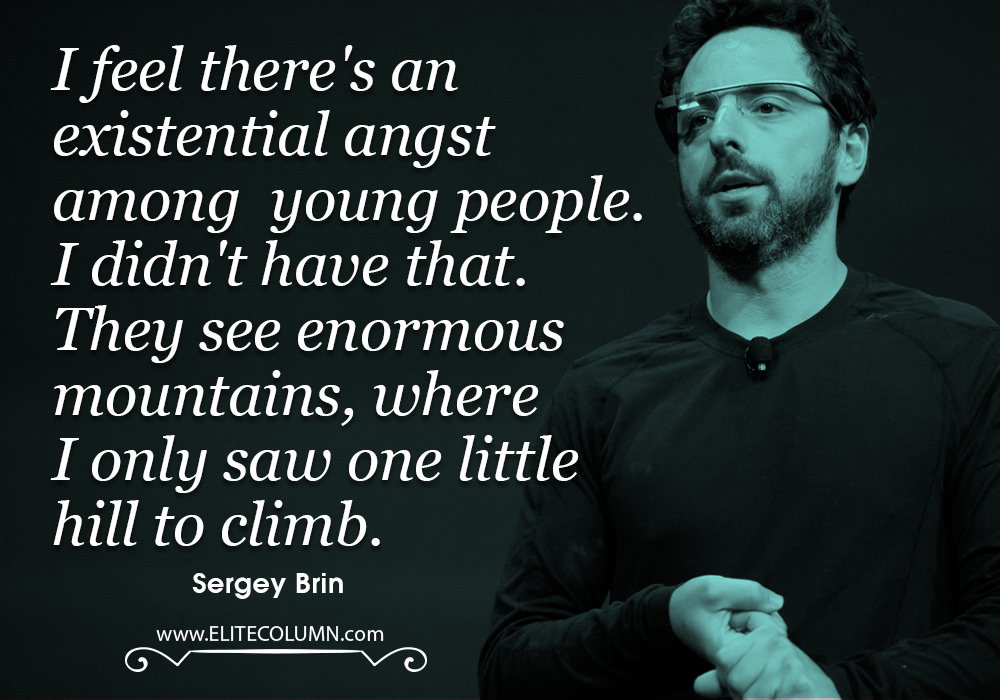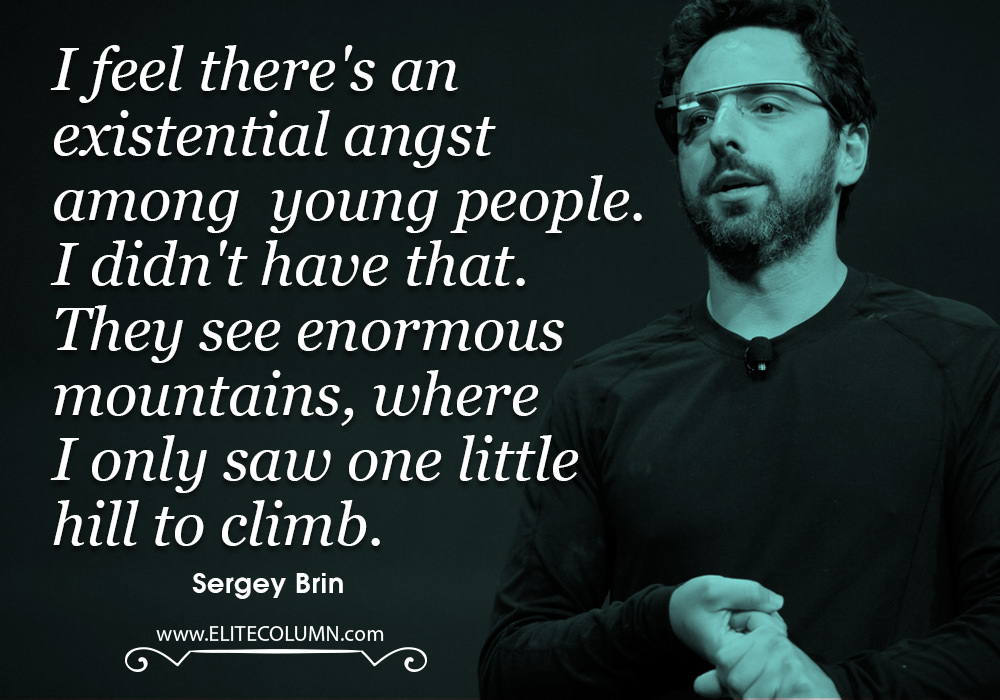 13. "I feel there's an existential angst among young people. I didn't have that. They see enormous mountains, where I only saw one little hill to climb." – Sergey Brin
14. "My goal is for Google to lead, not follow." – Sergey Brin
15. "You can make money doing evil." – Sergey Brin
16. "We will make machines that can reason, think and do things better than we can." – Sergey Brin
17. "We just want to have great people working for us." – Sergey Brin
18. "When I was growing up, I always knew I'd be in the top of my class in math, and that gave me a lot of self-confidence." – Sergey Brin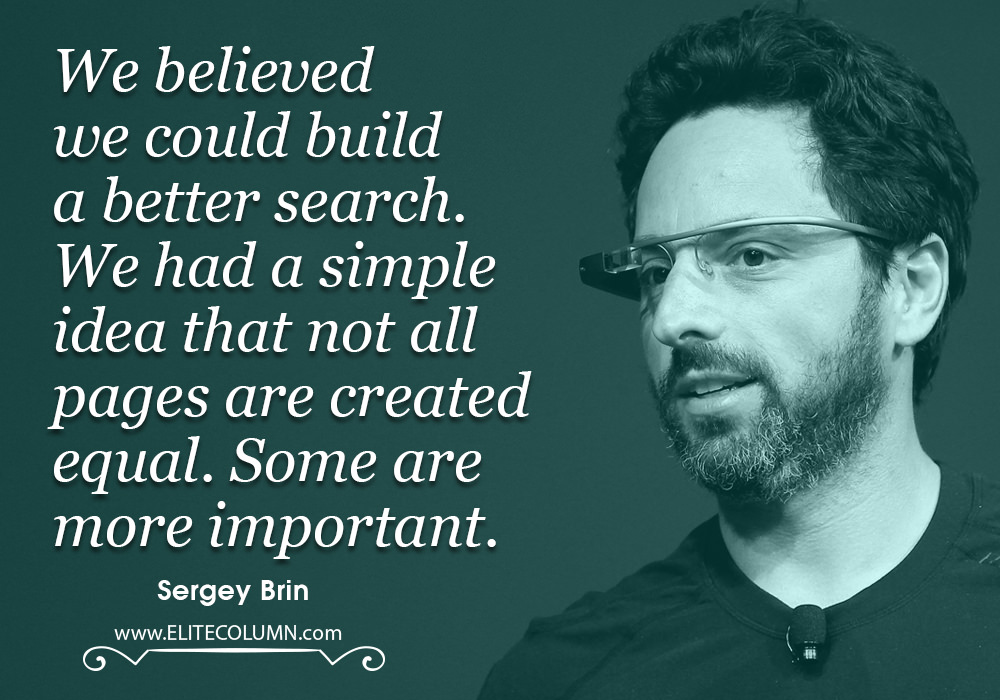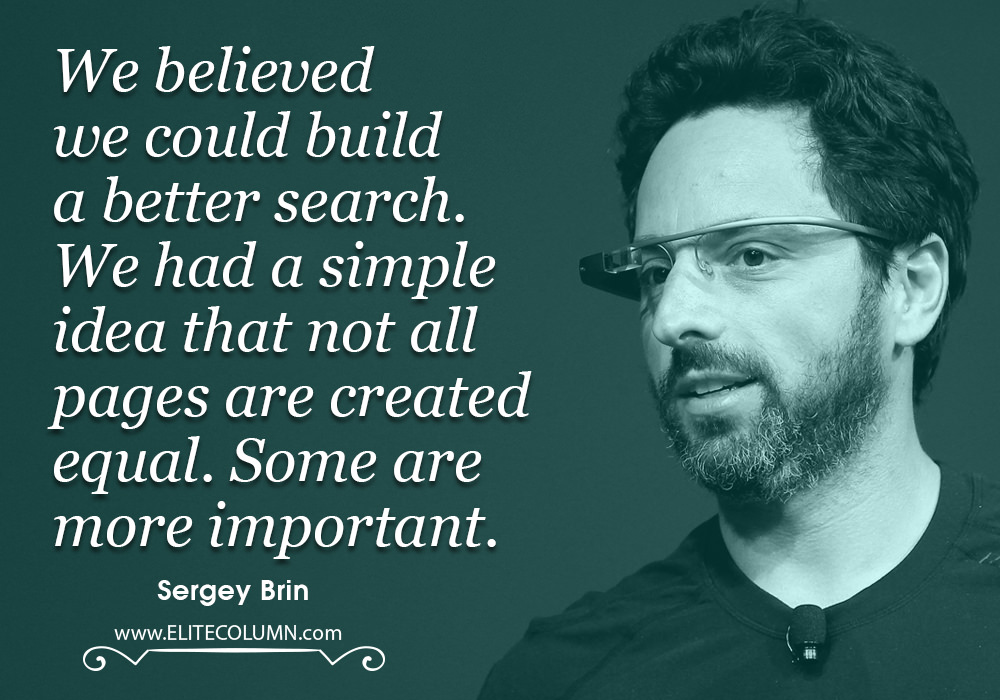 19. "We believed we could build a better search. We had a simple idea that not all pages are created equal. Some are more important." – Sergey Brin
20. "We saw that a thousand results weren't necessarily as useful as 10 good ones." – Sergey Brin
21. "The ultimate search engine would understand exactly what you mean and give back exactly what you want." – Sergey Brin
22. "You never lose a dream, it just incubates as a hobby." – Sergey Brin
23. "It's very hard to fail completely if you aim high enough." – Sergey Brin
24. "It is easier to make progress on mega-ambitious dreams. Since no one else is crazy enough to do it, you have little competition." – Sergey Brin
25. "Anything you can imagine probably is doable, you just have to imagine it and work on it." – Sergey Brin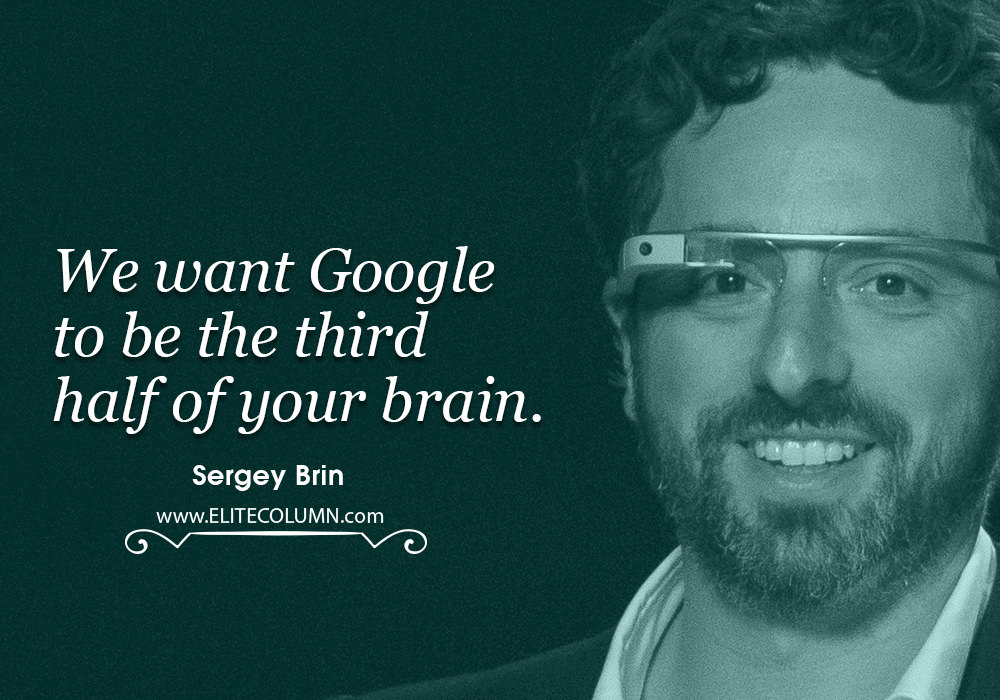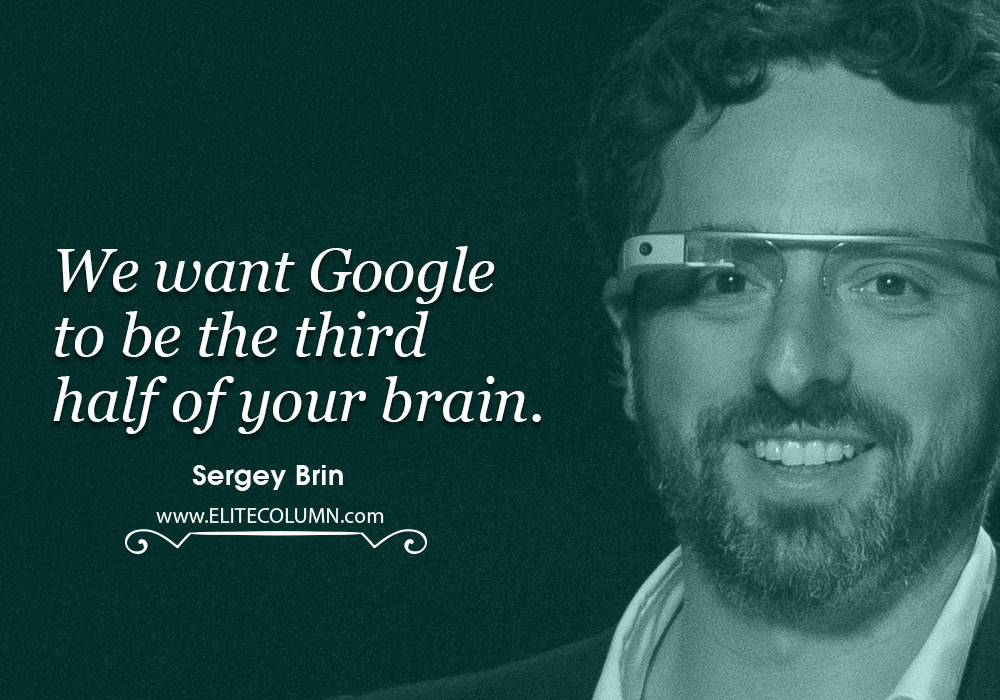 26. "We want Google to be the third half of your brain." – Sergey Brin
27. "If you're not some things that are crazy, then you're doing the wrong things." – Sergey Brin
28. "Small groups of people can have a really huge impact." – Sergey Brin
29. "Basically, our goal is to organize the world's information and to make it universally accessible and useful." – Sergey Brin
30. "Sometimes it's important to wake up and stop dreaming. When a really great dream shows up, grab it." – Sergey Brin
31. "If you have a product that's really gaining a lot of usage, then it's probably a good idea." – Sergey Brin
32. "If you're changing the world, you're working on important things. You're excited to get up in the morning." – Sergey Brin
See also:
Mel Robbins Quotes | Robert Kiyosaki Quotes | Tony Robbins Quotes | Simon Sinek Quotes | Sundar Pichai Quotes | David Meltzer Quotes | Gary Vaynerchuk Quotes

33. "We wouldn't survive if people didn't trust us." – Sergey Brin
34. "I would like to see anyone be able to achieve their dreams, and that's what this organisation does." – Sergey Brin
35. "Always deliver more than expected." – Sergey Brin
36. "Always work hard on something uncomfortably exciting." – Sergey Brin
37. "It's quite complicated and sounds circular, but we've worked out a way of calculating a web site's importance." – Sergey Brin
38. "Lots of companies don't succeed over time. What do they fundamentally do wrong? They usually miss the future." – Sergey Brin
39. "Have a healthy disregard for the impossible." – Sergey Brin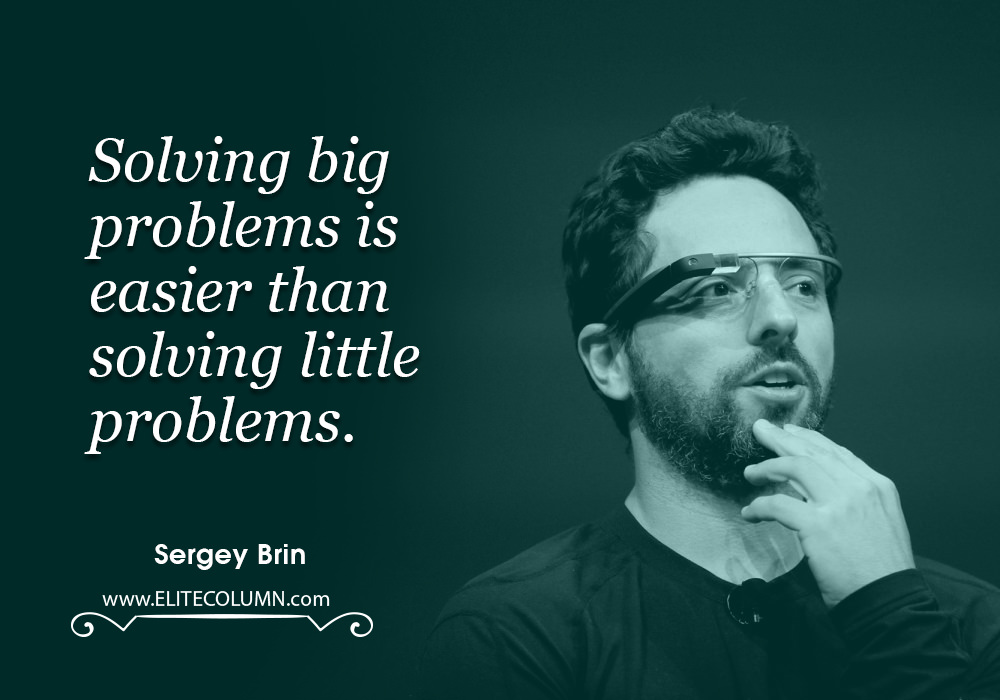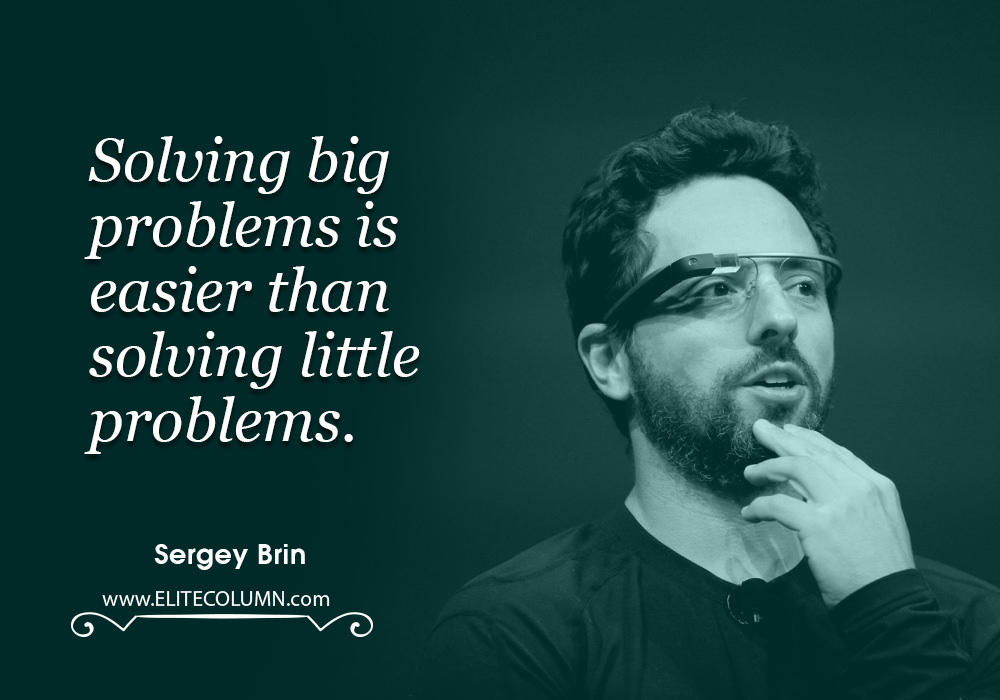 40. "Solving big problems is easier than solving little problems." – Sergey Brin
41. "You don't need to have a 100 person company to develop that idea." – Sergey Brin
42. "If what we are doing is not seen by some people as science fiction, it's probably not transformative enough." – Sergey Brin
43. "Currently we don't have plans on conquering the world." – Sergey Brin
Thanks for checking out the best Sergey Brin Quotes. Feel free to share the quotes with your friends. Leave a comment below and which are your favorite Sergey Brin Quotes ?
See also:
Elon Musk Quotes | Chris Gardner Quotes | John Nash Quotes | Stephen Hawking Quotes | Warren Buffett Quotes | Jack Ma Quotes | Jeff Bezos Quotes | Swami Vivekananda Quotes
You can find us at – Facebook | Instagram | LinkedIn | Pinterest | Twitter