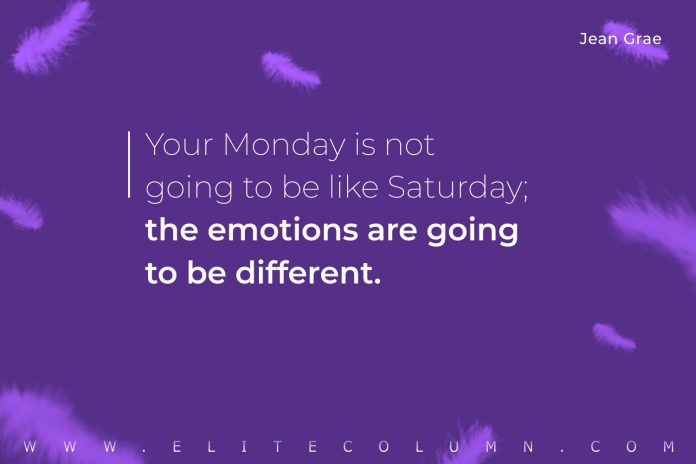 Check out 50 Saturday Quotes today.
50 Best Saturday Quotes
1. "If you had to work 14-hour days, Mondays to Fridays, then you have to keep Saturdays and Sundays sacred." – Nicole Ari Parker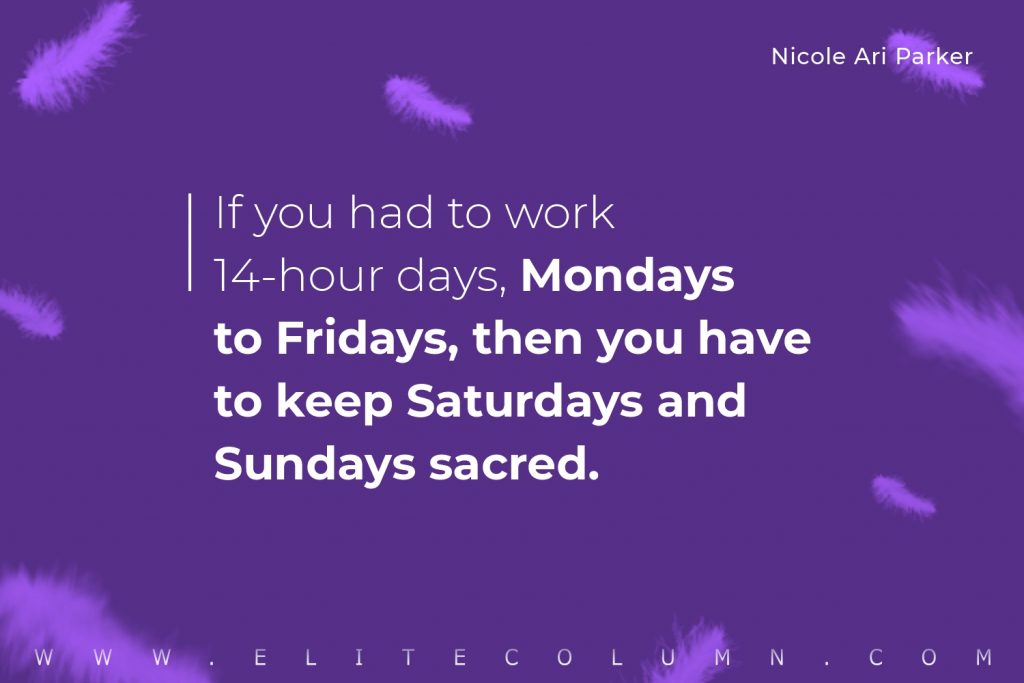 2. "Work hard in silence, let your success be the noise." – Frank Ocean
3. "You will repeatedly feel like giving up on your goal. Do not ever give up." – Avinash VS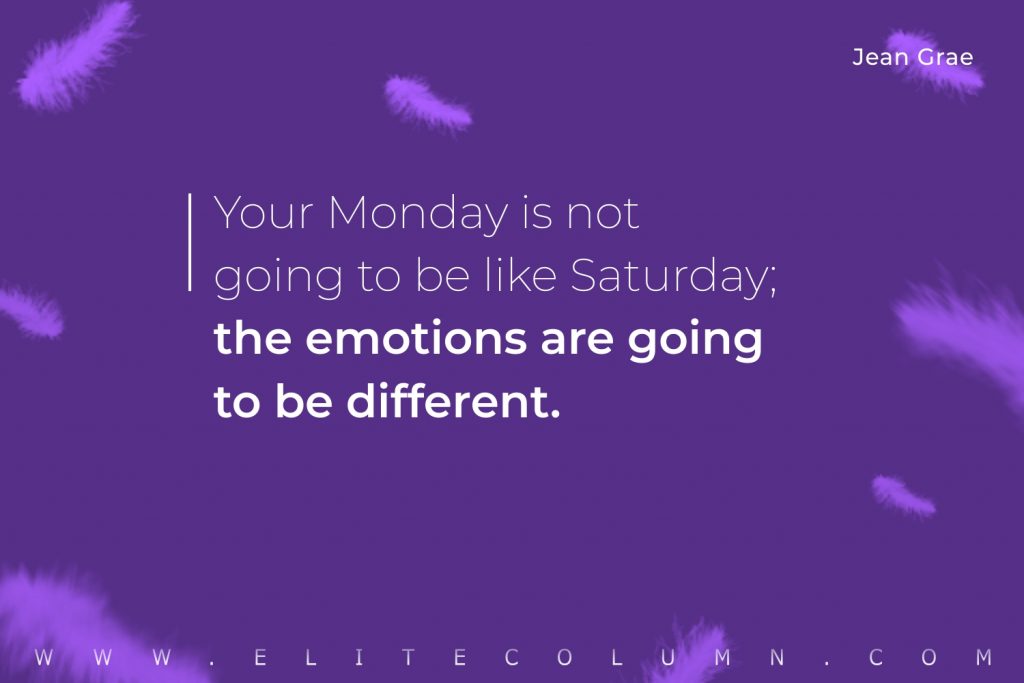 4. "I always wake up early Saturday morning, and I have a little bit more time." – Ehud Olmert
5. "I would work Monday through Saturday noon. I'd go to town on Saturday afternoons, sit on the street corner, and I'd sing and play." – B. B. King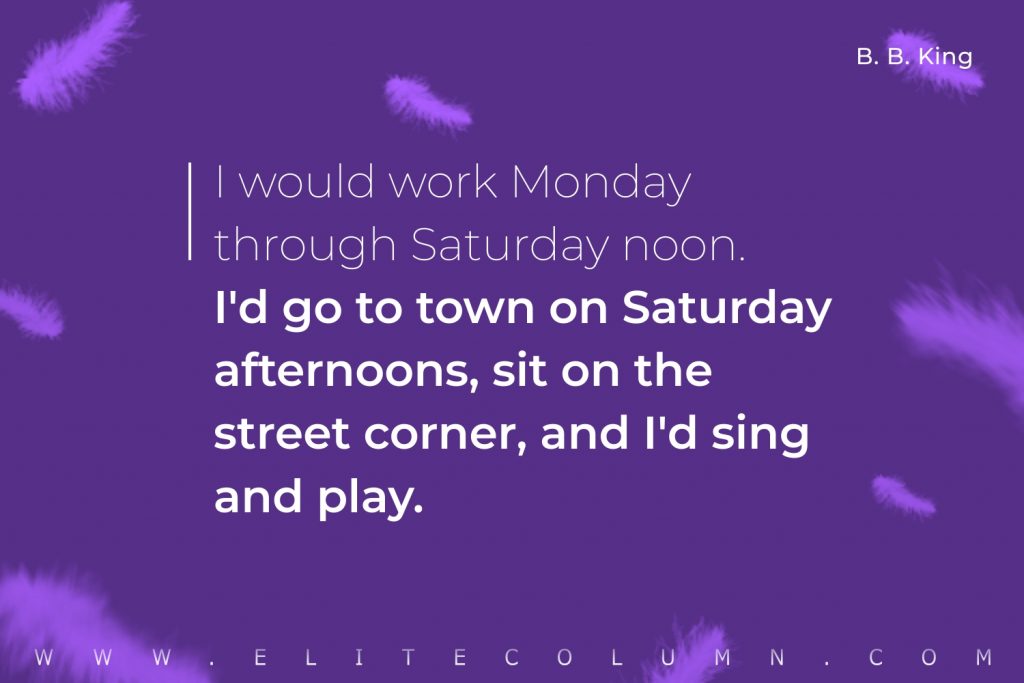 6. "Saturday morning was come, and all the summer world was bright and fresh, and brimming with life." – Mark Twain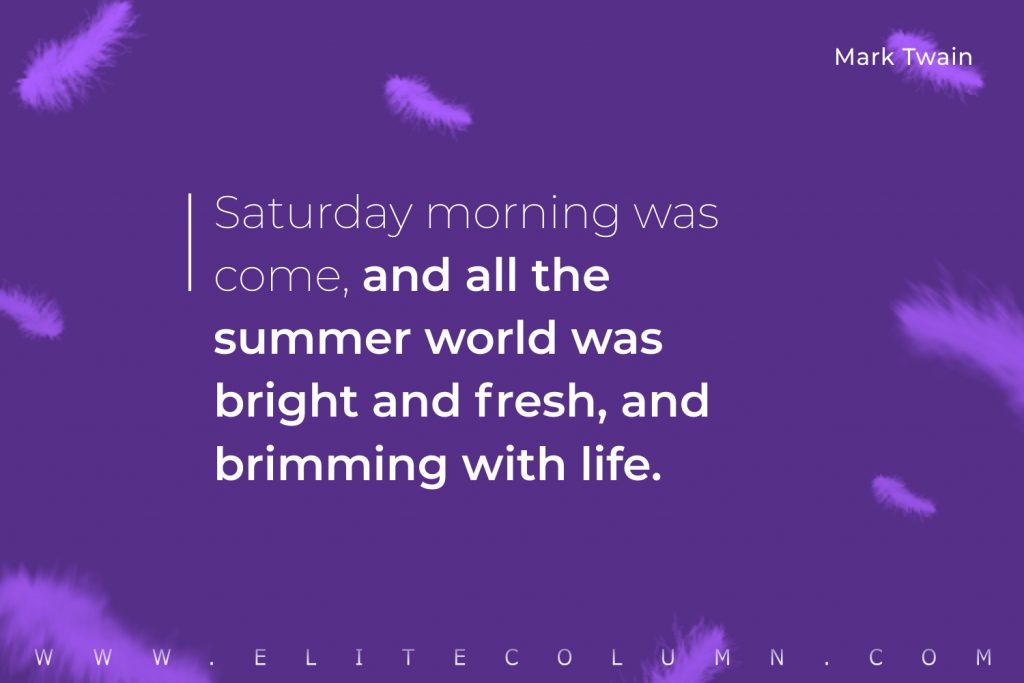 7. "Saturday night's alright for fighting Get a little action in" – Elton John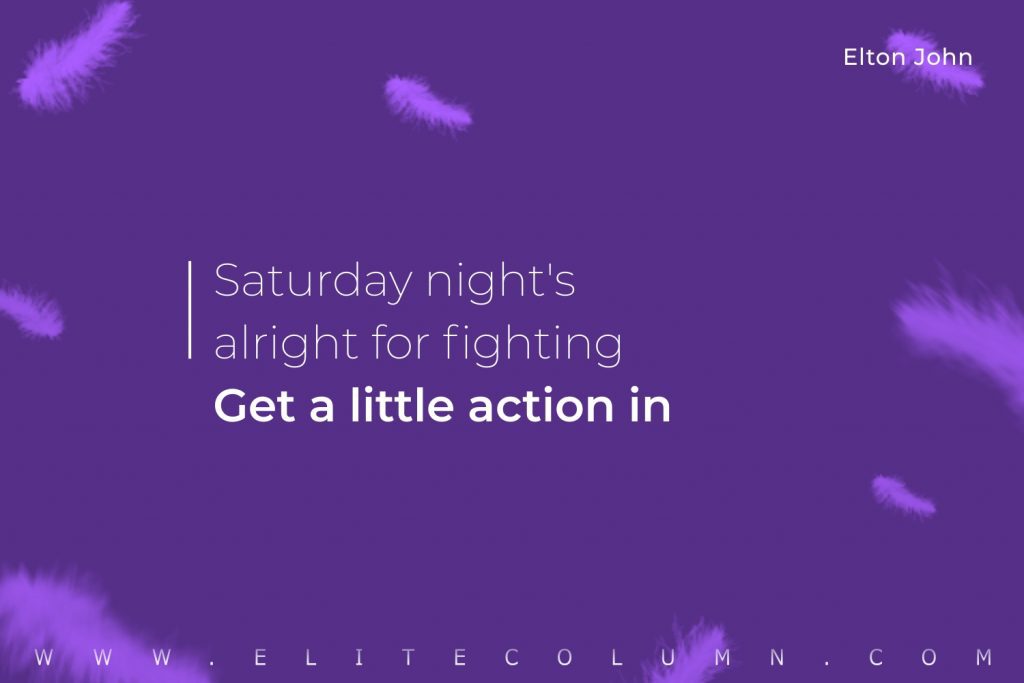 8. "You work all week long, You work your fingers to the bone Friday's at an end, I can't wait for Saturday to begin!" – Oliver Cheatham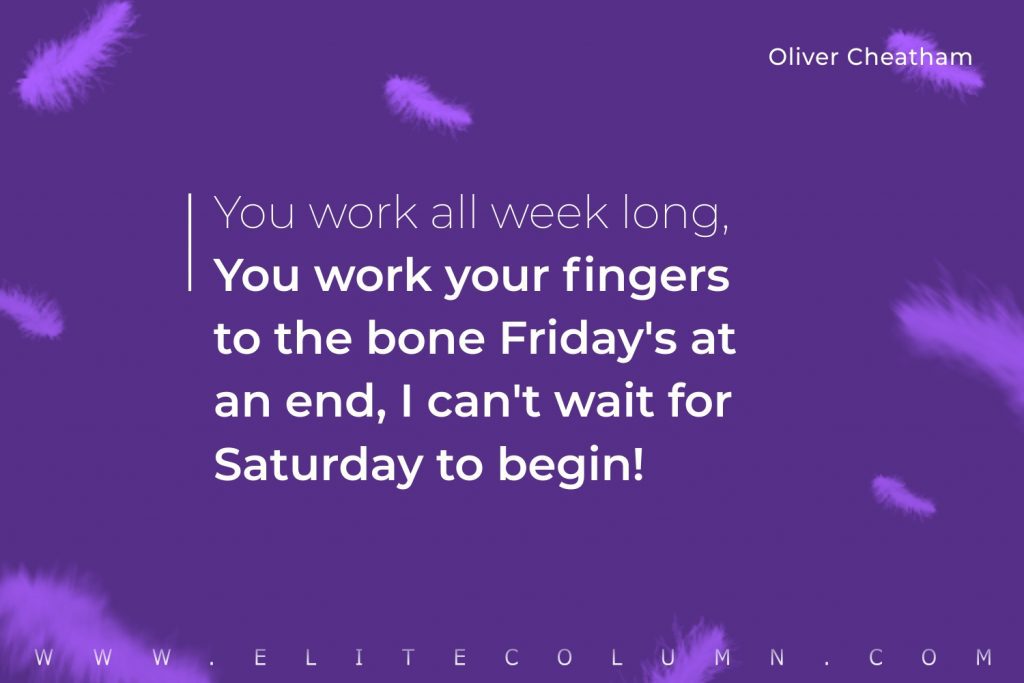 9. "Hey, man I'm alive I'm takin' each day and night at a time I'm feelin' like a Monday but someday I'll be Saturday night…" – Bon Jovi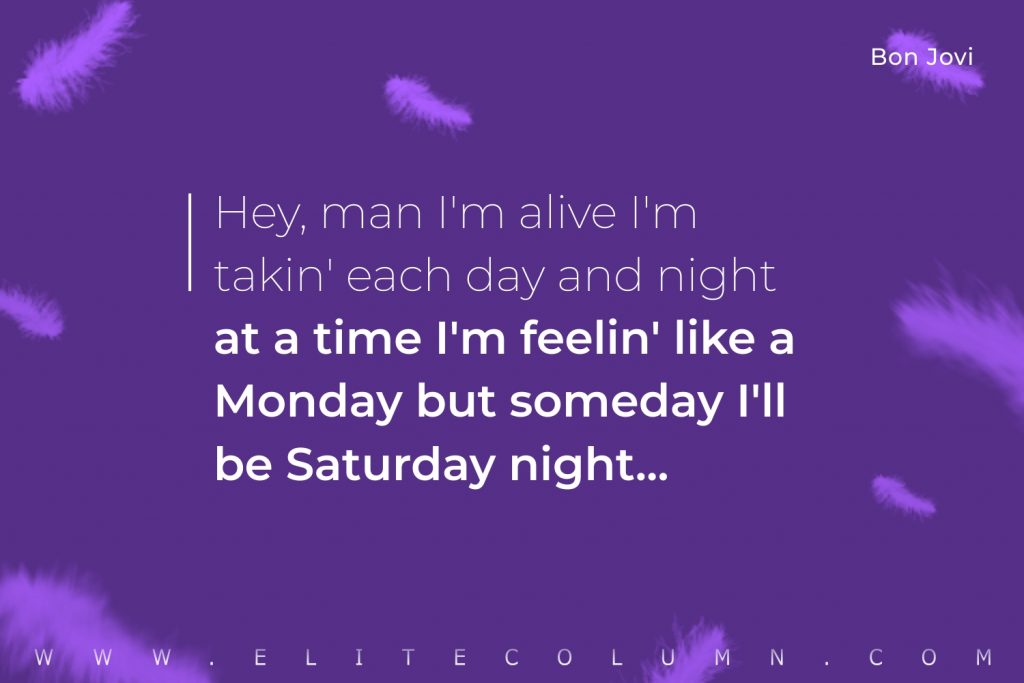 10. "But I'm looking for a way to get myself to Saturday Looking for a way to get myself to Saturday" – Michael Franti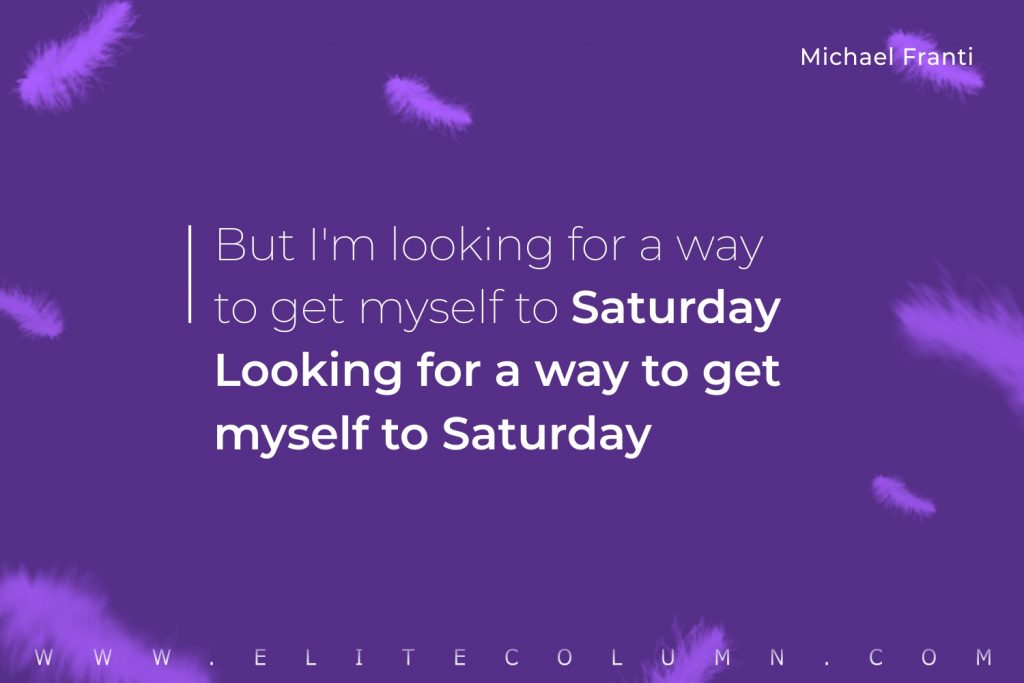 11. "On the Sixth Day, God created man, the sort of result you often get when you go in to work on a Saturday." – Robert Brault
12. "Life is a wretched gray Saturday, but it has to be lived through." – Anthony Burgess
13. "The Christians gave Him Sunday, the Jews gave Him Saturday, and the Muslims gave Him Friday. God has a three-day weekend." – George Carlin
14. "There were many reasons to regard Saturday as the second best day after Friday." – R. Phillip Ritter
15. "Every night is a Saturday night." – Travis Barker
16. "Saturday and Sunday were sworn enemies until one day when they both decided to sit down and talk. Have a Happy Weekend." – Anthony T. Hincks
17. "I really need a day between Saturday and Sunday." – Anna Scott
18. "Saturday morning, you knew what was cool by what was on 'Soul Train'." – Nick Cannon
19. "People still act differently on a Saturday night for no reason other than it's Saturday night." – Susan Orleans
20. "There are just two kinds of girls. Those who go downtown Saturday nights, and those who don't." – Edna Ferber
21. "It was four o'clock of a stickily wet Saturday." – Margaret Widdemer
22. "There was nothing like a Saturday – unless it was the Saturday leading up to the last week of school and into summer vacation." – Nora Roberts
23. "I'd be quite happy if I spent from Saturday night until Monday morning alone in my apartment with a book. That's how I refuel." – Audrey Hepburn
24. "It's a fine line between Saturday night and Sunday morning." – Jimmy Buffett
25. "Oh my sweet Saturday, I have been waiting for you for six long days." – Charmaine J. Forde
26. "Saturday night is when you want to do what you want to do and not what you have to do." – Susan Orleans
27. "Every man has a right to a Saturday night bath." – Lyndon B. Johnson
28. "Love me like Saturday night… like the room is spinning…" – C J. Carlyon
29. "When I was a kid, they were a really important thing to me. I couldn't wait for Saturday night." – Emil Ferris
30. "Spirituality is the sacred center out of which all life comes, including Mondays and Tuesdays and rainy Saturday afternoons in all their mundane and glorious detail." – Christina Baldwin
31. "Saturday is the thing that gives us a weekend of enjoyment." – Anthony T. Hinks
32. "I didn't grow up thinking of movies as film, or art, but as movies, something to do on a Saturday afternoon." – Sydney Pollack
33. "Different cocktails for different Saturday nights." – Drew Barrymore
34. "If you see me on Friday, you'll see different material on Saturday night." – Kathy Griffin
35. "My folks always let me go to the movies every Saturday. We were really motion-picture goers." – John Wayne
36. "Sunday would be lost without Saturday, and I would be lost without you." – Anthony T. Hincks
37. "Imagine living a life where every day are your Saturdays and Sundays. Make every day your weekend." – James A. Murphy
38. "Saturday is the mightiest day of the week. It's unshakably, overwhelmingly superior." – Wataru Watari
39. "Saturdays are an escape from school, work, and 'have to' tasks." – Michael Crews
40. "Happy Saturday! Study nature, love nature, stay close to nature. It will never fail you." -Frank Lloyd Wright
41. "Happy Saturday! When you rise in the morning, give thanks for the light, for your life, for your strength." – Tecumseh
42. "I think having more Saturdays sounds great." – Michael Crews
43. "Saturday makes my day complete." – Anthony T. Hincks
44. "Saturday is still the busiest shopping day of the week." – Susan Orleans
45. "There is nothing more I love more than being in a throw-down on a Saturday night." – Donald Cerrone
46. "Saturday night is perfect for writers because other people have plans." – Mike Birbiglia
47. "I told myself that I was going to live the rest of my life as if it were Saturday." – Chip Gaines
48. "My work is like my vacation, so in a way every day is like Saturday." – Ludacris
49. "So all we have to do is ask the crowd to turn their backs and talk among themselves every time the Quaffle goes up his end on Saturday." – Fred Weasley
50. "Here's to the kids who hum "A Little Less 16 Candles, A Little More Touch Me" when they're stuck home, dateless, on a Saturday night." – Pete Wentz
Thanks for checking out the best Saturday Quotes. Feel free to share the quotes with your friends. Leave a comment below and which are your favourite Saturday Quotes ?
See also:
Sunday Quotes | Couple Quotes | Fake Friends Quotes |Cuddle Quotes |Monday Quotes |Tuesday Quotes |Wednesday Quotes |Thursday Quotes |Friday Quotes
You can find us at – Facebook | Instagram | LinkedIn | Pinterest | Twitter