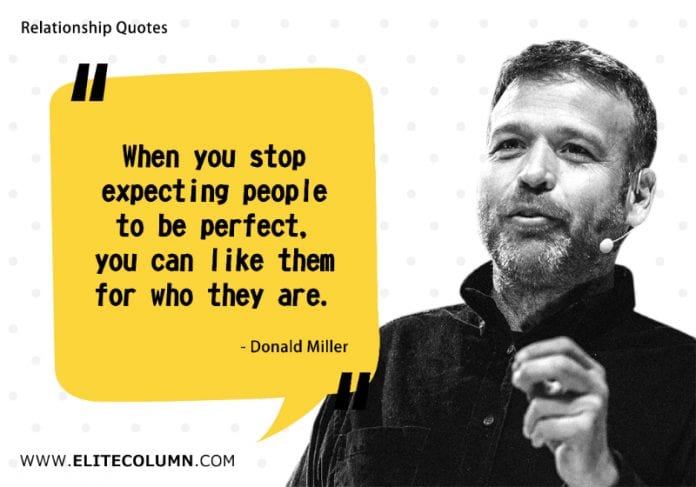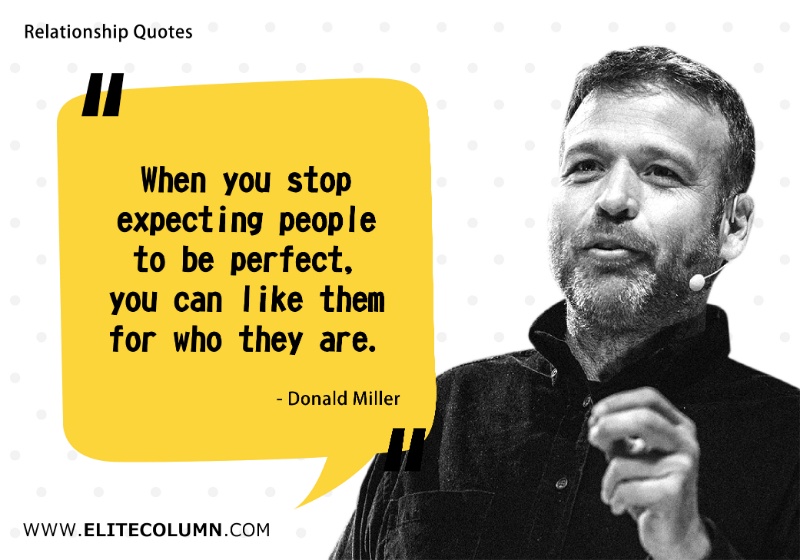 Love is one of the most profound emotions known to human beings. There are many kinds of love, but most people seek its expression in a romantic relationship with a compatible partner. For some, romantic relationships are the most meaningful element of life, providing a source of deep fulfilment. Relationship quotes will help you keep your bond strong. EliteColumn brings you the best relationship quotes to sparkle the love in you.
50 Best Relationship Quotes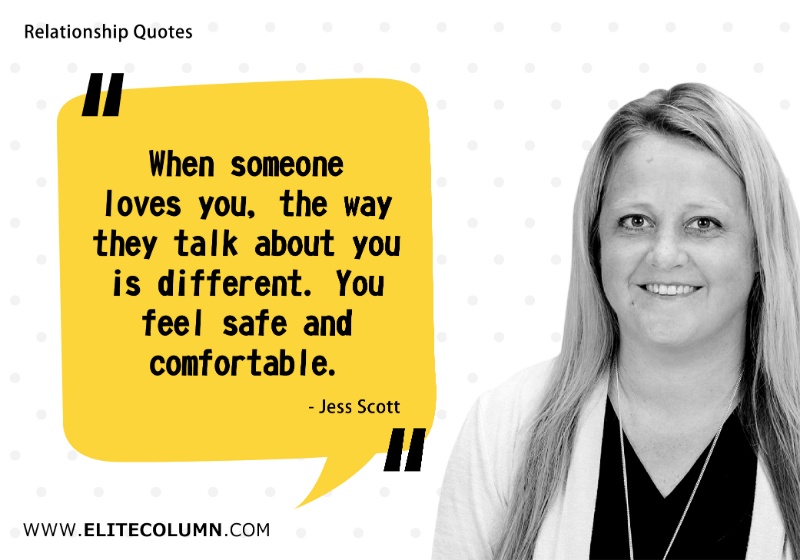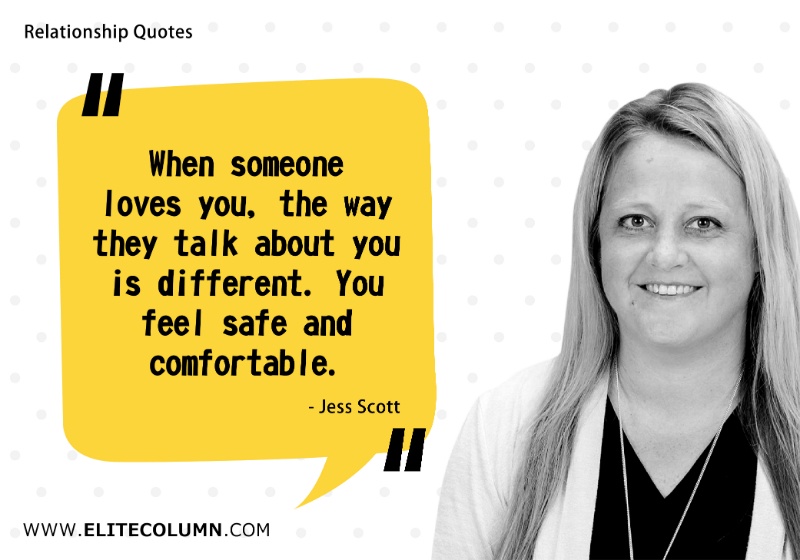 "When someone loves you, the way they talk about you is different. You feel safe and comfortable." – Jess Scott
2. "Assumptions are the termites of relationships." – Henry Winkler
3. "Love conquers all things except poverty and toothache." – Mae West
4. "Love is telling someone their hair extensions are showing." – Natasha Leggero
5. "Honesty is the key to a relationship. If you can fake that, you're in." – Richard Jeni
6. "Marriage is like pantyhose. It all depends on what you put into it." – Phyllis Schlafly
7. "Marriage is like vitamins: we supplement each other's minimum daily requirements." – Kathy Mohnke
8. "Do what you did in the beginning of the relationship and there won't be an end." – Anthony Robbins
9. "A woman knows the face of the man she loves as a sailor knows the open sea." – Honore de Balzac
10. "She was trouble. Chaos really. But her smile. Her smile dared me to fall in love with her." – Atticus
11. "She's a lightning strike, and I'm the grinning idiot, arms raised and laughing in the middle of the field." – Tyler Knott Gregson
12. "That's my sweetheart in there. Wherever she is, that's where my home is." – Nicholas Sparks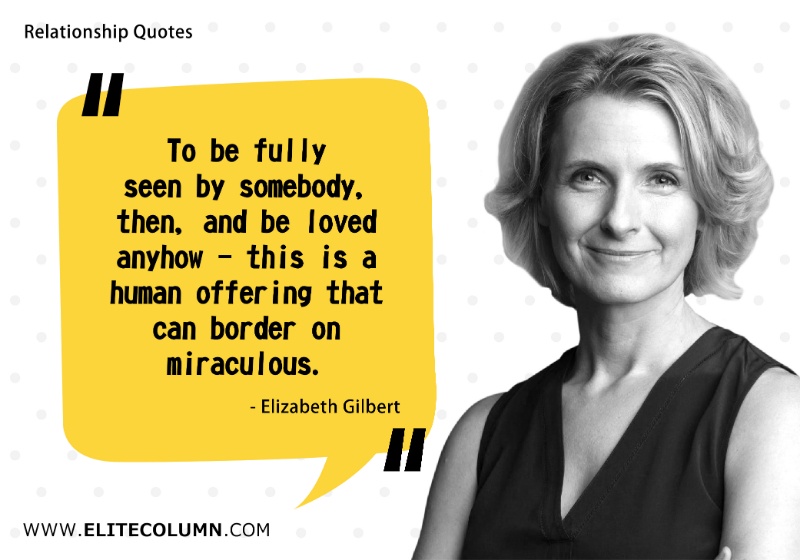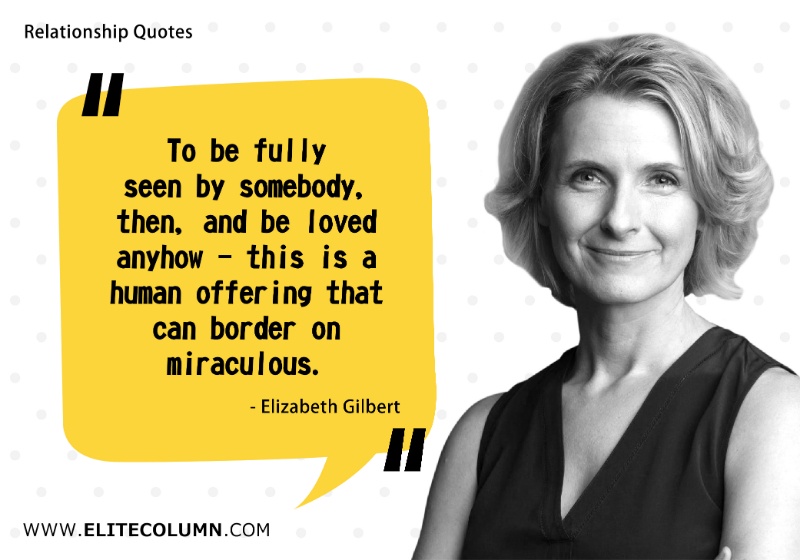 13. "To be fully seen by somebody, then, and be loved anyhow – this is a human offering that can border on miraculous." – Elizabeth Gilbert
14. "True love is not a hide-and-seek game; in true love, both lovers seek each other." – Michael Bassey Johnson
15. "Far too many people are looking for the right person, instead of trying to be the right person." – Gloria Steinem
16. "If she's amazing, she won't be easy. If she's easy, she won't be amazing. If she's worth it, you won't give up. If you give up, you're not worthy." – Bob Marley
17. "A successful marriage requires falling in love many times, always with the same person."- Mignon McLaughlin
18. "Being deeply loved by someone gives you strength, while loving someone deeply gives you courage." – Lao Tzu
19. "Love cures people – both the ones who give it and the ones who receives it." – Karl Menninger
20. "Love doesn't make the world go around. Love is what makes the ride worthwhile." – Fraklin P. Jones
21. "To get the full value of joy, you must have someone to divide it with." – Mark Twain
22. "Age does not protect you from love. But love, to some extent, protects you from age." – Anais Nin
23. "One word frees us of all the weight and pain of life. That word is love." – Sophocles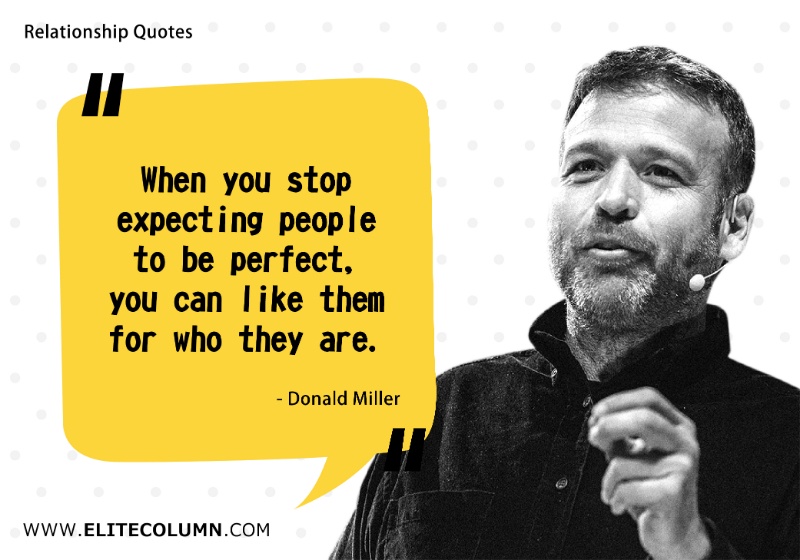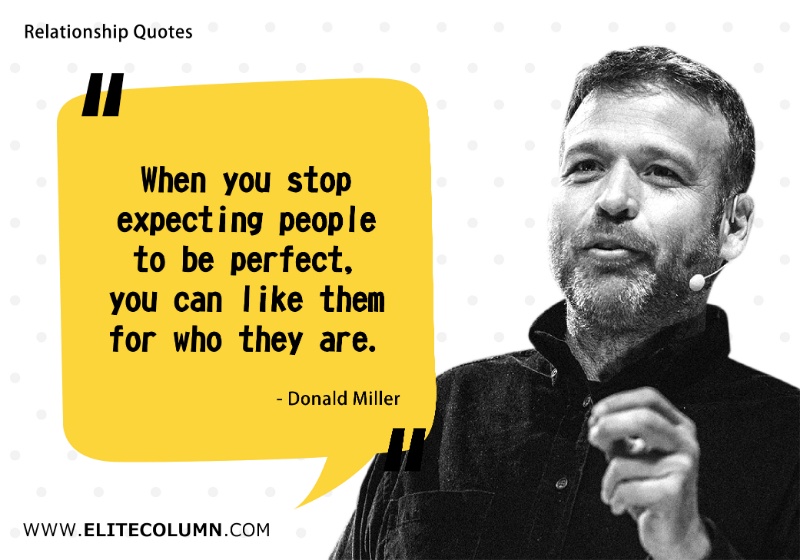 24. "When you stop expecting people to be perfect, you can like them for who they are." – Donald Miller
25. "Love is a two-way street constantly under construction." – Carroll Bryant
26. "If you wished to be loved, love." – Lucius Annaeus Seneca
27. "The love we give away is the only love we keep." – Elbert Hubbard
28. "There are no goodbyes for us. Wherever you are, you will always be in my heart." – Mahatma Gandhi
29. "We were together even when we were apart." – Shannon A. Thompson
30. "The pain of parting is nothing to the joy of meeting again." – Charles Dickens
31. "Souls tend to go back to who feels like home." – N. R. Heart
32. "Love is a game that two can play and both can win." – Eva Gabor
33. "It wasn't love at first sight. It took a full five minutes." – Lucille Ball
34. "Love is something sent from heaven to worry the hell out of you." – Dolly Parton
35. "I love her and it is the beginning of everything." – F. Scott Fitzgerald
See also:
Karma Quotes | Plato Quotes | Sun Tzu Quotes | Dalai Lama Quotes | Sadhguru Quotes | Confucius Quotes | Lao Tzu Quotes | Positive Quotes | Happiness Quotes | Inspirational Quotes | Life Quotes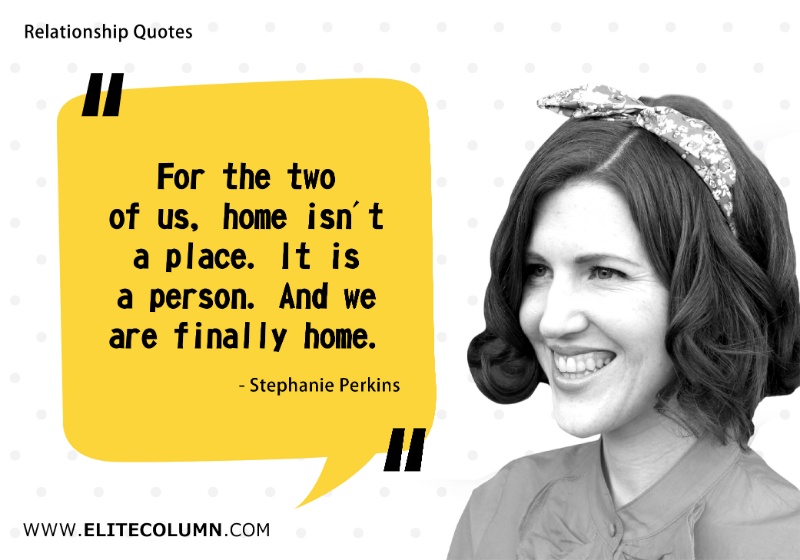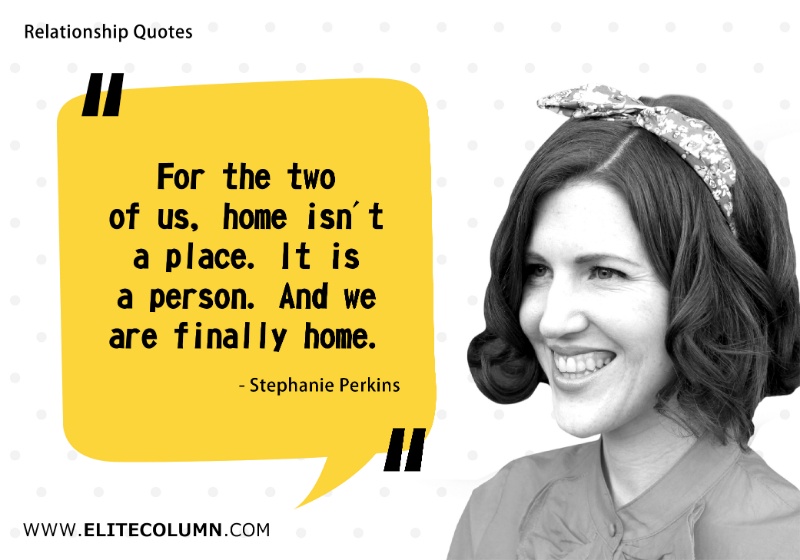 36. "For the two of us, home isn't a place. It is a person. And we are finally home." – Stephanie Perkins
37. "Let us be grateful to the people who make us happy; they are the charming gardeners who make our souls blossom." – Marcel Proust
38. "The biggest coward of a man is to awaken the love of a woman without the intention of loving her." – Bob Marley
39. "In the end there doesn't have to be anyone who understands you. There just has to be someone who wants to." – Robert Brault
40. "Love is something eternal; the aspect might change, but not the essence." – Vincent Van Gogh
41. "Someone to tell it to is one of the fundamental needs of human beings." – Miles Franklin
42. "What do we live for, if it is not to make life less difficult for each other?" – George Eliot
43. "Love alone can rekindle life." – Henri Frederic Amiel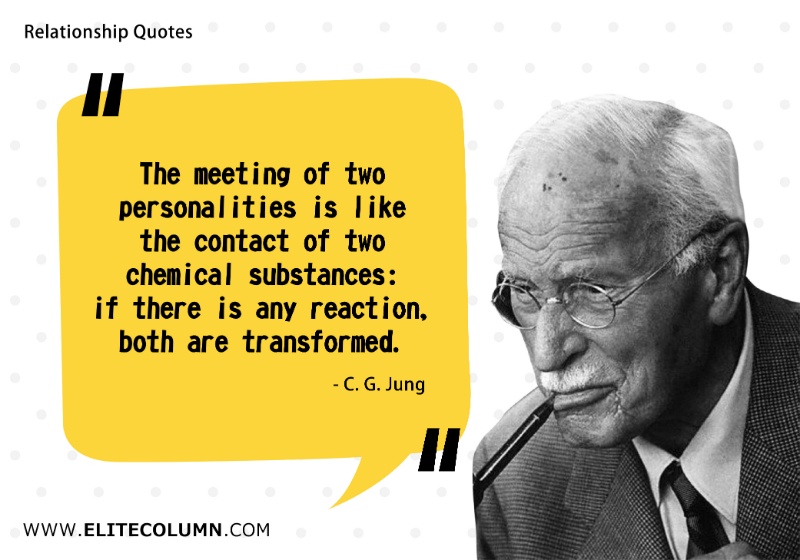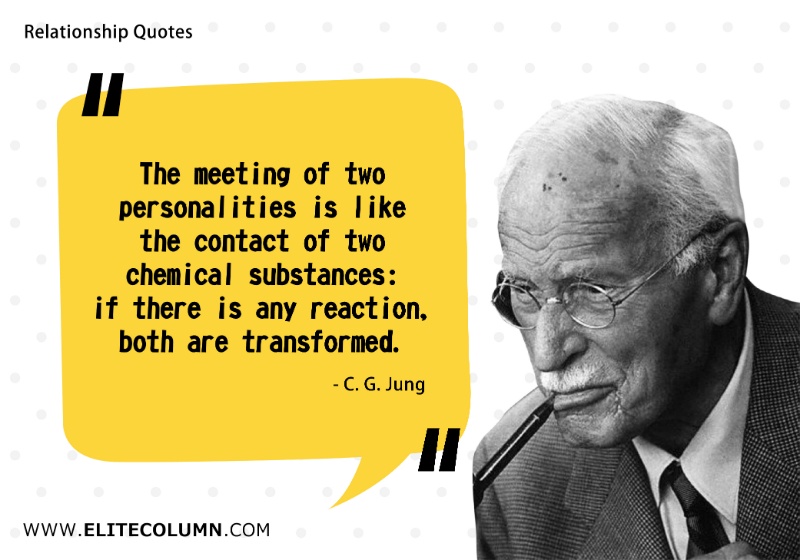 44. "The meeting of two personalities is like the contact of two chemical substances: if there is any reaction, both are transformed." – C. G. Jung
45. "I mean, if the relationship can't survive the long term, why on earth would it be worth my time and energy for the short term?" – Nicholas Sparks
46. "When you realize you want to spend the rest of your life with someone, you want the rest of your life to start as soon as possible." – When Harry Met Sally
47. "I'm not telling you it is going to be easy – I am telling you it is going to be worth it." – Art Williams
48. "A dream you dream alone is only a dream. A dream you dream together is reality." – John Lennon
49. "The best thing to hold onto in life is each other." – Audrey Hepburn
50. "Maybe you don't need the whole world to love you. Maybe you just need one person." – Kermit the Frog
Thanks for checking out the best Relationship quotes. Feel free to share the quotes with your friends. Leave a comment below and which are your favorite Relationship quotes ?
See also:
Woman Quotes | Heartbreak Quotes | Growing Up Quotes | Intimacy Quotes | Music Quotes | Rebellious Quotes | Smile Quotes
You can find us at – Facebook | Instagram | LinkedIn | Pinterest | Twitter