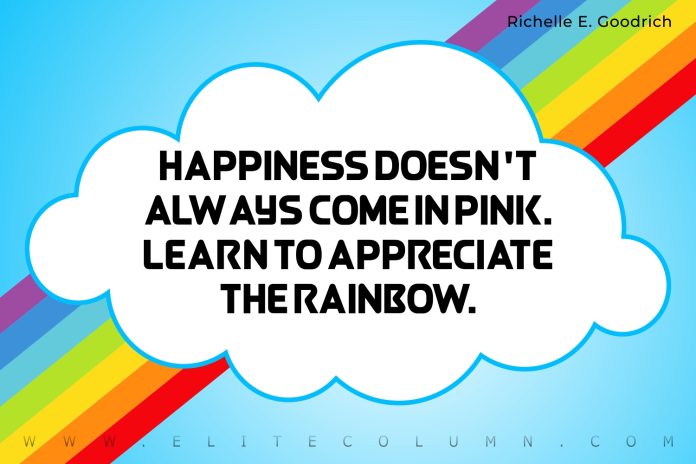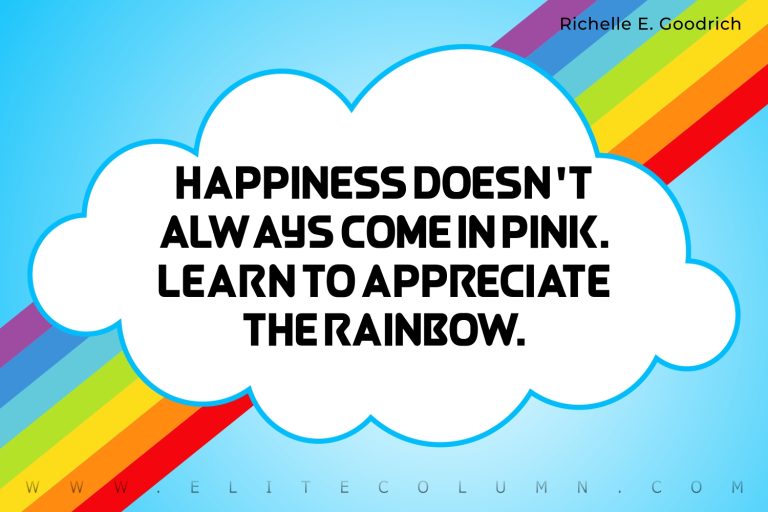 Check out 50 Rain Quotes today.
50 Best Rain Quotes
1. "Rain didn't make things messy. People did that all on their own." – Barbara Delinsky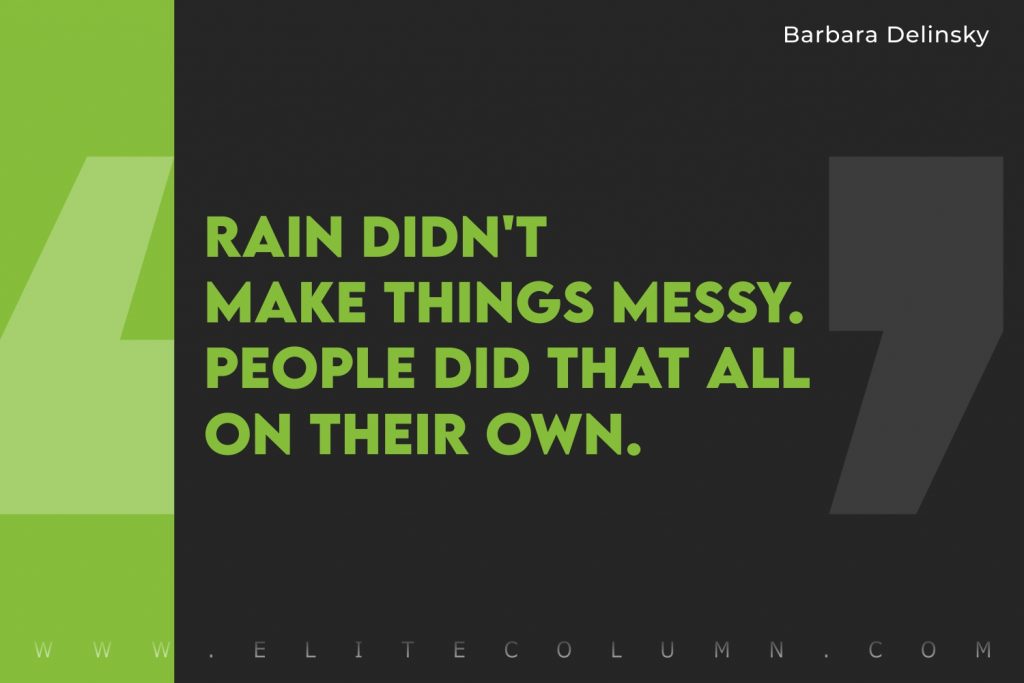 2. "Do not, on a rainy day, ask your child what he feels like doing, because I assure you that what he feels like doing, you won't feel like watching." – Fran Lebowitz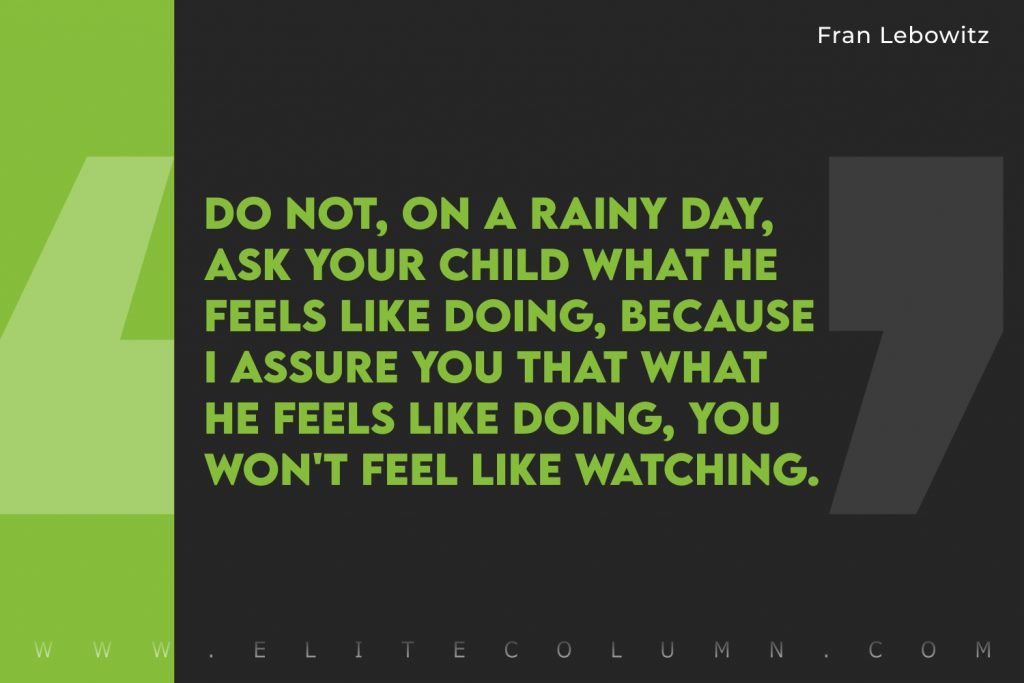 3. "Being soaked alone is cold. Being soaked with your best friend is an adventure." – Emily Wing Smith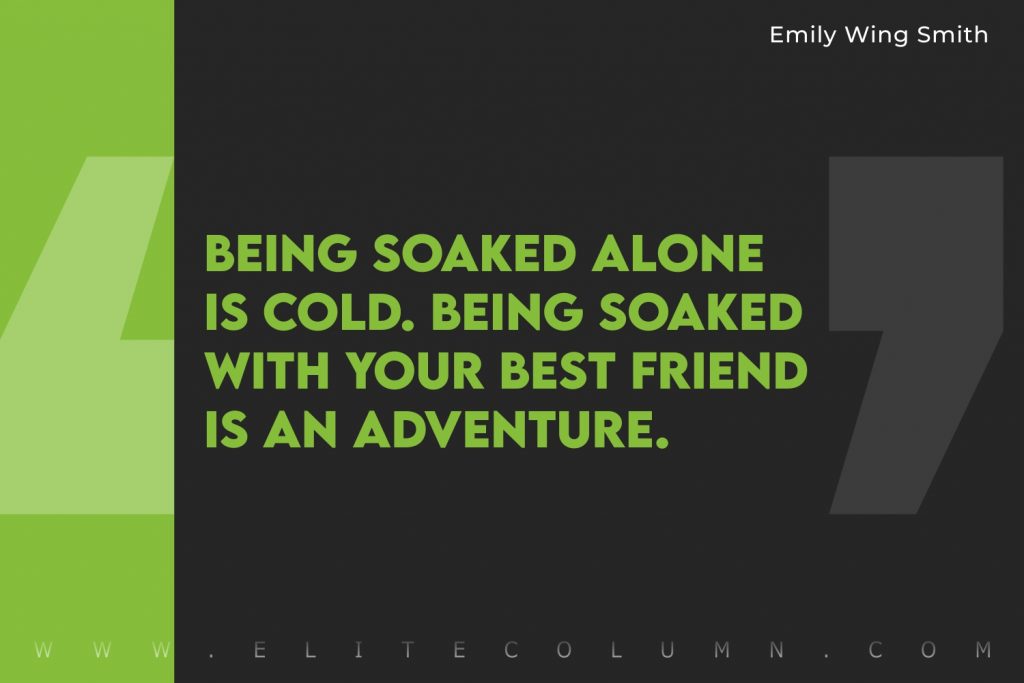 4. "Save a boyfriend for a rainy day and another, in case it doesn't rain." – Mae West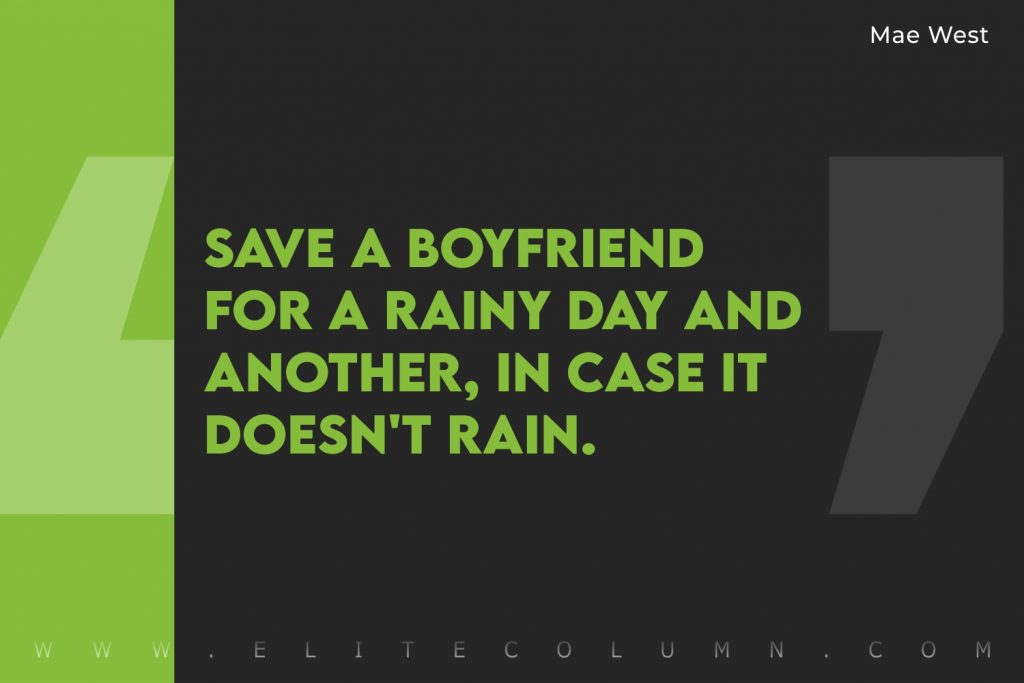 5. "Rain, rain, go away. Come again another day." – Bobby Vinton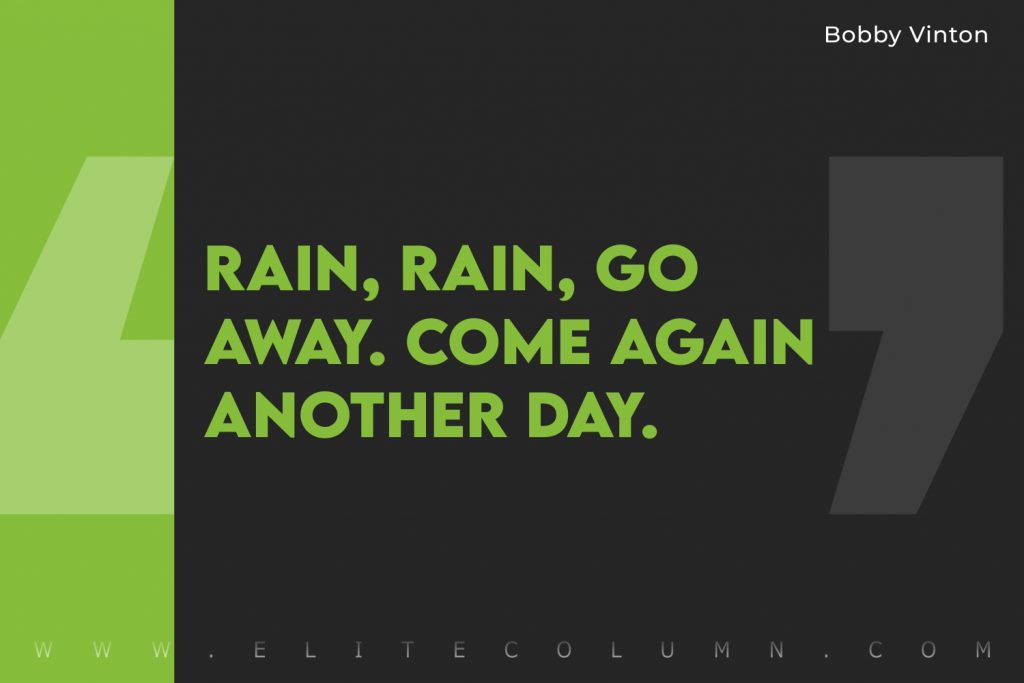 6. "In Scotland, beautiful as it is, it was always raining. Even when it wasn't raining, it was about to rain, or had just rained." – Colin Hay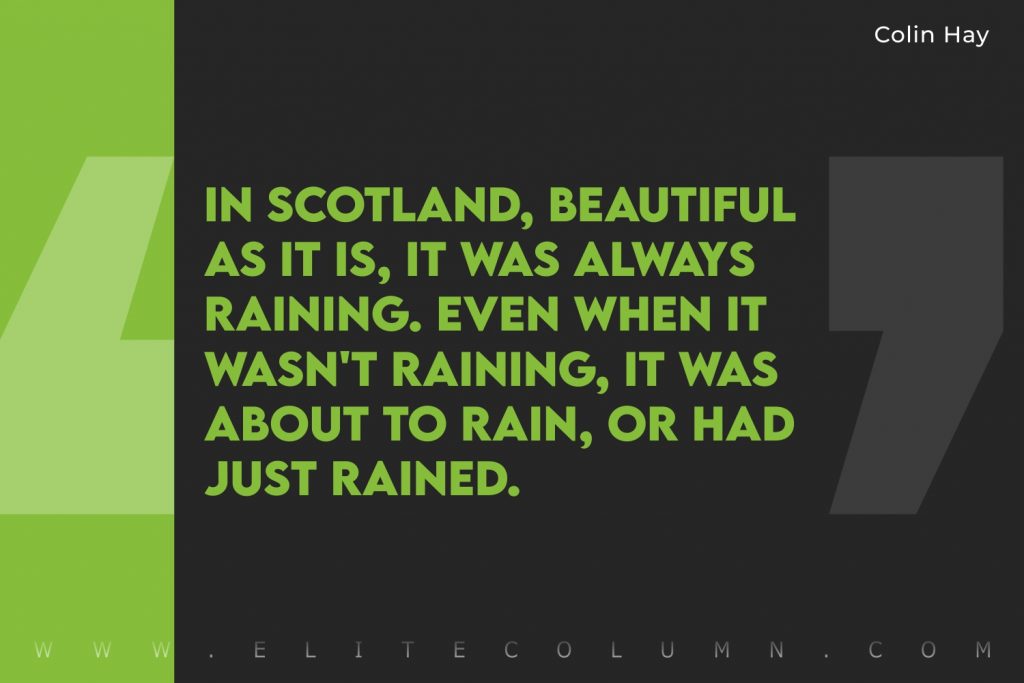 7. "Let a smile be your umbrella, and you'll end up with a face full of rain." – George Carlin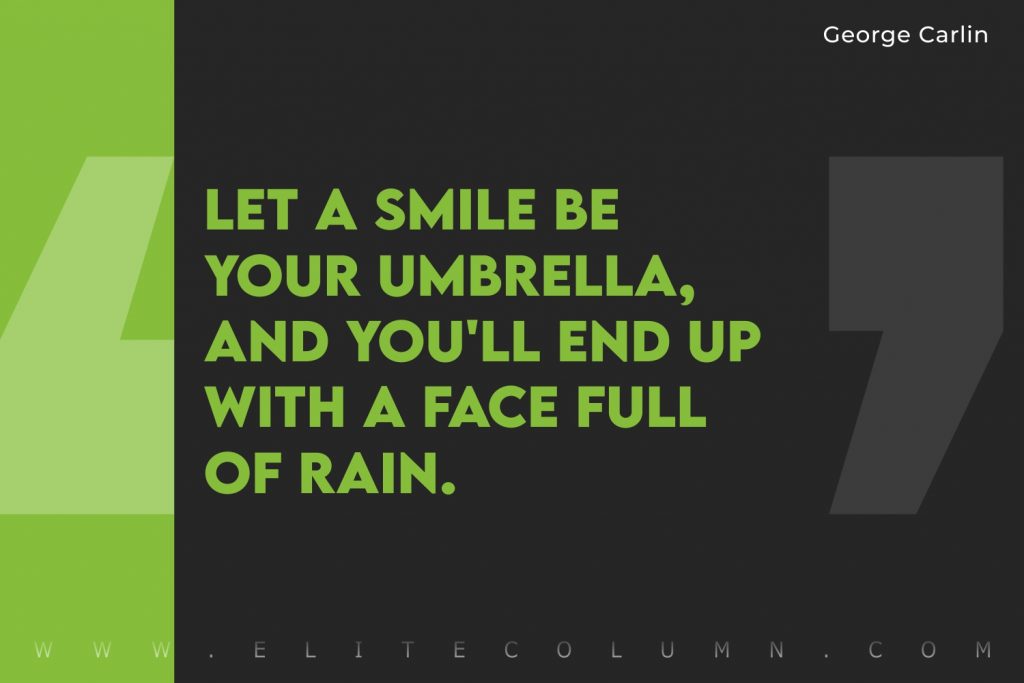 8. "The person who deserves most pity is a lonesome one on a rainy day who doesn't know how to read." – Benjamin Franklin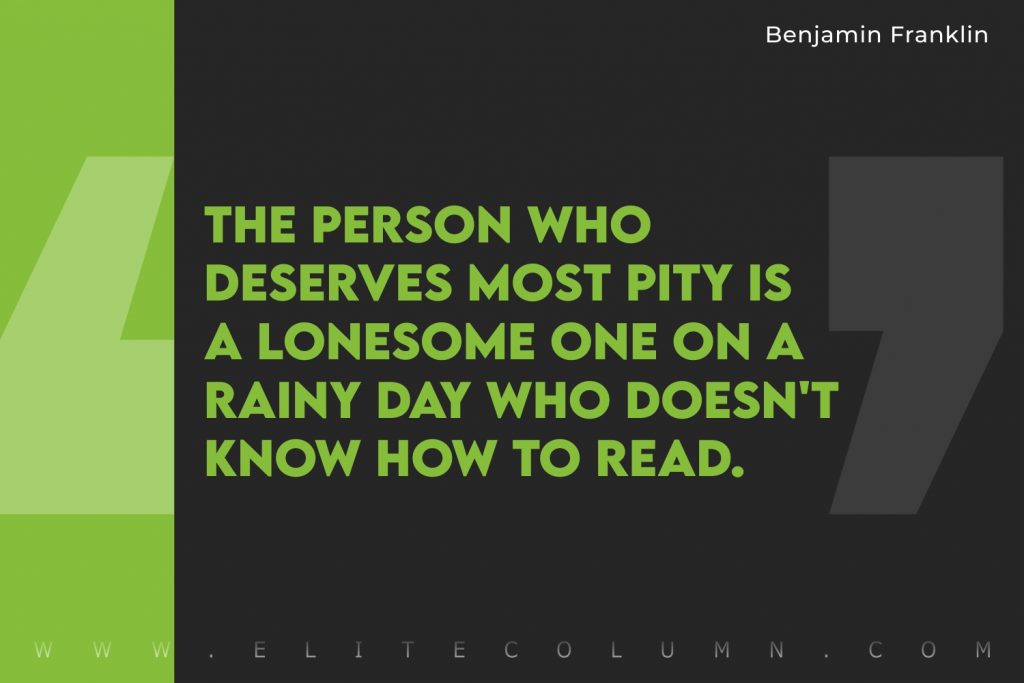 9. "Don't threaten me with love, baby. Let's just go walking in the rain." – Billie Holiday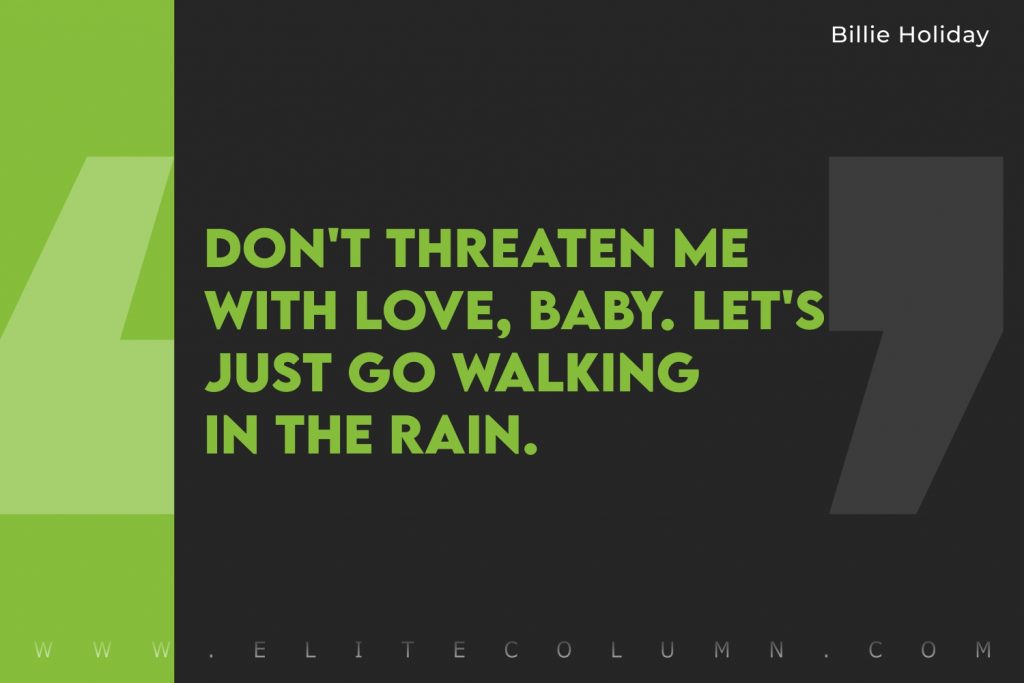 10. "Rain makes bars of light and dark down her face and mine, as if we're inside the jail of it." – Niall Williams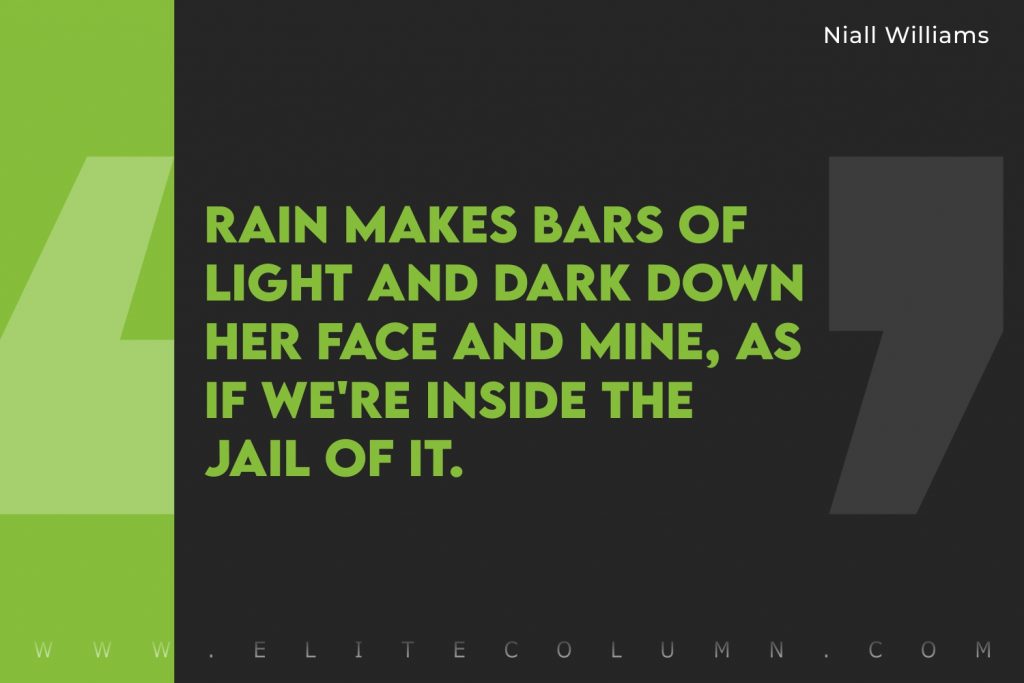 11. "A rainy day is the perfect time for a walk in the woods." – Rachel Carson
12. "I want trees and I want frequent rain." – Murray Morgan
13. "You pray for rain, you gotta deal with the mud too. That's a part of it." – Denzel Washington
14. "A rainy day is a special gift to readers." – Amy Miles
15. "One can find so many pains when the rain is falling." – John Steinbeck
16. "The rain is ever falling, drip, drip, drip, by day and night, upon the broad flagged terrace-pavement." – Charles Dickens
17. "Millions long for immortality who don't know what to do with themselves on a rainy Sunday afternoon." – Susan Ertz
18. "If you want to see a rainbow you have to learn to see the rain." – Paulo Coelho
19. "It always rains on tents. Rainstorms will travel thousands of miles, against prevailing winds for the opportunity to rain on a tent." – Dave Barry
20. "Nature looks more beautiful in the rain." – Melissa Harrison
21. "It wasn't raining when Noah built the ark." – Howard Ruff
22. "Sometimes we rain on our own parade just by failing to rein in our emotions." – Curtis Tyrone Jones
23. "There is nothing quite like the smell of rain on a grass field after a sunny spell." – Fuad Alakbarov
24. "No umbrella's color matters under torrential rain!" – Mehmet Murat Ildan
25. "I believe in running through the rain and crashing into the person you love." – Billy Bob Thornton
26. "I think fish is nice, but then I think that rain is wet, so who am I to judge?" – Douglas Adams
27. "Let the rain kiss you. Let the rain beat upon your head with silver liquid drops. Let the rain sing you a lullaby." – Langston Hughes
28. "Do not be angry with the rain; it simply does not know how to fall upwards." – Vladimir Nabokov
29. "Rain is grace; rain is the sky descending to the earth without rain, there would be no life." – John Updike
30. "Rainy days should be spent at home with a cup of tea and a good book." – Bill Watterson
31. "I like it when it rains hard. It sounds like white noise everywhere, which is like silence but not empty." – Mark Haddon
32. "Some people walk in the rain, others just get wet." – Roger Miller
33. "There are many things I do for amusement, but for happiness I like to gather up my memories and go for a walk in the rain." – Robert Breault
34. "I always like walking in the rain, so no one can see me crying." – Charlie Chaplin
35. "Life isn't about waiting for the storm to pass. It's about learning to dance in the rain." – Vivian Greene
36. "Every time it rains, the soil counts every drop to know exactly how many times to thank to God!" – Mehmet Murat Ildan
37. "If the rain spoils our picnic, but saves a farmer's crop, who are we to say it shouldn't rain?" – Tom Barrett
38. "In what language does rain fall over tormented cities?" – Pablo Neruda
39. "Rain! whose soft architectural hands have power to cut stones, and chisel to shapes of grandeur the very mountains." – Henry Ward Beecher
40. "The rain falls gently down, and slowly fills my cup. This never would have happened, If raindrops all fell up. " – Tom Batiuk
41. "If you think it's going to rain, it will." – Clint Eastwood
42. "The sound of the rain needs no translation." – Alan Watts
43. "After the rain cometh the fair weather." – Aesop
44. "I have always considered the rain to be healing a blanket the comfort of a friend." – Douglas Coupland
45. "From where we stand the rain seems random. If we could stand somewhere else, we would see the order in it." – Tony Hillerman
46. "The rain fell alike upon the just and upon the unjust, and for nothing was there a why and a wherefore." – W. Somerset Maugham
47. "The way I see it, if you want the rainbow, you gotta put up with the rain." – Dolly Parton
48. "The rain began again. It fell heavily, easily, with no meaning or intention but the fulfillment of its own nature, which was to fall and fall." – Helen Garner
49. "Rain showers my spirit and waters my soul." – Emily Logan
50. "The best thing one can do when it's raining is to let it rain." – Henry Wadsworth Longfellow
Thanks for checking out the best Rain Quotes. Feel free to share the quotes with your friends. Leave a comment below and which are your favourite Rain Quotes ?
See also:
Brother Sister Quotes | Know Your Worth Quotes | Progress Quotes | Exercise Quotes | Focus on Yourself Quotes | Comparison Quotes | Distraction Quotes |Keep Pushing Quotes
You can find us at – Facebook | Instagram | LinkedIn | Pinterest | Twitter