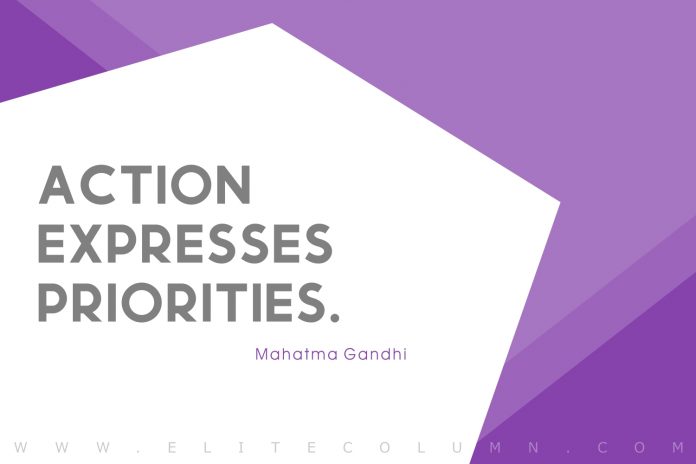 Check out 50 Priority Quotes today.
50 Best Priority Quotes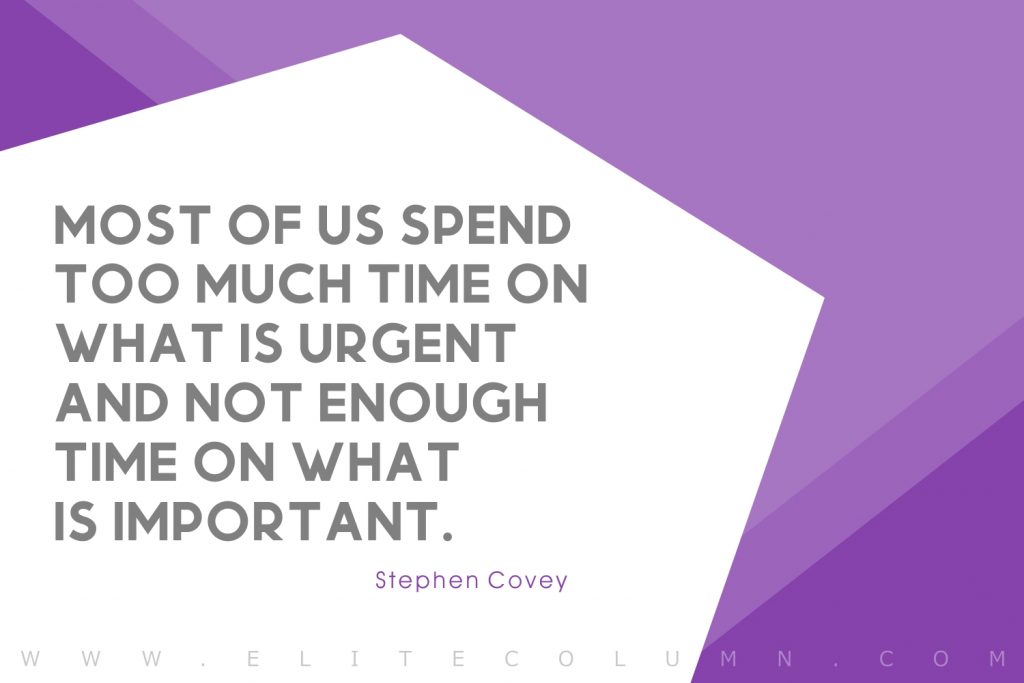 1. "Most of us spend too much time on what is urgent and not enough time on what is important." – Stephen Covey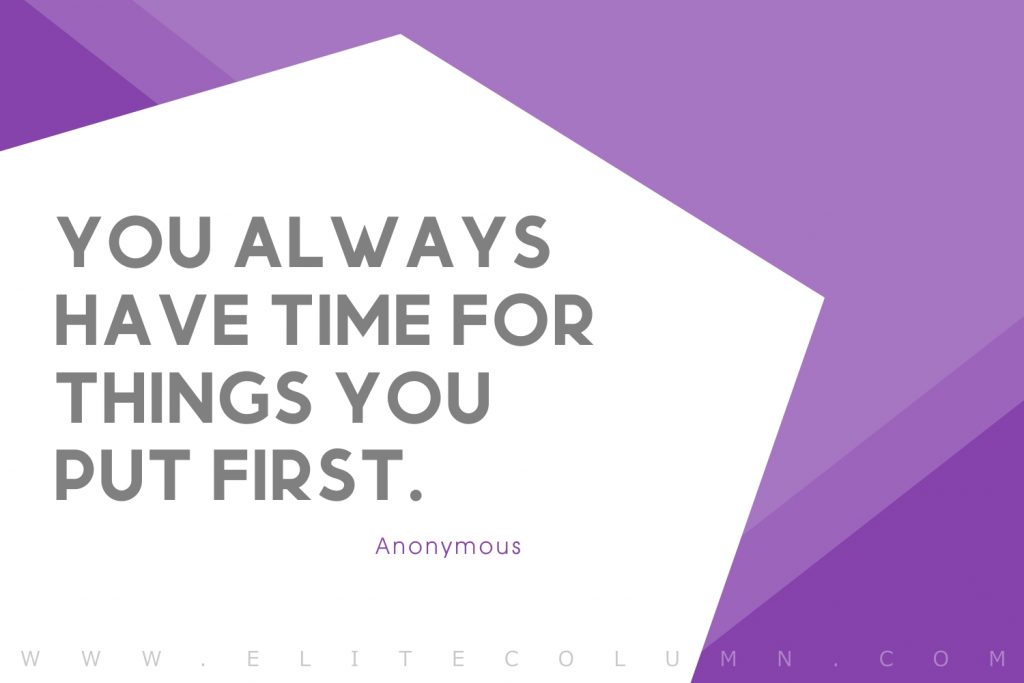 2. "You always have time for things you put first." – Anonymous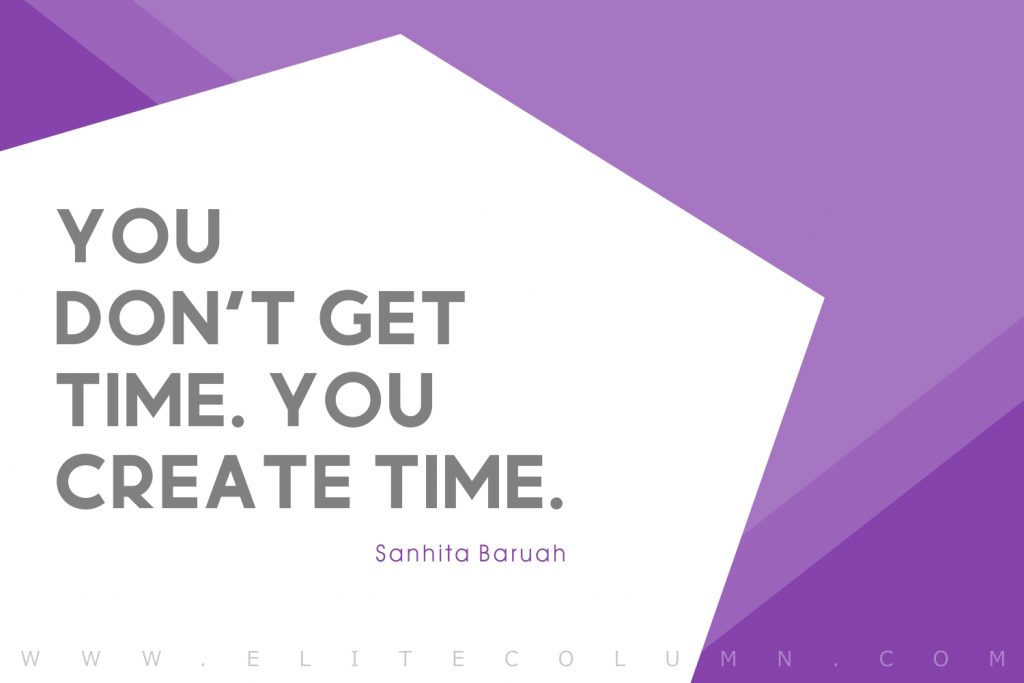 3. "You don't get time. You create time." – Sanhita Baruah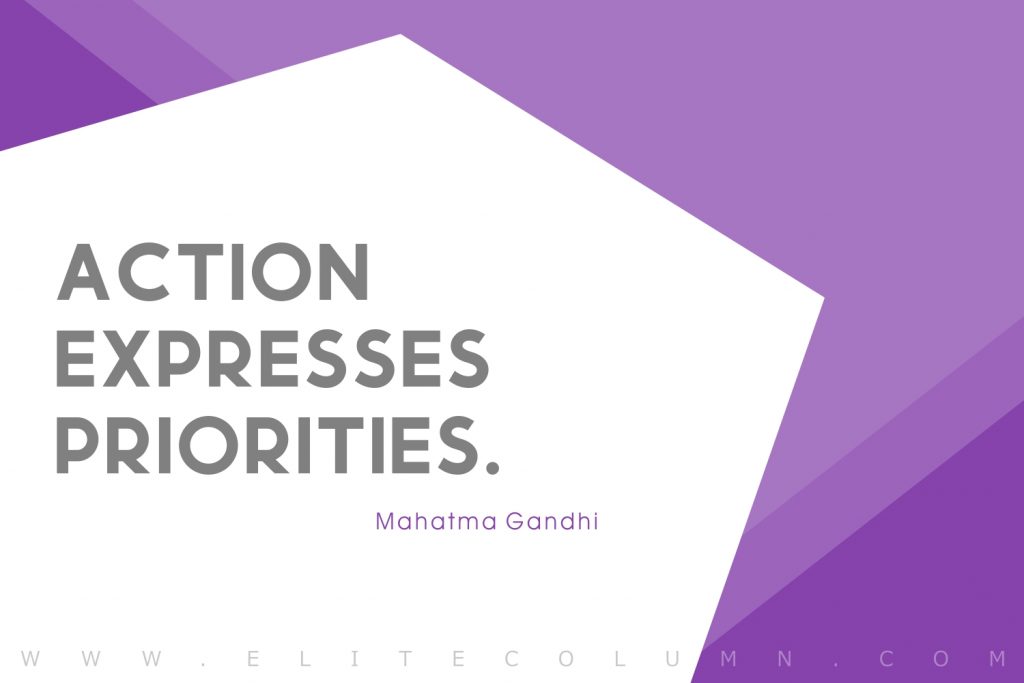 4. "Action expresses priorities." – Mahatma Gandhi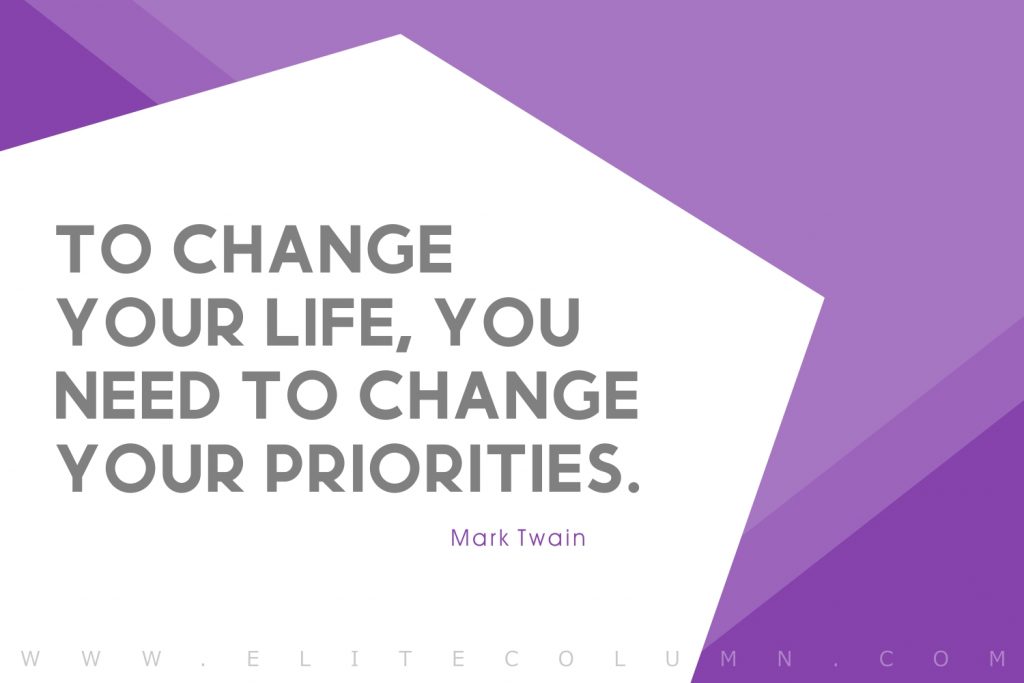 5. "To change your life, you need to change your priorities." – Mark Twain
See also:
Broken Heart Quotes | Athlete Quotes | Love Quotes | Children Quotes | Love Yourself Quotes | Workout Quotes | Daughter Quotes | Husband Quotes | Dance Quotes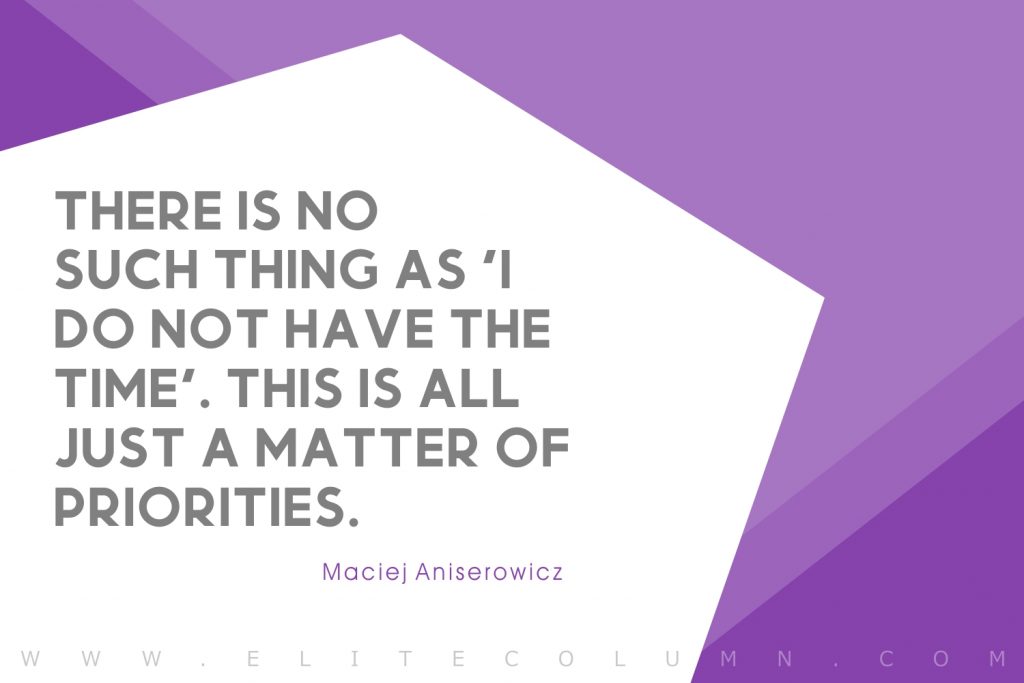 6. "There is no such thing as 'I do not have the time'. This is all just a matter of priorities." – Maciej Aniserowicz
7. "Productivity refers to both the action and the result of a process that centres on assessing one's priorities and then acting on them." – Melissa Steginus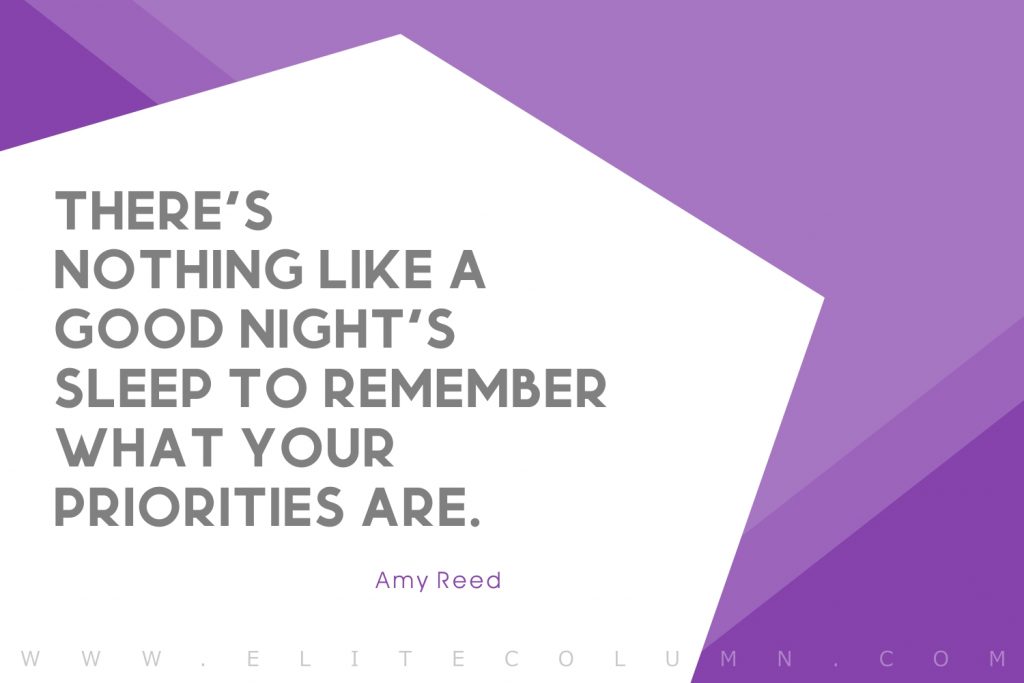 8. "There's nothing like a good night's sleep to remember what your priorities are." – Amy Reed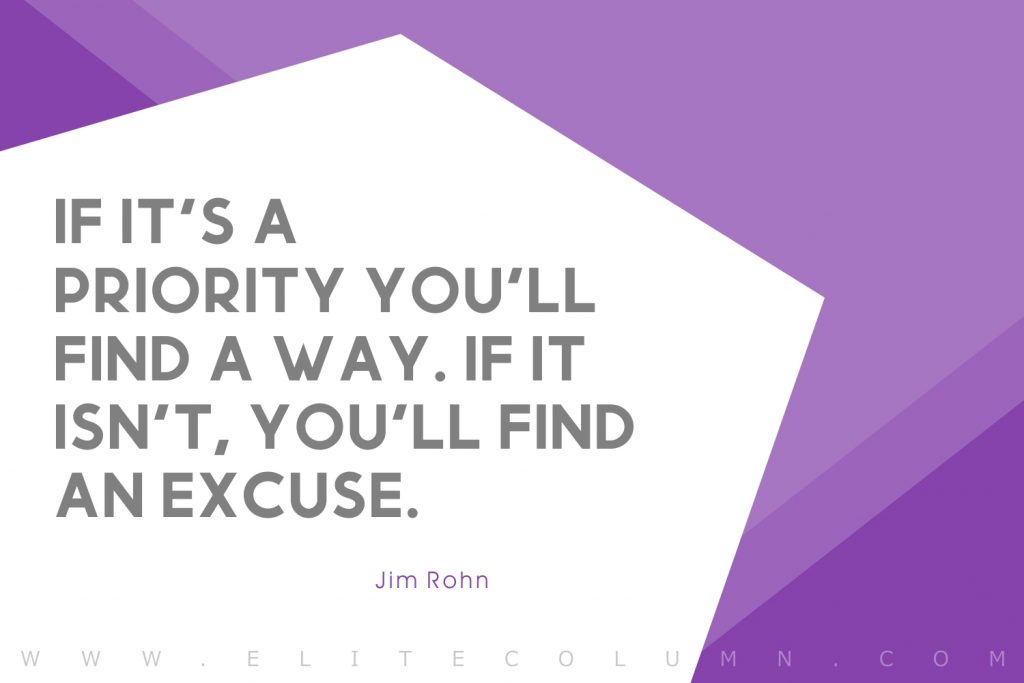 9. "If it's a priority you'll find a way. If it isn't, you'll find an excuse." – Jim Rohn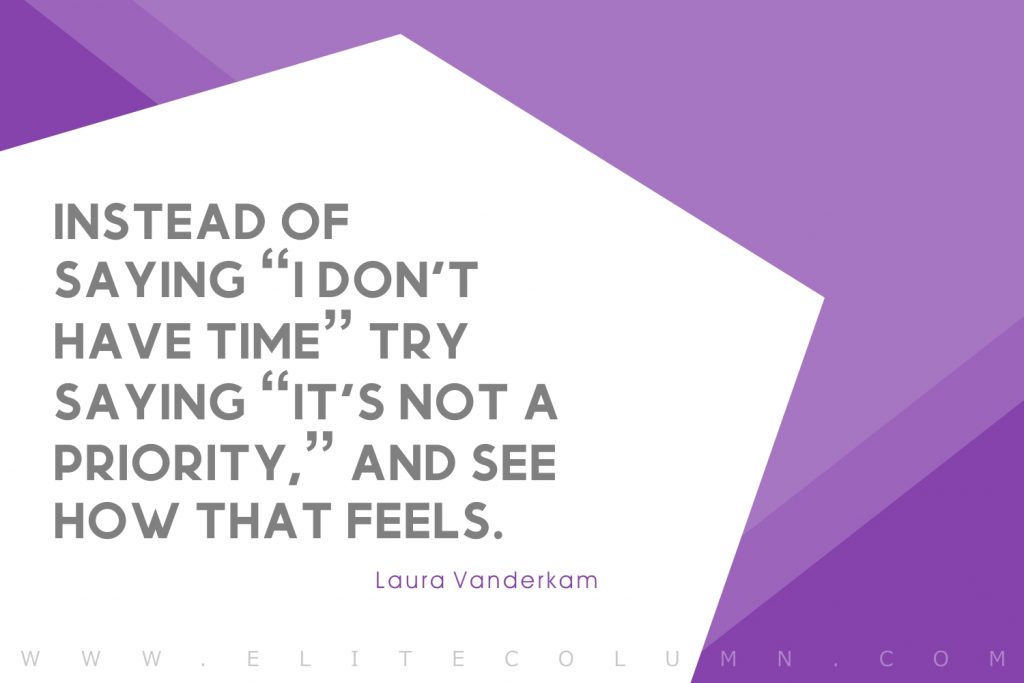 10. "Instead of saying "I don't have time" try saying "it's not a priority," and see how that feels." – Laura Vanderkam
11. "One half of knowing what you want is knowing what you must give up before you get it." – Sidney Howard
12. "There is never enough time to do everything, but there is always enough time to do the most important thing." – Brian Tracy
13. "You will never find time for anything. If you want time, you must make it." – Charles Bixton
14. "If you continually ask yourself, 'What's important now' then you won't waste time on the trivial." – Lou Holtz
15. "The reason most goals are not achieved is that we spend our time doing second things first." – Robert J. McKain
16. "Learn how to separate the majors and the minors. A lot of people don't do well simply because they major in minor things." – Jim Rohn
17. "Whatever is at the center of our life will be the source of our security, guidance, wisdom, and power." – Stephen Covey
18. "Not everything that can be counted counts, and not everything that counts can be counted." – Albert Einstein
19. "Wise are those who learn that the bottom line doesn't always have to be their top priority." – William Arthur Ward

20. "The things which are most important don't always scream the loudest." – Bob Hawke
21. "No one is going to hand you an organizational chart. You have to hand it to yourself." – Robert Genn
22. "Lack of time is actually lack of priorities." – Timothy Ferris
23. "It is not daily increase but daily decrease, hack away the unessential." – Bruce Lee
24. "The mark of a great man is one who knows when to set aside the important things in order to accomplish the vital ones." – Brandon Sanderson
25. "The key is not to prioritize what's on your schedule, but to schedule your priorities." – Stephen Covey
26. "Do not let what you cannot do interfere with what you can do." – John Wooden

27. "Set aside time to plan how you will spend your time. Think about what's most important. Then do those things first." – Frank Bettger
28. "Things which matter most must never be at the mercy of things which matter least." – Johann Wolfgang von Goethe
29. "Good things happen when you set your priorities straight." – Scott Caan
30. "Life is as simple as these three questions: What do I want? Why do I want it? And, how will I achieve it?" – Shannon L. Alder
31. "Respect was one thing. Survival was another. It was important that I kept my priorities in the right order." – Tahir Shah
32. "Like it or not, the world evolves, priorities change and so do you." – Marilu Henner
33. "Our greatest danger in life is in permitting the urgent things to crowd out the important." – Charles E. Hummel

34. "The root of productivity is in personal priorities. Know what matters to you and why." – Melissa Steginus
35. "Getting to the top should be a priority, but being aware of the reason for getting there should be the focus." – Anonymous
36. "The problem with the world is that people are busy searching for keys but don't know the locks that they would open." – Abhaidev
37. "Sometimes things in life happen that allow us to understand our priorities very clearly. Ultimately you can see those as gifts." – Mariska Hargitay
38. "Whatever keeps you from reaching your goals today had better be important, it's costing you a day of your life." – Nido R. Qubein
39. "When you have too many top priorities, you effectively have no top priorities." – Stephen Covey

40. "Know what matters most to you and be unwilling to compromise those priorities at almost any price." – Frank Sonnenberg
41. "Life is about doing things that matter first, not last." – Richie Norton
42. "Our life is the sum total of all the decisions we make every day, and those decisions are determined by our priorities." – Myles Munroe
43. "Sometimes when you're overwhelmed by a situation, when you're in the darkest of darkness, that's when your priorities are reordered." – Phoebe Snow
44. "When you know what's most important to you, making a decision is quite simple." – Anthony Robbins
45. "The greatest reflection of your priorities is your time. Whatever you say about what matters to you, the true test is where you place your time." – Nick Crocker
46. "Nobody's life is ever all balanced. It's a conscious decision to choose your priorities every day." – Elisabeth Hasselbeck
47. "Be ambitious. Get things done. Keep your priorities straight, your mind right, and your head up." – Anonymous
48. "Let us reflect on what is truly of value in life, what gives meaning to our lives, and set our priorities on the basis of that." – Dalai Lama
49. "Do the duty which lies nearest to you. The second duty will then become clearer." – Thomas Carlyle
50. "There is no one busy in this world, it's always about priorities. You will always find time for the things you feel important." – Nishan Panwar
Thanks for checking out the best Priority Quotes. Feel free to share the quotes with your friends. Leave a comment below and which are your favourite Priority Quotes ?
See also:
Compassion Quotes | Soulmate Quotes | Girlfriend Quotes | Betrayal Quotes | Commitment Quotes | Transformation Quotes | Mental Health Quotes
You can find us at – Facebook | Instagram | LinkedIn | Pinterest | Twitter