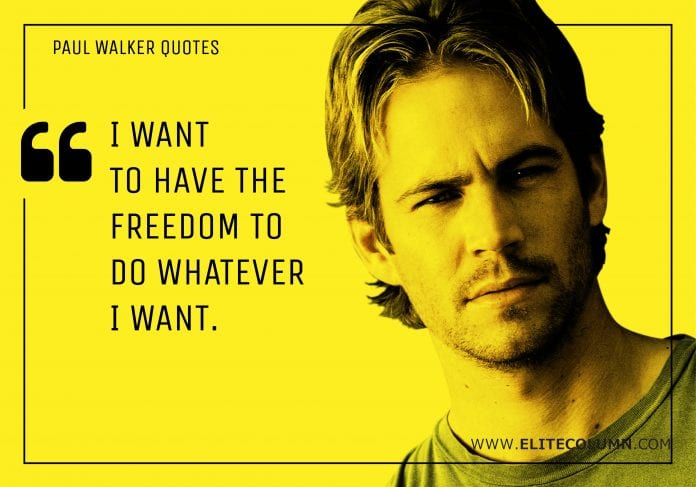 Paul Walker was an American actor who came to fame in movies such as Varsity Blues and became well-known for his starring role in The Fast and the Furious franchise. Walker got his breakthrough role in 2001 with The Fast and the Furious, which would become his star vehicle and keep him busy through four sequels and a short prequel. He expired in a car accident on November 30, 2013, at age 40. In March 2015, co-star Vin Diesel named his new baby daughter Pauline after his dear friend, Walker. EliteColumn brings you hand-picked Paul Walker quotes.
12 Inspirational Paul Walker Quotes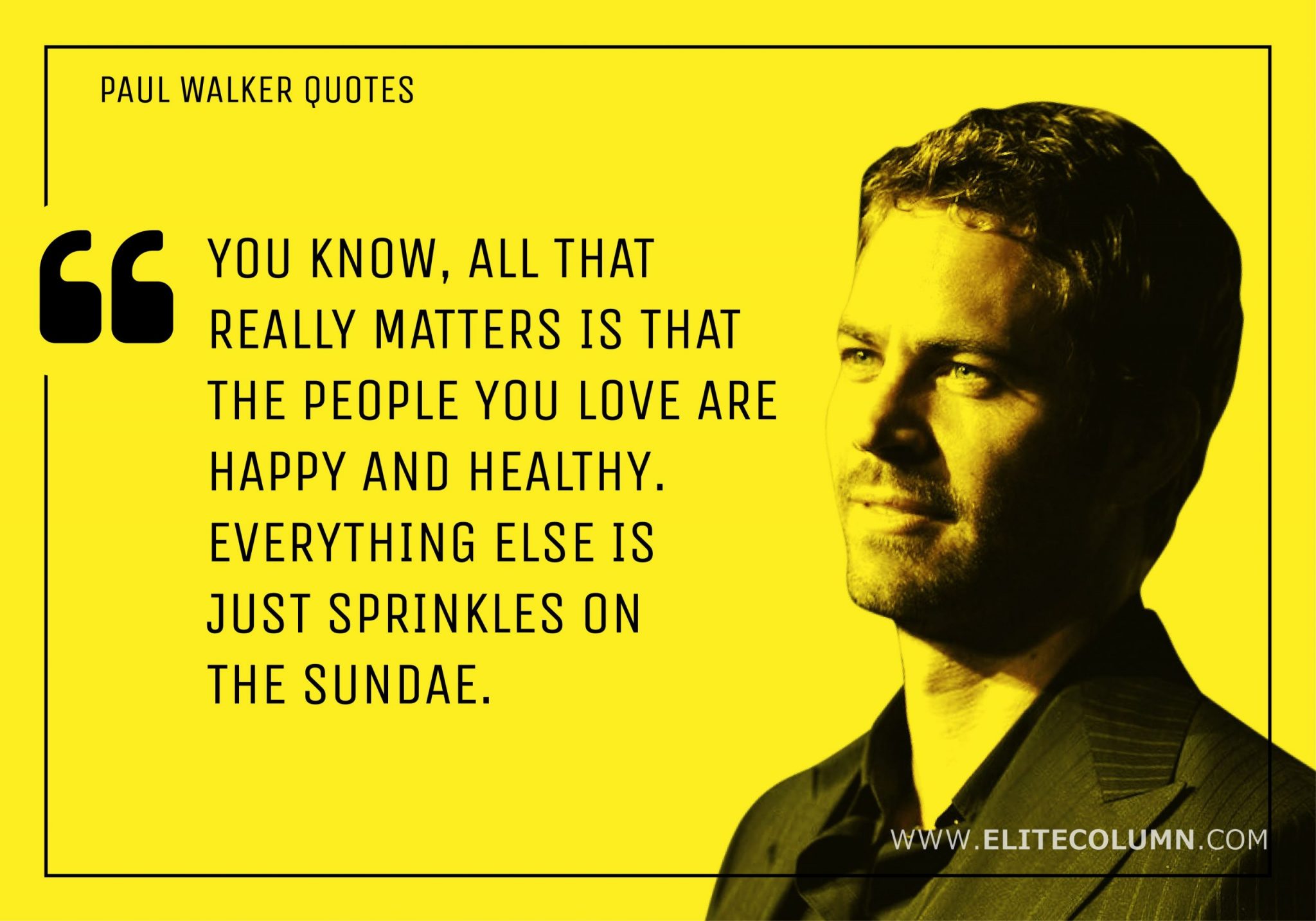 1. "You know, all that really matters is that the people you love are happy and healthy. Everything else is just sprinkles on the sundae." – Paul Walker
2. "My parents never looked at my acting as a career. They saw it as a way to help provide for the household." – Paul Walker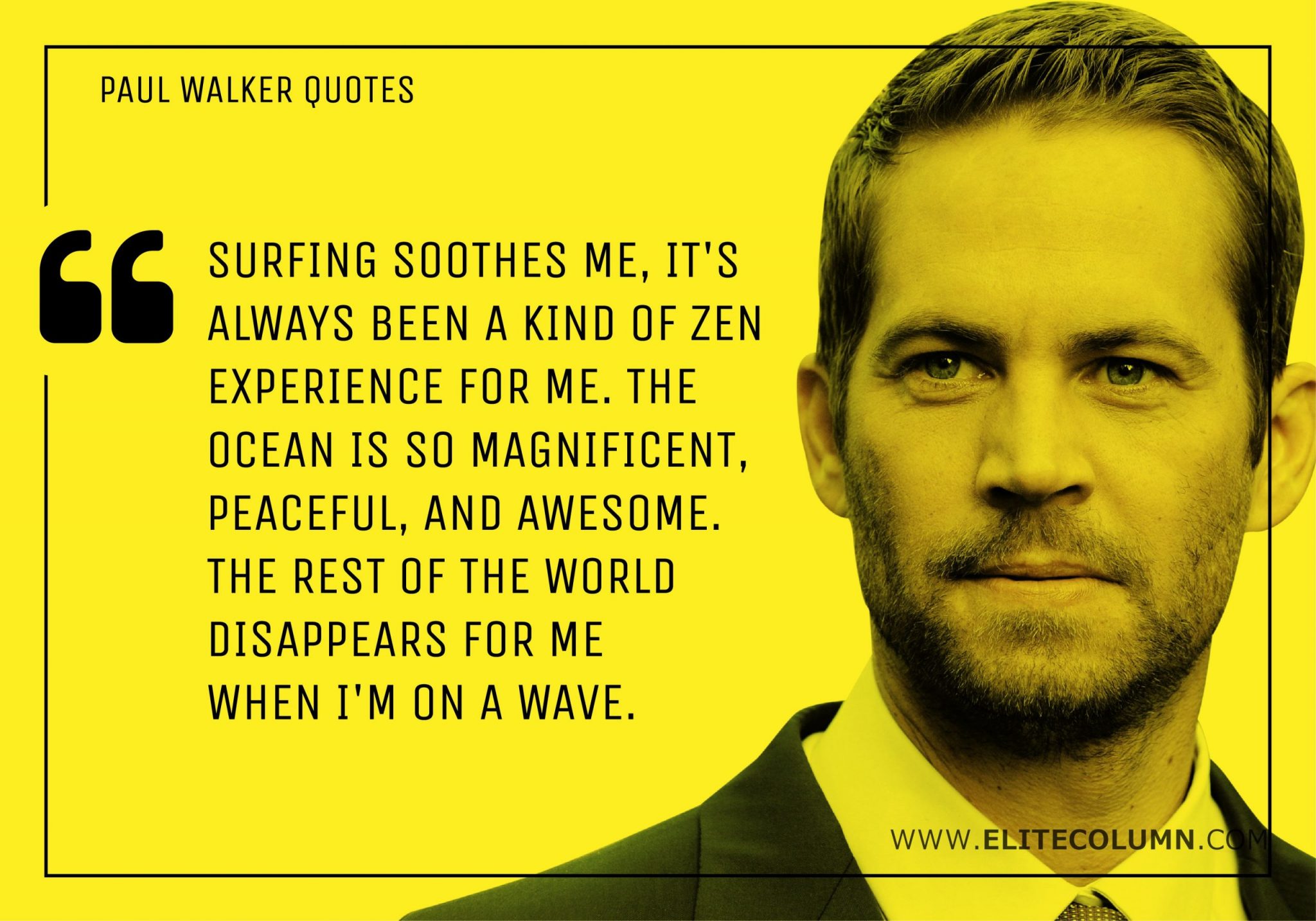 3. "Surfing soothes me, it's always been a kind of Zen experience for me. The ocean is so magnificent, peaceful, and awesome. The rest of the world disappears for me when I'm on a wave." – Paul Walker
4. "There's a lot of guys that just get comfortable with their positions and rest on their laurels. I had to earn my way." – Paul Walker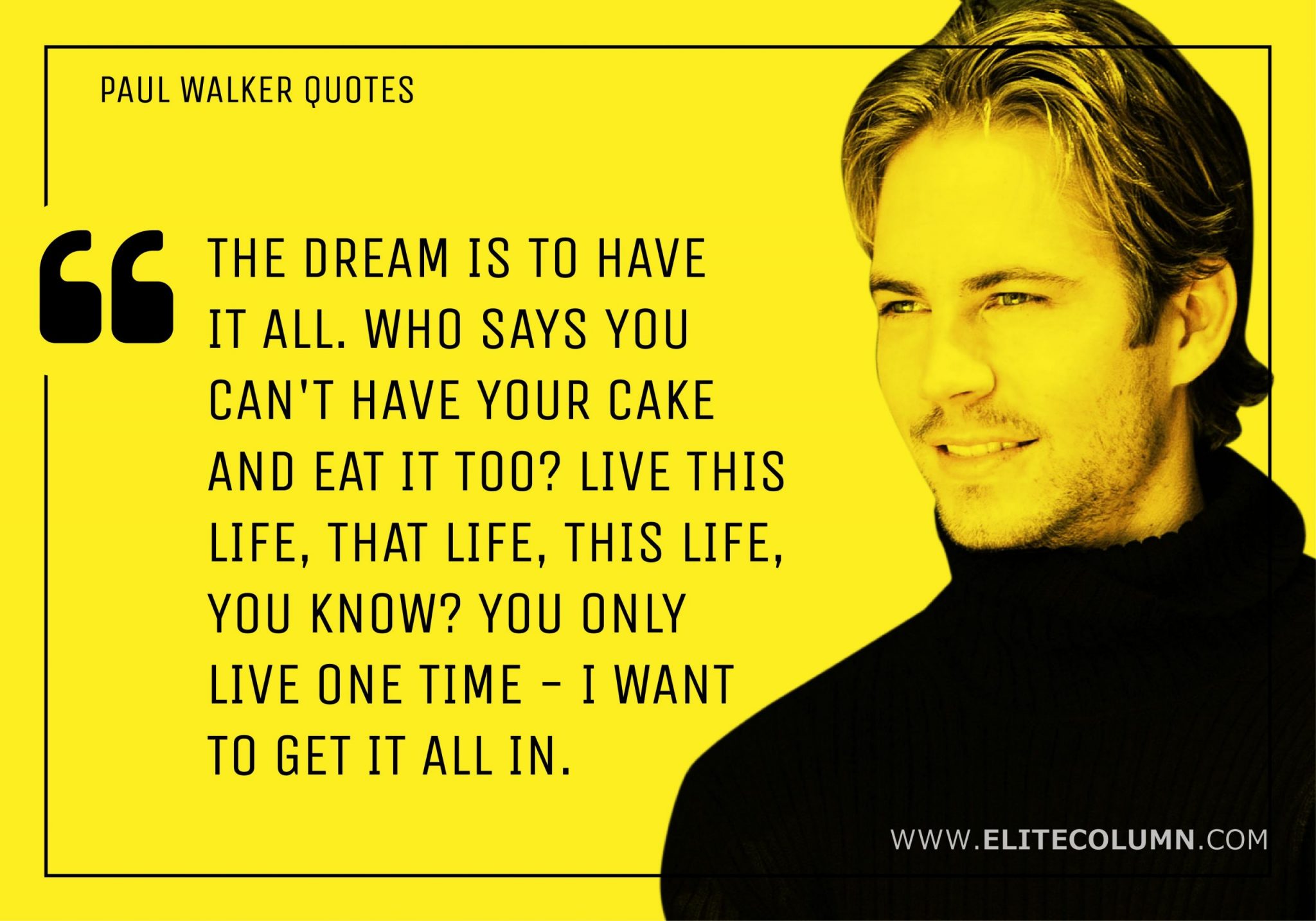 5. "The dream is to have it all. Who says you can't have your cake and eat it too? Live this life, that life, this life, you know? You only live one time – I want to get it all in." – Paul Walker
6. "Basically, you're selling a world as an actor, right? I mean it's like any sales person: if you believe in your product, you know your product, you sell it a lot better." – Paul Walker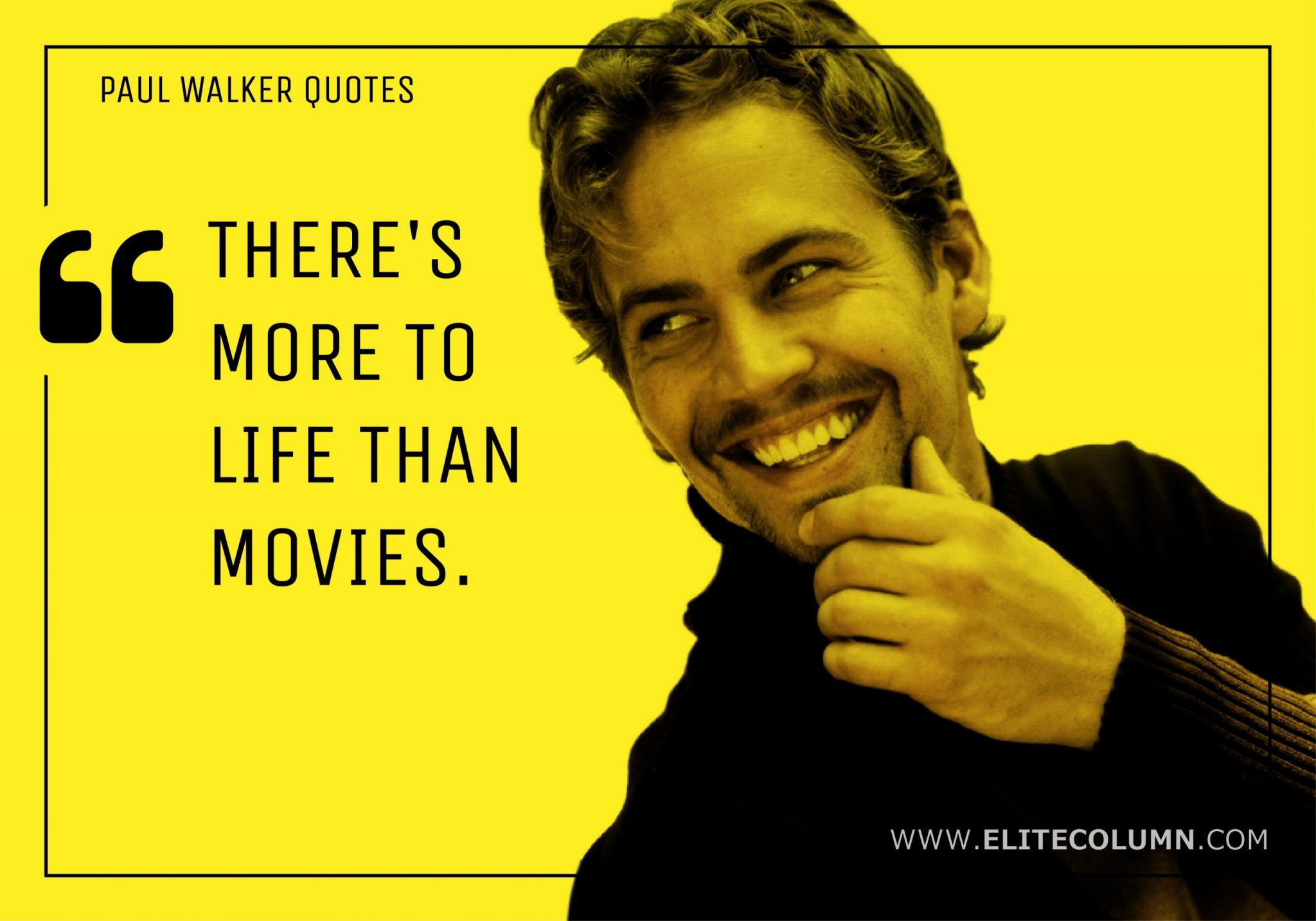 7. "There's more to life than movies." – Paul Walker
8. "Never hate people who are jealous of you, but respect their jealousy, they are people who think that you are better than them.." – Paul Walker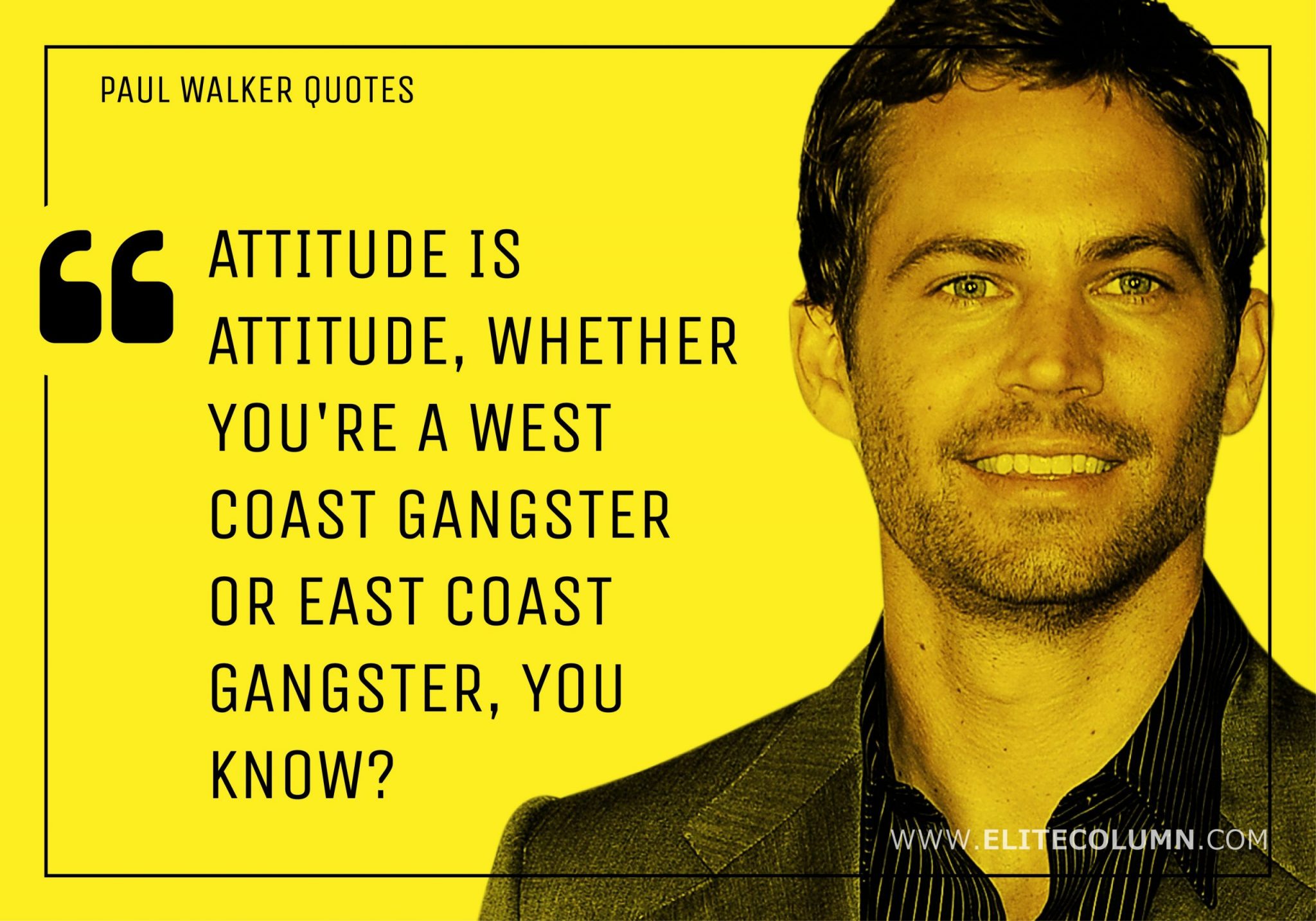 9. "Attitude is attitude, whether you're a West Coast gangster or East Coast gangster, you know?" – Paul Walker
10. "No matter how good or bad your life is, wake up each morning and be thankful you still have one." – Paul Walker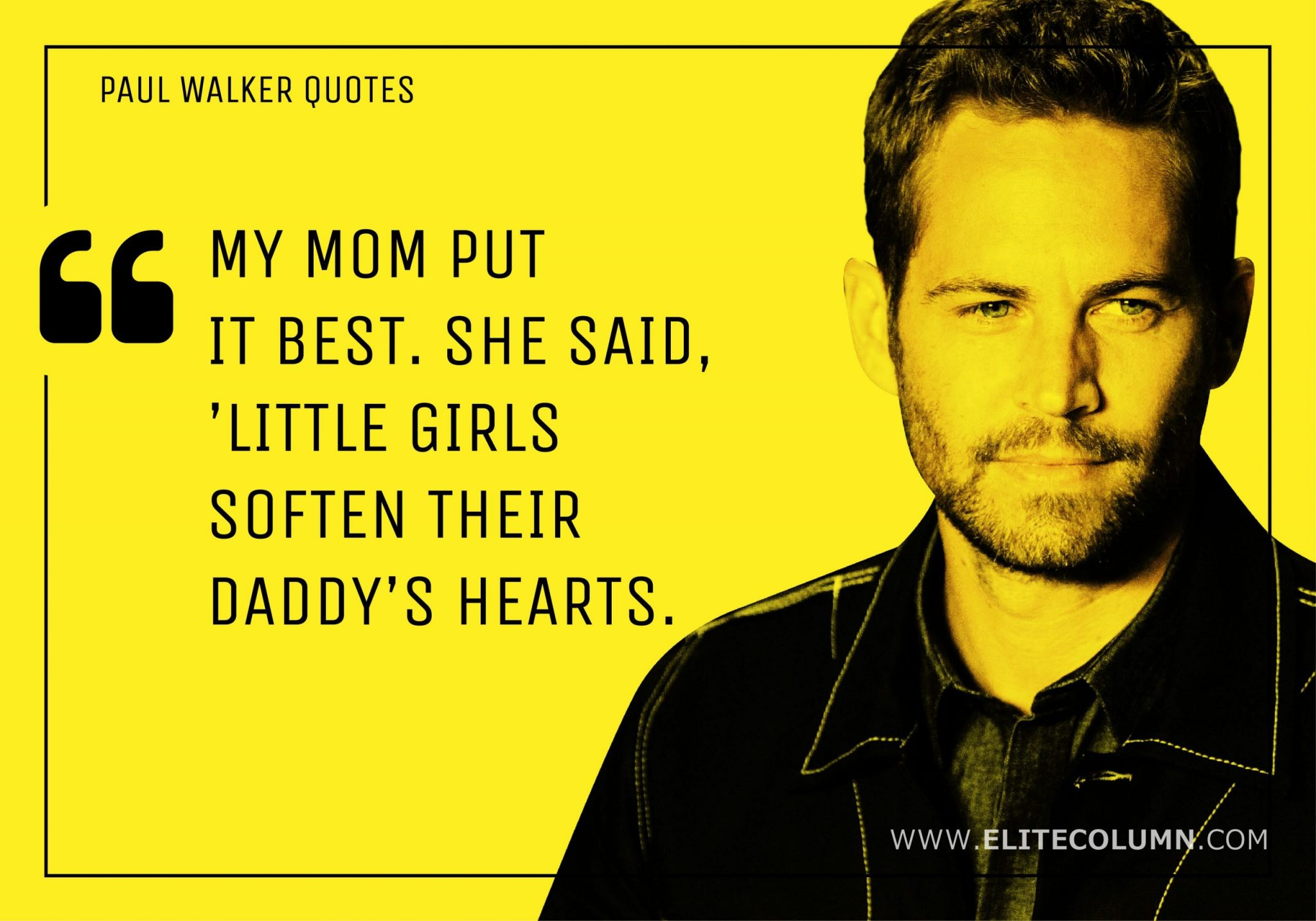 11. "I think my mom put it best. She said, 'Little girls soften their daddy's hearts." – Paul Walker
12. "I don't go where the people are. I go where the people aren't." – Paul Walker
Thanks for checking out the best Paul Walker quotes. Feel free to share the quotes with your friends. Leave a comment below and which are your favorite Paul Walker quotes ?
See also:
Dwayne Johnson Quotes | Angelina Jolie Quotes | Rajinikanth Quotes | Jason Momoa Quotes | Johnny Depp Quotes | Liam Hemsworth Quotes | Al Pacino Quotes | Kamal Hassan Quotes
You can find us at – Facebook | Instagram | LinkedIn | Pinterest | Twitter