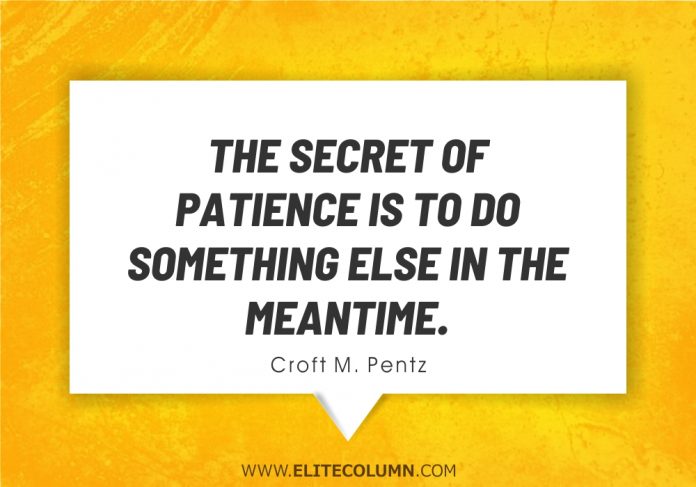 Check out 50 Patience Quotes today.
50 Best Patience Quotes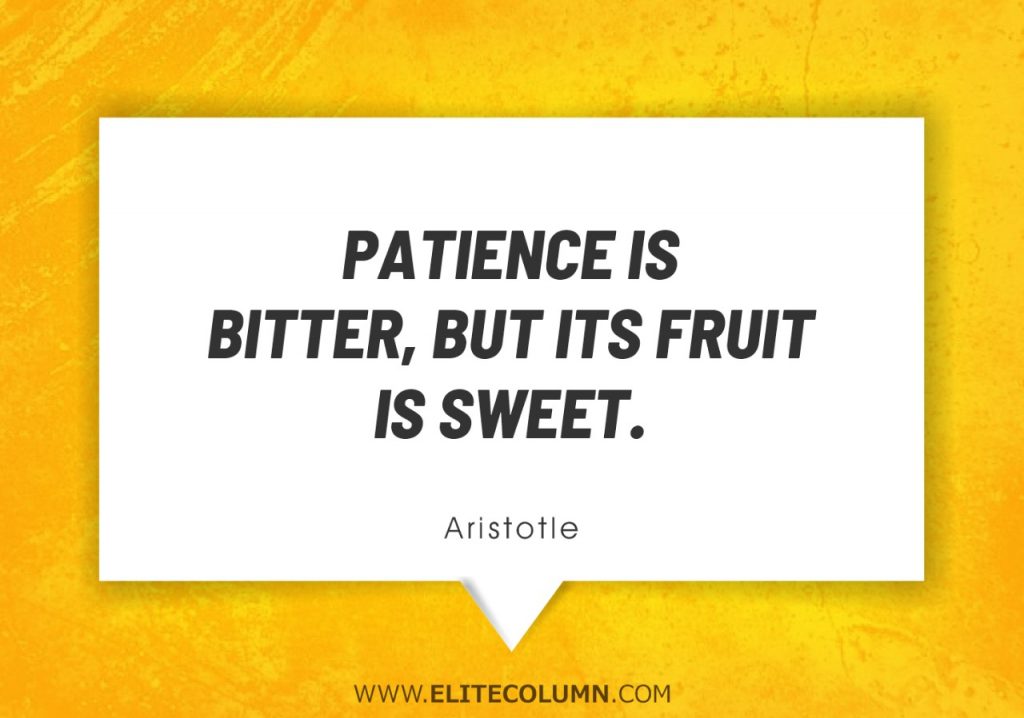 1. "Patience is bitter, but its fruit is sweet." – Aristotle
2. "Patience is not simply the ability to wait it's how we behave while we're waiting." – Joyce Meyer
3. "Hang in there. Hang in there. Your time will come." – Avinash VS
4. "Great works are performed not by strength but by perseverance." – Samuel Johnson
5. "Patience, persistence and perspiration make an unbeatable combination for success." – Napoleon Hill
6. "Every great dream begins with a dreamer. Always remember, you have within you the strength, the patience, and the passion to reach for the stars to change the world." – Harriet Tubman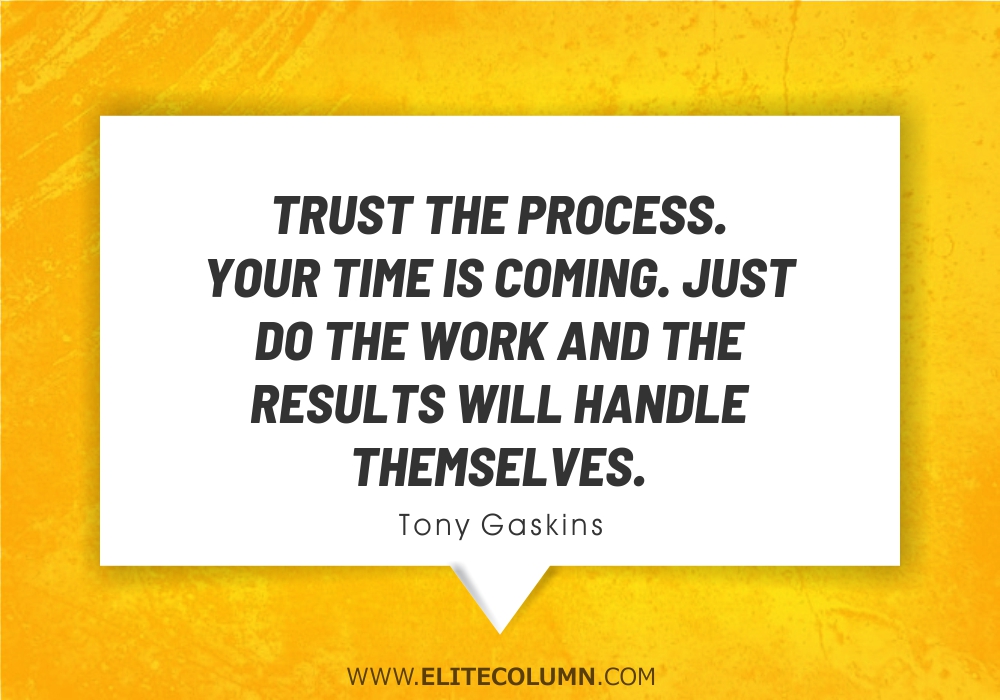 7. "Trust the process. Your time is coming. Just do the work and the results will handle themselves." – Tony Gaskins
8. "Patience and perseverance have a magical effect before which difficulties disappear and obstacles vanish." – John Quincy Adams
9. "Pause. Drink Water. Revaluate." – Avinash VS
10. "The test of good manners is to be patient with the bad ones." – Solomon Ibn Gabirol
11. "When it comes to increasing motivation and self-control, you have to remain patient and allow your mind to adapt to the new changes." – Jill Hesson
12. "Struggles often serve to release the wisdom, patience, and strength we all possess but too seldom demonstrate." – Jim Stovall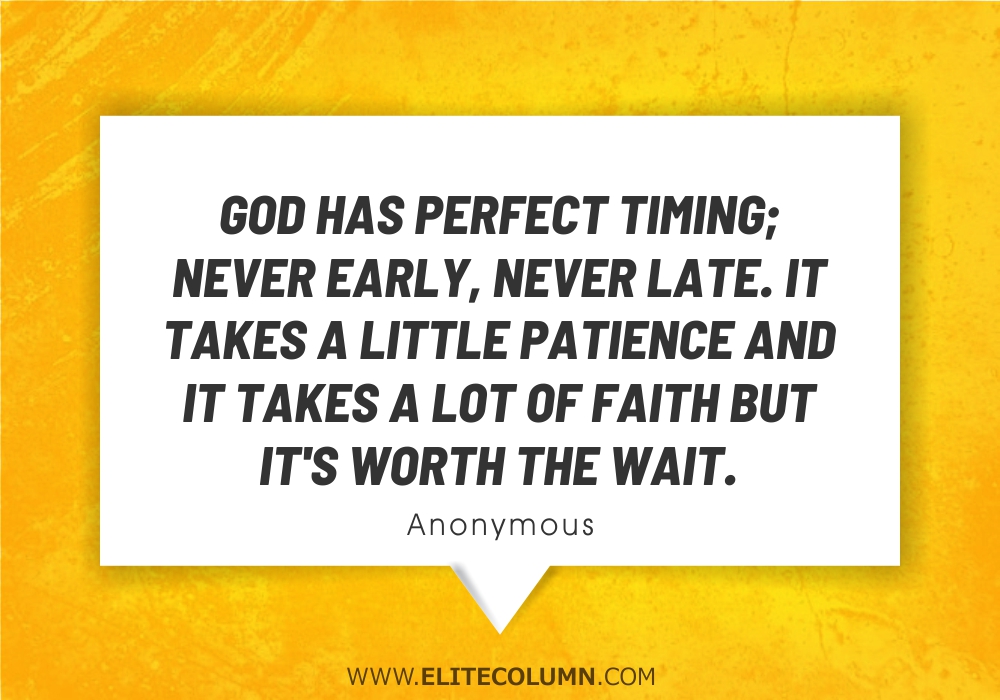 13. "God has perfect timing; never early, never late. It takes a little patience and it takes a lot of faith but it's worth the wait." – Anonymous
14. "Trees that are slow to grow bear the best fruit." – Moliere
15. "He that can have patience can have what he will." – Benjamin Franklin
16. "The strongest of all warriors are these two Time and Patience." – Leo Tolstoy
17. "I am extraordinarily patient, provided I get my own way in the end." – Margaret Thatcher
18. "With love and patience, nothing is impossible." – Daisaku Ikeda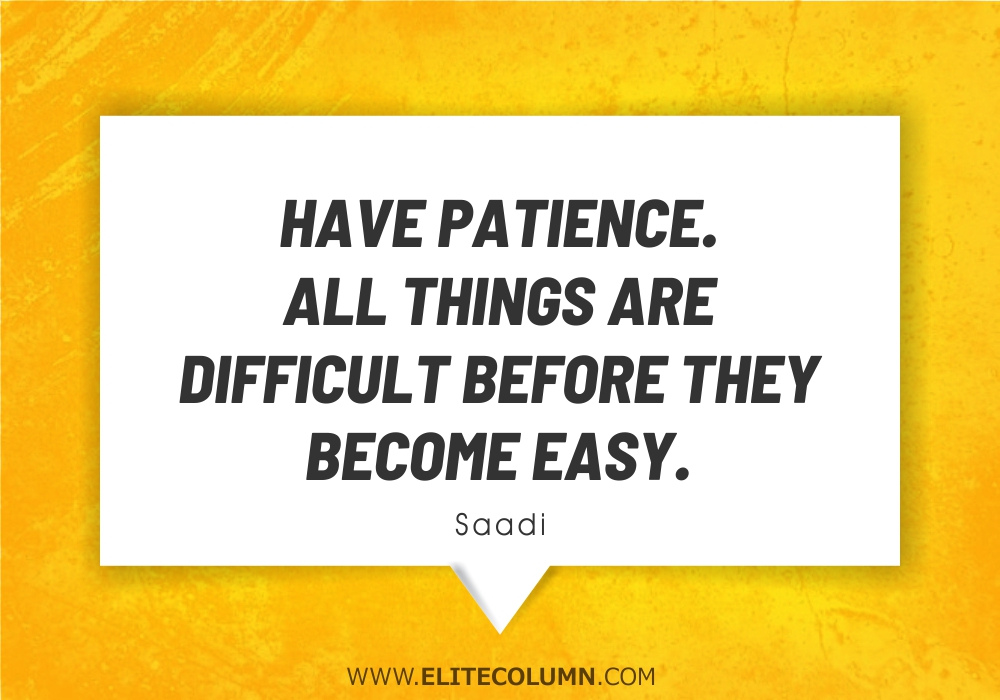 19. "Have patience. All things are difficult before they become easy." – Saadi
20. "No one has patience for love except their own." – Marjorie Celona
21. "Love, patience, and meekness can be just as contagious as rudeness and crudeness." – Neal A. Maxwell
22. "An alternative to love is not hate but patience." – Santosh Kalwar
23. "Each life is made up of mistakes and learning, waiting and growing, practicing patience and being persistent." – Billy Graham
24. "Patience is the companion of wisdom." – Saint Augustine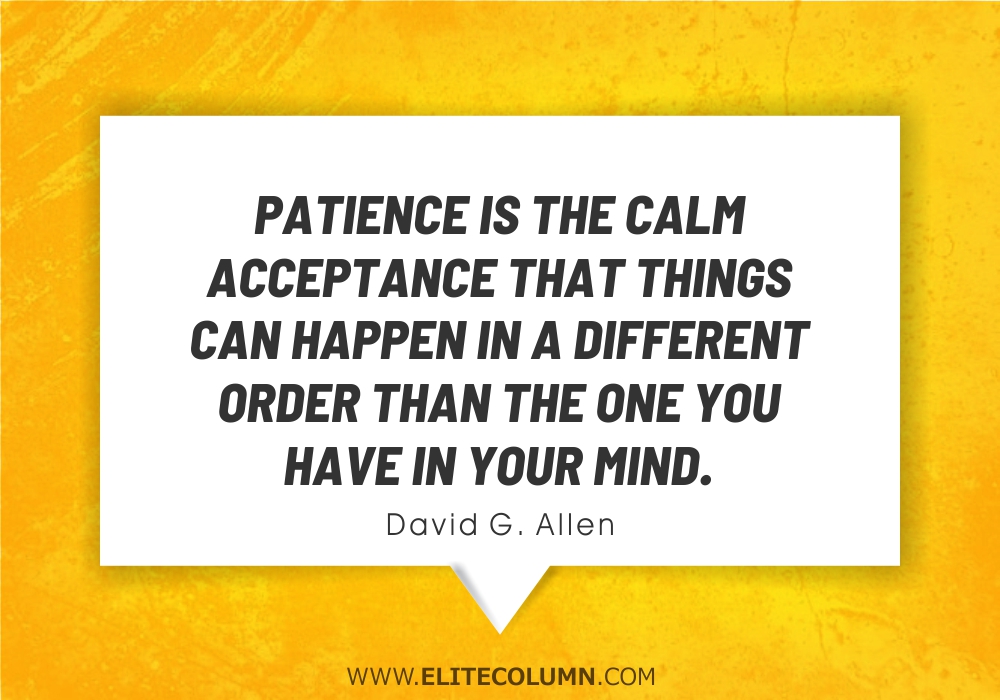 25. "Patience is the calm acceptance that things can happen in a different order than the one you have in your mind." – David G. Allen
See also:
Spiritual Quotes | Time Quotes | Family Quotes | Zen Quotes | Pain Quotes | Peace Quotes | Health Quotes | Humble Quotes
26. "Patience can't be acquired overnight. It is just like building up a muscle. Every day you need to work on it." – Eknath Easwaran
27. "Learning patience can be a difficult experience, but once conquered you will find life is easier." – Catherine Pulsifer
28. "When you encounter various trials, big or small, be full of joy. They're opportunities to learn patience." – Scott Curran
29. "Be patient with yourself. Self-growth is tender; it's holy ground. There's no greater investment." – Stephen Covey
30. "Patience teaches us to turn provocations into invocations, to transform frustrations into celebrations." – William Arthur Ward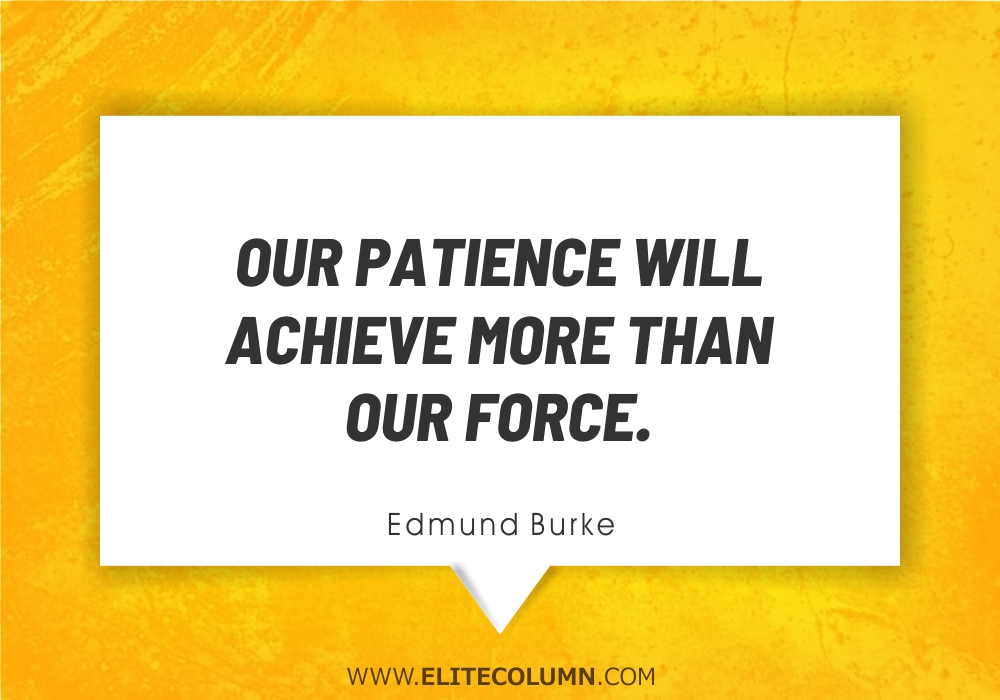 31. "Our patience will achieve more than our force." – Edmund Burke
32. "A wise man does not try to hurry history. Many wars have been avoided by patience, and many have been precipitated by reckless haste." – Adlai Stevenson
33. "Patience is the virtue of an ass that trots beneath his burden, and is quiet." – George Granville
34. "It takes patience to listen. It takes skill to pretend you're listening." – Harmon Okinyo
35. "Patience is waiting. Not passively waiting. That is laziness. But to keep going when the going is hard and slow – that is patience." – Leo Tolstoy
36. "Patience is the support of weakness; impatience the ruin of strength." – Charles Caleb Colton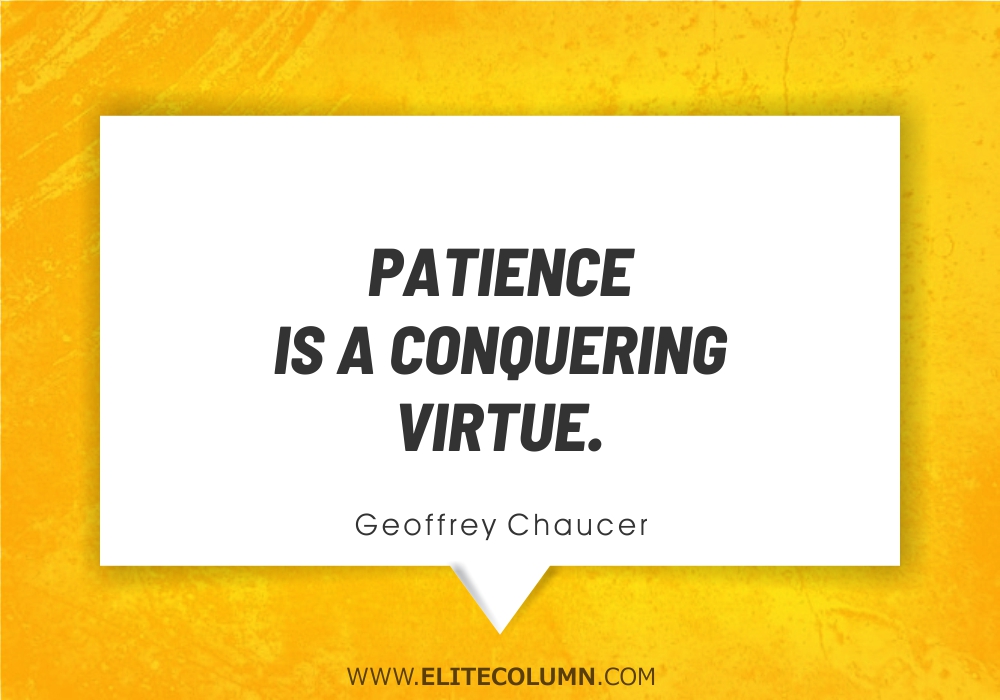 37. "Patience is a conquering virtue." – Geoffrey Chaucer
38. "It is better to have a hen tomorrow than an egg today." – Thomas Fuller
39. "Great things are not accomplished by idle dreams, but by years of patient study." – James H. Aughey
40. "At the bottom of patience one finds heaven." – Kanuri
41. "Adopt the pace of nature: her secret is patience." – Ralph Waldo Emerson
42. "One minute of patience, ten years of peace." – Ben Franklin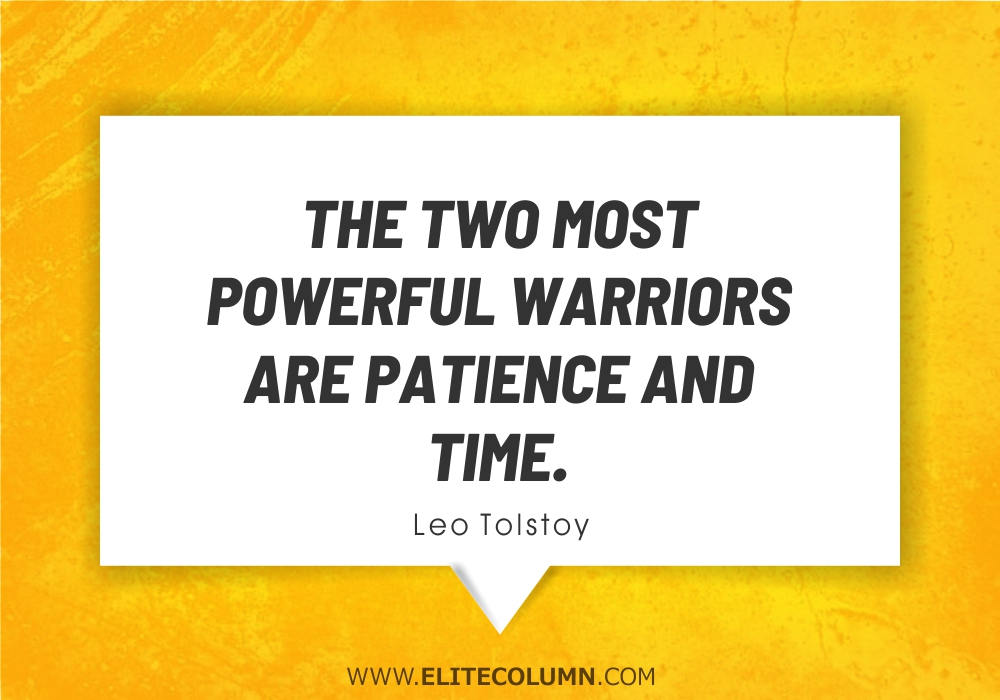 43."The two most powerful warriors are patience and time." – Leo Tolstoy
44. "If you have patience, then you'll also have love. Patience leads to love." – Mata Amritanandamayi
45th Patience Quotes
45. "Genius is nothing but a great aptitude for patience." – George Louis de Buffon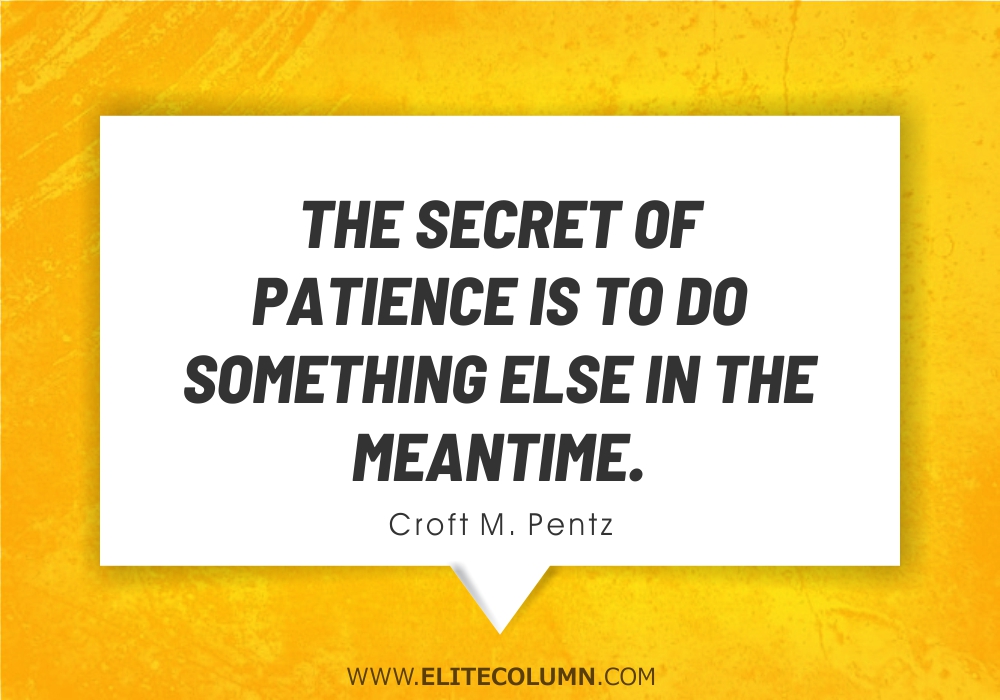 46. "The secret of patience is to do something else in the meantime." – Croft M. Pentz
47. "All human wisdom is summed up in two words – wait and hope" – Alexandre Dumas Pere
48. "Rivers know this: there is no hurry. We shall get there some day." – A.A. Milne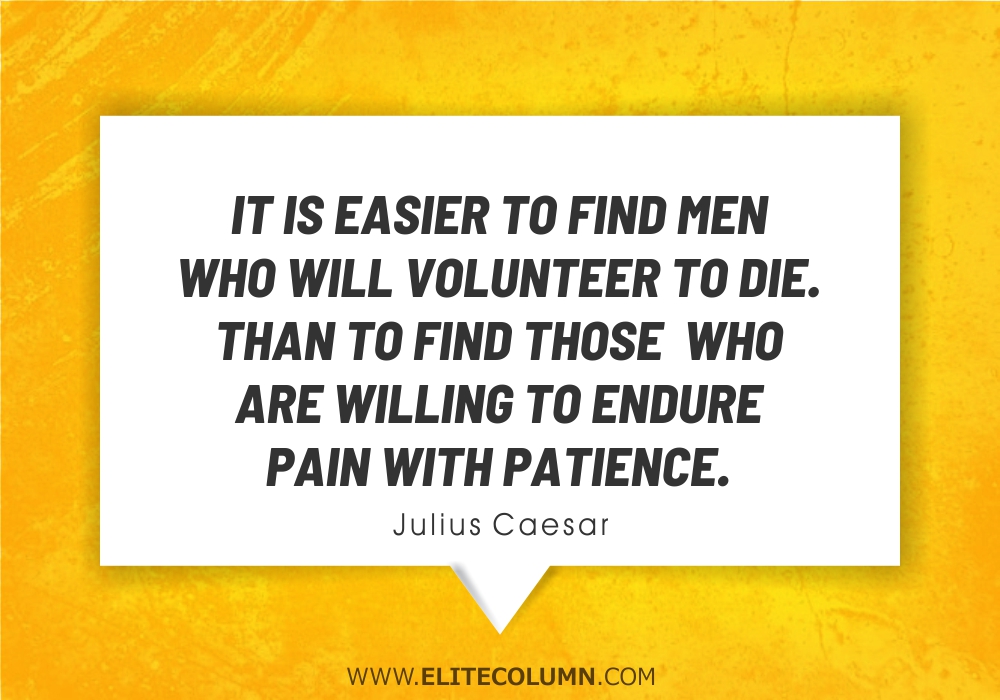 49. "It is easier to find men who will volunteer to die. Than to find those who are willing to endure pain with patience." – Julius Caesar
50. "If you take it step by step, you shall least miss a step!" – Ernest Agyemang Yeboah
Thanks for checking out the best Patience Quotes. Feel free to share the quotes with your friends. Leave a comment below and which are your favourite Patience Quotes ?
See also:
Mistake Quotes | Fear Quotes | Honesty Quotes | Art Quotes | Silence Quotes | Freedom Quotes | Confidence Quotes | Attitude Quotes
You can find us at – Facebook | Instagram | LinkedIn | Pinterest | Twitter