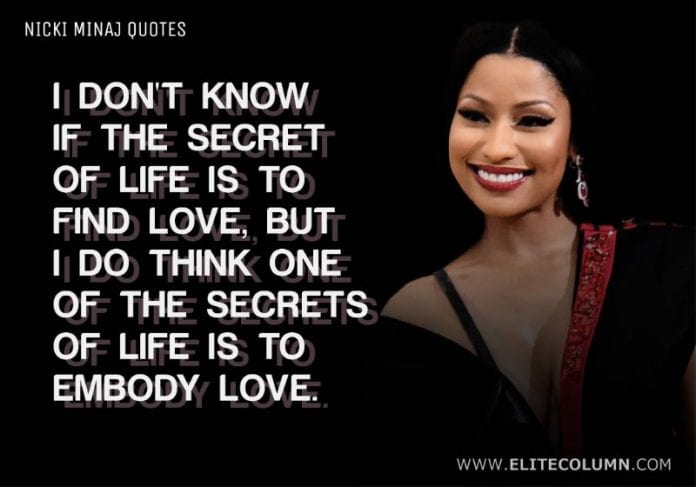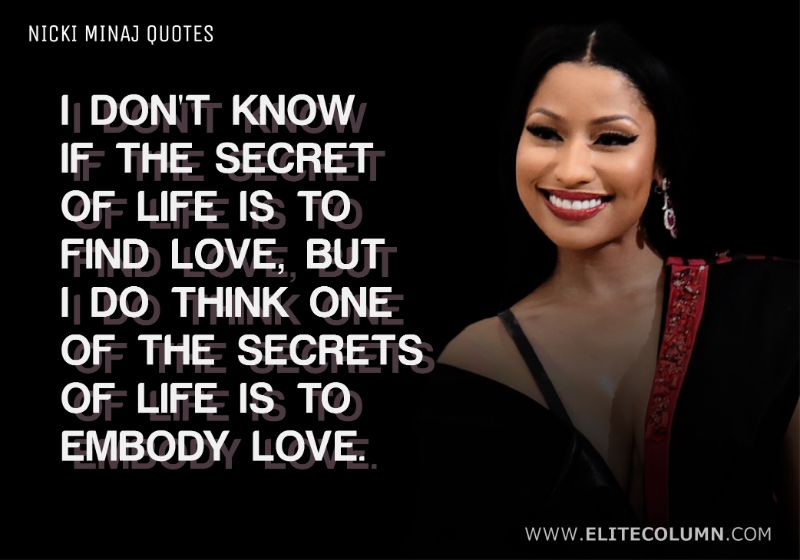 Nicki Minaj aka Onika Tanya Maraj is a Trinidadian rapper, singer-songwriter, T.V. personality & actress. She has a vast discography. She is the most-charted female rapper in the history of the Billboard Hot 100, with over forty-four appearances. She was first spotted by the CEO of Young Money and was later recruited for The Carter Edition of Young Money's own 'The Come Up' DVD series. Her rapping skills caught the eyes of Lil Wayne who later worked with her for much collaboration with his mix tapes. Nicki Minaj quotes will empower you and EliteColumn brings you the 11 most popular Nicki Minaj quotes.
45 Motivational Nicki Minaj Quotes
"Strange how someone you once loved can become just another person you once knew." – Nicki Minaj
2. "Don't chase the boys. Don't depend on anybody. Do your thing." – Nicki Minaj
3. "I want to build my empire. In my field, I have always seen men do it. From Diddy to Dr. Dre to Jay Z. Now it's a woman's turn." – Nicki Minaj
4. "I'll never be perfect. Believe me I'm worth it. So take me or leave me." – Nicki Minaj
5. "I want to show little girls that the possibilities are endless. That's my goal – to not only do it for myself, but to show them I can do whatever I put my mind to." – Nicki Minaj
6. "Always tell someone how you feel because opportunities are lost in the blink of an eye, but regrets can last for a lifetime." – Nicki Minaj
7. "You don't have to feel the need to put somebody down to make yourself feel better." – Nicki Minaj
8. "Life is a movie, but there will never be a sequel." – Nicki Minaj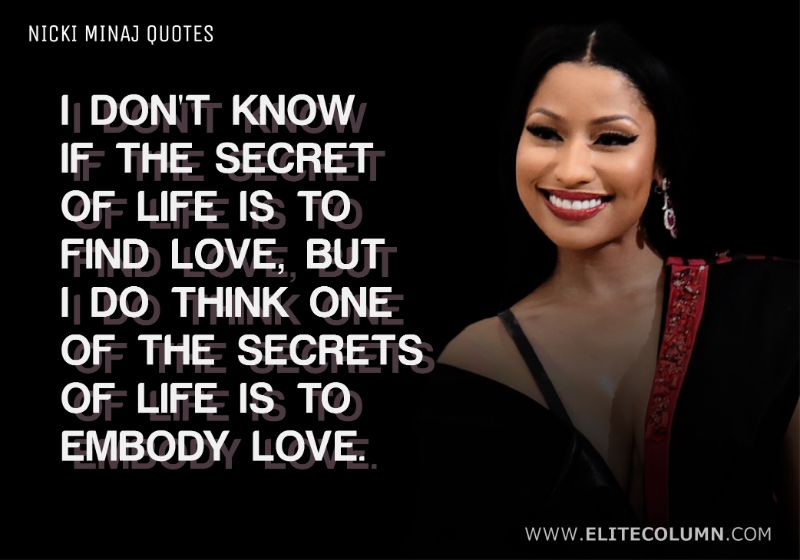 9. "I don't know if the secret of life is to find love, but I do think one of the secrets of life is to embody love." – Nicki Minaj
10. "I will not let anyone scare me out of my full potential." – Nicki Minaj
11. "You have to know that as long as you love who you are – your morals, your values, that type of stuff, you're ok." – Nicki Minaj
12. "When I win and when I lose, I take ownership of it, because I really am in charge of what I do." – Nicki Minaj
13. "Good advice I always hated, but lookin back it made me greater." – Nicki Minaj
14. "So, my happiness doesn't come from money or fame. My happiness comes from seeing life without struggle." – Nicki Minaj
15. "We all have insecurities, but you have to know you're beautiful." – Nicki Minaj
16. "Some people have to put in work. Others get to cut corners. We see it but don't say it. Welcome to the real world." – Nicki Minaj
See also:
Tupac Shakur Quotes | Lady Gaga Quotes | Jay Z Quotes | Demi Lovato Quotes | Harry Styles Quotes | Chester Bennington Quotes | Beyonce Quotes | Katy Perry Quotes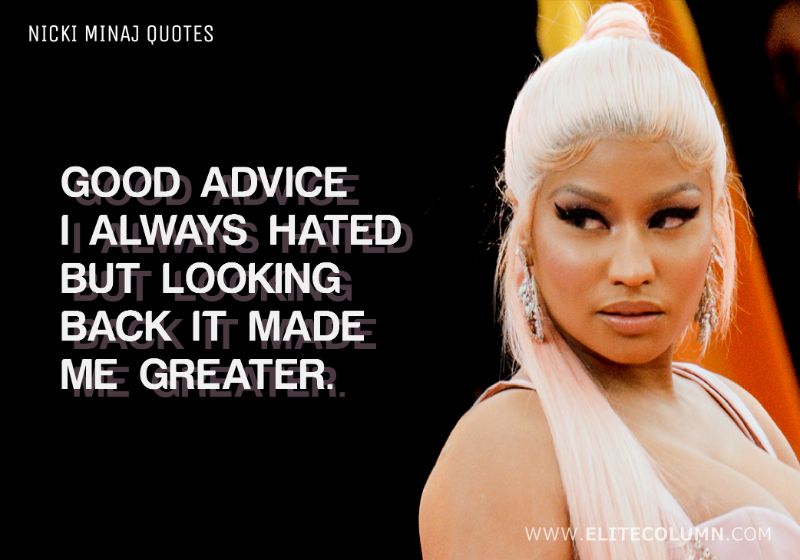 17. "Good advice I always hated but looking back it made me greater." – Nicki Minaj
18. "True confidence leaves no room for jealousy. When you know you are great, you have no need to hate." – Nicki Minaj
19. "Sometimes you gotta be beauty and a beast." – Nicki Minaj
20. "Your victory is right around the corner. Never give up." – Nicki Minaj
21. "Stay in school. Don't ever be lazy, don't you ever complain about hard work. Work hard, it pays off." – Nicki Minaj
22. "I always feel it's important for me to show females that they can be in charge of their own situation." – Nicki Minaj
23. "Sometimes you don't realize how far you've gotten until you look around at the people who are still trailing far behind you." – Nicki Minaj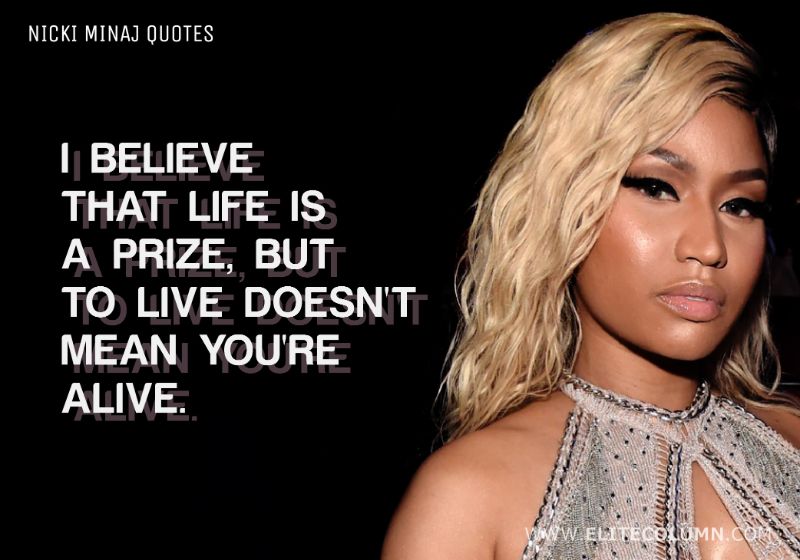 24. "I believe that life is a prize, but to live doesn't mean you're alive." – Nicki Minaj
25. "Shoutout to my haters, sorry you couldn't phase me." – Nicki Minaj
26. "There's always gonna be evil people in the world who just do negative shit. You just have to kill them with kindness and they'll die slowly." – Nicki Minaj
27. "You're not gonna tell me who I am. I'm gonna tell you who I am." – Nicki Minaj
28. "Respect your haters. They're the only ones who think you're better than them." – Nicki Minaj
29. "I just want women to feel in control, because we're capable – we're so capable." – Nicki Minaj
30. "Don't stay watching happiness, make it." – Nicki Minaj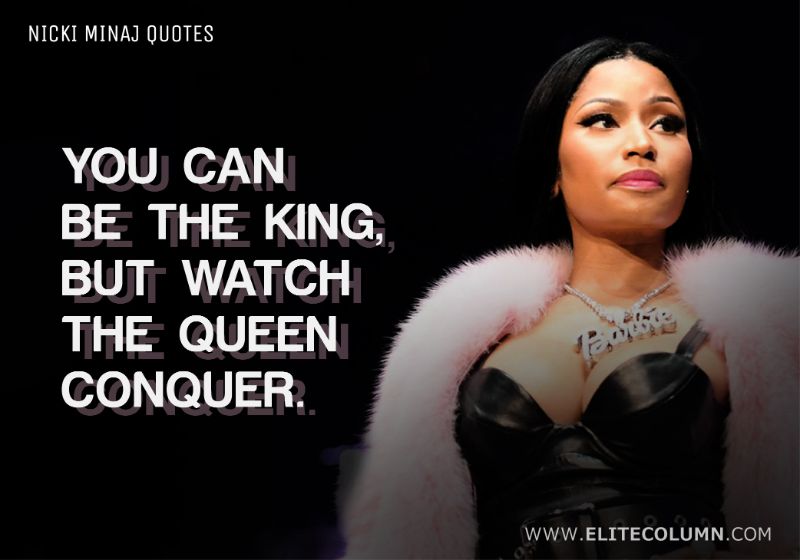 31. "You can be the king, but watch the queen conquer." – Nicki Minaj
32. "Call it a curse, or just call me blessed, if you can't handle my worst, you ain't getting my best" – Nicki Minaj
33. "People will love you and support you when it's beneficial." – Nicki Minaj
34. "If you don't have critics, you probably don't have success either." – Nicki Minaj
35. "Maybe your weird is my normal. Who's to say?" – Nicki Minaj
36. "But, by just being myself, I end up touching a lot more people who might never have paid much attention to a female rapper." – Nicki Minaj
37. "You should never feel afraid to become a piece of art. It's exhilarating." – Nicki Minaj
38. "Shout out to my haters, Sorry that you couldn't faze me." – Nicki Minaj
39. "I don't mind being called a weirdo. There are a lot of people in hip-hop who are probably never going to get what I do." – Nicki Minaj
40. "My tears have dried and I know that no weapon formed against me will prosper." – Nicki Minaj
See also:
Ariana Grande Quotes | Madonna Quotes | Bruno Mars Quotes | Kanye West Quotes | Rihanna Quotes | Drake Quotes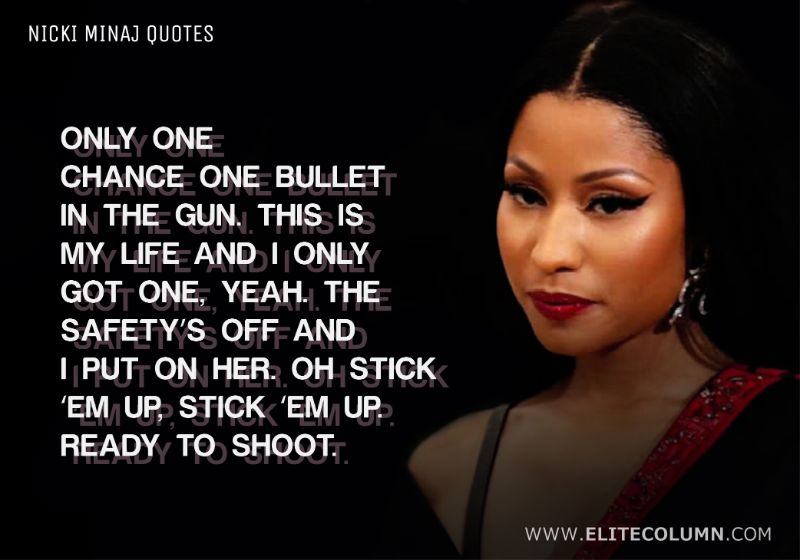 41. "Only one chance one bullet in the gun. This is my life and I only got one, yeah. The safety's off and I put on her. Oh stick 'em up, stick 'em up. Ready to shoot." – Nicki Minaj
42. "I think of myself as a woman who wants other women to be bosses and to be strong and to be go-getters." – Nicki Minaj
43. "People face difficulties, no matter who you are. I faced difficulties with a lot of things. I face opposition every day, but I didn't kill myself and now, thank God, I'm here." – Nicki Minaj
44. "Beauty might bring happiness, but happiness always brings beauty." – Nicki Minaj
45. "I've always been the type of person to make everybody happy and get things done. I want everything to be 100% perfect." – Nicki Minaj
Thanks for checking out the best Nicki Minaj quotes. Feel free to share the quotes with your friends. Leave a comment below and which are your favorite Nicki Minaj quotes ?
See also:
Justin Bieber Quotes | Ed Sheeran Quotes | Taylor Swift Quotes | Eminem Quotes | Michael Jackson Quotes
You can find us at – Facebook | Instagram | LinkedIn | Pinterest | Twitter