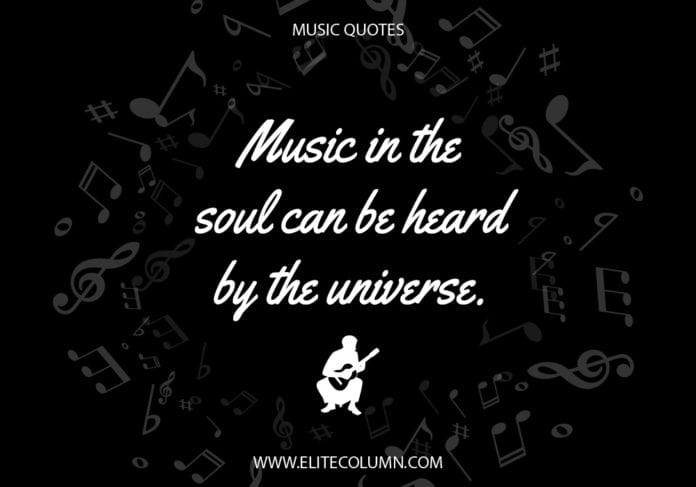 Music is an art and cultural form whose medium is sound organized in time. The creation, performance and significance of music vary according to culture and social context. For most of the people, music is a natural tool because it's a way of communication. It has different meanings. It not only changes our mood, but it also changes the way we think and our perception of the world. The lyrics can describe a situation or experience that a person may be going through at that time along with the particular emotions that are felt. Music quotes will help heal your musical soul and these quotes will help you feel better after reading them. Take a look at the following inspirational music quotes.
66 Best Music Quotes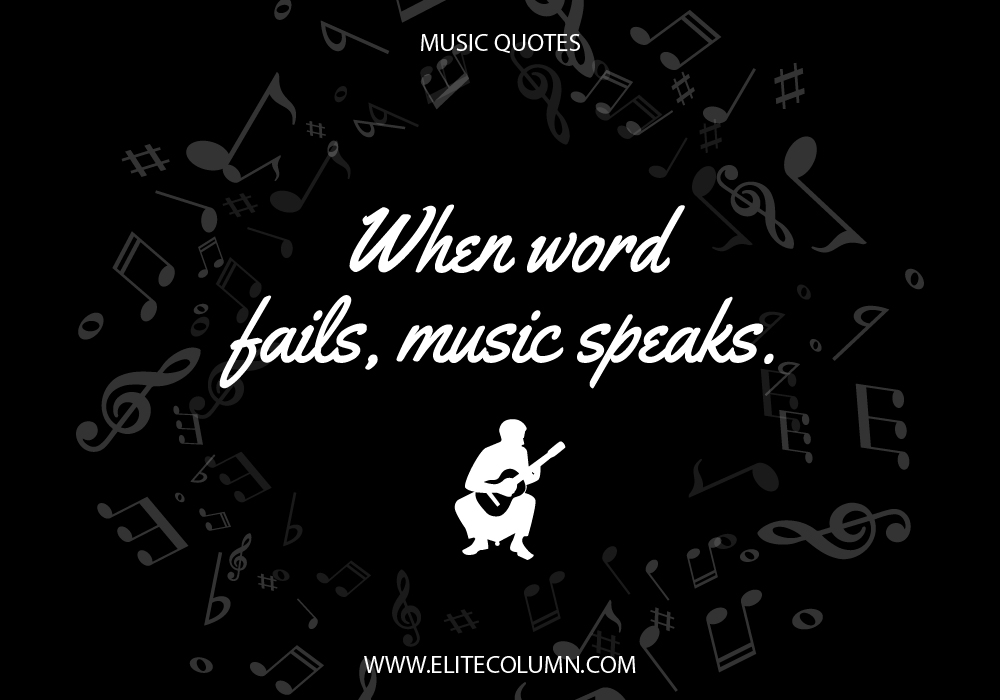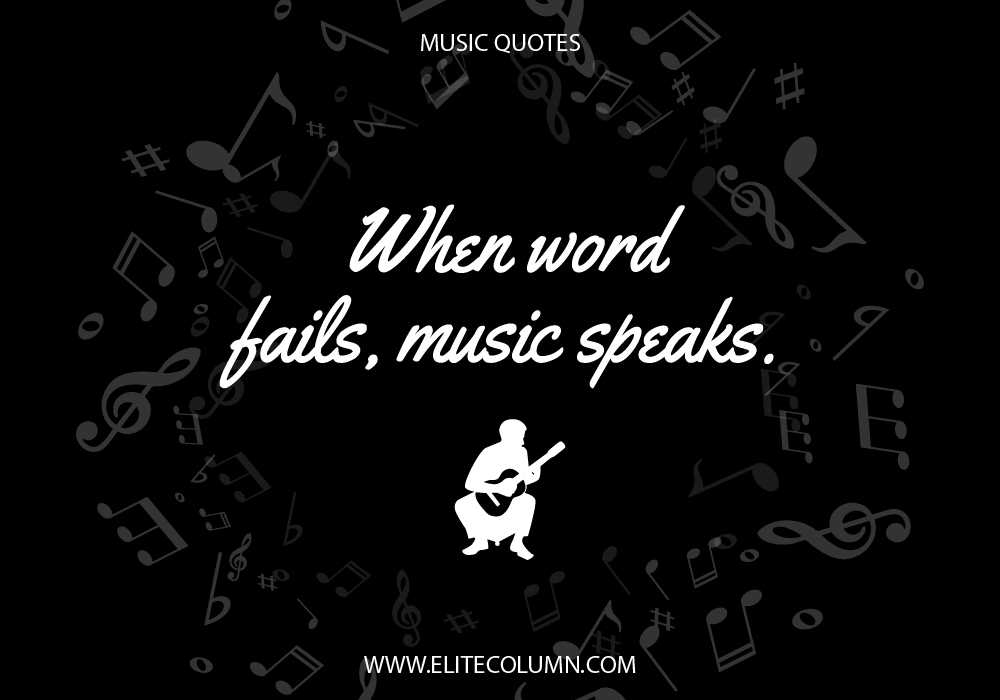 "When word fails, music speaks."
2. "In music the passions enjoy themselves." – Friedrich Wilhelm Nietzsche
3. "If I cannot fly, let me sing." – Stephen Sondheim
4. "Life is one grand sweet song so start the music." – Ronald Reagan
5. "Music is an agreeable harmony for the honor of God and the permissible delights of the soul." – Johann Sebastian Bach
6. "Why not just live in the moment, especially if it has a good beat?" – Goldie Hawn
7. "Music produces a kind of pleasure which human nature cannot do without." – Confucious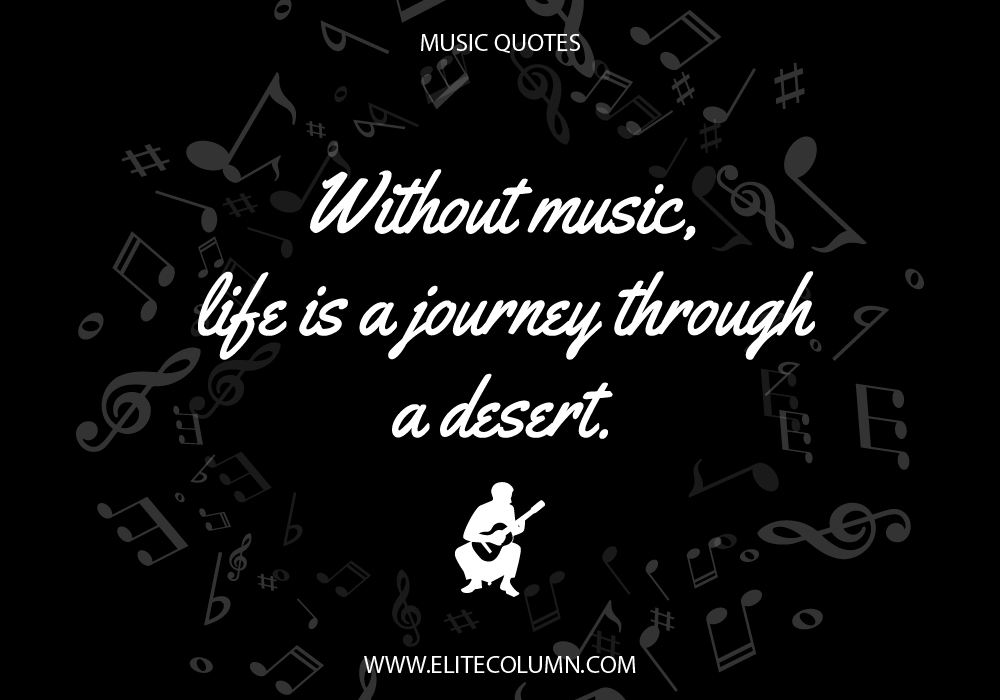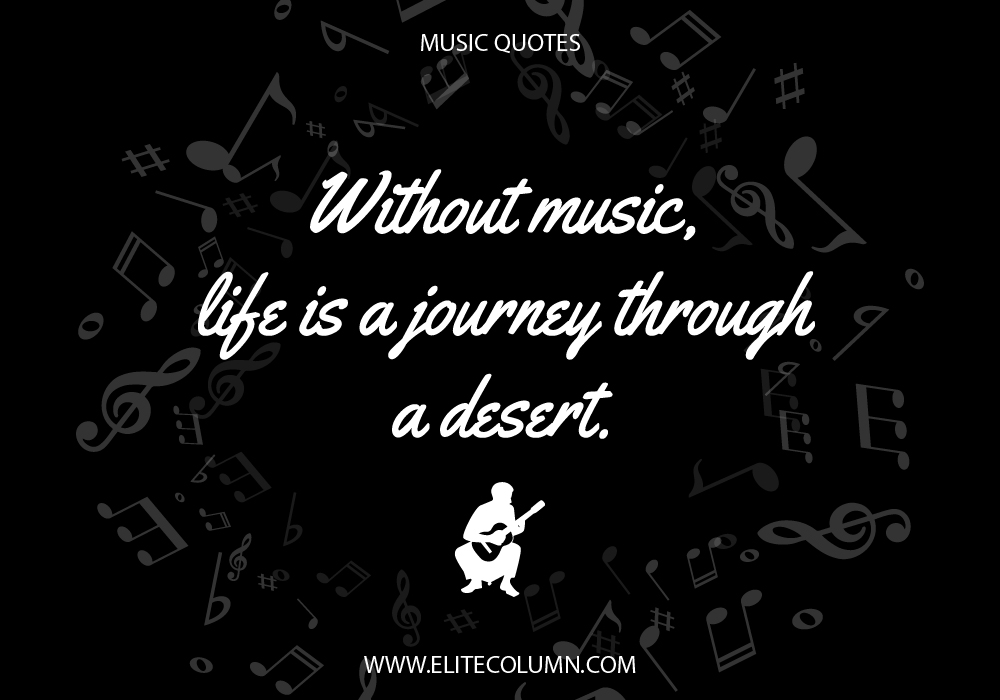 8. "Without music, life is a journey through a desert."
9. "Music, my rampart and my only one." – Edna St. Vincent Millay
10. "Music is the soundtrack to every good and bad time we will ever have." – Alex Gaskarth
11. "Music is what tell us that the human race is greater than we realize." – Napoléon Bonaparte
12. "Music is enough for a lifetime, but a lifetime is not enough for music." – Sergei Rachmaninov
13. "Music, when soft voices die, vibrates in the memory." – Percy Bysshe Shelley
14. "The music we listen to may not define who we are. But it's a damn good start." – Jodi Picoult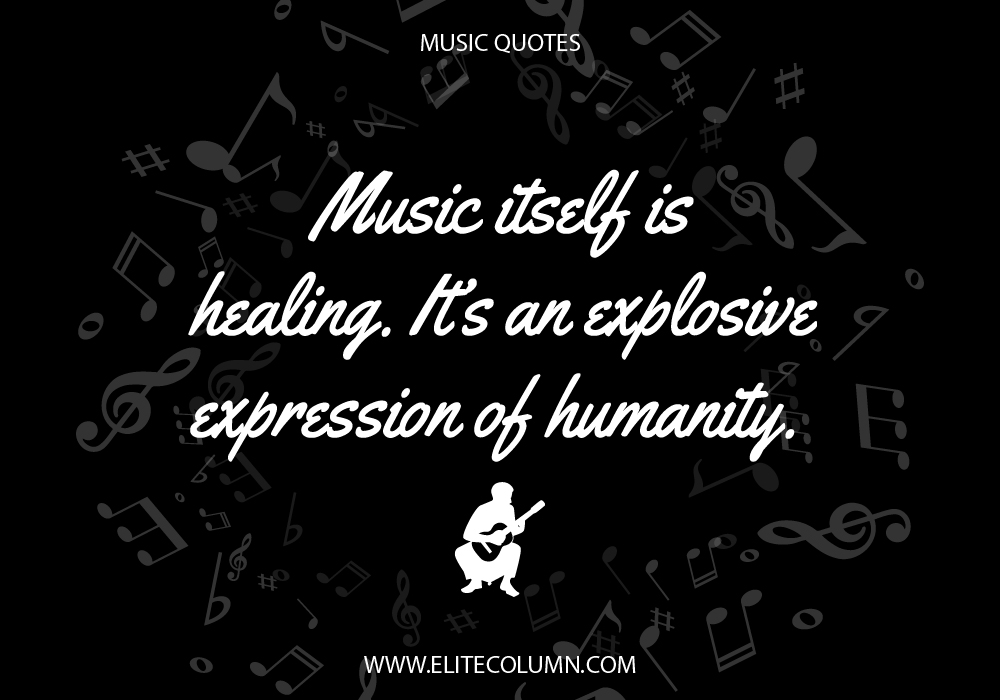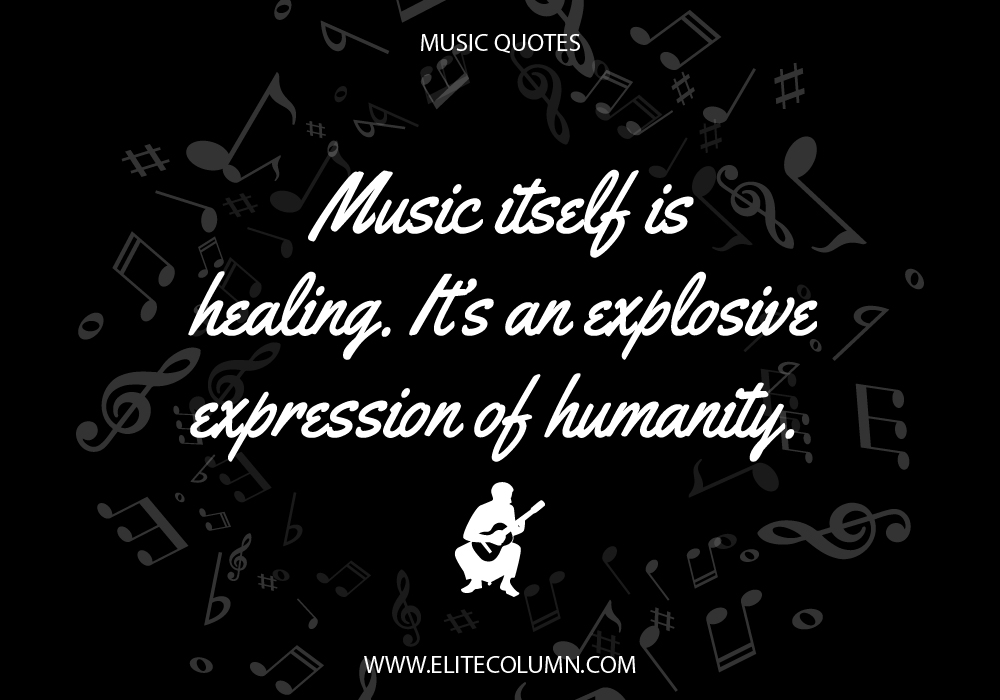 15. "Music itself is healing. It's an explosive expression of humanity."
16. "After silence, that which comes nearest to expressing the inexpressible is music." – Aldous Huxley
17. "Music is well said to be the speech of angels." – Thomas Carlyle
18. "I see my life in terms of music." – Albert Einstein
19. "There are two means of refuge from the miseries of life: music and cats." – Albert Schweitzer
20. "Music is the movement of sound to reach the soul for the education of its virtue." – Plato
21. "Words make you think. Music makes you feel. A song makes you feel a thought." – E.Y. Harburg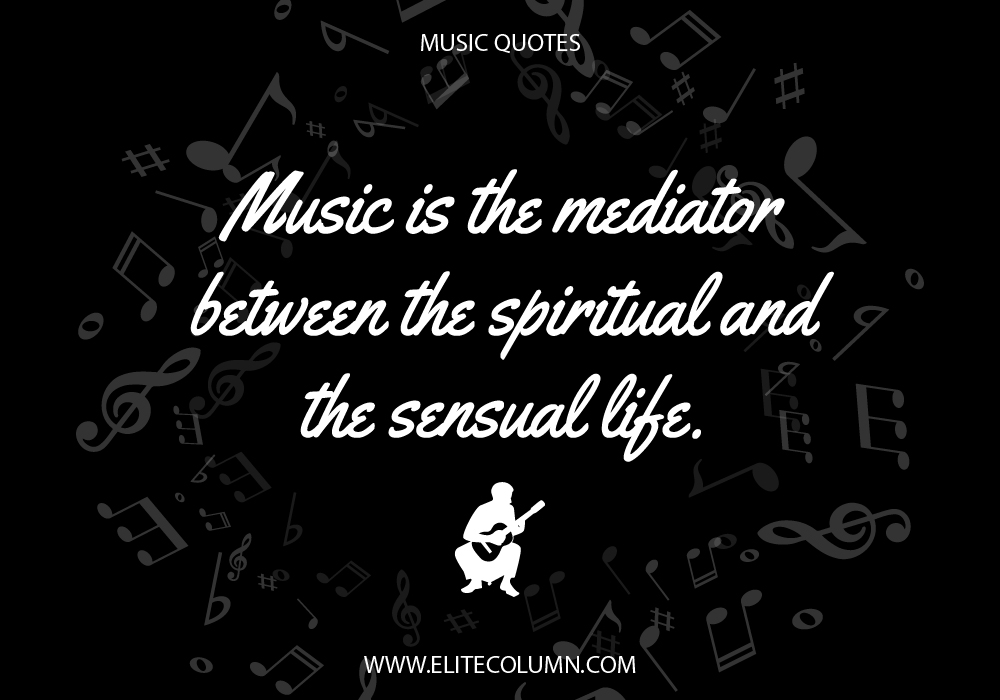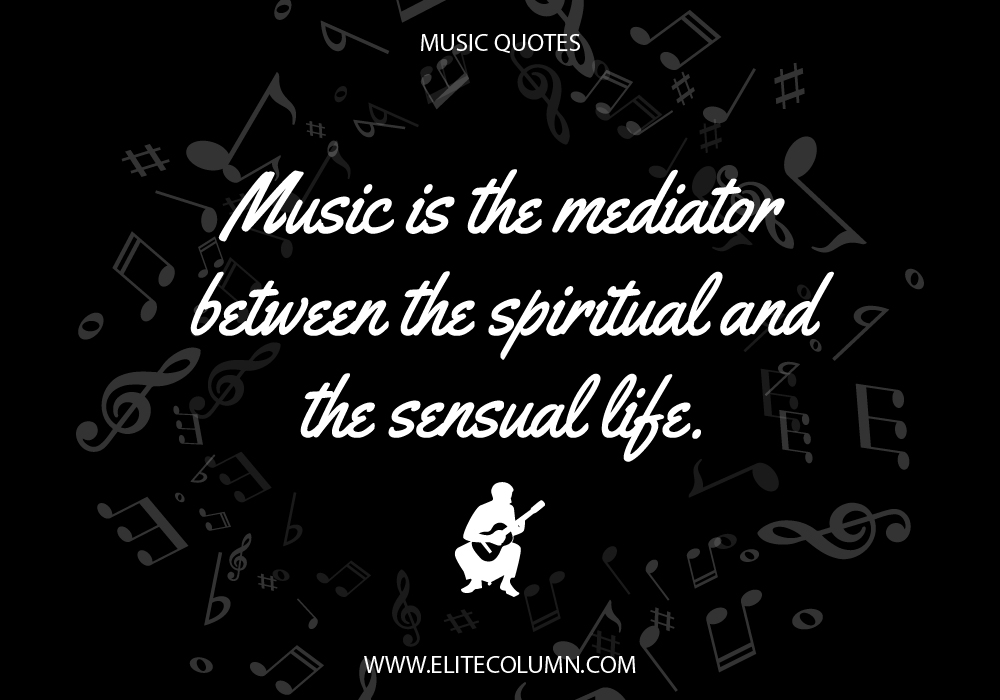 22. "Music is the mediator between the spiritual and the sensual life."
23. "Music is by far the most wonderful method we have to remind us each day of the power of personal accomplishment." – Chris S. Salazar
24. "It's like if the music is loud enough I won't be able to listen to my own thoughts." – Nic Sheff
25. "Music – that's been my education. There's not a day that goes by that I take it for granted." – Billie Joe Armstrong
26. "Without music to decorate it, time is just a bunch of boring production deadlines or dates by which bills must be paid." – Frank Zappa
27. "Softly, deftly, music shall caress you. Hear it, feel it, Secretly possess you." – Charles Hart
28. "Music gives color to the air of the moment." – Karl Lagerfeld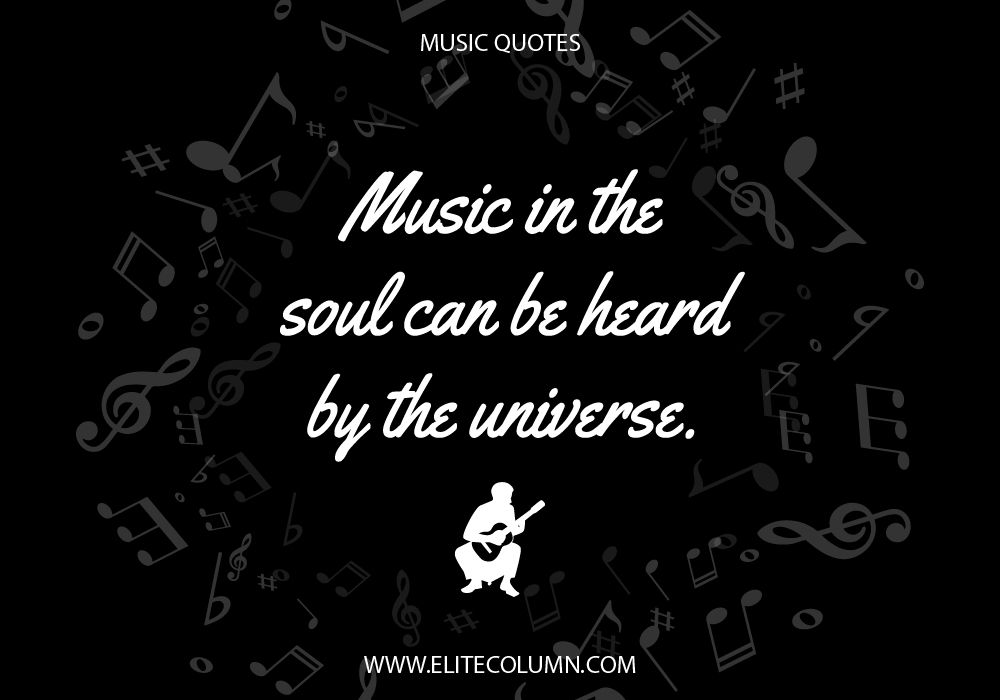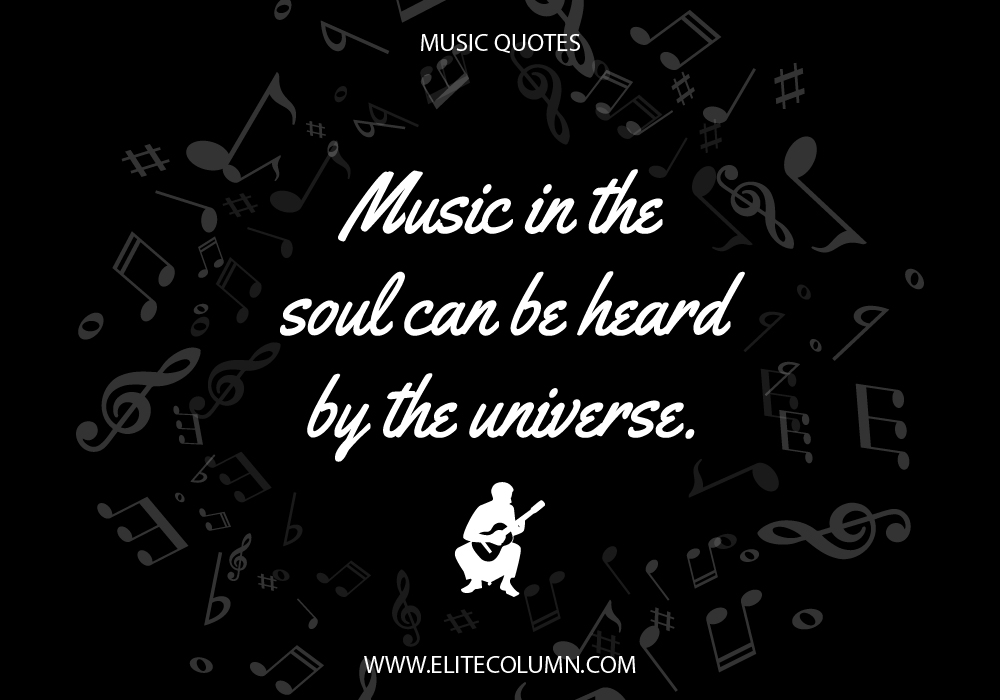 29. "Music in the soul can be heard by the universe."
30. "I lose myself in music because I can't be bothered explaining what I feel to anyone else around me." – Robert Smith
31. "Music is the literature of the heart; it commences where speech ends." – Alphonse de Lamartine
32. "Music, once admitted to the soul, becomes a sort of spirit, and never dies." – Edward Bulwer Lytton
33. "How is it that music can, without words, evoke our laughter, our fears, our highest aspirations?" – Jane Swan
34. "Music is a weapon in the war against unhappiness." – Jason Mraz
35. "The power of music makes all the difference to me with motivation throughout the day." – Paul Brodie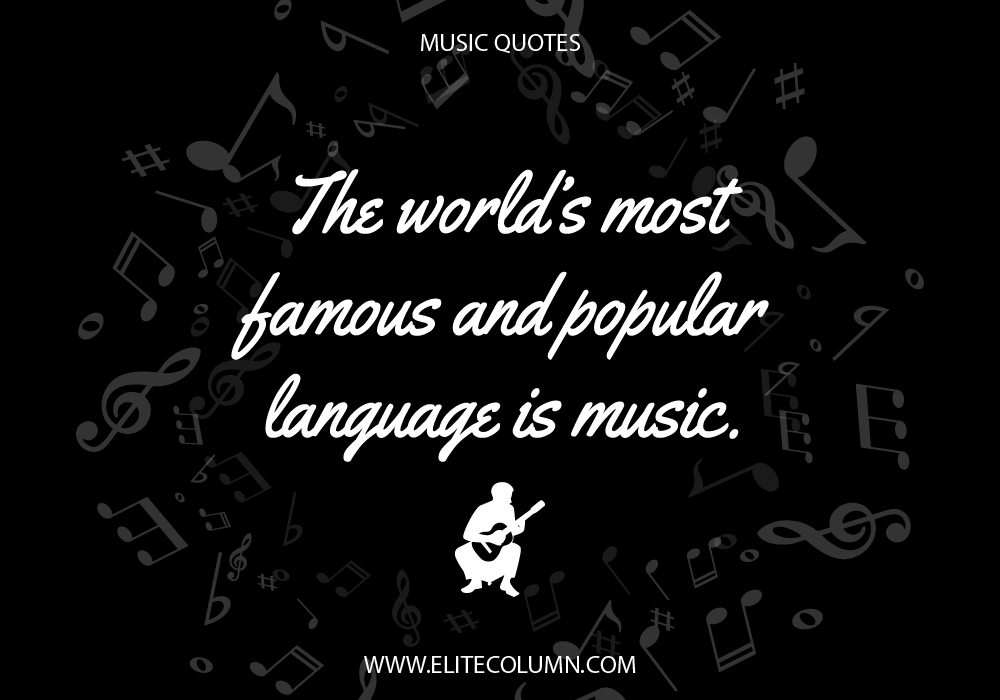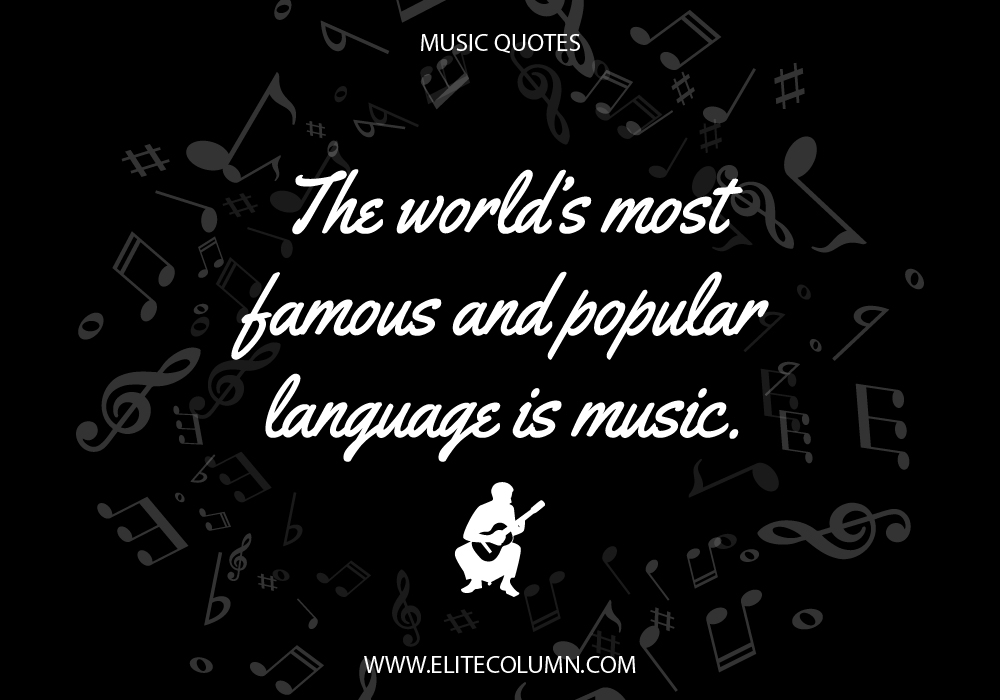 36. "The world's most famous and popular language is music."
37. "A great song should lift your heart, warm the soul and make you feel good." – Colbie Caillat
38. "My heart, which is so full to overflowing, has often been solaced and refreshed by music when sick and weary." – Martin Luther
39. "Music is the divine way to tell beautiful, poetic things to the heart." – Pablo Casals
40. "Music is like a huge release of tension." – James Taylor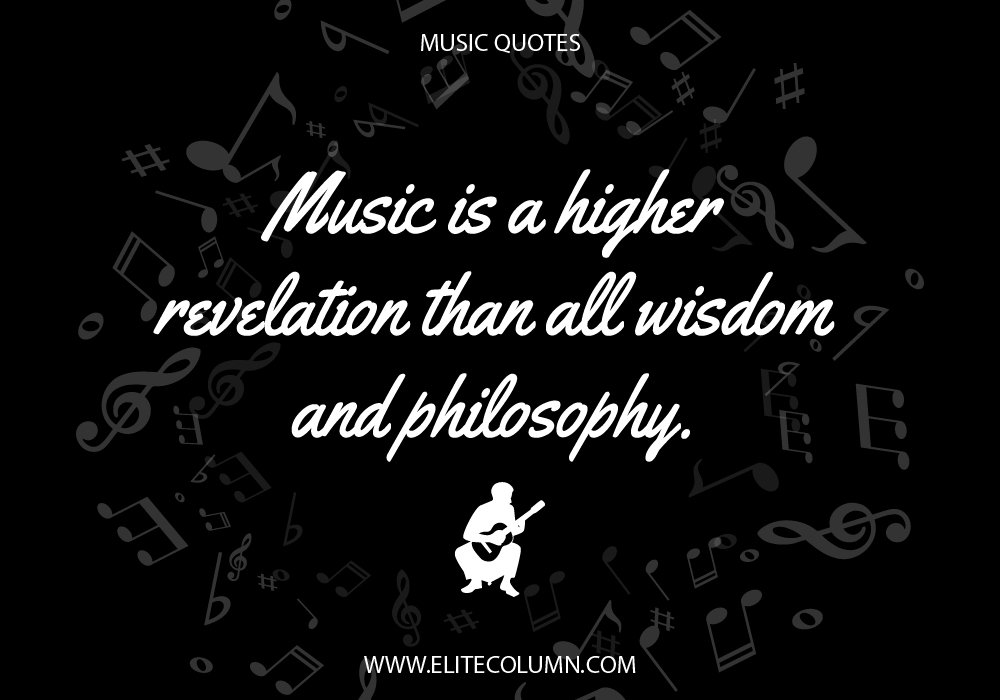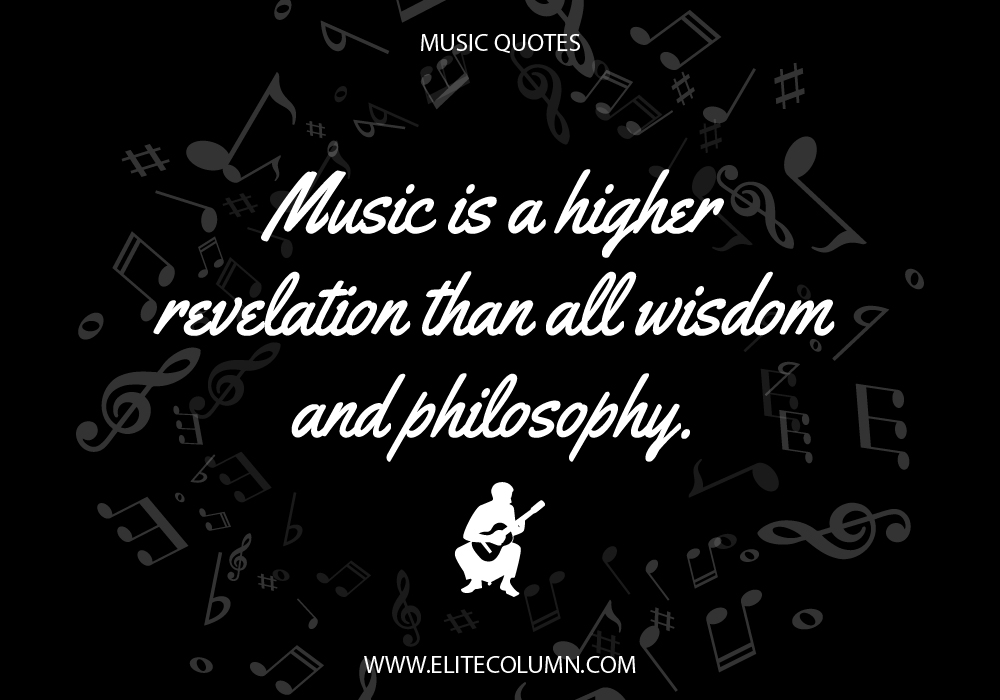 41. "Music is a higher revelation than all wisdom and philosophy."
42. "Without music, life would be a blank to me." – Jane Austen
43. "Music is the strongest form of magic." – Marilyn Manson
44. "Music was my refuge. I could crawl into the space between the notes and curl my back to loneliness." – Maya Angelou
45. "Music brings a warm glow to my vision, thawing mind and muscle from their endless wintering." – Haruki Murakami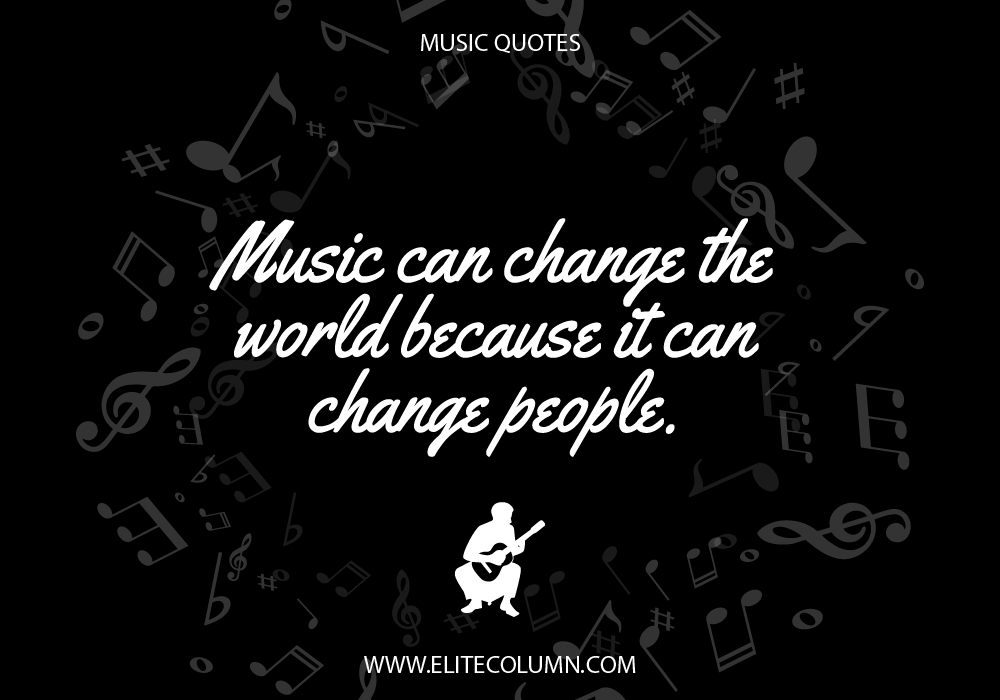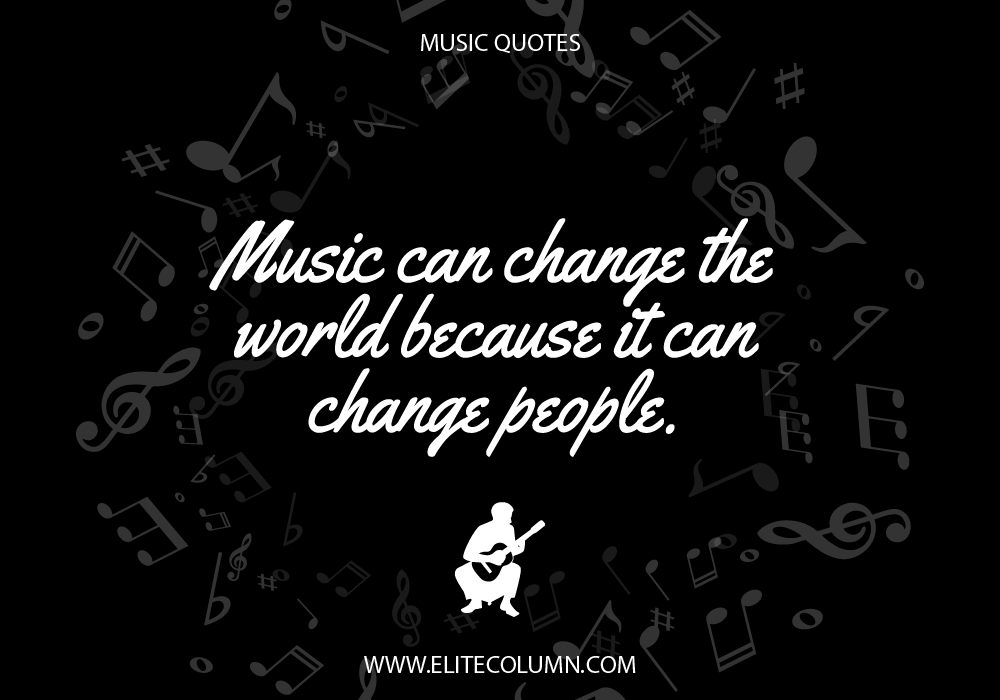 46. "Music can change the world because it can change people."
47. "Music is a language that doesn't speak in particular words. It speaks in emotions, and if it's in the bones, it's in the bones." – Keith Richards
48. "Without music, life would be a mistake." – Friedrich Nietzsche
49. "Music is powerful. As people listen to it, they can be affected. They respond." – Ray Charles
50. "People haven't always been there for me but music always has." – Taylor Swift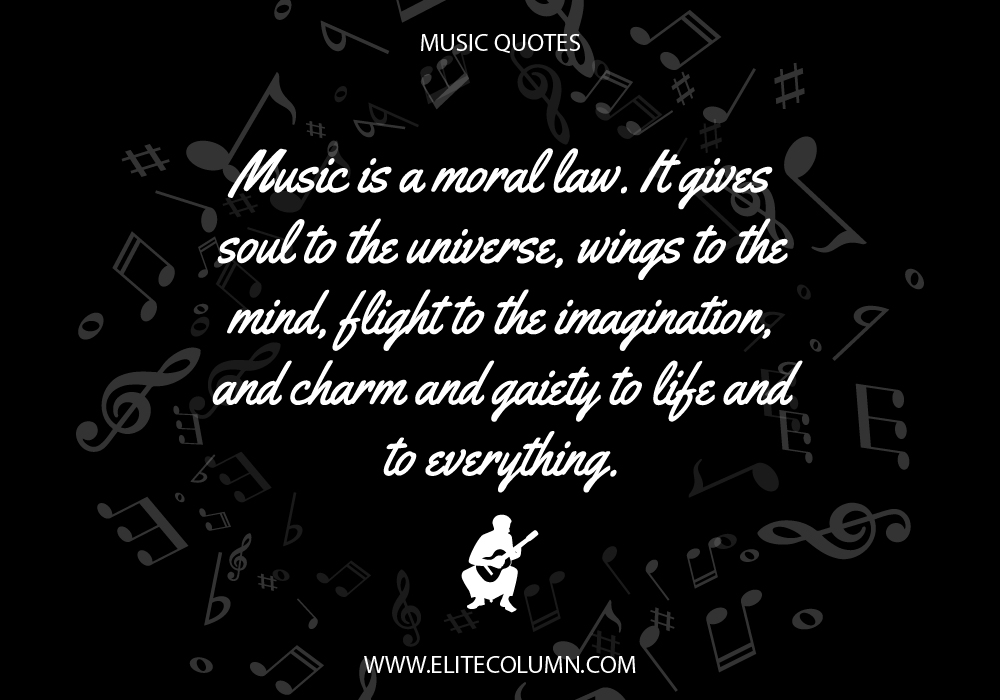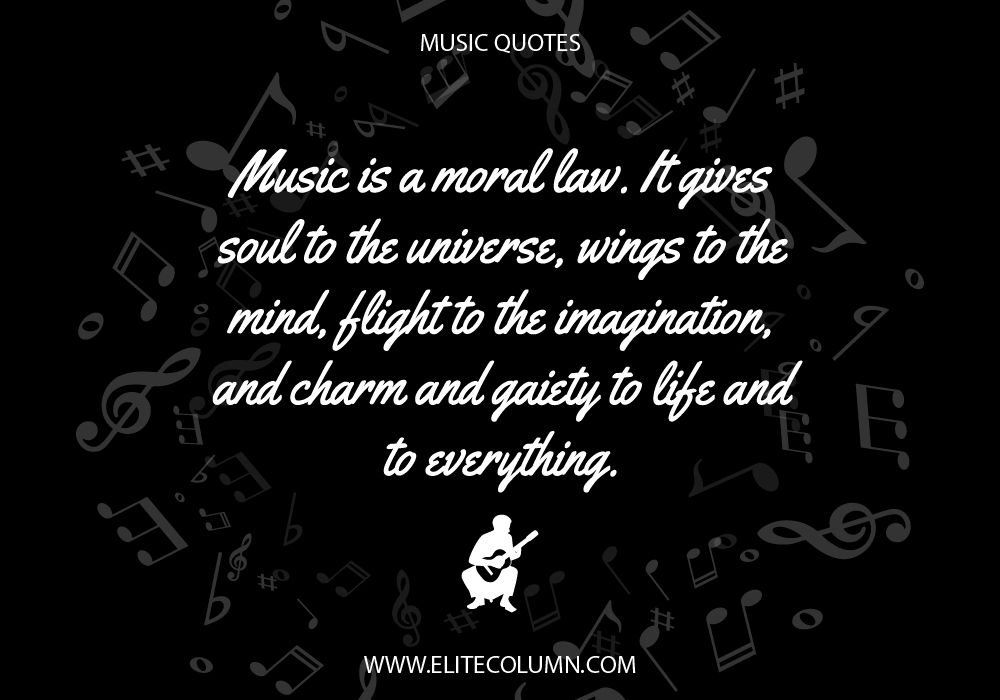 51. "Music is a moral law. It gives soul to the universe, wings to the mind, flight to the imagination, and charm and gaiety to life and to everything."
52. "Sometimes I feel like rap music is almost the key to stopping racism." – Eminem
53. "Music has healing power. It has the ability to take people out of themselves for a few hours." – Elton John
54. "Music is the moonlight in the gloomy night of life." – Jean Paul Friedrich Richter
55. "Music is … A higher revelation than all Wisdom & Philosophy" – Ludwig van Beethoven
56. "Music changes, and I'm gonna change right along with it." – Aretha Franklin
57. "Country music is three chords and the truth." – Harlan Howard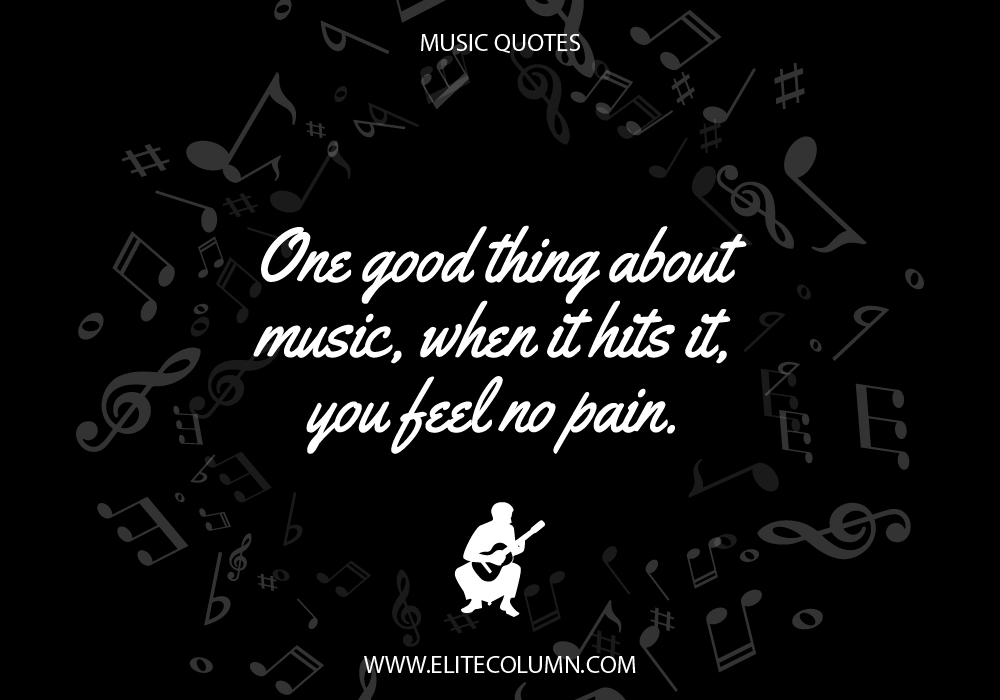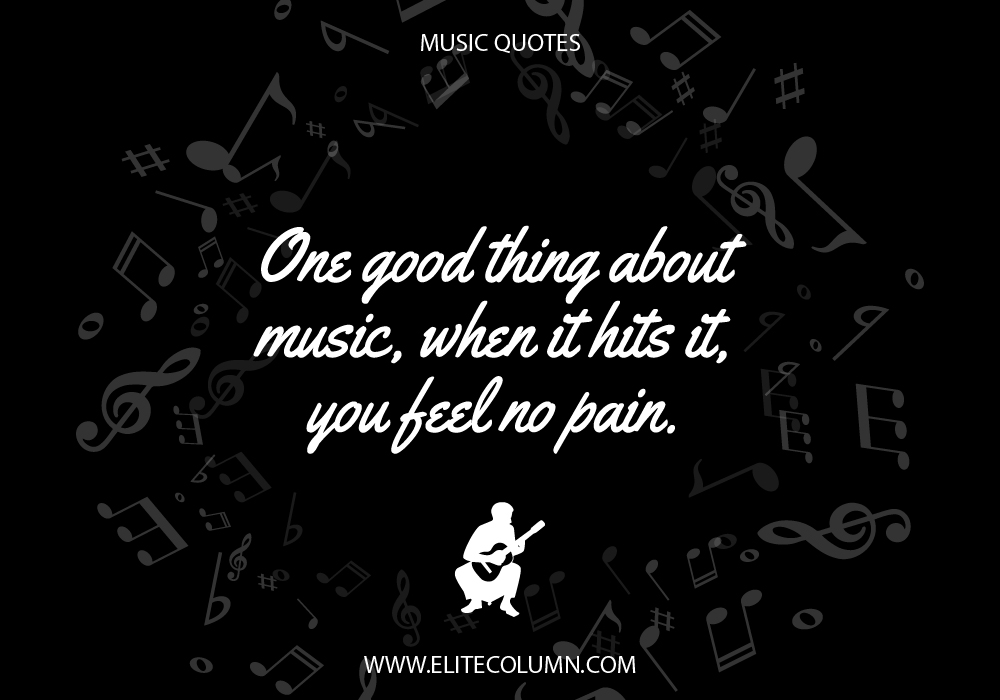 58. "One good thing about music, when it hits it, you feel no pain."
59. "Life seems to go on without effort when I am filled with music." – George Eliot
60. "Music is to the soul what words are to the mind." – Modest Mouse
61. "Music is the language of the spirit. It opens the secret of life bringing peace, abolishing strife." – Kahlil Gibran
62. "I need to listen to chill music when I'm driving. It prevents road rage." – Aaron Paul
63. "If you were music, I would listen to you ceaselessly, and my low spirits would brighten up." – Anna Akhmatova
64. "I haven't understood a bar of music in my life, but I have felt it." – Igor Stravinsky
65. "The only truth is music." – Jack Kerouac
66. "I wanted to prove the sustaining power of music." – David Bowie
Thanks for checking out the best Music quotes. Feel free to share the quotes with your friends. Leave a comment below and which are your favorite Music quotes ?
See also:
Rebellious Quotes | Smile Quotes | Relationship Quotes | Woman Quotes | Heartbreak Quotes | Growing Up Quotes | Intimacy Quotes
You can find us at – Facebook | Instagram | LinkedIn | Pinterest | Twitter