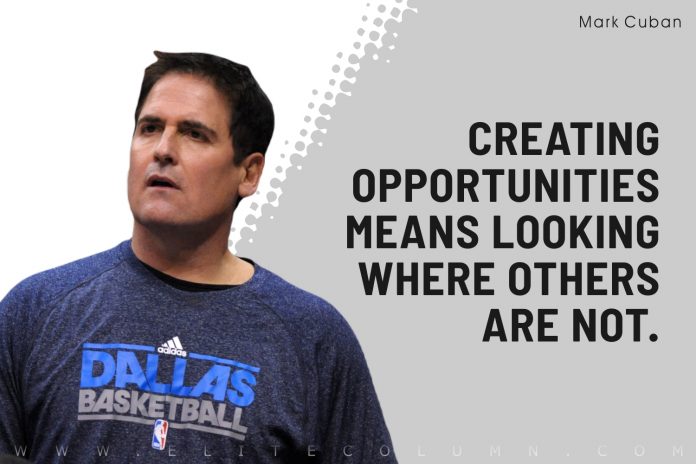 Check out 50 Mark Cuban Quotes today.
50 Best Mark Cuban Quotes
1. "Know your core competencies and focus on being great at them." – Mark Cuban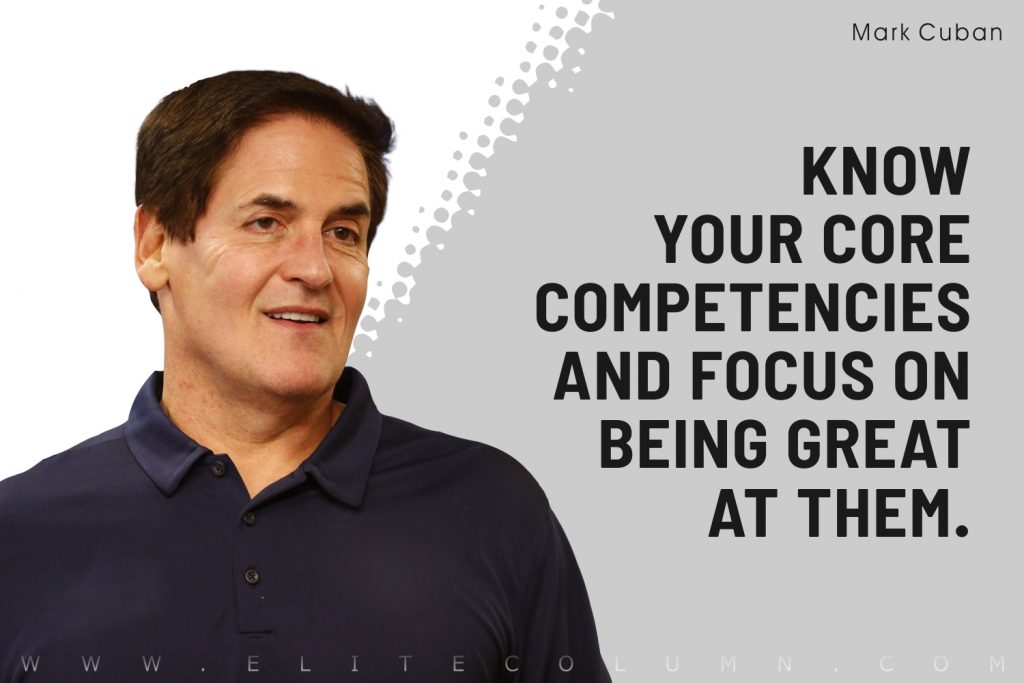 2. "Forget about finding your passion. Instead, focus on finding big problems." – Mark Cuban
3. "It's not whom you know. It's not how much money you have. It's very simple. It's whether or not you have the edge and have the guts to use it." – Mark Cuban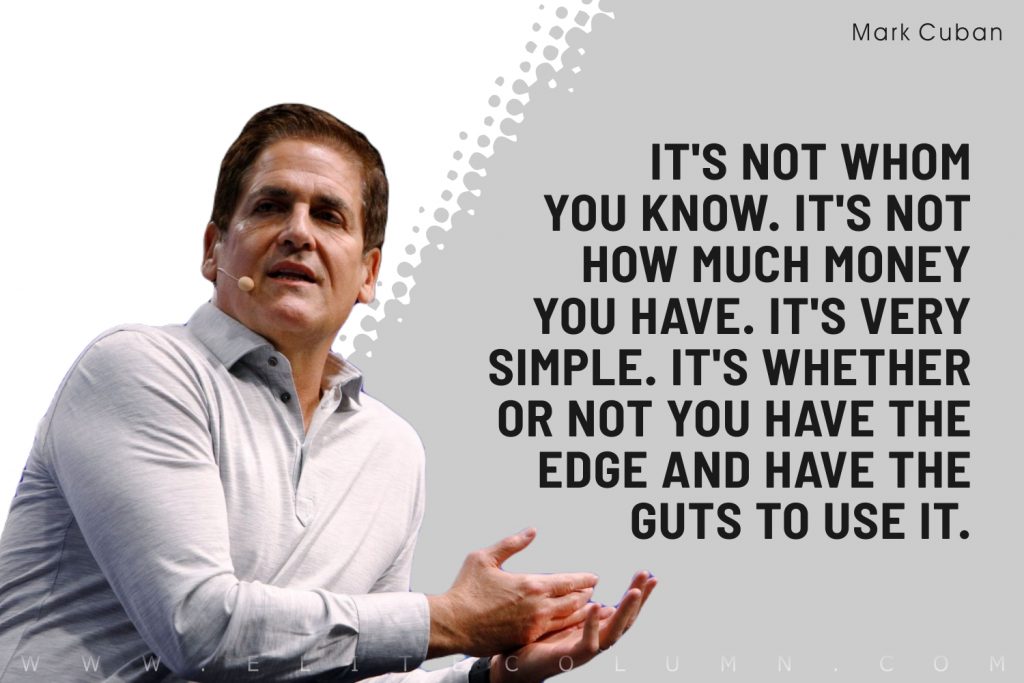 4. "Treat your customers like they own you. Because they do." – Mark Cuban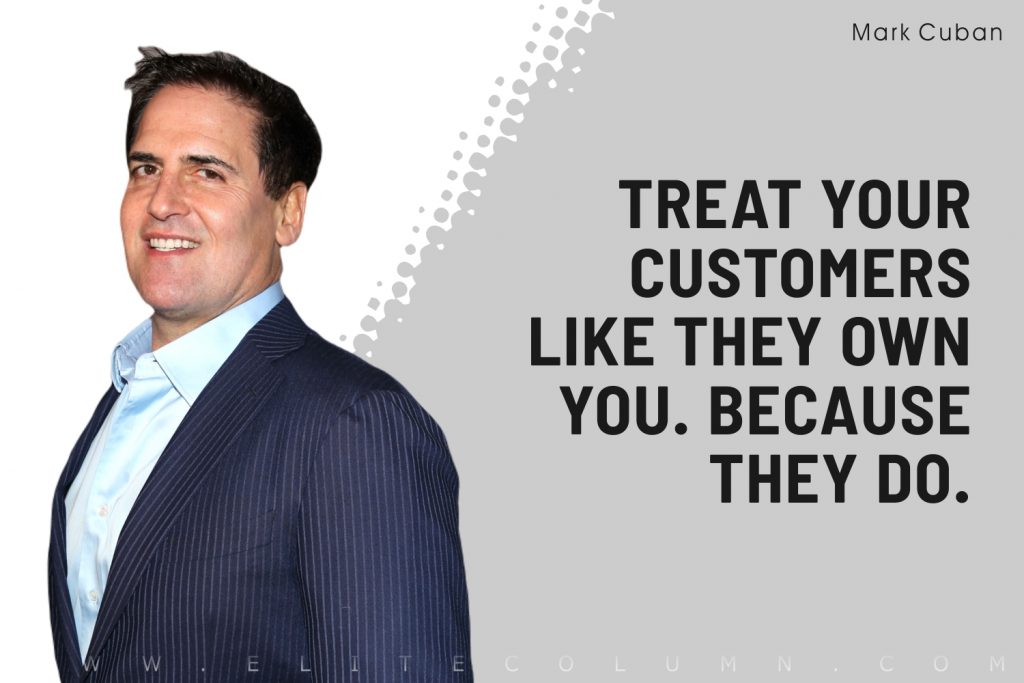 5. "Small businesses don't fail for lack of capital. They fail for lack of brains, they fail for lack of effort." – Mark Cuban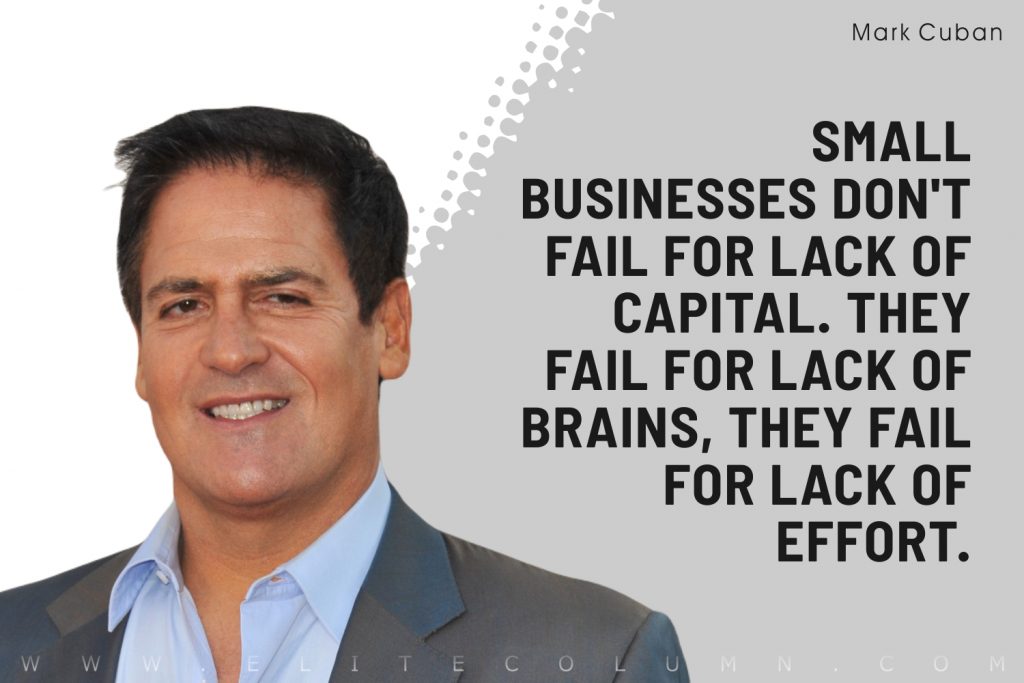 6. "Open offices keep everyone in tune with what is going on and keep the energy up. If an employee is about privacy, show him or her how to use the lock on the bathroom." – Mark Cuban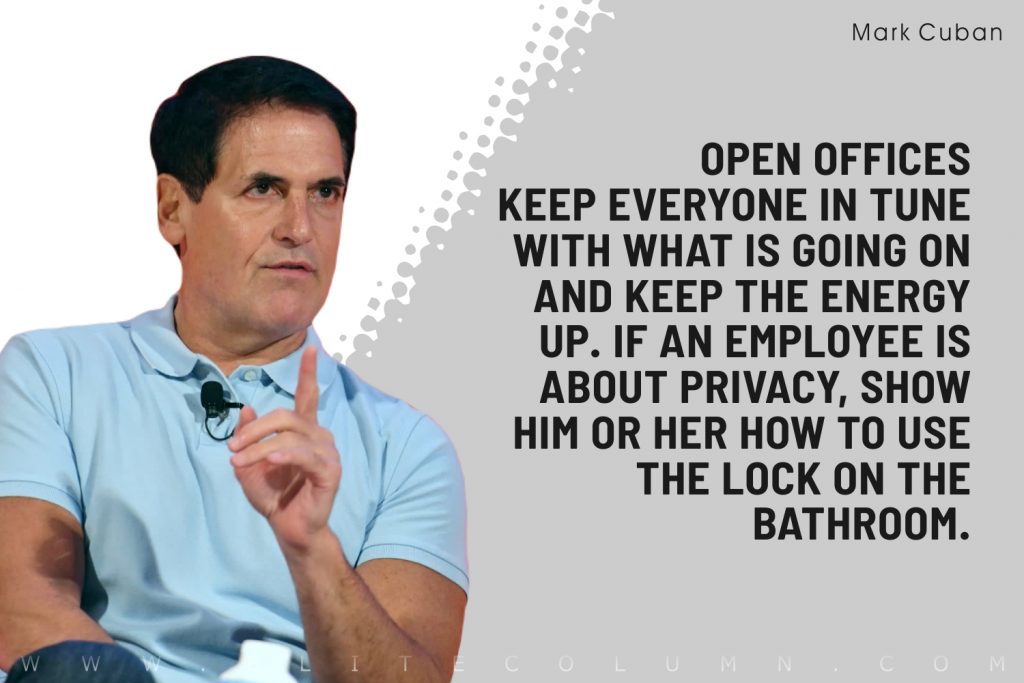 7. "Everyone is passionate about something. Usually more than one thing. We are born with it." – Mark Cuban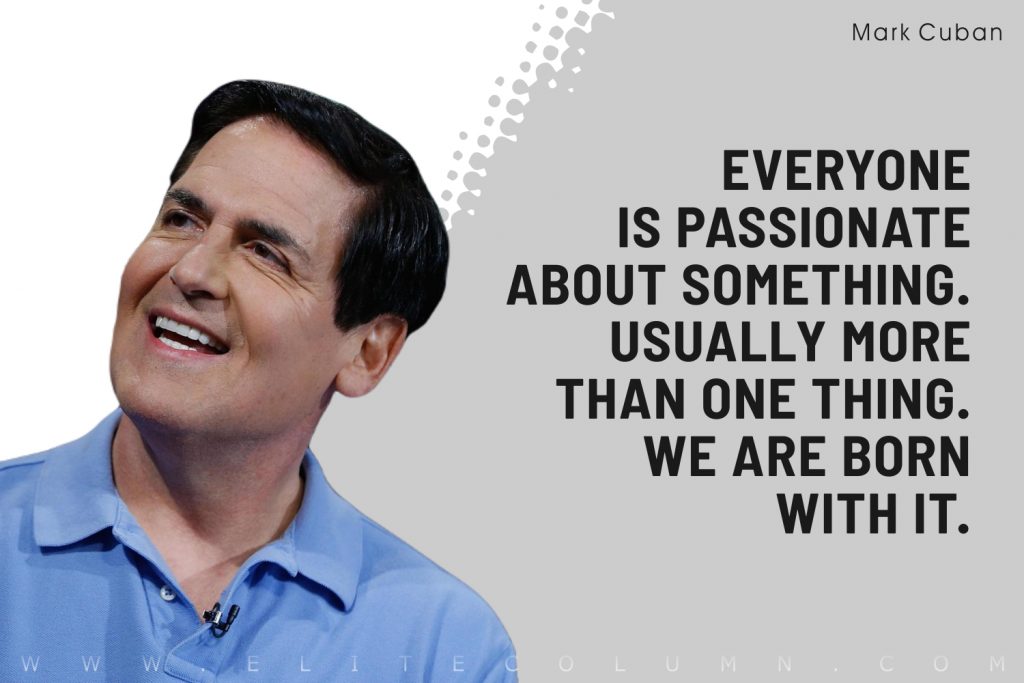 8. "If you're going to compete with me or one of my businesses, you'd better recognize that I'm working 24 hours a day to kick your ass." – Mark Cuban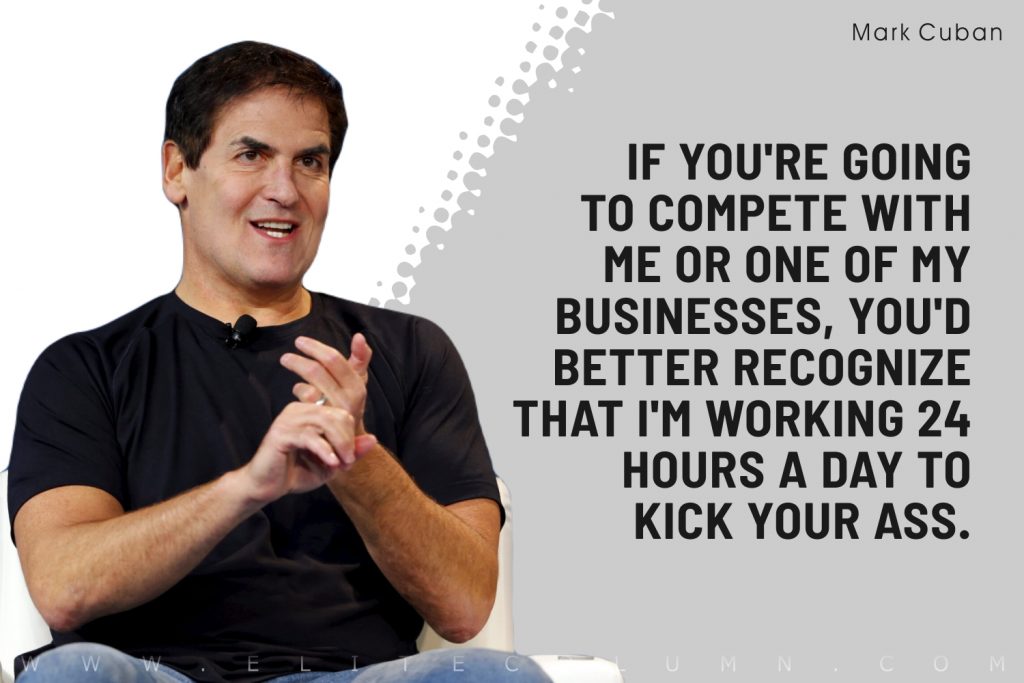 9. "I create offbeat advice; I don't follow it. I rarely take third-party advice on my investments." – Mark Cuban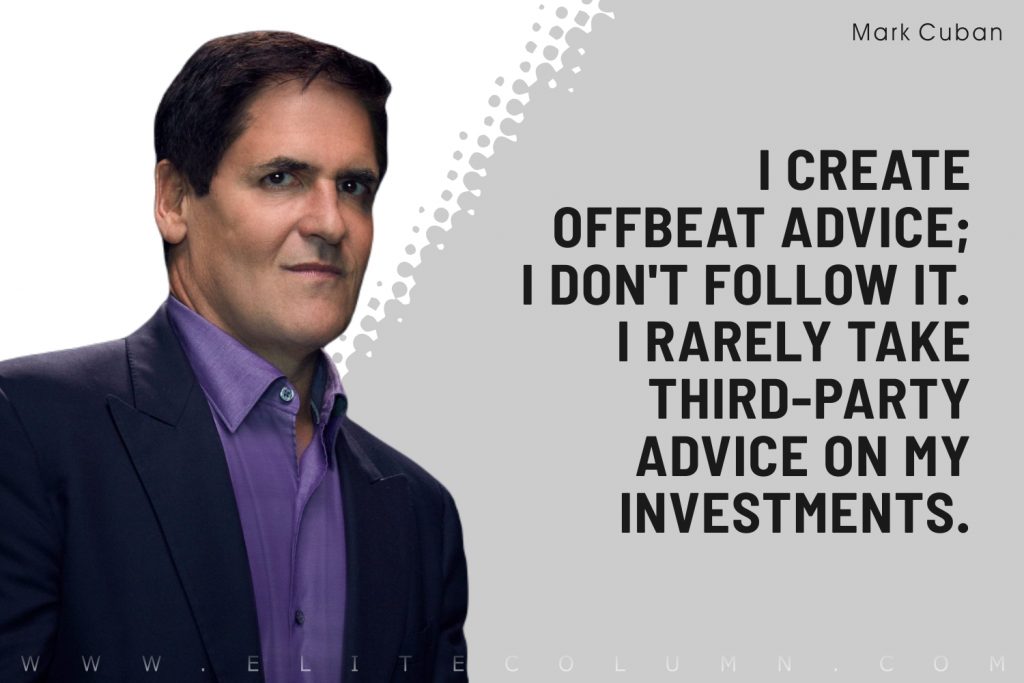 10. "Creating opportunities means looking where others are not." – Mark Cuban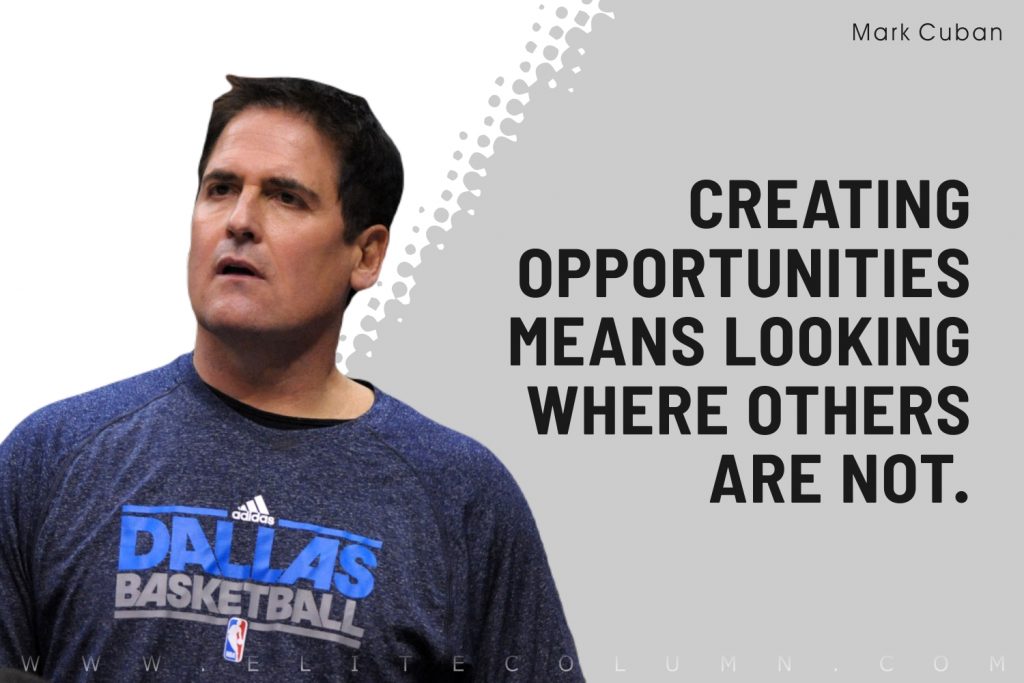 11. "You've gotta be differentiated and unique. You've gotta know what your core competency is and be great at it." – Mark Cuban
12. "Find something you love to do. If you don't make money at it, at least you love going to work." – Mark Cuban
13. "Always wake up with a smile knowing that today you are going to have fun accomplishing what others are too afraid to do." – Mark Cuban
14. "It's not about money or connections. It's the willingness to outwork and outlearn everyone." – Mark Cuban
15. "Success is about making your life a special version of unique that fits who you are – not what other people want you to be." – Mark Cuban
16. "When I die, I want to come back as me." – Mark Cuban
17. "Sweat equity is the best startup capital" – Mark Cuban
18. "I had taken a few classes in real-world business and got paid for it instead of paying tuition," – Mark Cuban
19. "Effort is measured by setting goals and getting results." – Mark Cuban
20. "The best way to predict the future is to invent it." – Mark Cuban
21. "The sport of business is the ultimate competition. It's 7 × 24 × 365 × forever." – Mark Cuban
22. "Everyone has got the will to win; it's only those with the will to prepare that do win." – Mark Cuban
23. "In business, to be a success, you only have to be right once." – Mark Cuban
24. "Never settle. There is no reason to rush." – Mark Cuban
25. "If you have managers reporting to managers in a startup, you will fail. Once you get beyond startup, if you have managers reporting to managers, you will create politics." – Mark Cuban
26. "Once you have found out what you love to do, there is only one goal: to be the best in the world at it." – Mark Cuban
27. "Because if you're prepared and you know what it takes, it's not a risk. You just have to figure out how to get there. There is always a way to get there." – Mark Cuban
28. "I worked hard and smarter than most people in the businesses I have been in. It's not in the dreaming, it's in the doing." – Mark Cuban
29. We can't ever forget that the Internet now is just a staid utility. The exciting platforms are software applications that are very, very simple." – Mark Cuban
30. "Work like there is someone working 24 hours a day to take it all away from you." – Mark Cuban
31. "When you turn your team upside down and try to figure out what the culture of the team is, you take the greatest risk a team can take." – Mark Cuban
32. "Don't start a company unless it's an obsession and something you love. If you have an exit strategy, it's not an obsession." – Mark Cuban
33. "What I've learned in these 11 years is you just got to stay focused and believe in yourself and trust your own ability and judgment." – Mark Cuban
34. The key is having great players. But there are a lot of teams that have All-Stars and haven't been able to put it together." – Mark Cuban
35. "When you've got 10,000 people trying to do the same thing, why would you want to be number 10,001?" – Mark Cuban
36. "In my opinion, right now there's way too much hype on the technologies and not enough attention to the real businesses behind them." – Mark Cuban
37. "Make sure you are the boss. I don't think I would encourage executives that work for me to blog. There can be only 1 public vision for an organization." – Mark Cuban
38. "Money is a scoreboard where you can rank how you're doing against other people." – Mark Cuban
39. "I've learned the number one job of a pro manager is not to win championships but to keep their job." – Mark Cuban
40. "There are always going to be things we love to do. That we dream about doing. That we really, really want to do with our lives. Those passions aren't worth a nickel." – Mark Cuban
41. "I love to compete. To me, business is the ultimate sport. It's always on. There is always someone trying to beat me." – Mark Cuban
42. "Doesn't matter if the glass is half-empty or half-full. All that matters is that you are the one pouring the water." – Mark Cuban
43. "Make your product easier to buy than your competition, or you will find your customers buying from them, not you." – Mark Cuban
44. "I still work hard to know my business. I'm continuously looking for ways to improve all my companies, and I'm always selling. Always." – Mark Cuban
45. "I don't care what anyone says. Being rich is a good thing." – Mark Cuban
46. "Go out there and get rich. Get so obnoxiously rich that when that tax bill comes, your first thought will be to choke on how big a check you have to write." – Mark Cuban
47. "The number-one job of the hedge-fund manager is not to make sure that you can retire with a smile on your face it's for him to retire with a smile on his face." – Mark Cuban
48. "When I got to the Mavericks people were all giving me advice change this, change that – and one thing that I didn't do was fire anybody." – Mark Cuban
49. "You've got to be very cognizant of the correlation between social media links and business because they don't always correlate as highly as people would like." – Mark Cuban
50. "In the past, people used to tell me to shut up a bit. But what I believe is to put out your opinion and let everyone else react. If I'm wrong, I'm wrong." – Mark Cuban
Thanks for checking out the best Mark Cuban Quotes. Feel free to share the quotes with your friends. Leave a comment below and which are your favourite Mark Cuban Quotes ?
See also:
Nick Vujicic Quotes | Dale Carnegie Quotes | Ratan Tata Quotes | Iyanla Vanzant Quotes | Darren Hardy Quotes | Brendon Burchard Quotes | Earl Nightingale Quotes
You can find us at – Facebook | Instagram | LinkedIn | Pinterest | Twitter