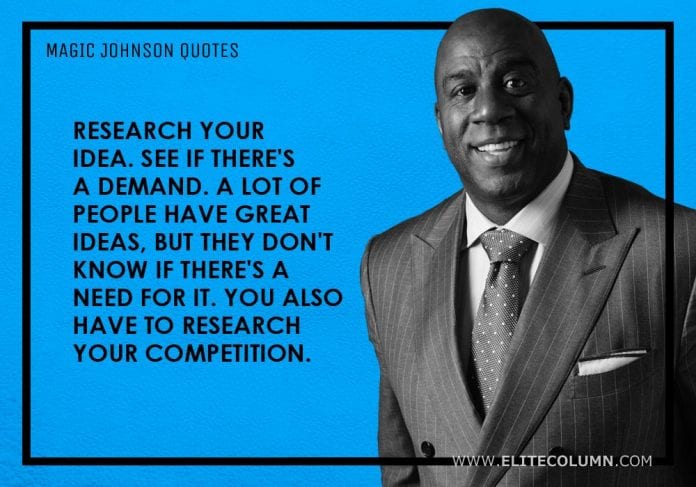 Earvin 'Magic' Johnson Jr., born on August 14, 1959, in Michigan, is a retired professional basketball player. As a kid, he had a passion for basketball and would start practicing as early as 7:30 a.m. He earned his world famous nickname 'Magic' at Everett High School after a sportswriter witnessed him compile 16 assists, 16 rebounds, and 36 points in a single game. Magic Johnson quotes will help you to stay motivated in your life. EliteColumn brings you a handful of Magic Johnson quotes.
48 Motivational Magic Johnson Quotes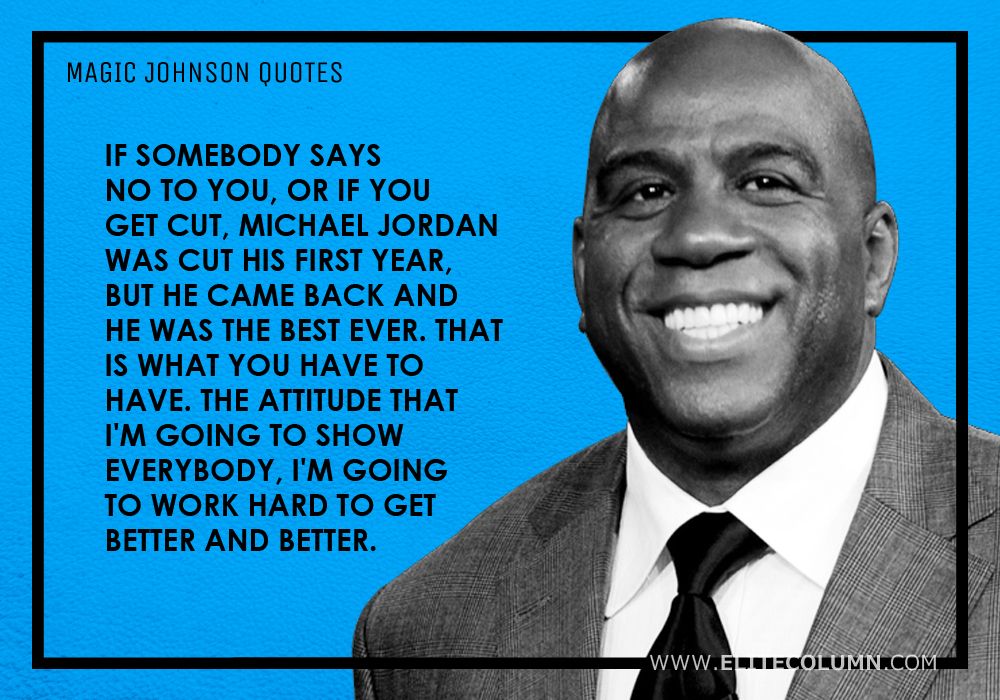 1. "If somebody says no to you, or if you get cut, Michael Jordan was cut his first year, but he came back and he was the best ever. That is what you have to have. The attitude that I'm going to show everybody, I'm going to work hard to get better and better." – Magic Johnson
2. "We all have to play as a team to make the world a better place." – Magic Johnson
3. "A competent and self-confident person is incapable of jealousy in anything. Jealousy is invariably a symptom." – Magic Johnson
4. "Talent is never enough. With few exceptions the best players are the hardest workers." – Magic Johnson
5. "Even when I went to the playground, I never picked the best players. I picked guys with less talent, but who were willing to work hard and had the desire to be great." – Magic Johnson
6. "Even as a fierce competitor I try to smile." – Magic Johnson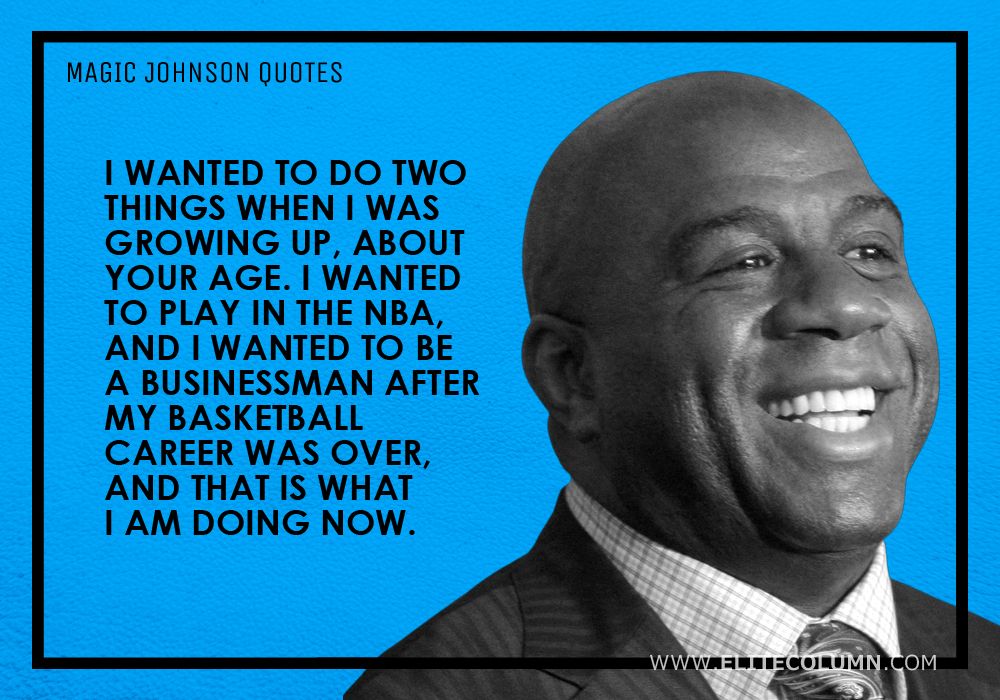 7. "I wanted to do two things when I was growing up, about your age. I wanted to play in the NBA, and I wanted to be a businessman after my basketball career was over, and that is what I am doing now." – Magic Johnson
8. "Any guy who can maintain a positive attitude without much playing time certainly earns my respect." – Magic Johnson
9. "They said playing basketball would kill me. Well, not playing basketball was killing me." – Magic Johnson
10. "It's a lot of energy that goes into winning a championship…I'm not settling for anything less than winning." – Magic Johnson
11. "I'm a businessman, and what I know is numbers and business." – Magic Johnson
12. "I am a businessman. This is what I do each and every day. I love it. I love coming to work. I never have a bad day." – Magic Johnson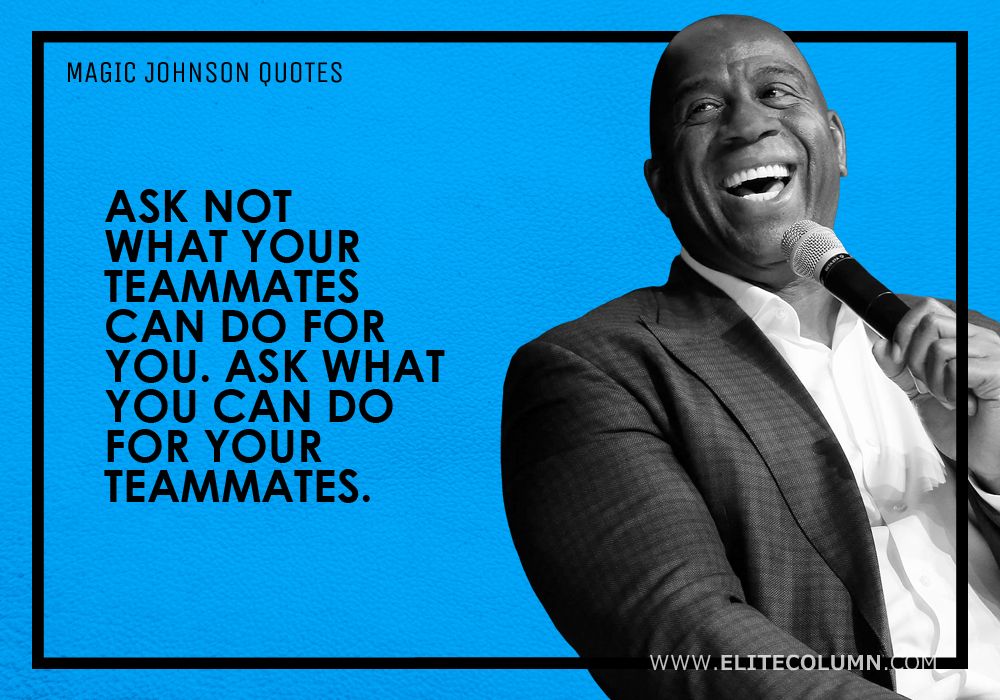 13. "Ask not what your teammates can do for you. Ask what you can do for your teammates." – Magic Johnson
14. "If you hate to lose, you do whatever you need to do to make sure you're business is successful." – Magic Johnson
15. "If you want to be successful, you have to be willing to use every connection you've got." – Magic Johnson
16. "If the community is happy, then they support your business and if your business is doing well, then you can give back even more to the community." – Magic Johnson
17. "Being able to touch so many people through my businesses and make money while doing it, is a huge blessing." – Magic Johnson
18. "If you want someone to be your mentor, you better be ready to listen and be humbled." – Magic Johnson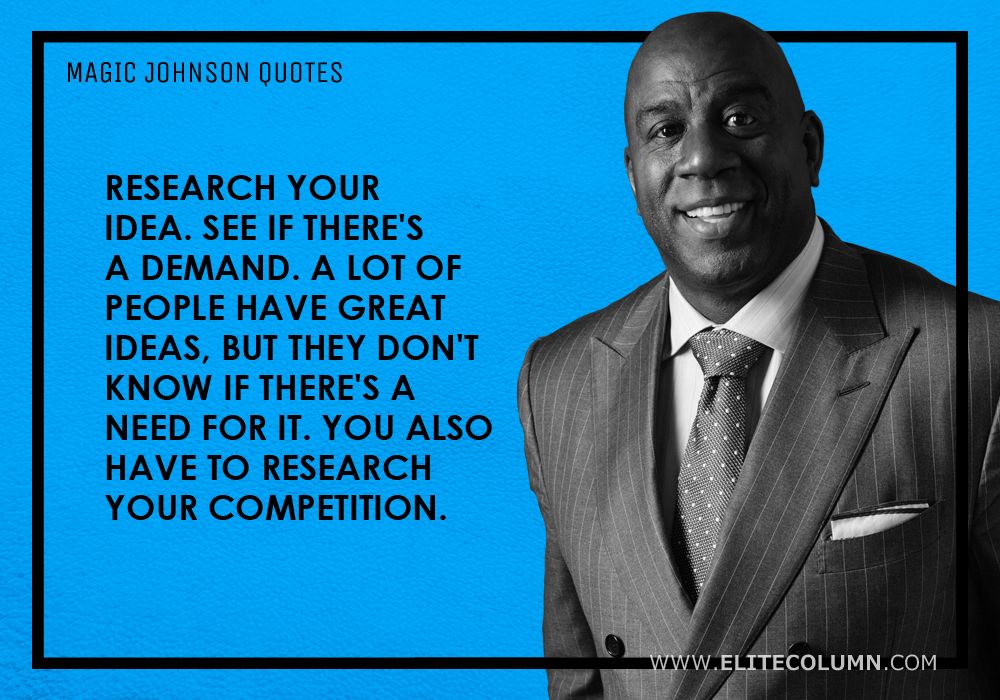 19. "Research your idea. See if there's a demand. A lot of people have great ideas, but they don't know if there's a need for it. You also have to research your competition." – Magic Johnson
20. "Young people want you to be real with them." – Magic Johnson
21. "When you face a crisis, you know who your true friends are." – Magic Johnson
22. "Just celebrate the life you had, not the life you could've had." – Magic Johnson
23. "I look three to five years ahead, not 10 years behind." – Magic Johnson
24. "Every kid, every minority kid can be so successful if they focus on their education." – Magic Johnson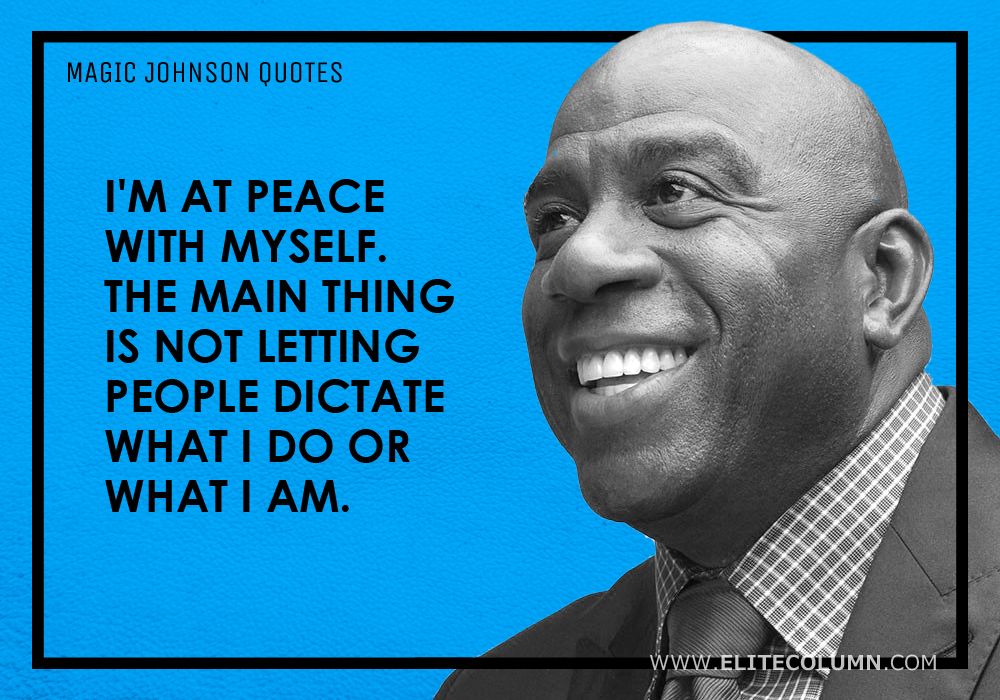 25. "I'm at peace with myself. The main thing is not letting people dictate what I do or what I am." – Magic Johnson
26. "I think that there are always goals for me to try to achieve, and I'm going to work toward those goals." – Magic Johnson
27. "Manhood is taking care of your family and being able to bless other people. Not yourself – but whether you can bless other people." – Magic Johnson
28. "All kids need is a little help, a little hope and somebody who believes in them." – Magic Johnson
29. "A woman always remembers. Remember that." – Magic Johnson
30. "You don't have to be Magic to be special. You're already special, you're you." – Magic Johnson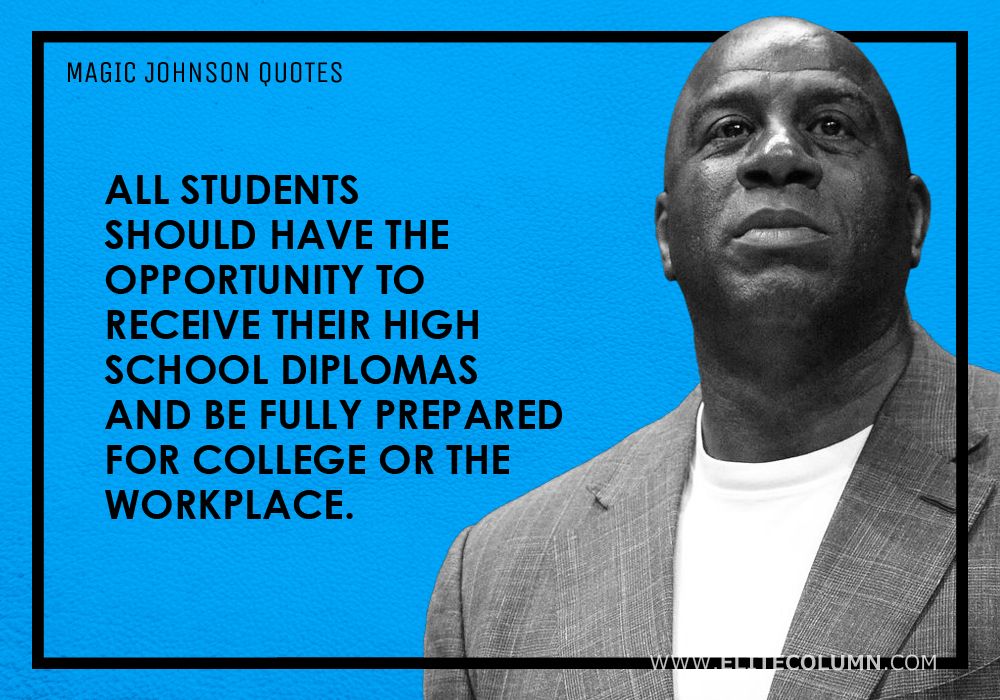 31. "All students should have the opportunity to receive their high school diplomas and be fully prepared for college or the workplace." – Magic Johnson
32. "I try to hire people I don't have to motivate. But I do motivate the people working with and for me." – Magic Johnson
33. "I think you just have to keep knocking down doors, you have to keep being aggressive, and even if somebody says 'No', then you have to knock on the next door." – Magic Johnson
34. "When I'm under the gun and I've got pressure on me, I don't panic. I look for the right solution, and then I go for it." – Magic Johnson
35. "I was able to see what I wanted to do, I could see the opportunity, even when others could not, and I stay committed to doing it and doing it well, no matter what." – Magic Johnson
36. "I've always studied business. Even when I was a ball player, I'd read business journals and the business sections of newspapers." – Magic Johnson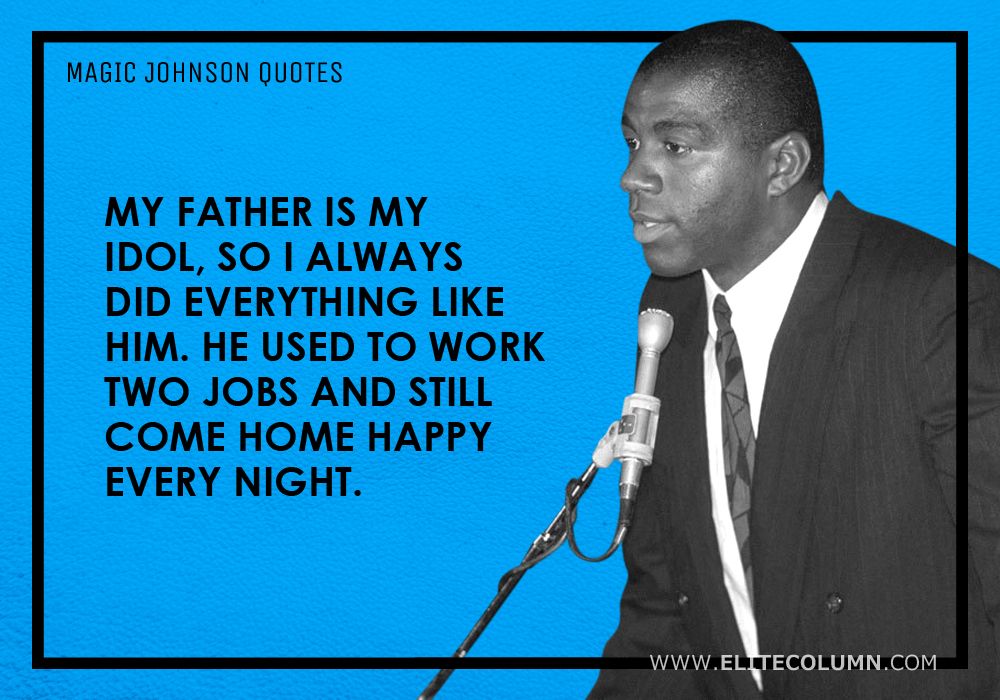 37. "My father is my idol, so I always did everything like him. He used to work two jobs and still come home happy every night." – Magic Johnson
38. "In life, winning and losing will both happen. What is never acceptable is quitting." – Magic Johnson
39. "You're the only one who can make the difference. Whatever your dream is, go for it." – Magic Johnson
40. "I'm a big believer in dreaming. If you don't dream it, you can't become it." – Magic Johnson
41. "If people around you aren't going anywhere, if their dreams are no bigger than hanging out on the corner, or if they're dragging you down, get rid of them." – Magic Johnson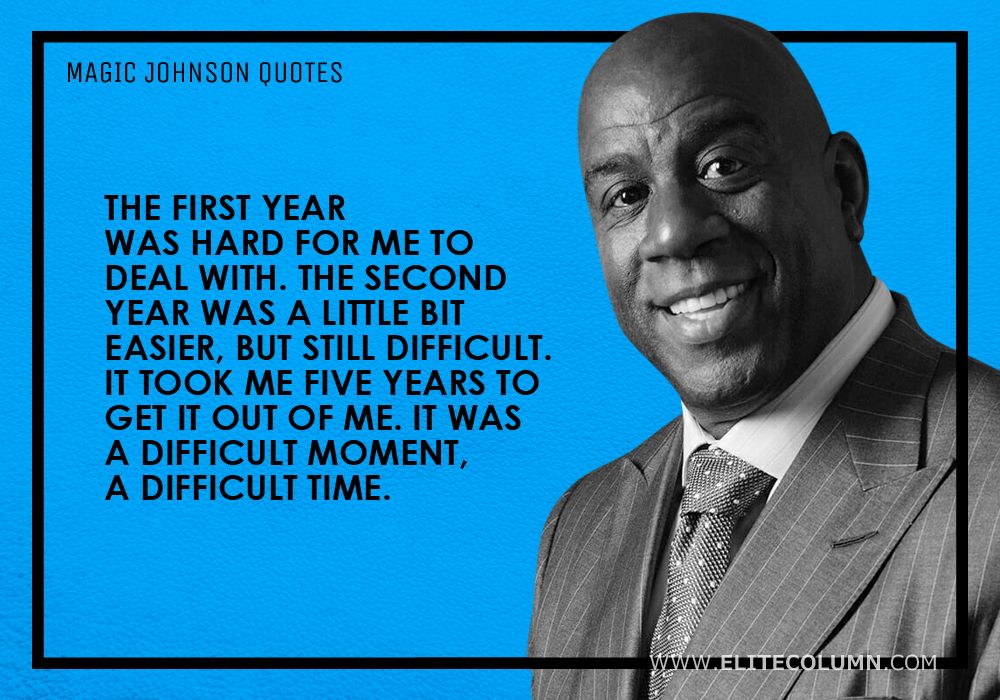 42. "The first year was hard for me to deal with. The second year was a little bit easier, but still difficult. It took me five years to get it out of me. It was a difficult moment, a difficult time." – Magic Johnson
43. "I grew up poor, but I didn't have poor dreams." – Magic Johnson
44. "Don't give up! Be friends with people who help you work hard." – Magic Johnson
45. "When you are honest and open with young people, they let you in." – Magic Johnson
46. "I respect women to the utmost." – Magic Johnson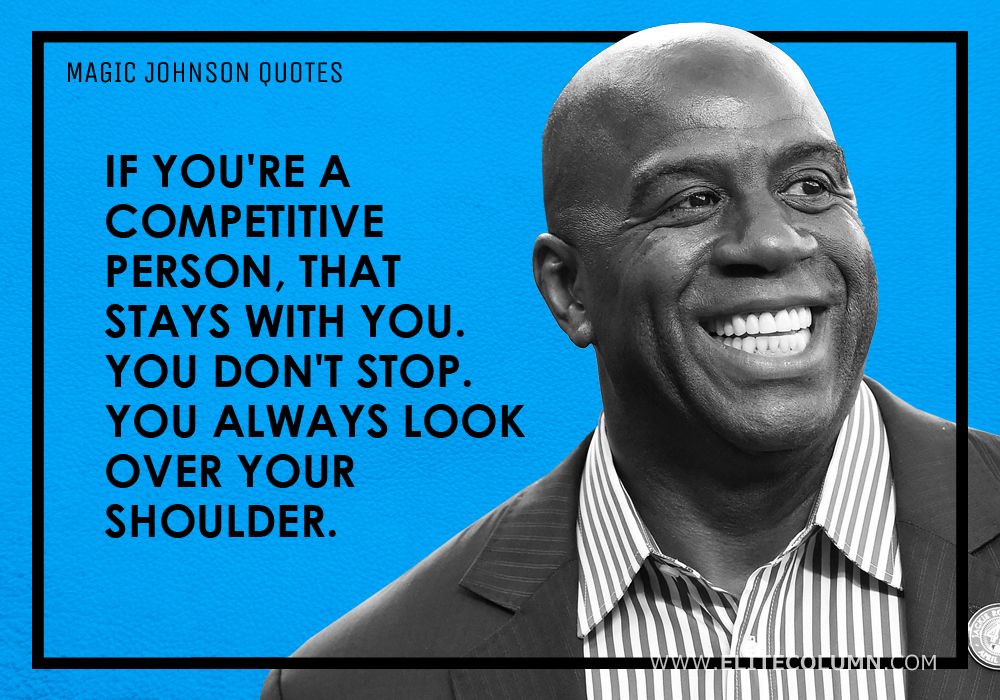 47. "If you're a competitive person, that stays with you. You don't stop. You always look over your shoulder." – Magic Johnson
48. "I often tell people when you make a mistake, you not only hurt yourself, but you hurt the ones that love you." – Magic Johnson
Thanks for checking out the best Magic Johnson quotes. Feel free to share the quotes with your friends. Leave a comment below and which are your favorite Magic Johnson quotes ?
See also:
LeBron James Quotes | Stephen Curry Quotes | Kobe Bryant Quotes | Kyrie Irving Quotes | Kevin Durant Quotes
You can find us at – Facebook | Instagram | LinkedIn | Pinterest | Twitter