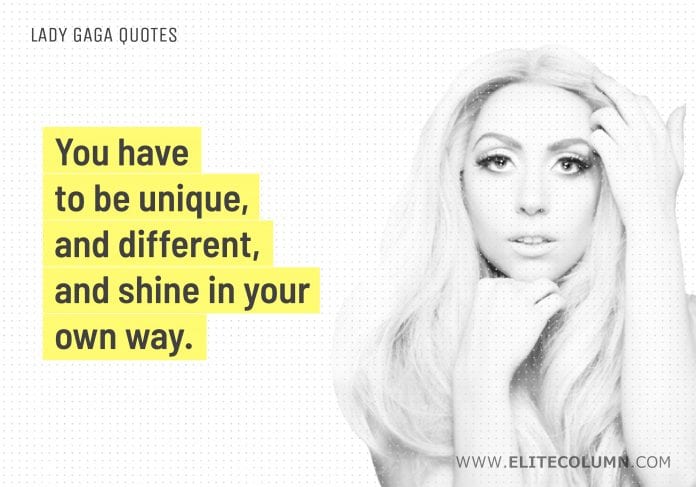 Stefani Joanne Angelina Germanotta, best known as Lady Gaga is an American songwriter, singer, actress, philanthropist, dancer and fashion designer. Gaga was able to sing and play the piano from a young age. She attended the Convent of the Sacred Heart from age 11 where was bullied for her appearance and eccentric habits. She also made her acting debut in Robert Rodriguez's 'Machete Kills'. Lady Gaga quotes will help you feel better as a person. EliteColumn brings you the top 12 hand-picked Lady Gaga quotes.
46 Inspirational Lady Gaga Quotes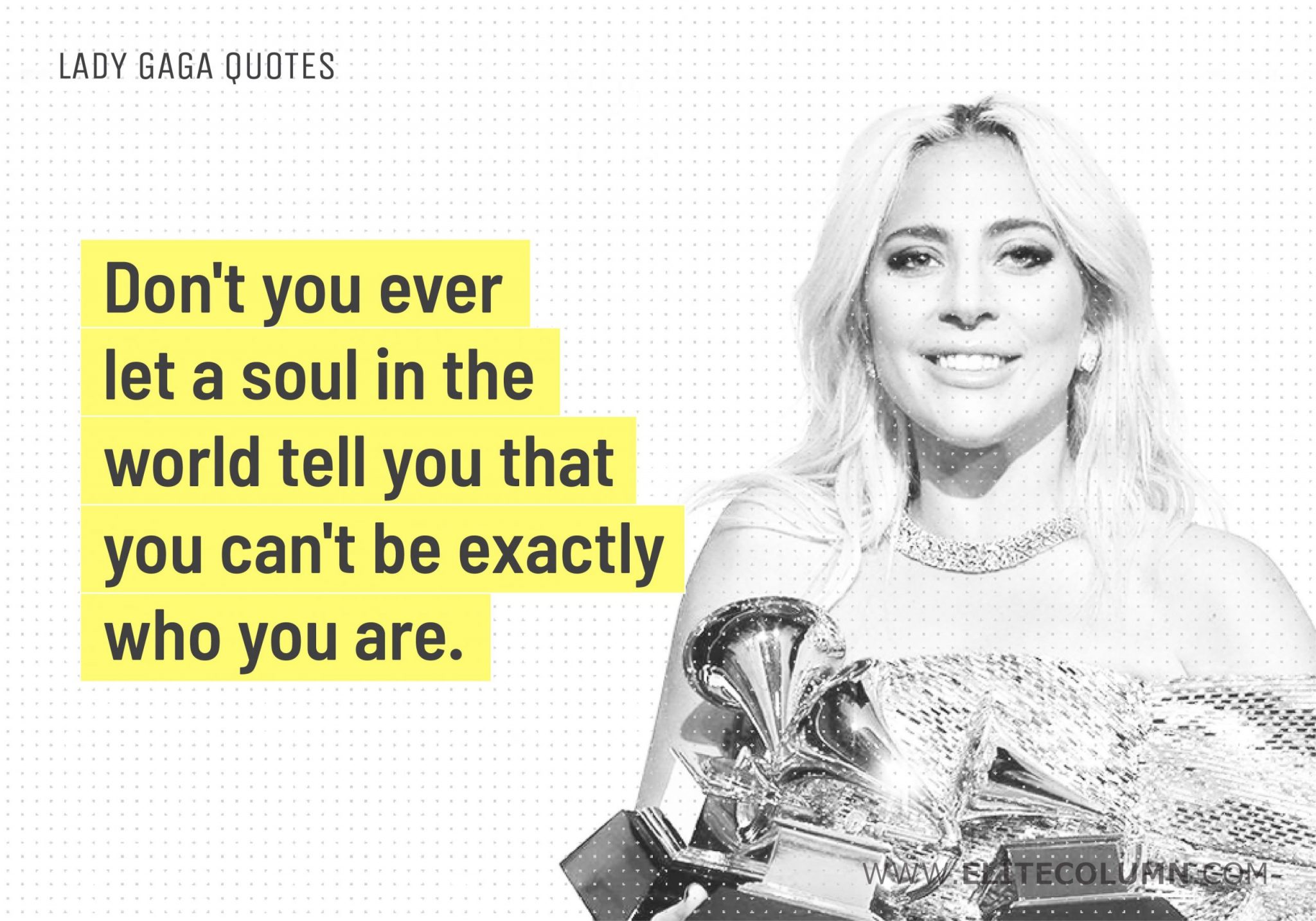 "Don't you ever let a soul in the world tell you that you can't be exactly who you are." – Lady Gaga
2. "They can't scare me, if I scare them first." – Lady Gaga
3. "Pop music will never be low brow." – Lady Gaga
4. "Memories are not recycled like atoms and particles in quantum physics; they can be lost forever." – Lady Gaga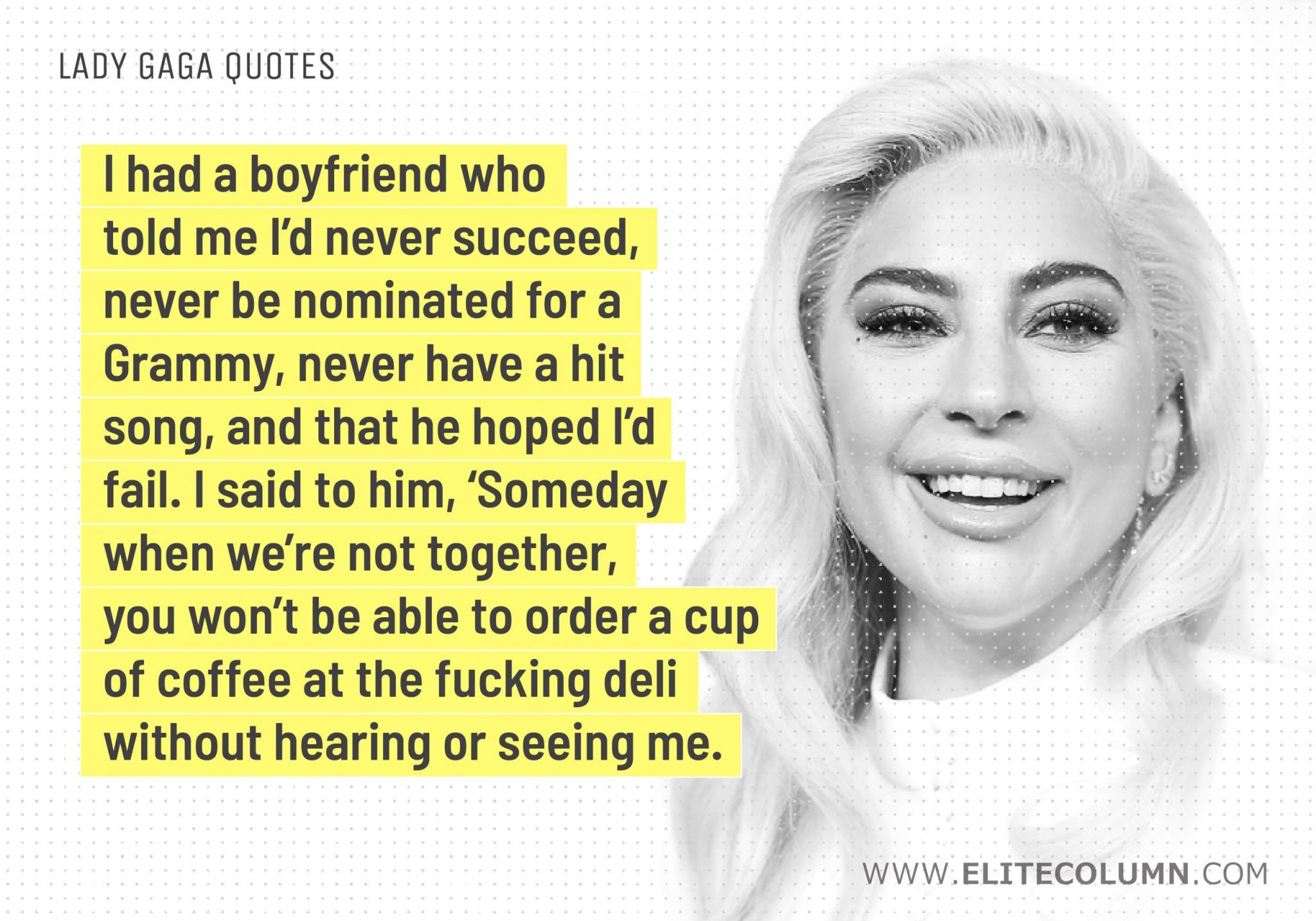 5. "I had a boyfriend who told me I'd never succeed, never be nominated for a Grammy, never have a hit song, and that he hoped I'd fail. I said to him, 'Someday when we're not together, you won't be able to order a cup of coffee at the f**king deli without hearing or seeing me." – Lady Gaga
6. "It's always wrong to hate, but it's never wrong to love." – Lady Gaga
7. "I believe that if you have revolutionary potential, you must make the world a better place." – Lady Gaga
8. "If you were to ask me what I want to do – I don't want to be a celebrity, I want to make a difference." – Lady Gaga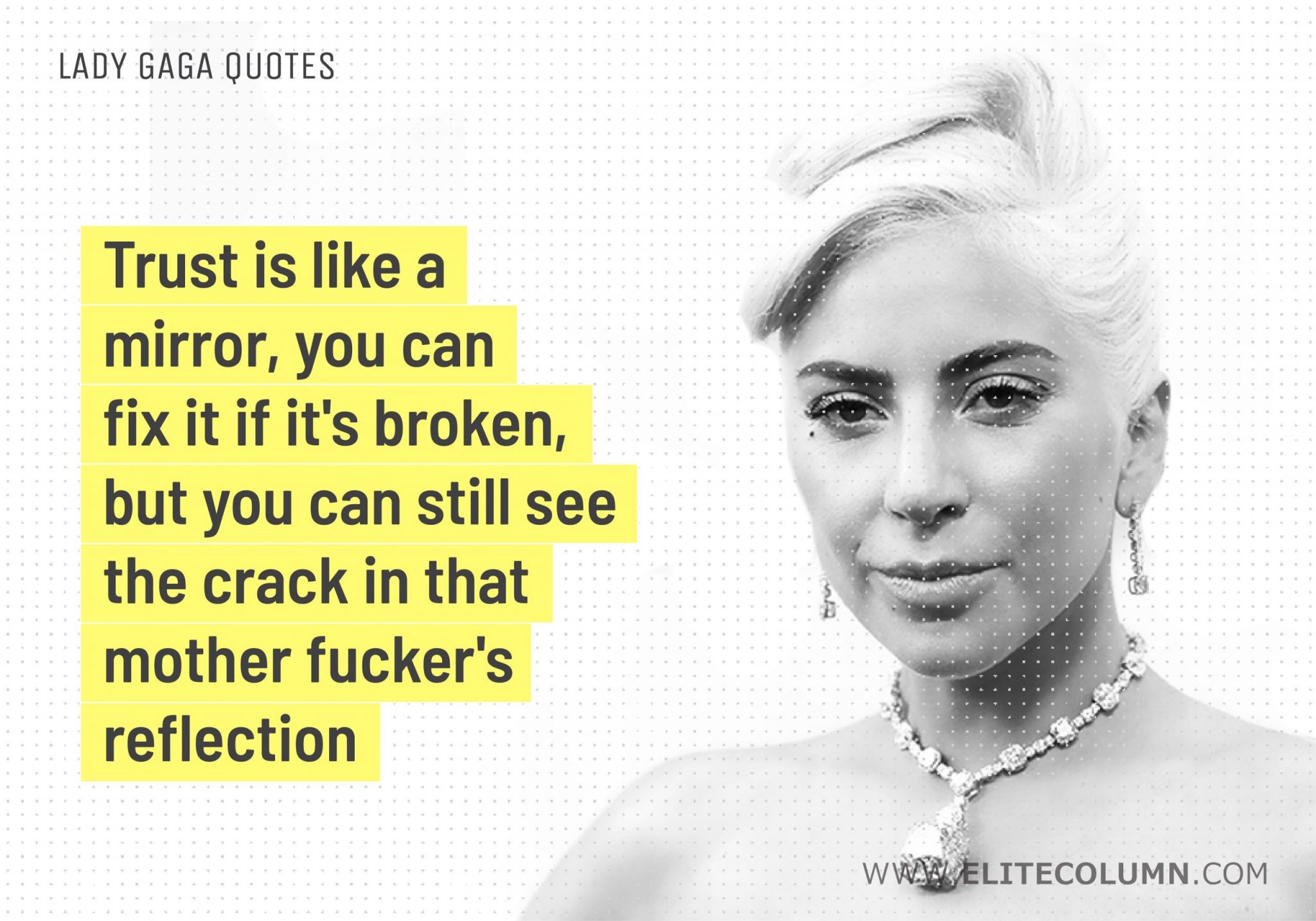 9. "Trust is like a mirror, you can fix it if it's broken, but you can still see the crack in that mother f**ker's reflection." – Lady Gaga
10. "At the end of the day, you won't be happy until you love yourself." – Lady Gaga
11. "For being different, it's easy. But to be unique, it's a complicated thing." – Lady Gaga
12. "Fame is ultimately about the cycles of desire and how to do away with them or manage them well." – Lady Gaga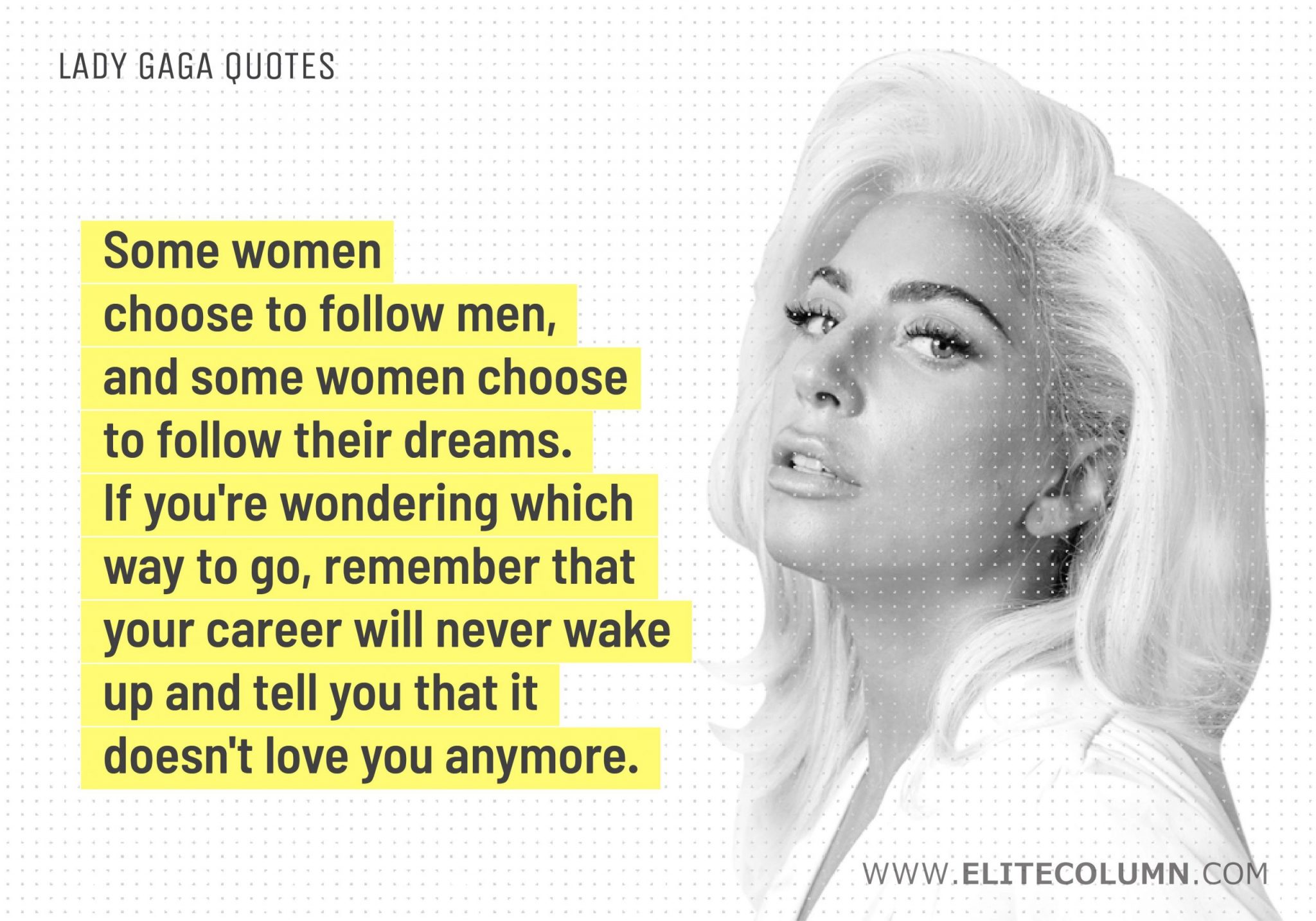 13. "Some women choose to follow men, and some women choose to follow their dreams. If you're wondering which way to go, remember that your career will never wake up and tell you that it doesn't love you anymore." – Lady Gaga
14. "I feel that if I can show my demise artistically to the public, I can somehow cure my own legend." – Lady Gaga
15. "Some artists are working to buy the mansion or whatever the element of fame must bear, but I spend all my money on my show." – Lady Gaga
16. "Confidence is key, if you don't have it, fake it!" – Lady Gaga
See also:
Justin Bieber Quotes | Ed Sheeran Quotes | Taylor Swift Quotes | Eminem Quotes | Michael Jackson Quotes | Nicki Minaj Quotes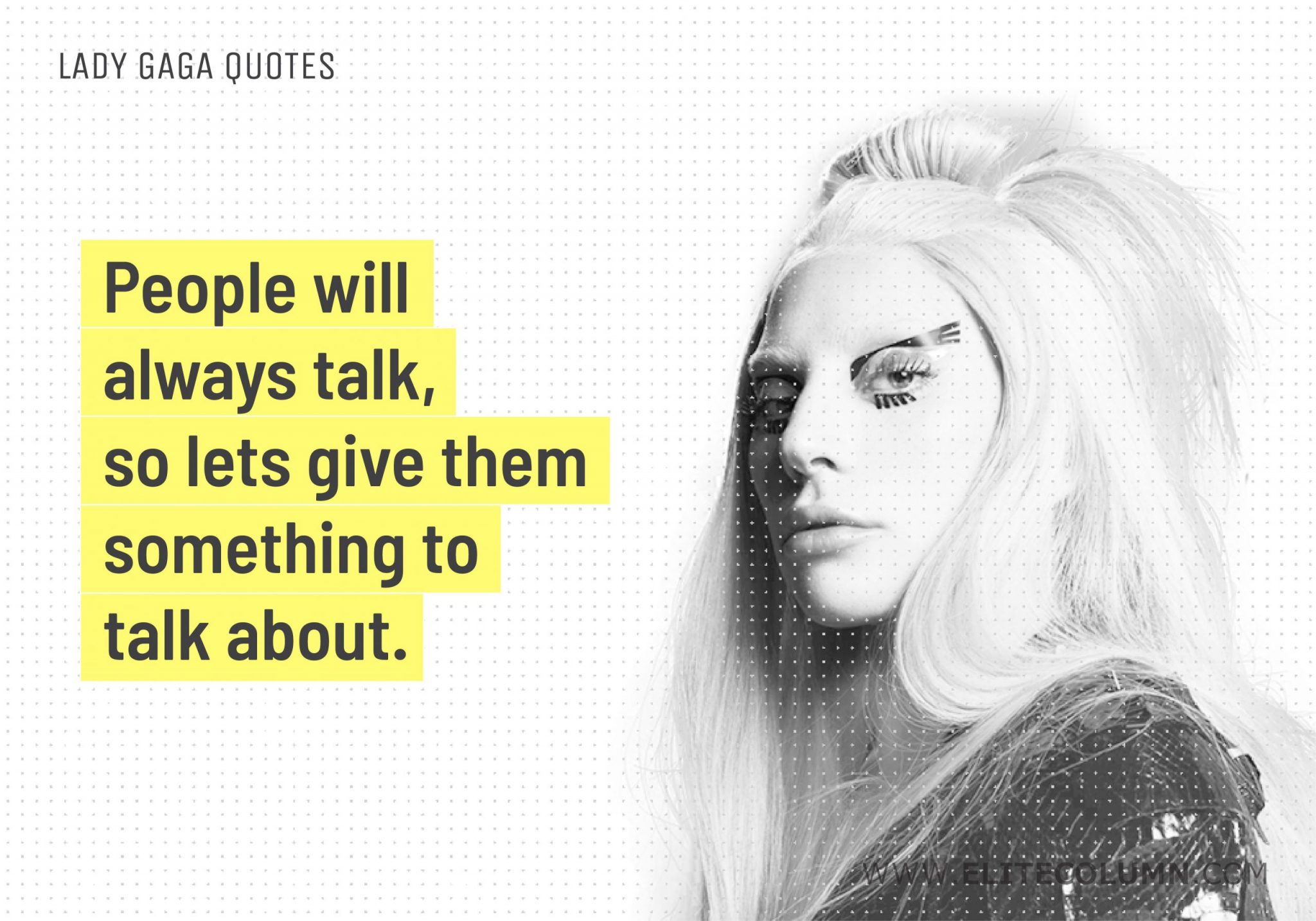 17. "People will always talk, so lets give them something to talk about." – Lady Gaga
18. "You have to fail and then get better. Then you have to fail again, and then get even better." – Lady Gaga
19. "Never be afraid to dream." – Lady Gaga
20. "I think tolerance and acceptance and love is something that feeds every community" – Lady Gaga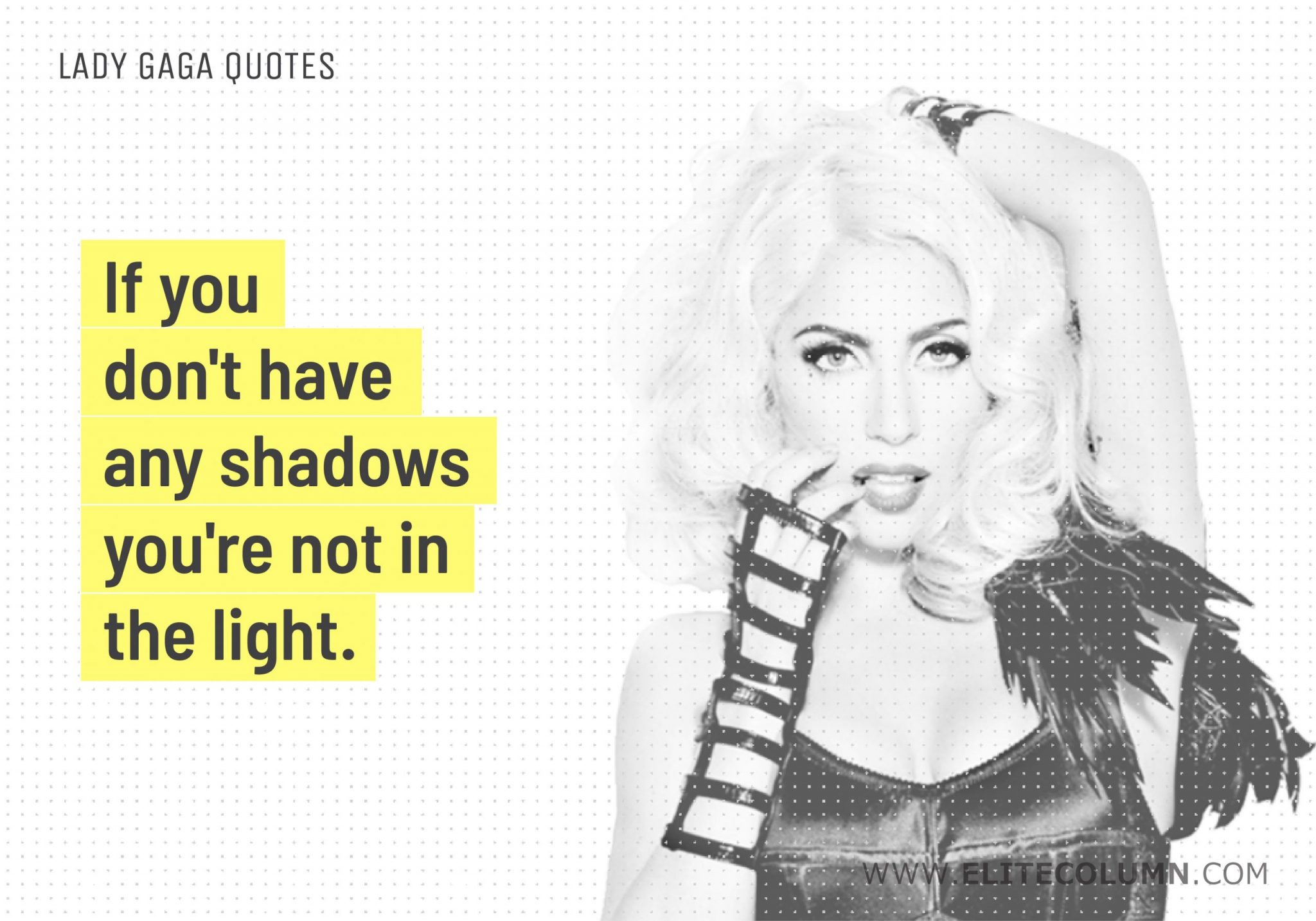 21. "If you don't have any shadows you're not in the light." – Lady Gaga
22. "People want you to fail." – Lady Gaga
23. "Even if the whole world turns their back on you, you will always have yourself." – Lady Gaga
24. "If you're laying in bed next to someone that really doesn't make you feel like the goddess that you are, you need to rediscover what it is that you truly want and need." – Lady Gaga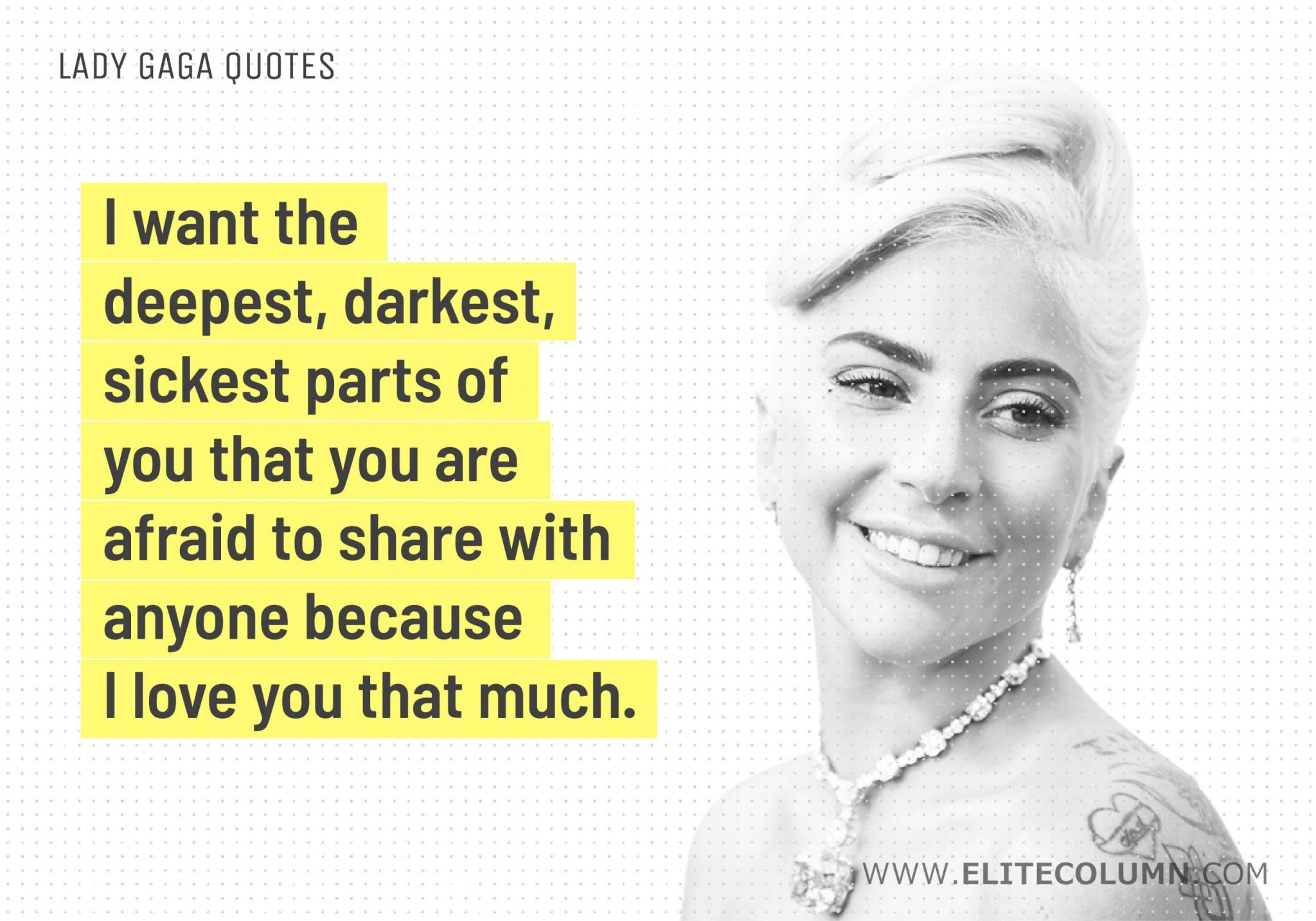 25. "I want the deepest, darkest, sickest parts of you that you are afraid to share with anyone because I love you that much." – Lady Gaga
26. "If you're a strong female, you don't need permission." – Lady Gaga
27. "You can be whoever you choose to become in the future, just do it. Just see it and visualize it and every day of your life project that about yourself." – Lady Gaga
28. "I don't care what people think about me, I care what they think about themselves." – Lady Gaga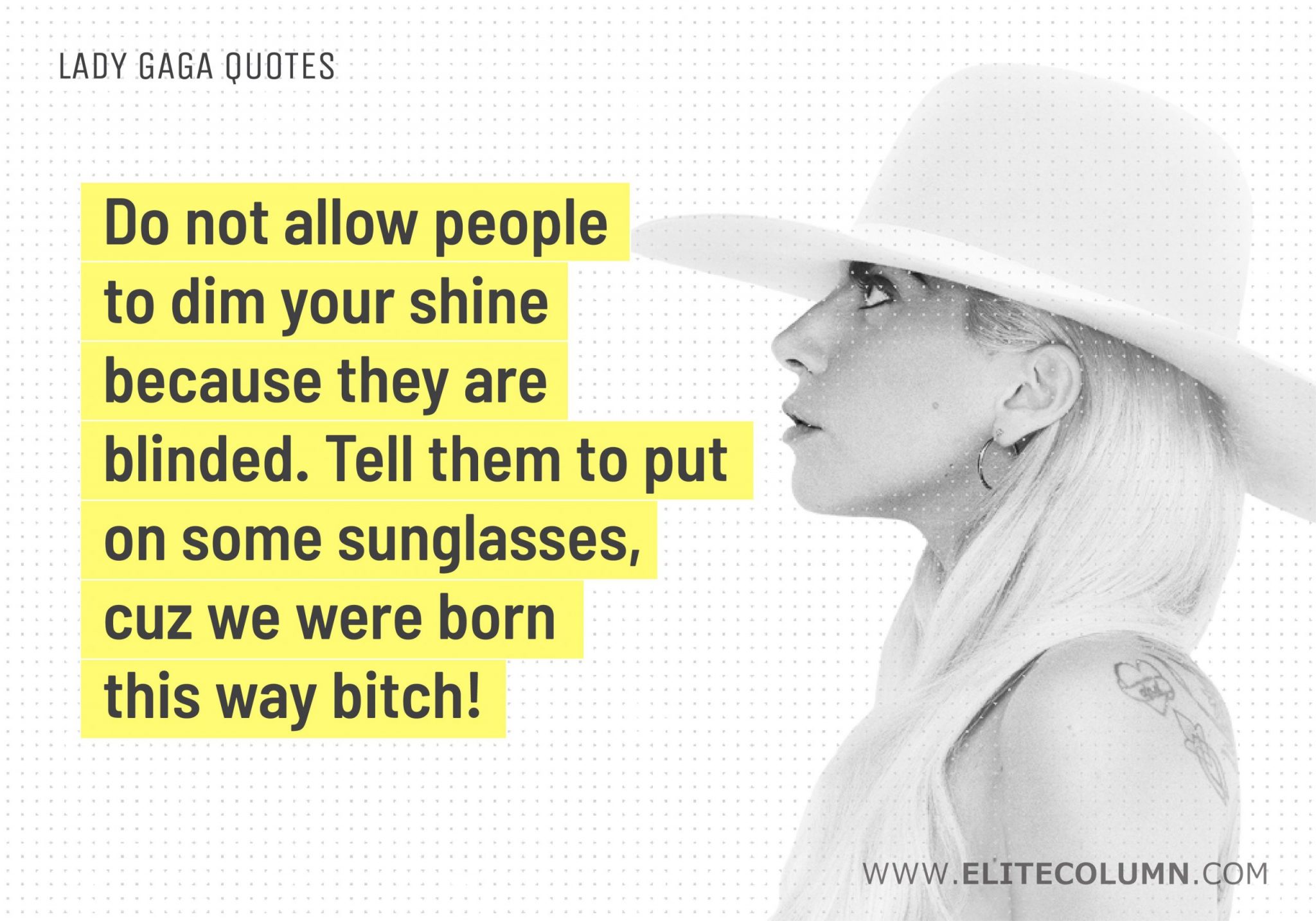 29. "Do not allow people to dim your shine because they are blinded. Tell them to put on some sunglasses, cuz we were born this way bitch!" – Lady Gaga
30. "If you are not honorable enough to fight without prejudice, go home." – Lady Gaga
31. "My fashion is part of who I am, and though I was not born with these clothes on, I was born this way." – Lady Gaga
32. "Let the blood and the bruises define your legacy." – Lady Gaga
See also:
Ariana Grande Quotes | Madonna Quotes | Bruno Mars Quotes | Kanye West Quotes | Rihanna Quotes | Drake Quotes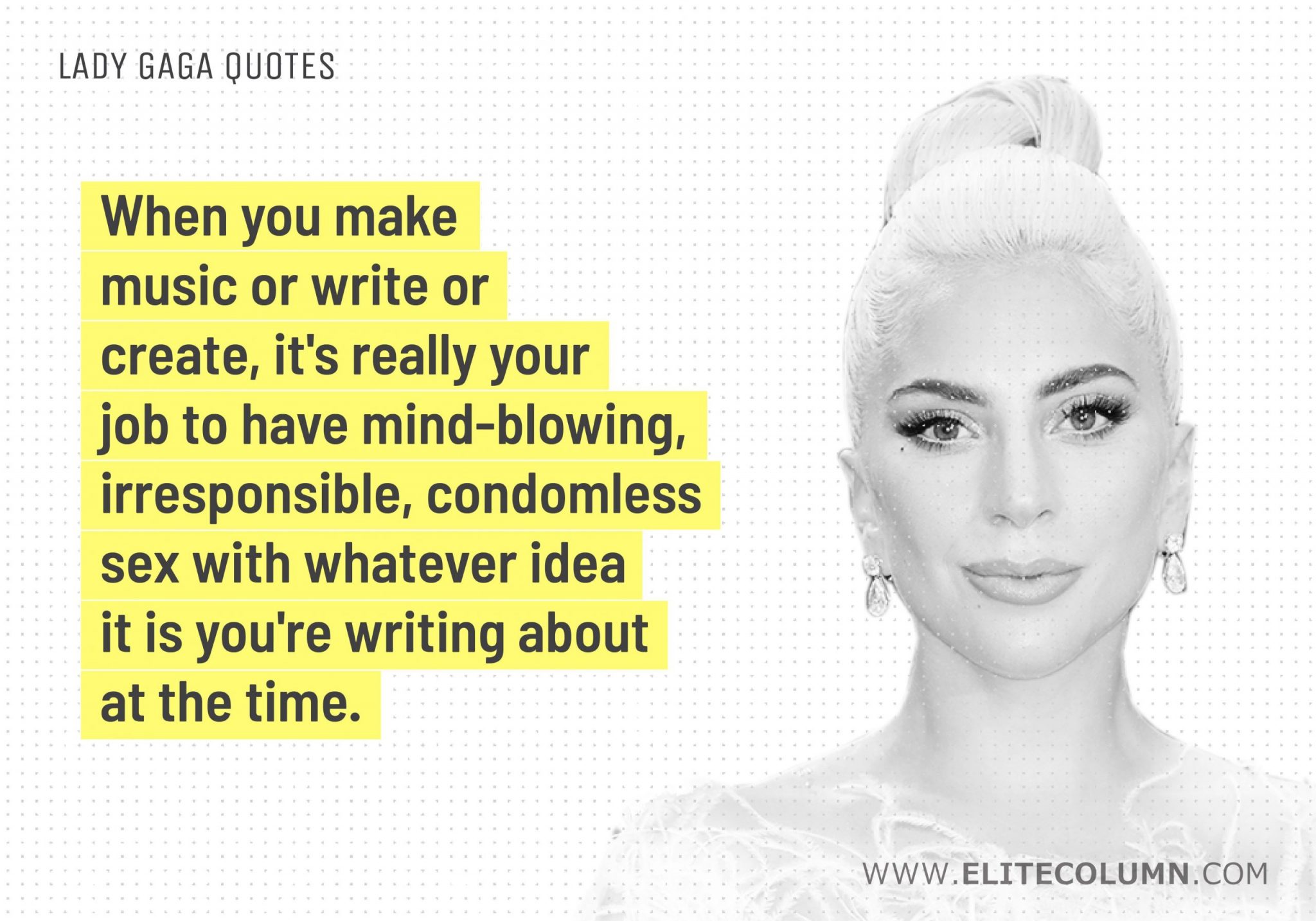 33. "When you make music or write or create, it's really your job to have mind-blowing, irresponsible, condomless sex with whatever idea it is you're writing about at the time." – Lady Gaga
34. "Look to yourself for the answer – stop calling your girlfriends and stop calling your mom – you know if it's working or not, you either feel like a goddess or you don't" – Lady Gaga
35. "Bare your struggles very close to your heart and have them be a part of you that you're proud of instead of something that you're ashamed of." – Lady Gaga
36. "You have to be careful about how much you reveal to people that look up to you so much. "- Lady Gaga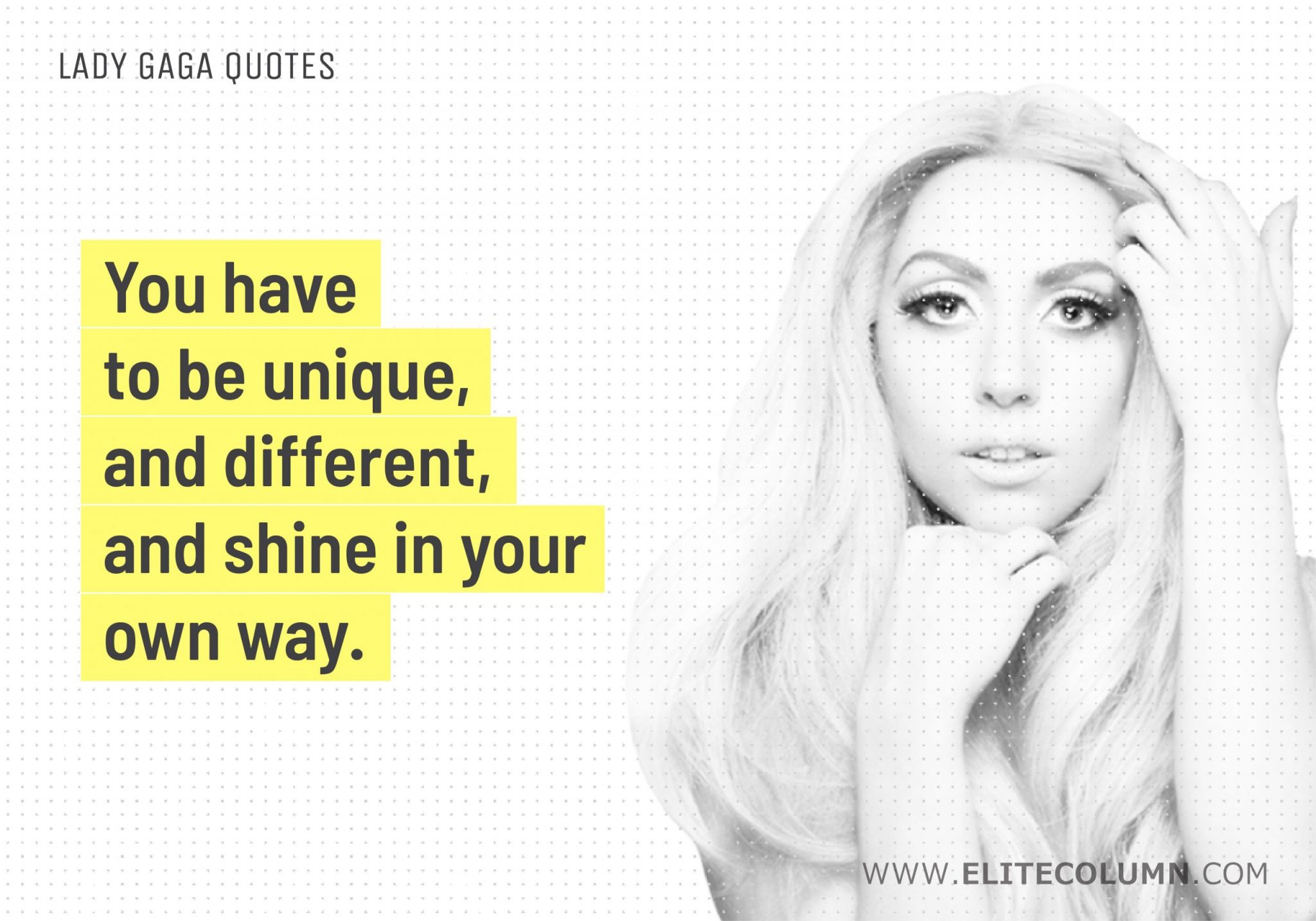 37. "You have to be unique, and different, and shine in your own way." – Lady Gaga
38. "Depression doesn't take away your talents – it just makes them harder to find." – Lady Gaga
39. "It doesn't matter who you are, or where you come from, or how much money you've got in your pocket. You have your own destiny and your own life ahead of you." – Lady Gaga
40. "I am my own sanctuary and I can be reborn as many times as I choose throughout my life." – Lady Gaga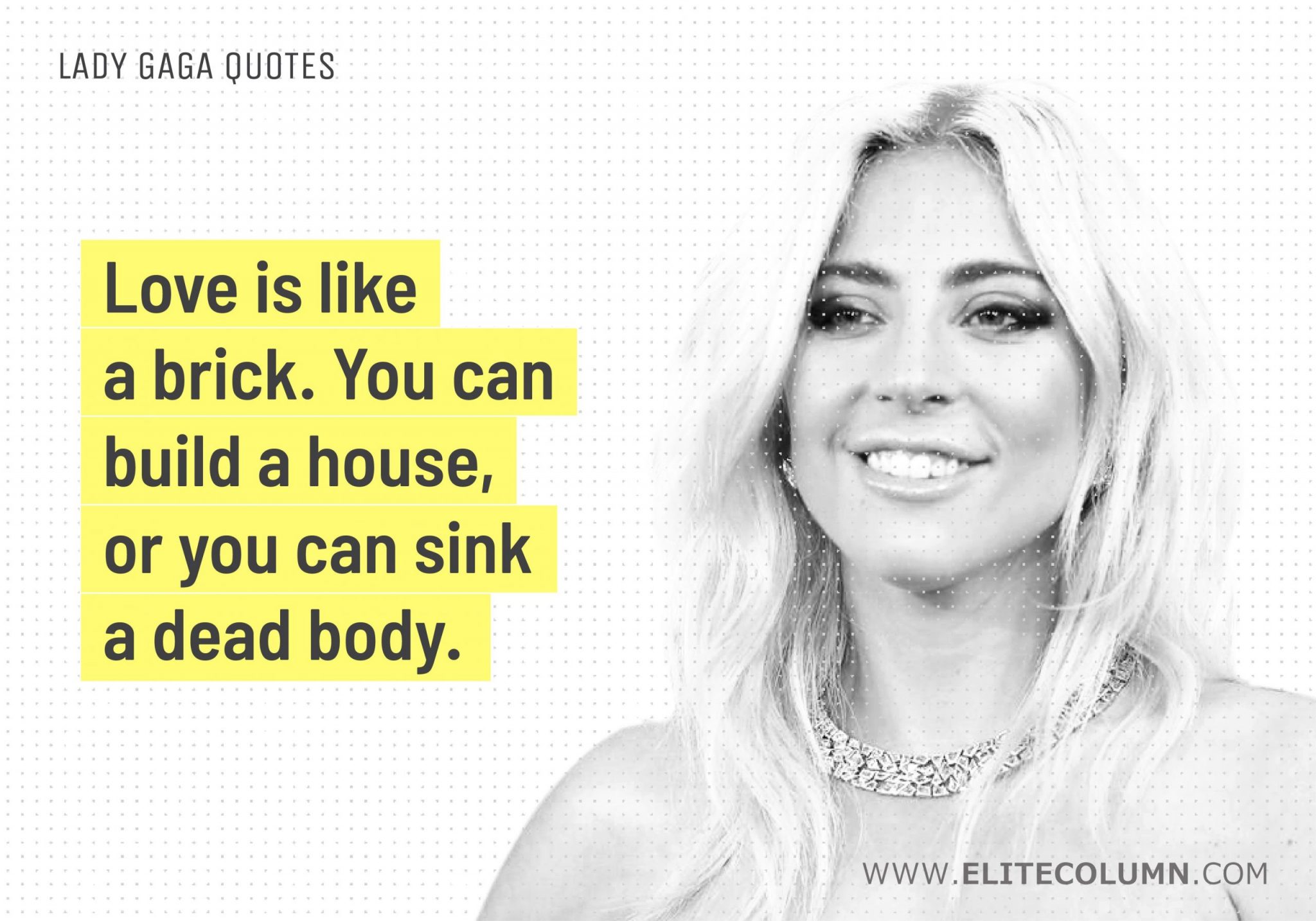 41. "Love is like a brick. You can build a house, or you can sink a dead body." – Lady Gaga
42. "People that are obsessed with hating you, feel flattered. Their whole lives revolve around you." – Lady Gaga
43. "Stand up for those who cannot stand up for themselves; it's your responsibility" – Lady Gaga
44. "Acceptance, tolerance, bravery, compassion. These are the things my mom taught me!" – Lady Gaga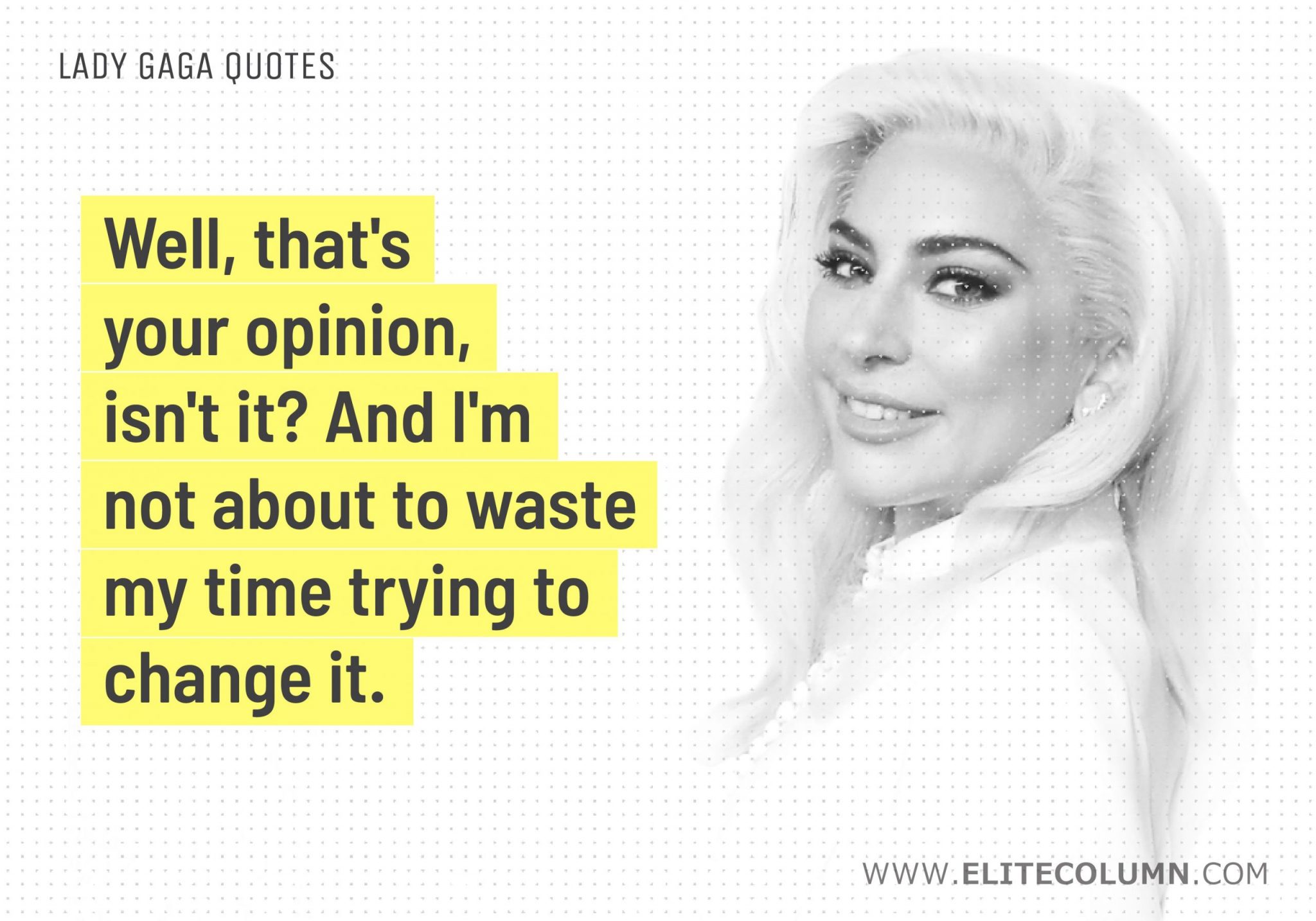 45. "Well, that's your opinion, isn't it? And I'm not about to waste my time trying to change it." – Lady Gaga
46. "Ignore all hatred and criticism. Live for what you create, and die protecting it." – Lady Gaga
Thanks for checking out the best Lady Gaga quotes. Feel free to share the quotes with your friends. Leave a comment below and which are your favorite Lady Gaga quotes ?
See also:
Jay Z Quotes | Demi Lovato Quotes | Harry Styles Quotes | Chester Bennington Quotes | Beyonce Quotes | Katy Perry Quotes | Tupac Shakur Quotes
You can find us at – Facebook | Instagram | LinkedIn | Pinterest | Twitter