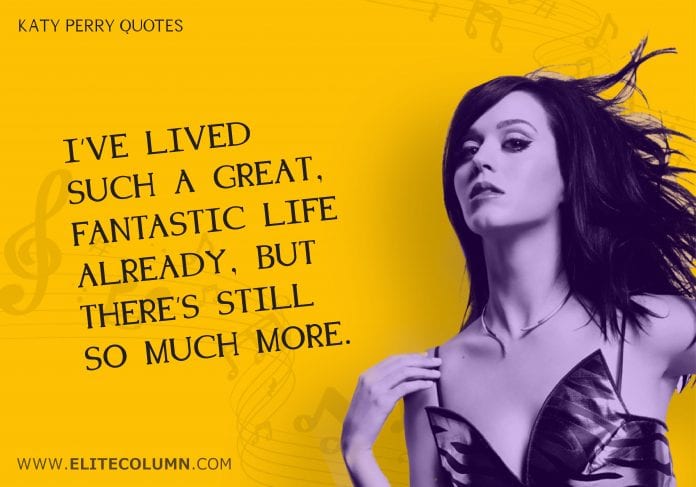 Katheryn Elizabeth Hudson aka Katy Perry is an award-winning recording artist, businesswoman, philanthropist, and actress from Santa Barbara. She is also the first female artist to have 5 number one singles on the U.S. Billboard Hot 100 from one album. Katy Perry quotes will transform your life and below are the 12 best hand-picked Katy Perry Quotes.
21 Inspirational Katy Perry Quotes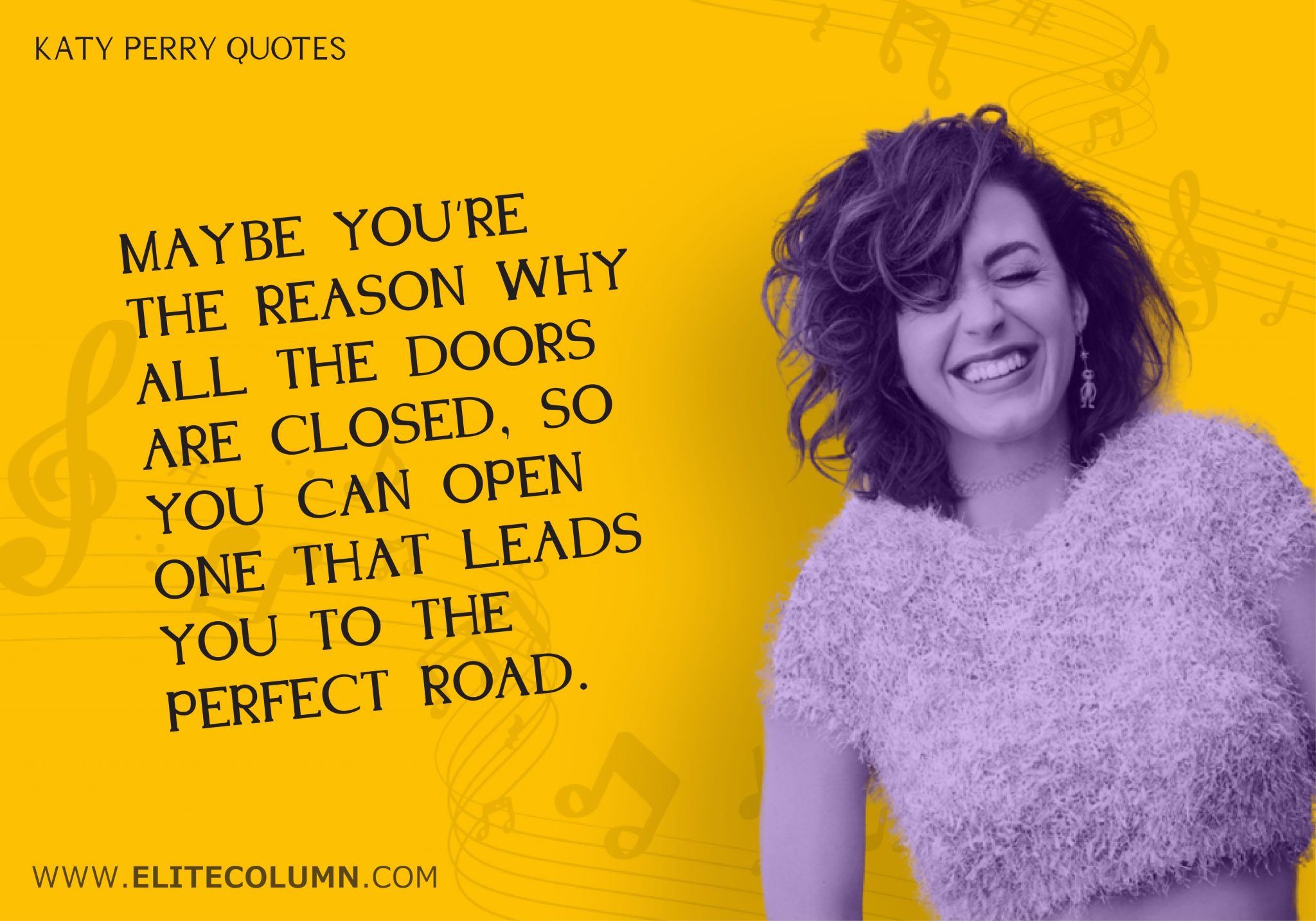 "Maybe you're the reason why all the doors are closed, so you can open one that leads you to the perfect road." – Katy Perry
2. "If you're presenting yourself with confidence, you can pull off pretty much anything." – Katy Perry
3. "You can get through it and you can land on your feet triumphantly and strong." – Katy Perry
4. "Don't care what people gonna think of you, do what you wanna do and seek just your happiness." – Katy Perry
5. "Sometimes if you want to achieve something great, there will be curveballs. You just have to dodge them every once in a while." – Katy Perry
6. "Be yourself and you can be anything." – Katy Perry
7. "The past is like a handful of dust. It filters through your fingers, disappearing little by little. I wish, for one day, I could go back. In another life I would do things differently." – Katy Perry
8. "If you can believe in something great, then you can achieve something great." – Katy Perry
See also:
Justin Bieber Quotes | Ed Sheeran Quotes | Taylor Swift Quotes | Eminem Quotes | Michael Jackson Quotes | Nicki Minaj Quotes
9. "Be yourself, that's what makes the world go round!" – Katy Perry
10. "So take a chance and don't ever look back." – Katy Perry
11. "You have to spend a lot to make a lot. It's not like I'm sitting on top of a pile of money." – Katy Perry
12. "It's always been inside of you, and now it's time to let it through." – Katy Perry
13. "Acceptance is the key to be truly free." – Katy Perry
14. "A lot of the time people don't even know what they want until they see something new." – Katy Perry
15. "It's ok to be proud of hard-earned success. There is no shame in being a boss." – Katy Perry
16. "Find out what your gift is and nurture it." – Katy Perry
See also:
Ariana Grande Quotes | Madonna Quotes | Bruno Mars Quotes | Kanye West Quotes | Rihanna Quotes | Drake Quotes
17. "After a hurricane, comes a rainbow." – Katy Perry
18. "I think you can have it all, you just have to work really hard because great things don't come easily." – Katy Perry
19. "If you are not happy with something, you should change it. So I went to a lot of therapy, and finally, I am able to speak up for myself: You are going to hear me roar!" – Katy Perry
20. "I think you become more relatable when you're vulnerable." – Katy Perry
21. "If you have a dream you gotta go on a journey to fulfill that dream." – Katy Perry
Thanks for checking out the best Katy Perry quotes. Feel free to share the quotes with your friends. Leave a comment below and which are your favorite Katy Perry quotes ?
See also:
Tupac Shakur Quotes | Lady Gaga Quotes | Jay Z Quotes | Demi Lovato Quotes | Chester Bennington Quotes | Beyonce Quotes
You can find us at – Facebook | Instagram | LinkedIn | Pinterest | Twitter