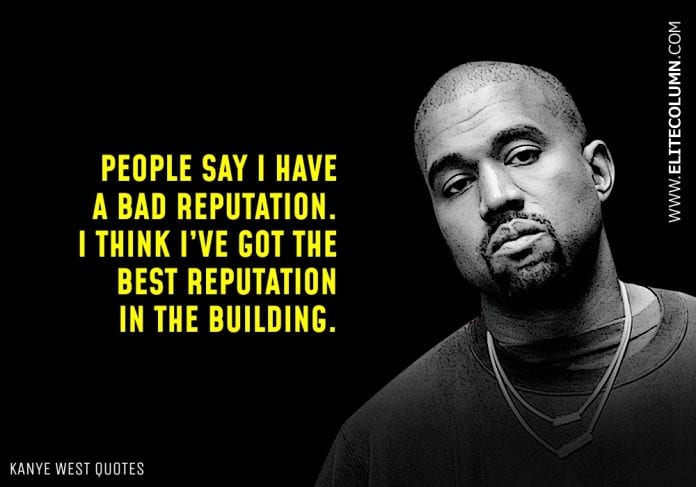 Kanye West is a 21st-century phenomenon – a producer turned rap superstar who has reinvented hip hop several times over in the course of a stellar career. He has made headlines for his bizarre tweets and his grand pronouncements, his award-show stage invasions, his outré fashion sense and his flashbulb-popping marriage to Kim Kardashian. Kanye West quotes will help you go after your long term goals. EliteColumn brings you 12 best Kanye West quotes.
32 Motivational Kanye West Quotes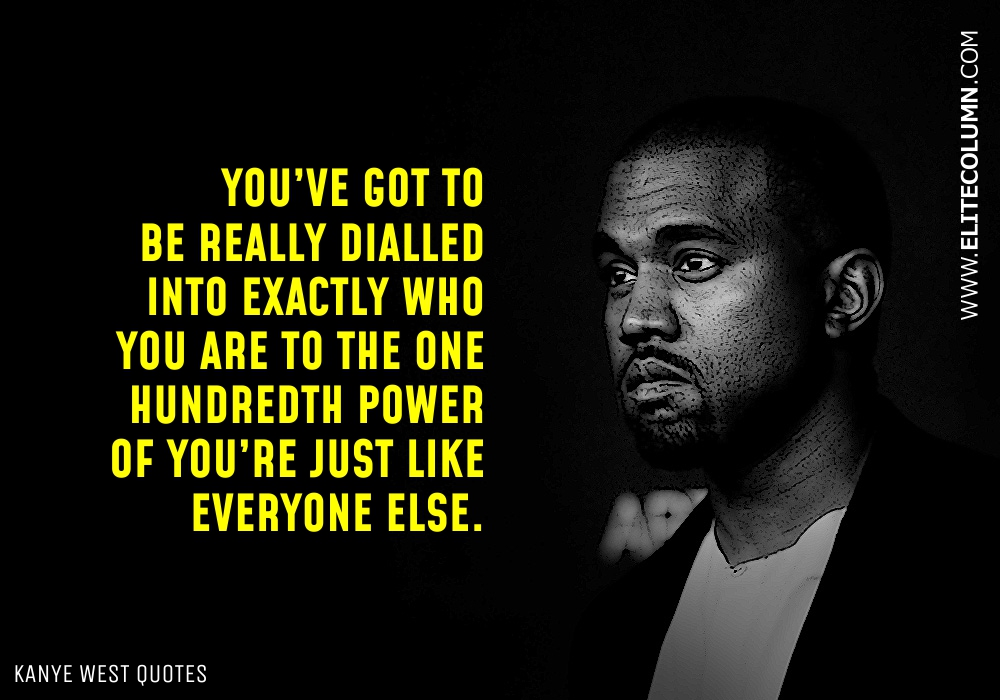 "You've got to be really dialled into exactly who you are to the one hundredth power of you're just like everyone else." – Kanye West
2. "They say people in your life are seasons and anything that happens is for a reason." – Kanye West
3. "You can't look at a glass half full or empty if it's overflowing." – Kanye West
4. "Know your worth! People always act like they're doing more for you than you're doing for them." – Kanye West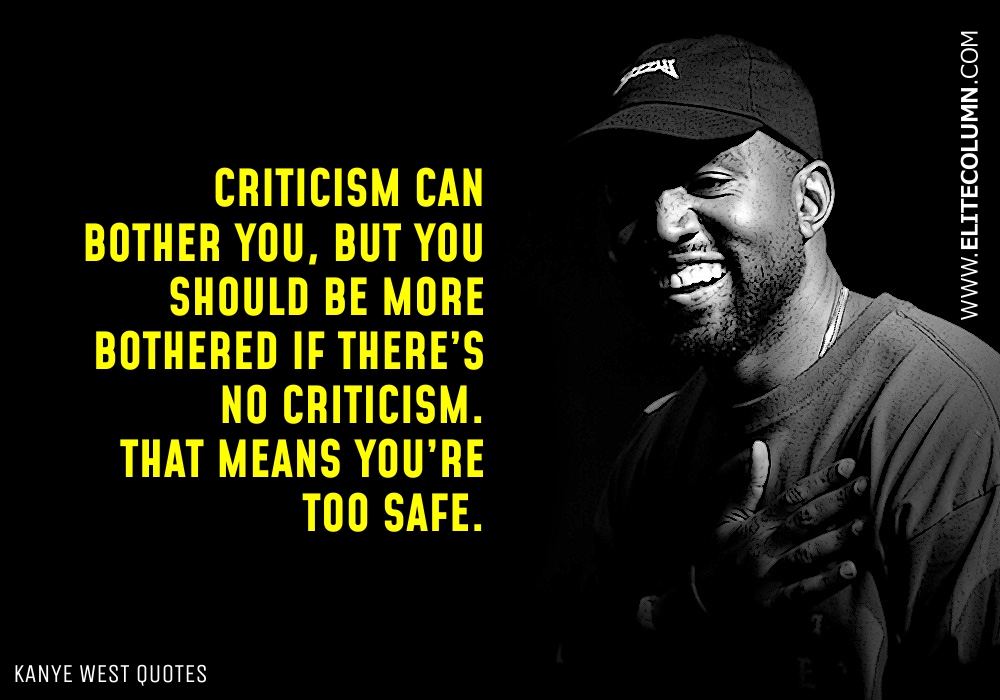 5. "Criticism can bother you, but you should be more bothered if there's no criticism. That means you're too safe." – Kanye West
6. "When you're the absolute best, you get hated on the most." – Kanye West
7. "People never change. They just become better at hiding who they really are." – Kanye West
8. "Nobody can tell me where I can and can't go." – Kanye West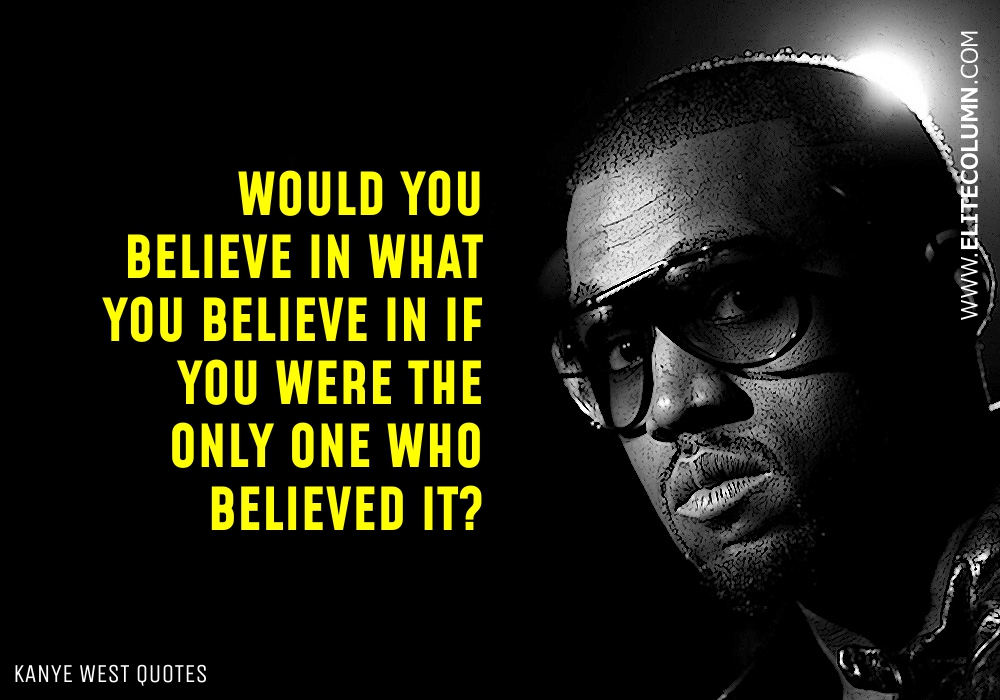 9. "Would you believe in what you believe in if you were the only one who believed it?" – Kanye West
10. "Most people are slowed down by the perception of themselves. If you're taught you can't do anything, you won't do anything. I was taught I can do everything." – Kanye West
11. "I was never really good at anything except for the ability to learn." – Kanye West
12. "I refuse to accept other people's ideas of happiness for me. As if there's a 'one size fits all' standard for happiness." – Kanye West
See also:
Justin Bieber Quotes | Ed Sheeran Quotes | Taylor Swift Quotes | Eminem Quotes | Michael Jackson Quotes | Nicki Minaj Quotes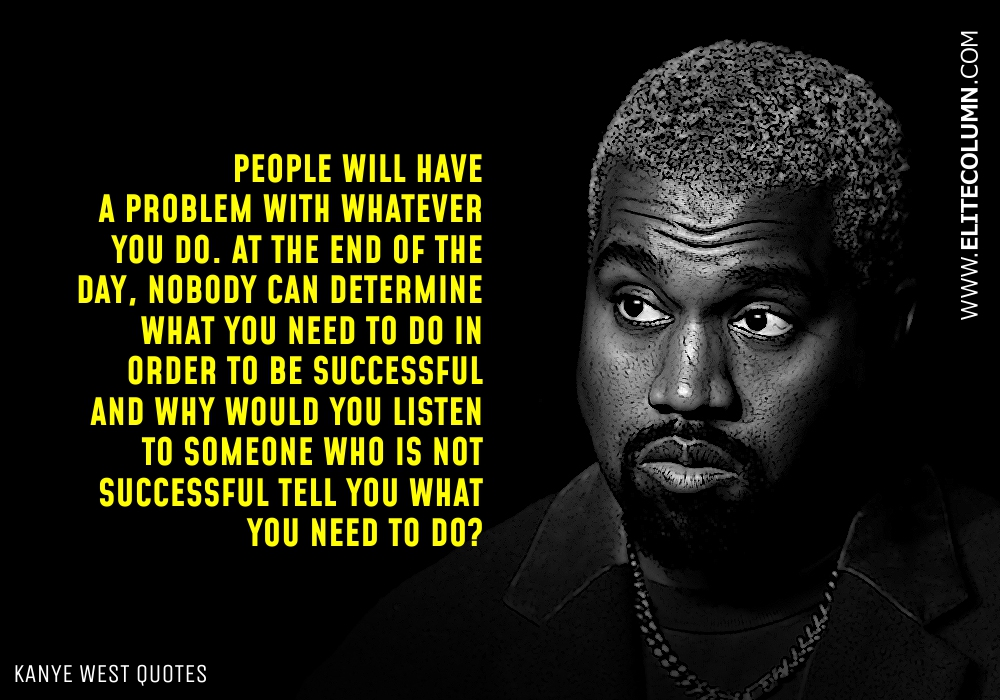 13. "People will have a problem with whatever you do. At the end of the day, nobody can determine what you need to do in order to be successful and why would you listen to someone who is not successful tell you what you need to do?" – Kanye West
14. "Nothing in life is promised except death." – Kanye West
15. "Keep your nose out the sky, keep your heart to god, and keep your face to the rising sun." – Kanye West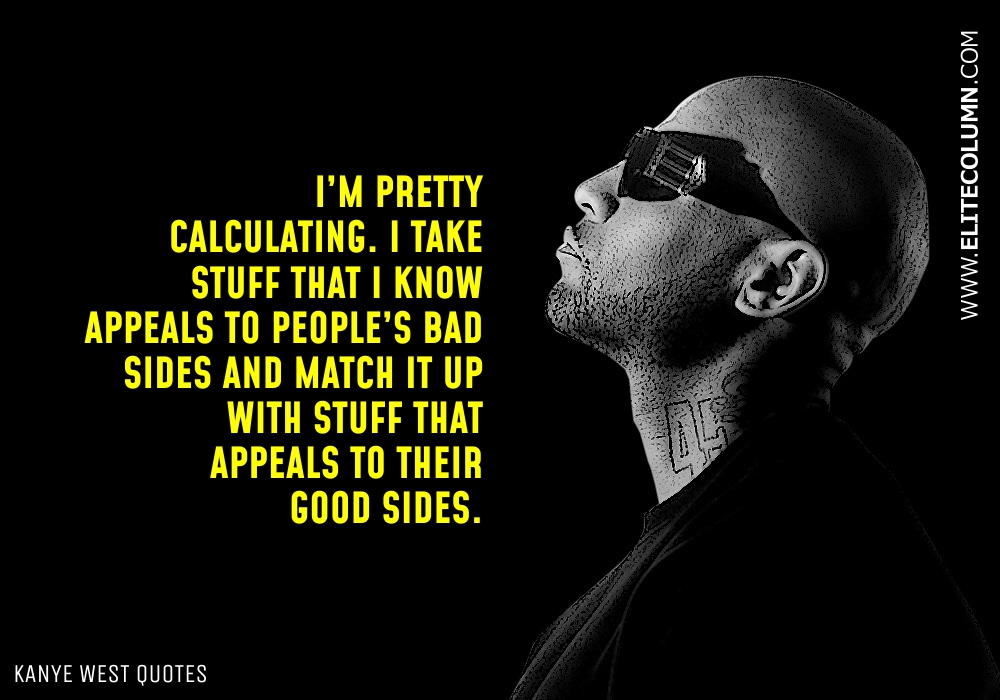 16. "I'm pretty calculating. I take stuff that I know appeals to people's bad sides and match it up with stuff that appeals to their good sides." – Kanye West
17. "My greatest award is what I'm about to do." – Kanye West
18. "Our work is never over." – Kanye West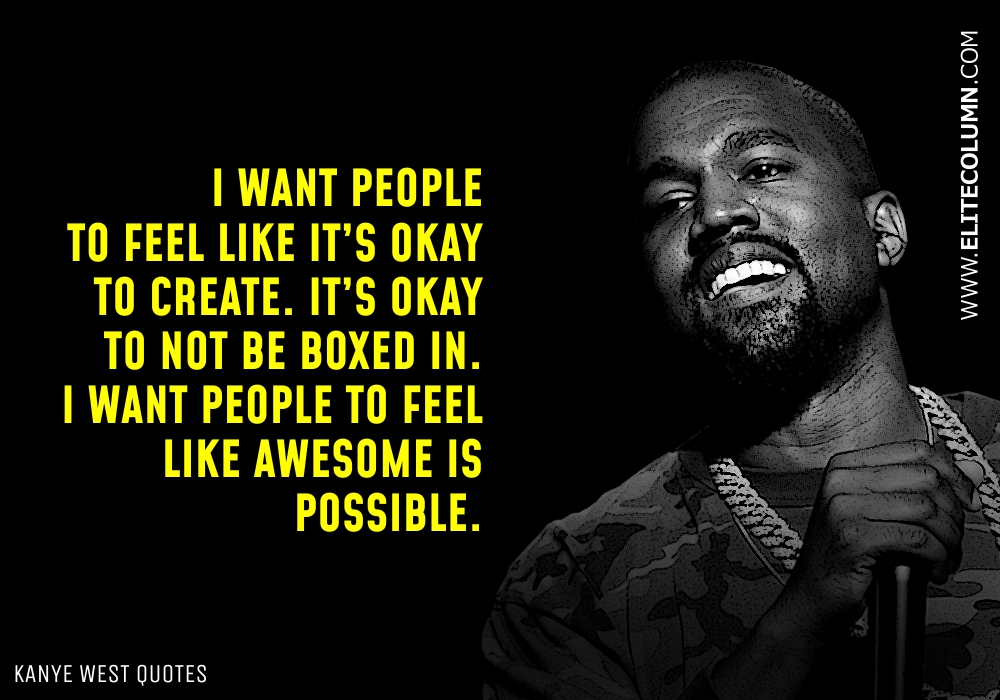 19. "I want people to feel like it's okay to create. It's okay to not be boxed in. I want people to feel like awesome is possible." – Kanye West
20. "I care. I care about everything. Sometimes not giving a f#%k is caring the most." – Kanye West
21. "Believe in your flyness…conquer your shyness." – Kanye West
See also:
Tupac Shakur Quotes | Lady Gaga Quotes | Jay Z Quotes | Demi Lovato Quotes | Harry Styles Quotes | Chester Bennington Quotes | Beyonce Quotes | Katy Perry Quotes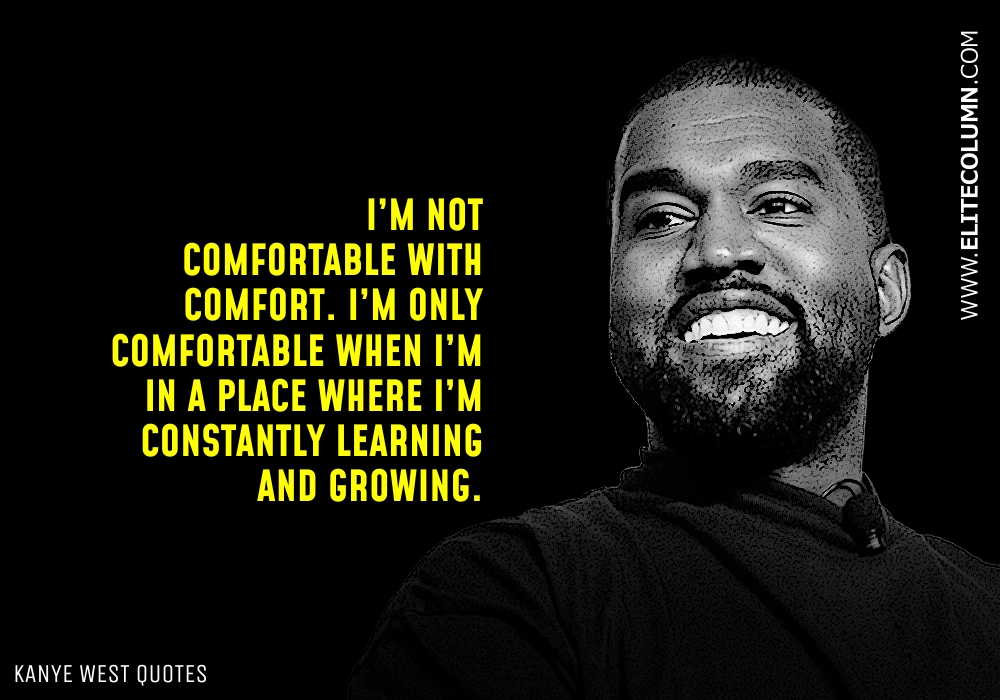 22. "I'm not comfortable with comfort. I'm only comfortable when I'm in a place where I'm constantly learning and growing." – Kanye West
23. "I'm on the pursuit of awesomeness, excellence is the bare minimum." – Kanye West
24. "I feel that I'm very blessed. But with great blessings come great responsibility." – Kanye West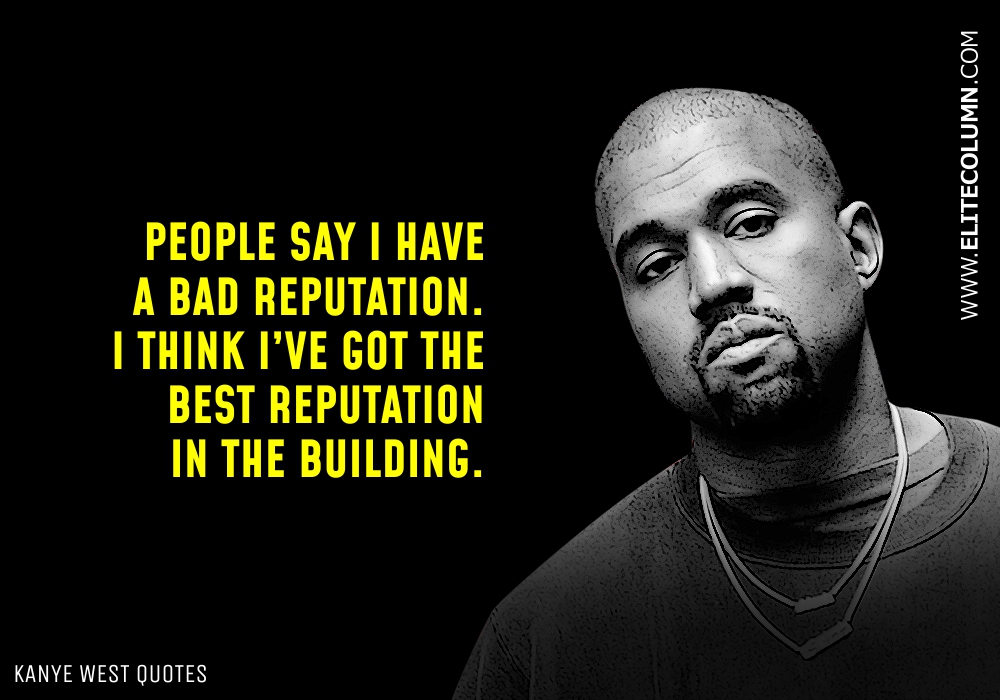 25. "People say I have a bad reputation. I think I've got the best reputation in the building." – Kanye West
26. "I feel like I'm too busy writing history to read it." – Kanye West
27. "Living well eliminates the need for revenge." – Kanye West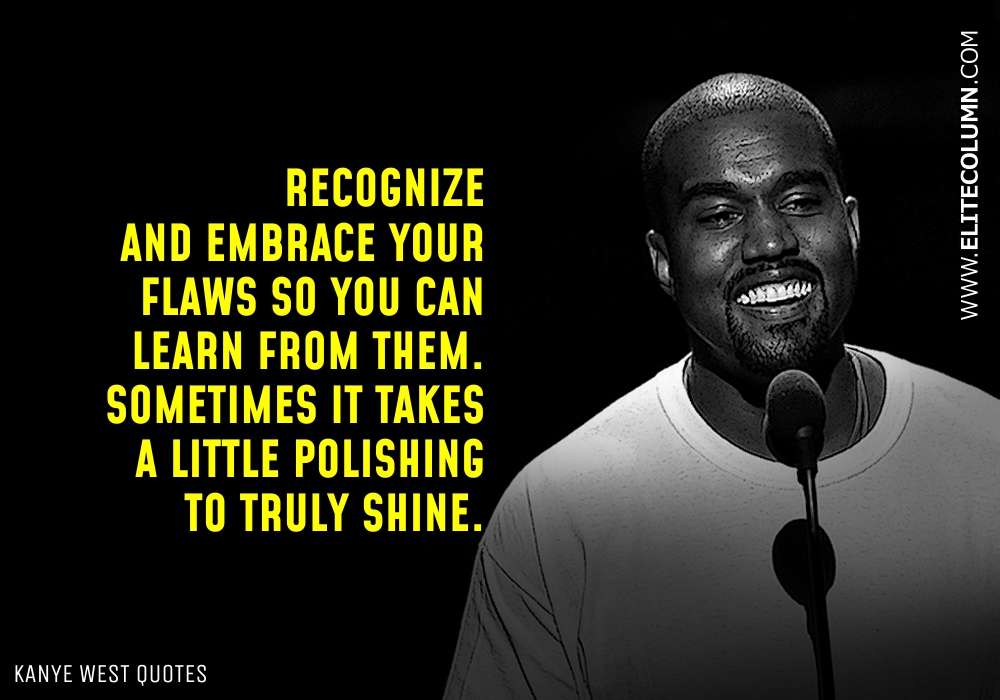 28. "Recognize and embrace your flaws so you can learn from them. Sometimes it takes a little polishing to truly shine." – Kanye West
29. "Justice could just be clearing a path for people to dream properly." – Kanye West
30. "Creative output, you know, is just pain. I'm going to be cliche for a minute and say that great art comes from pain." – Kanye West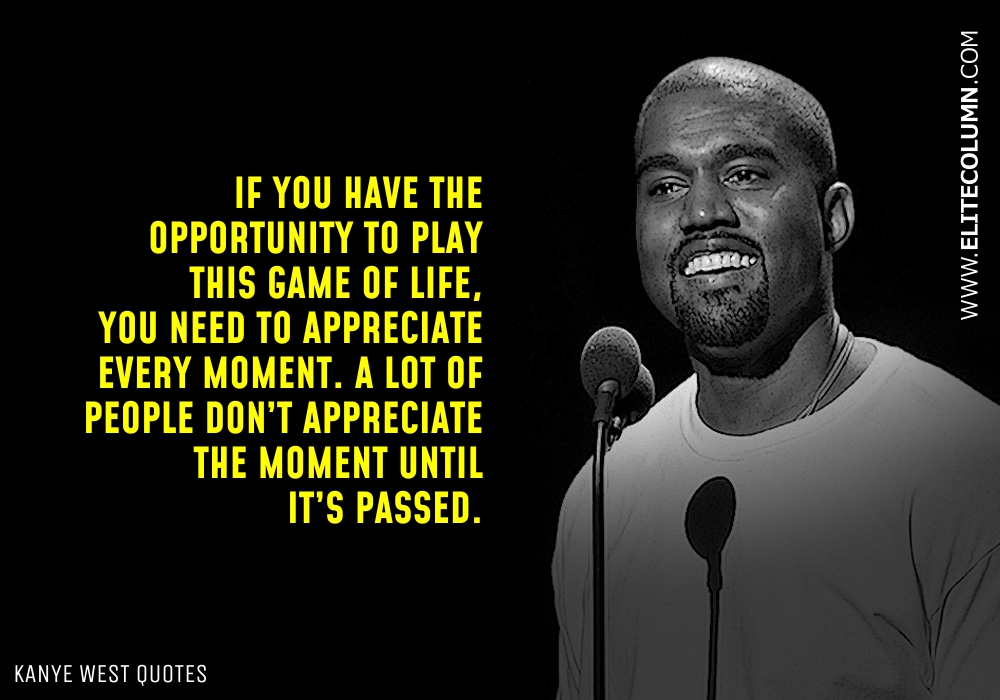 31. "If you have the opportunity to play this game of life, you need to appreciate every moment. A lot of people don't appreciate the moment until it's passed." – Kanye West
32. "Why are people so afraid of creative ideas and so scared of truth? All I want to do is do good." – Kanye West
Thanks for checking out the best Kanye West quotes. Feel free to share the quotes with your friends. Leave a comment below and which are your favorite Kanye West quotes ?
See also:
Rihanna Quotes | Drake Quotes | Ariana Grande Quotes | Madonna Quotes | Bruno Mars Quotes
You can find us at – Facebook | Instagram | LinkedIn | Pinterest | Twitter