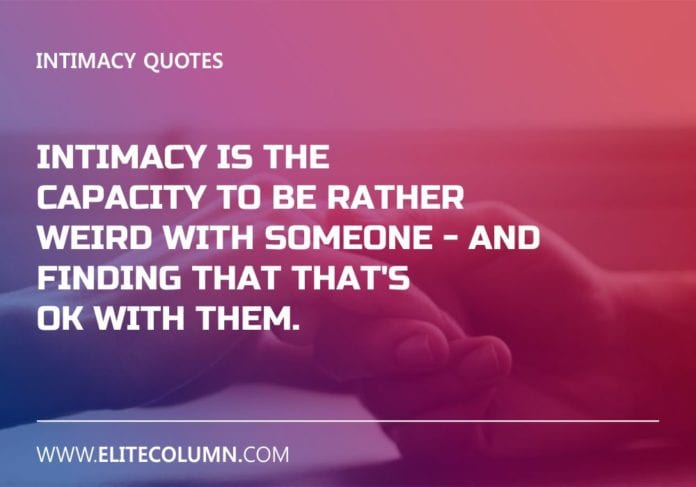 Everyone's souls crave for intimacy. Mankind will just do anything to get close to someone they find interesting, intriguing or simply irresistible. Human desire for intimacy, for love, drives us to do things we never thought of doing. Intimacy is blending our hearts with another's so we can see into who they really are, and they can see into us. Being intimate includes mixing our own feelings with another's – a mingling of two souls, and sharing of a couple of hearts. This is how we, as human beings, connect with each other. Real intimacy makes us feel alive and much younger. Intimacy quotes will help you see and bring out the lover in you. EliteColumn brings you the best Intimacy quotes for your pleasure.
48 Best Intimacy Quotes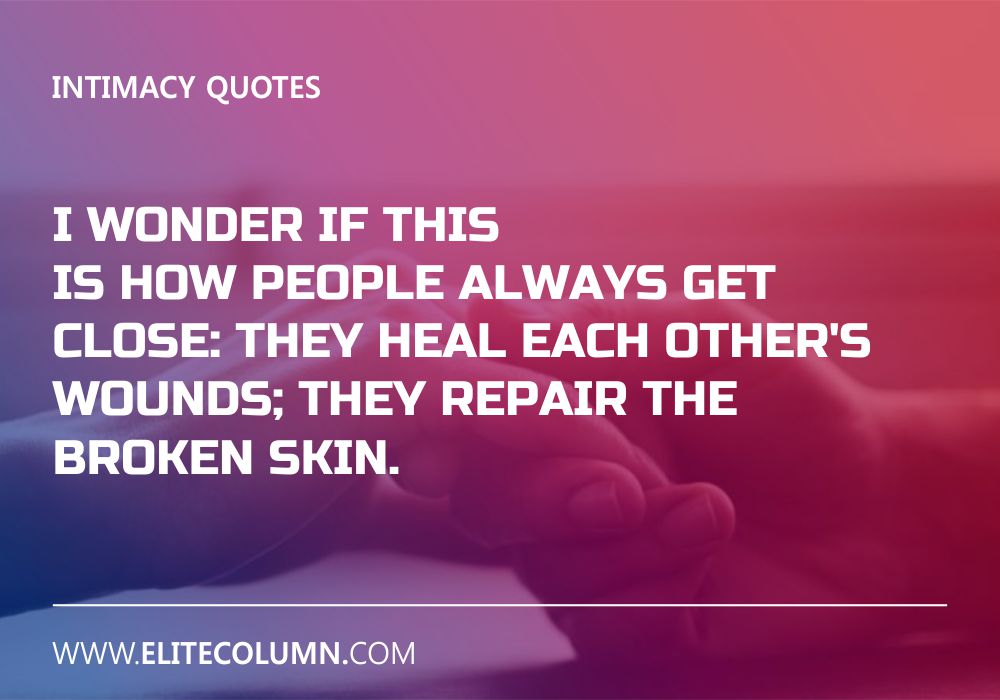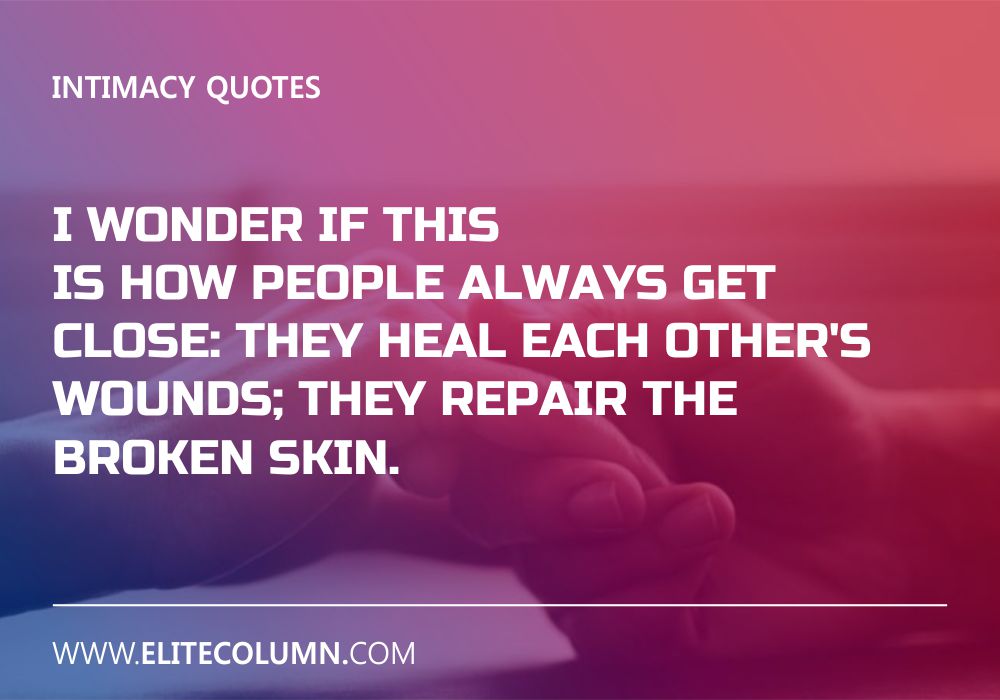 "I wonder if this is how people always get close: They heal each other's wounds; they repair the broken skin."
2. "I have been driven by romance my whole life because I crave the intimacy that comes with that" – Yolanda Hadid
3. "I'm certain that most couples expect to find intimacy in marriage, but it somehow eludes them" – James Dobson
4. "Our culture is so celebrity-obsessed that for individuals to show they matter, they need to display their intimacy to fame" – Susan Isaacs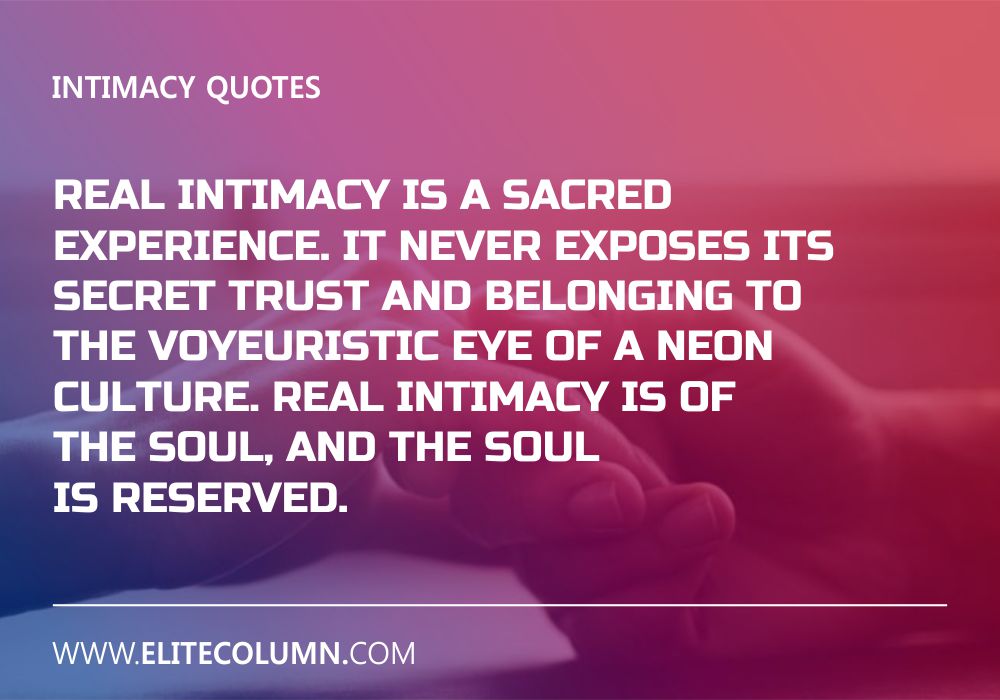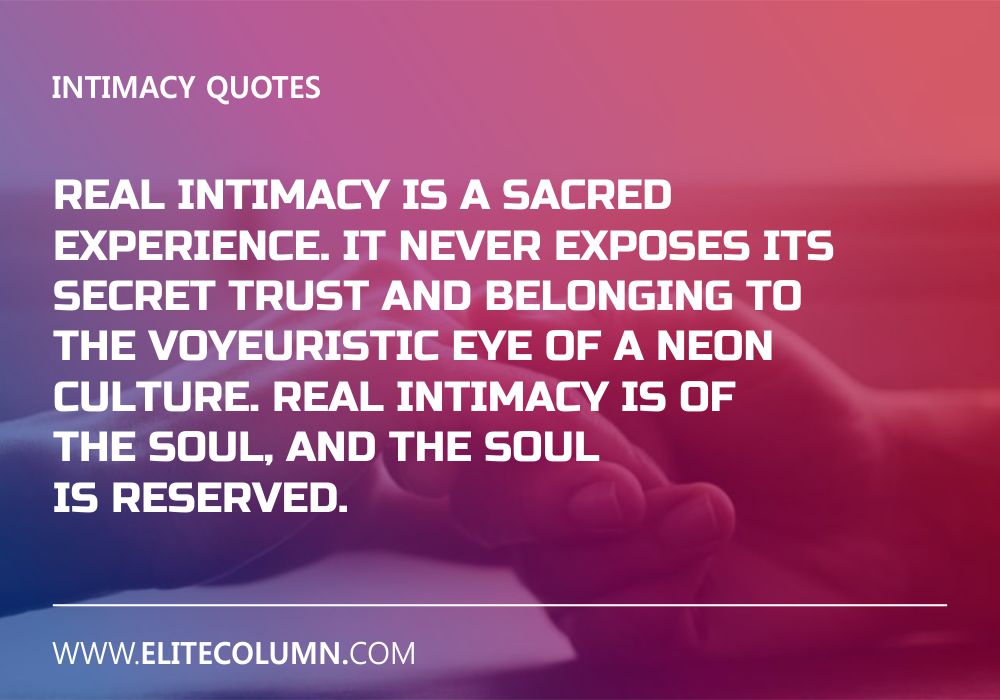 5. "Real intimacy is a sacred experience. It never exposes its secret trust and belonging to the voyeuristic eye of a neon culture. Real intimacy is of the soul, and the soul is reserved."
6. "Life is cold. People stay warm through the intimacy of a story" – James Altucher
7. "It was all about music, about getting your friends to come and see you play. I don't see that same intimacy happening very much today" – Layne Staley
8. "River is all about tension and release. It's about intimacy and solace. It's about staring someone in the face and not backing down" – Bishop Briggs
9. "Real connection and intimacy is like a meal, not a sugar fix" – Kristin Armstrong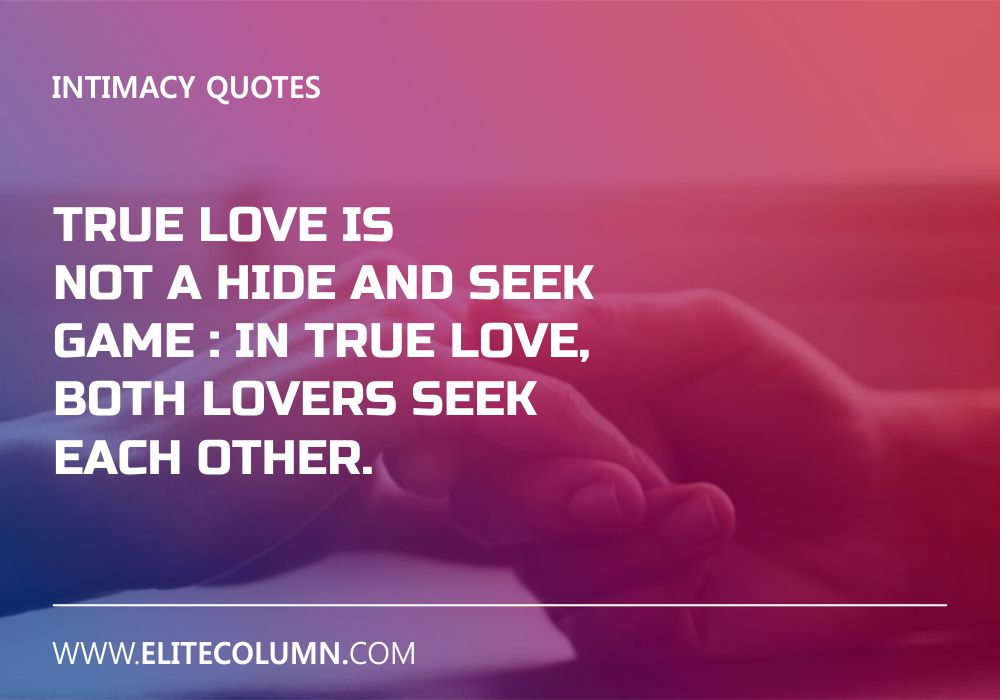 10. "True love is not a hide and seek game: in true love, both lovers seek each other."
11. "Physical intimacy isn't and can never be an effective substitute for emotional intimacy" – John Green
12. "When I attained a certain advanced intimacy with a man, and I don't just mean sex, I married him" – Hedy Lamarr
13. "Men may feel just disempowered by intimacy, by being close to a woman, and also by feeling the tender feelings that they're ashamed of" – Gloria Steinem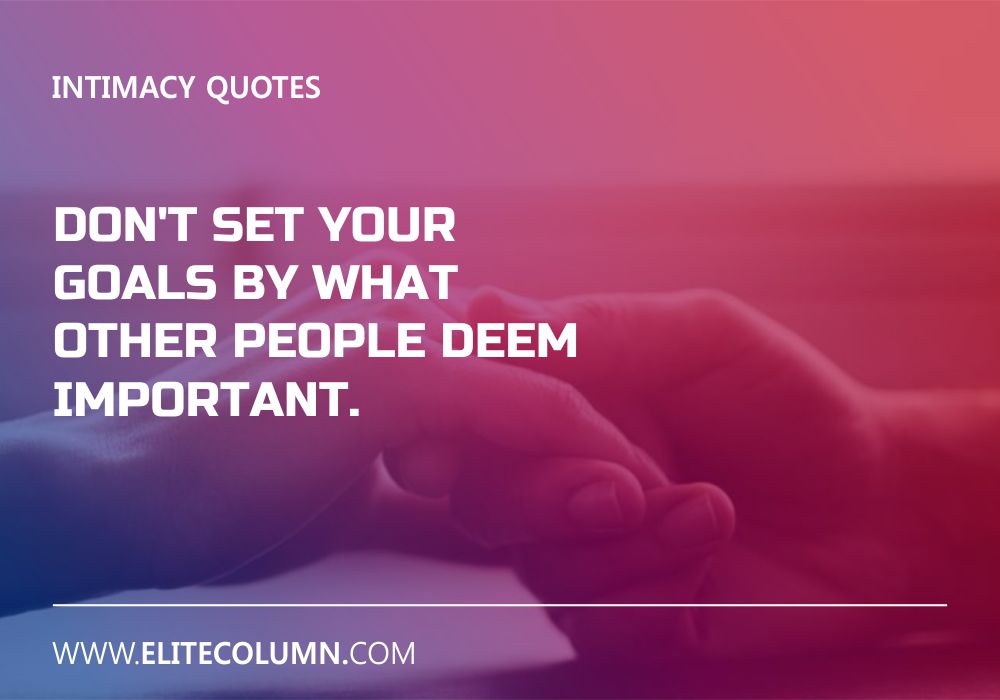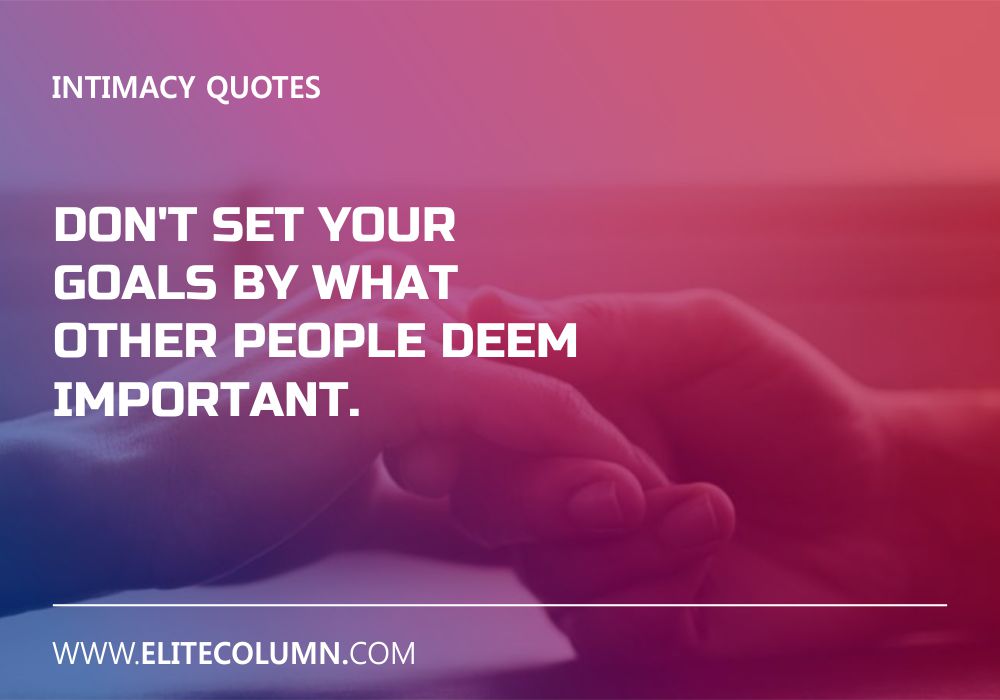 14. "Don't set your goals by what other people deem important."
15. "The highest form of love is the love that allows for intimacy without the annihilation of difference" – Parker J. Palmer
16. "I don't have any fear of intimacy, but rather thrive on it, which is rare in a public person" – Jack Nicholson
17. "The only thing I have never known is true intimacy with a man. I absolutely wanted to discover that before dying" – Jane Fonda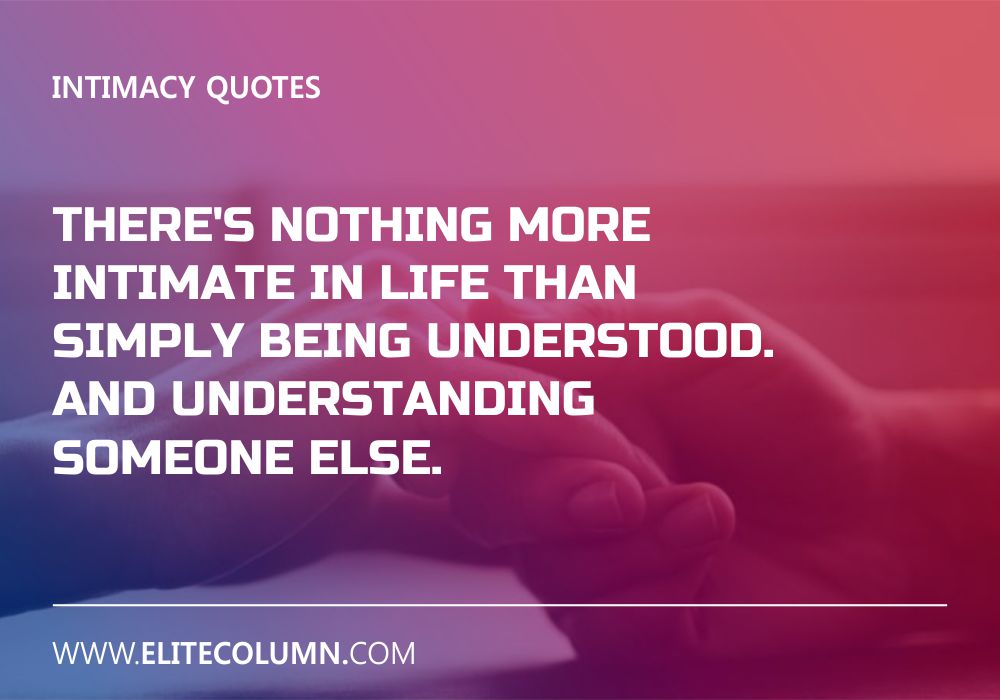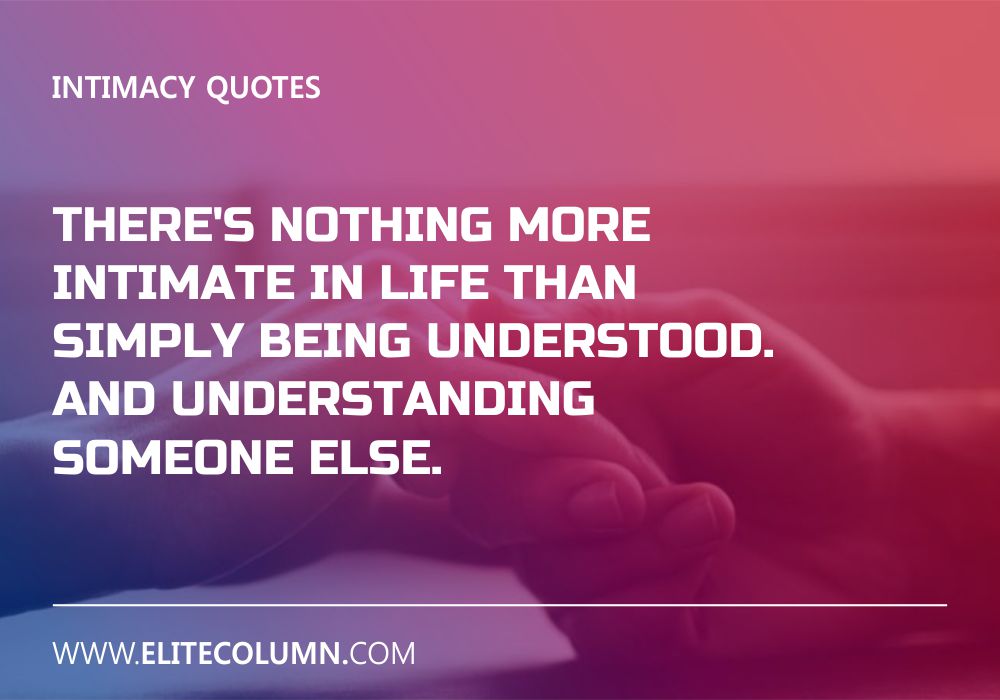 18. "There's nothing more intimate in life than simply being understood. And understanding someone else."
19. "The married are those who have taken the terrible risk of intimacy and, having taken it, know life without intimacy to be impossible" – Carolyn Heilbrun
20. "Intimacy requires courage because the risk is inescapable. We cannot know at the outset how the relationship will affect us" – Rollo May
21. "This is intimacy: the trading of stories in the dark" – Elizabeth Gilbert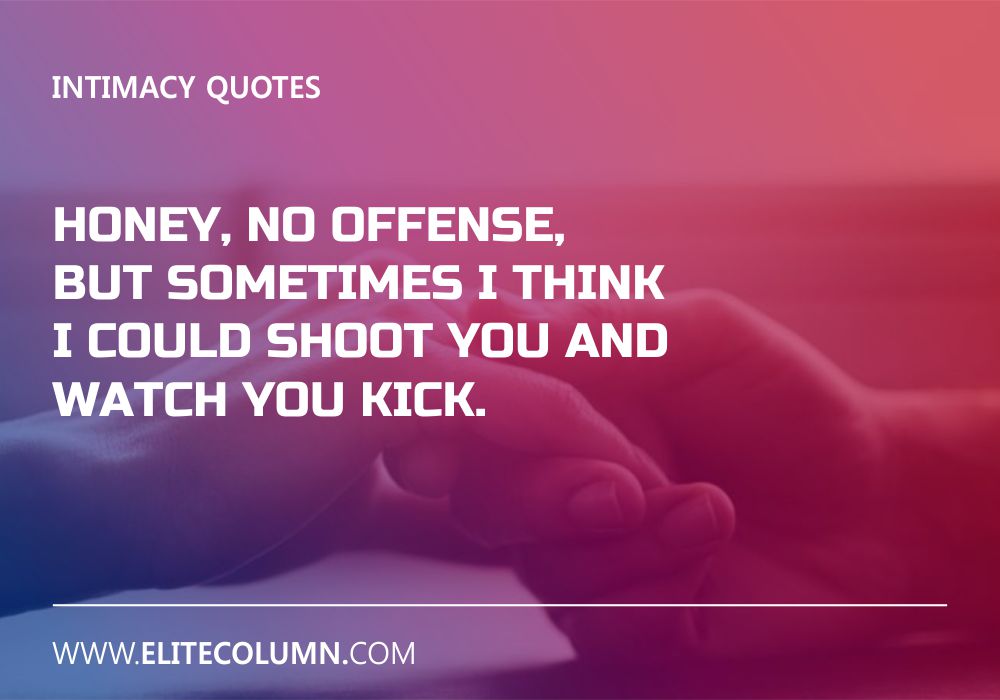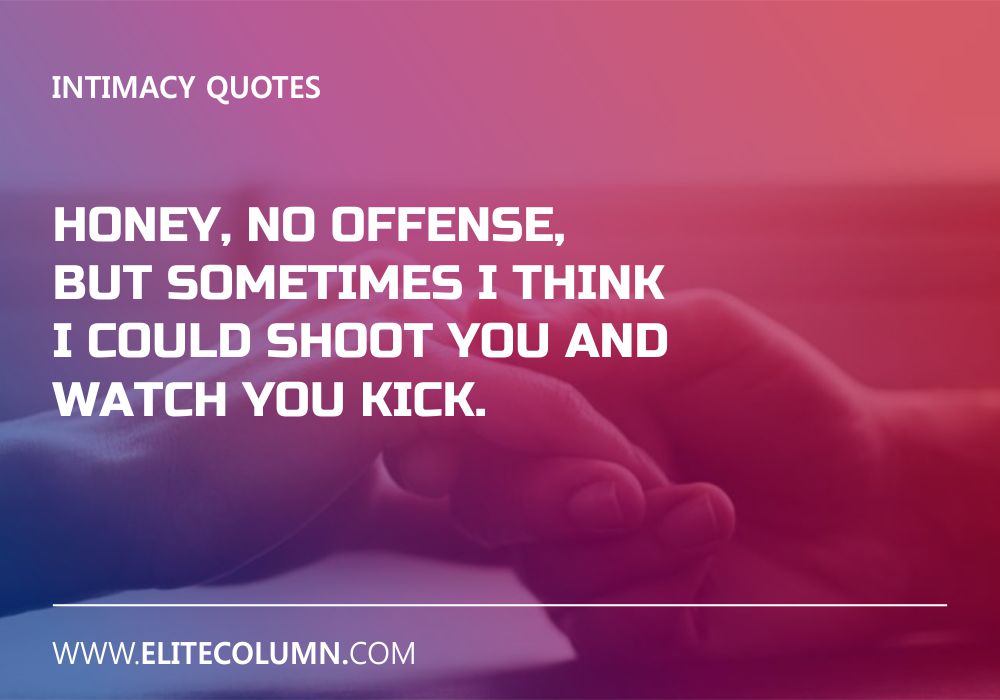 22. "Honey, no offense, but sometimes I think I could shoot you and watch you kick."
23. "Intimacy is not purely physical. It's the act of connecting with someone so deeply; you feel like you can see into their soul" – Reshall Varsos
24. "Two people making love, she once said, is like one drowned person resuscitating the other" – Anatole Broyard
25. "There are people one knows and people one doesn't. One shouldn't cheapen the former by feigning intimacy with the latter" – Tony Horwitz
See also:
Karma Quotes | Plato Quotes | Sun Tzu Quotes | Dalai Lama Quotes | Sadhguru Quotes | Confucius Quotes | Lao Tzu Quotes | Positive Quotes | Happiness Quotes | Inspirational Quotes | Life Quotes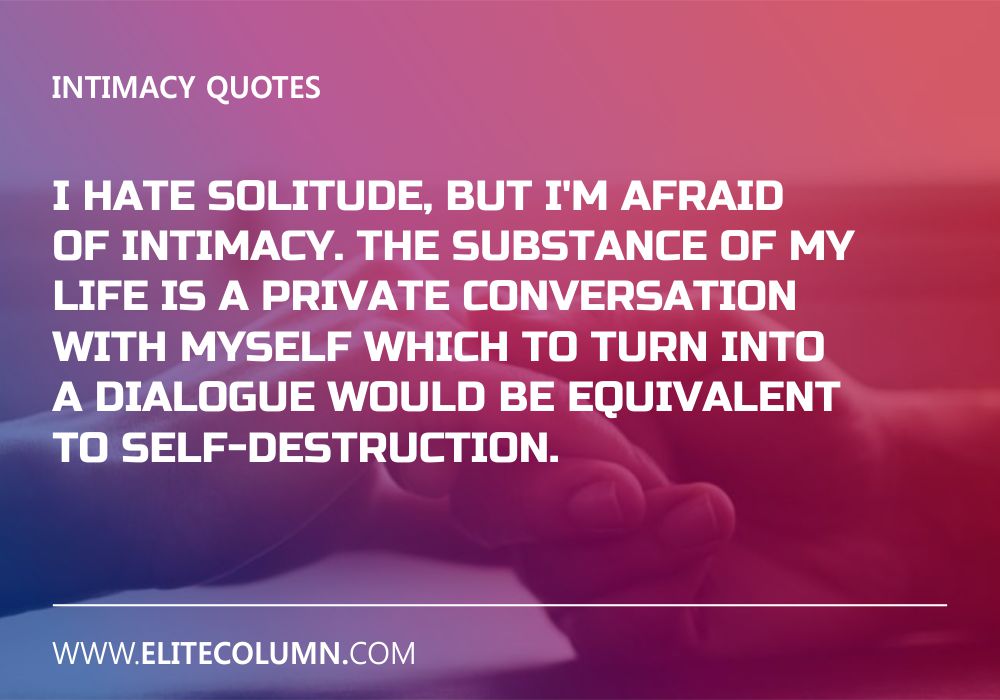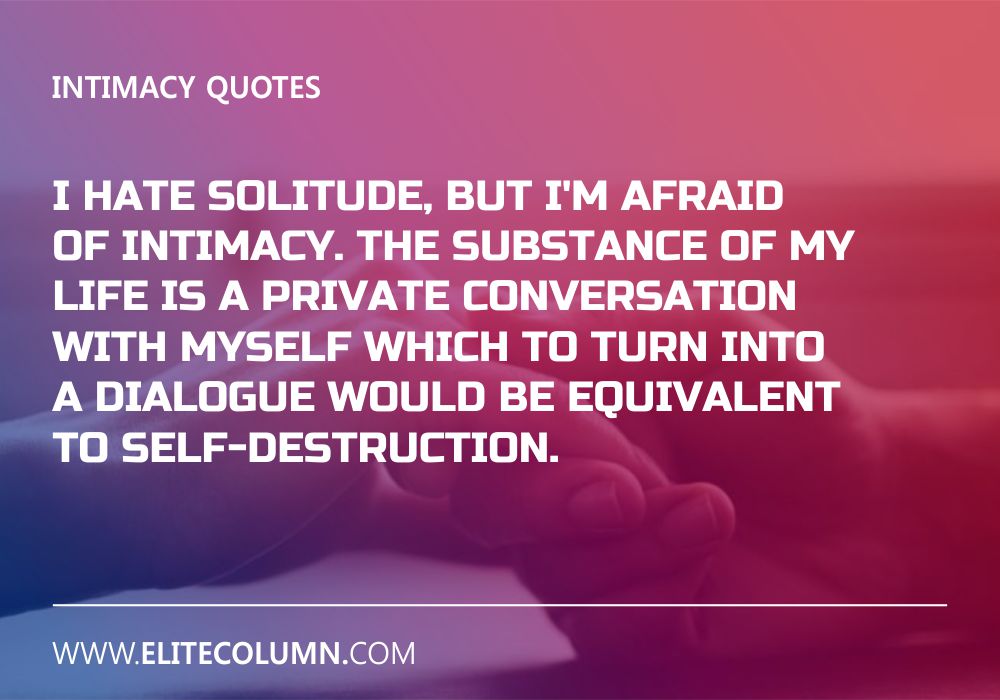 26. "I hate solitude, but I'm afraid of intimacy. The substance of my life is a private conversation with myself which to turn into a dialogue would be equivalent to self-destruction."
27. "The deepest moments of intimacy occur when you're not talking" – Patricia Love
28. "Love is like breathing. You take it in and let it out" – Wally Lamb
29. "Intimacy is a totally different dimension. It is allowing the other to come into you, to see you as you see yourself" – Osho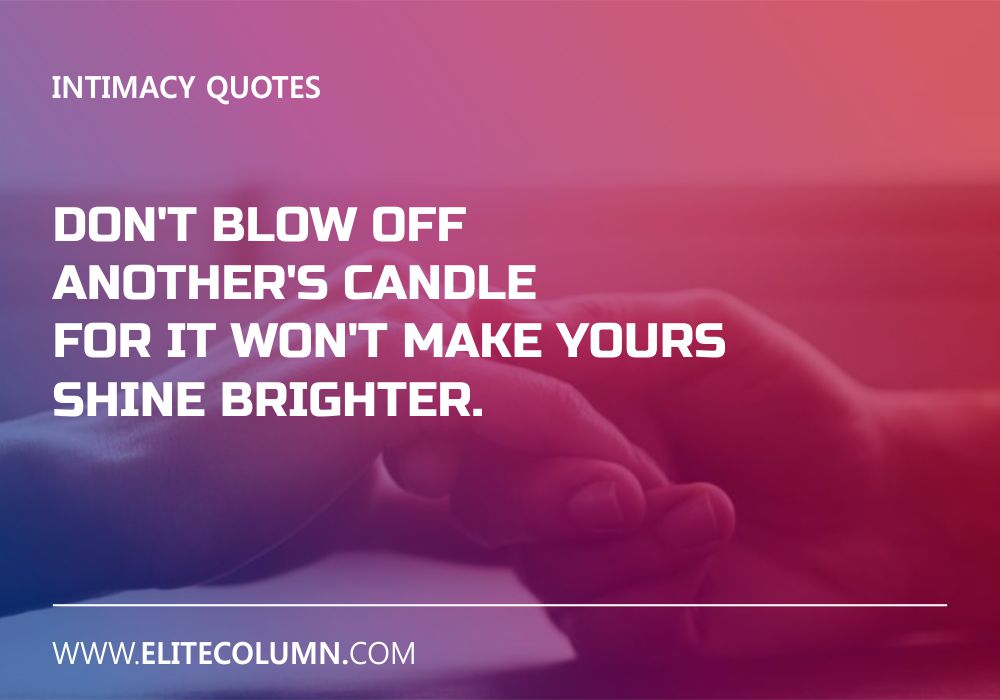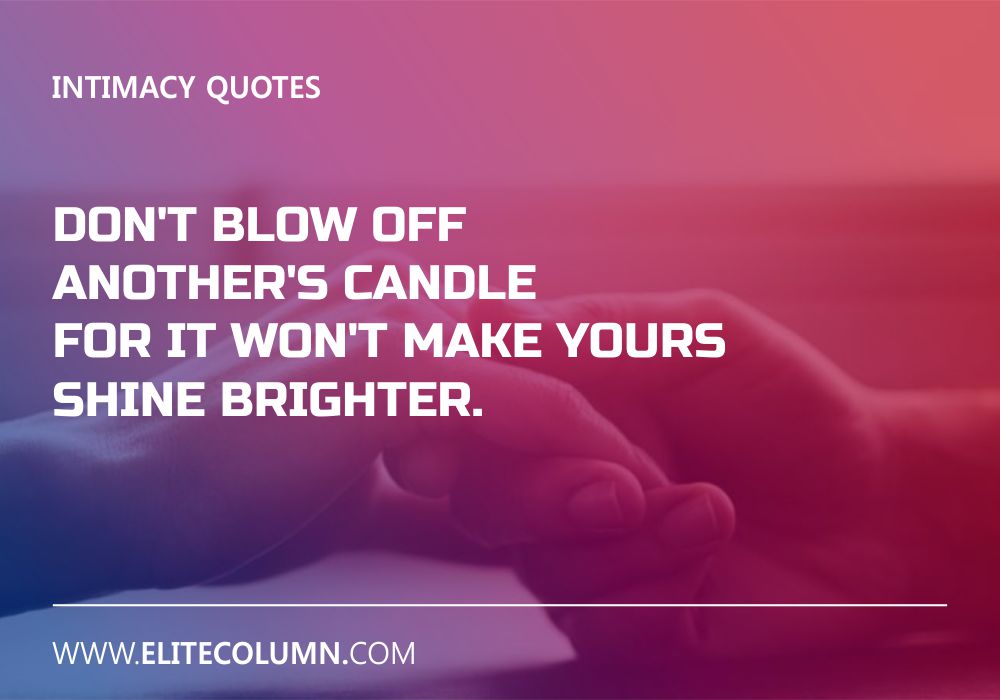 30. "Don't blow off another's candle for it won't make yours shine brighter."
31. "To grow in our ability to love ourselves we need to receive love as well" – John Gray
32. "The real heroes anyway aren't the people doing things; the real heroes are the people NOTICING things, paying attention" – John Green
33. "I taste him, and I realize I have been starving" – Jodi Picoult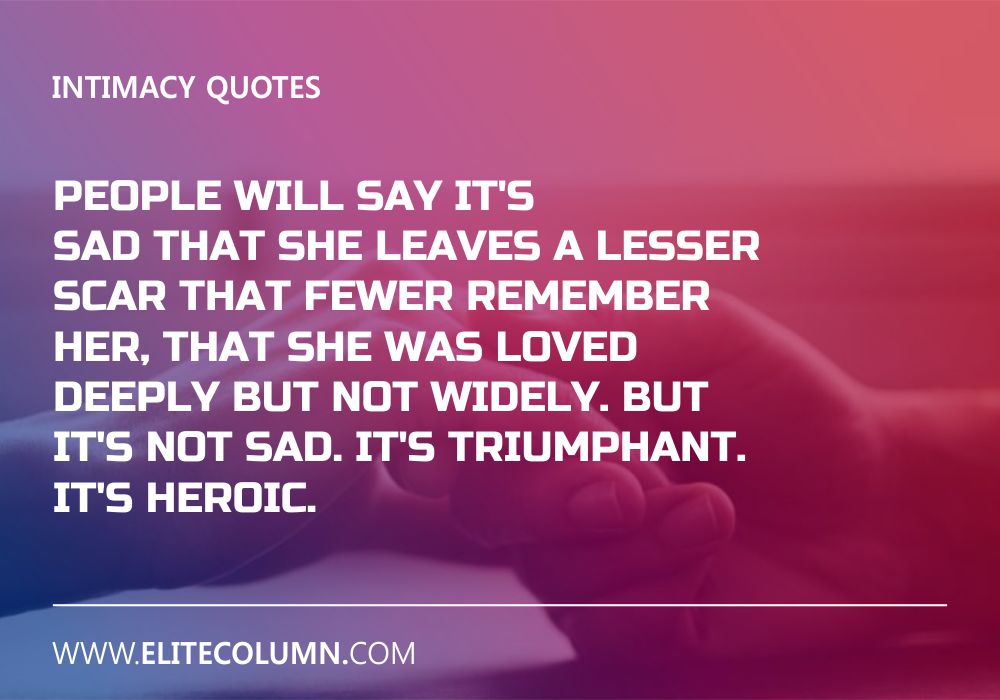 34. "People will say it's sad that she leaves a lesser scar that fewer remember her, that she was loved deeply but not widely. But it's not sad. It's triumphant. It's heroic."
35. "He showed me his scars, and in return he let me pretend that I had none" – Madeline Miller
36. "There's nothing more intimate in life than simply being understood. And understanding someone else" – Brad Meltzer
37. "The opposite of loneliness is not togetherness, it's Intimacy" – Richard Bach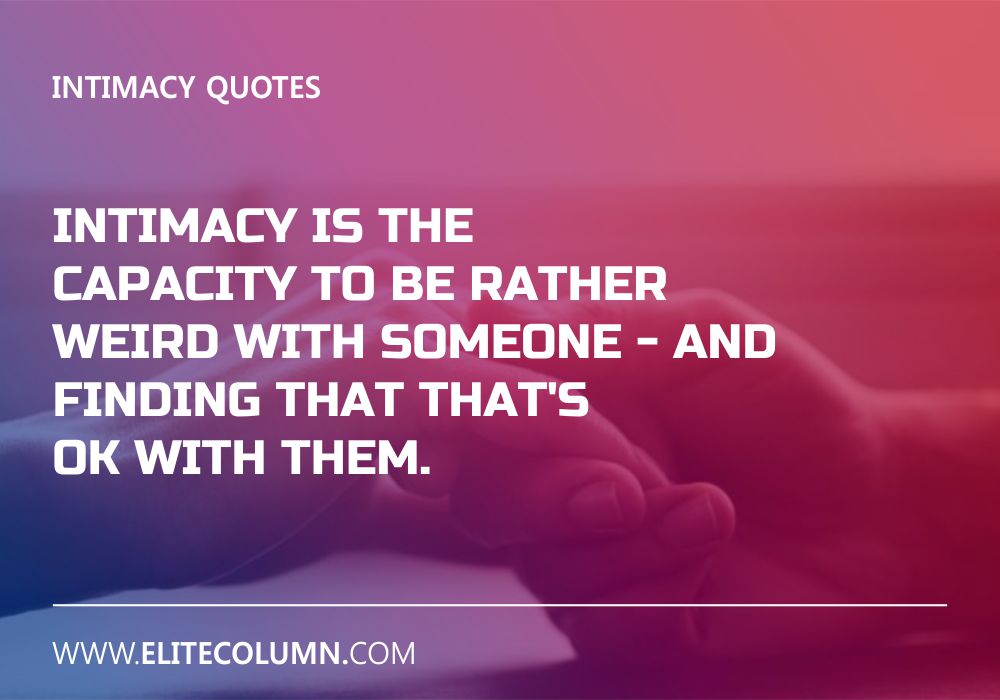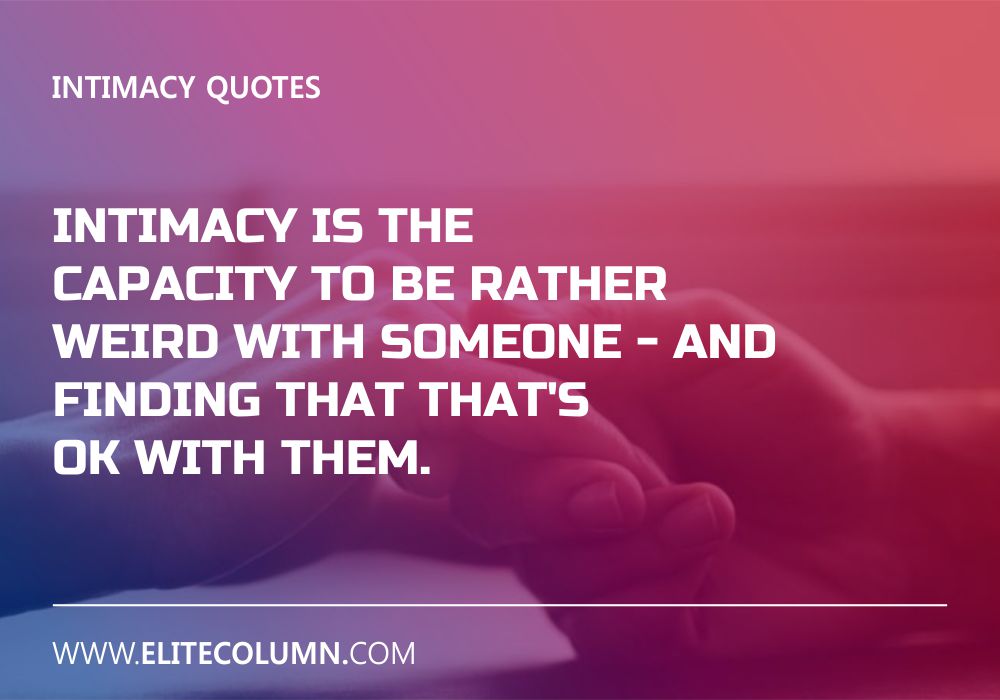 38. "Intimacy is the capacity to be rather weird with someone – and finding that that's ok with them."
39. "Intimacy doesn't have all that much to do with back seats of cars. Real intimacy is brushing your teeth together" – Gabrielle Zevin
40. "Those who have never known the deep intimacy and the intense companionship of mutual love have missed the best thing that life has to give" – Bertrand Russell
41. "The need for love and intimacy is a fundamental human need, as primal as the need for food, water, and air" – Dean Ornish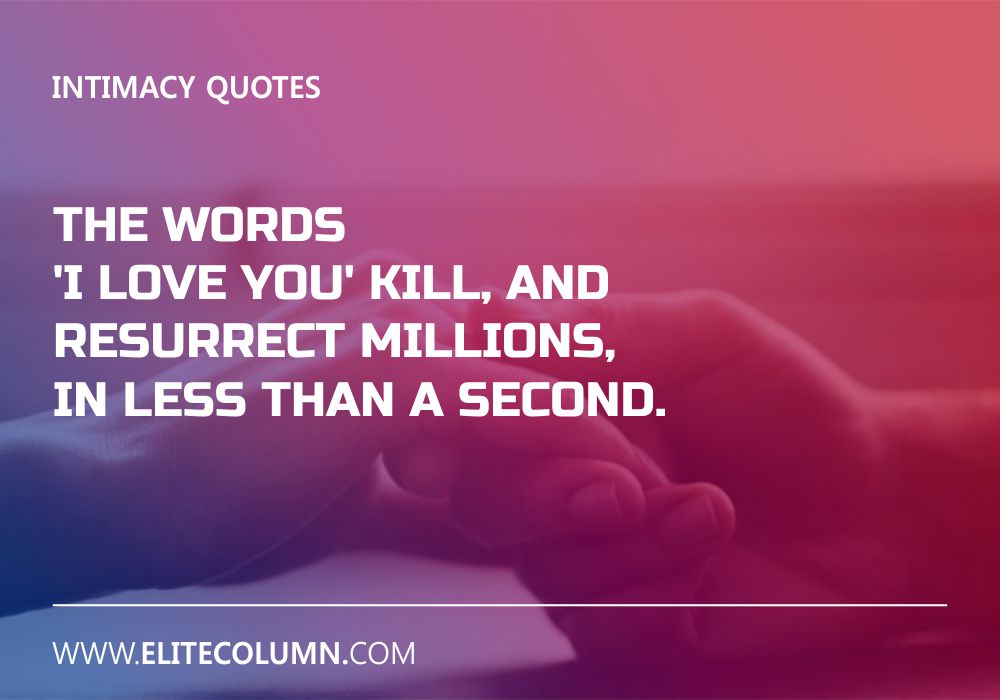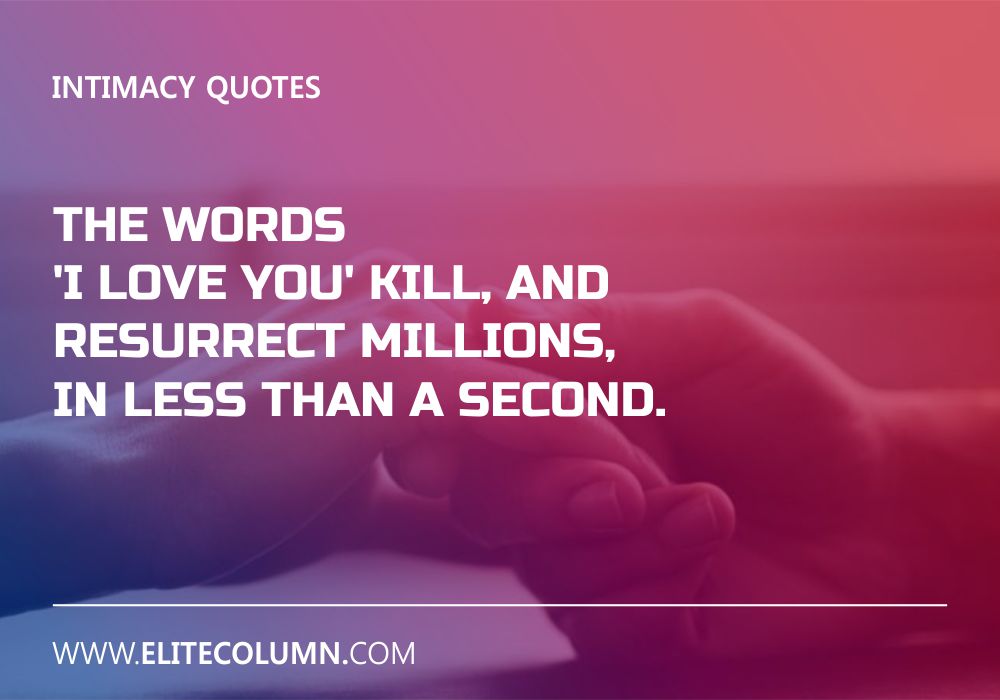 42. "The words 'I Love You' kill, and resurrect millions, in less than a second."
43. "They slipped briskly into an intimacy from which they never recovered" – Scott Fitzgerald
44. "My great hope is to laugh as much as I cry; to get my work done and try to love somebody and have the courage to accept the love in return" – Maya Angelou
45. "Passion is the quickest to develop, and the quickest to fade. Intimacy develops more slowly, and commitment more gradually still" – Robert Sternberg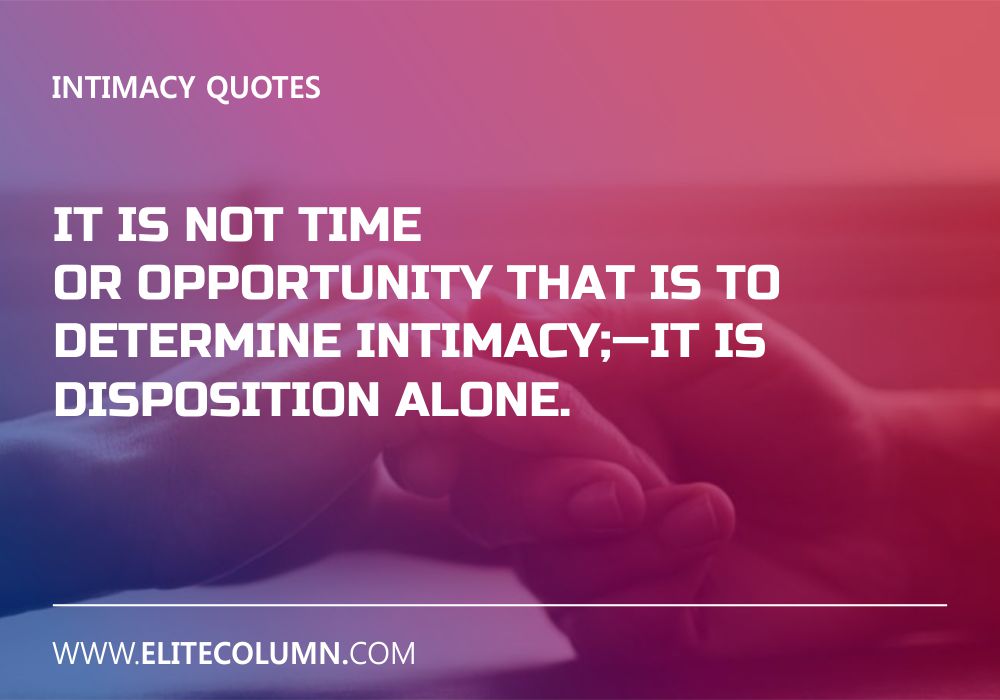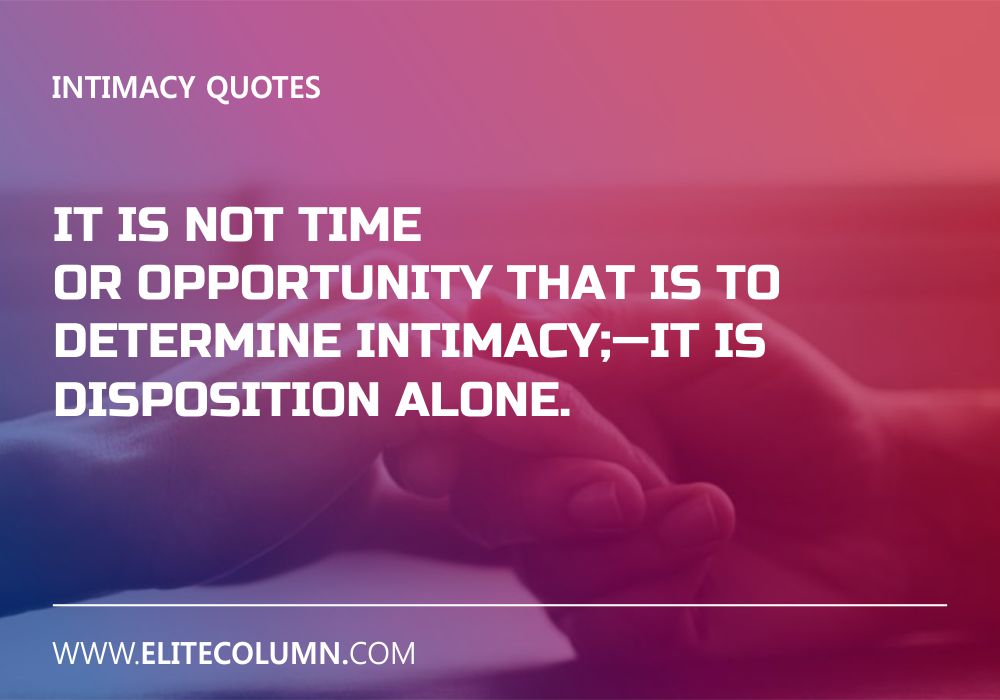 46. "It is not time or opportunity that is to determine intimacy; – it is disposition alone."
47. "Intimacy is being seen and known as the person you truly are" – Amy Bloom
48. "If fear is the great enemy of intimacy, love is its true friend" – Henri Nouwen
Thanks for checking out the best Intimacy quotes. Feel free to share the quotes with your friends. Leave a comment below and which are your favorite Intimacy quotes ?
See also:
Music Quotes | Rebellious Quotes | Smile Quotes | Relationship Quotes | Woman Quotes | Heartbreak Quotes | Growing Up Quotes
You can find us at – Facebook | Instagram | LinkedIn | Pinterest | Twitter