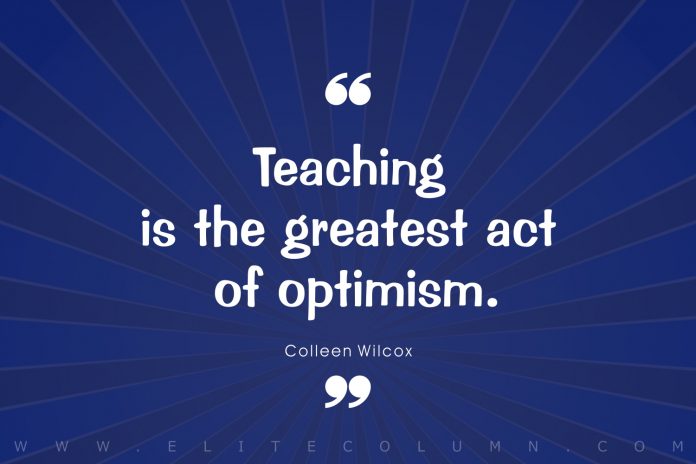 Check out 40 Inspirational Quotes for Teachers today.
40 Best Inspirational Quotes for Teachers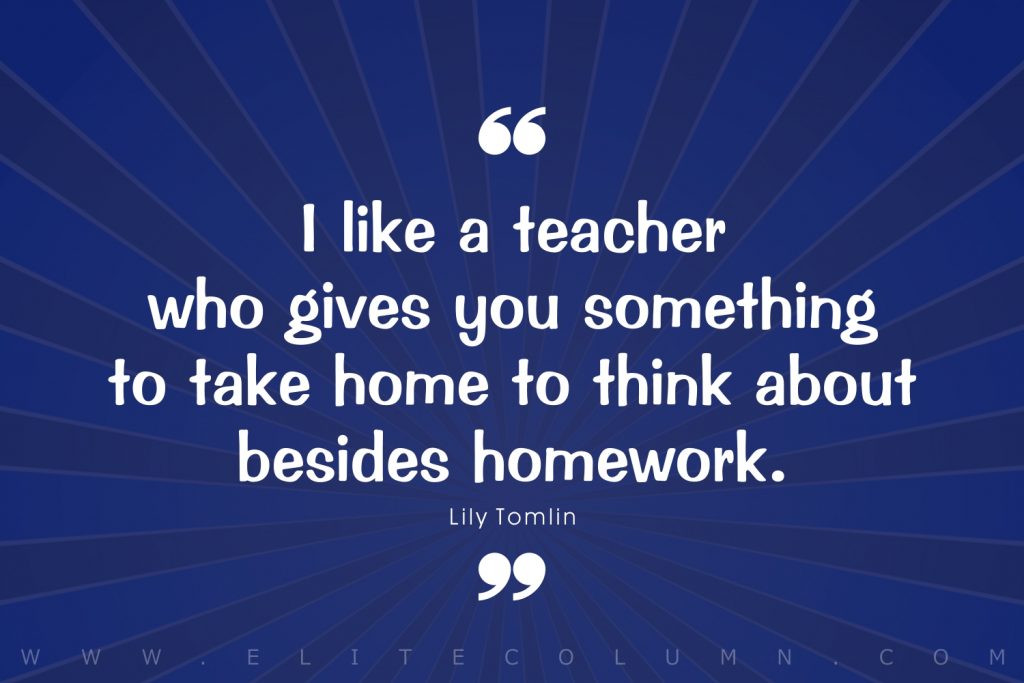 1. "I like a teacher who gives you something to take home to think about besides homework." – Lily Tomlin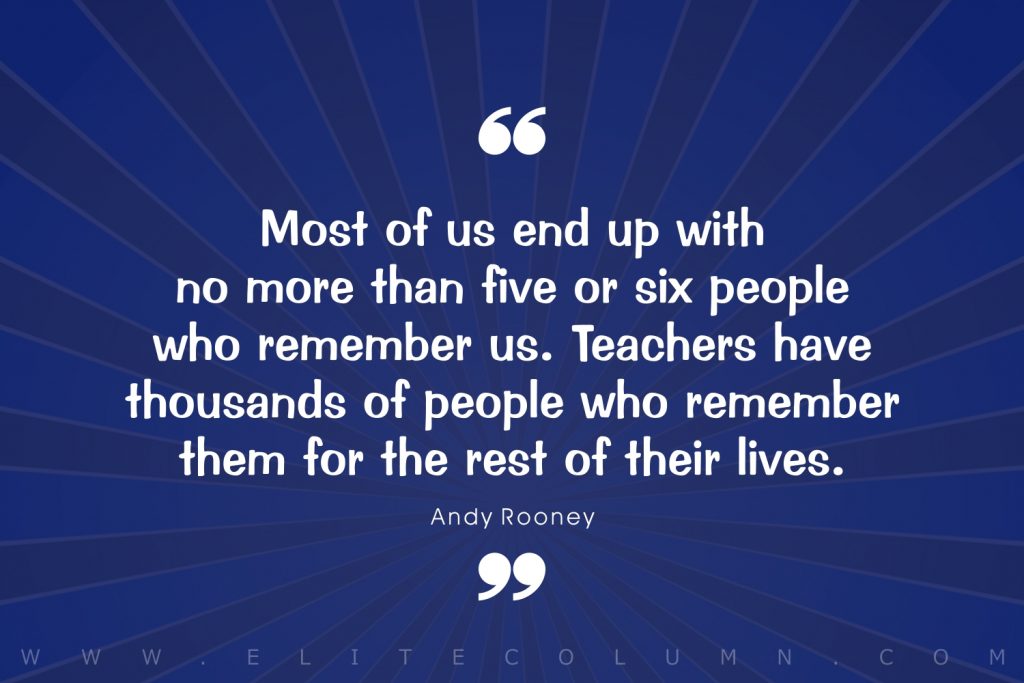 2. "Most of us end up with no more than five or six people who remember us. Teachers have thousands of people who remember them for the rest of their lives." – Andy Rooney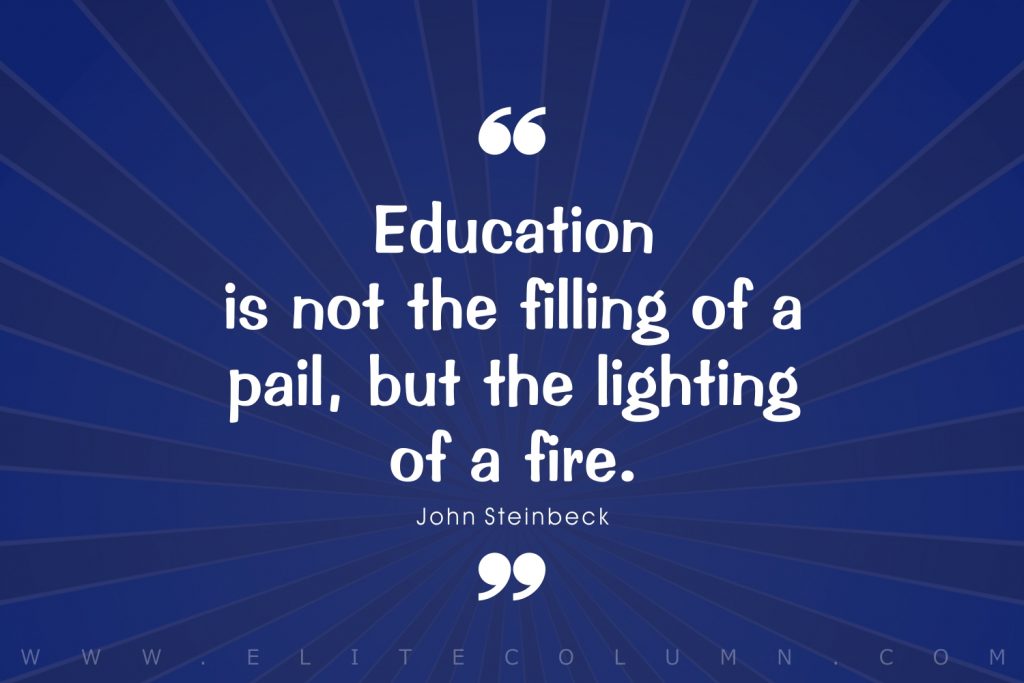 3. "Education is not the filling of a pail, but the lighting of a fire." – John Steinbeck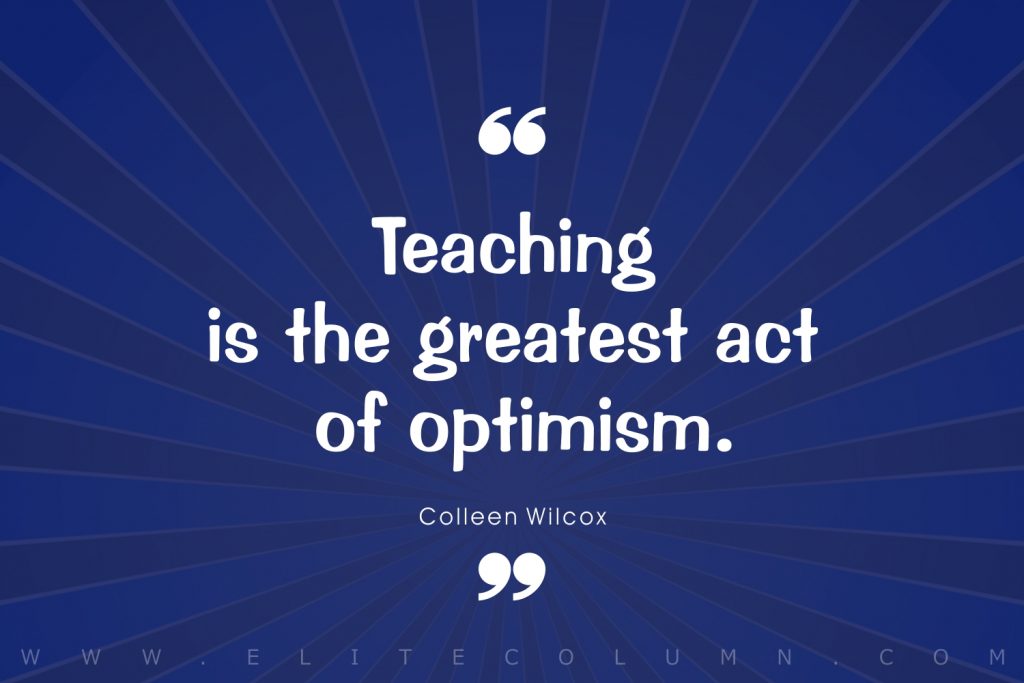 4. "Teaching is the greatest act of optimism." – Colleen Wilcox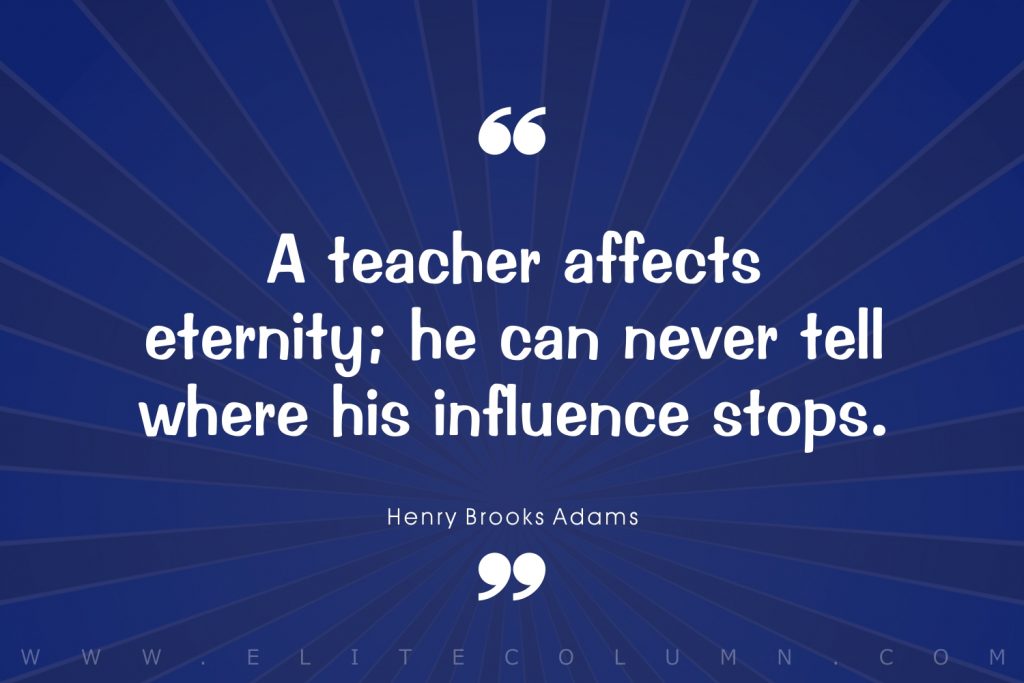 5. "A teacher affects eternity; he can never tell where his influence stops." – Henry Brooks Adams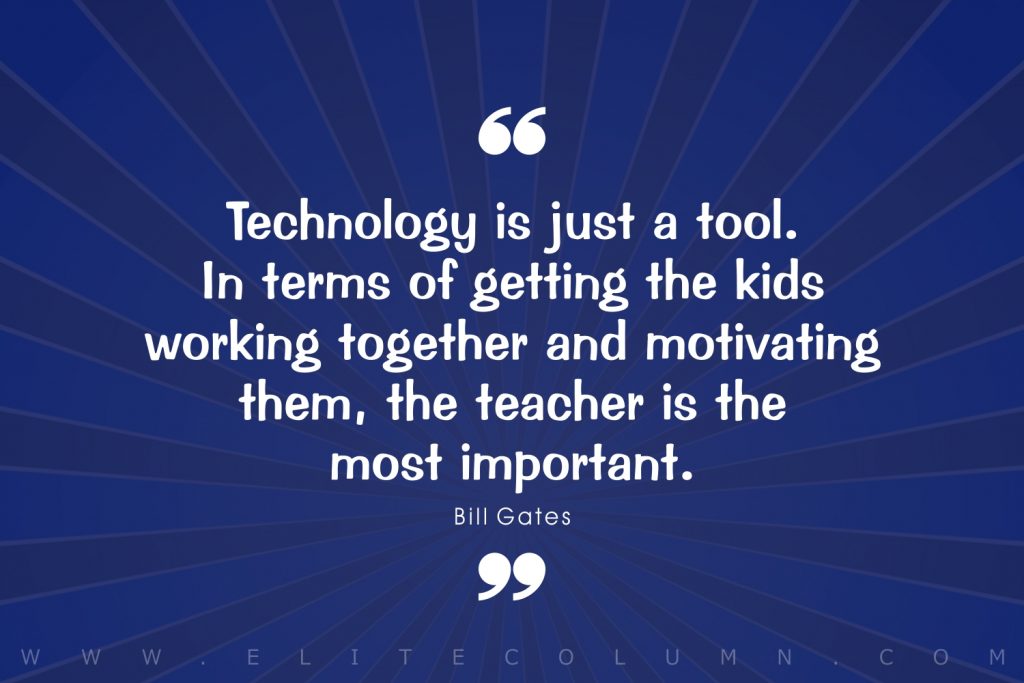 See also:
Healing Quotes | Prayer Quotes | Cousin Quotes | Reading Quotes | Thinking Quotes | Self Respect Quotes | Parenting Quotes | Entrepreneur Quotes | Mind Quotes
6. "Technology is just a tool. In terms of getting the kids working together and motivating them, the teacher is the most important." – Bill Gates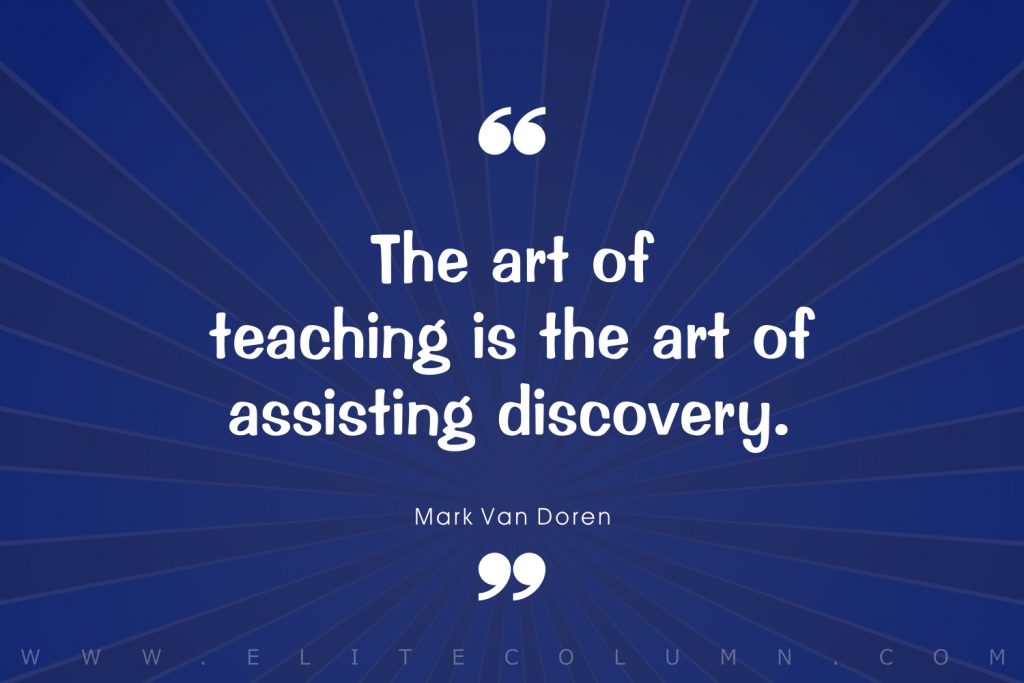 7. "The art of teaching is the art of assisting discovery." – Mark Van Doren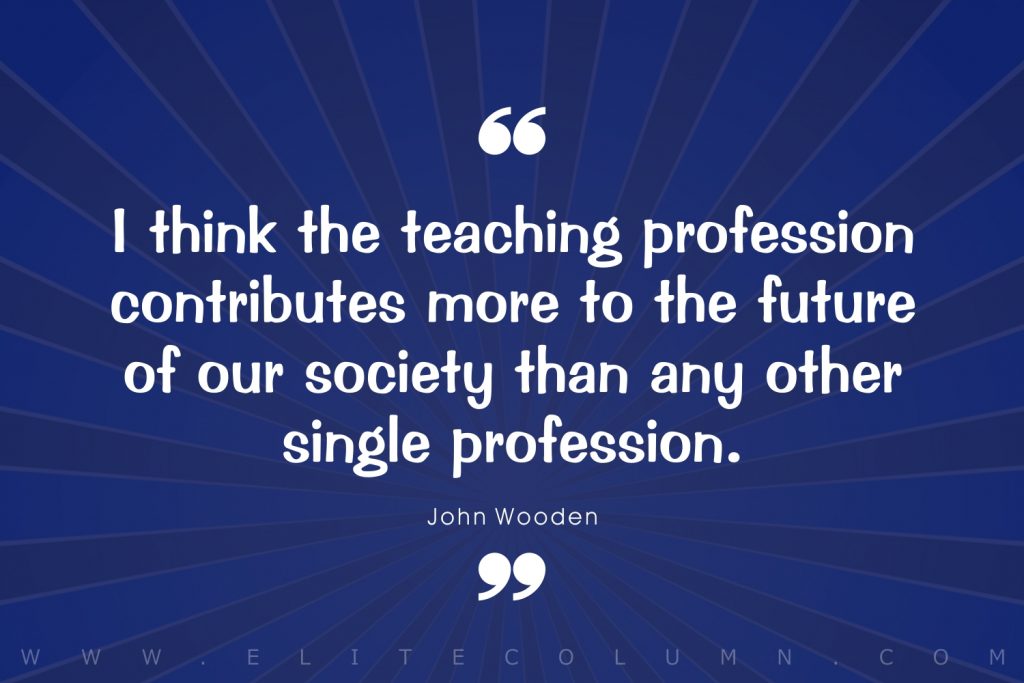 8. "I think the teaching profession contributes more to the future of our society than any other single profession." – John Wooden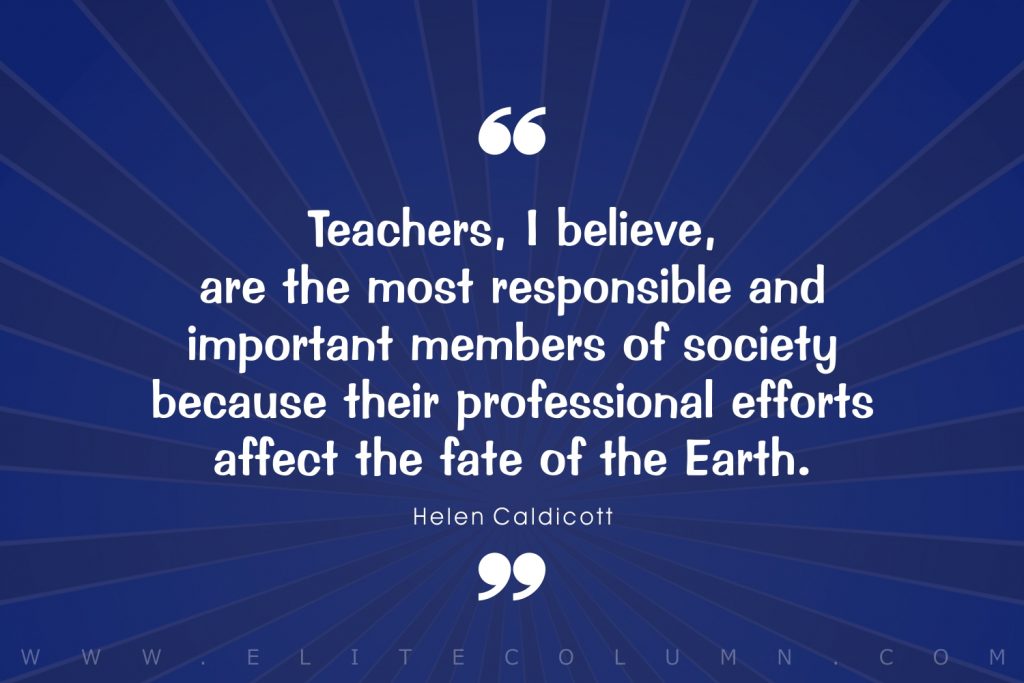 9. "Teachers, I believe, are the most responsible and important members of society because their professional efforts affect the fate of the Earth." – Helen Caldicott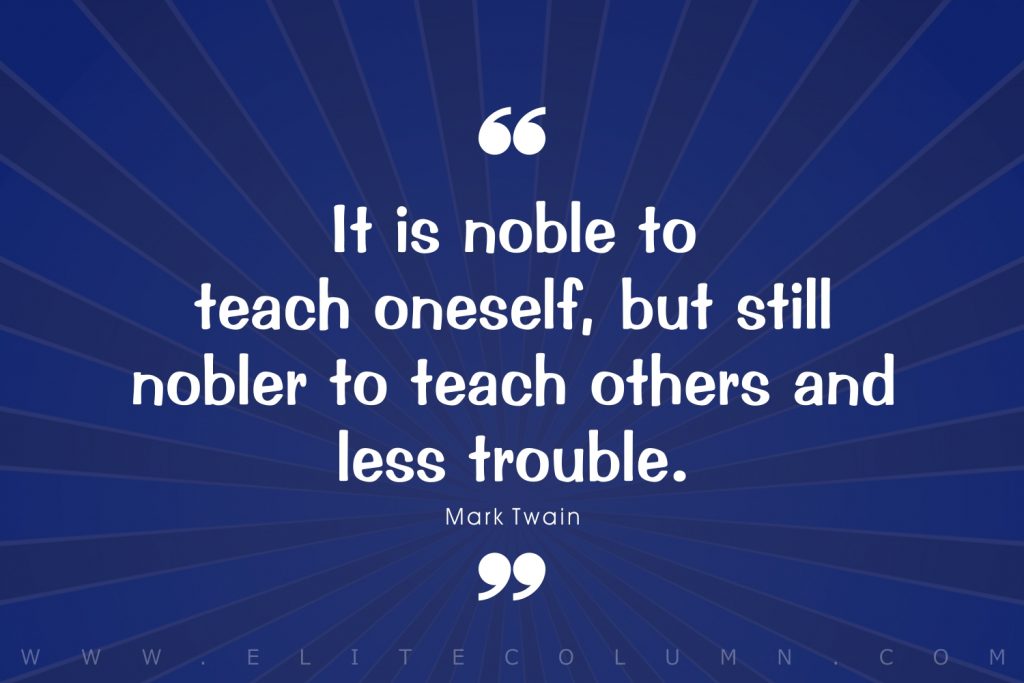 10. "It is noble to teach oneself, but still nobler to teach others and less trouble." – Mark Twain
11. "I cannot teach anybody anything, I can only make them think." – Socrates
12. "Remember that failure is an event, not a person." – Zig Ziglar
13. "Learning is not a spectator sport." – D. Blocher
14. "Never discourage anyone…who continually makes progress, no matter how slow." – Plato
15. "I am not a teacher, but an awakener." – Robert Frost
16. "Teaching kids to count is fine, but teaching them what counts is best." – Bob Talbert
17. "If a child can't learn the way we teach, maybe we should teach the way they learn." – Ignacio
18. "You are the bows from which your children as living arrows are sent forth." – Khalil Gibran
19. "In a completely rational society, the best of us would be teachers and the rest of us would have to settle for something less." – Lee Iacocca
20. "I never teach my pupils. I only attempt to provide the conditions in which they can learn." – Einstein
21. "Education breeds confidence. Confidence breeds hope. Hope breeds peace." – Confucius
22. "There is a great difference between knowing and understanding: you can know a lot about something and not really understand it." – Charles F. Kettering
23. "Opportunity is missed by most people because it is dressed in overalls and looks like work." – Thomas Edison
24. "You can't direct the wind but you can adjust the sails." – Anonymous
25. "Spoon feeding in the long run teaches us nothing but the shape of the spoon." – E. M. Forster
26. "The true teacher defends his pupils against his own personal influence." – Amos Bronson Alcott
27. "What we want is to see the child in pursuit of knowledge, and not knowledge in pursuit of the child." – George Bernard Shaw
28. "We're trying to give the young people something that can help them, and we don't know exactly what it ought to be." – Wendell Berry
29. "Good teaching is one-fourth preparation and three-fourths theater." – Gail Goldwin
30. "Teaching is not a lost art, but the regard for it is a lost tradition." – Jacques Barzun
31. "Education is not the filling of a pail, but the lighting of a fire." – William Butler Yeats
32. "The mediocre teacher tells. The good teacher explains. The superior teacher demonstrates. The great teacher inspires." – William Ward
33. "Everything should be made as simple as possible, but not simpler." – Einstein
34. "The next best thing to knowing something is knowing where to find it" – Samuel Johnson
35. "The eye sees only what the mind is prepared to comprehend." – Henri Bergson
36. "What the teacher is, is more important than what he teaches." – Karl Meninger
37. "If we teach today's students as we taught yesterday's, we rob them of tomorrow." – John Dewey
38. "I'm not sayin' I'm gonna change the world, but I guarantee that I will spark the brain that will." – Tupac Shakur
39. "You cannot teach a crab to walk straight." – Aristophenes
40. "Students don't care how much you know until they know how much you care." – Anonymous
Thanks for checking out the best Inspirational Quotes for Women. Feel free to share the quotes with your friends. Leave a comment below and which are your favourite Inspirational Quotes for Women ?
See also:
Inspirational Quotes for Girls | Inspirational Quotes for Men | Inspirational Quotes for Children | Inspirational Quotes for Kids | Inspirational Quotes for Students | Inspirational Quotes for Work | Inspirational Quotes for Women
You can find us at – Facebook | Instagram | LinkedIn | Pinterest | Twitter