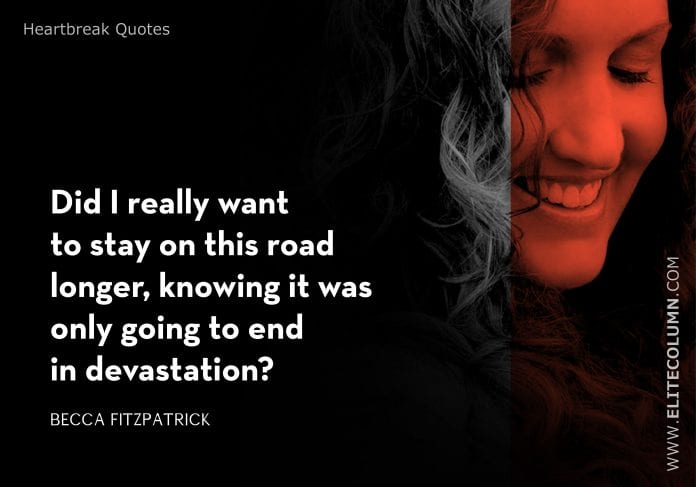 A break up is a huge event in someone's life. The longer the relationship was, the harder the breakup usually is. The end of a relationship is usually met with a wide range of emotions that can include sadness, anger, and feelings of hopelessness and heartbreak. For others, a breakup can be a relief. Heartbreak Quotes will help you feel better. EliteColumn brings you hand-picked Heartbreak quotes.
62 Heartbreak Quotes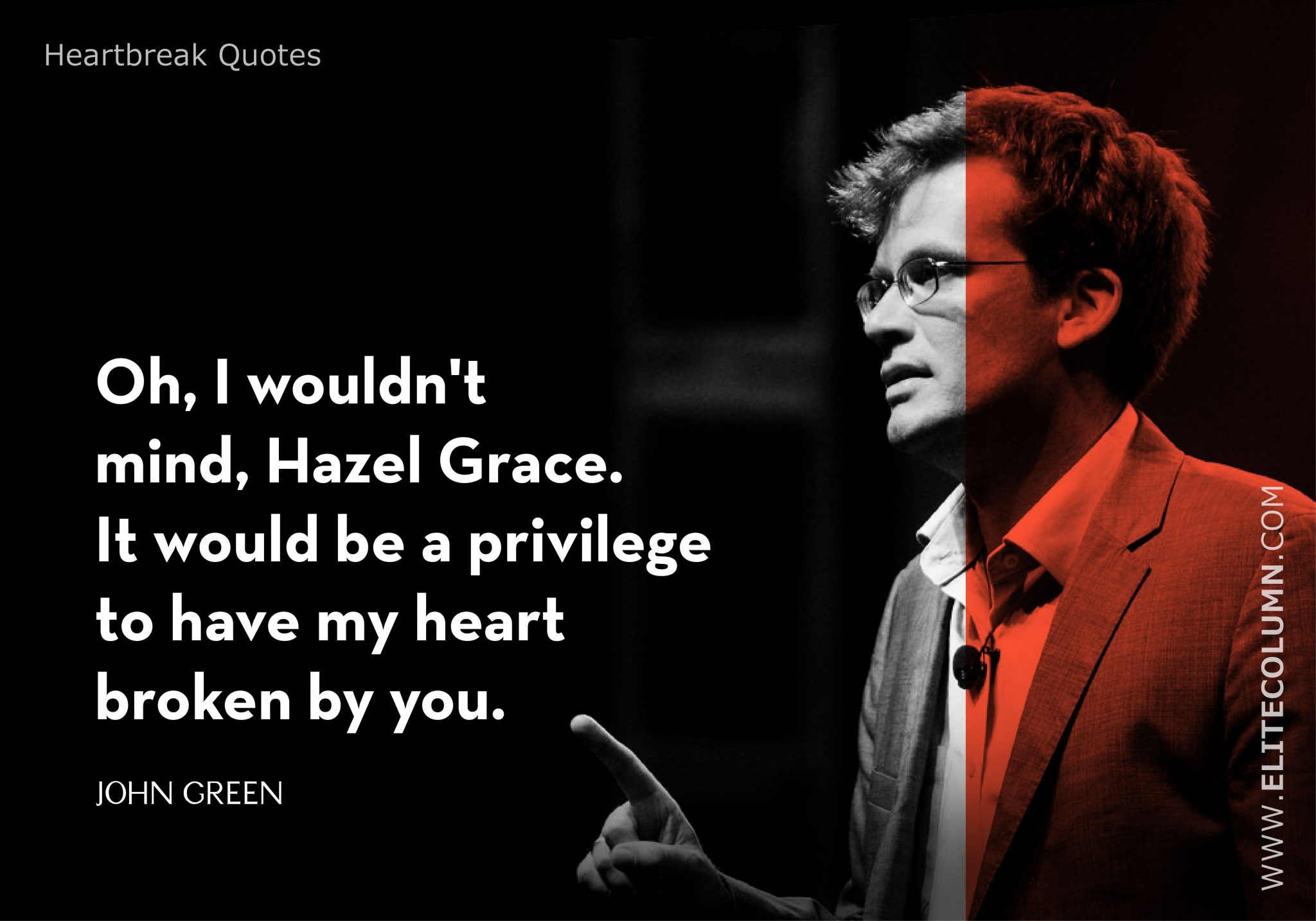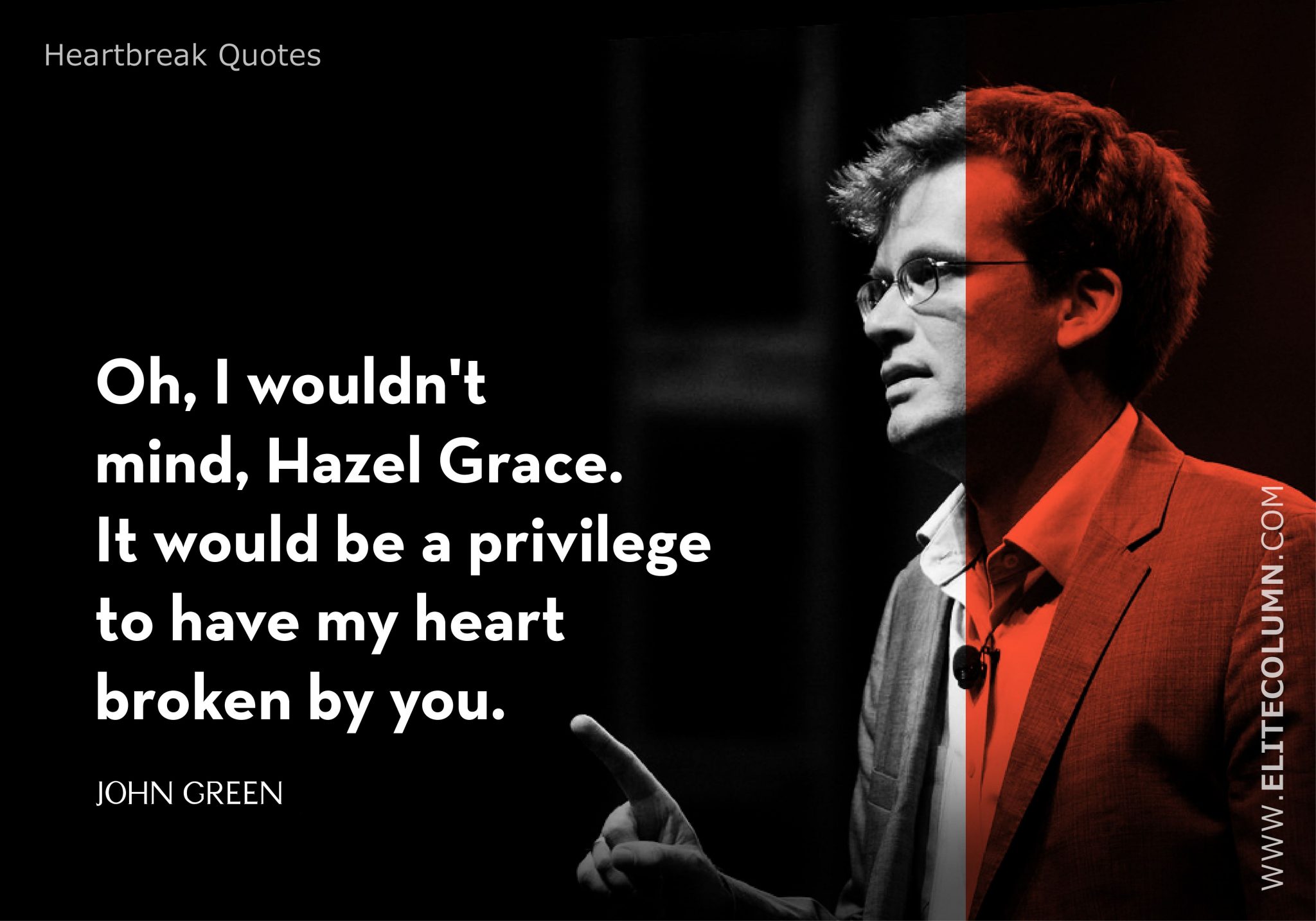 "Oh, I wouldn't mind, Hazel Grace. It would be a privilege to have my heart broken by you." – John Green
2. "You didn't just cheat on me; you cheated on us. You didn't just break my heart; you broke our future." – Steve Maraboli
3. "I had someone once who made every day mean something. And now, I am lost… And nothing means anything anymore." – Ranata Suzuki
4. "Broken heart will turn into a stronger one within hope." – Toba Beta
5. "My heart sobbed a lament that was hard to ignore." – Katie MacAlister
6. "Every time your heart is broken, a doorway cracks open to a world full of new beginnings, new opportunities." – Patti Roberts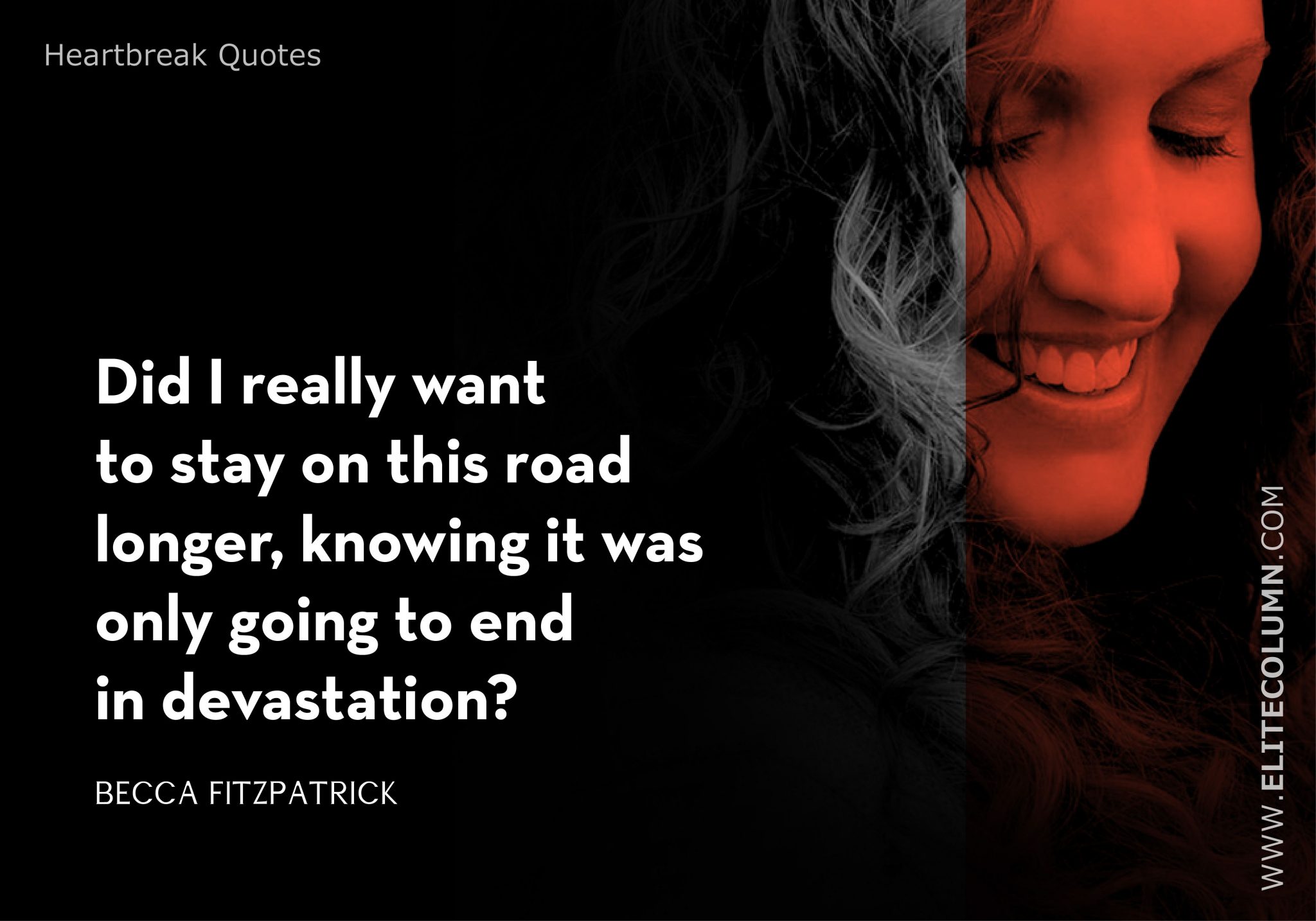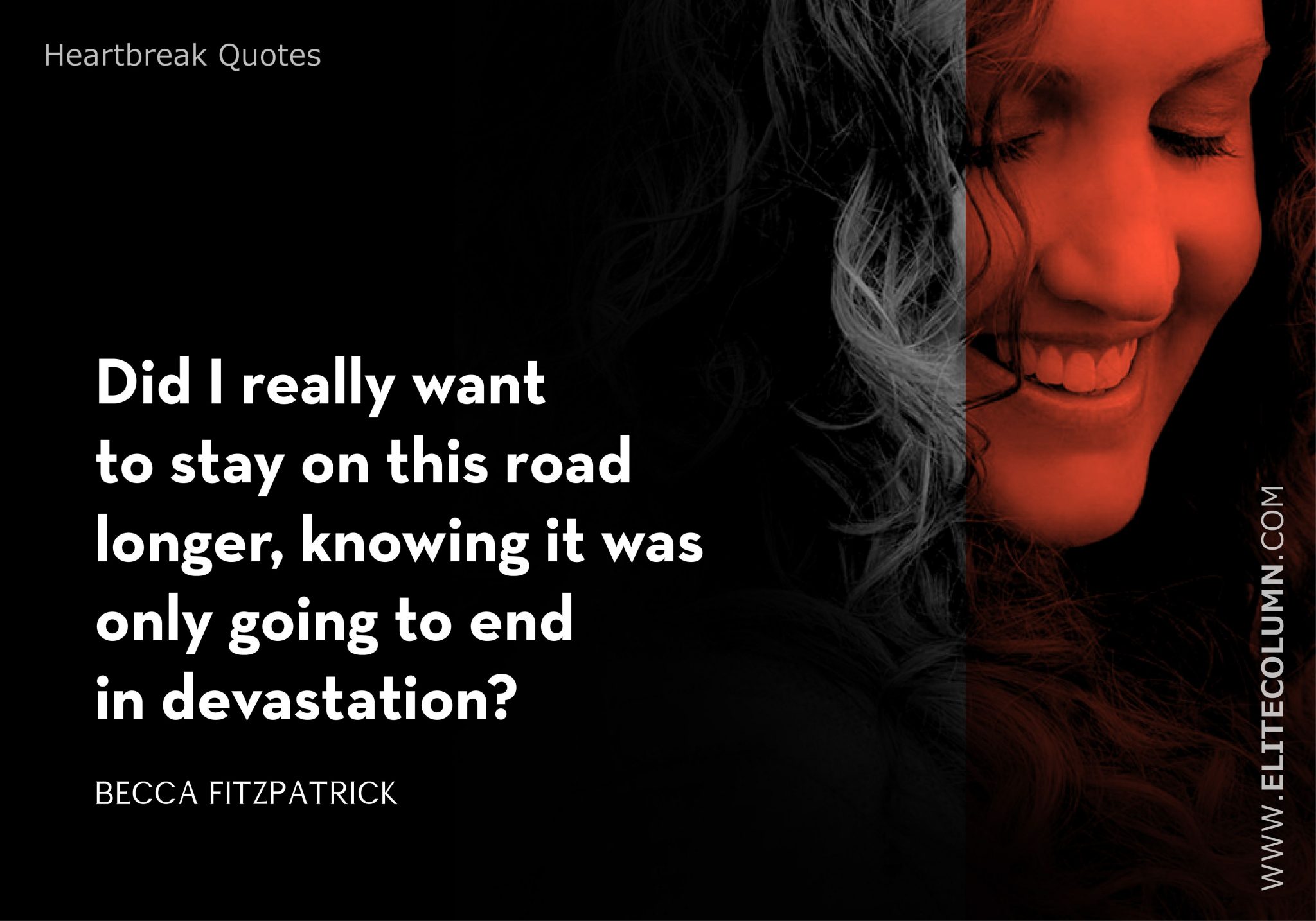 7. "Did I really want to stay on this road longer, knowing it was only going to end in devastation?" – Becca Fitzpatrick
8. "Love is hard to find, hard to keep, and hard to forget." – Alysha Speer
9. "This time I wouldn't forget him, because I couldn't ever forgive him, for breaking my heart twice." – James Patterson
10. "Until this moment, I had not realized that someone could break your heart twice, along the very same fault lines." – Jodi Picoult
11. "Heartbreak could be lived with if it weren't accompanied by regret." – Laura Kasischke
12. "I'm not crying because of you; you're not worth it. I'm crying because my delusion of who you were was shattered by the truth of who you are." – Steve Maraboli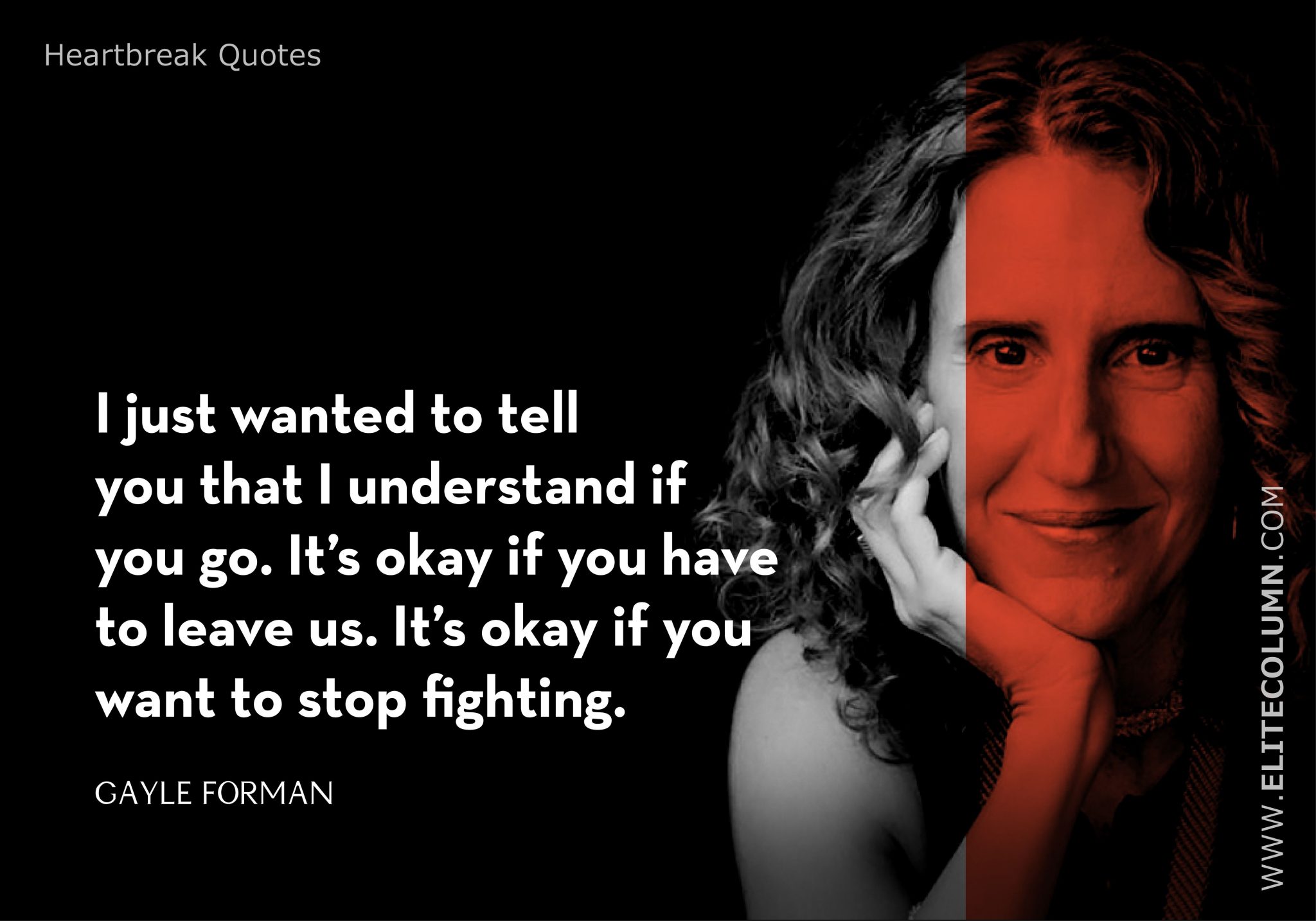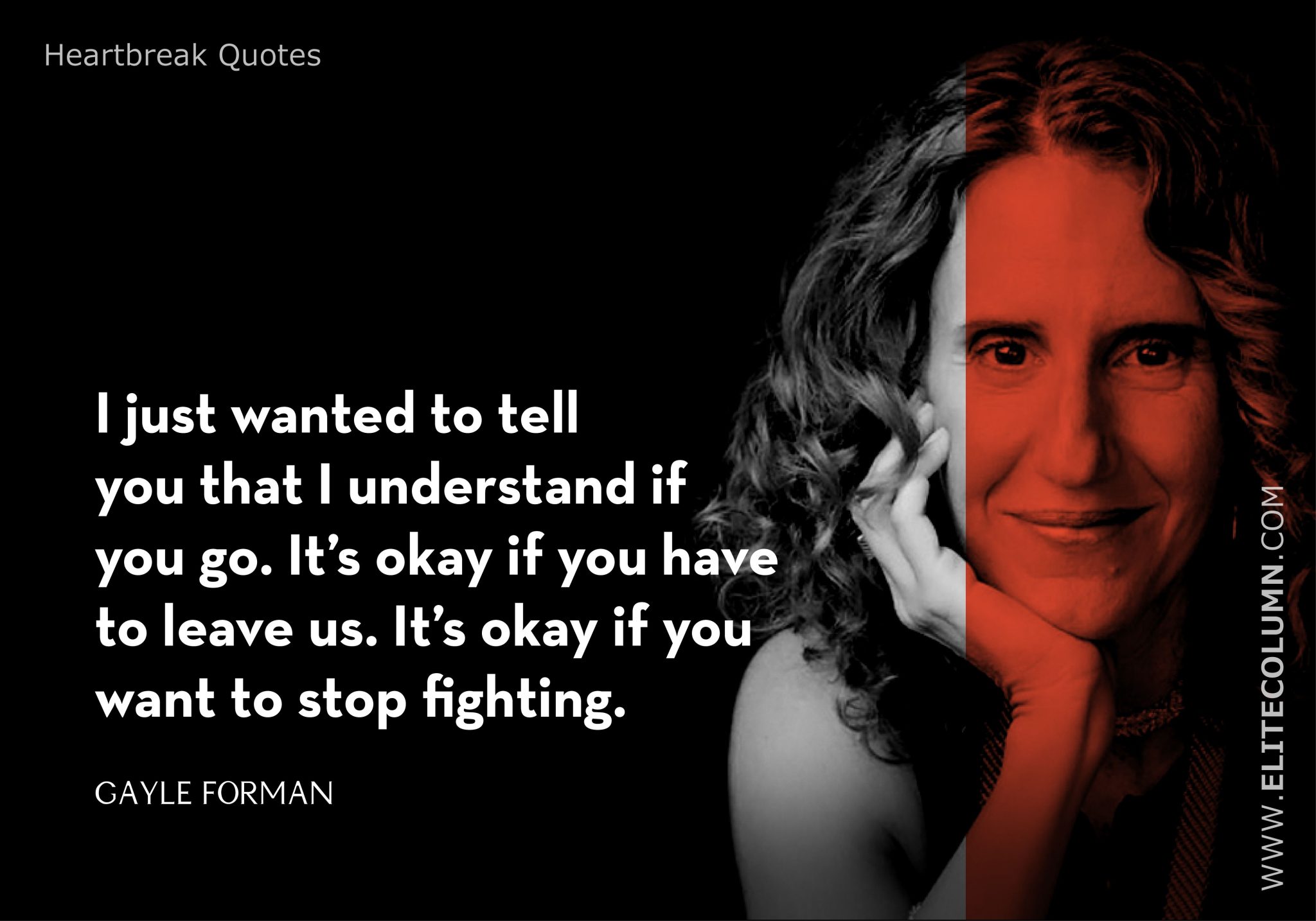 13. "I just wanted to tell you that I understand if you go. It's okay if you have to leave us. It's okay if you want to stop fighting." – Gayle Forman
14. "A broken heart is just the growing pains necessary so that you can love more completely when the real thing comes along." – J.S.B. Morse
15. "Heaven doesn't ignore cries of a broken heart." – Toba Beta
16. "Sometimes you have to give the hurt a noise and let it out. If you don't, it fills you up with its emptiness." – Kiera Cass
17. "Every poem that I've created was yours. I thought they were mine, but they were yours. And I wish I could've kept them. And I wish I could've kept you." – Juansen Dizon
18. "Sometimes, the only soul that can mend a broken heart is the one that broke it. For they are the ones holding all the pieces." – Patti Roberts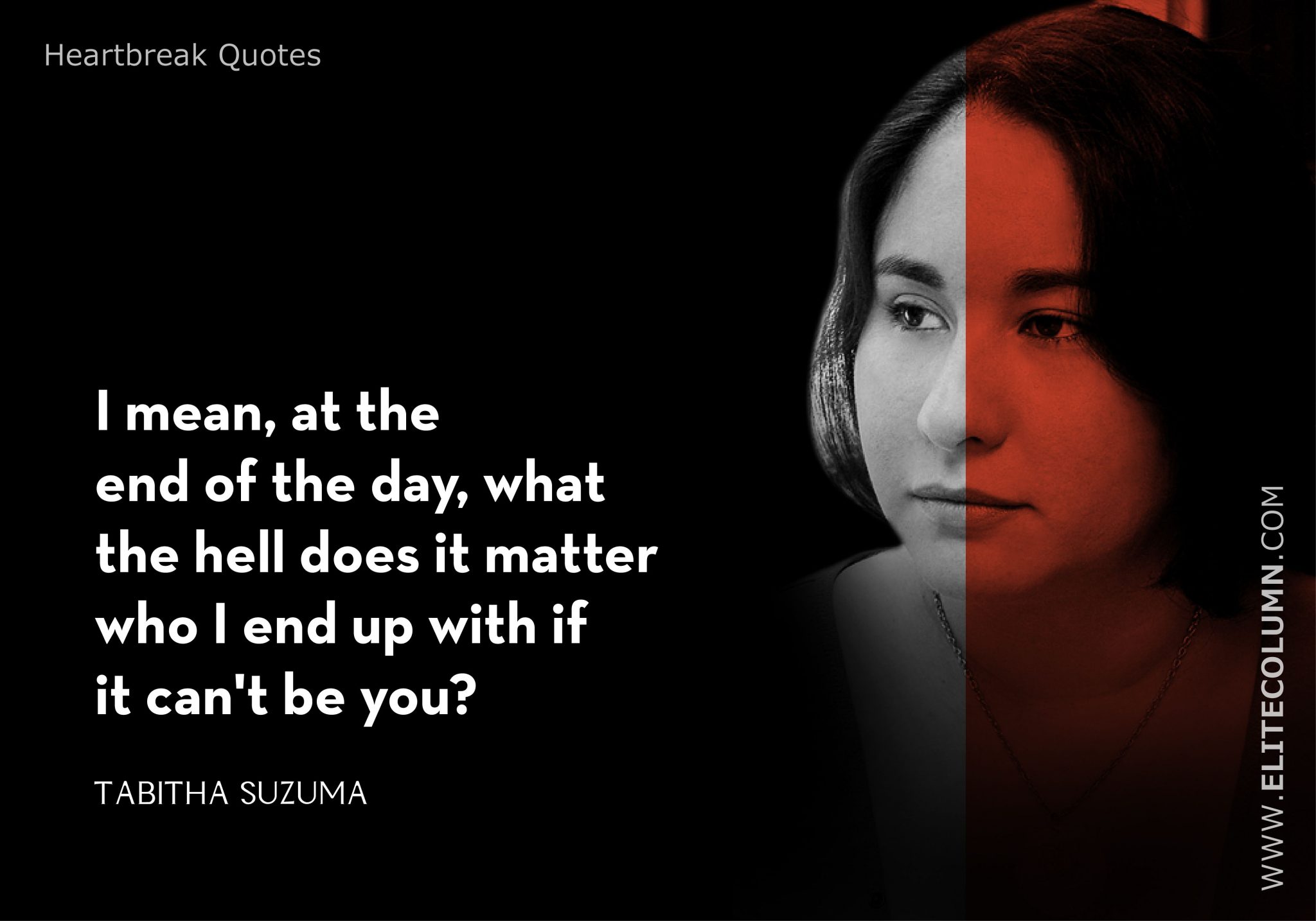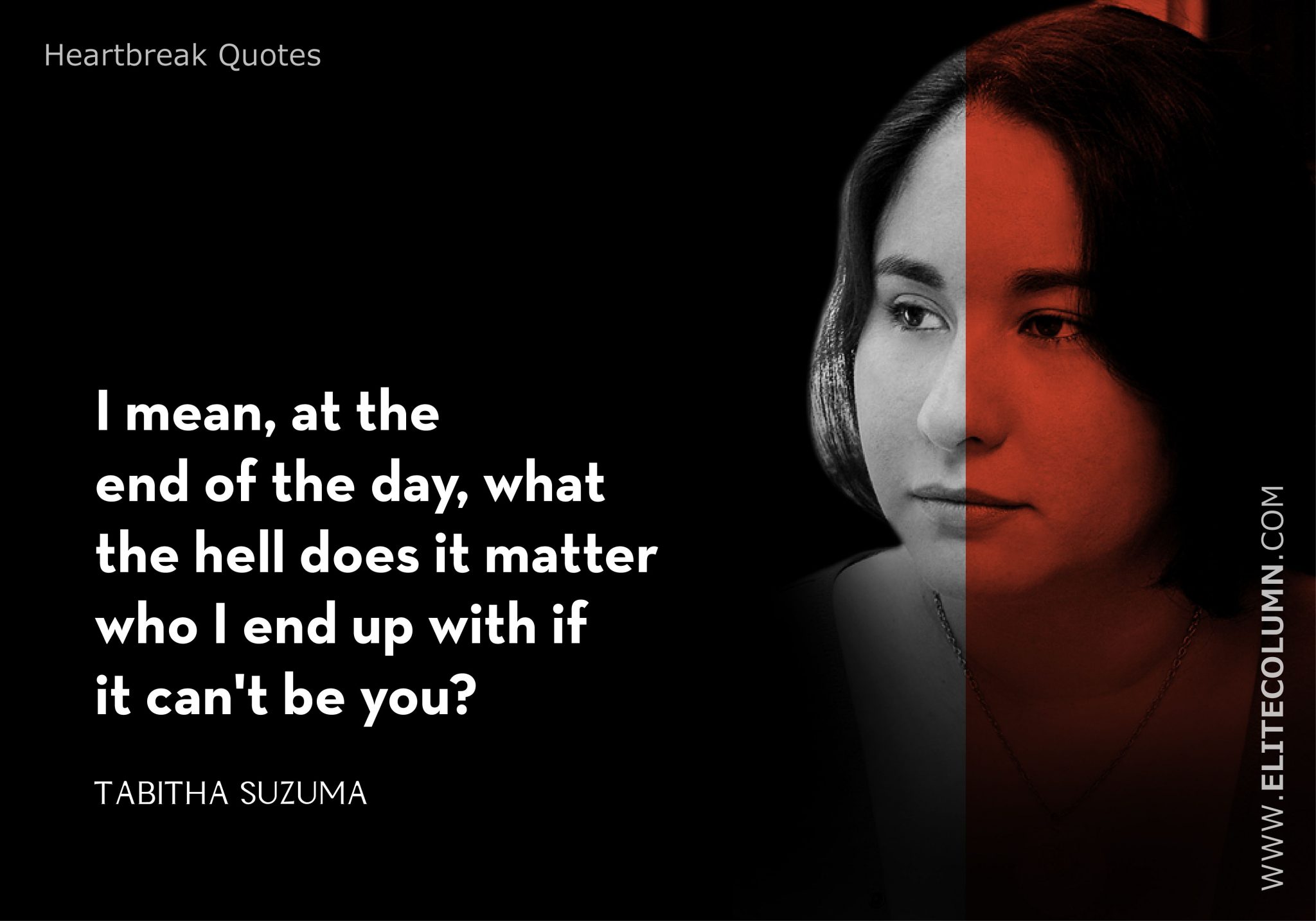 19. "I mean, at the end of the day, what the hell does it matter who I end up with if it can't be you?" – Tabitha Suzuma
20. "Once you had put the pieces back together, even though you may look intact, you were never quite the same as you'd been before the fall." – Jodi Picoult
21. "I'd rather love a million times and have my heart broken every time, than hold a permanently empty heart forever." – H.C. Paye
22. "You broke her heart in person, you fix it in person!" – RJ Gonzales
23. "There is a big difference between having your heart broken and being the one responsible for a broken heart. And I already experienced both." – Eveli Acosta
24. "I'm really a very happy, contented little person in spite of my broken heart." – L.M. Montgomery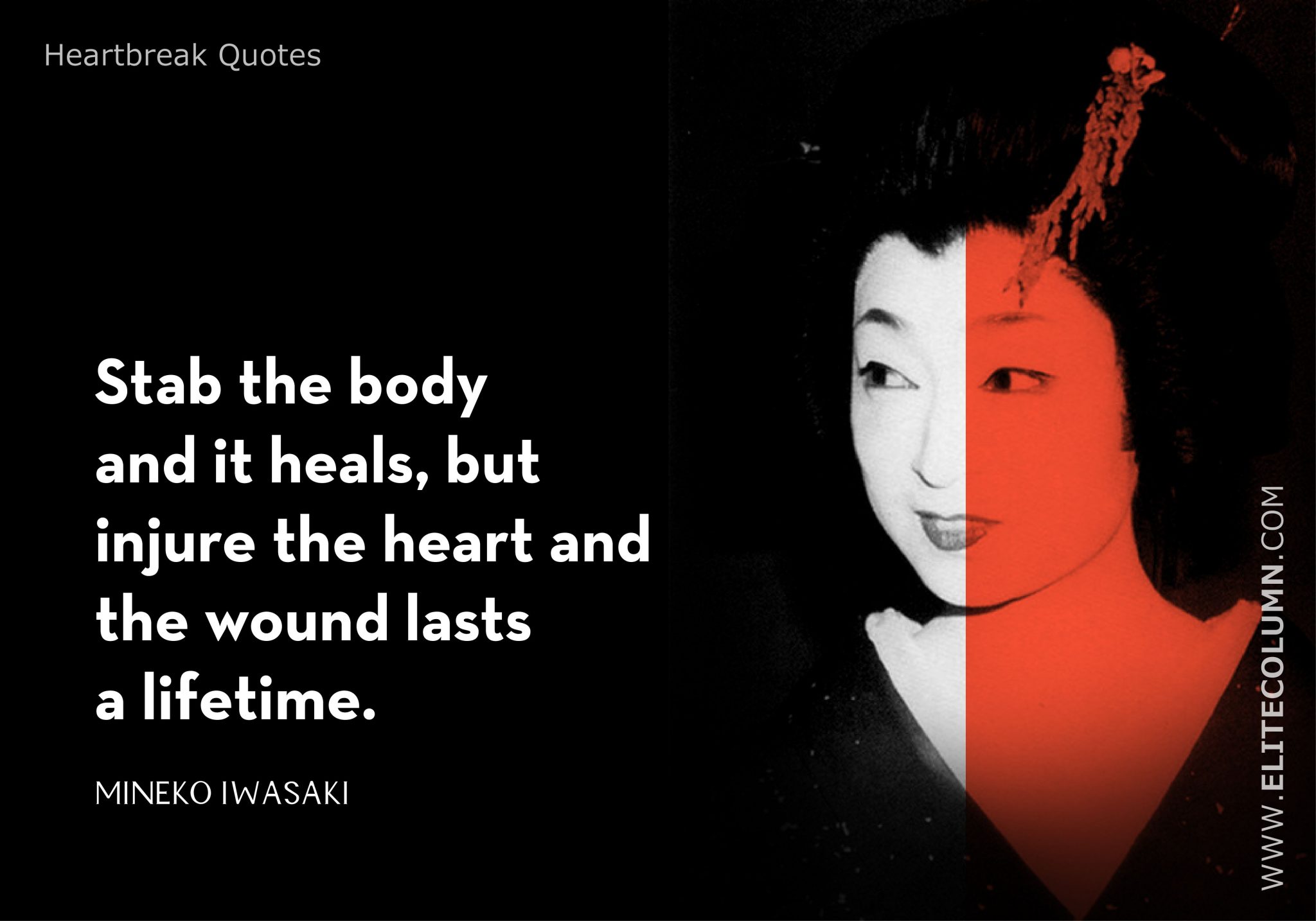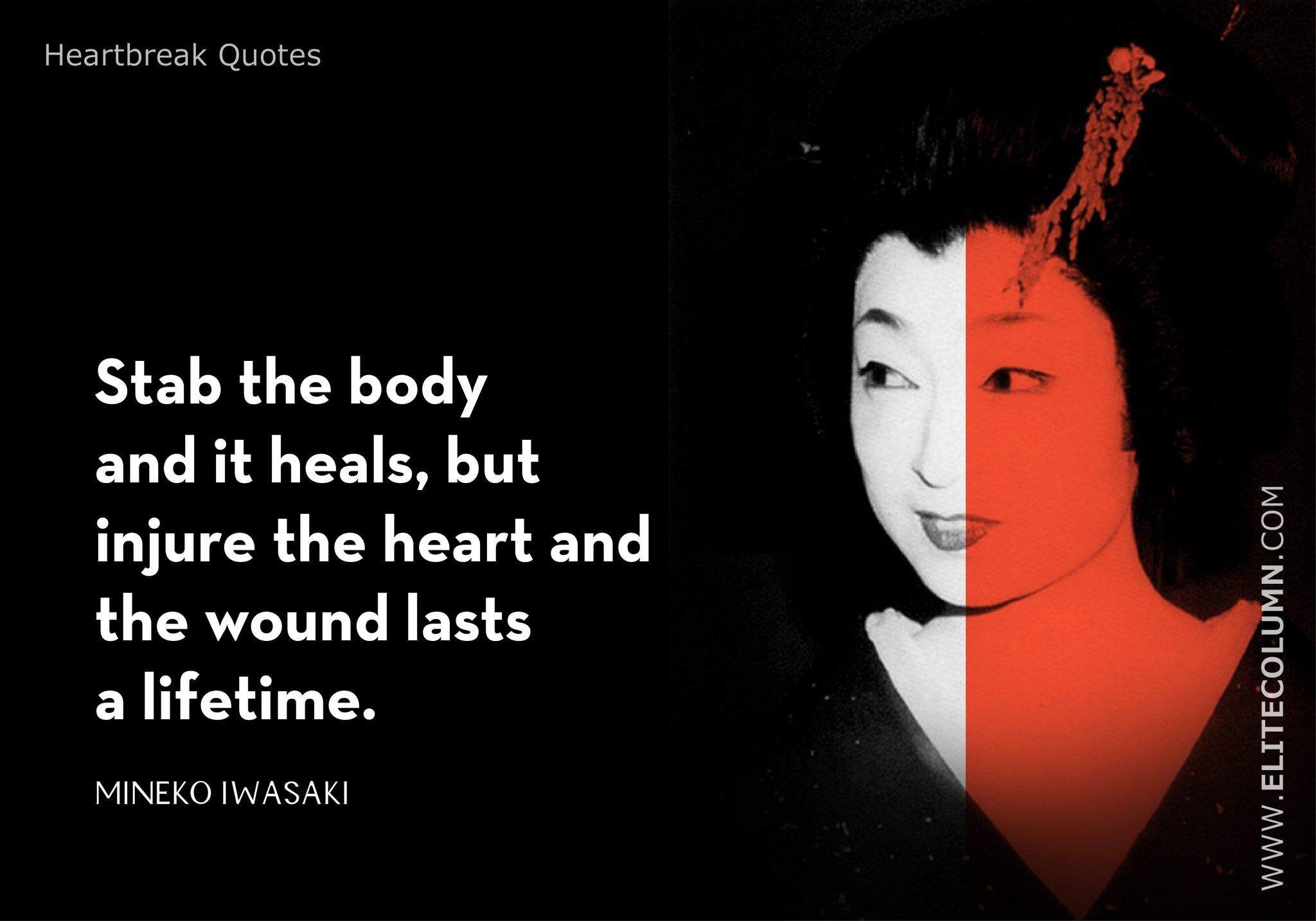 25. "Stab the body and it heals, but injure the heart and the wound lasts a lifetime." – Mineko Iwasaki
26. "Birds sing even when the world is filled with sadness. I don't know why people can't do the same thing." – Michael Gilbert
27. "Flower will not grow, if the stem doesn't allow to." – Nayreil
28. "Love is a violent recreational sport. Proceed at your own risk. Helmets, armor, and steel-toe boots are required by law." – H.C.Paye
29. "People may say no one ever died of a broken heart, but when you're suffering from one, it sure doesn't feel that way, at least initially." – Paula Heller Garland
30. "Sharp are the arrows of a broken heart." – Cassandra Clare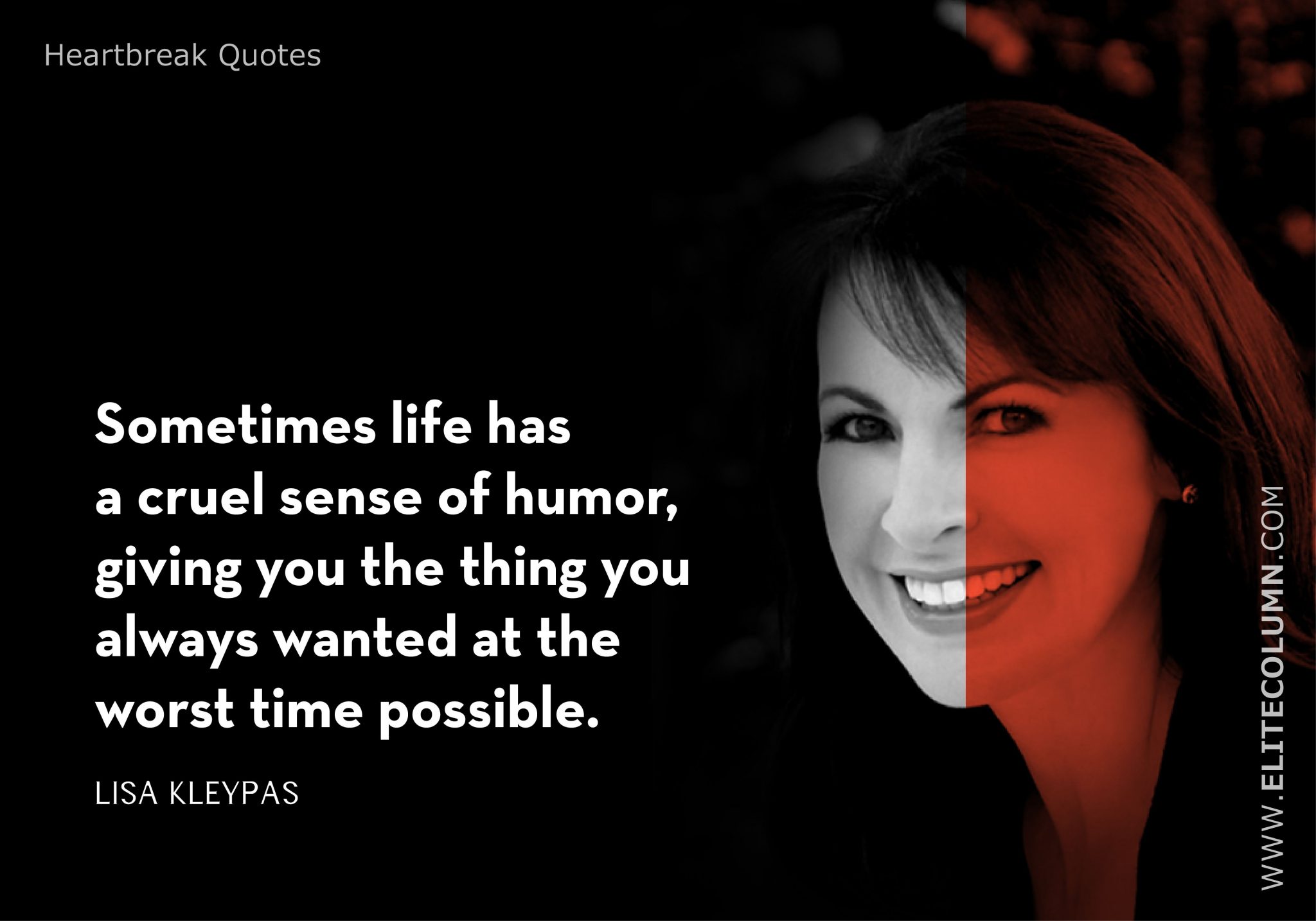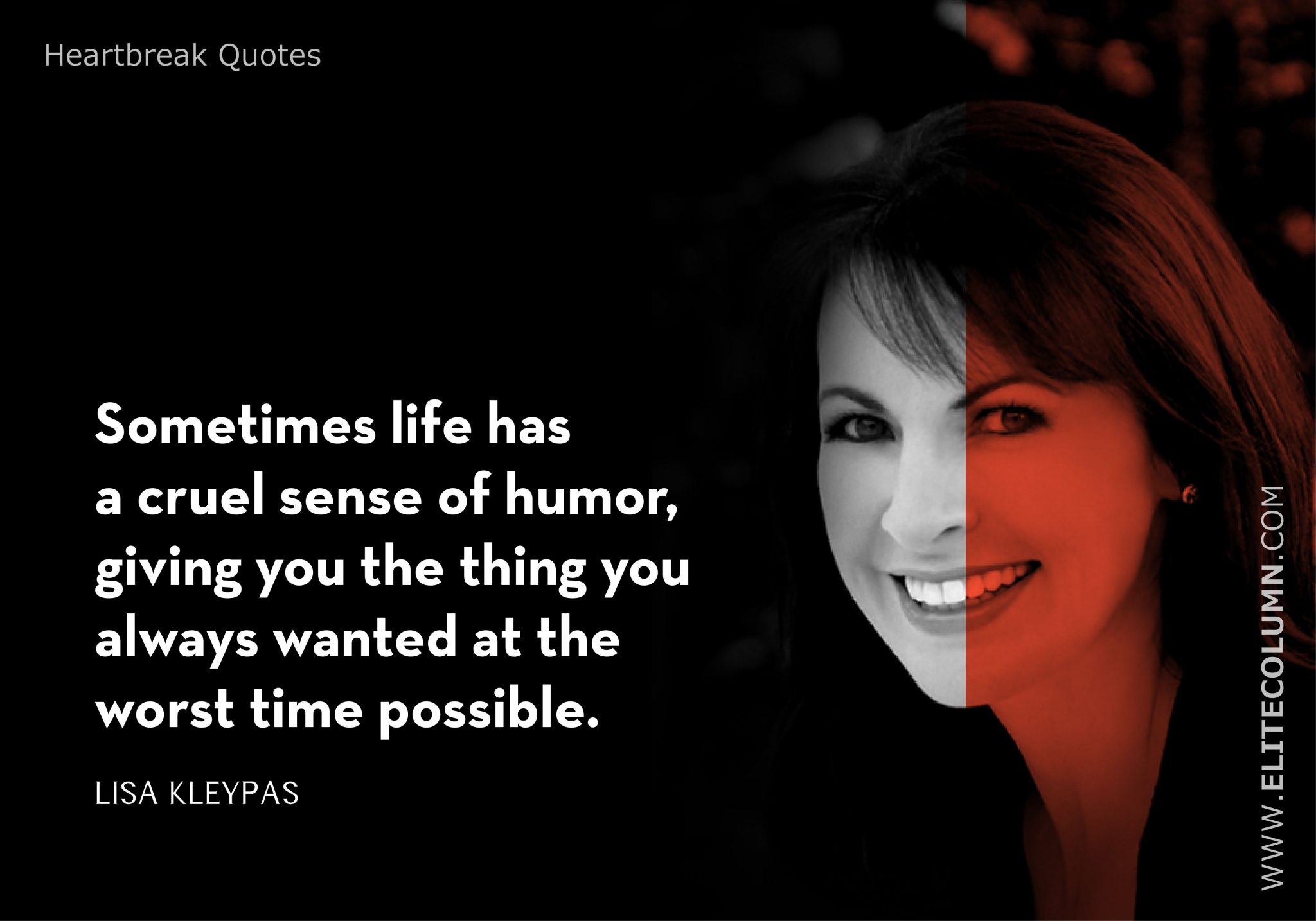 31. "Sometimes life has a cruel sense of humor, giving you the thing you always wanted at the worst time possible." – Lisa Kleypas
32. "Think about any attachments that are depleting your emotional reserves. Consider letting them go."- Oprah Winfrey
33. "A tormented mind wants to forget, what a broken heart will always remember." – Anthony Liccione
34. "Then his heart, now broken into a thousand pieces, slowly began to turn to ice." – Morgan Rhodes
35. "Why did I always end up loving the person who hurt me the most? Why was love so cruel?" – J.C. Reed
36. "So it's true, when all is said and done, grief is the price we pay for love." – E.A. Bucchianeri
See also:
Karma Quotes | Plato Quotes | Sun Tzu Quotes | Dalai Lama Quotes | Sadhguru Quotes | Confucius Quotes | Lao Tzu Quotes | Positive Quotes | Happiness Quotes | Inspirational Quotes | Life Quotes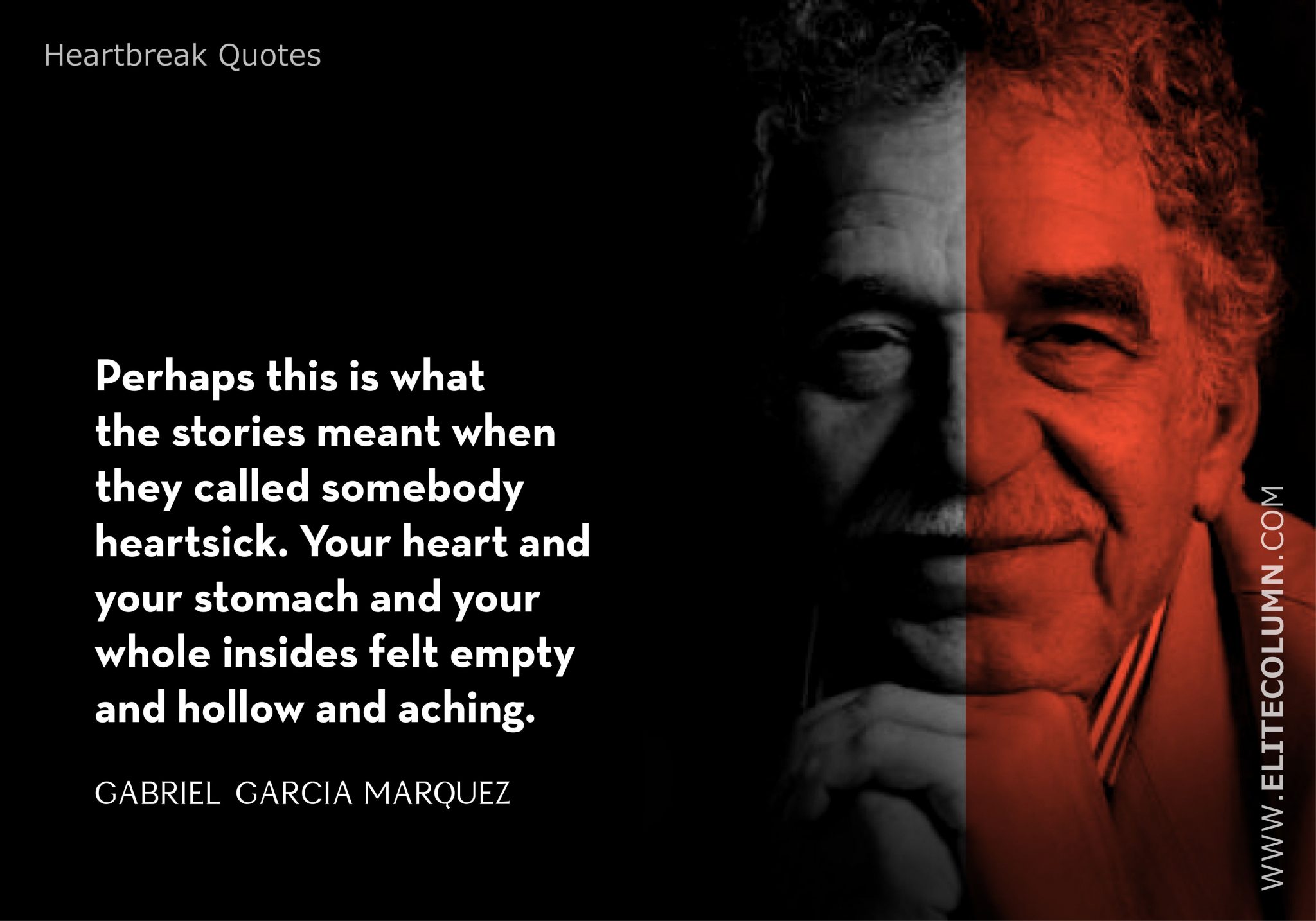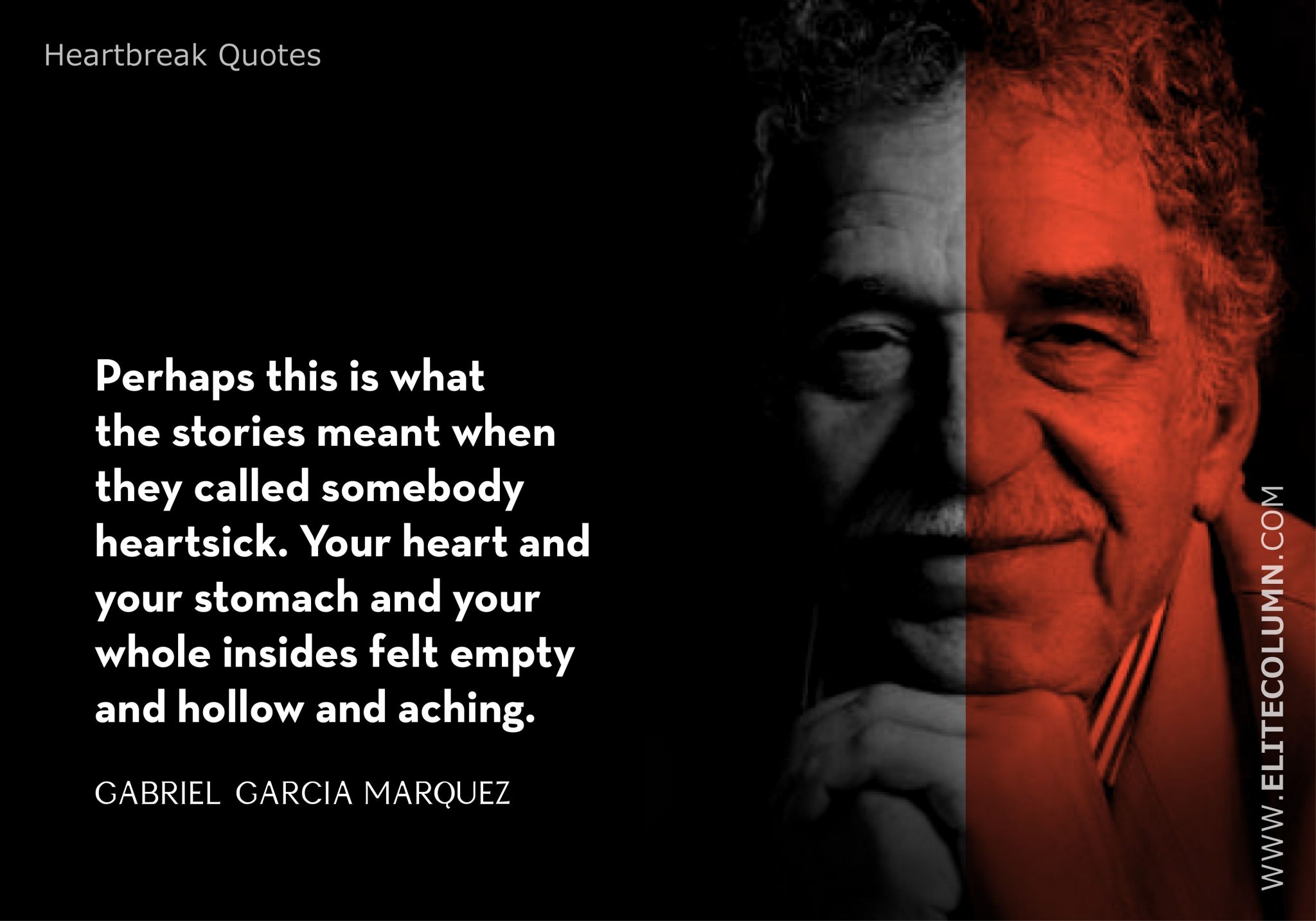 37. "Perhaps this is what the stories meant when they called somebody heartsick. Your heart and your stomach and your whole insides felt empty and hollow and aching." – Gabriel García Márquez
38. "One day you're going to remember me and how much I loved you… then you're gonna hate yourself for letting me go." – Aubrey Drake Graham
39. "A woman who opens her heart to love you, when it's already broken, is braver than any person you'll meet." – Steven Benson
40. "I asked her if she believed in love, and she smiled and said it was her most elaborate method of self-harm." – Benedict Smith
41. "The saddest thing about love is that not only that it cannot last forever, but that heartbreak is soon forgotten." – William Faulkner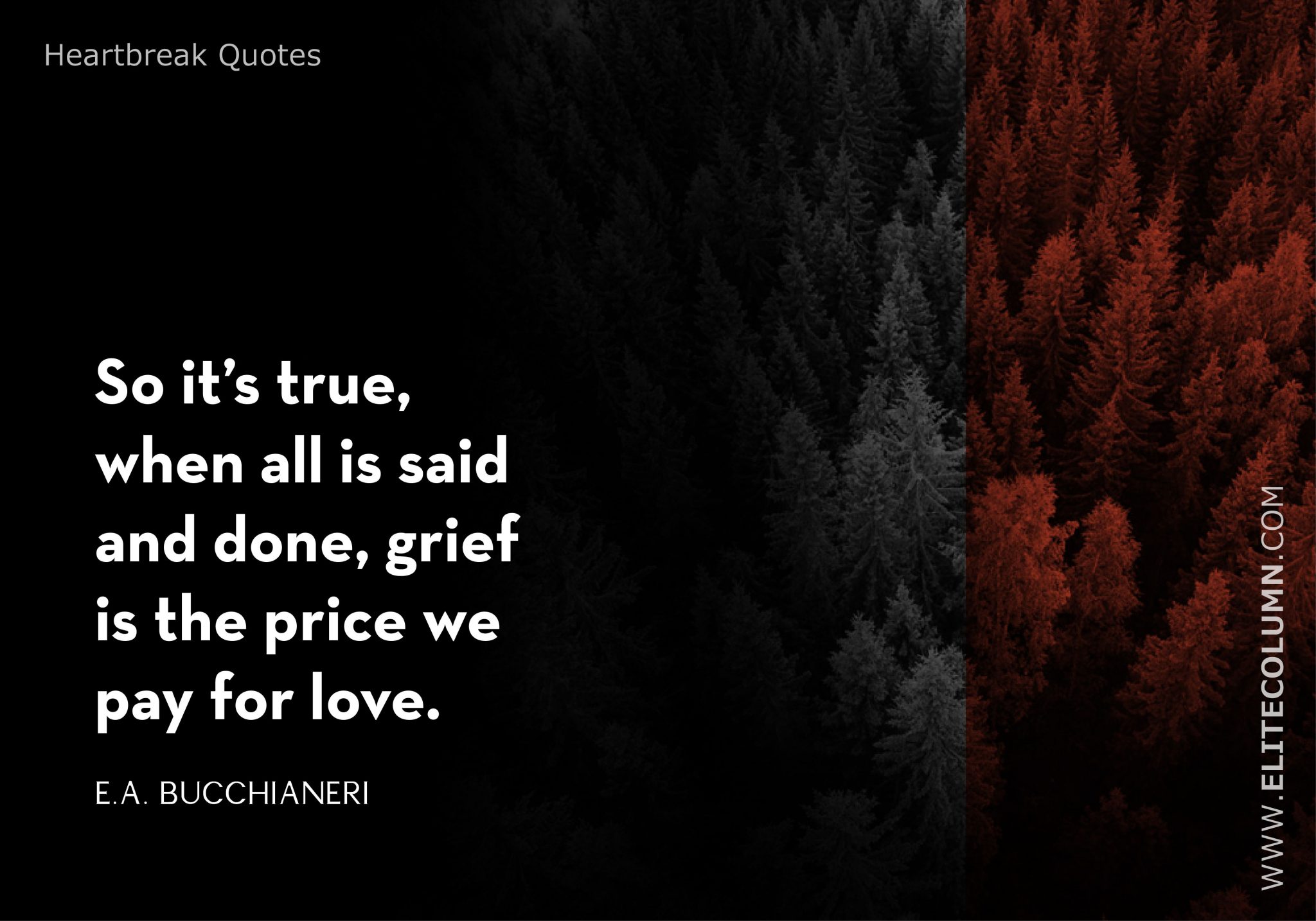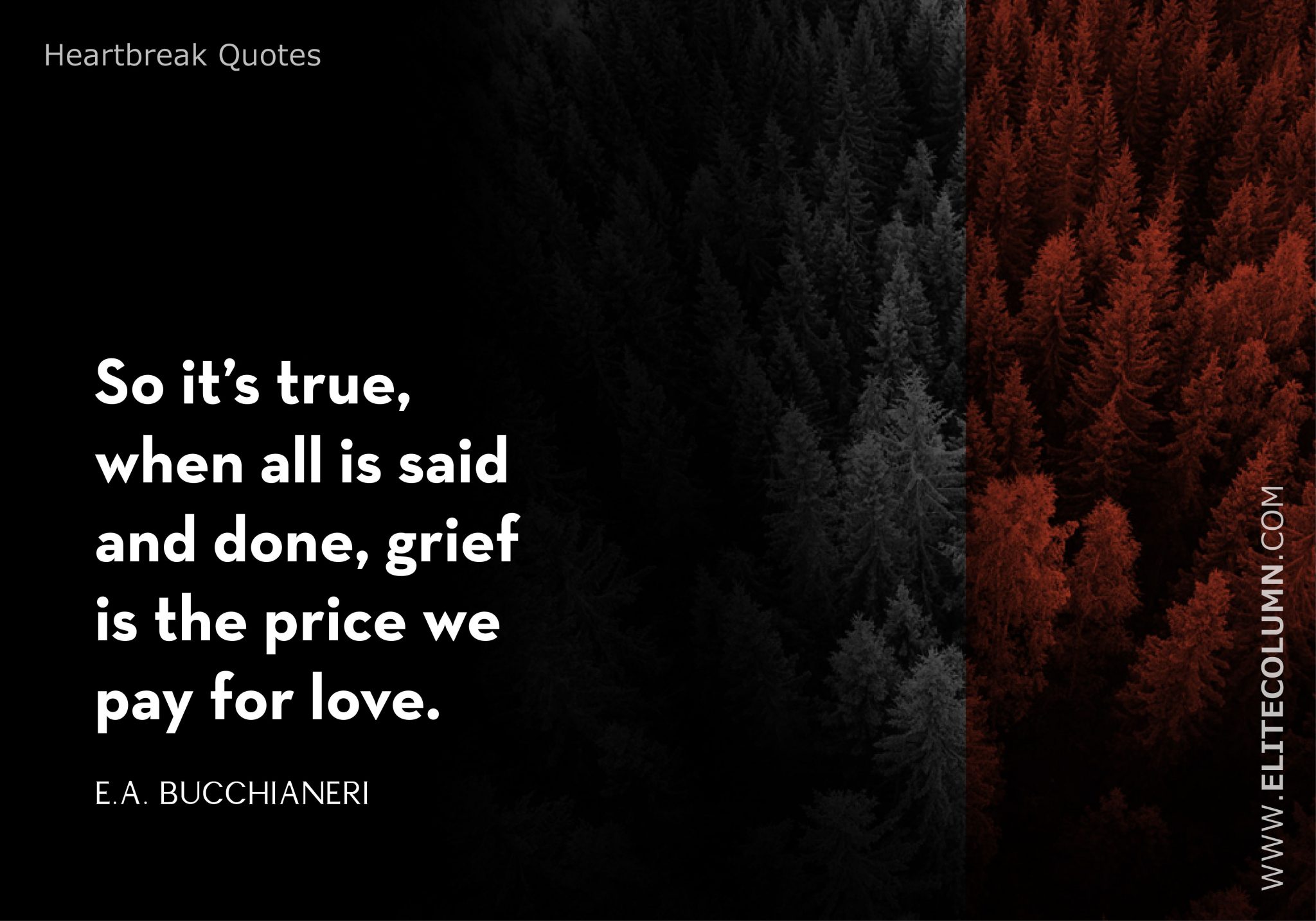 42. "So it's true, when all is said and done, grief is the price we pay for love." – E.A. Bucchianeri
43. "When trees burn, they leave the smell of heartbreak in the air." – Jodi Thomas
44. "No matter how bad your heart is broken, the world doesn't stop for your grief." – Faraaz Kazi
45. "Sometimes… Sometimes our hearts… crack a little." – Brodi Ashton
46. "I'm not supposed to miss you, I'm not supposed to care." – Debra Cox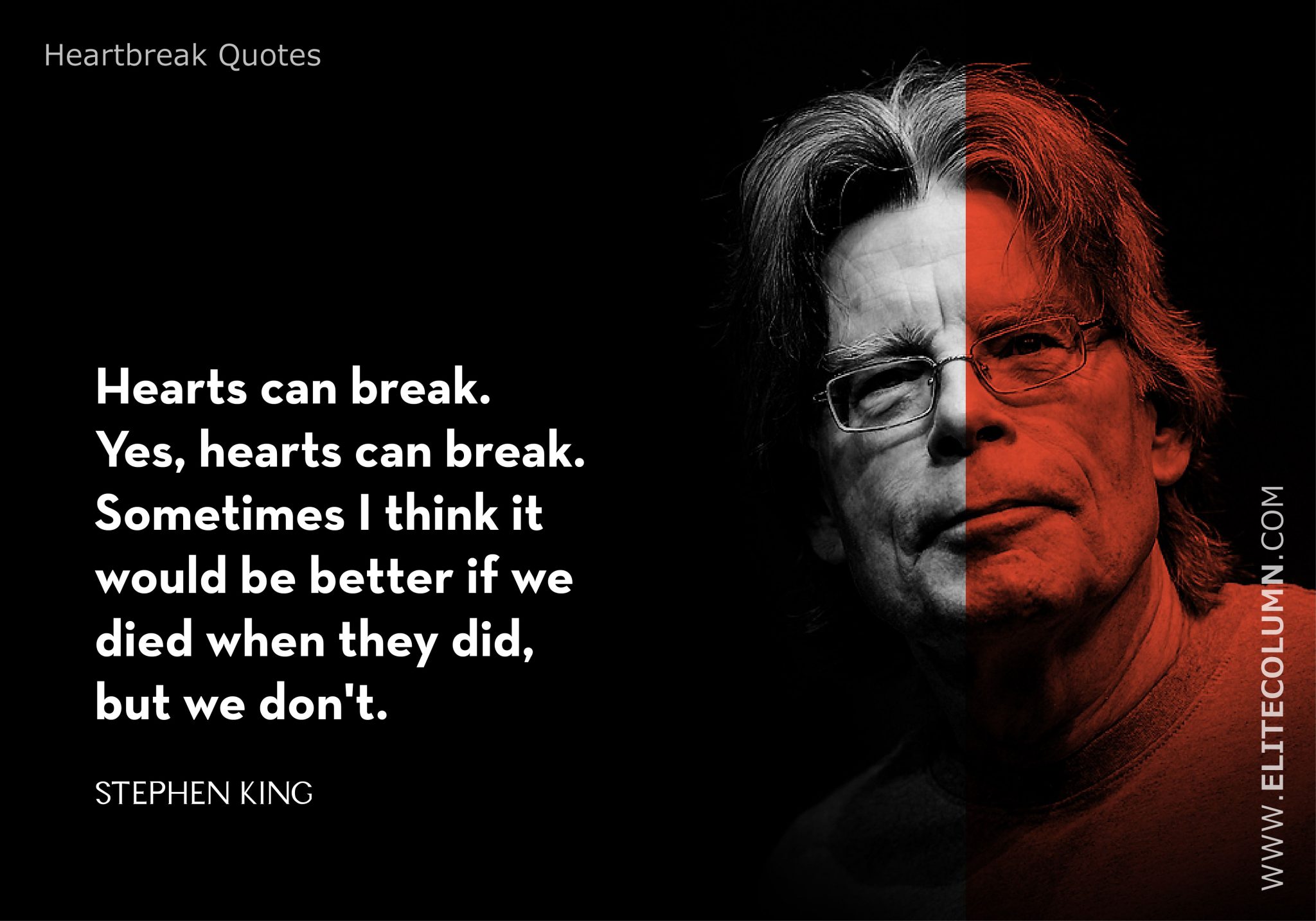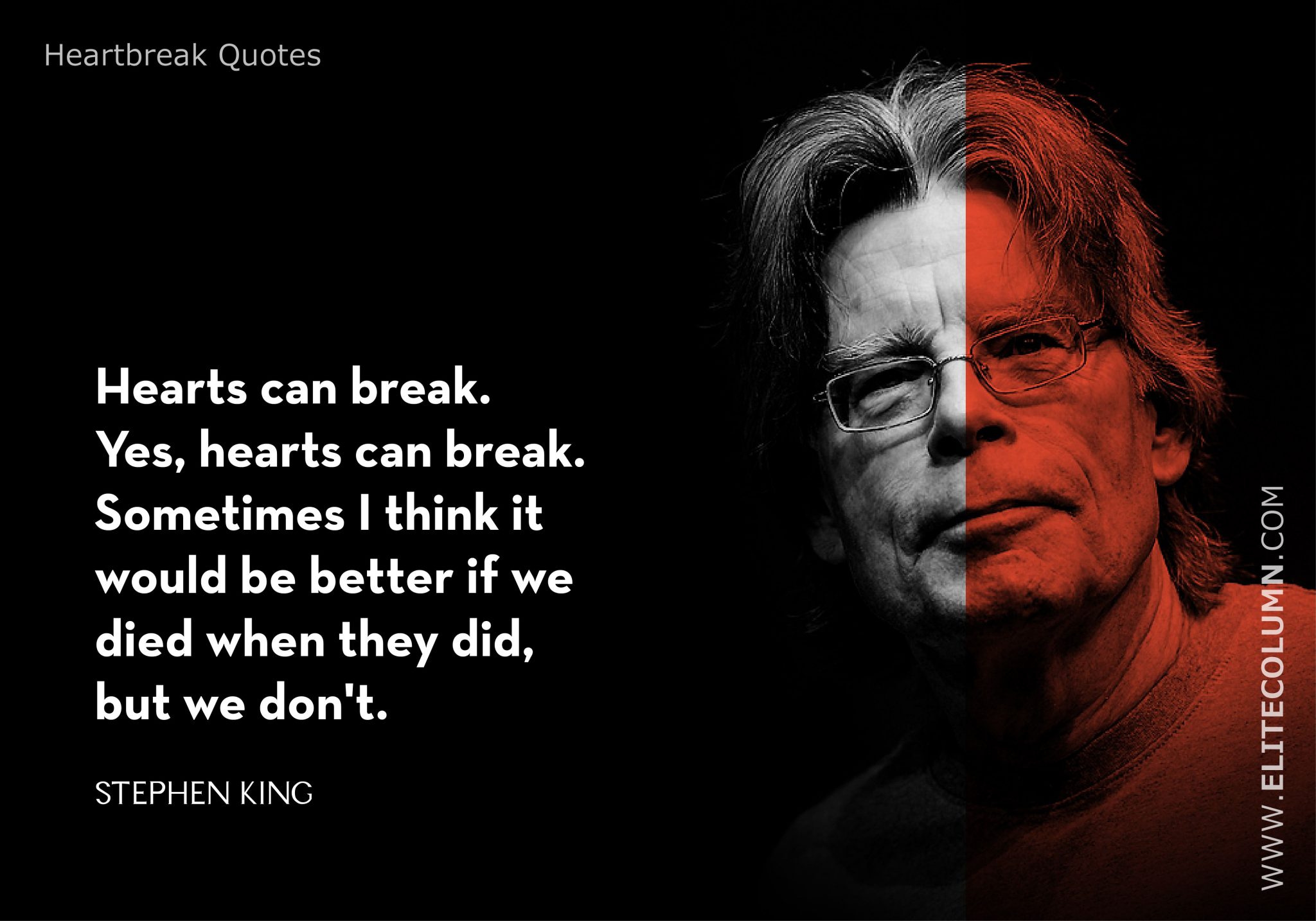 47. "Hearts can break. Yes, hearts can break. Sometimes I think it would be better if we died when they did, but we don't." – Stephen King
48. "A broken heart bleeds tears." – Steve Maraboli
49. "You may have a broken heart, but you may find someone else." – Douglas Booth
50. "I've been heartbroken. I've broken hearts. That's part of life, and its part of figuring out who you are so you can find the right partner." – Heidi Klum
51. "For my part, I prefer my heart to be broken. It is so lovely, dawn-kaleidoscopic within the crack." – D.H. Lawrence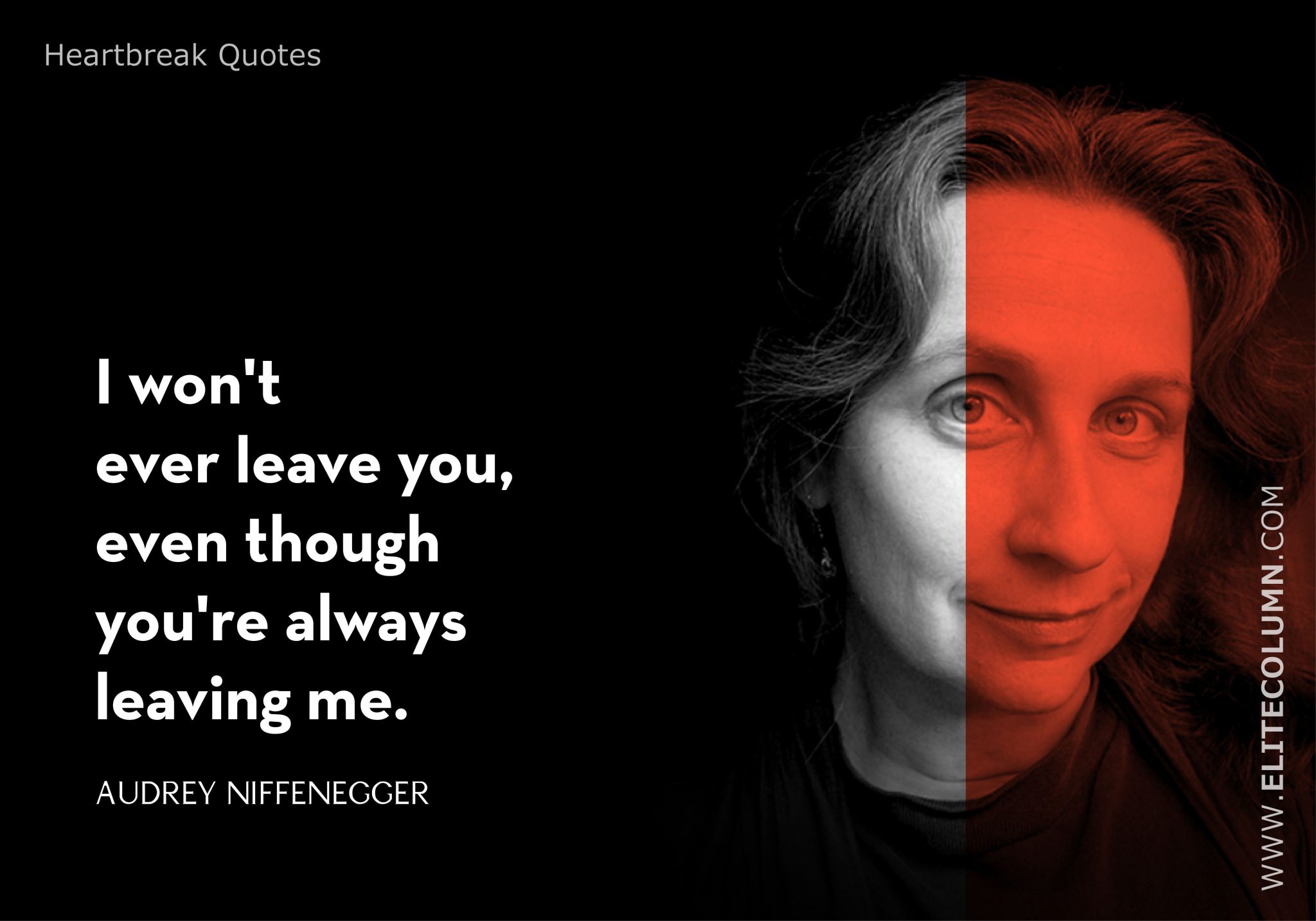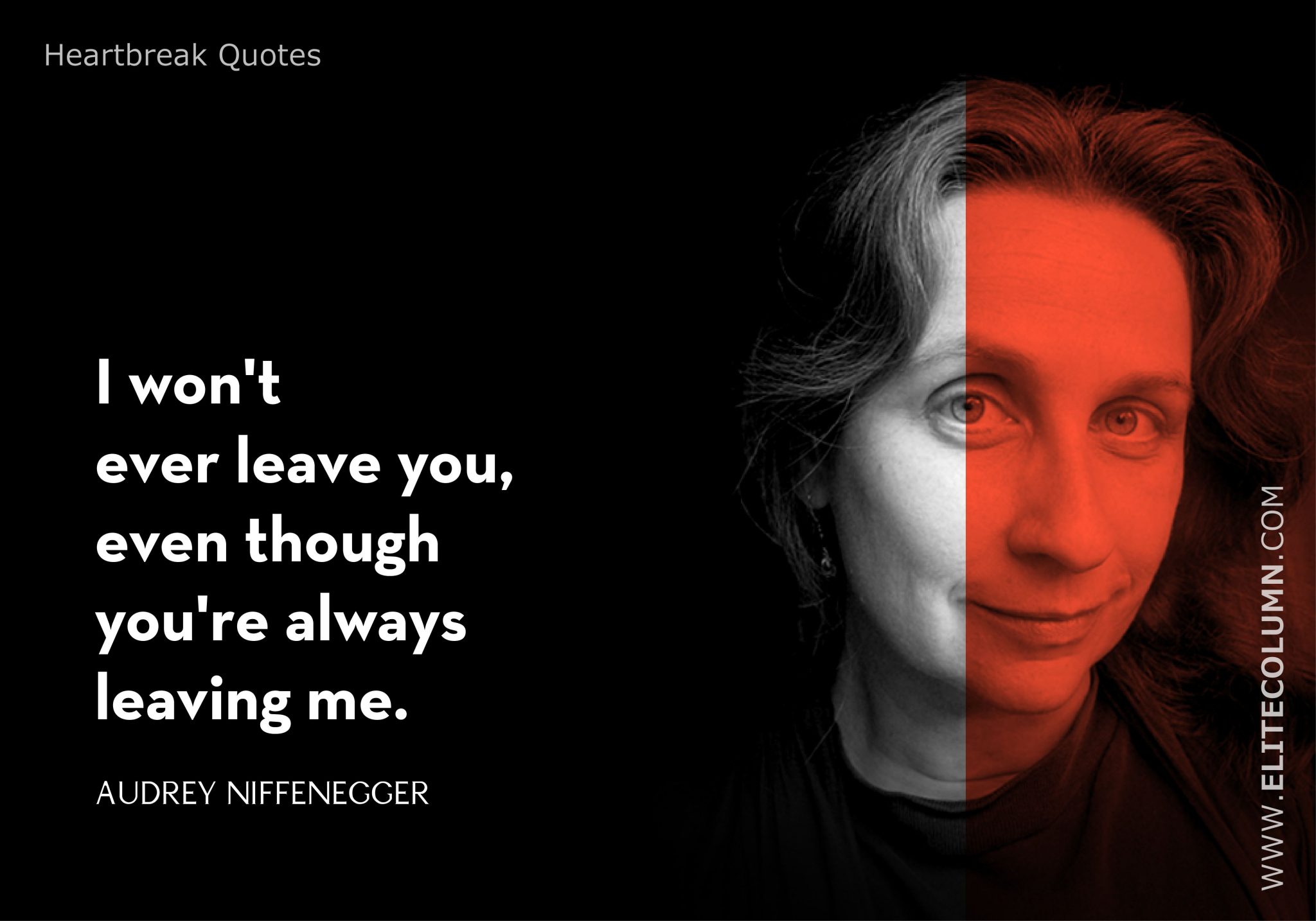 52. "I won't ever leave you, even though you're always leaving me." – Audrey Niffenegger
53. "I'd rather have a broken arm than a broken heart." – Christie Brinkley
54. "The cure for a broken heart is simple, my lady. A hot bath and a good night's sleep." – Margaret George
55. "Love is unconditional. Relationships are not." – Grant Gudmunson
56. "Everyone in life is going to hurt you, you just have to figure out which people are worth the pain." – Bob Marley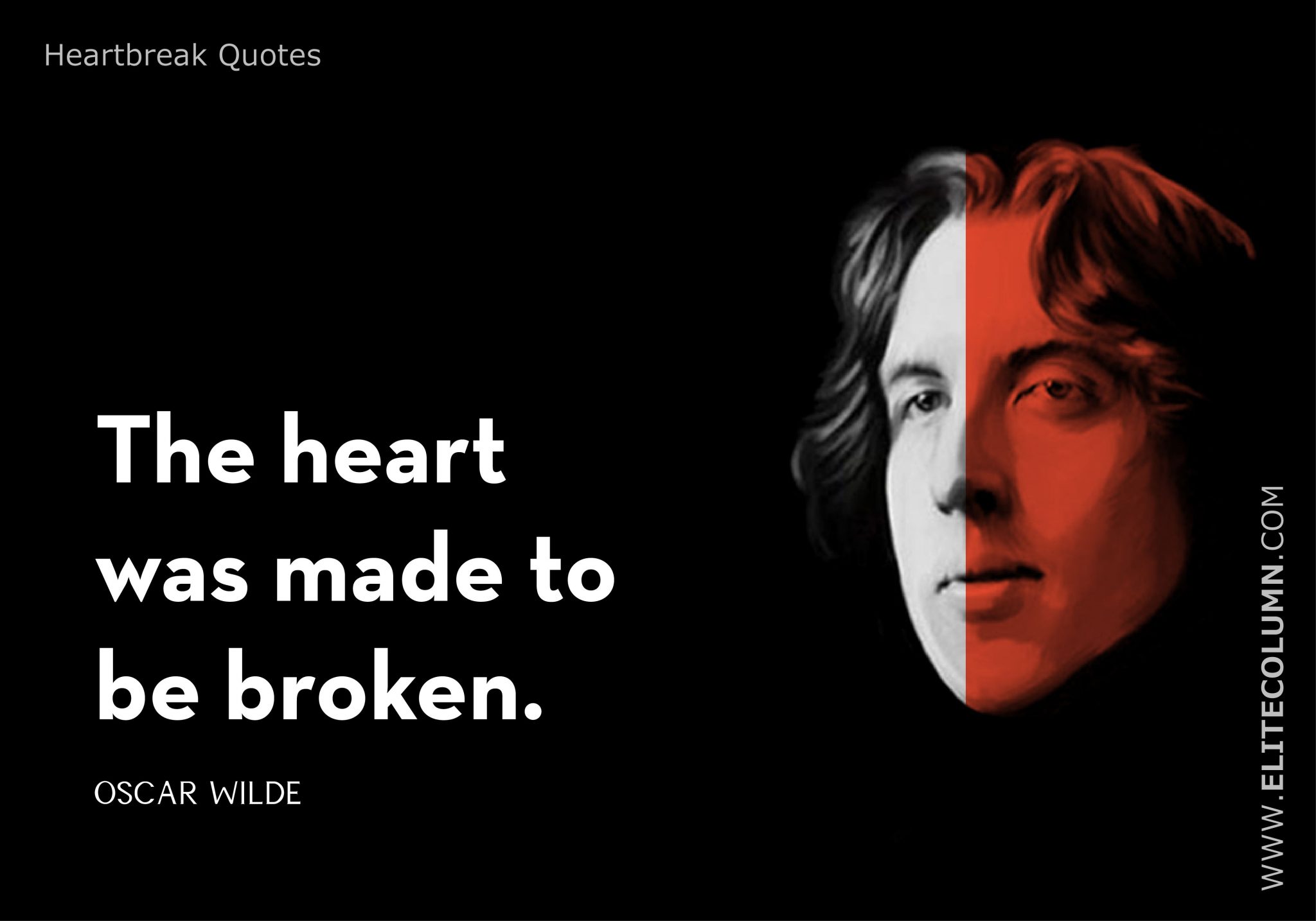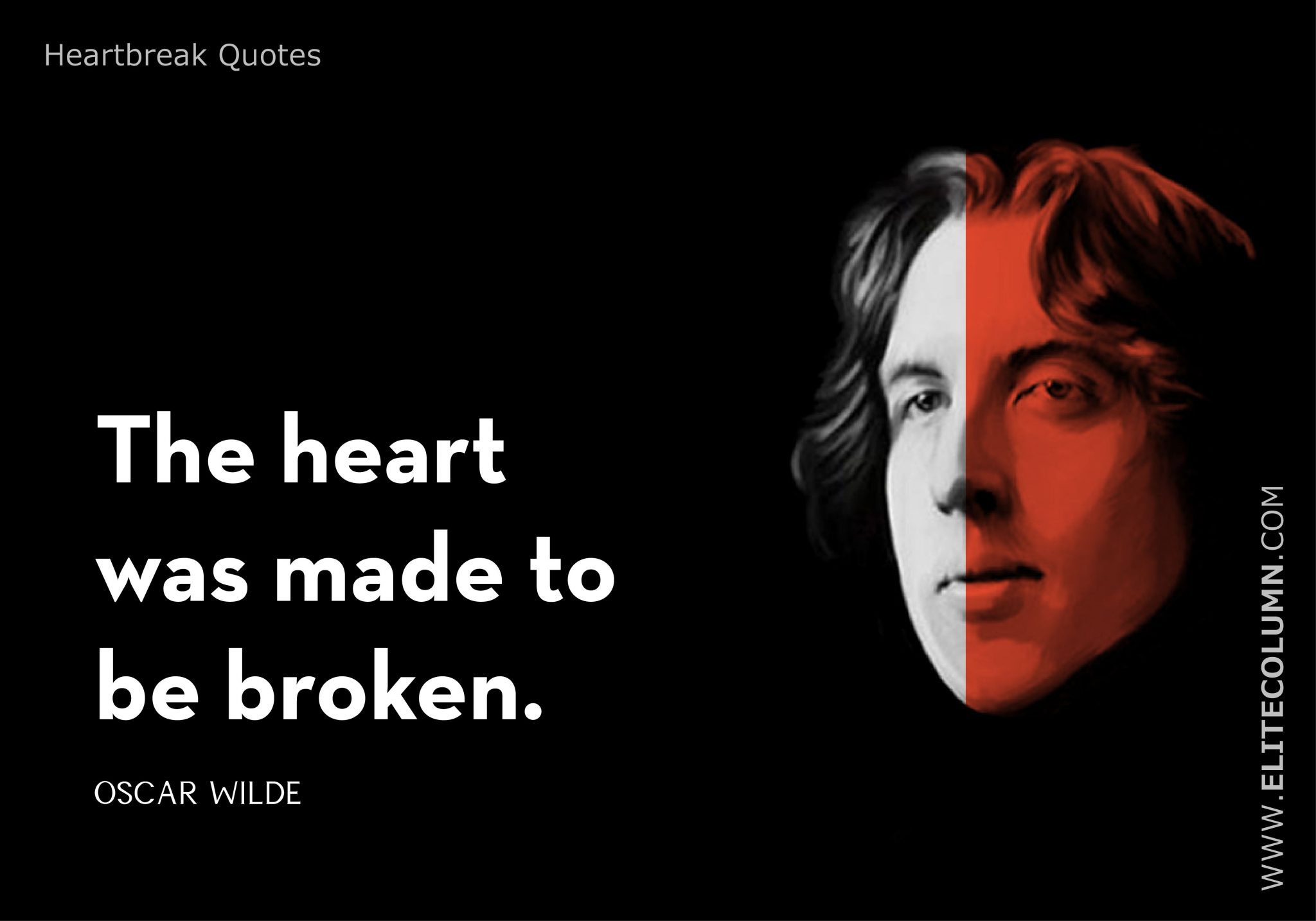 57. "The heart was made to be broken." – Oscar Wilde
58. "There will be a time when you are forced to follow your heart away from someone you love." – Ashly Lorenzana
59. "Hanging on to resentment is letting someone you despise live rent-free in your head." – Ann Landers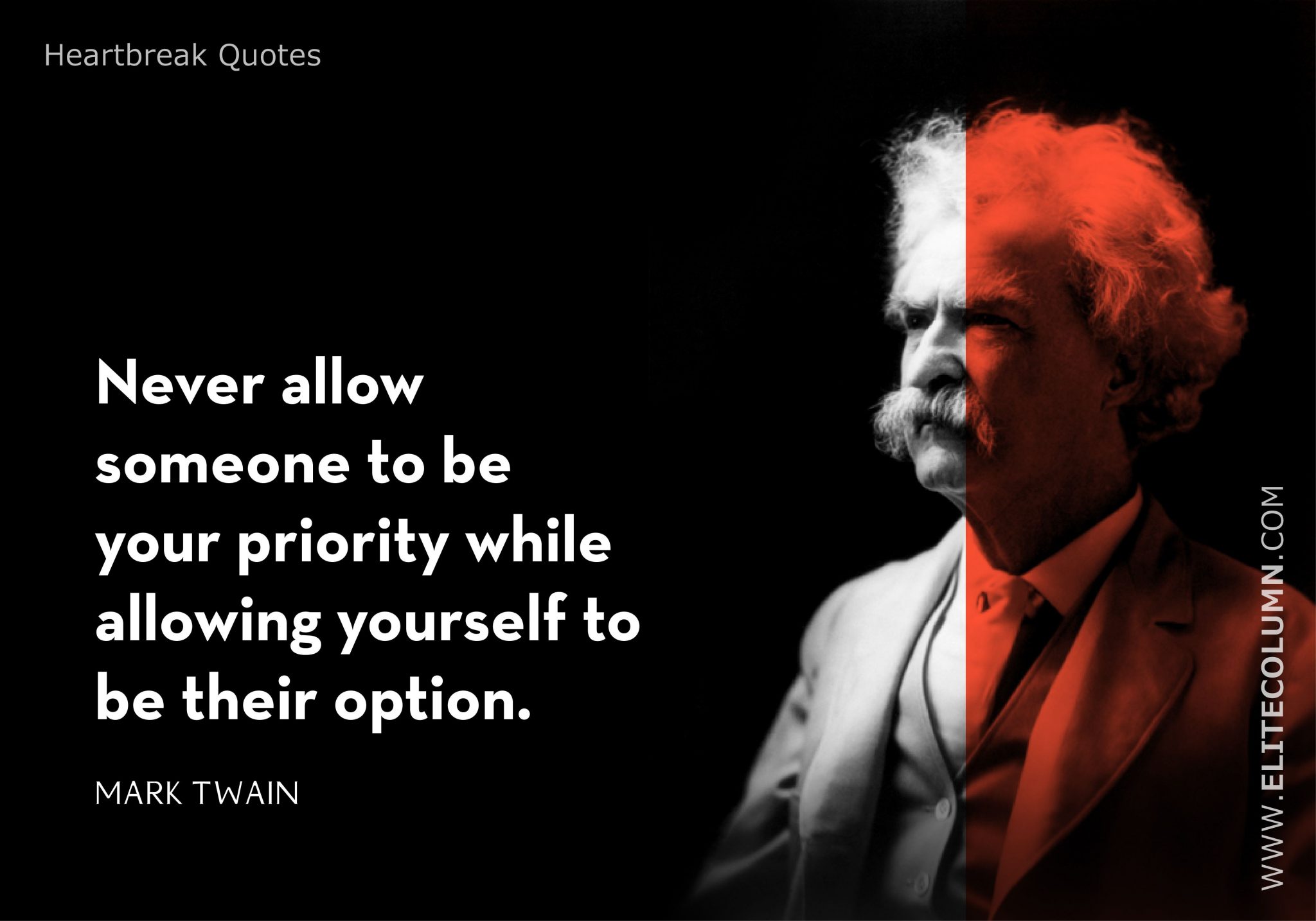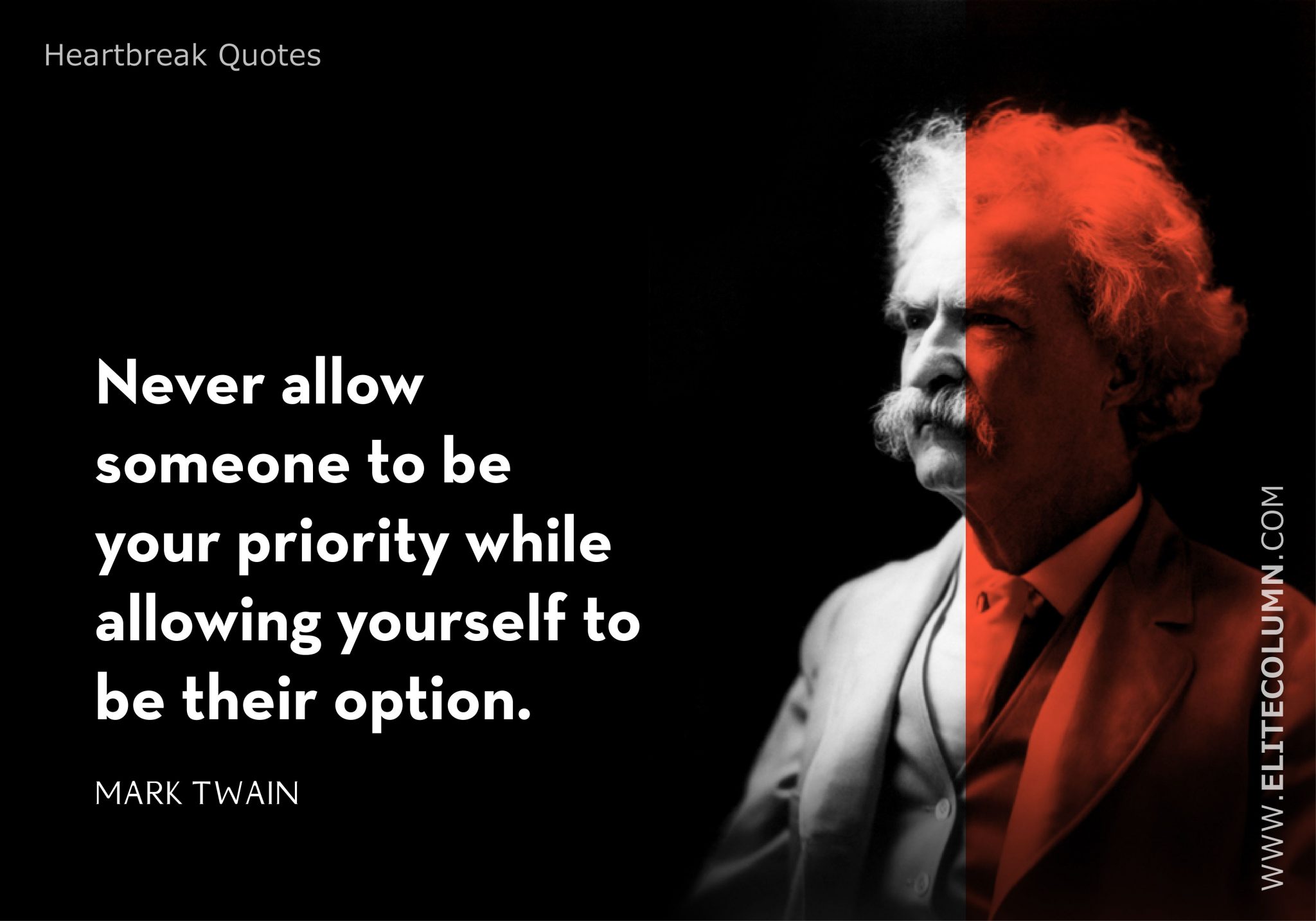 60. "Never allow someone to be your priority while allowing yourself to be their option." – Mark Twain
61. "You can't buy love, but you can pay heavily for it." – Henny Youngman
62. "When you have your heart broken for the first time, you gain depth." – Sienna Miller
Thanks for checking out Heartbreak quotes. Feel free to share the quotes with your friends. Leave a comment below and which are your favorite Heartbreak quotes ?
See also:
Growing Up Quotes | Intimacy Quotes | Music Quotes | Rebellious Quotes | Smile Quotes | Relationship Quotes | Woman Quotes
You can find us at – Facebook | Instagram | LinkedIn | Pinterest | Twitter