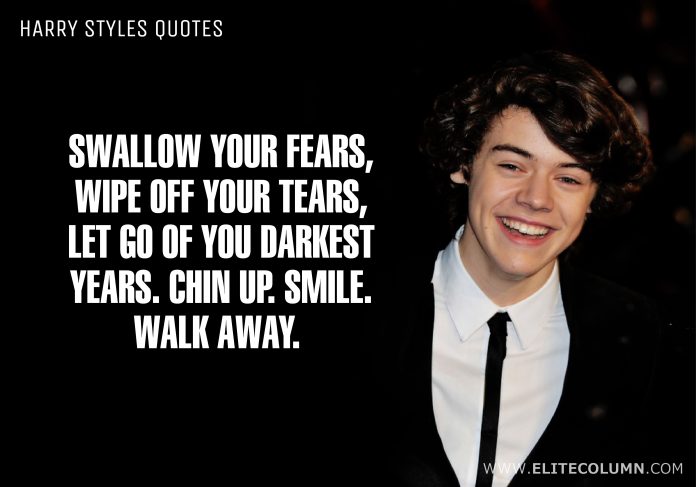 Harry Styles worked at a bakery when he was fourteen years old. He tried out as a solo singer on The X Factor but failed, though he later joined a band in order to compete on the show. He rose to fame as a member of the pop British boyband One Direction, performing alongside Liam Payne, Louis Tomlinson, Zayn Malik, and Niall Horan. Harry Styles quotes will make you more daring in your life. EliteColumn brings you 12 best inspirational Harry Styles quotes.
18 Motivational Harry Styles Quotes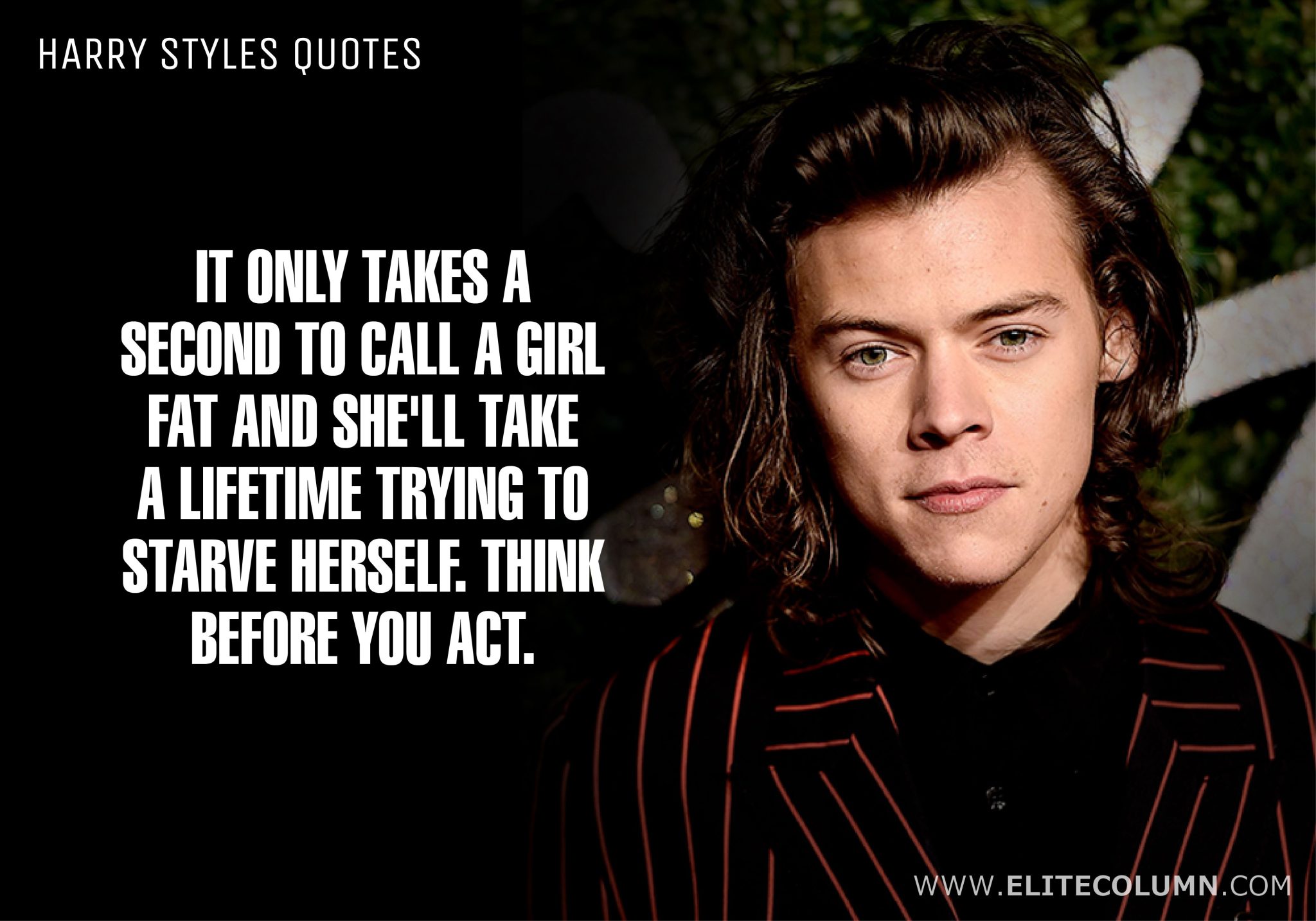 "It only takes a second to call a girl fat and she'll take a lifetime trying to starve herself. Think before you act." – Harry Styles
2. "If you're going to get in trouble for hitting someone, might as well hit them hard." – Harry Styles
3. "Remember like where you've come from. Know who you are." – Harry Styles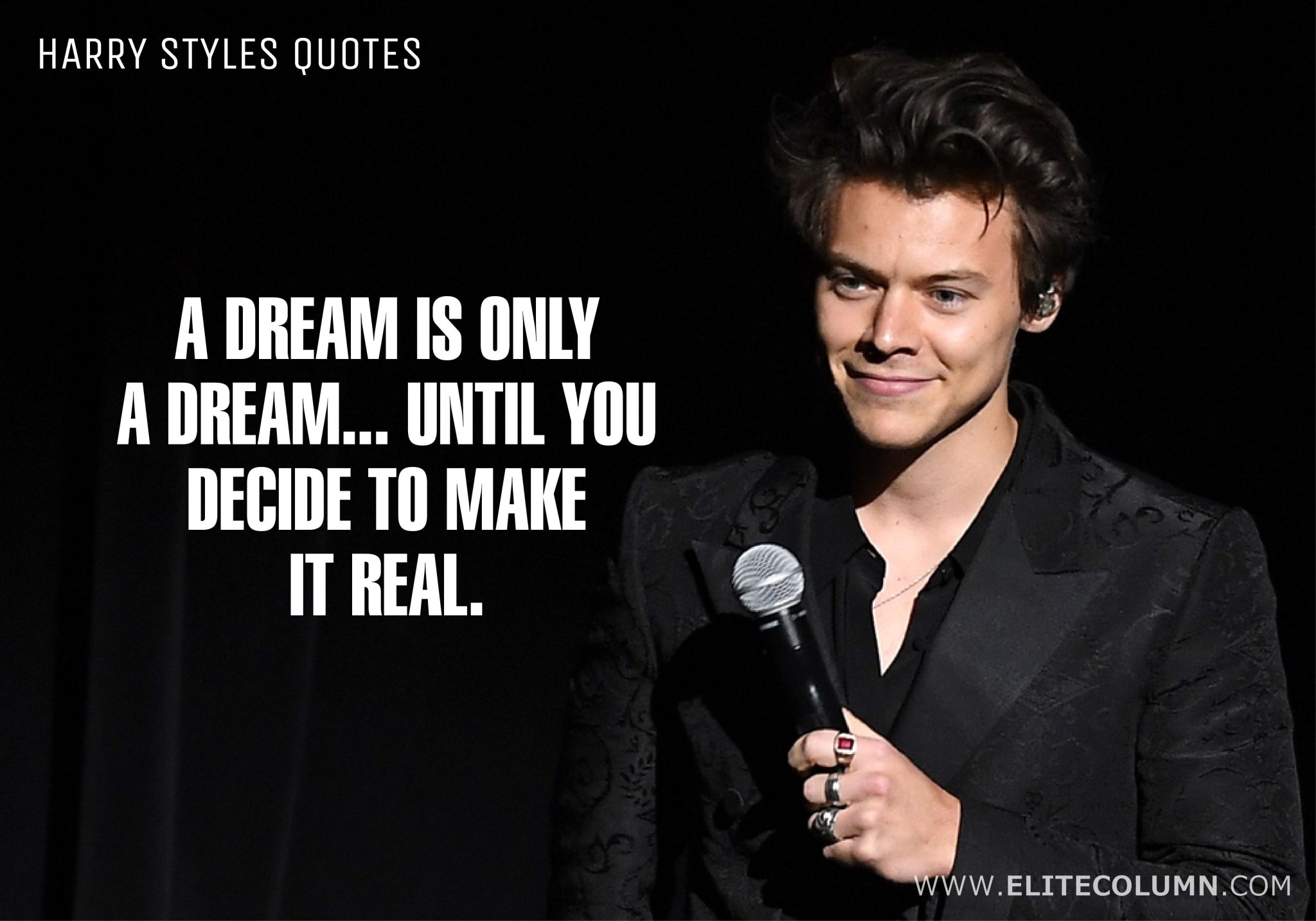 4. "A dream is only a dream… Until you decide to make it real." – Harry Styles
5. "I want you to do whatever makes you happiest in this world." – Harry Styles
6. "Dreams come true if you keep on dreaming." – Harry Styles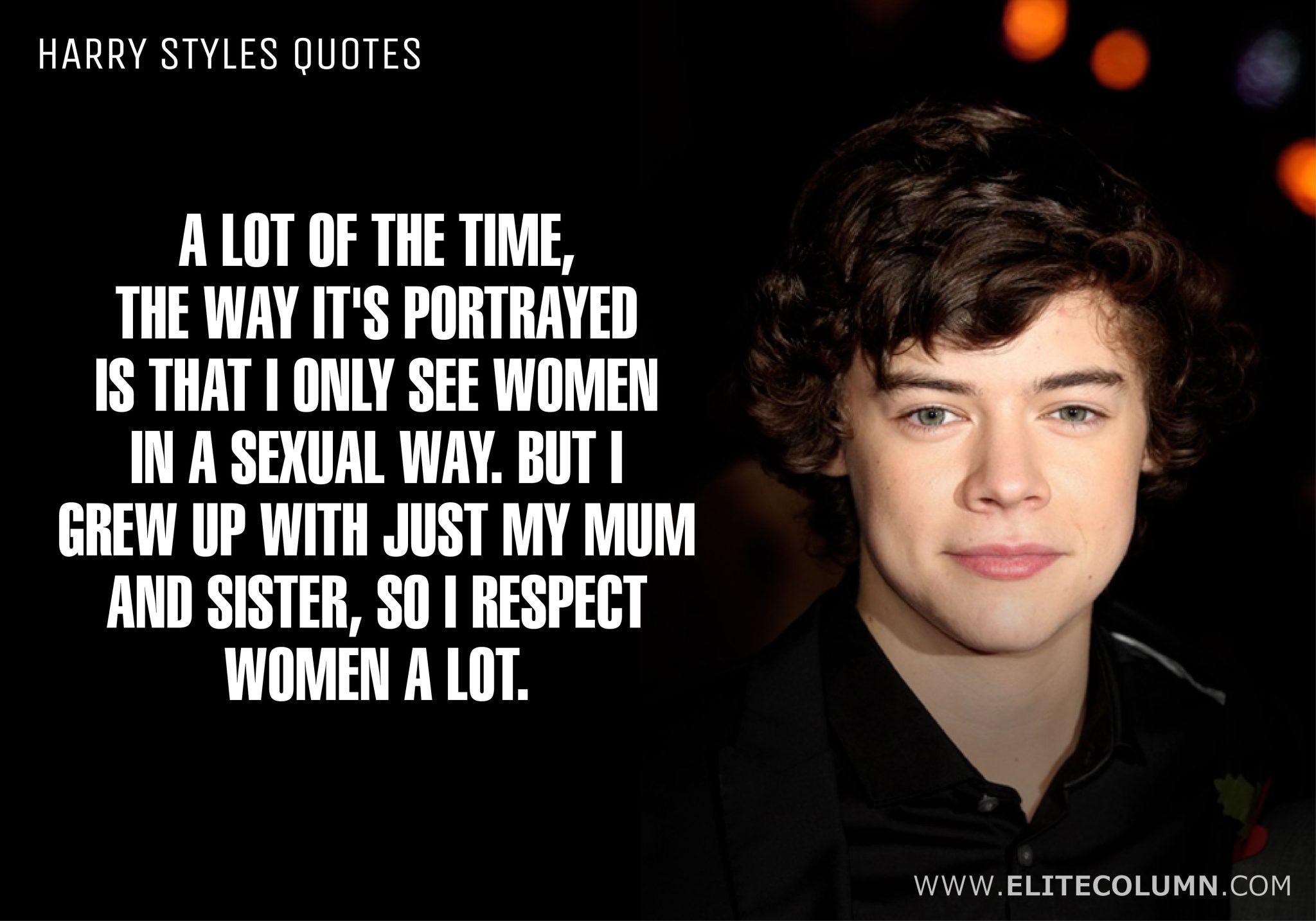 7. "A lot of the time, the way it's portrayed is that I only see women in a sexual way. But I grew up with just my mum and sister, so I respect women a lot." – Harry Styles
8. "I think you should not be scared of embarrassing yourself, I think it builds character." – Harry Styles
9. "Work hard. Play hard. Be kind." – Harry Styles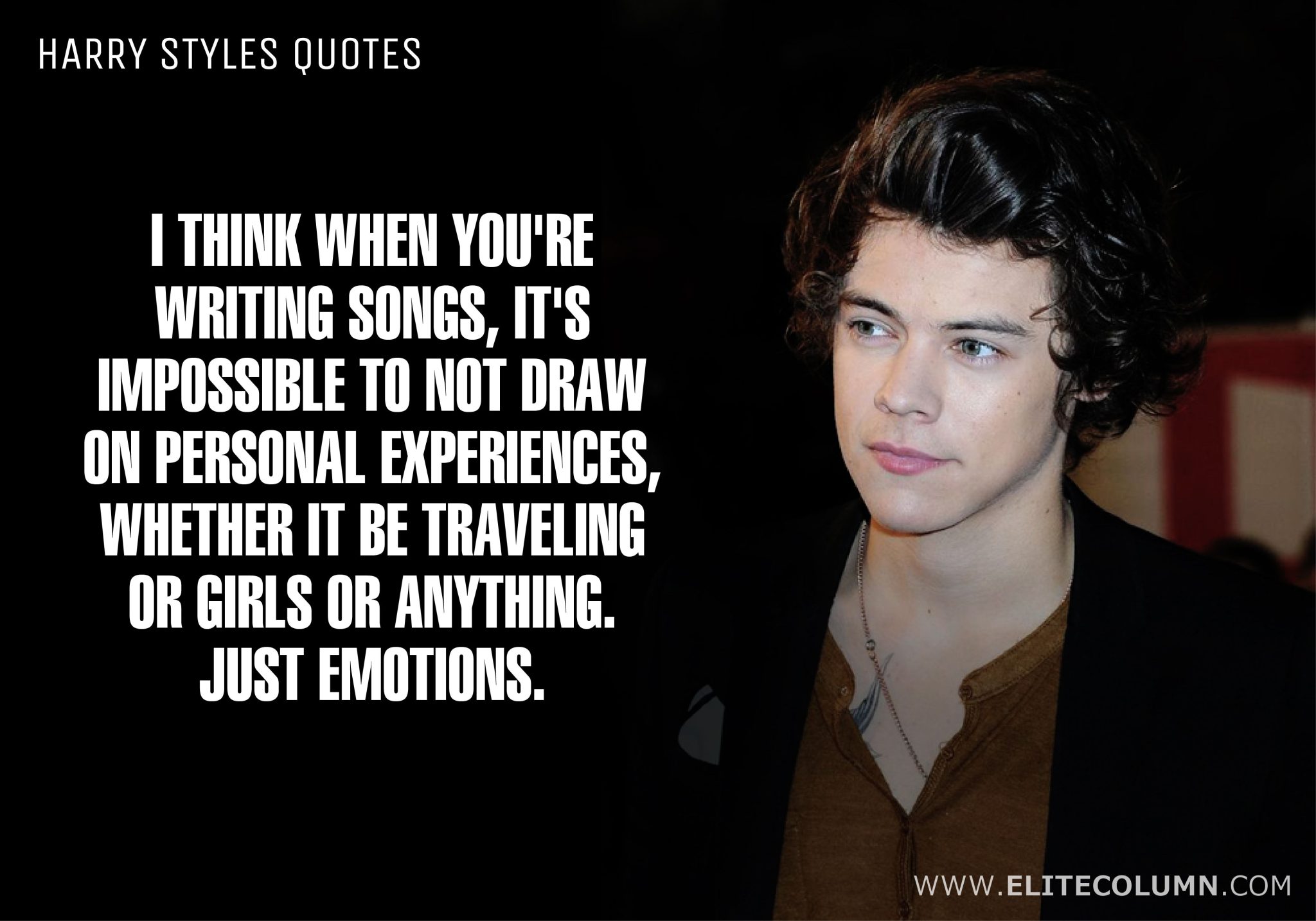 10. "I think when you're writing songs, it's impossible to not draw on personal experiences, whether it be traveling or girls or anything. Just emotions." – Harry Styles
11. "I meditate and pray before going onstage – it helps me focus." – Harry Styles
12. "Don't listen to the haters!" – Harry Styles
See also:
Justin Bieber Quotes | Ed Sheeran Quotes | Taylor Swift Quotes | Eminem Quotes | Michael Jackson Quotes | Nicki Minaj Quotes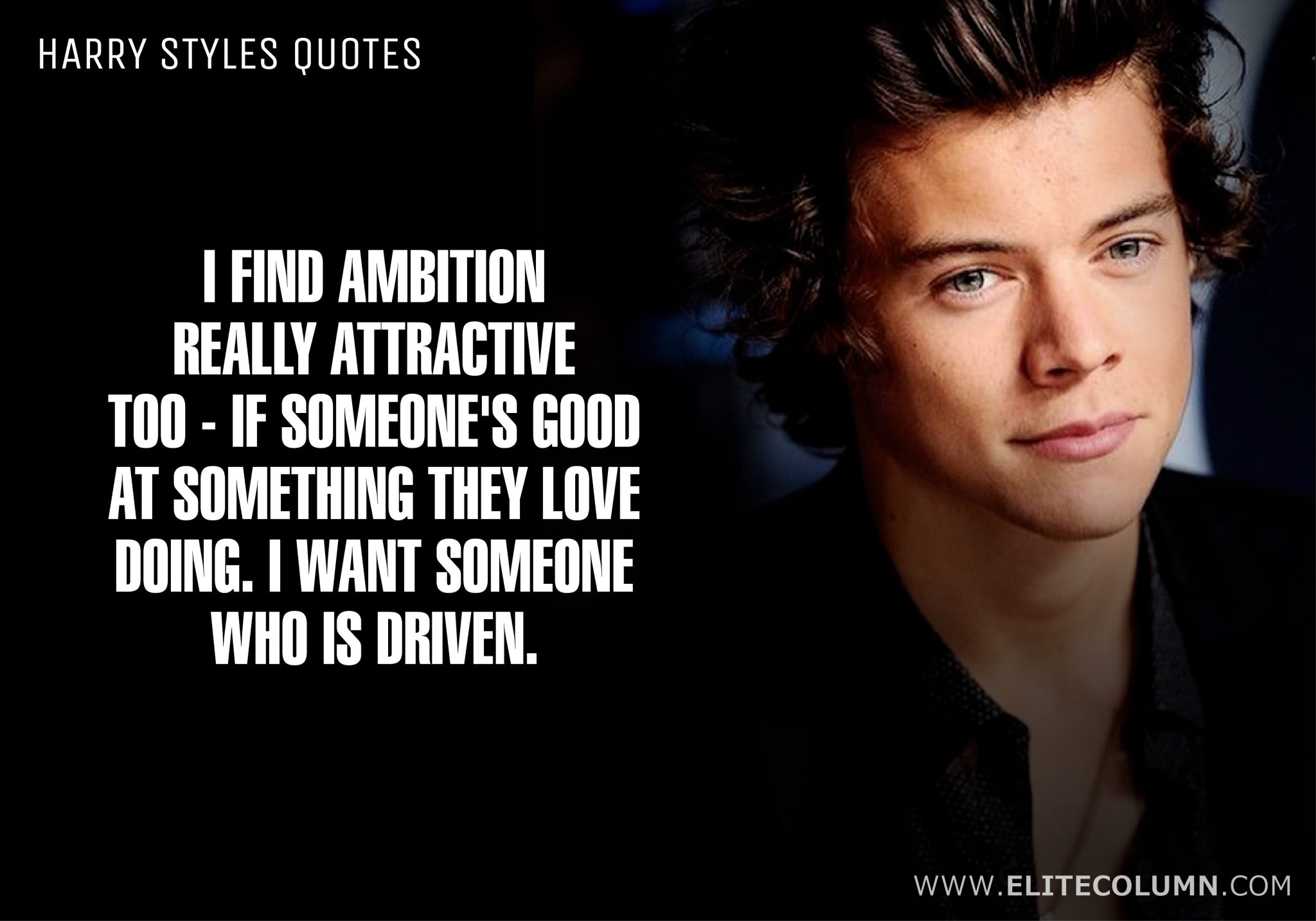 13. "I find ambition really attractive too – if someone's good at something they love doing. I want someone who is driven." – Harry Styles
14. "Age is just a number; maturity is a choice." – Harry Styles
15. "Trick or treat people with kindness." – Harry Styles
See also:
Ariana Grande Quotes | Madonna Quotes | Bruno Mars Quotes | Kanye West Quotes | Rihanna Quotes | Drake Quotes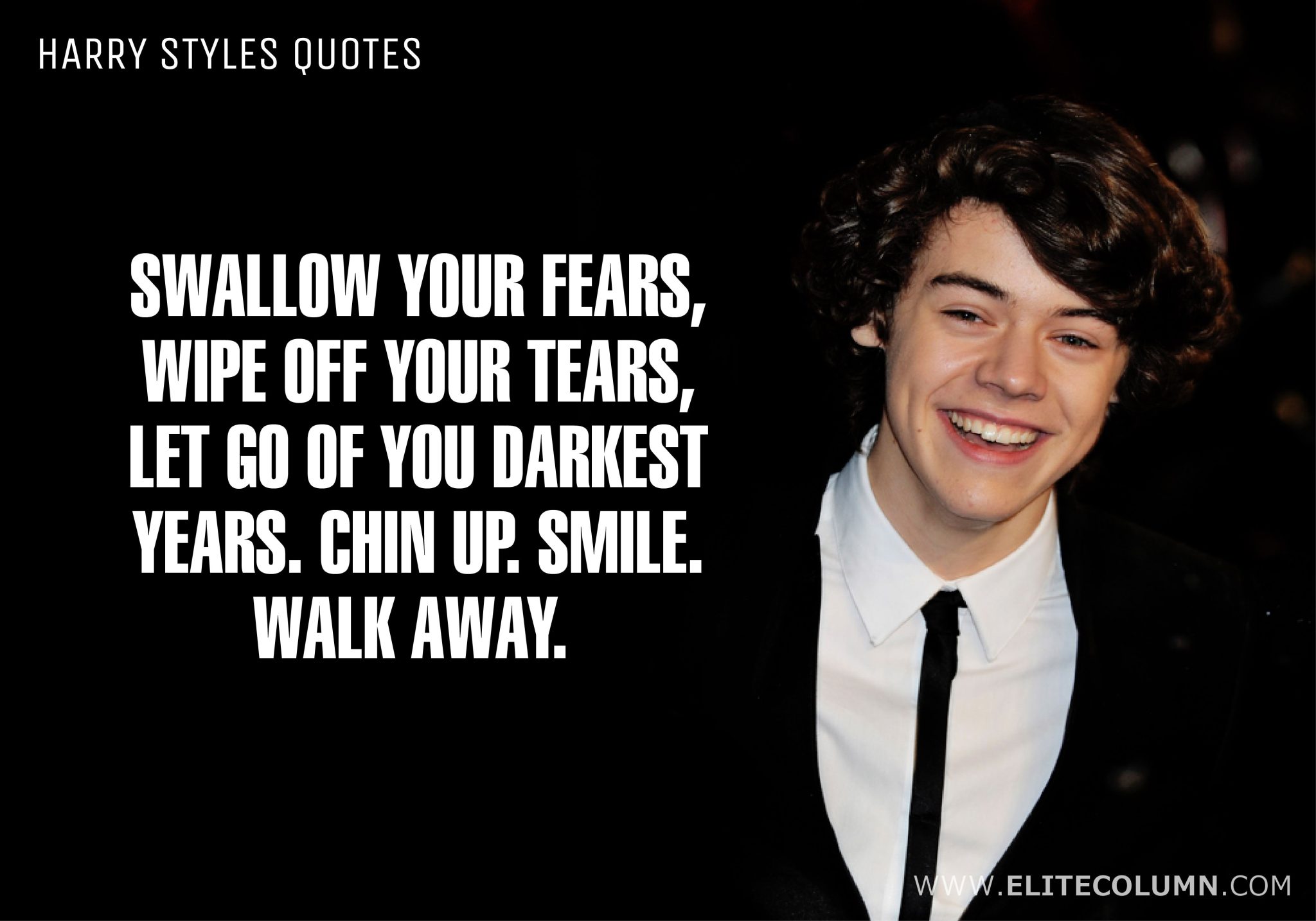 16. "Swallow your fears, wipe off your tears, let go of you darkest years. Chin up. Smile. Walk away." – Harry Styles
17. "You have a choice where you can either be all right to someone or you can be a little bit nicer, and that can make someone's day." – Harry Styles
18. "Don't choose the one who is beautiful to the world. But rather, choose the one who makes your world beautiful." – Harry Styles
Thanks for checking out the best Harry Styles quotes. Feel free to share the quotes with your friends. Leave a comment below and which are your favorite Harry Styles quotes ?
See also:
Chester Bennington Quotes | Beyonce Quotes | Katy Perry Quotes | Tupac Shakur Quotes | Lady Gaga Quotes | Jay Z Quotes | Demi Lovato Quotes
You can find us at – Facebook | Instagram | LinkedIn | Pinterest | Twitter