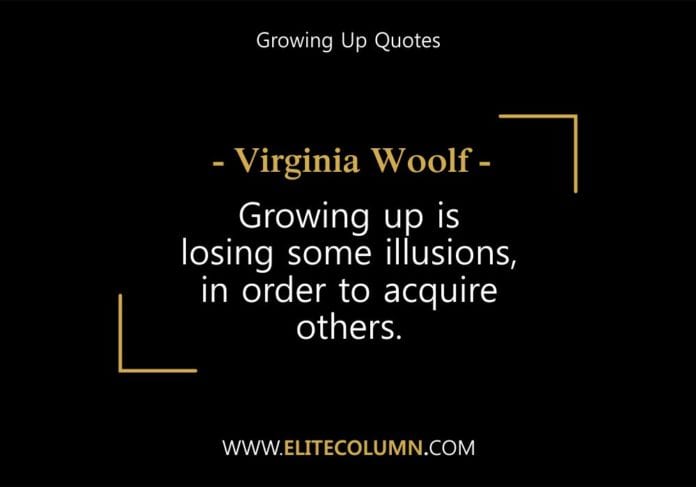 One fine day, you wake up, and realize that you are not a child anymore. Your childish innocence disappears completely. However, growing up is not a bad thing. It allows you to make a difference in the world, around us. It helps you to find who you are as a person. The reality of growing up is harsh though. Growing Up quotes will help move in the right direction in your life. EliteColumn brings you melancholic and bizarre Growing Up quotes.
46 Best Growing Up Quotes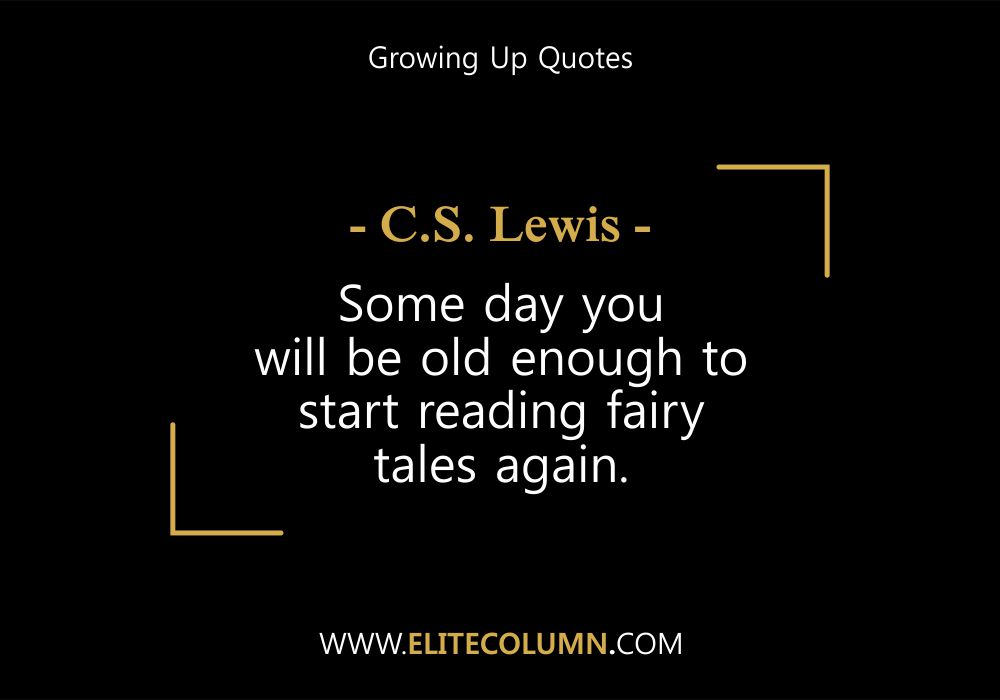 "Some day you will be old enough to start reading fairy tales again." – CS Lewis
2. "When you're green, your growing. When you're ripe, you rot." – Ray Kroc
3. "Even though you're growing up, you should never stop having fun." – Nina Dobrev
4. "I think I'm finally growing up – and about time." – Elizabeth Taylor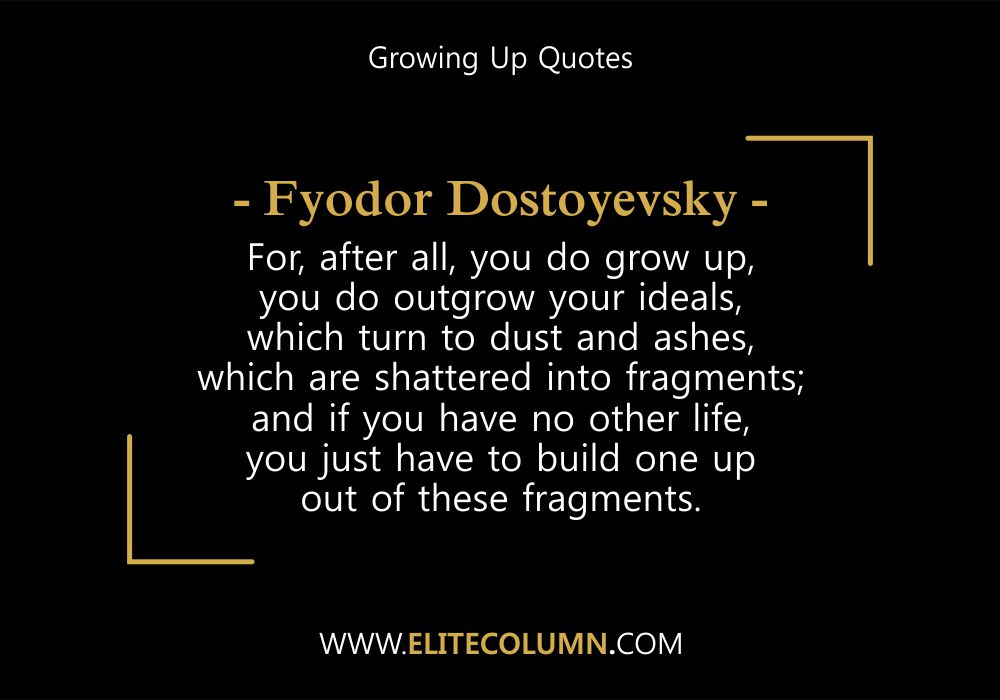 5. "For, after all, you do grow up, you do outgrow your ideals, which turn to dust and ashes, which are shattered into fragments; and if you have no other life, you just have to build one up out of these fragments." – Fyodor Dostoyevsky
6. "The trick is growing up without growing old." – Casey Stengel
7. "Don't try to make me grow up before my time." – Louisa May Alcott
8. "When will I grow up? How long can I stay a child?" – Ayumi Hamasaki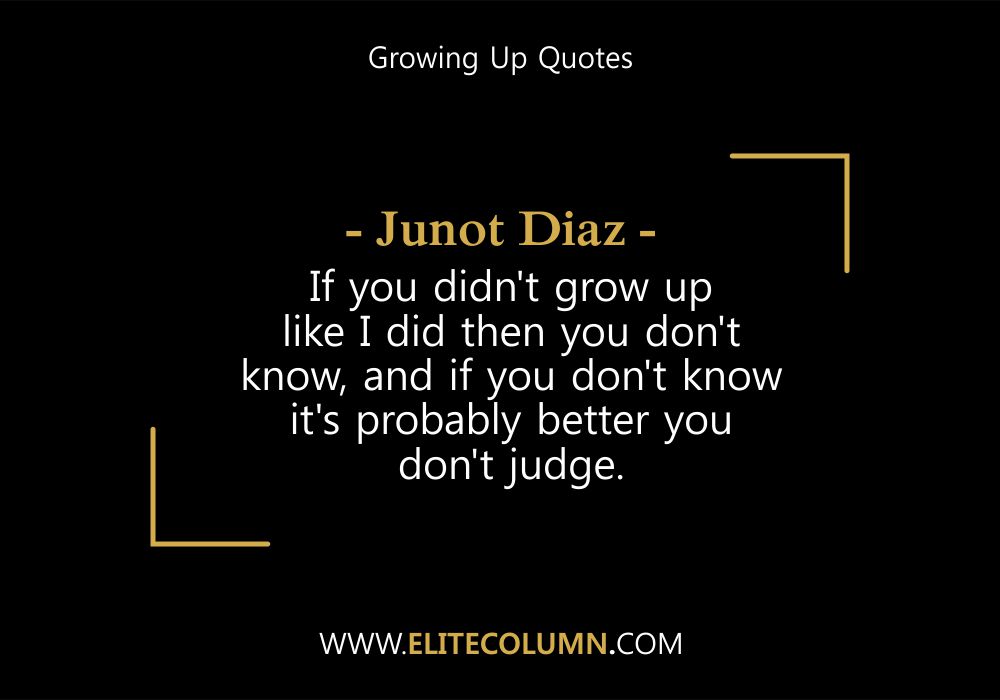 9. "If you didn't grow up like I did then you don't know, and if you don't know it's probably better you don't judge." – Junot Diaz
10. "We've had bad luck with children; they've all grown up." – Christopher Morley
11. "Growing up is hard, love. Otherwise everyone would do it." – Kim Harrison
12. "You can get what you want or you can just get old." – Billy Joel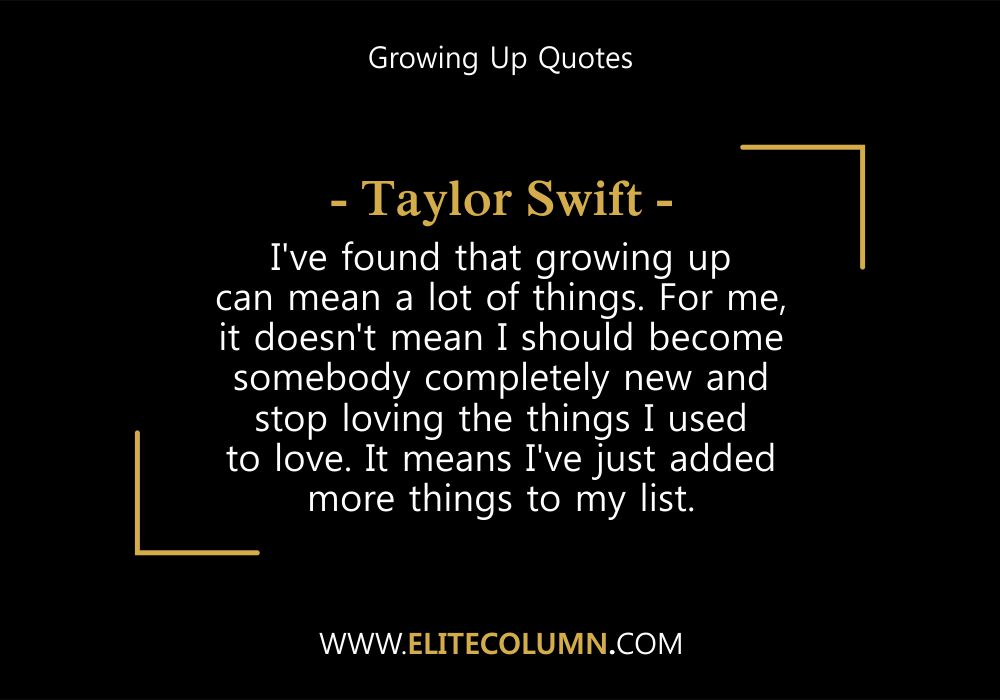 13. "I've found that growing up can mean a lot of things. For me, it doesn't mean I should become somebody completely new and stop loving the things I used to love. It means I've just added more things to my list." – Taylor Swift
14. "It takes courage to grow up and become who you really are." – E. E. Cummings
15. "I think people make their own faces, as they grow." – Enid Blyton
16. "When they tell you to grow up, they mean stop growing." – Tom Robbins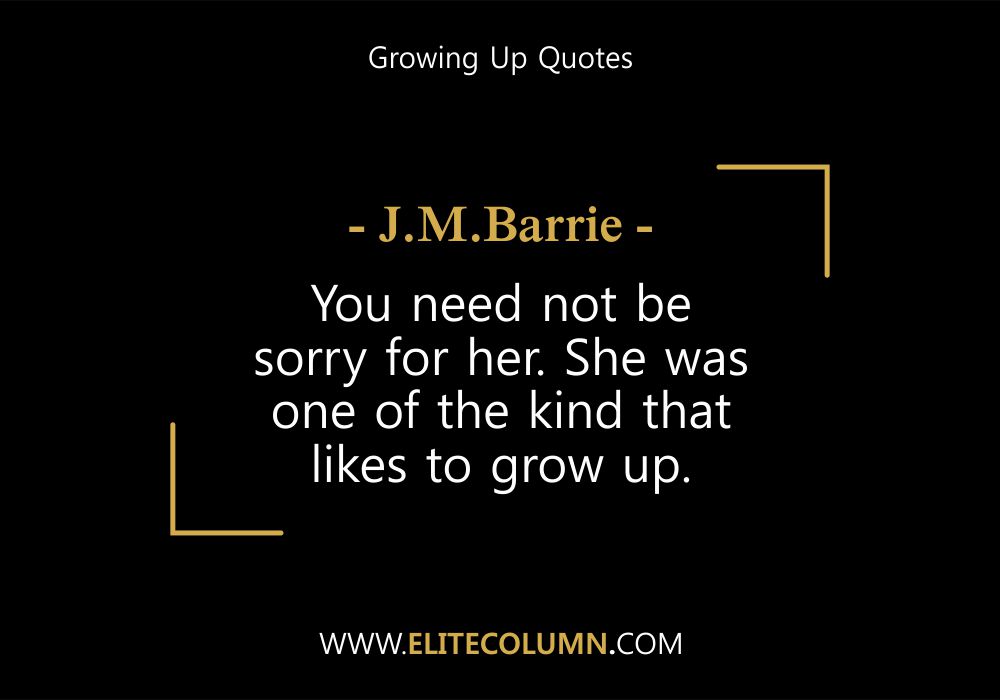 17. "You need not be sorry for her. She was one of the kind that likes to grow up." – JM Barrie
18. "Don't try to make children grow up to be like you, or they may do it." – Russell Baker
19. "That's the real trouble with the world, too many people grow up." – Walt Disney
20. "A grown-up is a child with layers on." – Woody Harrelson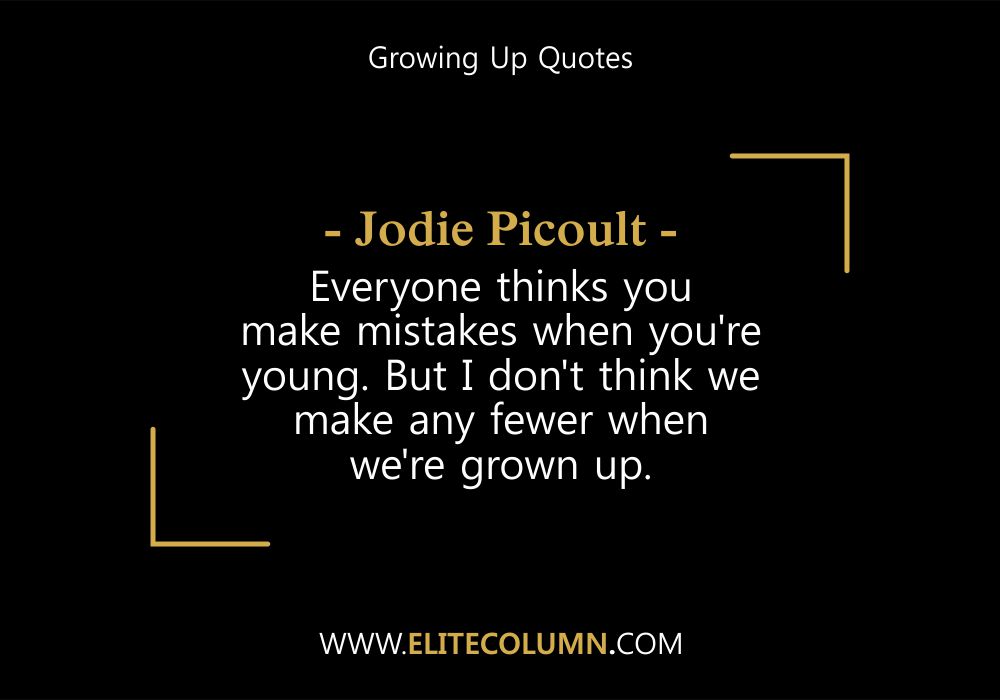 21. "Everyone thinks you make mistakes when you're young. But I don't think we make any fewer when we're grown up." – Jodie Picoult
22. "Admitting our mistakes is a sign of maturity and wisdom. We learn more from knowing our mistakes." – Dr T.P.Chia
23. "Sometimes, life makes you grow up early. And some people never grow up at all." – Matthew Thomas
24. "Growing up is such a barbarous business, full of inconvenience. and pimples." – J.M. Barrie
See also:
Karma Quotes | Plato Quotes | Sun Tzu Quotes | Dalai Lama Quotes | Sadhguru Quotes | Confucius Quotes | Lao Tzu Quotes | Positive Quotes | Happiness Quotes | Inspirational Quotes | Life Quotes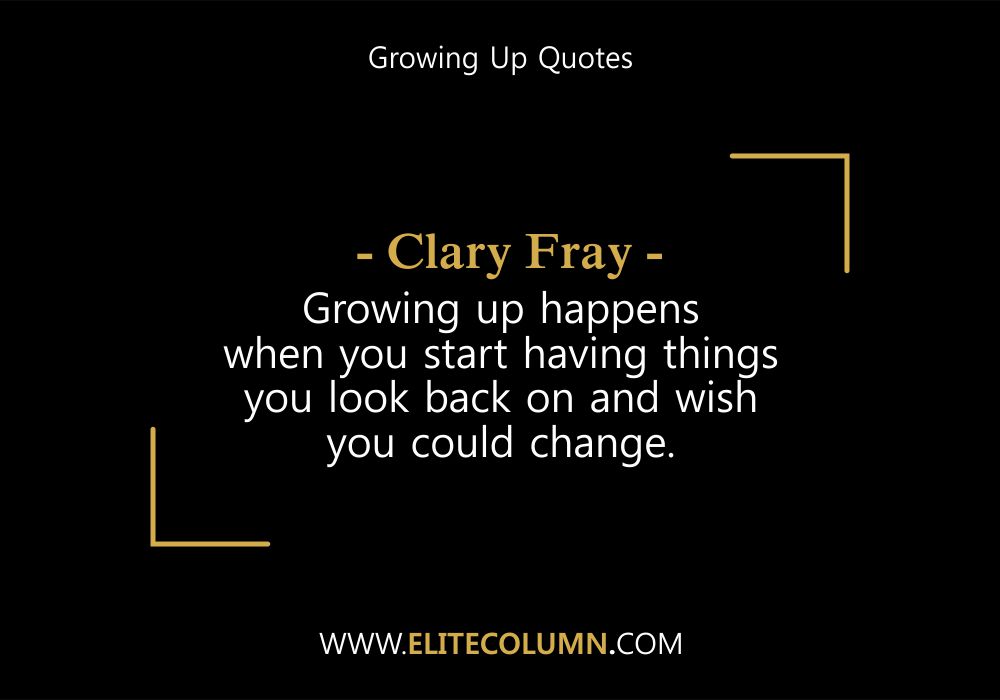 25. "Growing up happens when you start having things you look back on and wish you could change." – Clary Fray
26. "I guess that's part of growing up, too – saying goodbye to the things you used to love." – Jenny Han
27. "The struggle of maturity is to recover the seriousness of a child at play." – Fredrich Nietzsche
28. "Everything will change. The only question is growing up or decaying." – Nikki Giovanni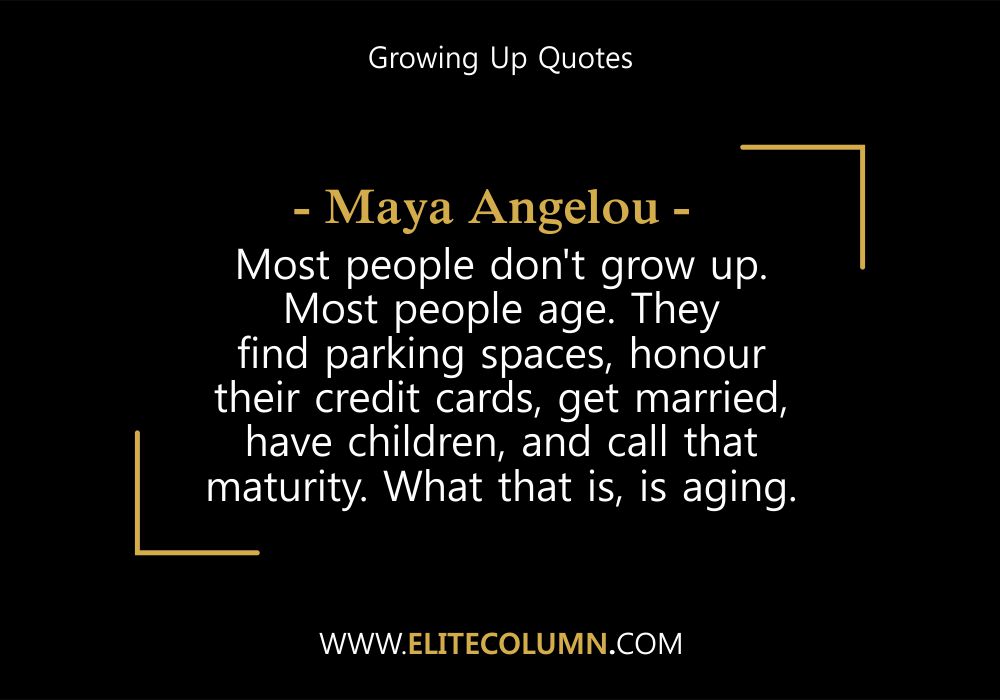 29. "Most people don't grow up. Most people age. They find parking spaces, honour their credit cards, get married, have children, and call that maturity. What that is, is aging." – Maya Angelou
30. "Sometimes you have to grow up before you appreciate how you grew up." – Daniel Black
31. "Part of growing up is realizing you learn to love so many people. It's about forming those relationships and finding what will last forever." – Dylan O'Brien
32. "If growing up is the process of creating ideas and dreams about what life should be, then maturity is letting go again." – Mary Beth Danielson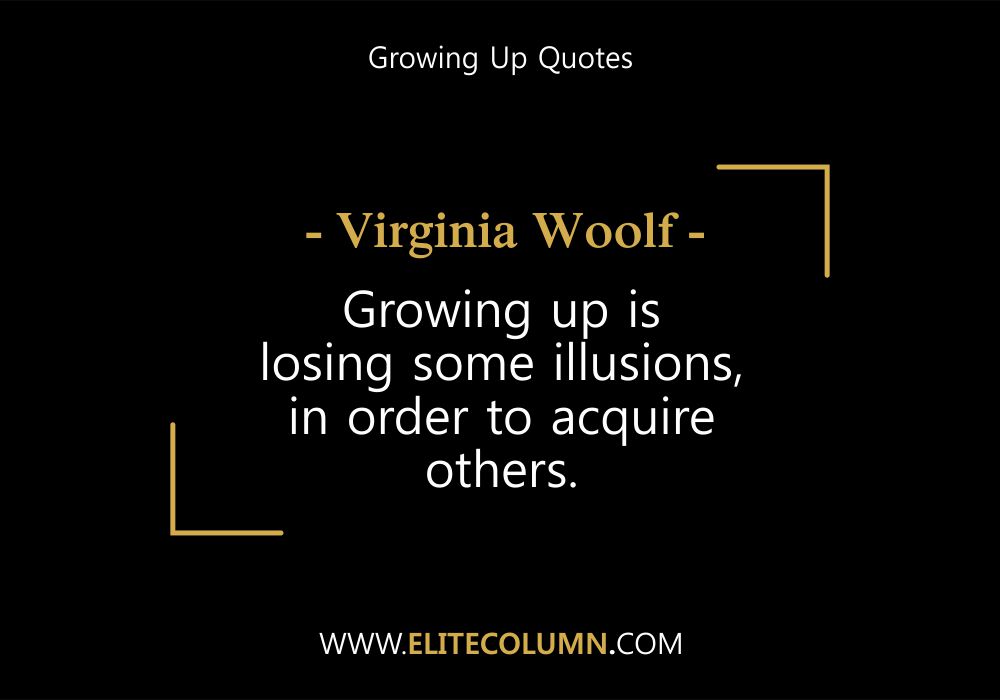 33. "Growing up is losing some illusions, in order to acquire others." – Virginia Woolf
34. "All grown-ups were once children… but only few of them remember it." – Antoine de Saint-Exupery
35. "Maturity is a bitter disappointment for which no remedy exists, unless laughter could be said to remedy anything." – Kurt Vonnegut
36. "Maturity begins to grow when you can sense your concern for others outweighing your concern for yourself." – John MacNaughton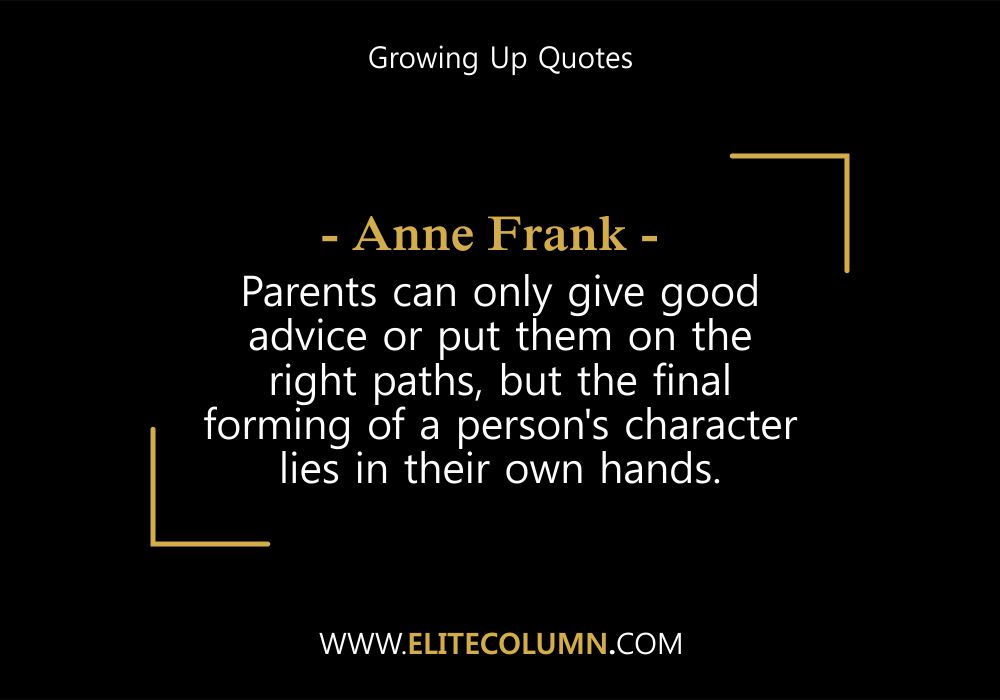 37. "Parents can only give good advice or put them on the right paths, but the final forming of a person's character lies in their own hands." – Anne Frank
38. "Never did the world make a queen of a girl who hides in houses and dreams without travelling." – Roman Payne
39. "No one loses their innocence. It is either taken or given away willingly." – Tiffany Madison
40. "You are not really grown up until you see and understand your weaknesses." – Dr T.P.Chia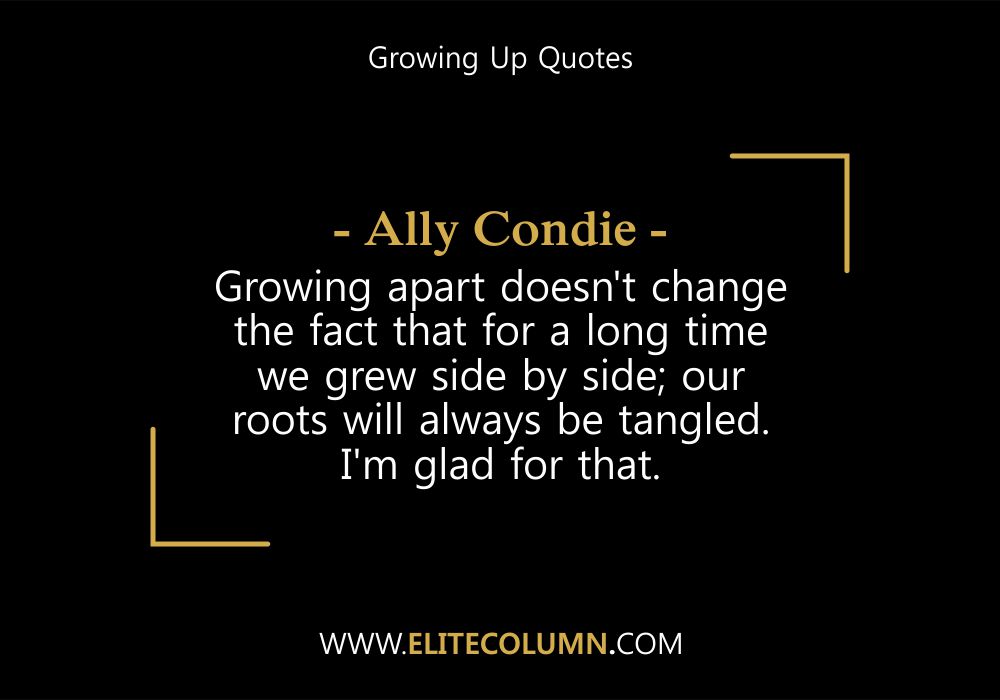 41. "Growing apart doesn't change the fact that for a long time we grew side by side; our roots will always be tangled. I'm glad for that." – Ally Condie
42. "Every child is an artist. The problem is how to remain an artist once he grows up." – Pablo Picasso
43. "You don't stop laughing when you grow old, you grow old when you stop laughing." – George Bernard Shaw
44. "The process of growing up is to be valued for what we gain, not for what we lose." – C. S. Lewis
45. "Growing up, I have discovered over time, is rather like housework: never finished." – McMaster Bujold
46. "You know your children are growing up when they stop asking you where they came from and refuse to tell you where they're going." – P. J. O'Rourke
Thanks for checking out the best Growing Up quotes. Feel free to share the quotes with your friends. Leave a comment below and which are your favorite Growing Up quotes ?
See also:
Intimacy Quotes | Music Quotes | Rebellious Quotes | Smile Quotes | Relationship Quotes | Woman Quotes | Heartbreak Quotes
You can find us at – Facebook | Instagram | LinkedIn | Pinterest | Twitter