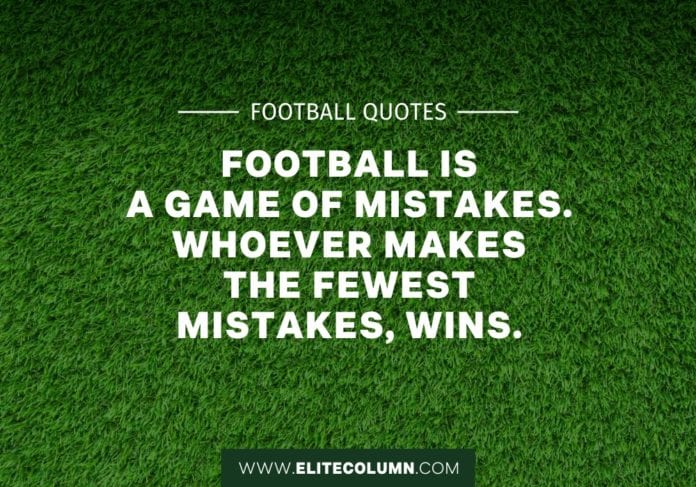 Football, most commonly known as soccer, is a family of team sports that involve kicking a ball with a foot to score a goal. The Ancient Greeks and Romans are known to have played ball games that required usage of feet. Early footballs, in Europe were made out of animal bladders, especially pig bladders because they were inflated. The iconic football with the hexagons and pentagons only became popular in the 1960s and was first used in the World Cup in 1970. Football quotes will give you a head start in your life. EliteColumn brings you 36 best motivational football quotes.
36 Inspirational Football Quotes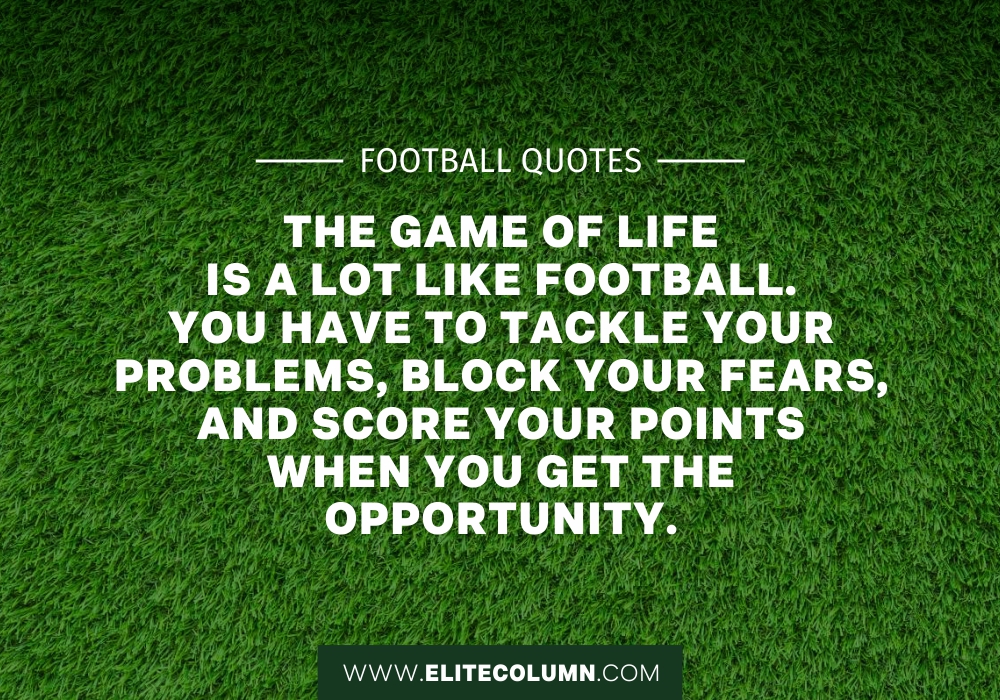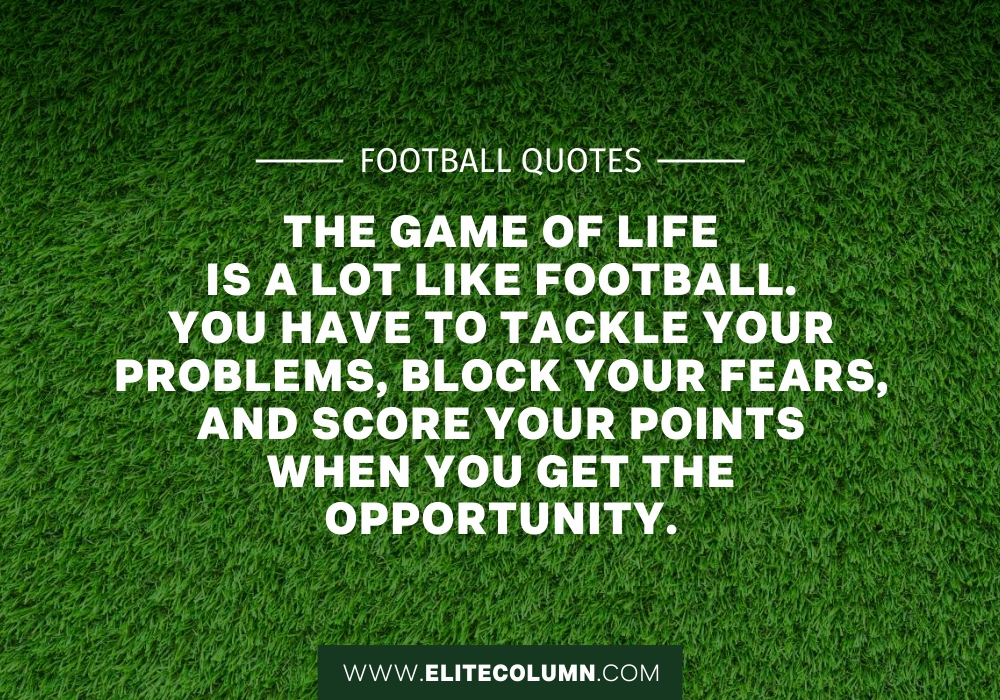 1. "The game of life is a lot like football. You have to tackle your problems, block your fears, and score your points when you get the opportunity."
2. "Ability is what you're capable of doing. Motivation determines what you do. Attitude determines how well you do it." – Lou Holtz 
3. "Leadership is a matter of having people look at you and gain confidence. If you're in control, they're in control." – Tom Landry
4. "You have to perform at a consistently higher level than others. That's the mark of a true professional." – Joe Paterno 
5. "Football is like life. It requires perseverance, self-denial, hard work, sacrifice, dedication, and respect for authority." – Vince Lombardi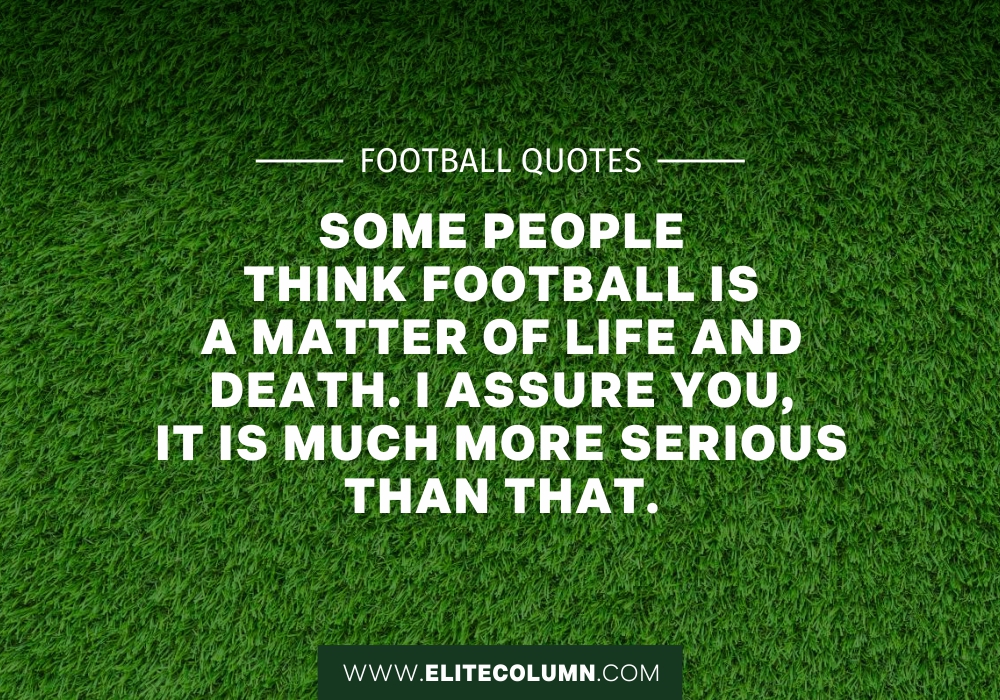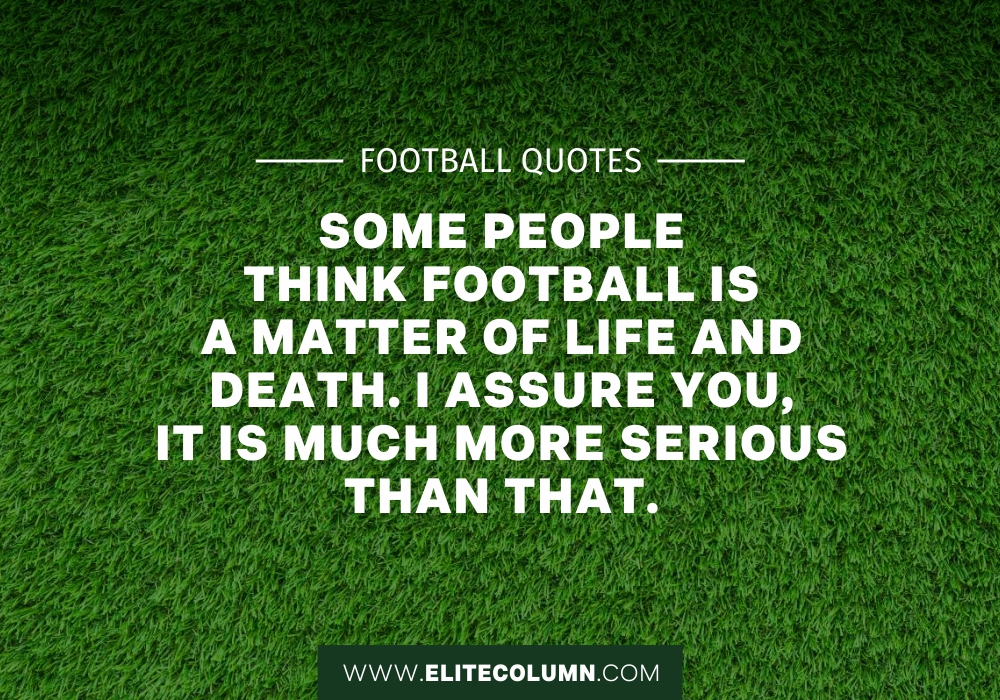 6. "Some people think football is a matter of life and death. I assure you, it is much more serious than that."
7. "Success isn't measured by money or power or social rank. Success is measured by your discipline and inner peace." – Mike Ditka
8. "Self-praise is for losers. Be a winner. Stand for something. Always have class, and be humble." – John Madden
9. "The only place success comes before work is in the dictionary." – Vince Lombardi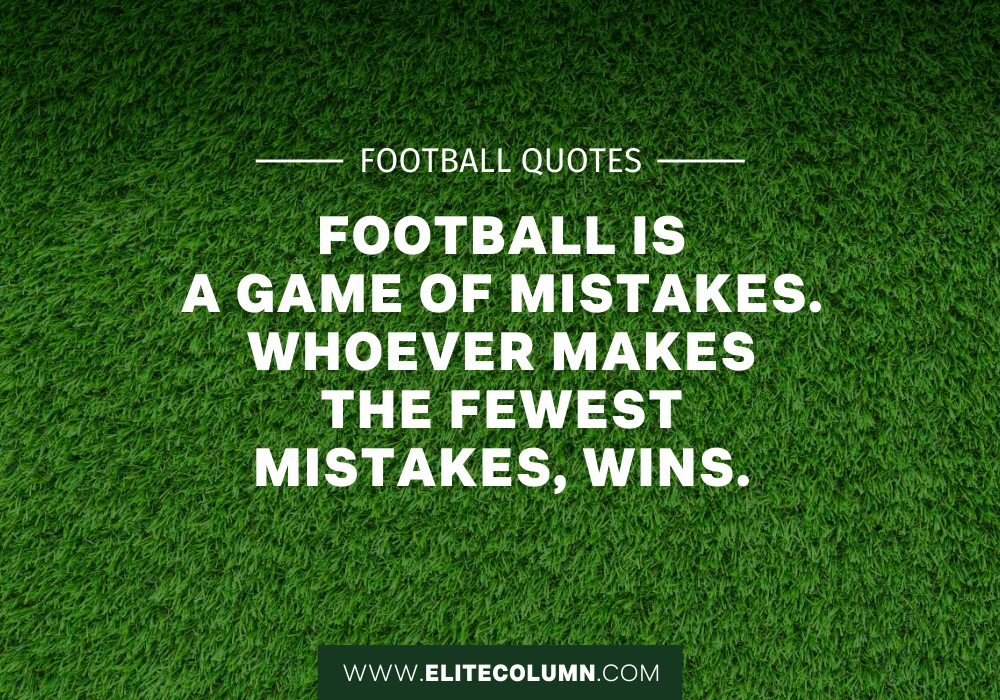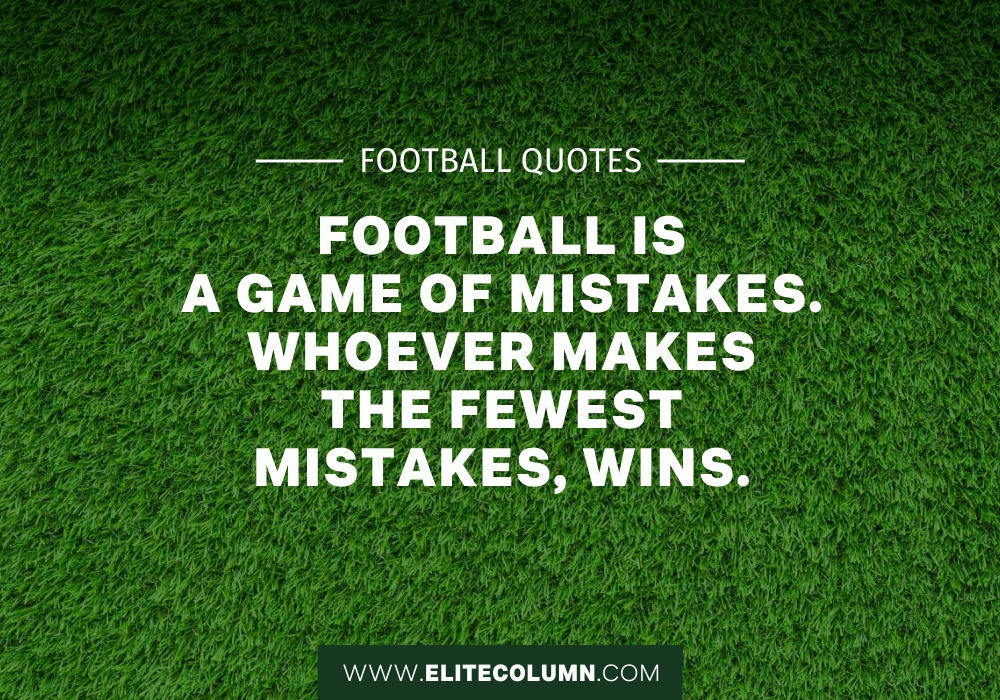 10. "Football is a game of mistakes. Whoever makes the fewest mistakes, wins."
11. "No one ever drowned in sweat." – Lou Holtz
12. "No matter the circumstances you may be going through, just push through it." – Ray Lewis
13. "Nobody who ever gave his best regretted it." – George S. Halas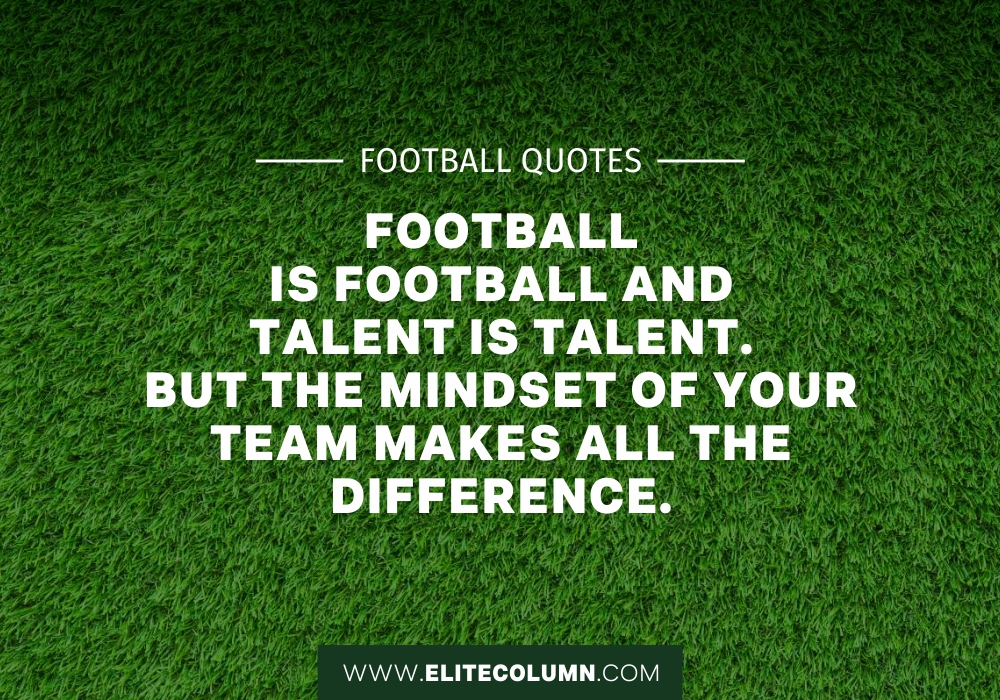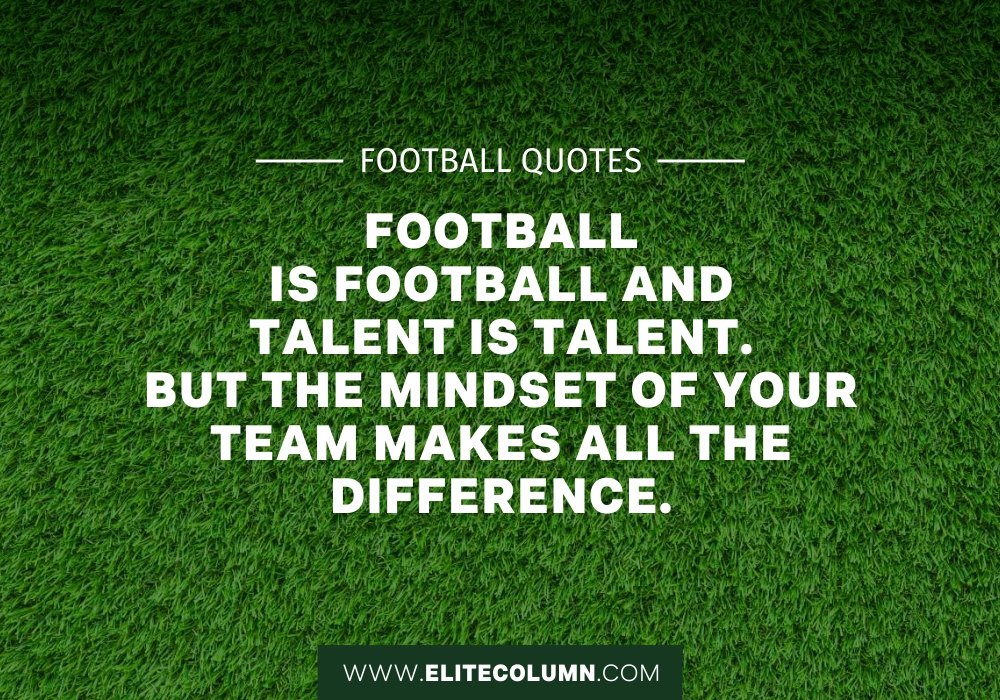 14. "Football is football and talent is talent. But the mindset of your team makes all the difference."
15. "When you've got something to prove, there's nothing greater than a challenge." – Terry Bradshaw 
16. "It's not whether you get knocked down, it's whether you get back up." – Vince Lombardi
17. "When you don't give up, you cannot fail." – Adrian Peterson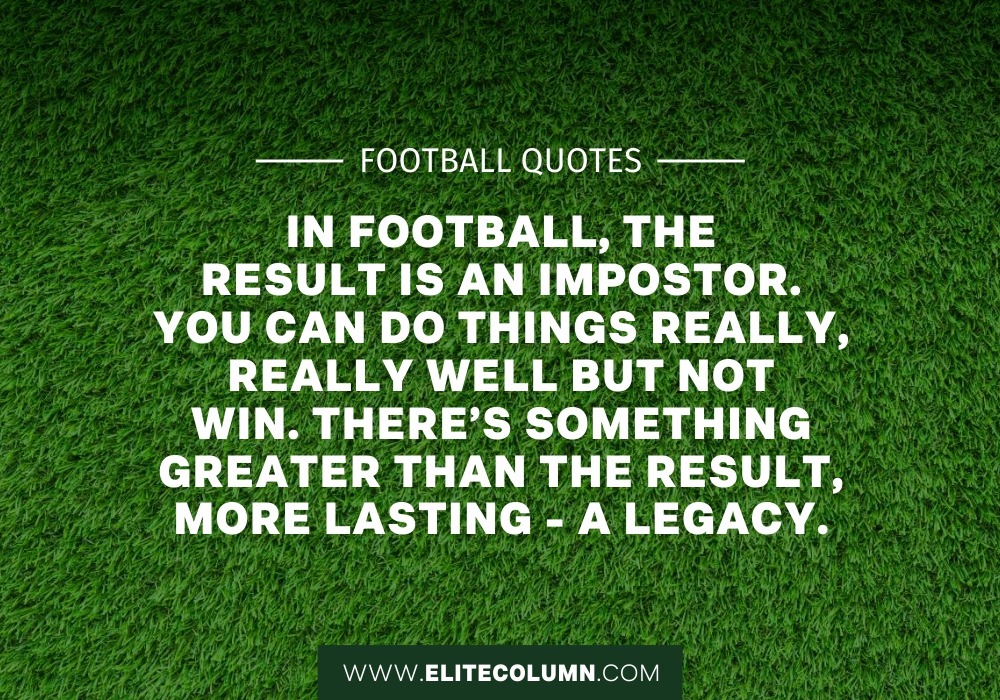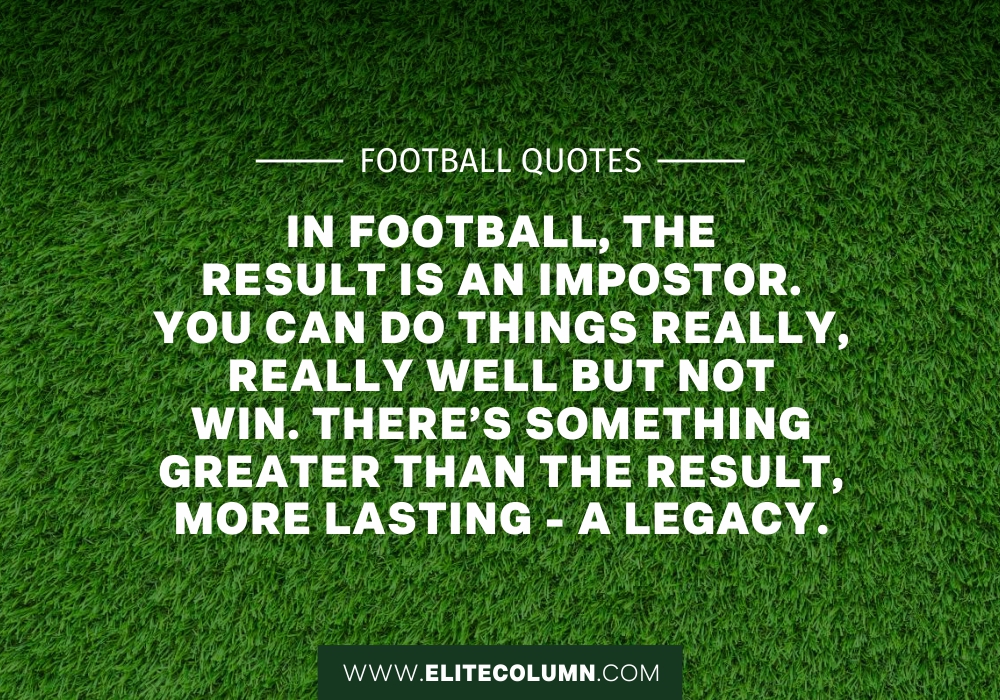 18. "In football, the result is an impostor. You can do things really, really well but not win. There's something greater than the result, more lasting – a legacy." 
19. "It's not the size of the dog in the fight, but the size in the fight of the dog." – Archie Griffin
20. "There is only one way to succeed in anything…and that is to give it everything." – Vince Lombardi
21. "You cannot make progress with excuses." – Cam Newton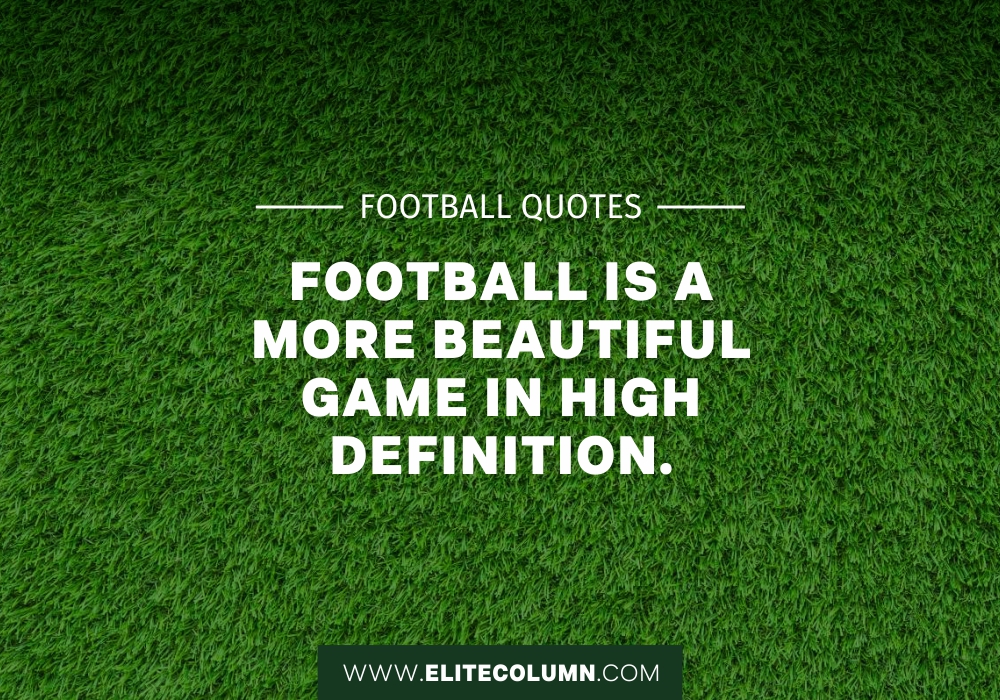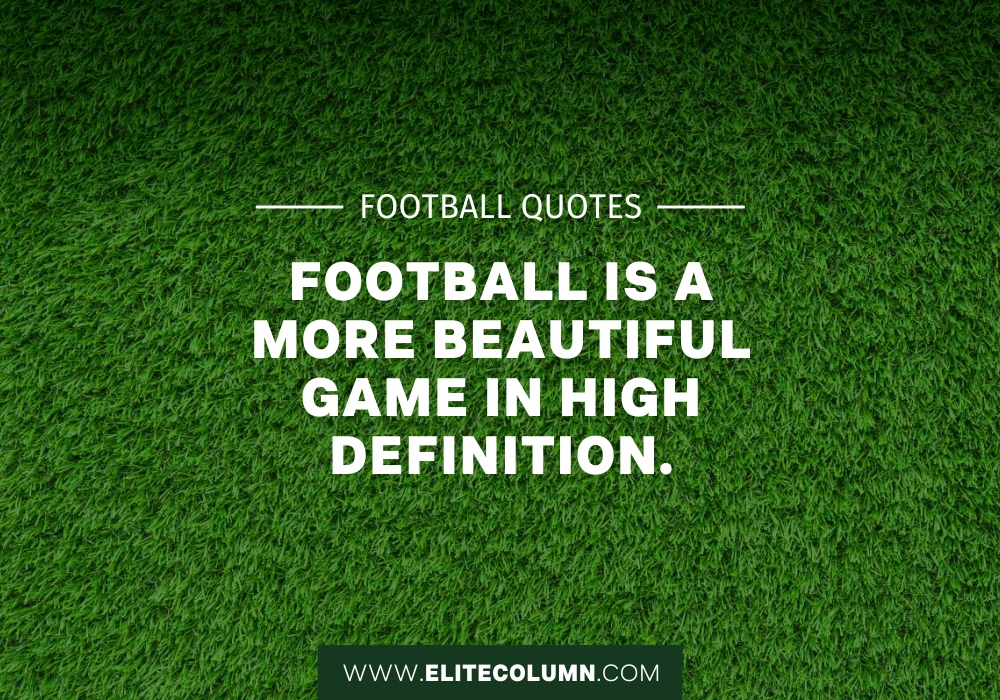 22. "Football is a more beautiful game in high definition."
23. "Success isn't owned, it's leased. And rent is due every day." – J.J. Watt
24. "You can learn a line from a win and a book from defeat." – Paul Brown
25. "It's not the will to win that matters. It's the will to prepare to win that matters." – Paul Bryant
26. "The difference between a successful person and others is not a lack of strength, not a lack of knowledge, but rather in a lack of will." – Vince Lombardi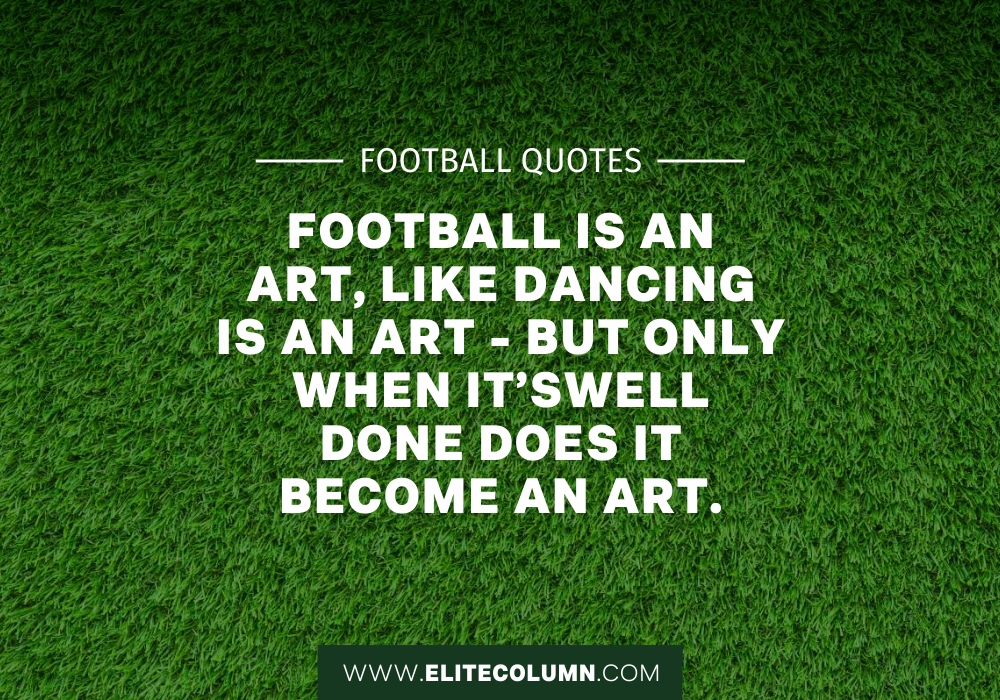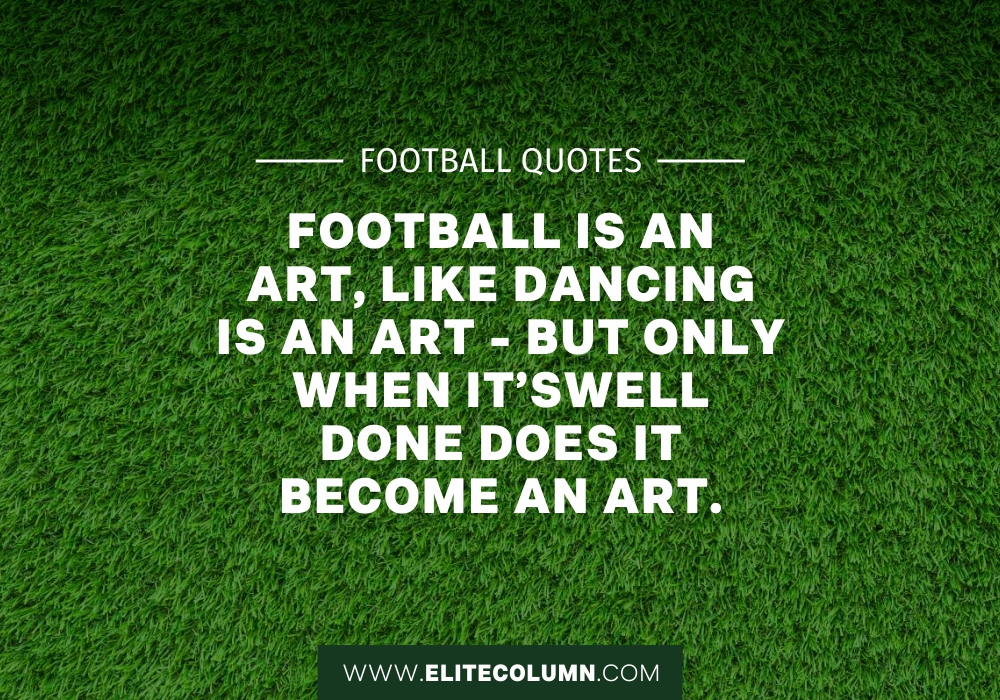 27. "Football is an art, like dancing is an art – but only when it's well done does it become an art."
28. "Set your goals high, and don't stop till you get there." – Bo Jackson 
29. "To do things you've never done before, you have to do things you've never done before." – Sean Payton
30. "The man on top of the mountain didn't fall there." – Vince Lombardi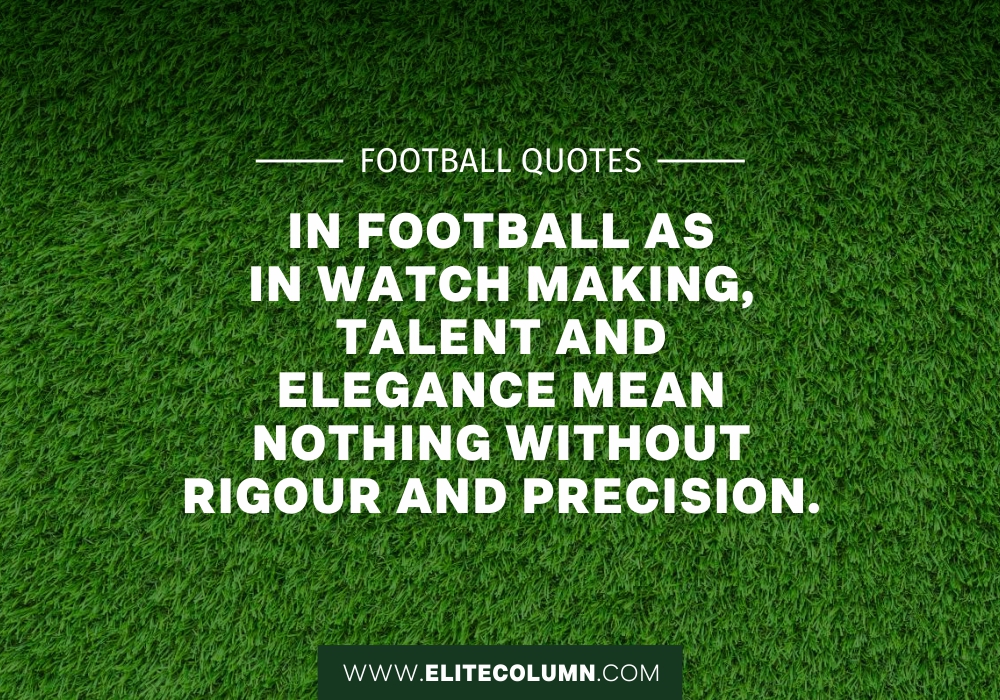 31. "In football as in watch making, talent and elegance mean nothing without rigour and precision."
32. "Remember, once you set a goal, it's all about how hard you're willing to work, how much you're willing to sacrifice and how badly you truly want it." – J.J. Watt
33. "The most valuable player is the one who makes the most players valuable." – Peyton Manning
34. "Today I will do what others won't, so tomorrow I can accomplish what others can't." – Jerry Rice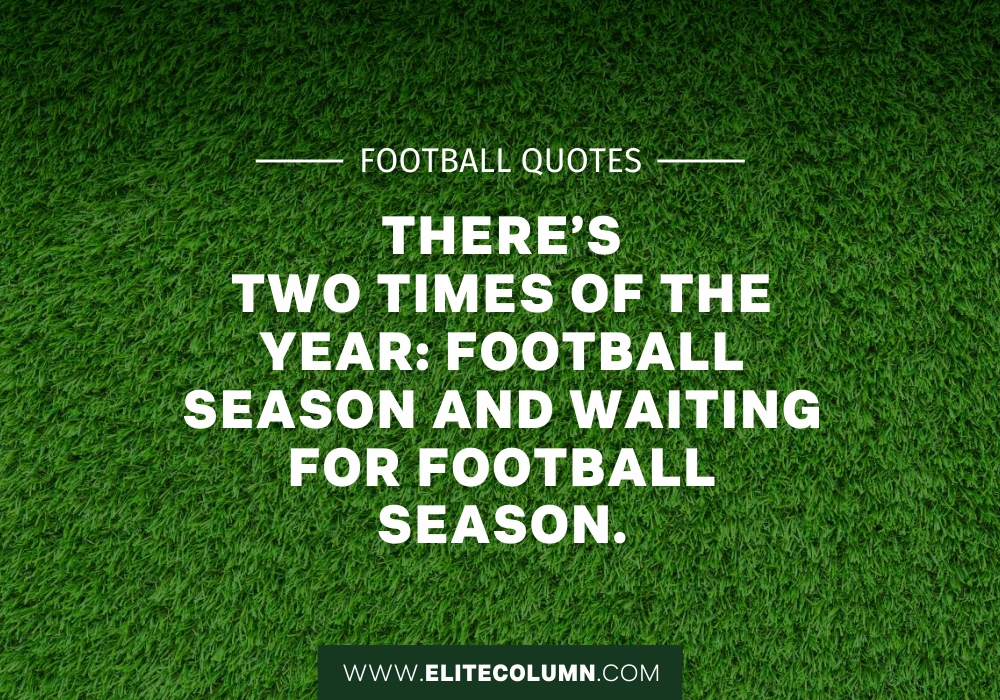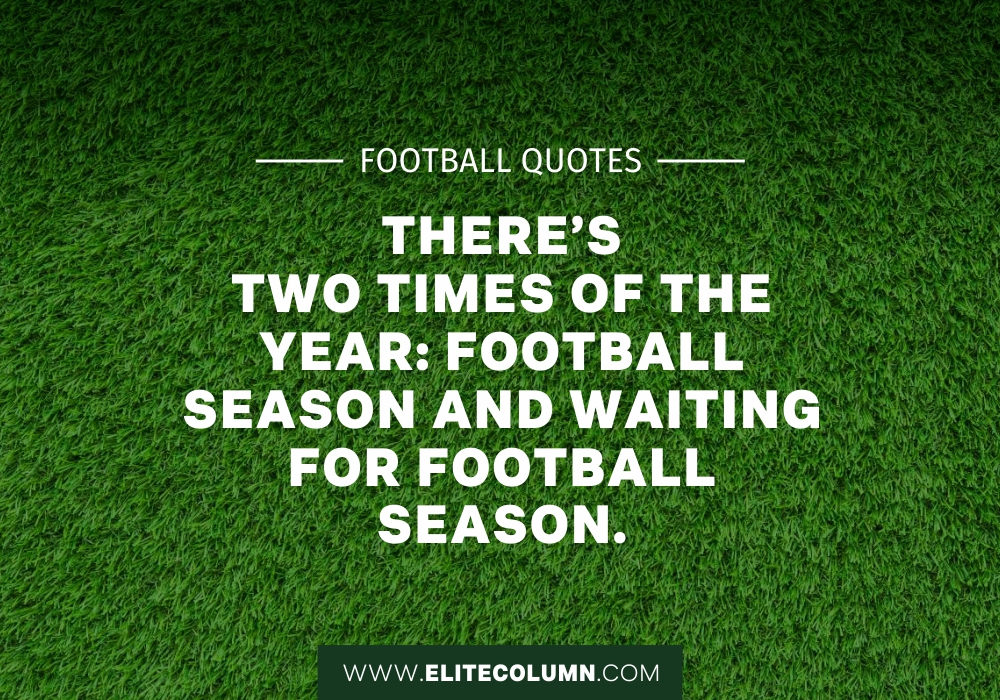 35. "There's two times of the year: Football season and waiting for football season."
36. "If what you did yesterday seems big, you haven't done anything today." – Lou Holtz
Thanks for checking out the best Football quotes. Feel free to share the quotes with your friends. Leave a comment below and which are your favorite Football quotes ?
See also:
Andrea Pirlo Quotes | David Beckham Quotes | Cristiano Ronaldo Quotes | Lionel Messi Quotes
You can find us at – Facebook | Instagram | LinkedIn | Pinterest | Twitter