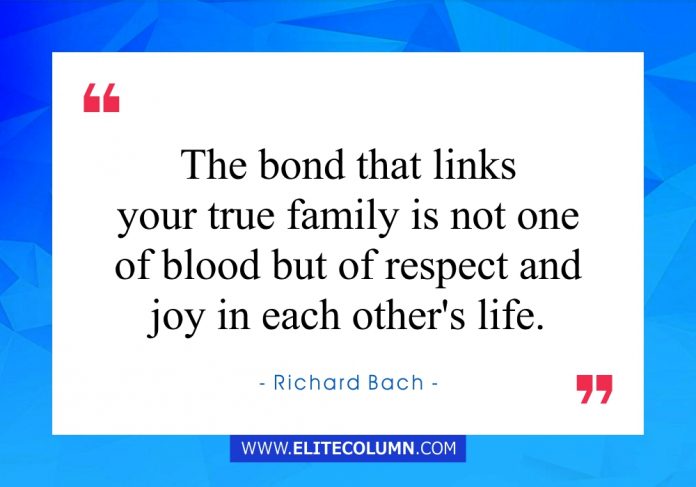 Check out 50 Family Quotes today. Family quotes will help you understand the importance of having a family.
50 Best Family Quotes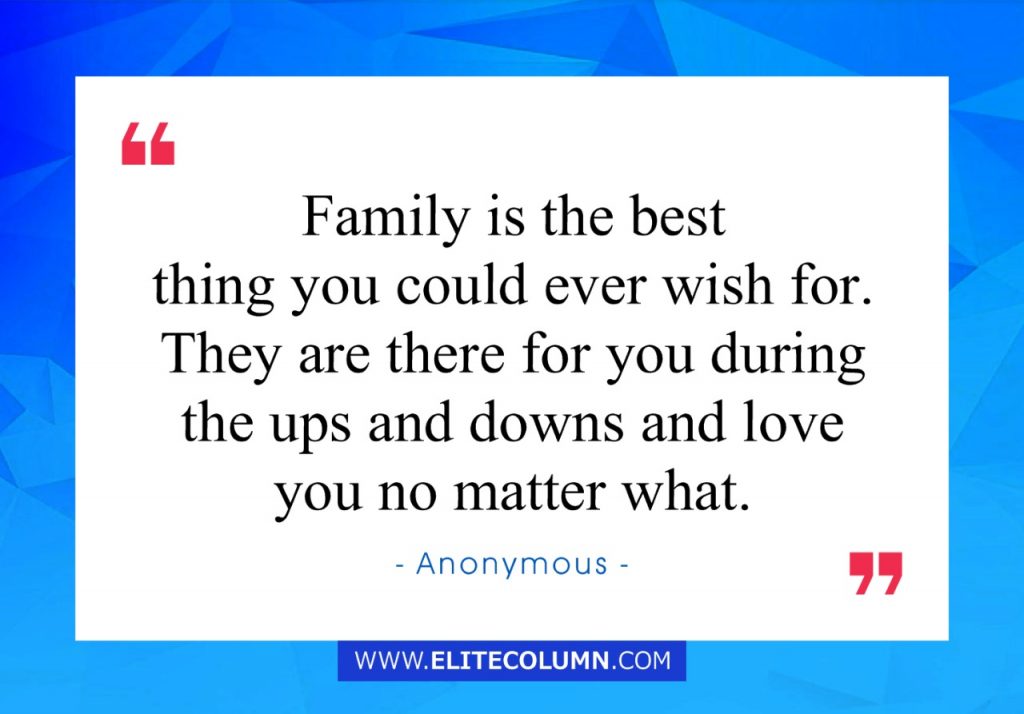 1. "Family is the best thing you could ever wish for. They are there for you during the ups and downs and love you no matter what." – Anonymous
2. "Call it a clan, call it a network, call it a tribe, call it a family: Whatever you call it, whoever you are, you need one." – Jane Howard
3. "Family means nobody gets left behind or forgotten." – David Ogden Stiers
4. "We may have our differences, but nothing's more important than family." – Walt Disney
5. "A happy family is but an earlier heaven." – George Bernard Shaw
6. "Being a family means you are a part of something very wonderful. It means you will love and be loved for the rest of your life." – Lisa Weed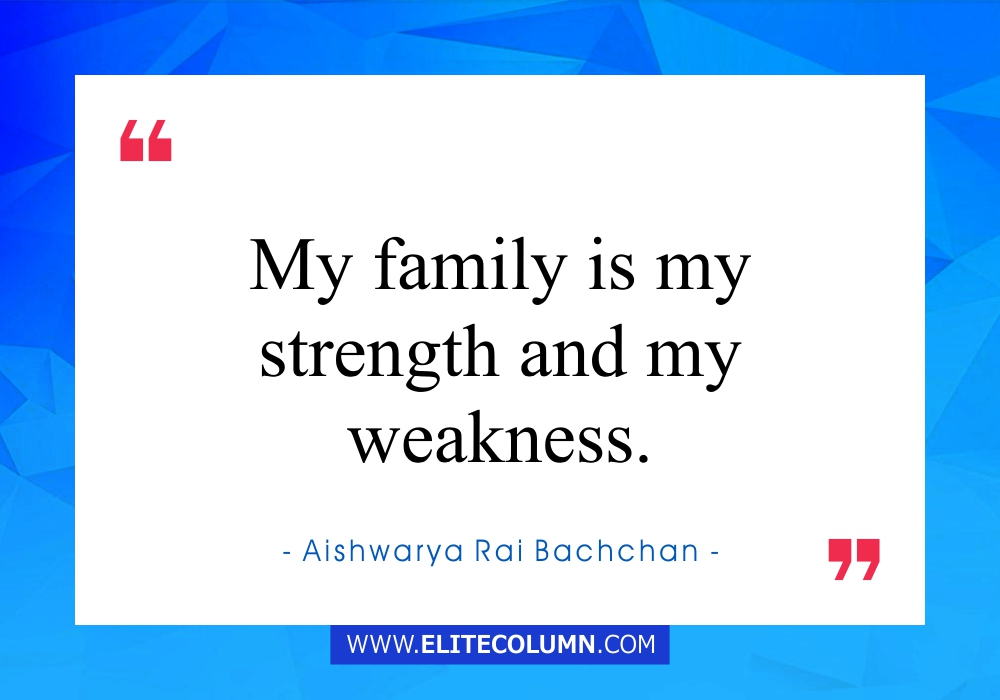 7. "My family is my strength and my weakness." – Aishwarya Rai Bachchan
8. "A family is a risky venture, because the greater the love, the greater the loss… That's the trade-off. But I'll take it all." – Brad Pitt
9. "The strength of a family, like the strength of an army, lies in its loyalty to each other." – Mario Puzo
10. "When everything goes to hell, the people who stand by you without flinching they are your family." – Jim Butcher
11. "In family life, love is the oil that eases friction, the cement that binds closer together, and the music that brings harmony." – Friedrich Nietzsche
12. "The other night I ate at a real nice family restaurant. Every table had an argument going." – George Carlin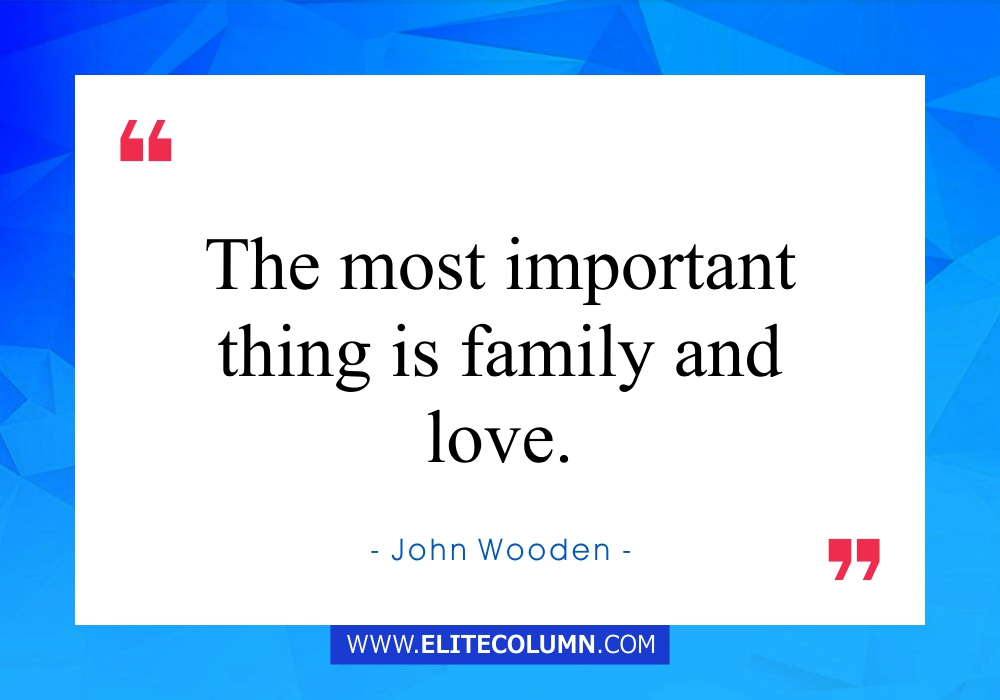 13. "The most important thing is family and love." – John Wooden
14. "Family faces are magic mirrors. Looking at people who belong to us, we see the past, present, and future." – Gail Lumet Buckley
15. "The greatest thing in family life is to take a hint when a hint is intended-and not to take a hint when a hint isn't intended." – Robert Frost
16. "You are the bows from which your children as living arrows are sent forth." – Khalil Gibran
17. "So much of what is best in us is bound up in our love of family, that it remains the measure of our stability because it measures our sense of loyalty." – Haniel Long
18. "A man should never neglect his family for business." – Walt Disney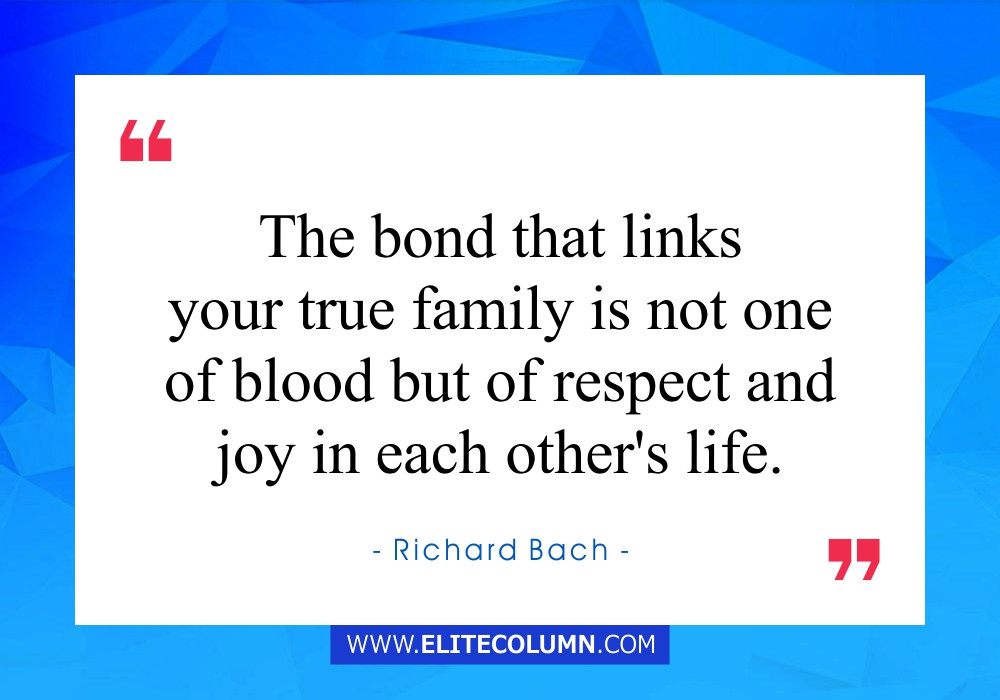 19. "The bond that links your true family is not one of blood but of respect and joy in each other's life." – Richard Bach
20. "Sister is probably the most competitive relationship within the family, but once the sisters are grown, it becomes the strongest relationship." – Margaret Mead
21. "Everyone needs a house to live in, but a supportive family is what builds a home." – Anthony Liccione
22. "There is no such thing as fun for the whole family." – Jerry Seinfeld
23. "My grandmother started walking five miles a day when she was sixty. She's ninety-seven now, and we don't know where the heck she is." – Ellen DeGeneres
24. "You don't choose your family. They are God's gift to you, as you are to them." – Desmond Tutu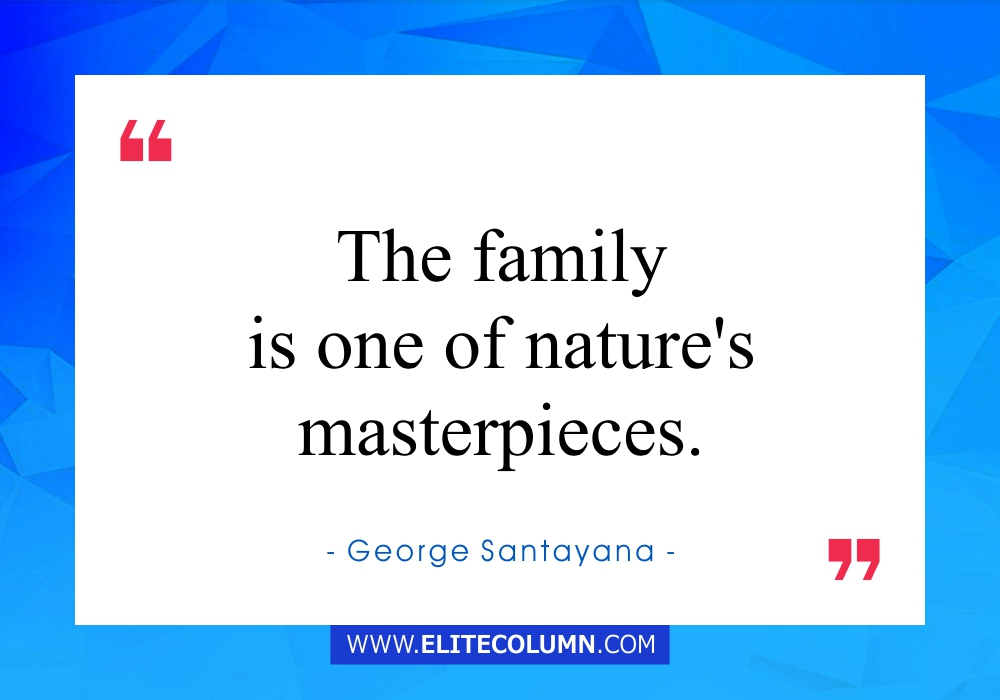 25. "The family is one of nature's masterpieces." – George Santayana
See also:
Confidence Quotes | Attitude Quotes | Patience Quotes | Mistake Quotes | Fear Quotes | Honesty Quotes | Art Quotes | Silence Quotes | Freedom Quotes
26. "The informality of family life is a blessed condition that allows us all to become our best while looking our worst." – Marge Kennedy
27. "The greatest gift of family life is to be intimately acquainted with people you might never even introduce yourself to, had life not done it for you." – Kendall Hailey
28. "I know all those words, but that sentence makes no sense to me." – Matt Groening
29. "Having a place to go is a home. Having someone to love is a family. Having both is a blessing." – Donna Hedges
30. "Being part of a family means smiling for photos." – Harry Morgan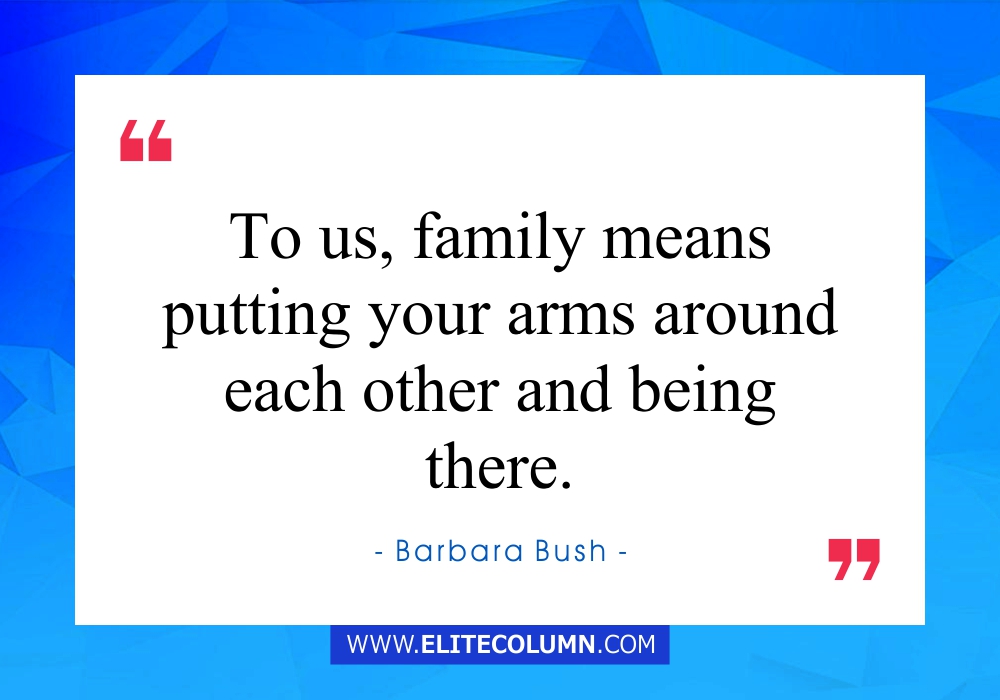 31. "To us, family means putting your arms around each other and being there." – Barbara Bush
32. "There's nothing that makes you more insane than family. Or more happy, or more exasperated, or more secure." – Jim Butcher
33. "The love of family and the admiration of friends are much more important than wealth and privilege." – Charles Kuralt
34. "If the family were a boat, it would be a canoe that makes no progress unless everyone paddles." – Letty Cottin Pogrebin
35. "One day you will do things for me that you hate. That is what it means to be family." – Jonathan Safran Foer
36. "I have learned that to be with those I like is enough." – Walt Whitman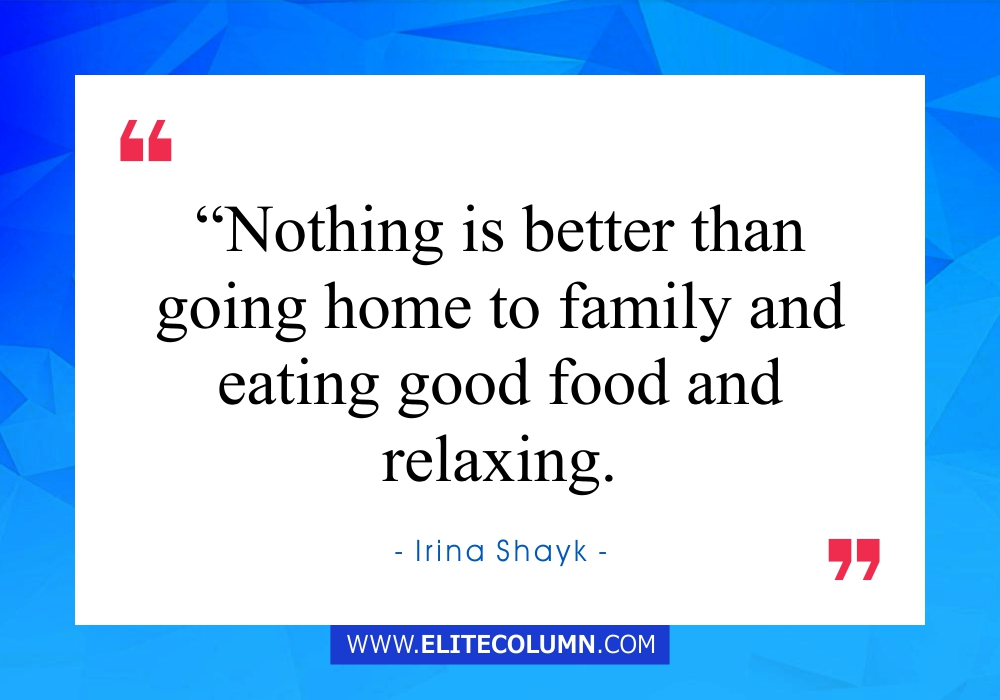 37. "Nothing is better than going home to family and eating good food and relaxing." – Irina Shayk
38. "My dear young cousin, if there's one thing I've learned over the eons, it's that you can't give up on your family, no matter how tempting they make it." – Rick Riordan
39. "Rejoice with your family in the beautiful land of life." – Albert Einstein
40. "Sticking with your family is what makes it a family." – Mitch Albom
41. "It didn't matter how big our house was; it mattered that there was love in it." – Peter Buffett
42. "Happiness is having a large, loving, caring, close-knit family in another city." – George Burns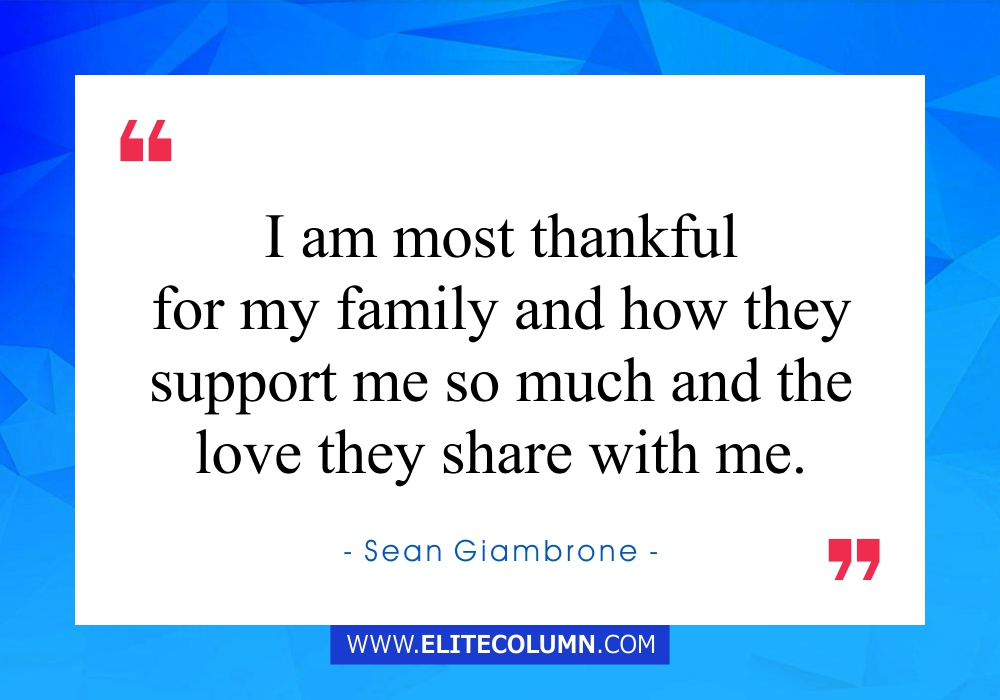 43. "I am most thankful for my family and how they support me so much and the love they share with me." – Sean Giambrone
44. "The homemaker has the ultimate career. All other careers exist for one purpose only – and that is to support the ultimate career." – C.S. Lewis
45. "Parents are like God because you wanna know they're out there, and you want them to think well of you, but you really only call when you need something." – Chuck Palahniuk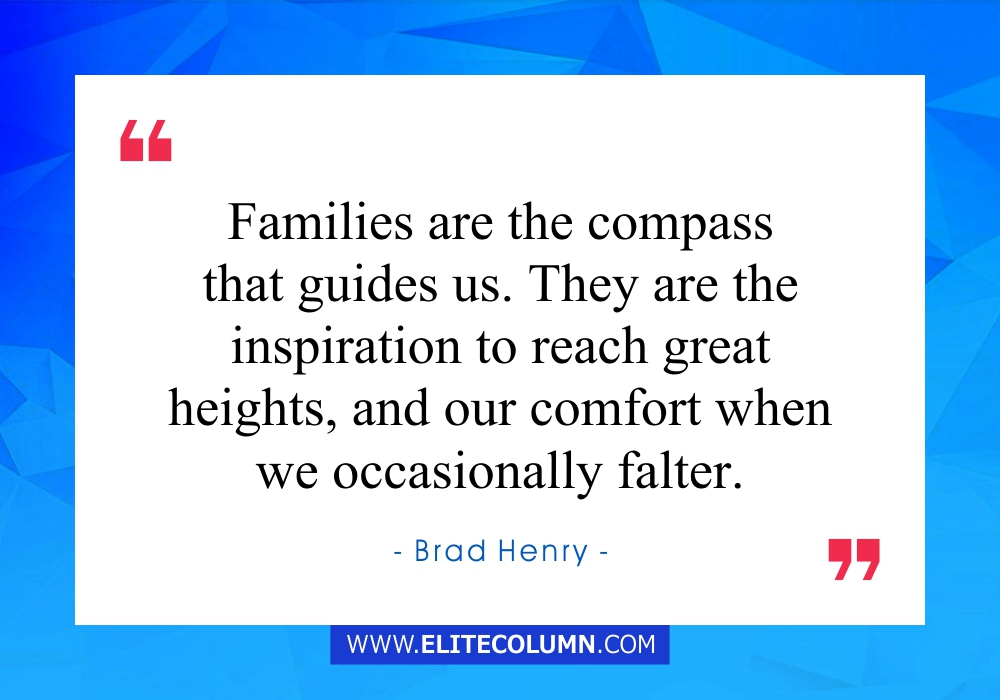 46. "Families are the compass that guides us. They are the inspiration to reach great heights, and our comfort when we occasionally falter." – Brad Henry
47. "The family–that dear octopus from whose tentacles we never quite escape, nor, in our inmost hearts, ever quite wish to." – Dodie Smith
48. "Family is not an important thing. It's everything." – Michael J. Fox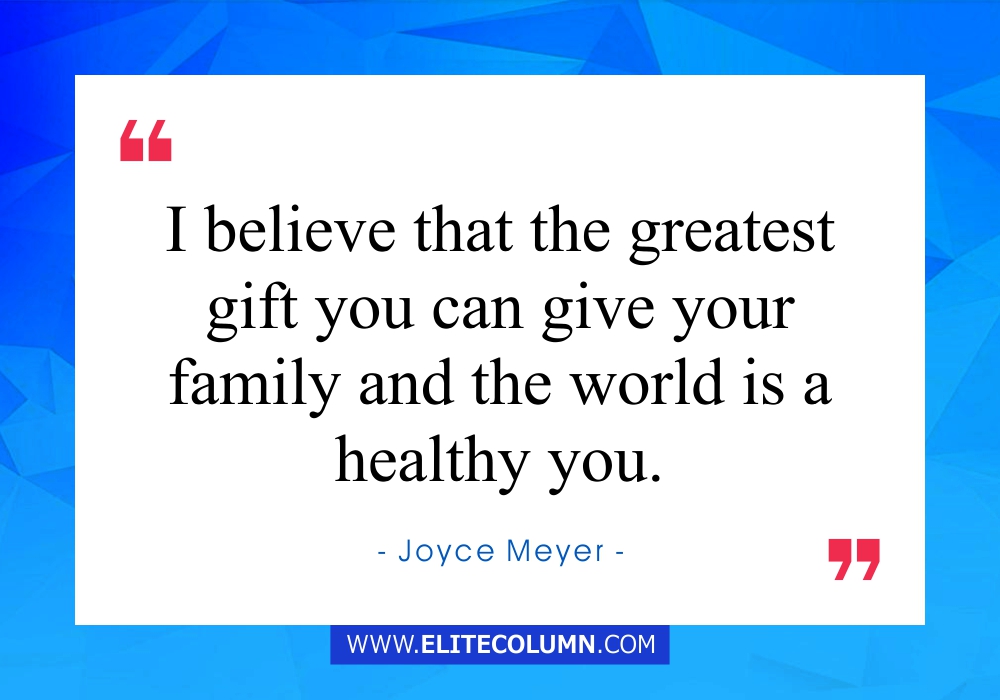 49. "I believe that the greatest gift you can give your family and the world is a healthy you." – Joyce Meyer
50. "That's what people do who love you. They put their arms around you and love you when you're not so lovable." – Deb Caletti
Thanks for checking out the best Family Quotes. Feel free to share the quotes with your friends. Leave a comment below and which are your favourite Family Quotes ?
See also:
Zen Quotes | Pain Quotes | Peace Quotes | Health Quotes | Humble Quotes | Spiritual Quotes | Time Quotes
You can find us at – Facebook | Instagram | LinkedIn | Pinterest | Twitter