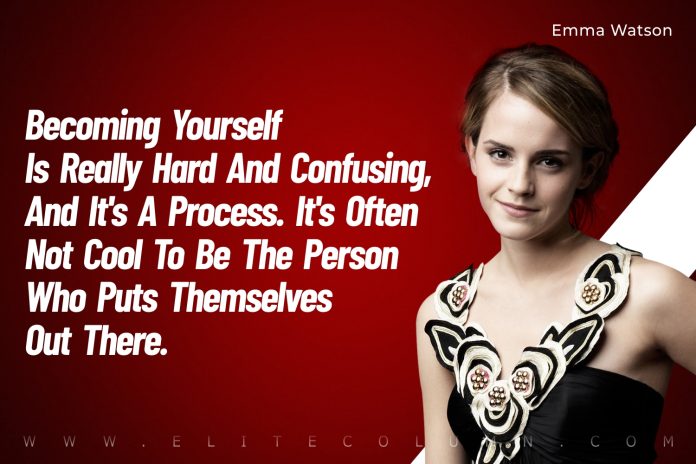 Check out 50 Emma Watson Quotes today.
50 Best Emma Watson Quotes
1. "Acting is telling the truth under imaginary circumstances. I cannot think of a worse way to describe acting. Also, I'm the worst liar ever." – Emma Watson
2. "I have had no control over my life. I have lived in a complete bubble. They found me and picked me for the part. And now I'm desperately trying to find my way through it." – Emma Watson
3. "If you believe in equality, you're a feminist. Sorry to tell you." – Emma Watson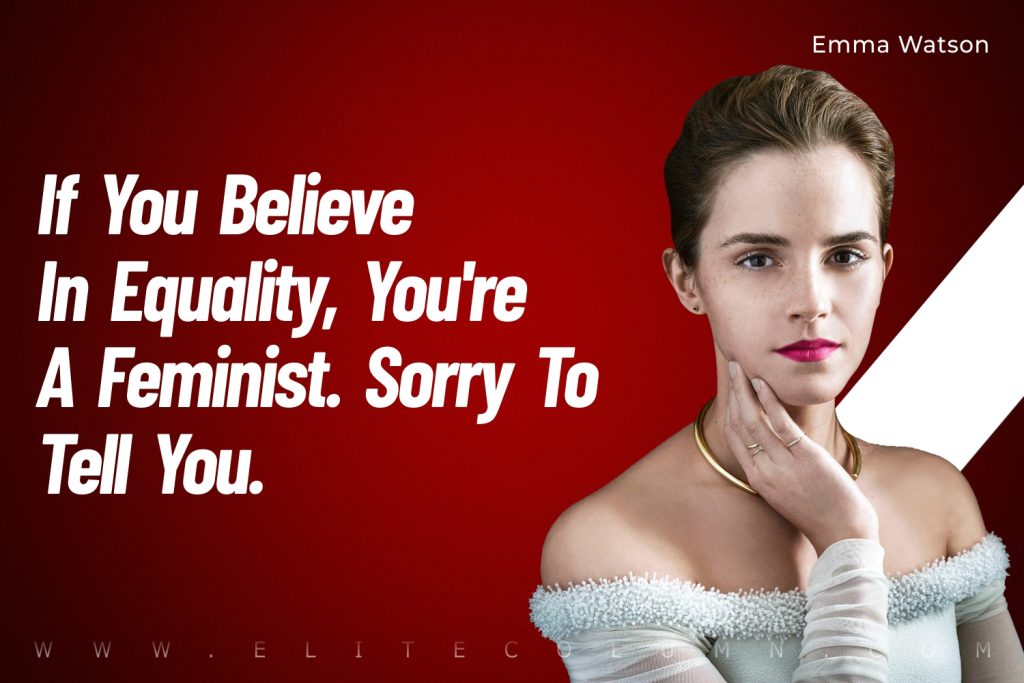 4. "I was working on 'Harry Potter' while I was growing up, and the attention it brought me made me feel quite isolated." – Emma Watson
5. "If I've learned anything, it's really just to stop trying to find answers and certainties." – Emma Watson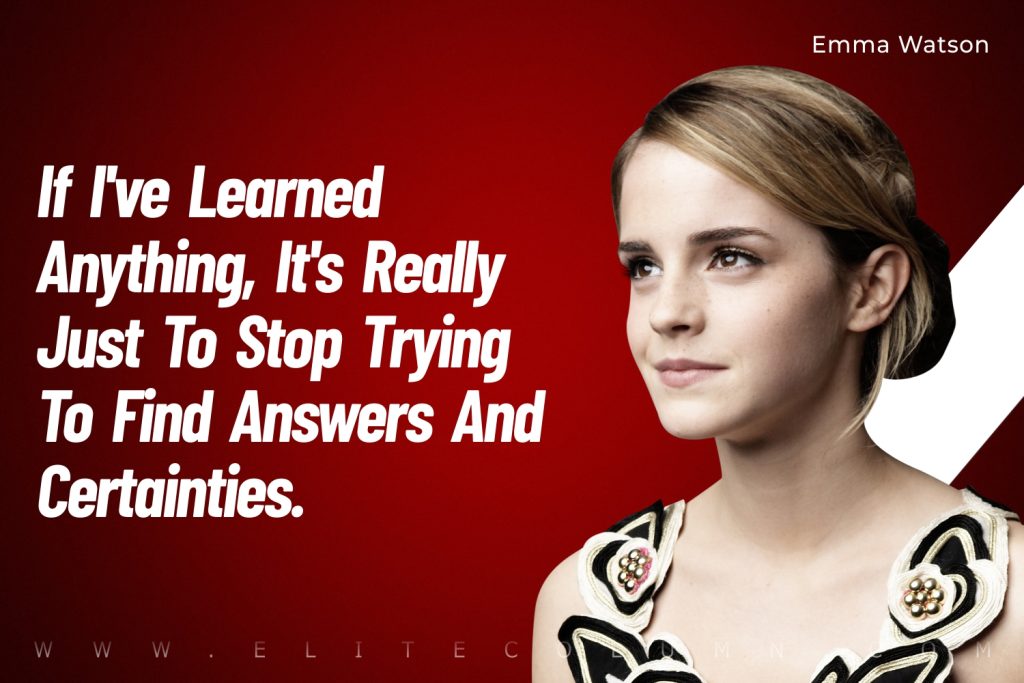 6. "I can be 100 years old, but I will always be proud to say I was in Harry Potter." – Emma Watson
7. "I don't really buy designer stuff. I have a few nice things, but I don't really have the occasion to wear couture too often." – Emma Watson
8. "The human race is like a bird and it needs both wings to be able to fly. And, at the moment, one of is wings is clipped an we're never going to be able to fly as high." – Emma Watson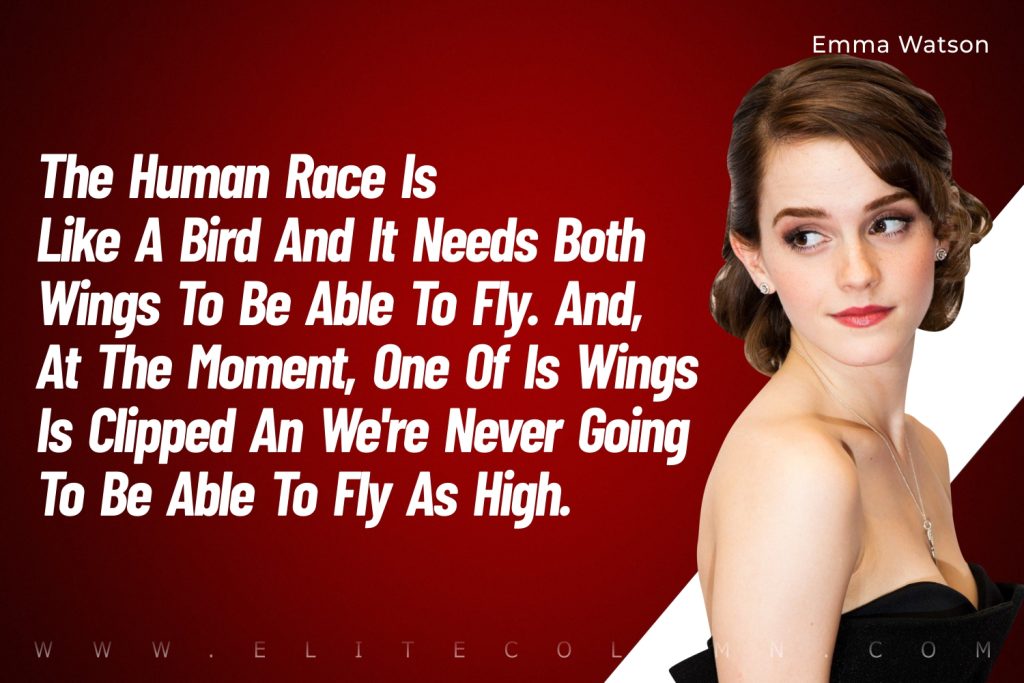 9. "Becoming yourself is really hard and confusing, and it's a process. It's often not cool to be the person who puts themselves out there." – Emma Watson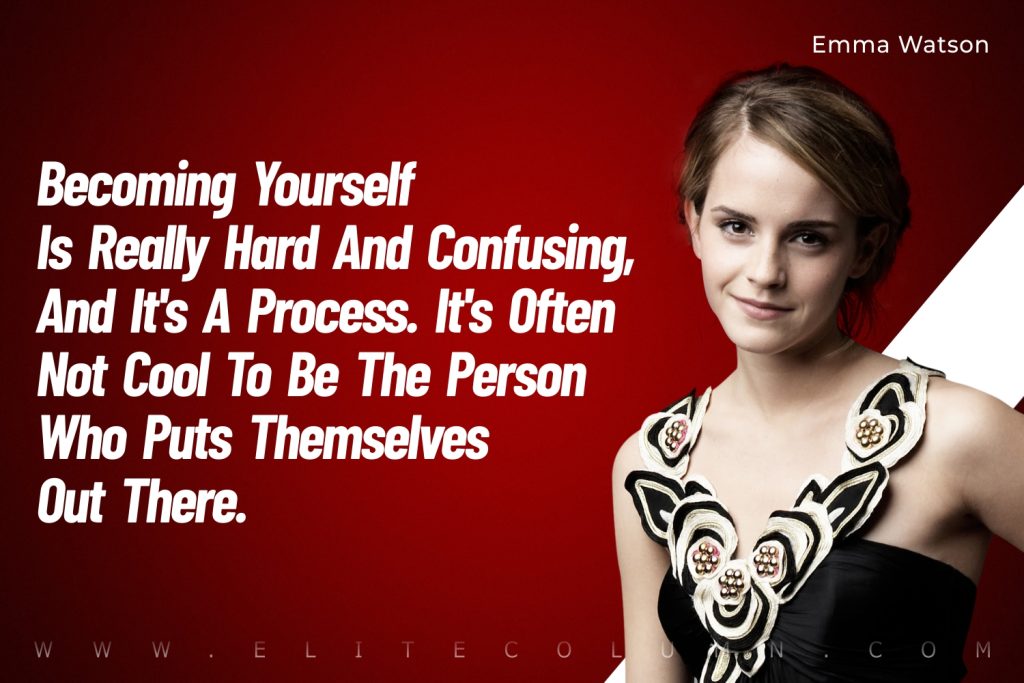 10. "I'm a feminist, but I think that romance has been taken away a bit for my generation." – Emma Watson
11. "I hope my head doesn't get very big. I'm just going to keep my feet on the ground, stick to friends and family and try to lead a normal life." – Emma Watson
12. "Feminism is equality: politically; culturally; socially; economically. That's it, that simple." – Emma Watson
13. "Girls should never be afraid to be smart." – Emma Watson
14. "I'm very crafty! One time I made a television set out of a cardboard box Everybody thought it was a lark! This was the beginning of a love affair with the arts." – Emma Watson
15."I truly, truly believe that beauty is something that comes from within." – Emma Watson
16. "I'm not going to school just for the academics I wanted to share ideas, to be around people who are passionate about learning." – Emma Watson
17. "Don't think I'm going off to find myself though. I already know who I am." – Emma Watson
18. "All I can do is follow my instincts, because I'll never please everyone." – Emma Watson
19. "I've found that if ultimately, if you truly pour your heart into what you believe in, even if it makes you vulnerable, amazing things can and will happen." – Emma Watson
20. "I'm really interested in modern history, but to fulfill a History degree at Brown you have to do modern and pre-modern." – Emma Watson
21. "I stole a piece of the chess set on the first film. I took a piece of the treasure out of Bellatrix's vault on this film. And I've taken my wand and I've got my cloak." – Emma Watson
22. "Dan Radcliffe and Rupert Grint to me are like a pair of warm-hearted brothers." – Emma Watson
23. "The reality is that if we do nothing it will take 75 years, or for me to be nearly a hundred before women can expect to be paid the same as men for the same work." – Emma Watson
24. "With 'Harry Potter,' I've been all over the world. I probably wouldn't have gone to New York so young if it weren't for the films." – Emma Watson
25. "And I always keep cards people send me. I have a whole wall covered with them." – Emma Watson
26. "I just try and surround myself, for the biggest proportion of time that I can, with people who make me feel normal, because constantly feeling abnormal is quite difficult." – Emma Watson
27. "I think women are scared of feeling powerful and strong and brave sometimes." – Emma Watson
28. "I really love animals and enjoy working with them." – Emma Watson
29. "Feeling beautiful has nothing to do with what you look like. I promise." – Emma Watson
30. "I thought, If people are going to write about what I'm wearing, then I would wear young British designers who need the publicity." – Emma Watson
31. "The saddest thing for a girl to do is to dumb herself down for a guy." – Emma Watson
32. "We had fun just messing around and being awkward like they would be awkward. There's always that stage in a friendship when you wonder whether it could be more." – Emma Watson
33. "If I could wear any label forever it would be Burberry. It covers a huge span of stuff. You can't go wrong with a classic trench and a pair of jeans." – Emma Watson
34. "I'm going to do what I want to do. I'm going to be who I really am. I'm going to figure out what that is." – Emma Watson
35. "It's important to read because it's really good for your vocabulary. It's really good for your imagination. I enjoy reading because I find it relaxing." – Emma Watson
36. "Make-up is actually something I've always really loved." – Emma Watson
37. "It was unbelievable seeing me as an action figure! In a few months, toddlers all around the country will be biting my head off!" – Emma Watson
38. "Don't feel stupid if you don't like what everyone else pretends to love." – Emma Watson
39. "I don't want other people to decide who I am. I want to decide that for myself." – Emma Watson
40. "Hermione is so close to who I am as a person that I've never really had to research a role. I'm literally rediscovering what it means to be an actress." – Emma Watson
41. "Harry Potter's like Santa Clause something you can't see but wish was real so badly that you end up believing in it." – Emma Watson
42. "Believe in yourself and go for it." – Emma Watson
43. "I love Karl Lagerfeld. I worship him. I was brought up in Paris, and my mum used to wear a lot of Chanel. I love the brand." – Emma Watson
44. "There's nothing wrong with being afraid. It's not the absence of fear, it's overcoming it. Sometimes you've got to blast through and have faith." – Emma Watson
45. "If anyone else played Hermione, it would actually kill me." – Emma Watson
46. "I do things in my own way, but I've never felt any need to rebel." – Emma Watson
47. "No country in the world can yet say they have achieved gender equality." – Emma Watson
48. "I really want to write a novel. I also want to learn to play the mandolin." – Emma Watson
49. "I don't want the fear of failure to stop me from doing what I really care about." – Emma Watson
50. "I dance a lot and I run and do yoga and play field hockey and tennis. I like to be active. I don't always have time for that stuff, but I do always feel better afterward." – Emma Watson
Thanks for checking out the best Emma Watson Quotes. Feel free to share the quotes with your friends. Leave a comment below and which are your favourite Emma Watson Quotes ?
See also:
Steve Harvey Quotes | Rocky Balboa Quotes | John Wayne Quotes | CT Fletcher Quotes | Jim Carrey Quotes
You can find us at – Facebook | Instagram | LinkedIn | Pinterest | Twitter