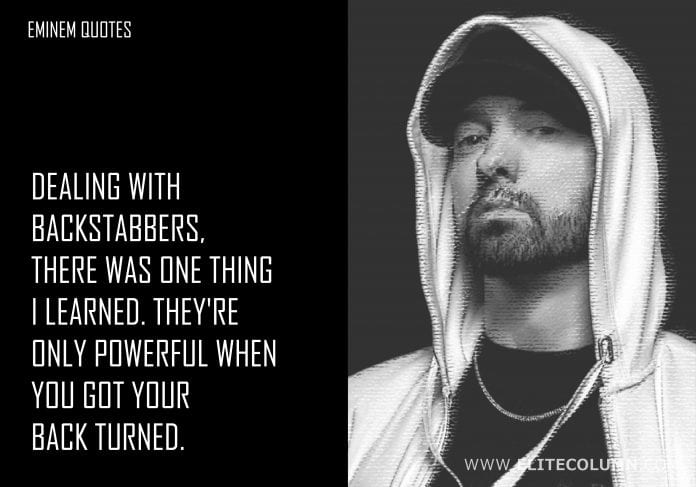 Marshall Bruce Mathers III aka Eminem is an American rapper, record producer, songwriter, and actor. He has been listed and ranked as one of the greatest artists of all time by many magazines, including Rolling Stone. The same magazine declared him 'The King of Hip Hop'. After releasing his independent debut album Infinite in 1996, Eminem rose to mainstream popularity in 1999 with the release of his major-label debut album The Slim Shady LP. Eminem quotes will make you feel unstoppable. EliteColumn brings you the top 12 powerful Eminem quotes.
18 Motivational Eminem Quotes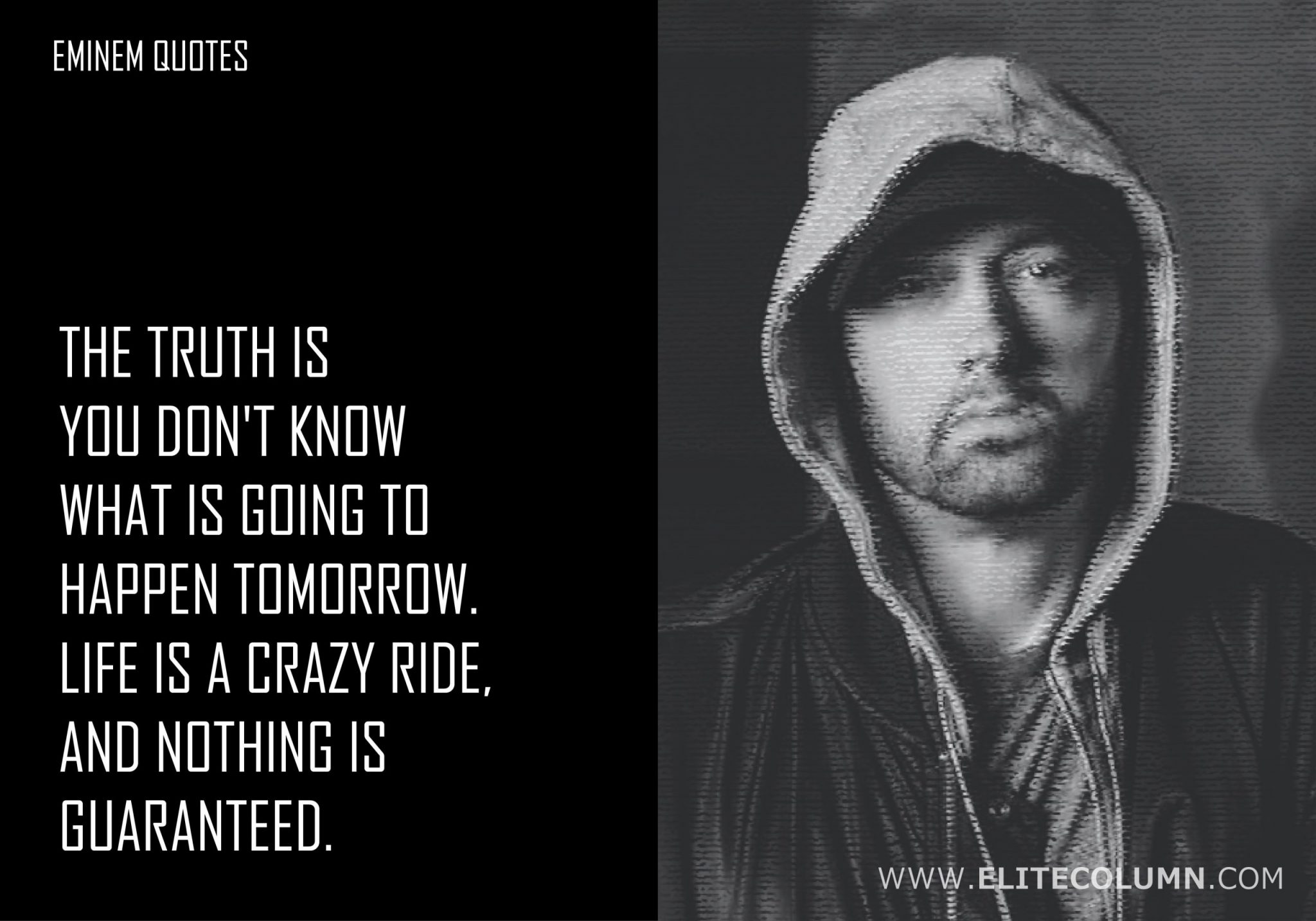 "The truth is you don't know what is going to happen tomorrow. Life is a crazy ride, and nothing is guaranteed." – Eminem
2. "Success is my only option, failure's not." – Eminem
3. "If you have enemies, good that means you stood up for something." – Eminem
4. "You'd have to walk a thousand miles in my shoes just to see what its like to be me!!" – Eminem
5. "They can trigger me. But they'll never figure me out." – Eminem
See also:
Tupac Shakur Quotes | Lady Gaga Quotes | Jay Z Quotes | Demi Lovato Quotes | Harry Styles Quotes | Chester Bennington Quotes | Beyonce Quotes | Katy Perry Quotes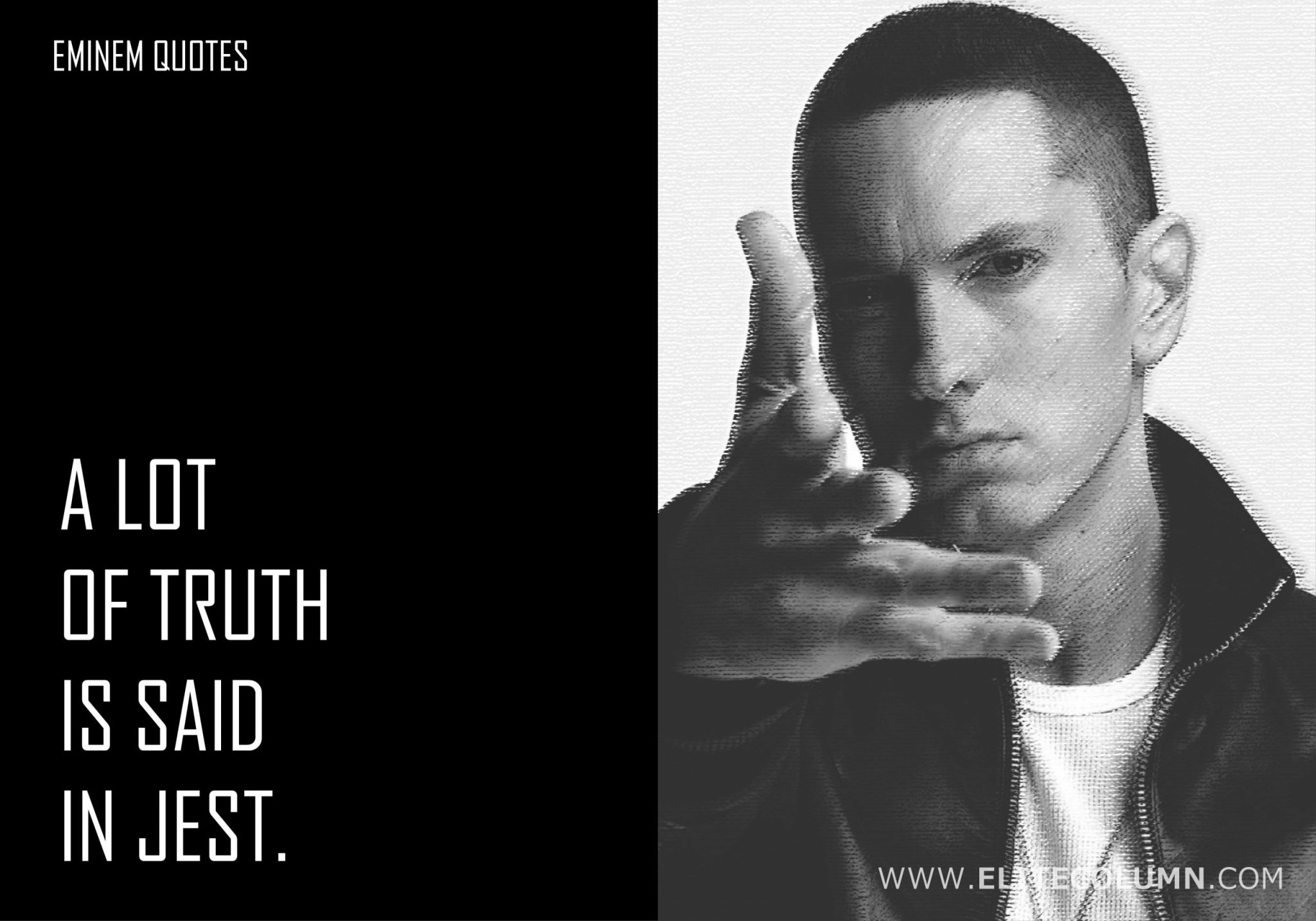 6. "A lot of truth is said in jest." – Eminem
7. "Behind every successful person lies a pack of haters." – Eminem
8. "Love is just a word, but you bring it definition." – Eminem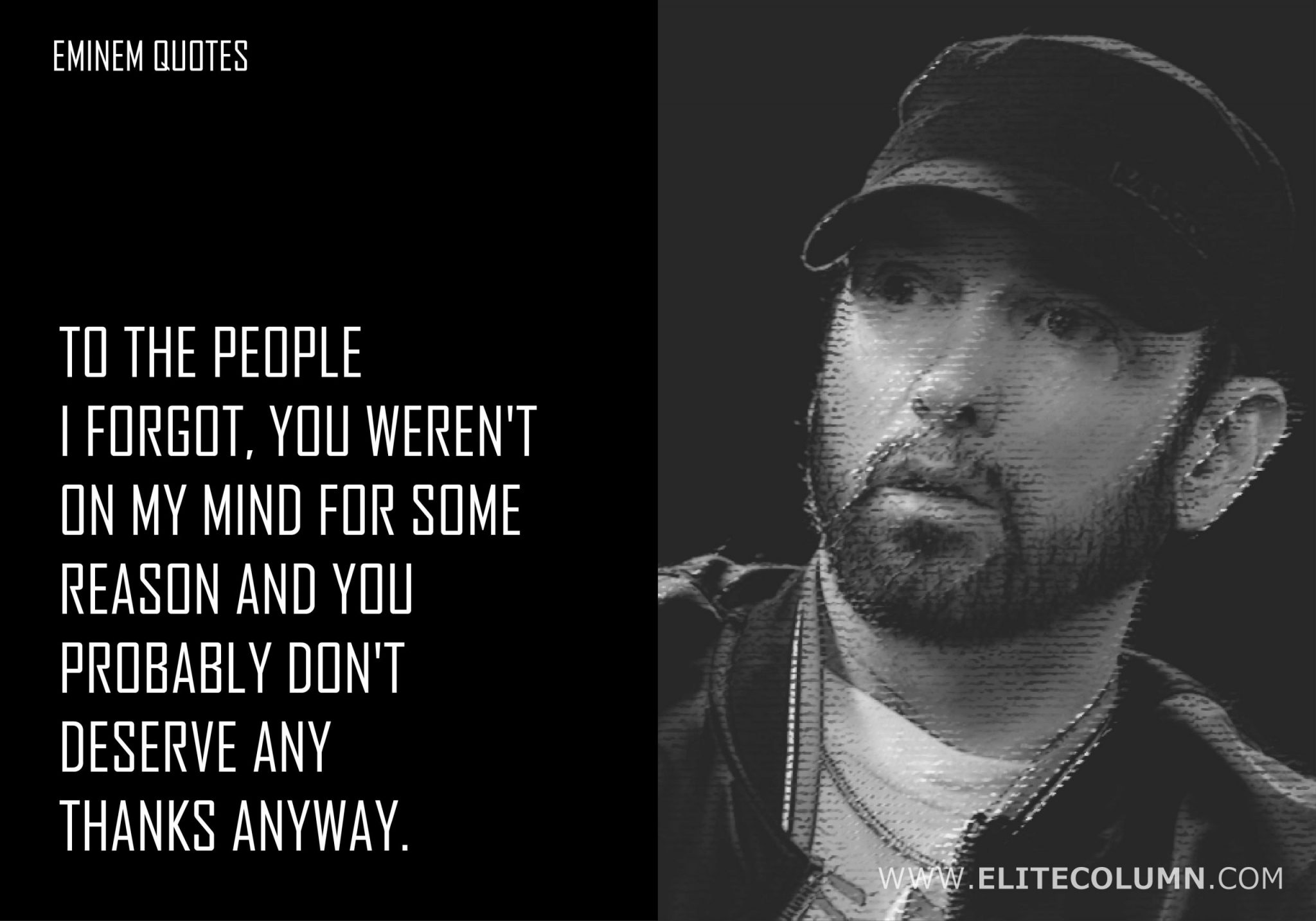 9. "To the people I forgot, you weren't on my mind for some reason and you probably don't deserve any thanks anyway." – Eminem
10. "Look, if you had one shot, or one opportunity. To seize everything you ever wanted in one moment. Would you capture it or just let it slip?" – Eminem
11. "Why be a king, when you can be a god?" – Eminem
12. "You can make something of your life. It just depends on your drive." – Eminem
13. "Be proud of who you are." – Eminem
See also:
Ariana Grande Quotes | Madonna Quotes | Bruno Mars Quotes | Kanye West Quotes | Rihanna Quotes | Drake Quotes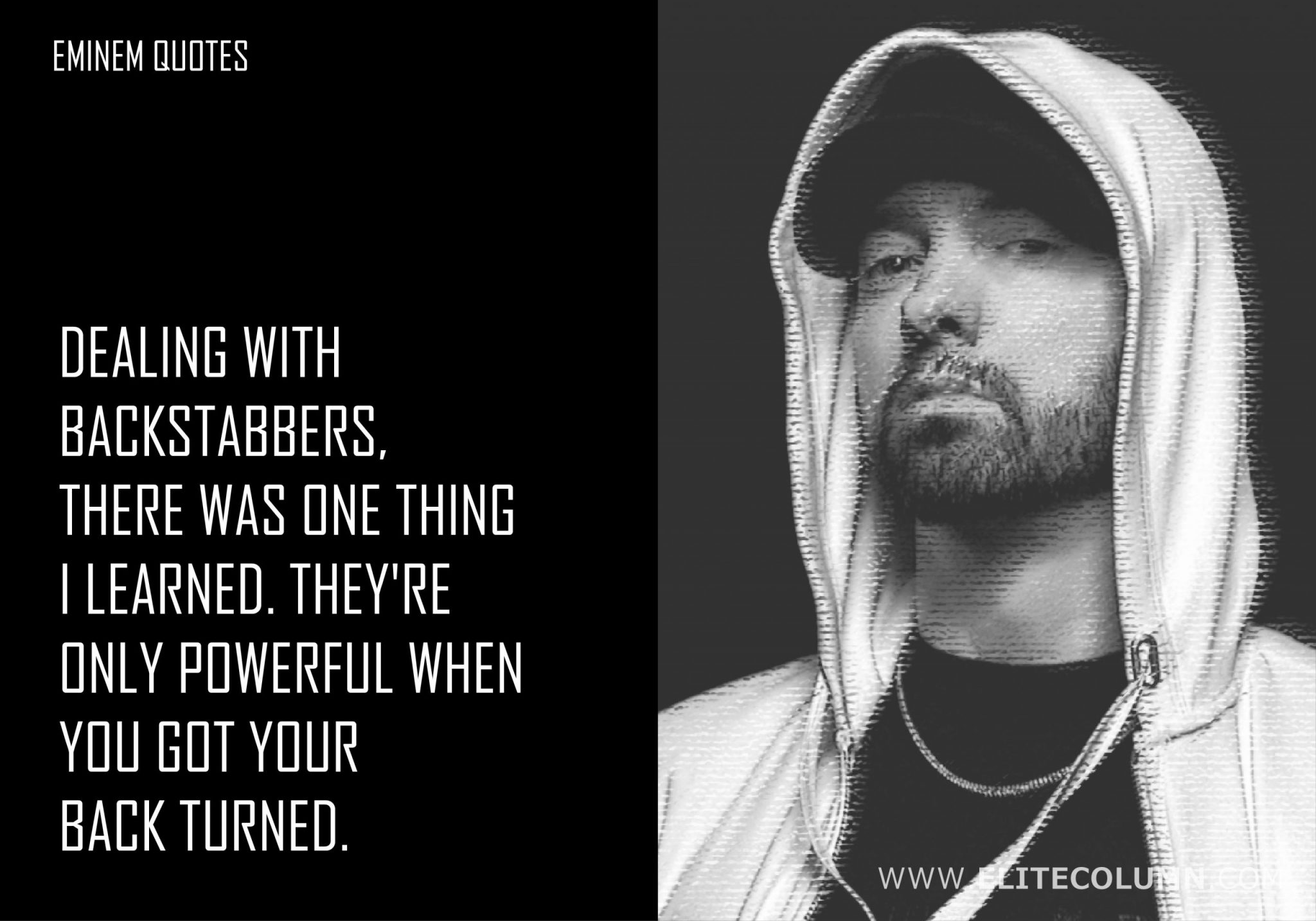 14. "Dealing with backstabbers, there was one thing I learned. They're only powerful when you got your back turned." – Eminem
15. "You don't get another chance. Life is no Nintendo game." – Eminem
16. "Thanks cuz your hate is what gave me this strength." – Eminem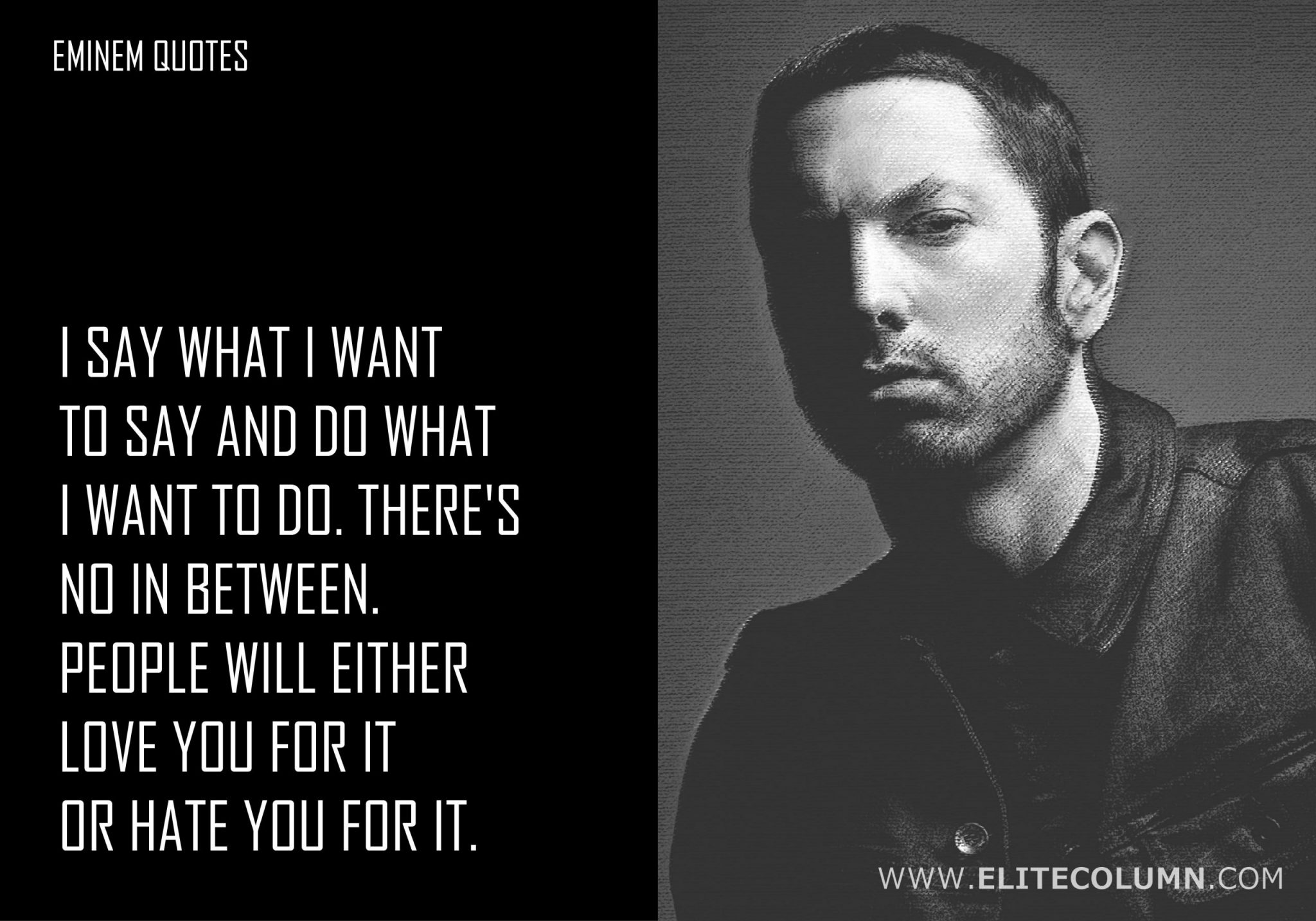 17. "I say what I want to say and do what I want to do. There's no in between. People will either love you for it or hate you for it." – Eminem
18. "If people take anything from my music, it should be motivation to know that anything is possible as long as you keep working at it and don't back down." – Eminem
Thanks for checking out the best Eminem quotes. Feel free to share the quotes with your friends. Leave a comment below and which are your favorite Eminem quotes ?
See also:
Michael Jackson Quotes | Nicki Minaj Quotes | Justin Bieber Quotes | Ed Sheeran Quotes | Taylor Swift Quotes
You can find us at – Facebook | Instagram | LinkedIn | Pinterest | Twitter