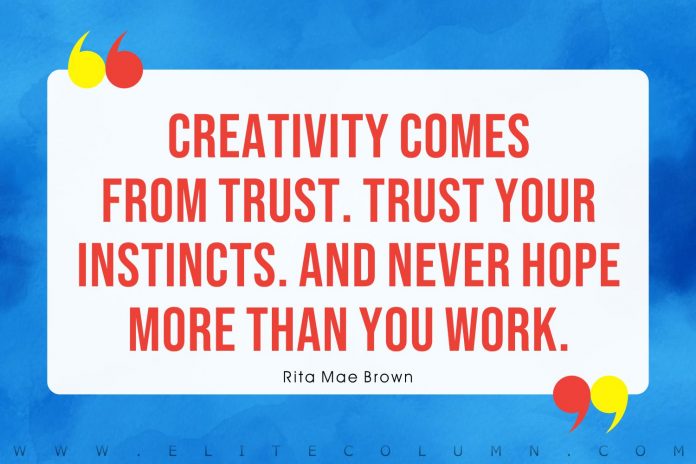 Check out 50 Creativity Quotes today.
50 Best Creativity Quotes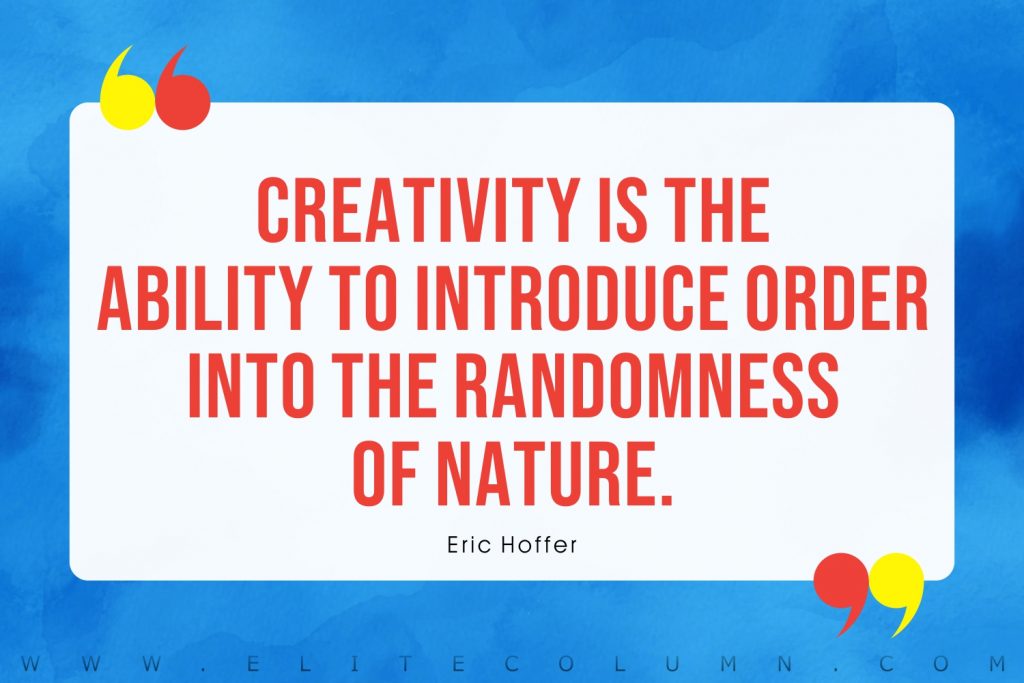 1. "Creativity is the ability to introduce order into the randomness of nature." – Eric Hoffer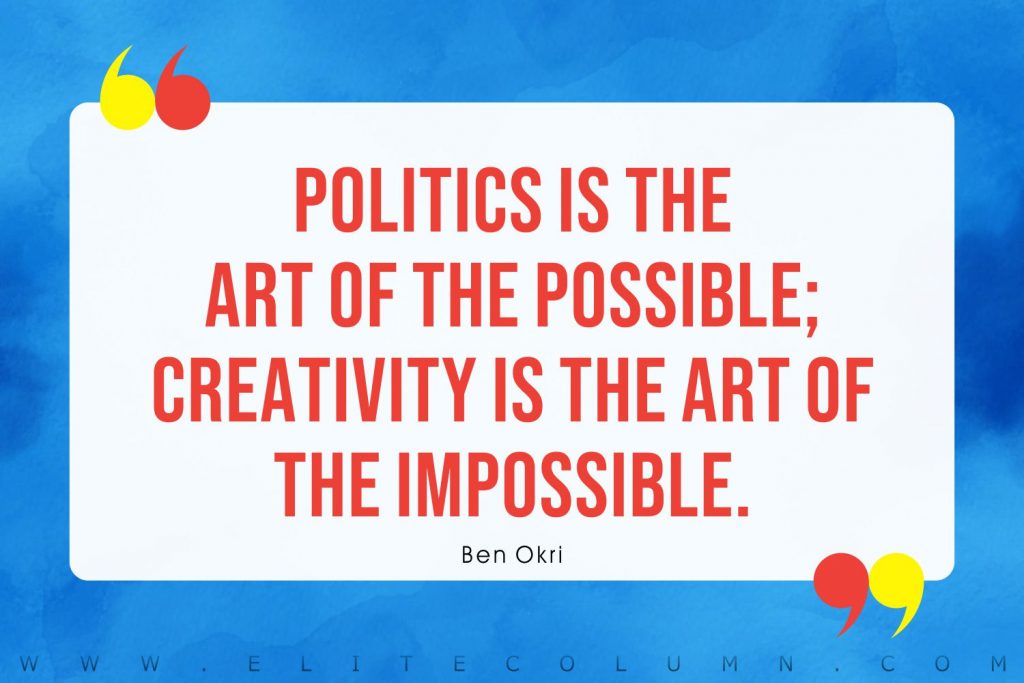 2. "Politics is the art of the possible; creativity is the art of the impossible."- Ben Okri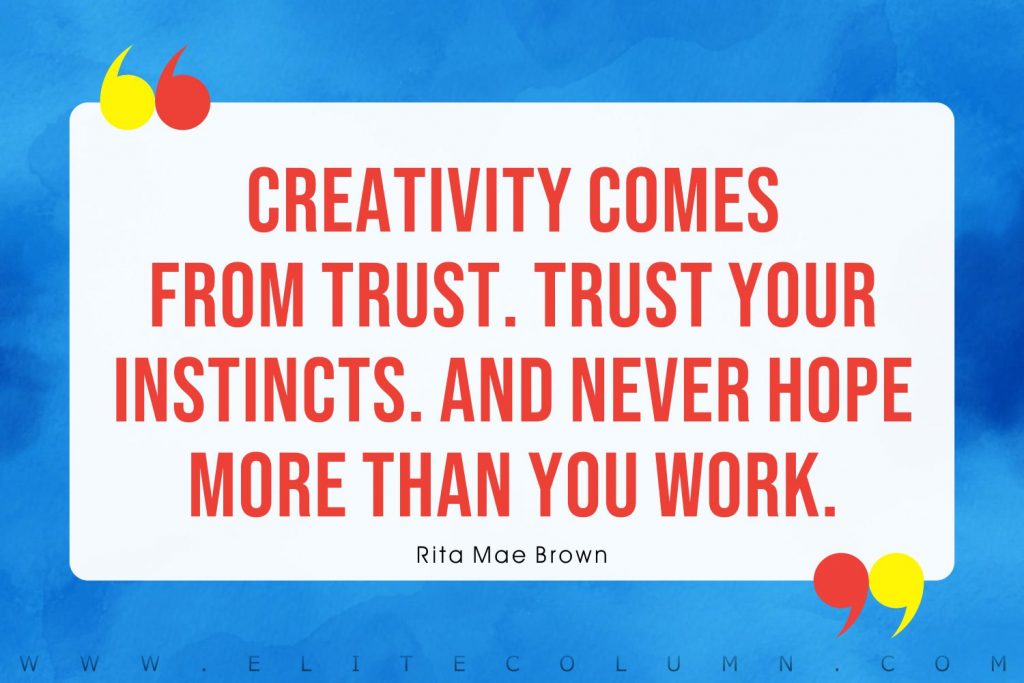 3. "Creativity comes from trust. Trust your instincts. And never hope more than you work."- Rita Mae Brown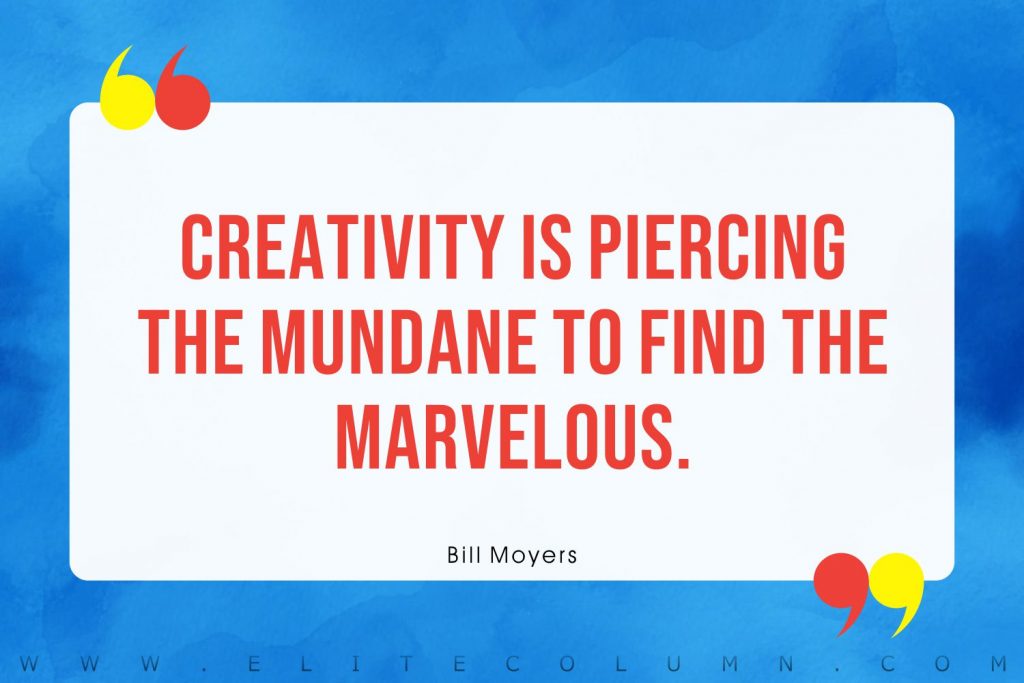 4. "Creativity is piercing the mundane to find the marvelous." – Bill Moyers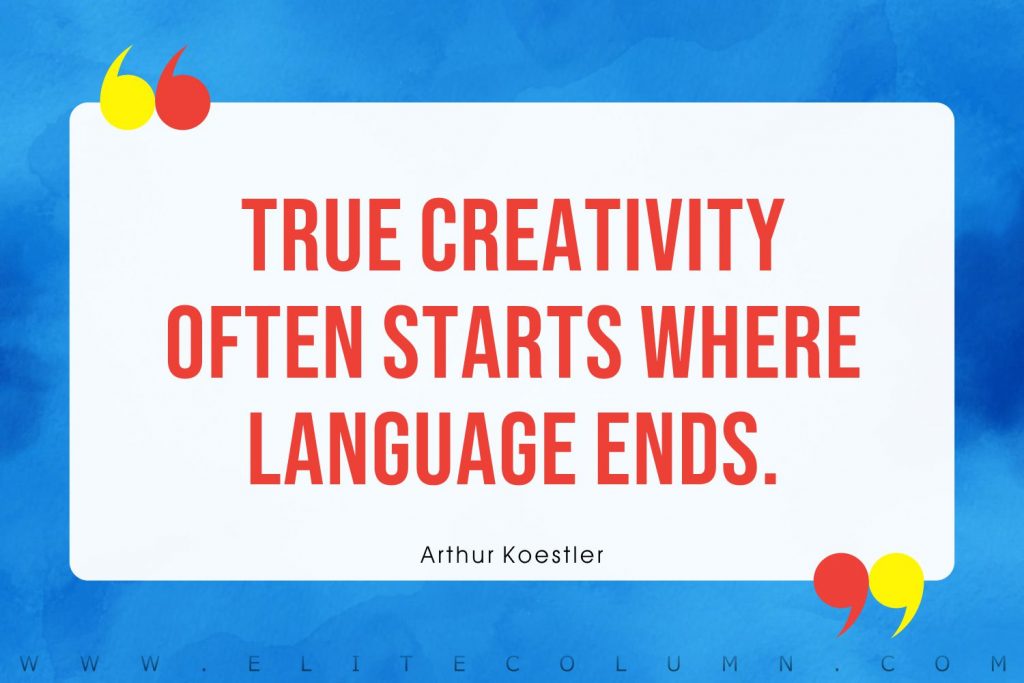 5. "True creativity often starts where language ends."- Arthur Koestler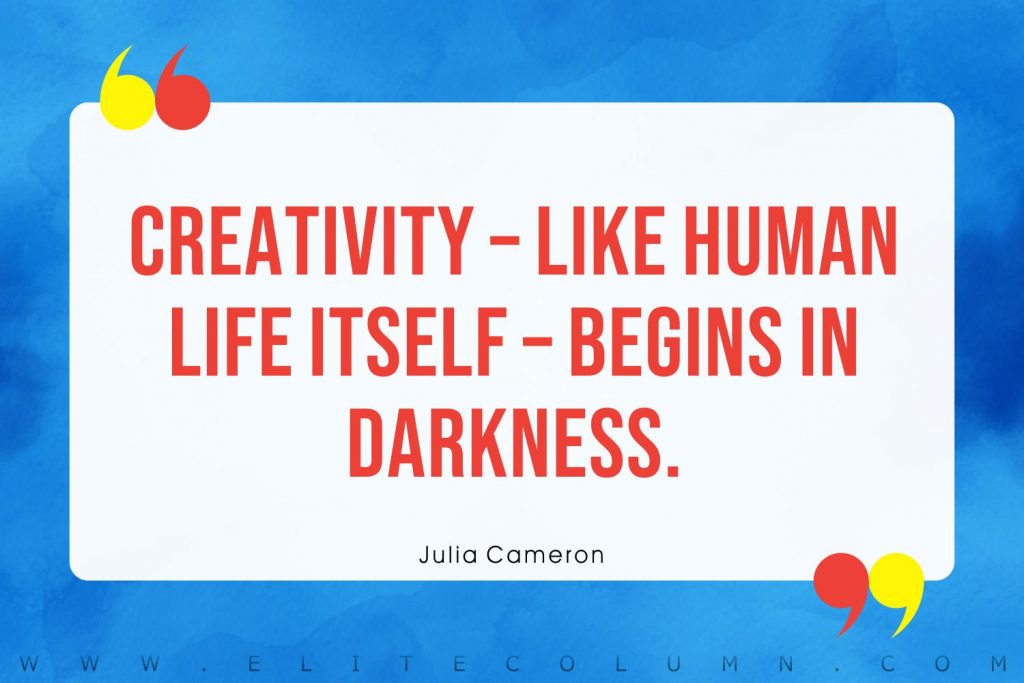 6. "Creativity – like human life itself – begins in darkness." – Julia Cameron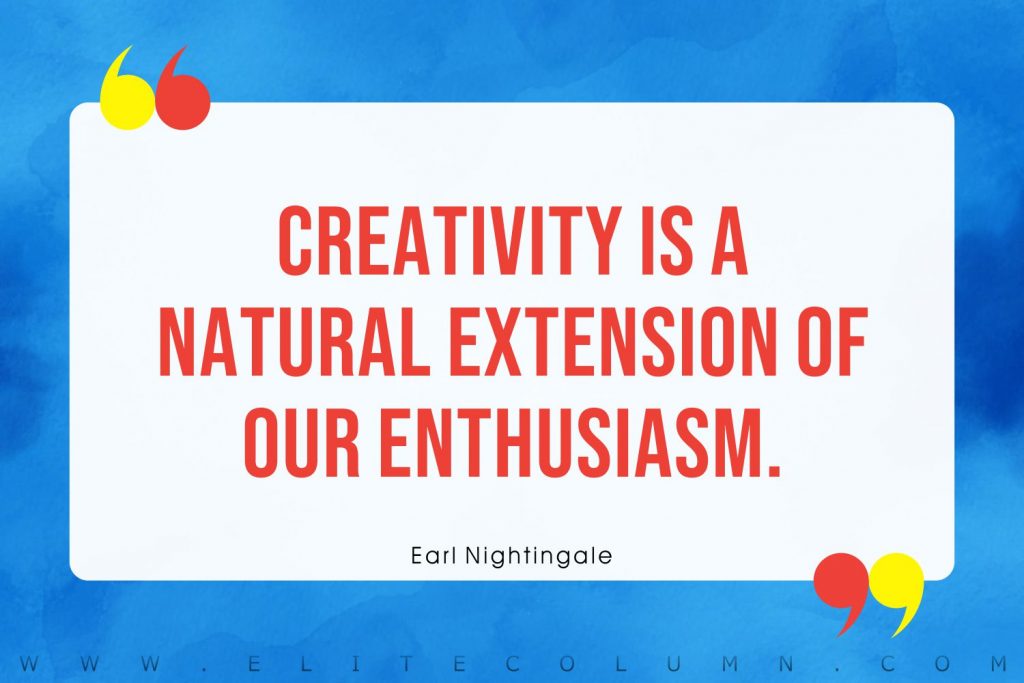 7. "Creativity is a natural extension of our enthusiasm." – Earl Nightingale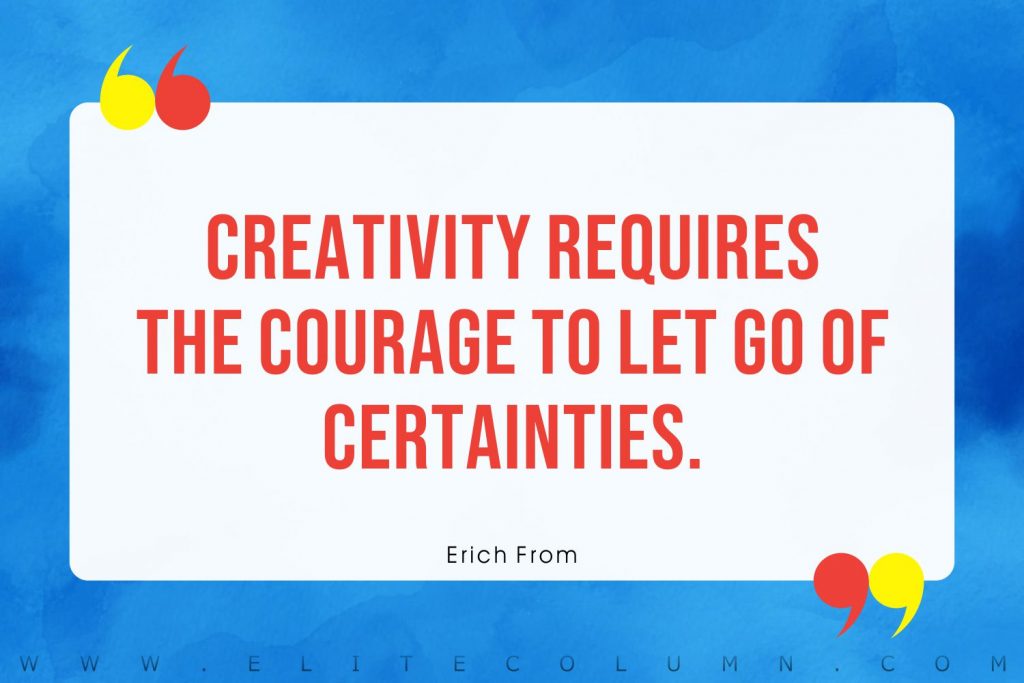 8. "Creativity requires the courage to let go of certainties."- Erich From
9. "I saw the angel in the marble and carved until I set him free." – Michelangelo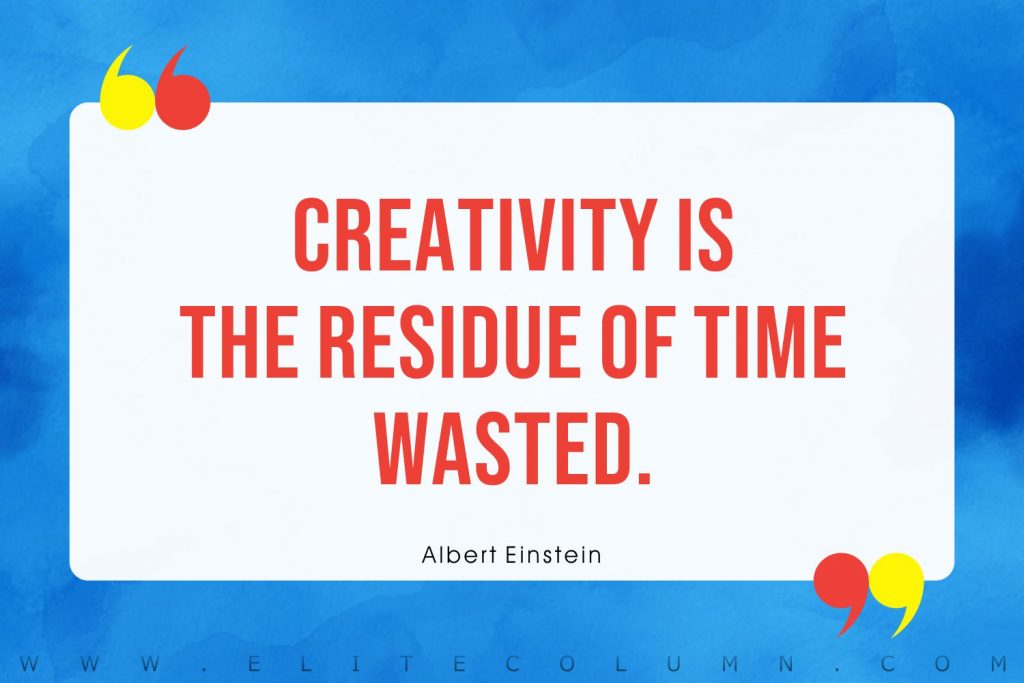 10. "Creativity is the residue of time wasted."- Albert Einstein
11. "Writing down your goals on a piece of paper is the first step to getting anything done." – Avinash VS
12. "Anxiety is part of creativity, the need to get something out, the need to be rid of something or to get in touch with something within." – David Duchovny
13. "Creativity is one of the highest transmissions of love." – Suzy Kassem
14. "Only individual creativity can bring about real social development."- Cai Guo-Qiang
15. "If you don't see the book you want on the shelf, write it."- Beverly Cleary
16. "Absurdity and anti-absurdity are the two poles of creative energy."- Karl Lagerfeld
17. "Originality is the essence of true scholarship. Creativity is the soul of the true scholar."- Nnamdi Azikiwe
18. "Clear thinking at the wrong moment can stifle creativity."- Karl Lagerfeld
19. "Our most valuable resources – creativity, communication, invention, and reinvention – are, in fact, unlimited."- David Grinspoon
20. "Creativity involves breaking out of established patterns in order to look at things in a different way."- Edward de Bono
21. "Rational thoughts never drive people's creativity the way emotions do." – Neil deGrasse Tyson
22. "Creativity is an advertising agency's most valuable asset, because it is the rarest." – Jef I. Richards
23. "The urge to destroy is also a creative urge." – Mikhail Bakunin
24. "Make an empty space in any corner of your mind, and creativity will instantly fill it." – Dee Hock
25. "Creativity takes courage." – Henri Matisse
26. "I can always be distracted by love, but eventually I get horny for my creativity." – Gilda Radne
27. "If you want creative workers, give them enough time to play." – John Cleese
28. "There is no healthier drug than creativity." – Nayyirah Waheed
29. "There is no innovation and creativity without failure. Period."- Brene Brown
30. "Creativity is a gift. It doesn't come through if the air is cluttered." – John Lennon
31. "Routine kills creative thought." – Scarlett Thomas
32. "If you're not prepared to be wrong, you'll never come up with anything original." – Ken Robinson
33. "Self-awareness is one of the biggest enemies to creativity." – Ted Dwane
34. "Solitude is creativity's best friend, and solitude is refreshment for our souls." – Naomi Judd
35. "Thank goodness I was never sent to school; it would have rubbed off some of the originality." – Beatrix Potter
36. "That's the great secret of creativity. You treat ideas like cats: you make them follow you." – Ray Bradbury
37. "The chief enemy of creativity is 'good' sense." – Pablo Picasso
38. "Nothing prompts creativity like poverty, a feeling of hopelessness, and a bit of panic." – Catherine Tate
39. "Creative people are often found either disagreeable or intimidating by mediocrities."- Criss Jami
40. "Creativity arises from our ability to see things from many different angles." – Keri Smith
41. "Anxiety is the hand maiden of creativity." – T. S. Eliot
42. "Creativity thrives where its roots are crowded."- Ozzie Zehner
43. "Mystery is at the heart of creativity. That, and surprise." – Julia Cameron
44. "Variety is lost. Diversity is lost. Creativity is lost in our inability to make love with the world." – Terry Tempest Williams
45. "Creativity can be described as letting go of certainties." – Gail Sheehy
46. "Creativity comes from a conflict of ideas." – Donatella Versace
47. "Innovation, creativity, and lunacy goes hand in hand." – Varg Vikernes
48. "It's impossible to explain creativity. It's like asking a bird, 'How do you fly?' You just do."- Eric Jerome Dickey
49. "I don't believe there's a cap on creativity and passion." – Anonymous
50. "I can tell you, without diversity, creativity remains stagnant." – Edward Enninful
Thanks for checking out the best Creativity Quotes. Feel free to share the quotes with your friends. Leave a comment below and which are your favourite Creativity Quotes ?
See also:
Gratitude Quotes | History Quotes | Success Quotes | Good Morning Quotes | Good Night Quotes | Simplicity Quotes | Humanity Quotes
You can find us at – Facebook | Instagram | LinkedIn | Pinterest | Twitter