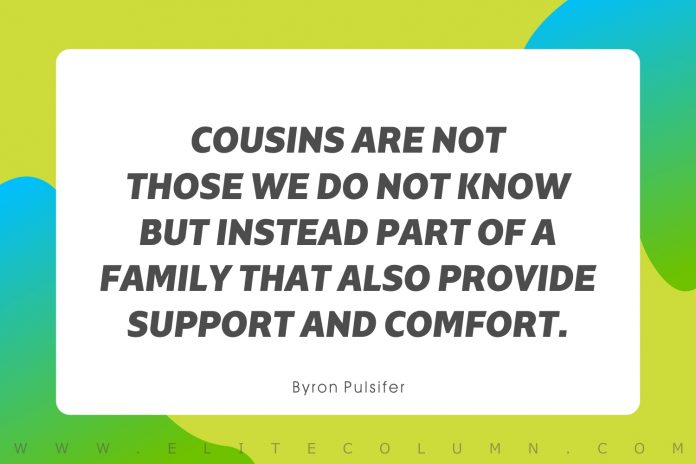 Check out 30 Cousin Quotes today.
30 Best Cousin Quotes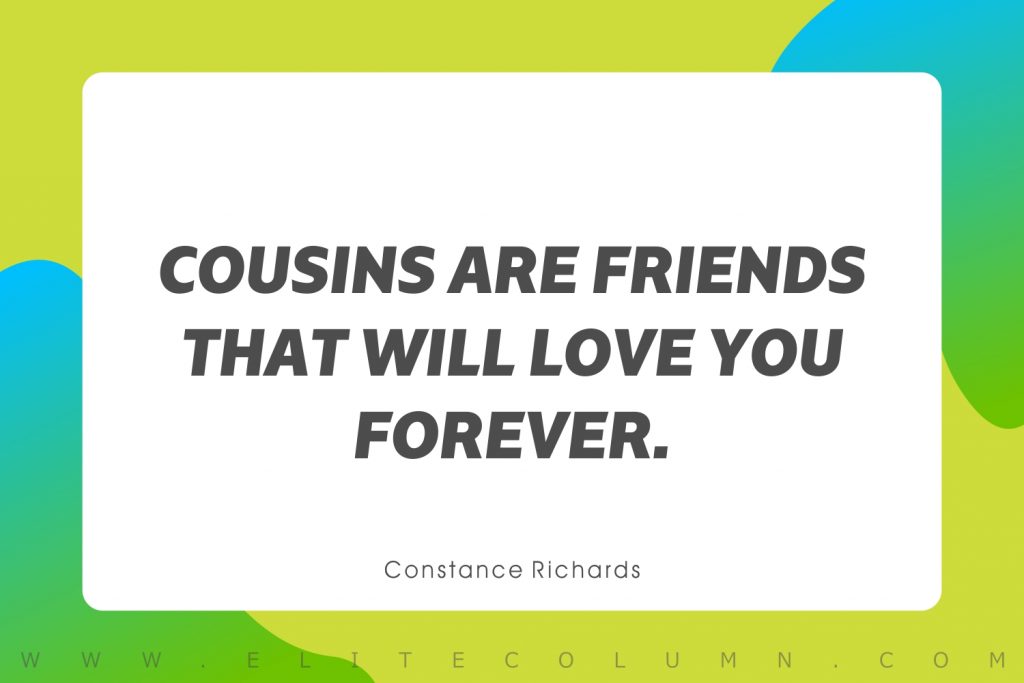 1. "Cousins are friends that will love you forever." – Constance Richards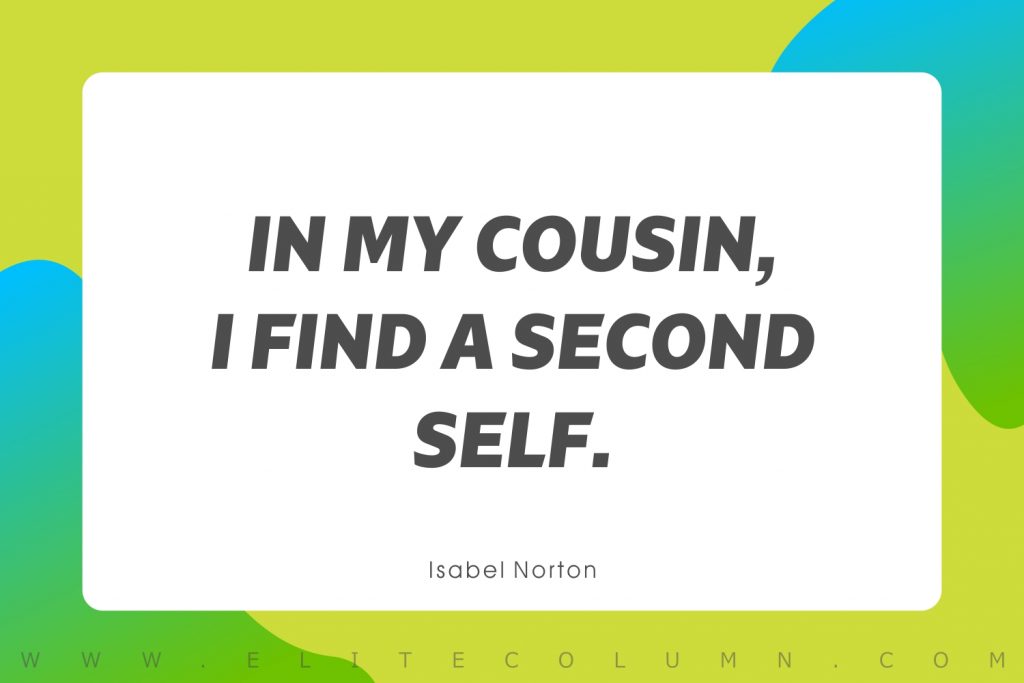 2. "In my cousin, I find a second self." – Isabel Norton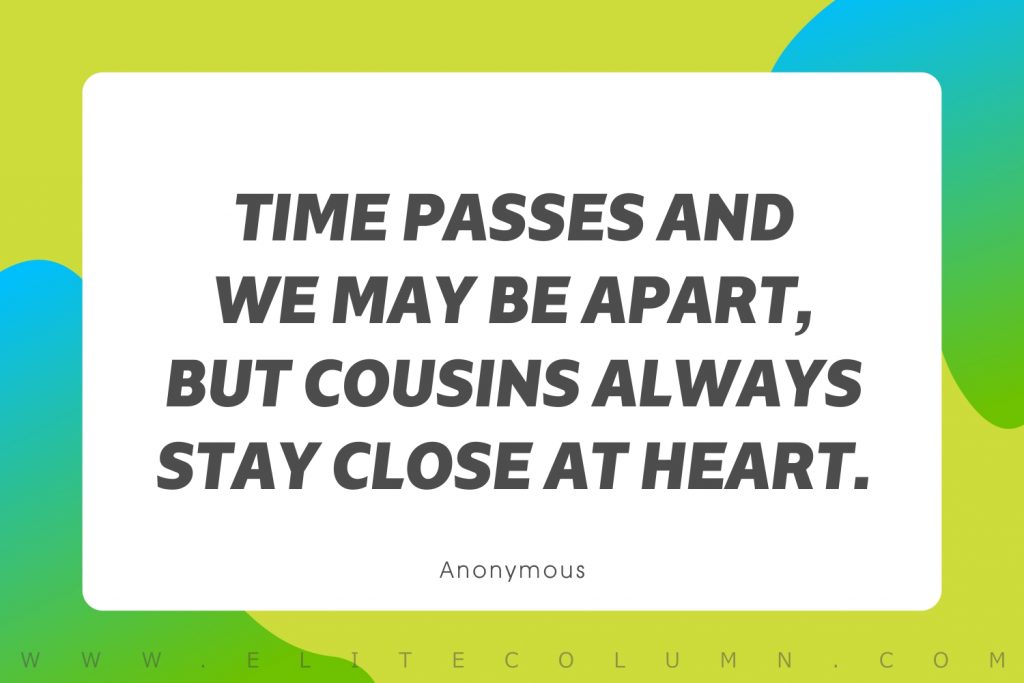 3. "Time passes and we may be apart, but cousins always stay close at heart." – Anonymous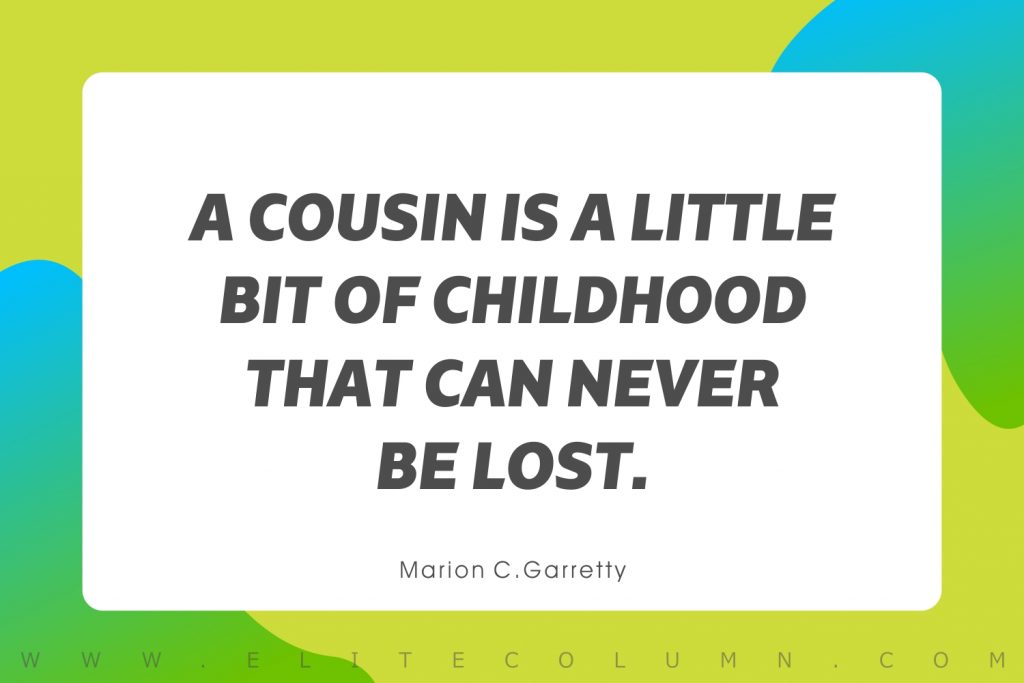 4. "A cousin is a little bit of childhood that can never be lost." – Marion C. Garretty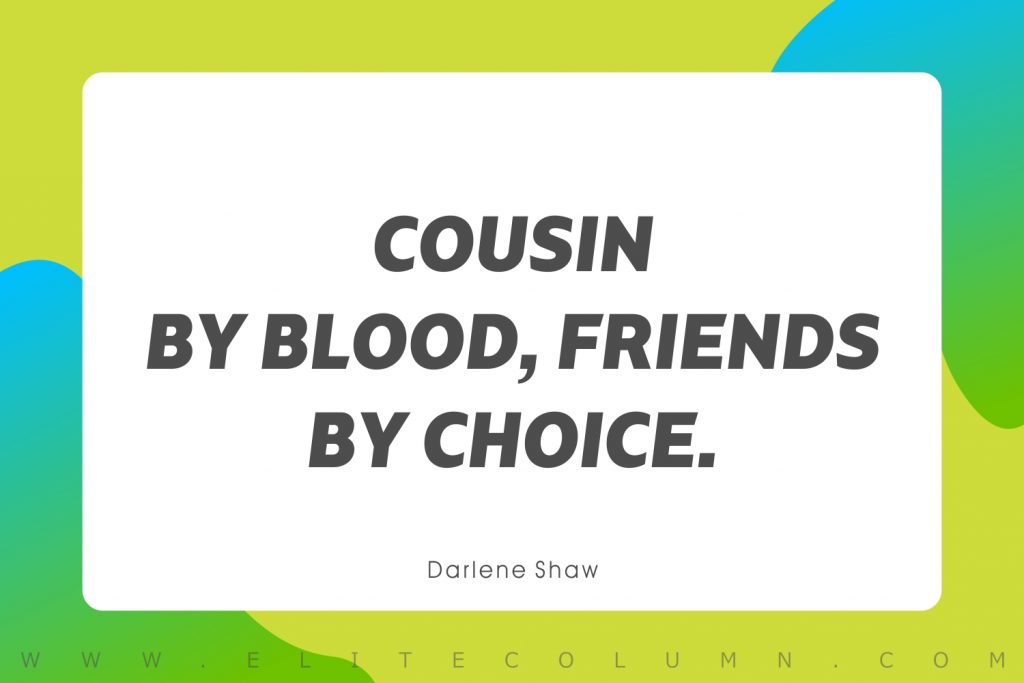 5. "Cousin by blood, friends by choice." – Darlene Shaw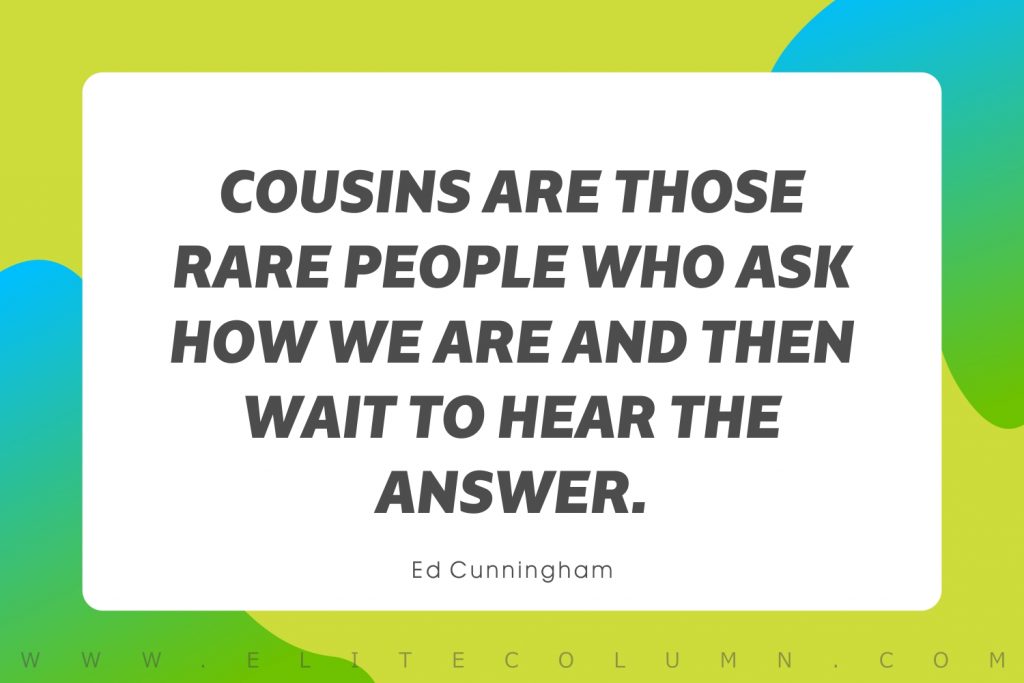 See also:
Inspirational Quotes for Kids | Inspirational Quotes for Students | Inspirational Quotes for Work | Inspirational Quotes for Women | Inspirational Quotes for Teachers | Inspirational Quotes for Girls | Inspirational Quotes for Men | Inspirational Quotes for Children
6. "Cousins are those rare people who ask how we are and then wait to hear the answer." – Ed Cunningham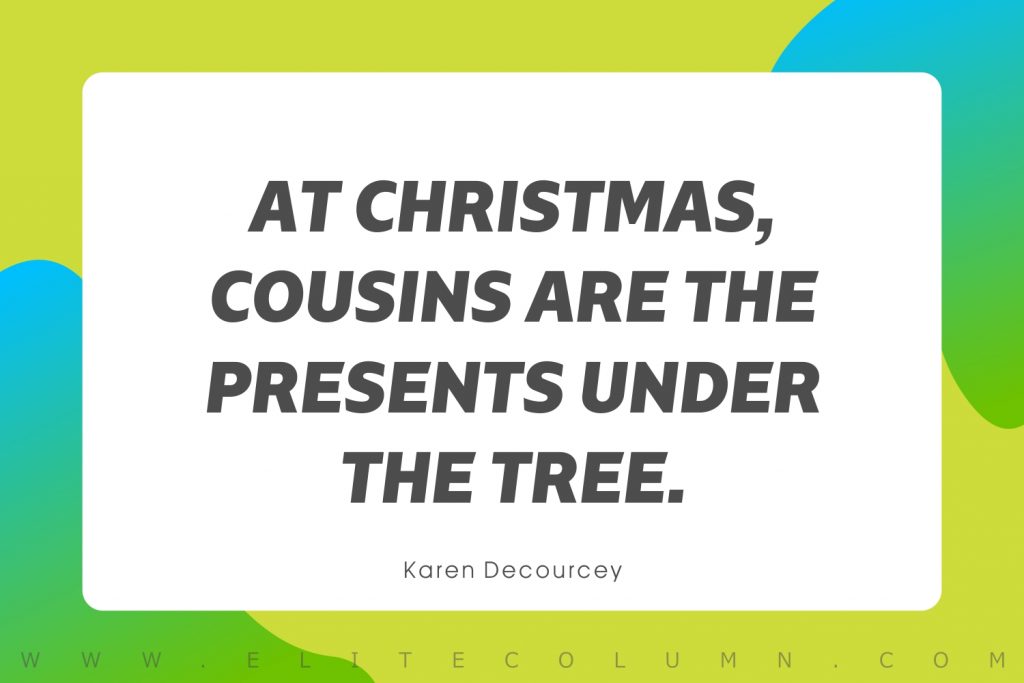 7. "At Christmas, cousins are the presents under the tree." – Karen Decourcey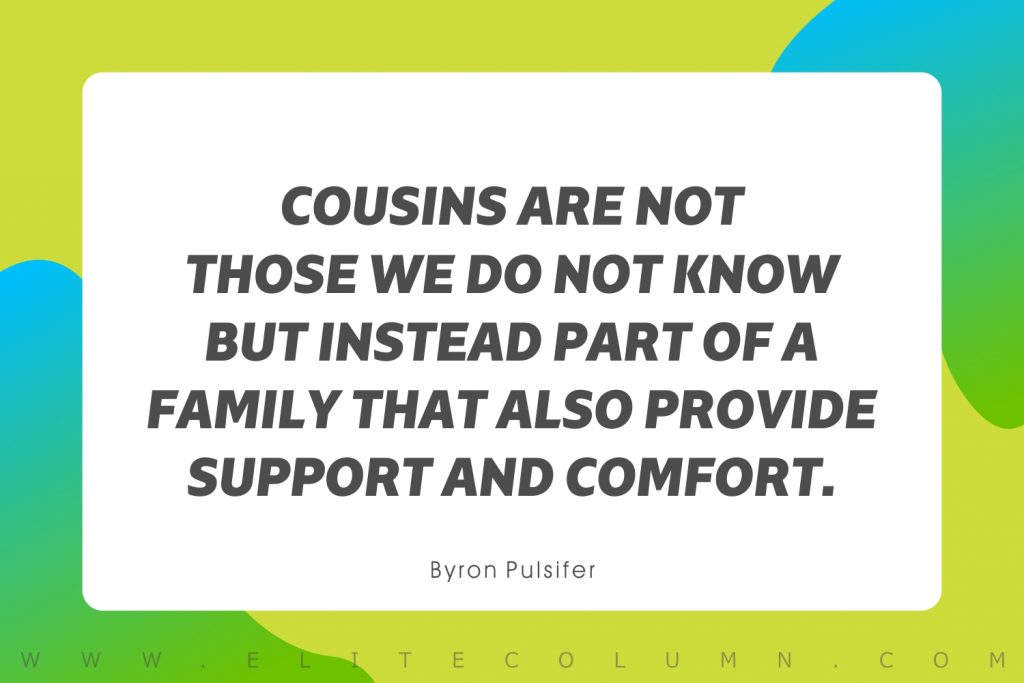 8. "Cousins are not those we do not know but instead part of a family that also provide support and comfort." – Byron Pulsifer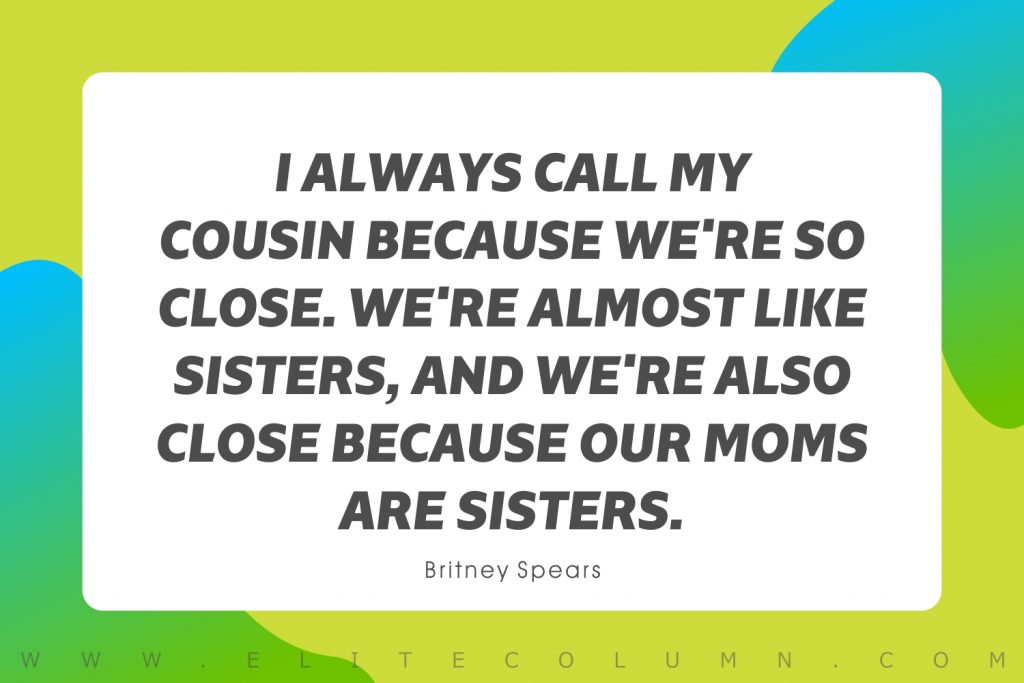 9. "I always call my cousin because we're so close. We're almost like sisters, and we're also close because our moms are sisters." – Britney Spears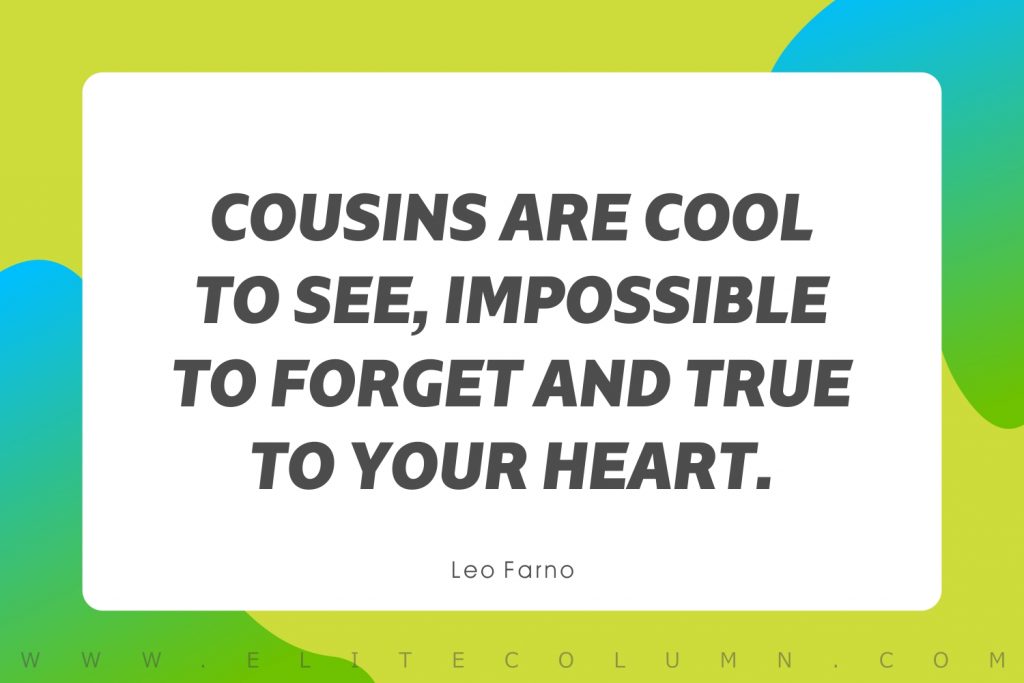 10. "Cousins are cool to see, impossible to forget and true to your heart." – Leo Farno
11. "Friendship is the only cement that will ever hold cousins together." – Woodrow Wilson
12. "My cousins are shareholders of my soul." – Saswat Padh
13. "The bond that links your true family is not one of blood, but of respect and joy in each other's life." – Richard Bach
14. "Cousins are sisters you never had." – Reah Glowstorl
15. "Other things may change us, but we start and end with family." – Anthony Brandt
16. "If you're lucky, a cousin is there from the beginning." – Susan Bolch
17. "The night before the cousins came, I couldn't sleep." – Katie Yamasaki
18. "Never judge someone by their relatives." – Charles Martin
19. "My twin sister, my cousin, and I used to write and perform plays for my family. We raided the closets for costumes and fought over parts. I'm sure I was the bossiest one." – Connie Britton
20. "Win, lose, or draw, you're all my cousins and I love you." – Chill Wills
21. "My dear young cousin, if there's one thing I've learned over the eons, it's that you can't give up on your family, no matter how tempting they make it." – Rick Riordan
22. "Family is not an important thing. It's everything." – Michael J. Fox
23. "Family members can be your best friends, you know. And best friends, whether or not they are related to you, can be your family." – Trenton Lee Stewart
24. "Happiness has a large, loving, caring, close-knit family in another city." – George Burns
25. "Within our family there was no such thing as a person who did not matter.Second cousins thrice removed mattered." – Shirley Abbott
26. "Cousins are the barometers of how fun a family get-together will be." – Jim Gaffigan
27. "Cousins are more than cousins; they are best friends that are there for us through it all." – Heather Mills
28. "We didn't realize we were making memories, we just knew we were having fun." – A.A. Milne
29. "You don't choose your family. They are God's gift to you, as you are to them." – Desmond Tutu
30. "Be careful who you make memories with. Those can last a lifetime." – Ugo Eze
Thanks for checking out the best Cousin Quotes. Feel free to share the quotes with your friends. Leave a comment below and which are your favourite Cousin Quotes ?
See also:
Reading Quotes | Thinking Quotes | Self Respect Quotes | Parenting Quotes | Entrepreneur Quotes | Mind Quotes | Healing Quotes | Prayer Quotes
You can find us at – Facebook | Instagram | LinkedIn | Pinterest | Twitter