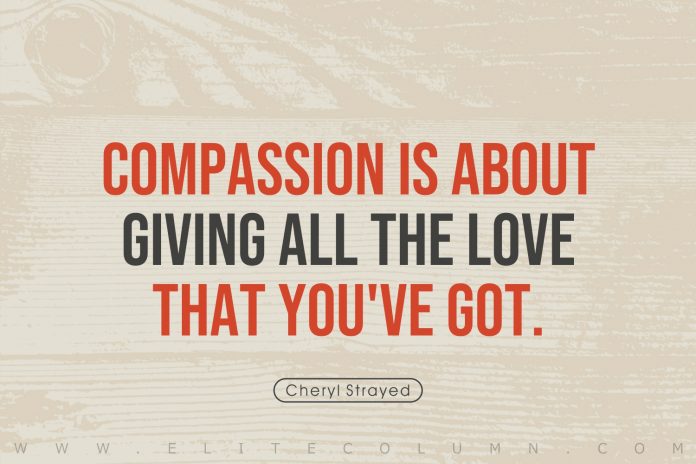 Check out 50 Compassion Quotes today.
50 Best Compassion Quotes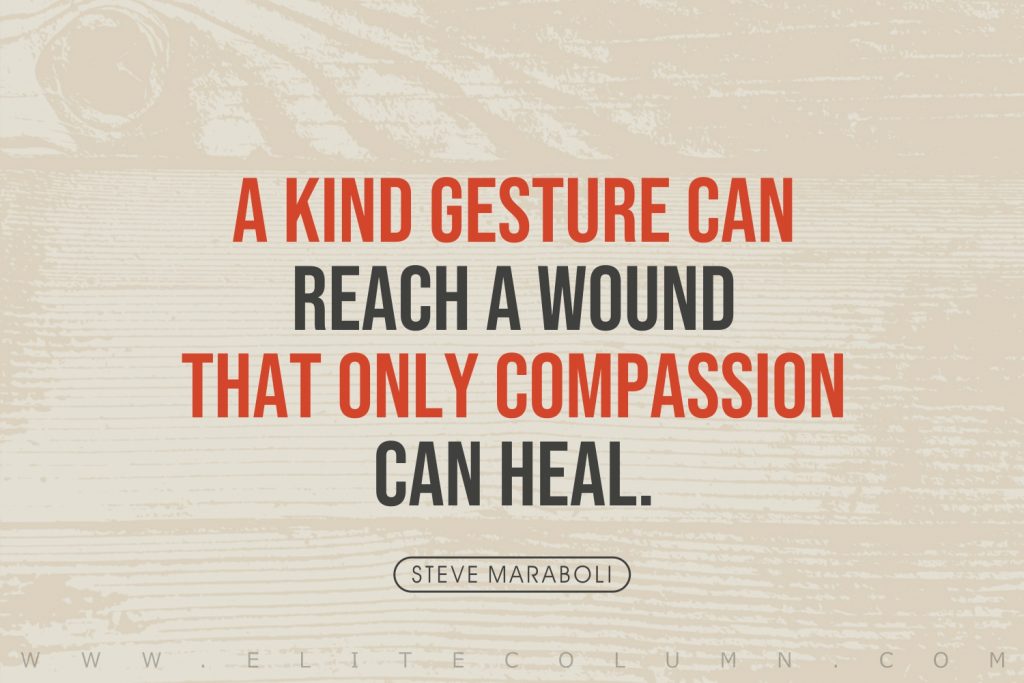 1. "A kind gesture can reach a wound that only compassion can heal." – Steve Maraboli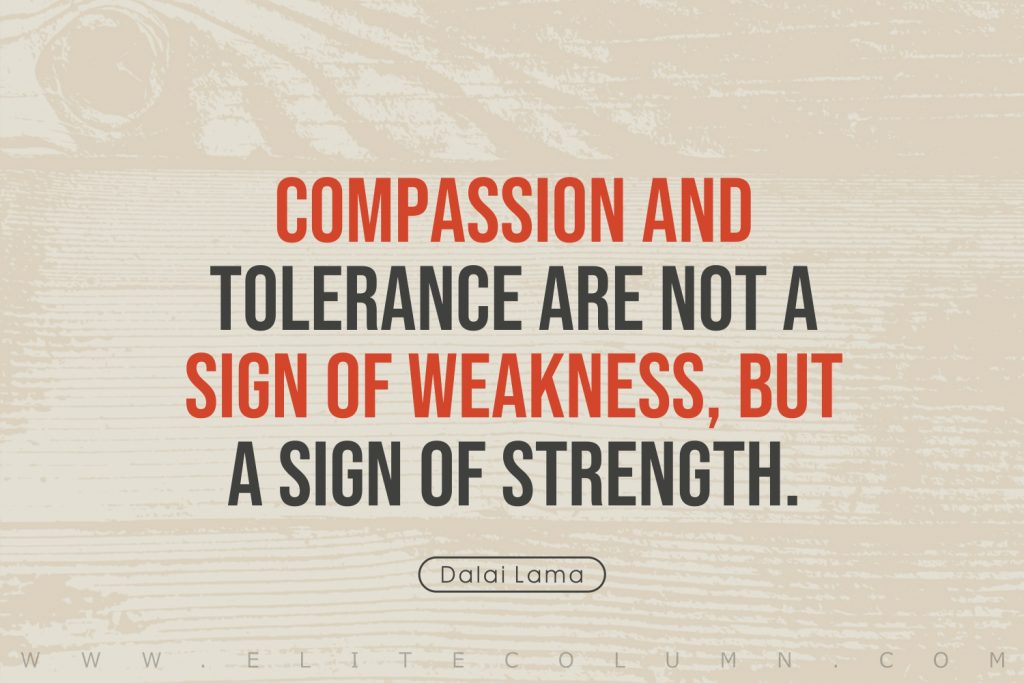 2. "Compassion and tolerance are not a sign of weakness, but a sign of strength." – Dalai Lama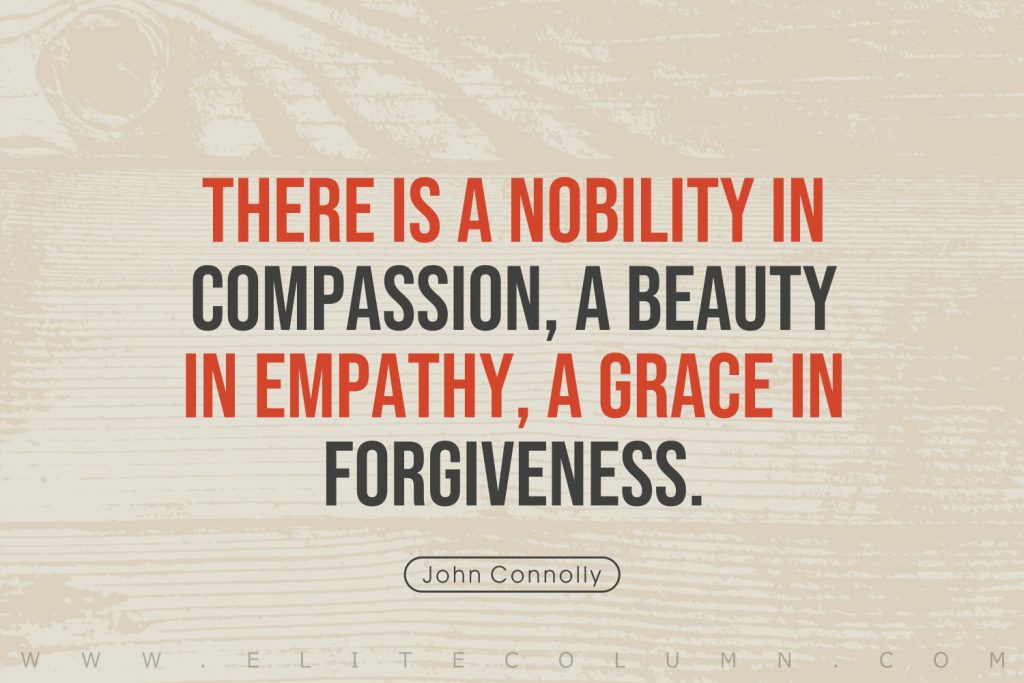 3. "There is a nobility in compassion, a beauty in empathy, a grace in forgiveness." – John Connolly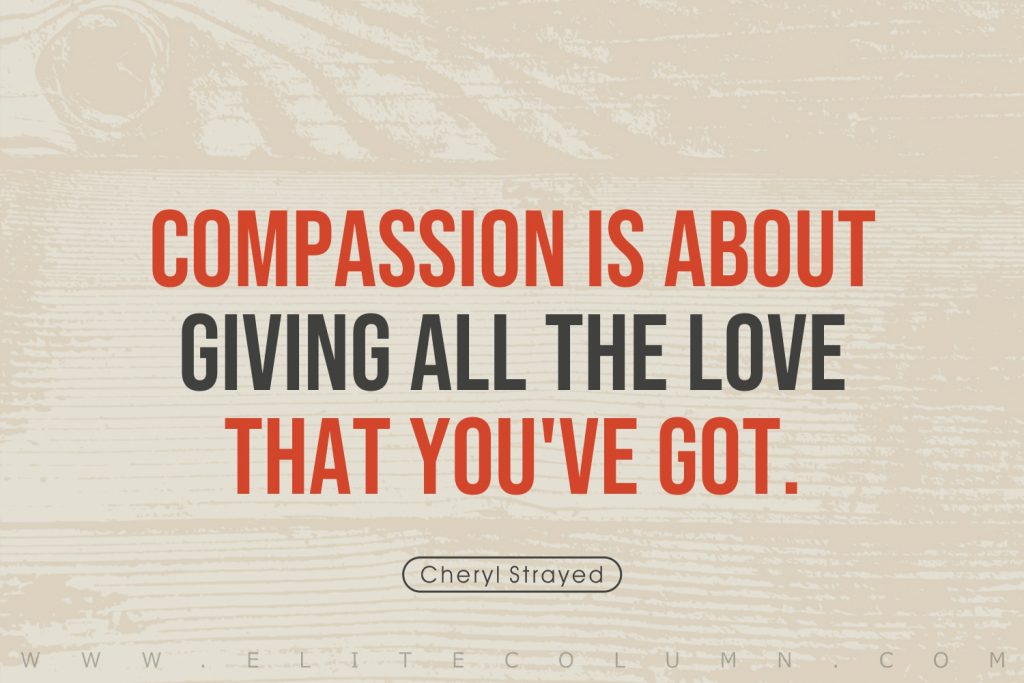 4. "Compassion is about giving all the love that you've got." – Cheryl Strayed
5. "If you want others to be happy, practice compassion. If you want to be happy, practice compassion." – Dalai Lama
See also:
Broken Heart Quotes | Athlete Quotes | Love Quotes | Children Quotes | Love Yourself Quotes | Workout Quotes | Daughter Quotes | Husband Quotes | Dance Quotes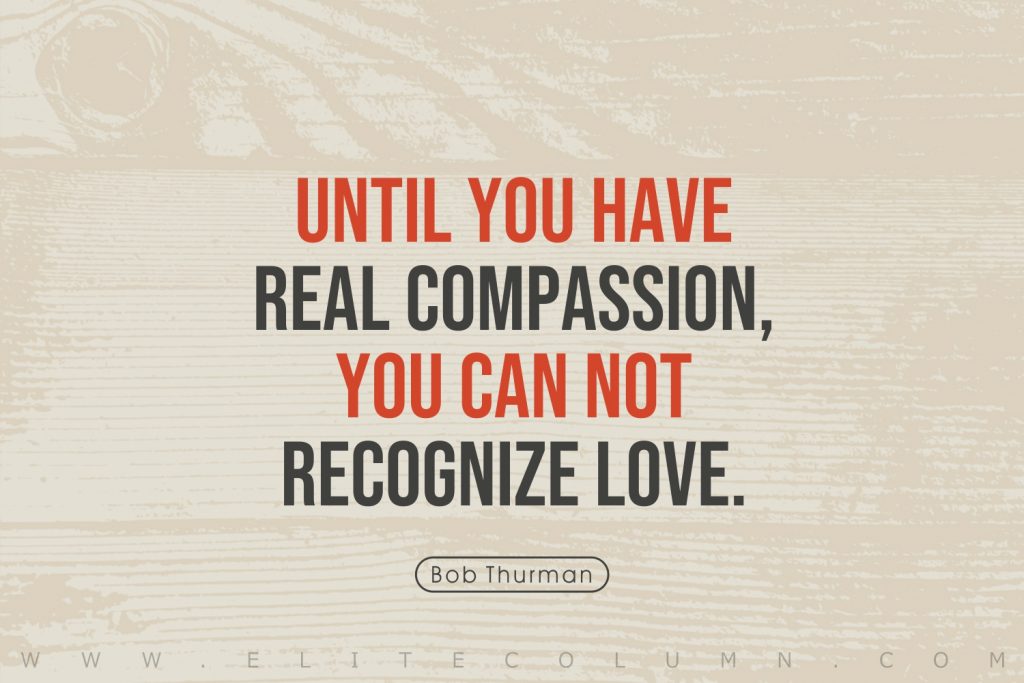 6. "Until you have real compassion, you can not recognize love." – Bob Thurman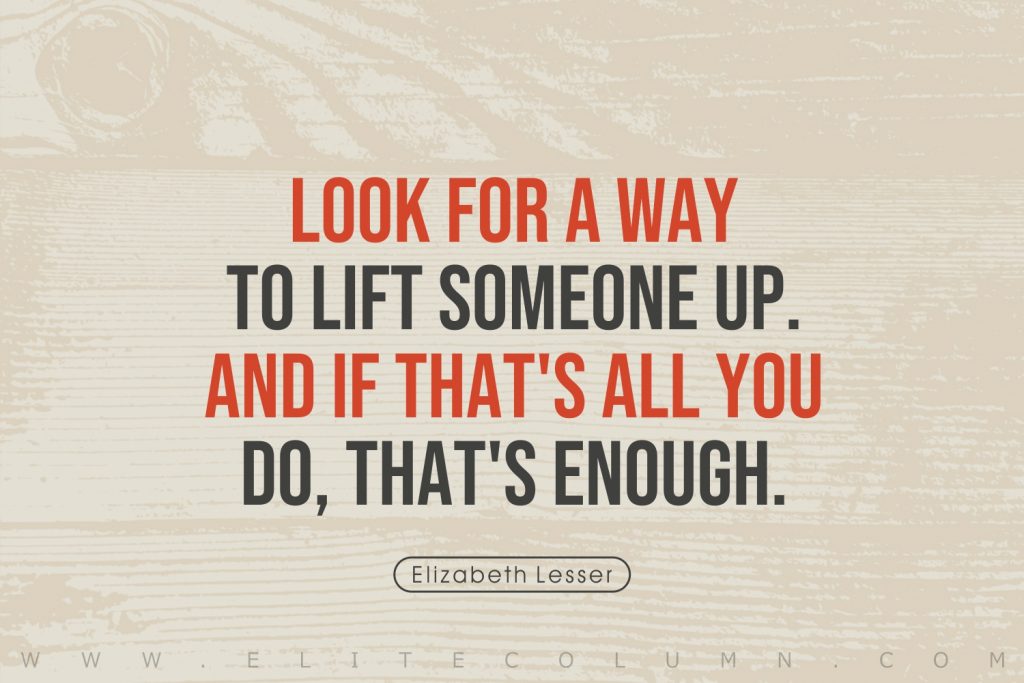 7. "Look for a way to lift someone up. And if that's all you do, that's enough." – Elizabeth Lesser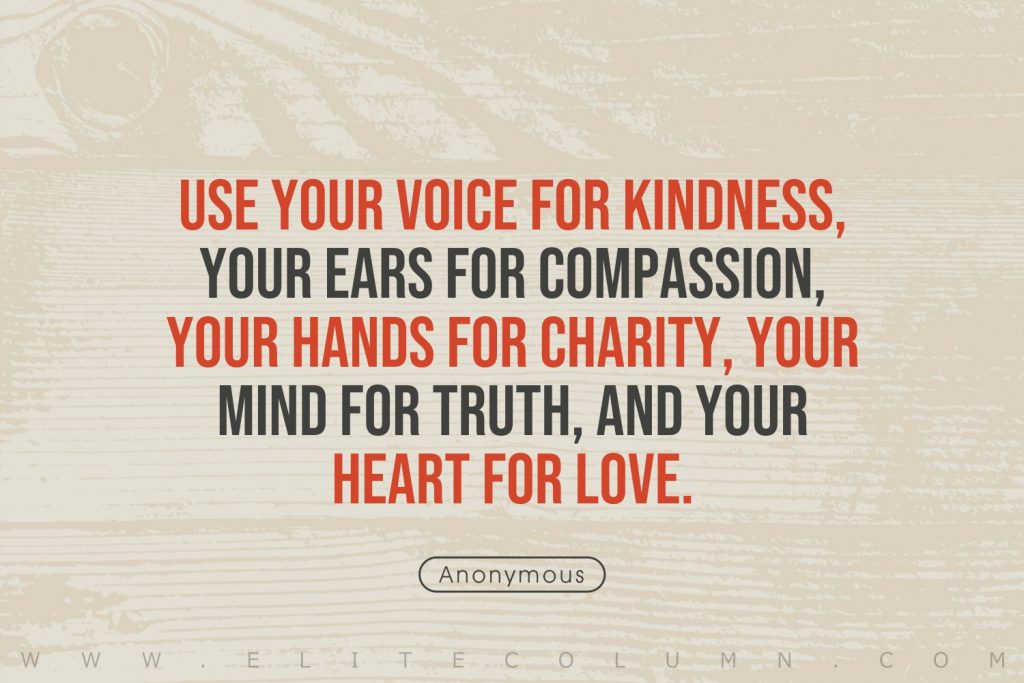 8. "Use your voice for kindness, your ears for compassion, your hands for charity, your mind for truth, and your heart for love." – Anonymous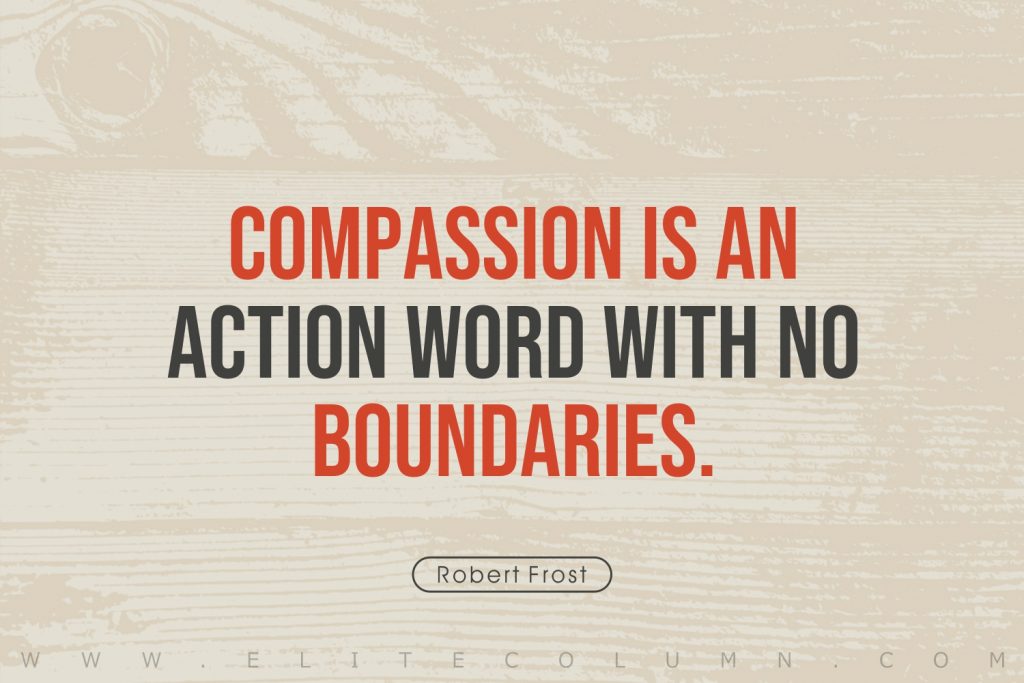 9. "Compassion is an action word with no boundaries." – Robert Frost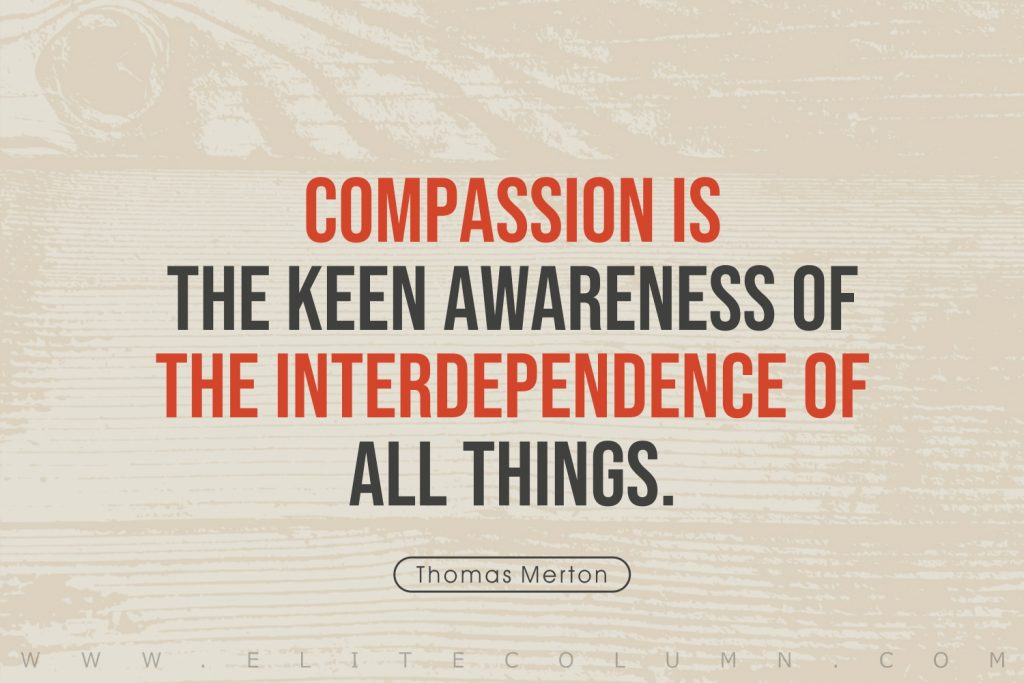 10. "Compassion is the keen awareness of the interdependence of all things." – Thomas Merton
11. "Humankind seems to have an enormous capacity for savagery, for brutality, for lack of empathy, for lack of compassion." – Annie Lennox
12. "The functions of intellect are insufficient without courage, love, friendship, compassion, and empathy." – Dean Koontz
13. "True compassion comes from free will by drawing empathy from within." – Shane Barbi
14. "If it is not tempered by compassion and empathy, reason can lead men and women into a moral void." – Karen Armstrong
15. "The struggle of my life created empathy – I could relate to pain, being abandoned, having people not love me." – Oprah Winfrey
16. "The only way to change someone's mind is to connect with them from the heart." – Rasheed Ogunlaru
17. "Never look down on anybody unless you're helping him up." – Jesse Jackson
18. "Anyone who has experienced a certain amount of loss in their life has empathy for those who have experienced loss." – Anderson Cooper
19. "The ugliest thing I've ever seen is a human being without compassion." – H. Milne. P
20. "Extend sympathy, empathy, and compassion to others." – Vishnu
21. "Empathy is the gateway; compassion is the way." – Scott Perry
22. "If you do not practice empathy and forgiveness for your actions, it will be impossible to practice empathy with others." – Laura Raskin
23. "Emotional empathy is what motivates us to help others." – Brian Goldman
24. "I believe empathy is the most essential quality of civilization." – Roger Ebert
25. "Empathy is understanding the sorrow or loss of another person. Put yourself in the other person's shoes and imagine how you would feel." – Byron Pulsifer
26. "An empathic person is a good listener, patient, understanding, and kind." – Laura Raskin
27. "All I ever wanted was to reach out and touch another human being not just with my hands but with my heart." – Tahereh Mafi
28. "When people talk, listen completely. Most people never listen."- Ernest Hemingway
29. "We must learn to regard people less in the light of what they do or omit to do, and more in the light of what they suffer." – Dietrich Bonhoeffer
30. "Before you criticize a man, walk a mile in his shoes. That way, when you do criticize him, you'll be a mile away and have his shoes." – Steve Martin
31. "You never really understand a person until you consider things from his point of view." – Harper Lee
32. "The most important thing is that we need to be understood. We need someone to be able to listen to us and to understand us. Then we will suffer less." – Nhat Hanh
33. "Empathy is important, openness, honesty, and an understanding for others." – Niko Kovac
34. "Good fiction creates empathy. A novel takes you somewhere and asks you to look through the eyes of another person, to live another life." – Barbara Kingsolver
35. "Empathy means both understanding others on their own terms and bringing them within the orbit of one's own experience." – Jacob A. Belzen
36. "Empathy is the love fire of sweet remembrance and shared understanding." – John Eaton
37. "Empathy is simply listening, holding space, withholding judgment, emotionally connecting, and communicating that incredibly healing message of you're not alone." – Brene Brown
38. "Peace cannot be kept by force; it can only be achieved by understanding." – Albert Einstein
39. "You never really understand a person…until you climb into his skin and walk around in it." – Harper Lee
40. "One doesn't have to operate with great malice to do great harm. The absence of empathy and understanding are sufficient." – Charles M. Blow
41. "Be kind for everyone you meet is fighting a hard battle." – Plato
42. "Exposure promotes understanding, understanding promotes empathy, and empathy promotes compromise." – F. Allen Davis
43. "Extend sympathy, empathy and compassion to others."
– Vishnu
44. "Have compassion and empathy in your heart. Many people are suffering deep emotional anguish beneath the surface of their lives, and smile even as they hurt inside." – Jim Palmer
45. "Empathetic presence involves listening to someone's pain with what I call the five A's: attention, acceptance, appreciation, affection, and allowing." – David Richo
46. "Proactive responding is the ability to listen to the other person's feelings and empathise without taking responsibility for those feelings." – Clive Harman
47. "Life is the first gift, love is the second, and understanding the third."- Marge Piercy
48. "Listening has the ability of the wizard's alchemy. It has the power to melt the armor and to produce beauty in the midst of hatred." – Brian Muldoon
49. "A kind gesture can reach a wound that only compassion can heal." – Steve Maraboli
50. "You can only understand people if you feel them in yourself." – John Steinbeck
Thanks for checking out the best Compassion Quotes. Feel free to share the quotes with your friends. Leave a comment below and which are your favourite Compassion Quotes ?
See also:
Soulmate Quotes | Girlfriend Quotes | Betrayal Quotes | Commitment Quotes | Transformation Quotes | Mental Health Quotes | Priority Quotes
You can find us at – Facebook | Instagram | LinkedIn | Pinterest | Twitter