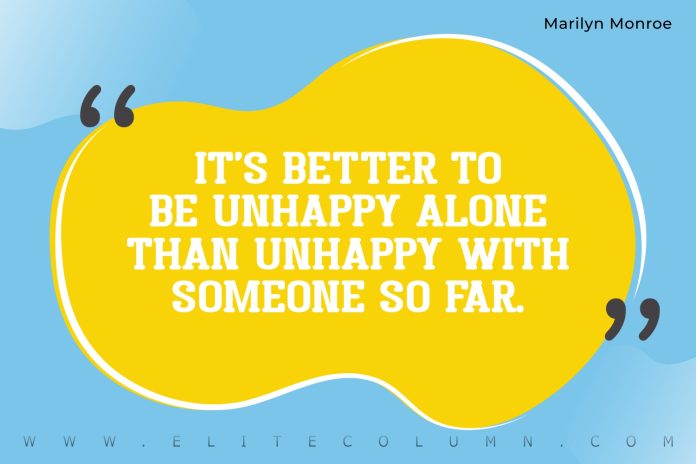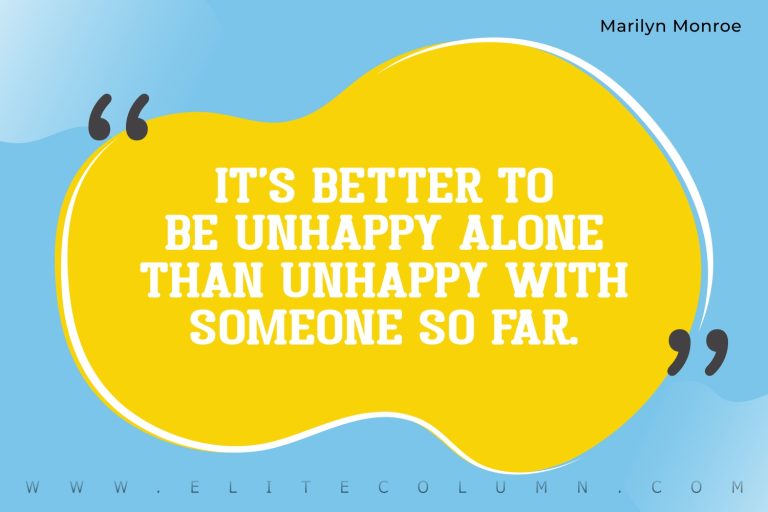 Check out 50 Being Alone Quotes today.
50 Best Being Alone Quotes
1. "What a lovely surprise to finally discover how unlonely being alone can be." – Ellen Burstyn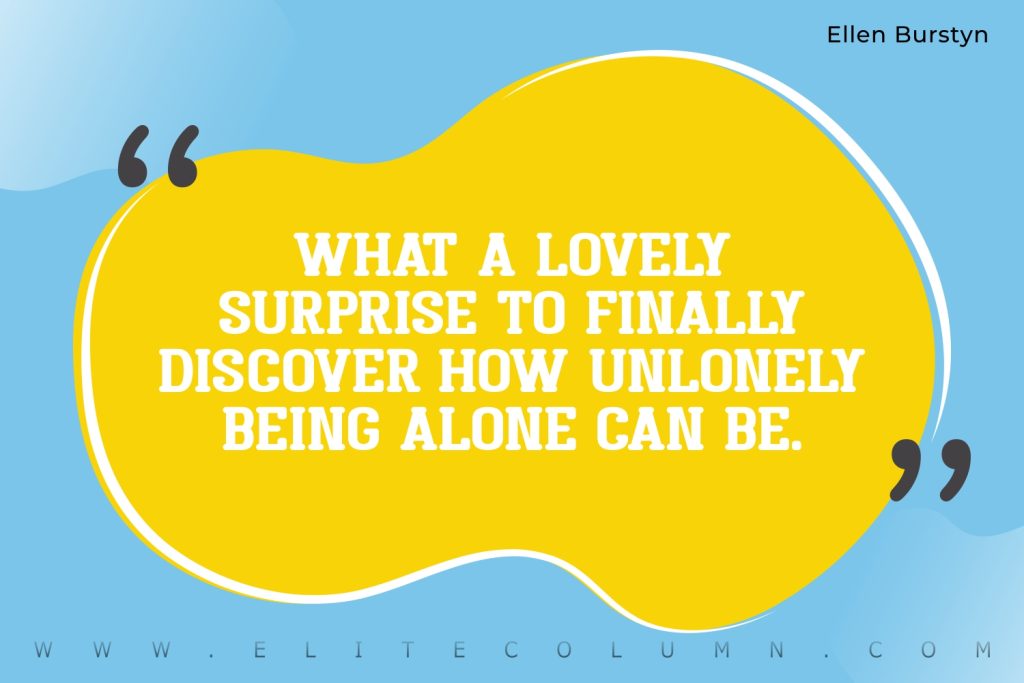 2. "To live alone is the fate of all great souls." – Arthur Schopenhauer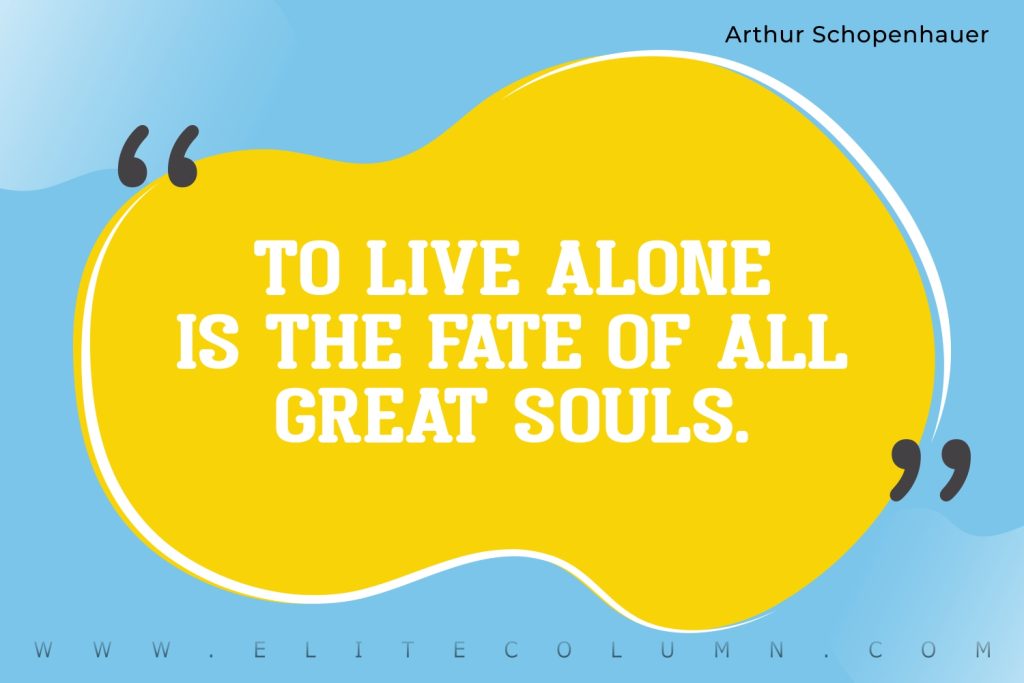 3. "I used to think that the worst thing in life was to end up all alone. It's not. The worst thing in life is ending up with people who make you feel all alone." – Robin Williams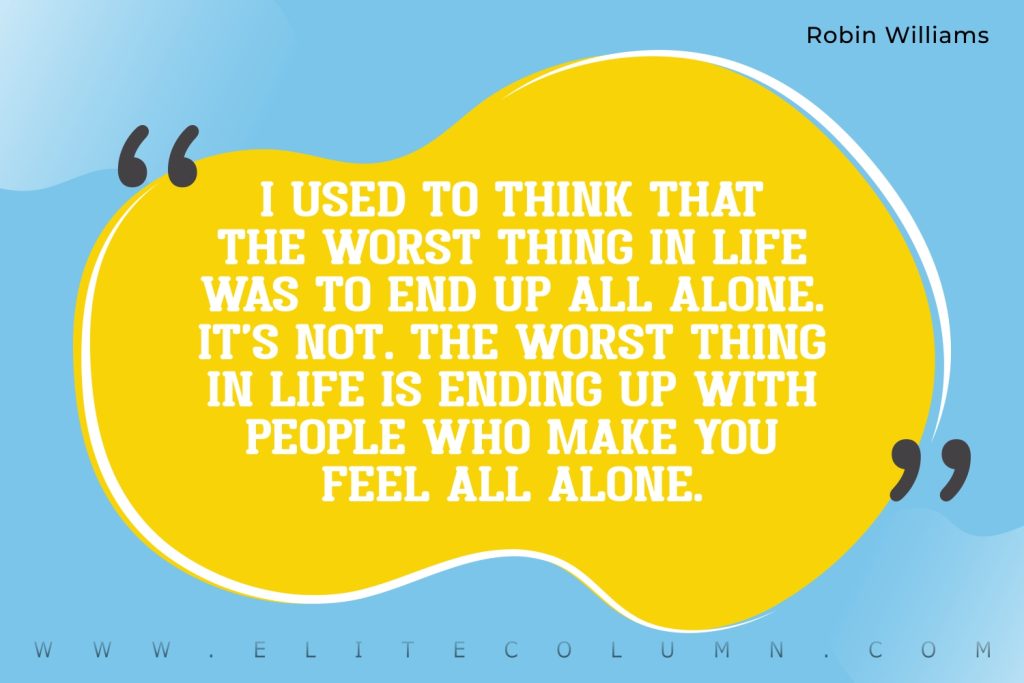 4. "It's better to be unhappy alone than unhappy with someone so far." – Marilyn Monroe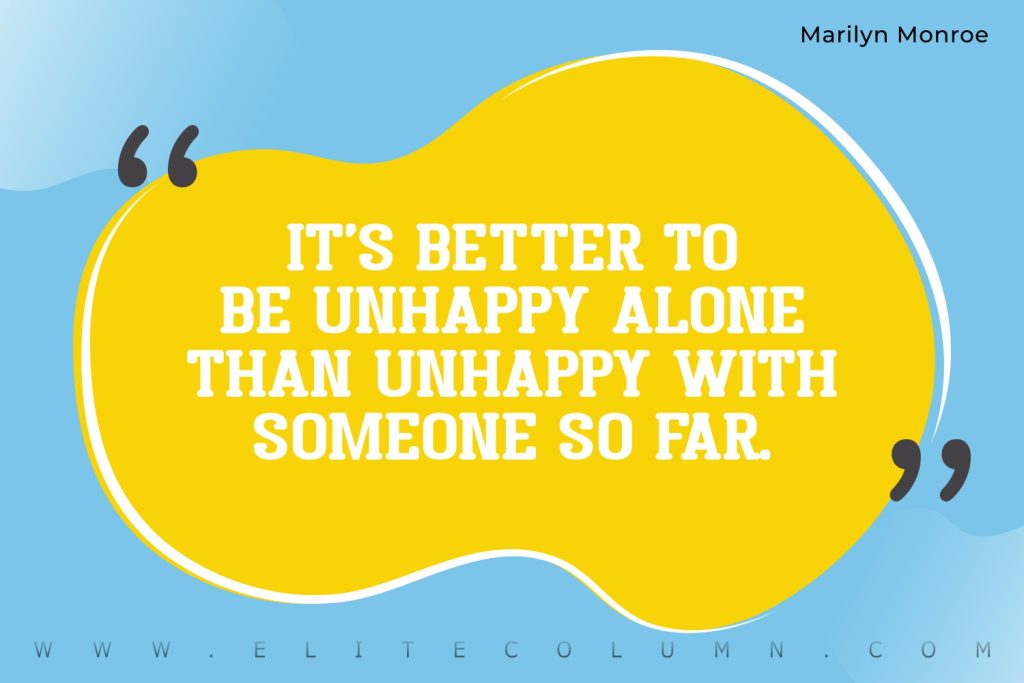 5. "I love to be alone. I never found the companion that was so companionable as solitude." – Henry David Thoreau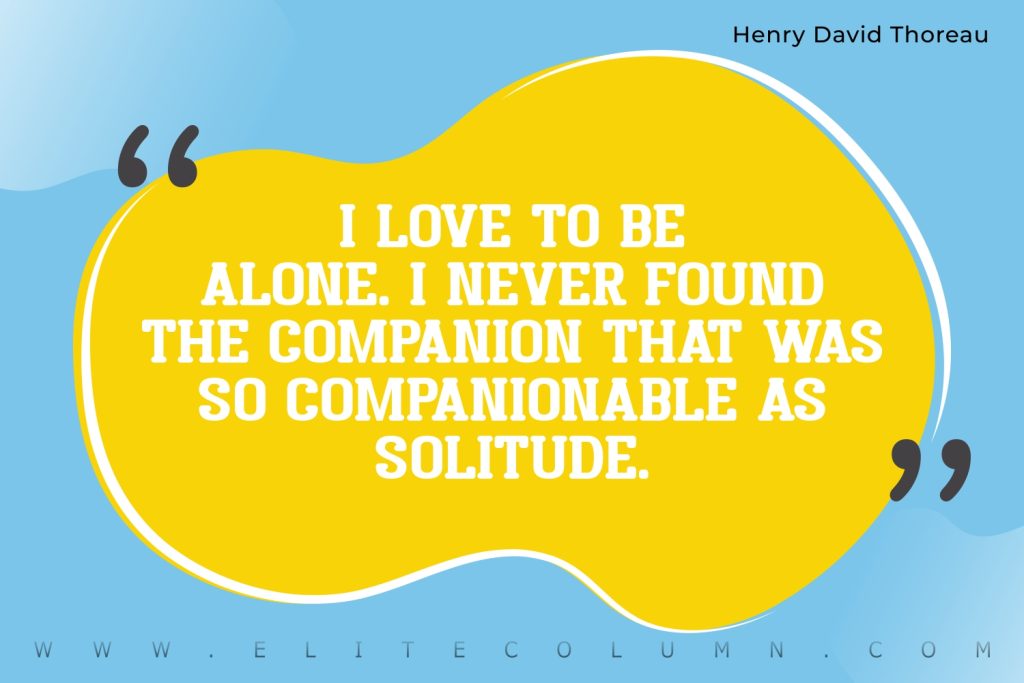 6. "In solitude the mind gains strength and learns to lean upon itself." – Laurence Sterne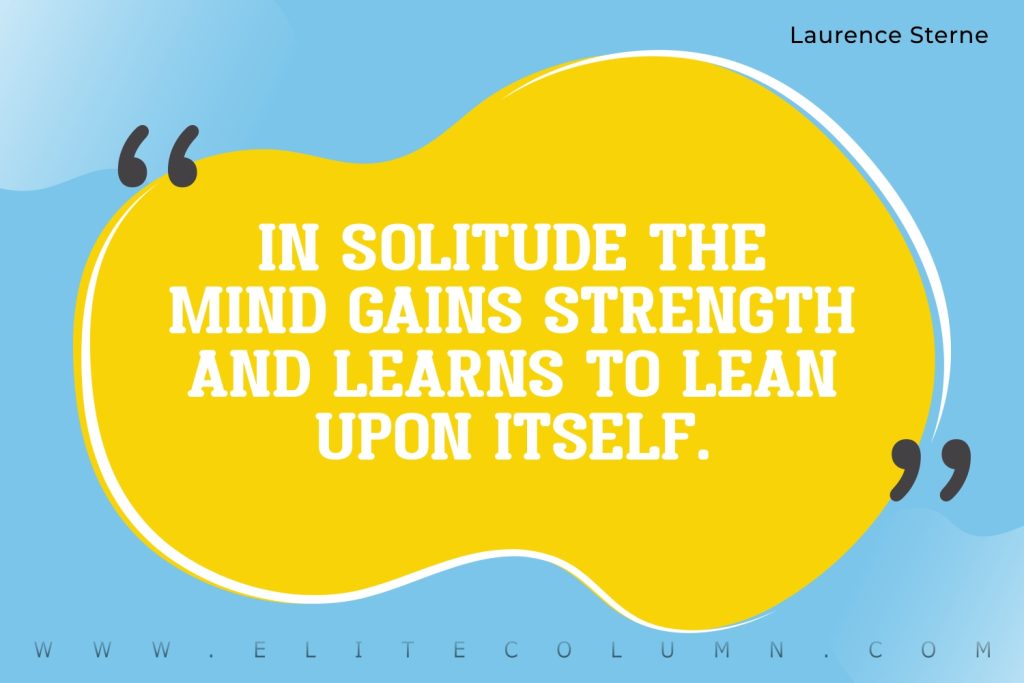 7. "I live in that solitude which is painful in youth, but delicious in the years of maturity." – Albert Einstein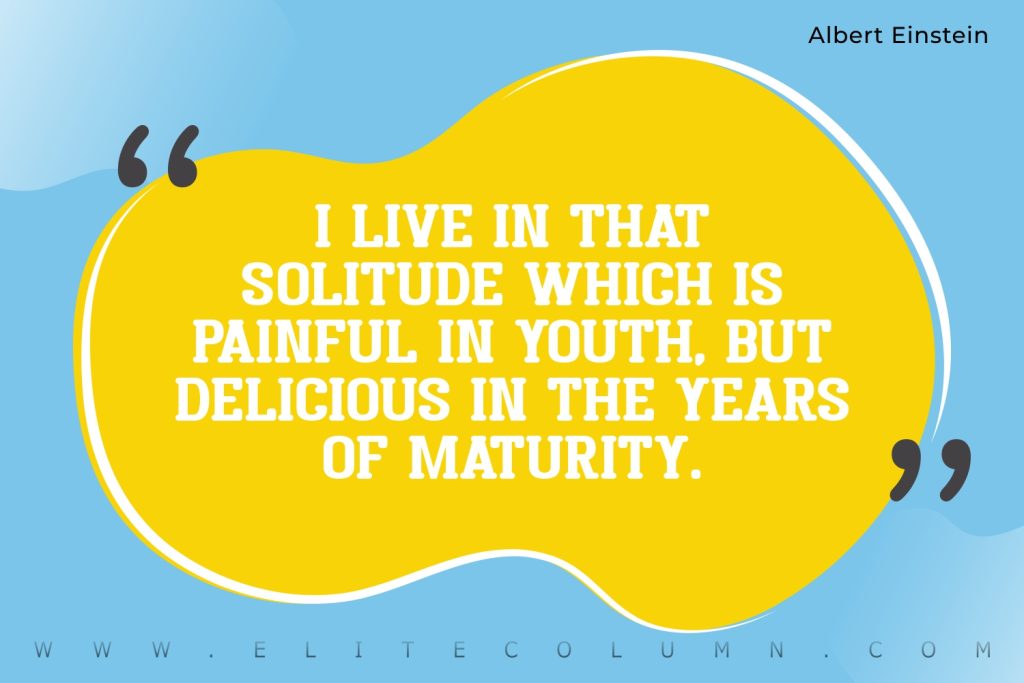 8. "Alone we can do so little; together we can do so much." – Helen Keller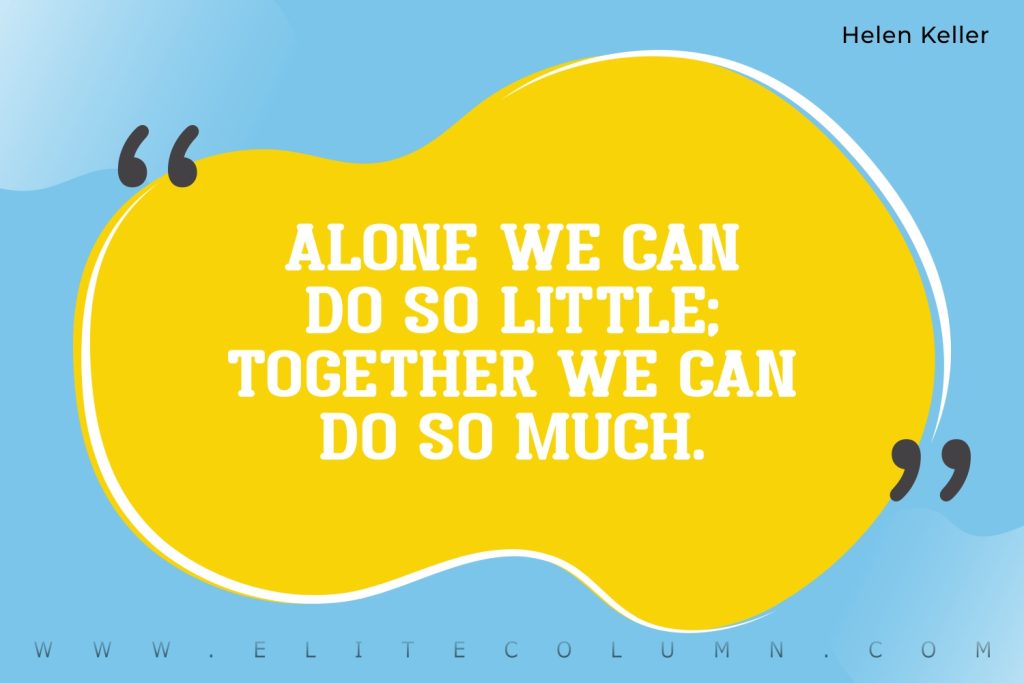 9. "Look at the sky. We are not alone. The whole universe is friendly to us and conspires only to give the best to those who dream and work." – A. P. J. Abdul Kalam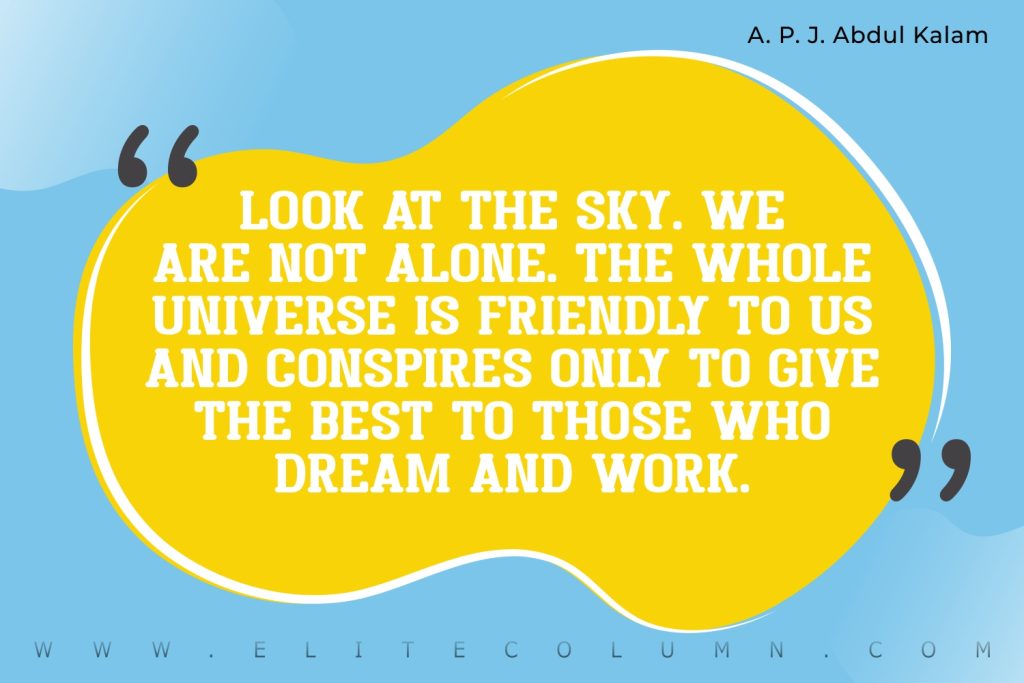 10. "Until you get comfortable with being alone, you'll never know if you're choosing someone out of love or loneliness." – Mandy Hale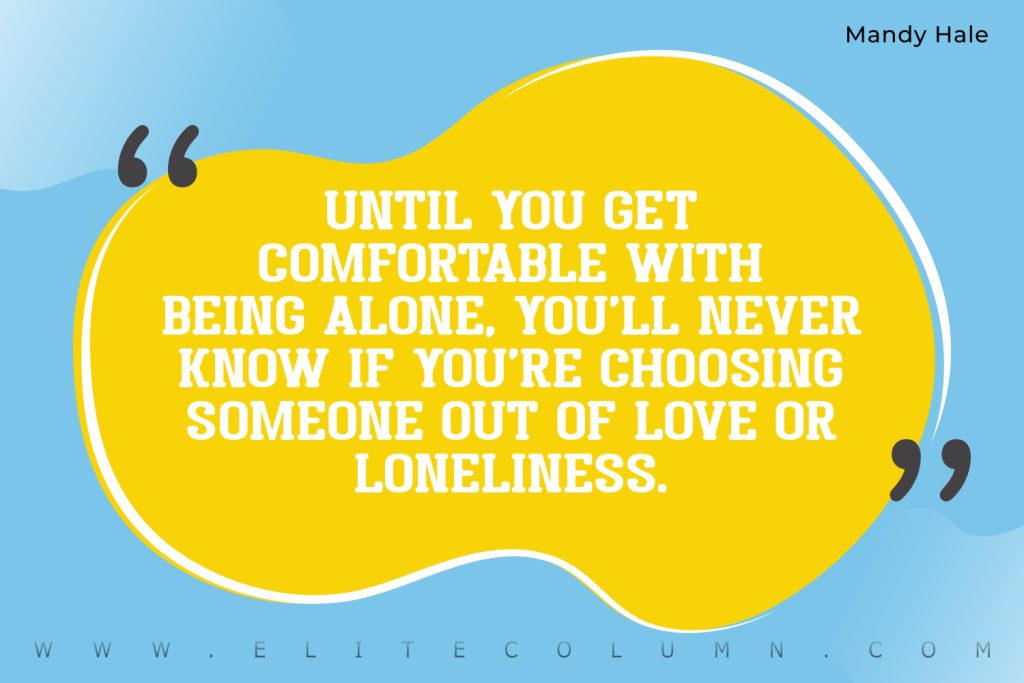 11. "The best part about being alone is that you really don't have to answer to anybody. You do what you want." – Justin Timberlake
12. "My alone feels so good, I'll only have you if you're sweeter than my solitude." – Warsan Shire
13. "If you're going to put yourself above everybody else, you might end up alone." – Joseph Gordon-Levitt
14. "In order to be open to creativity, one must have the capacity for constructive use of solitude. One must overcome the fear of being alone." – Rollo May
15. "Living alone makes it harder to find someone to blame." – Mason Cooley
16. "Inside myself is a place where I live all alone and that is where I renew my springs that never dry up." – Pearl S. Buck
17. "Don't feel alone, because there is always someone out there who loves you more than you can imagine." – Anurag Prakash Ray
18. "Life could be wonderful if people would leave you alone." – Charlie Chaplin
19. "Without great solitude no serious work is possible." – Pablo Picasso
20. "Solitude is independence." – Hermann Hesse
21. "You cannot be lonely if you like the person you're alone with." – Wayne Dyer
22. "You only grow when you are alone." – Paul Newman
23. "I may climb perhaps to no great heights, but I will climb alone." – Cyrano de Bergerac
24. "Being alone when one's belief is firm, is not to be alone." – Berthold Auerbach
25. "I think the greatest amount of pressure is the pressure I place on myself. So in a way I chose to be alone." – Cathy Freeman
26. "All alone! Whether you like it or not, alone is something you'll be quite a lot!" – Dr. Seuss
27. "It is far better to be alone than to be in bad company." – George Washington
28. "Sometimes life is too hard to be alone, and sometimes life is too good to be alone." – Elizabeth Gilbert
29. "If you make friends with yourself you will never be alone." – Maxwell Maltz
30. "Nobody likes being alone that much. I don't go out of my way to make friends, that's all. It just leads to disappointment." – Haruki Murakami
31. "I think it's good for a person to spend time alone. It gives them an opportunity to discover who they are and to figure out why they are always alone." – Amy Sedaris
32. "I think it's very healty to spend time alone. You need to know how to be alone and not be defined by another person." – Oscar Wilde
33. "You come into the world alone and you go out of the world alone yet it seems to me you are more alone while living than even going and coming." – Emily Carr
34. "We're born alone, we live alone, we die alone. Only through our love and friendship can we create the illusion for the moment that we're not alone." – Orson Welles
35. "You need to know how to be alone in order to know how to be together." – Sherry Turkle
36. "Being alone has a power that very few people can handle." – Steven Aitchison
37. "Solitude vivifies; isolation kills." – Joseph Roux
38. "We cannot avoid being alone, so we'd better learn to love our own company. We learn our greatest life lessons alone & we discover the truth of who we are alone." – Susan L. Taylor
39. "If you wanted to do something absolutely honest, something true, it always turned out to be a thing that had to be done alone." – Richard Yates
40. "People drain me. That's why I embrace Silence and Solitude, I can spend days and days On my own without Any human contact, Not feeling lonely for even a moment." – Willowcat
41. "Let your mind alone, and see what happens." – Virgil Thomson
42. "Some people can't stand being alone. I love solitude and silence. But when I come out of it, I'm a regular talking machine. It's all or nothing for me." – Celine Dion
43. "As I get older I'm more and more comfortable being alone." – Sienna Miller
44. "Learn to be alone and to like it. There is nothing more empowering or freeing than learning to like your own company." – Mandy Hale
45. "The longer one is alone, the easier it is to hear the song of the earth." – Robert Anton Wilson
46. "I finally faced the fact that it isn't a crime not having friends. Being alone means you have fewer problems. " – Whitney Houston
47. "I restore myself when I'm alone." – Marilyn Monroe
48. "Laugh and the world laughs with you, snore and you sleep alone." – Anthony burgess
49. "I'm learning a lot about myself being alone, and doing what I'm doing." – Chantal Kreviazuk
50. "The best part about being alone is that you really don't have to answer to anybody. You do what you want." – Justin Timberlake
Thanks for checking out the best Being Alone Quotes. Feel free to share the quotes with your friends. Leave a comment below and which are your favourite Being Alone Quotes ?
See also:
Hustle Quotes | Life Changing Quotes | Aspiration Quotes | Daily Quotes | Keep Going Quotes | Picture Quotes | Star Quotes |Consistency Quotes
You can find us at – Facebook | Instagram | LinkedIn | Pinterest | Twitter