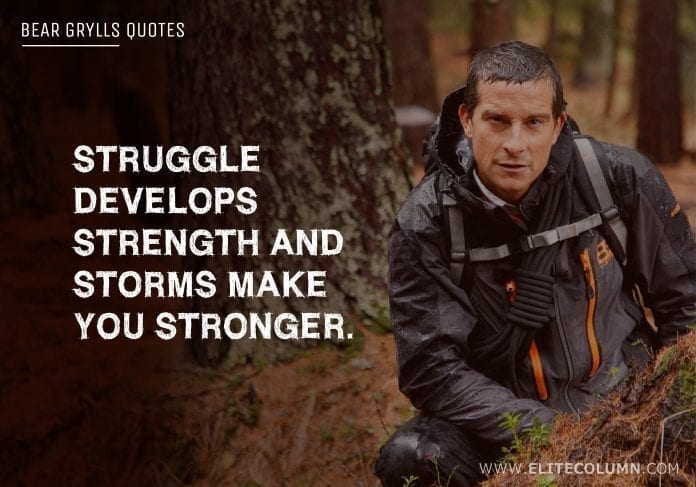 Bear Grylls is best known to TV audiences for Discovery's Man vs. Wild. Born Edward Michael Grylls and nicknamed Bear by his sister at just a week old, he went on to attend top British boarding school Eton College and founded the famous institution's first mountaineering club, where he honed the skills that would give him a future in television. After leaving school, Grylls set out on his first Himalayan adventure, spending a number of months hiking in around the mountainous regions of India before eventually following in his father's footsteps. EliteColumn brings you best Bear Grylls quotes to survive in life.
58 Courageous Bear Grylls Quotes

"All my life the only thing I've been good at has been climbing and throwing myself off big things." – Bear Grylls
2. "Those who are positive, resourceful, courageous, and determined will emerge." – Bear Grylls
3. "Pain is temporary, quitting lasts forever." – Bear Grylls
4. "Survival requires movement." – Bear Grylls
5. "Never give up, never give in." – Bear Grylls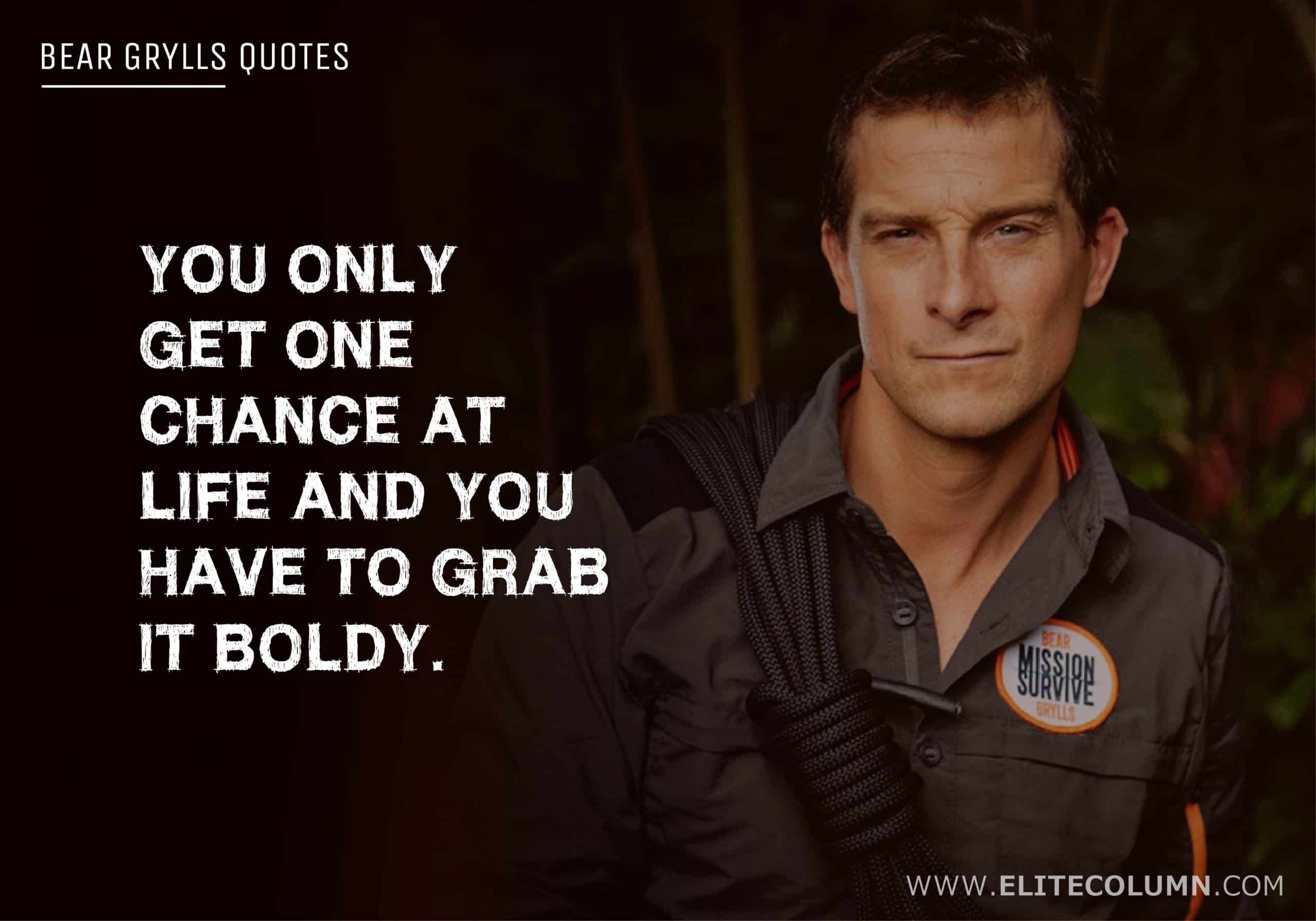 6. "You only get one chance at life and you have to grab it boldy." – Bear Grylls
7. "Life is about getting up again, dusting yourself down again, learning from the lessons and then pushing on." – Bear Grylls
8. "Change the way you use your time, and you change your life." – Bear Grylls
9. "The greatest journeys all start with a single step." – Bear Grylls
10. "A man's pride can be his downfall, and he needs to learn when to turn to others for support and guidance." – Bear Grylls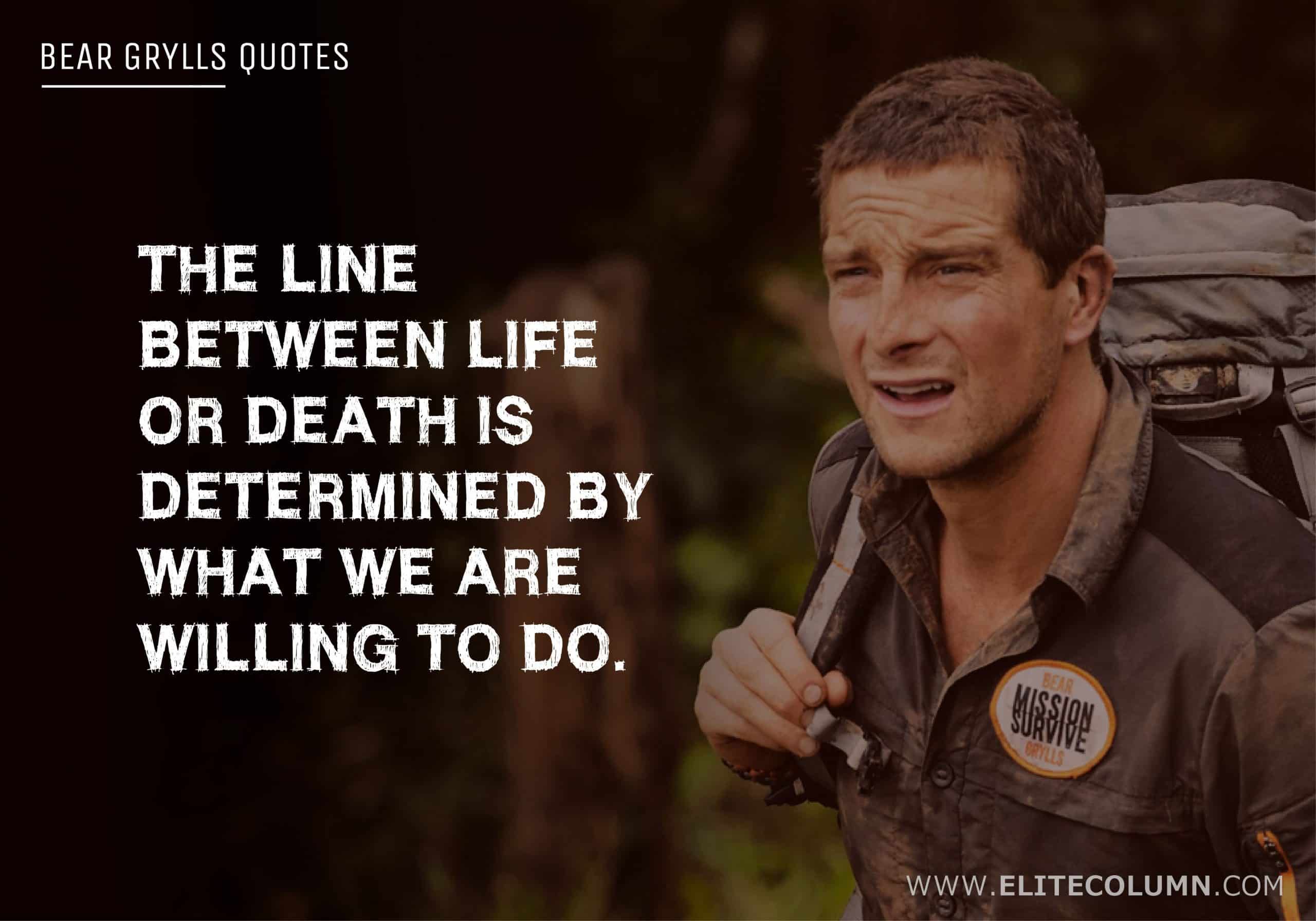 11. "The line between life or death is determined by what we are willing to do." – Bear Grylls
12. "The only difference between 'try' and 'triumph' is varying degrees of 'umph'." – Bear Grylls
13. "As a society, we've become terrified of failure, but you can't grow without risking it." – Bear Grylls
14. "Our achievements are generally limited only by the beliefs we impose on ourselves." – Bear Grylls
15. "One thing I know for sure: it is only by doing what we fear that we can ever truly learn to be brave." – Bear Grylls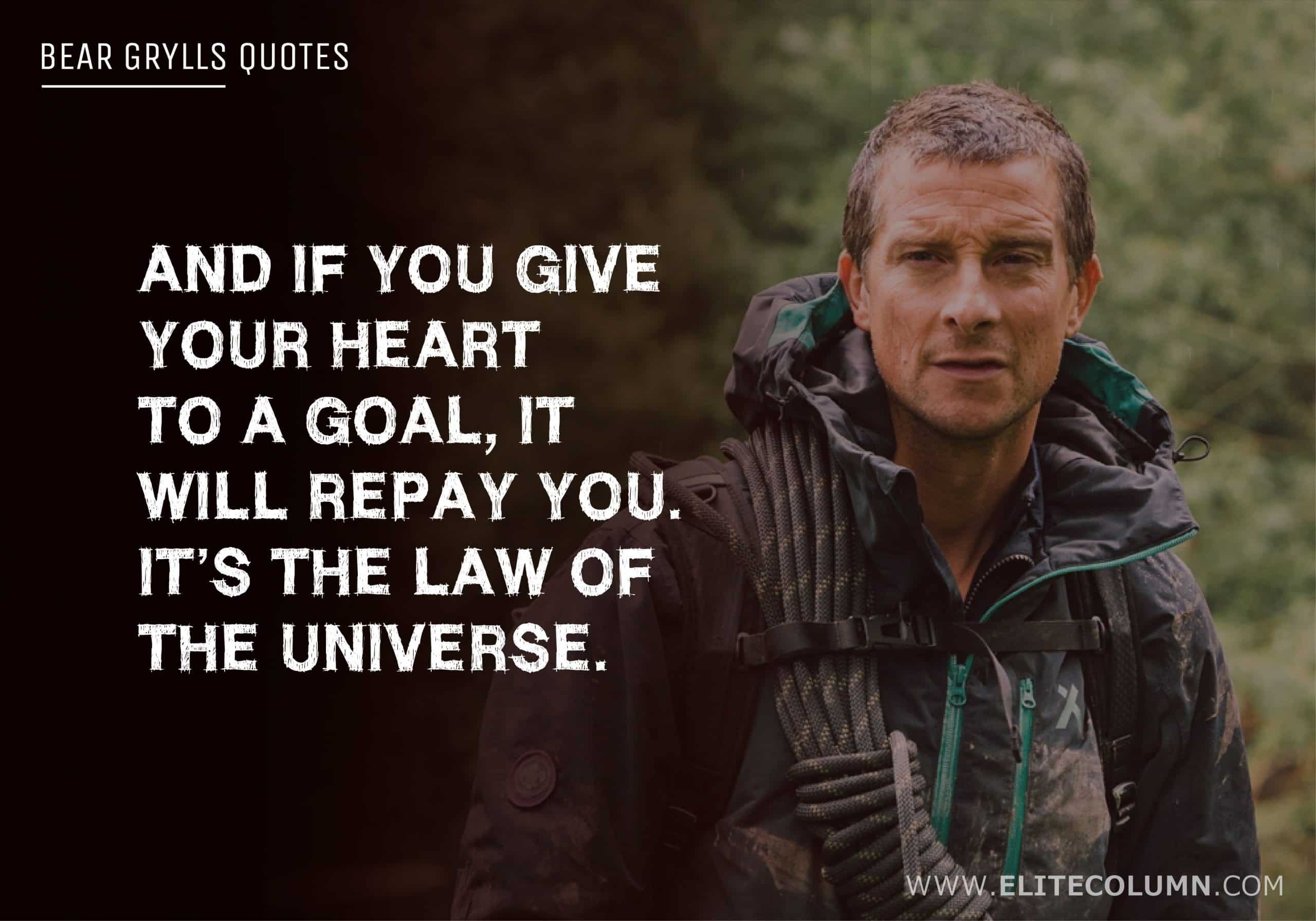 16. "And if you give your heart to a goal, it will repay you. It's the law of the universe." – Bear Grylls
17. "Sometimes an ember is all we need." – Bear Grylls
18. "Life doesn't reward the naturally clever or strong but those who can learn to fight and work hard and never quit." – Bear Grylls
19. "If you can find a path with no obstacles, it probably doesn't lead anywhere." – Bear Grylls
20. "If you want it bad enough, you'll pass." – Bear Grylls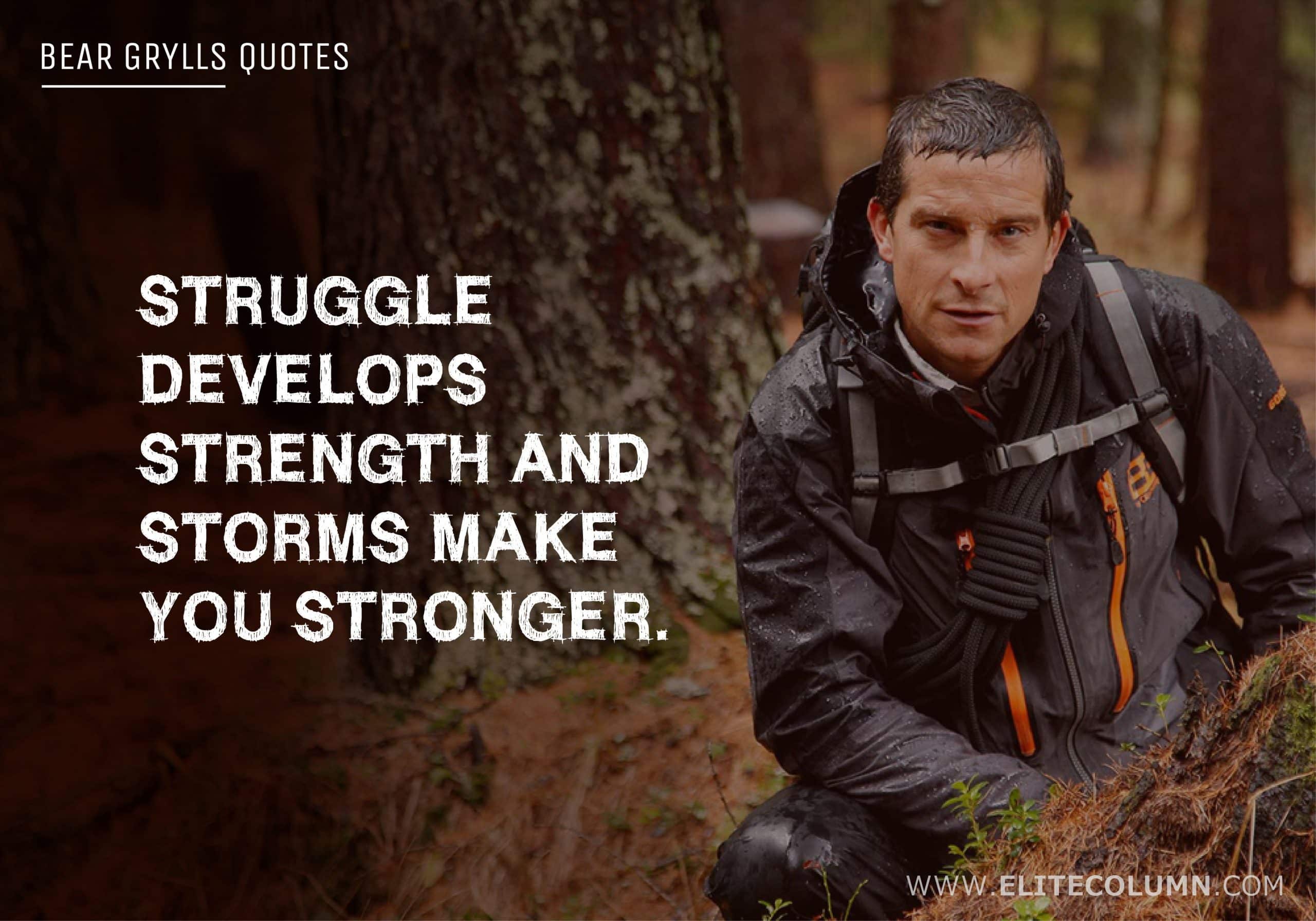 21. "Struggle develops strength and storms make you stronger." – Bear Grylls
22. "When you're going through hell – keep going." – Bear Grylls
23. "Life is all about our growth, not our trophies." – Bear Grylls
24. "Don't listen to the dream stealers." – Bear Grylls
25. "Smile when it's raining." – Bear Grylls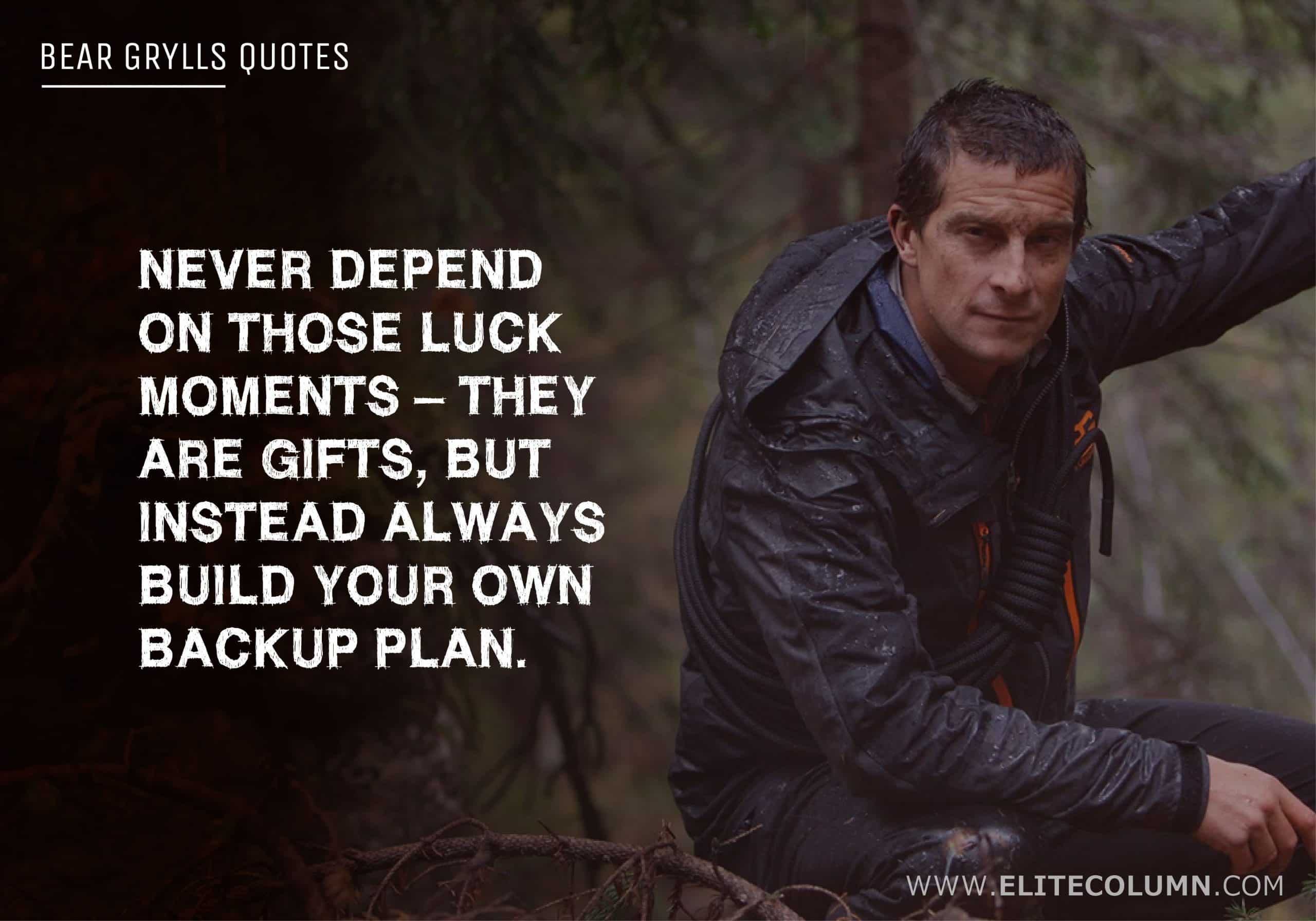 26. "Never depend on those luck moments – they are gifts, but instead always build your own backup plan." – Bear Grylls
27. "Tentative holds no power." – Bear Grylls
28. "Life rewards the dogged, not the qualified." – Bear Grylls
29. "Stick to the fight when you're hardest hit, it's when things seem worst that you must not quit." – Bear Grylls
See also:
Che Guevara Quotes | Gandhi Quotes | John F Kennedy Quotes | Subhas Chandra Bose Quotes | Atal Bihari Vajpayee Quotes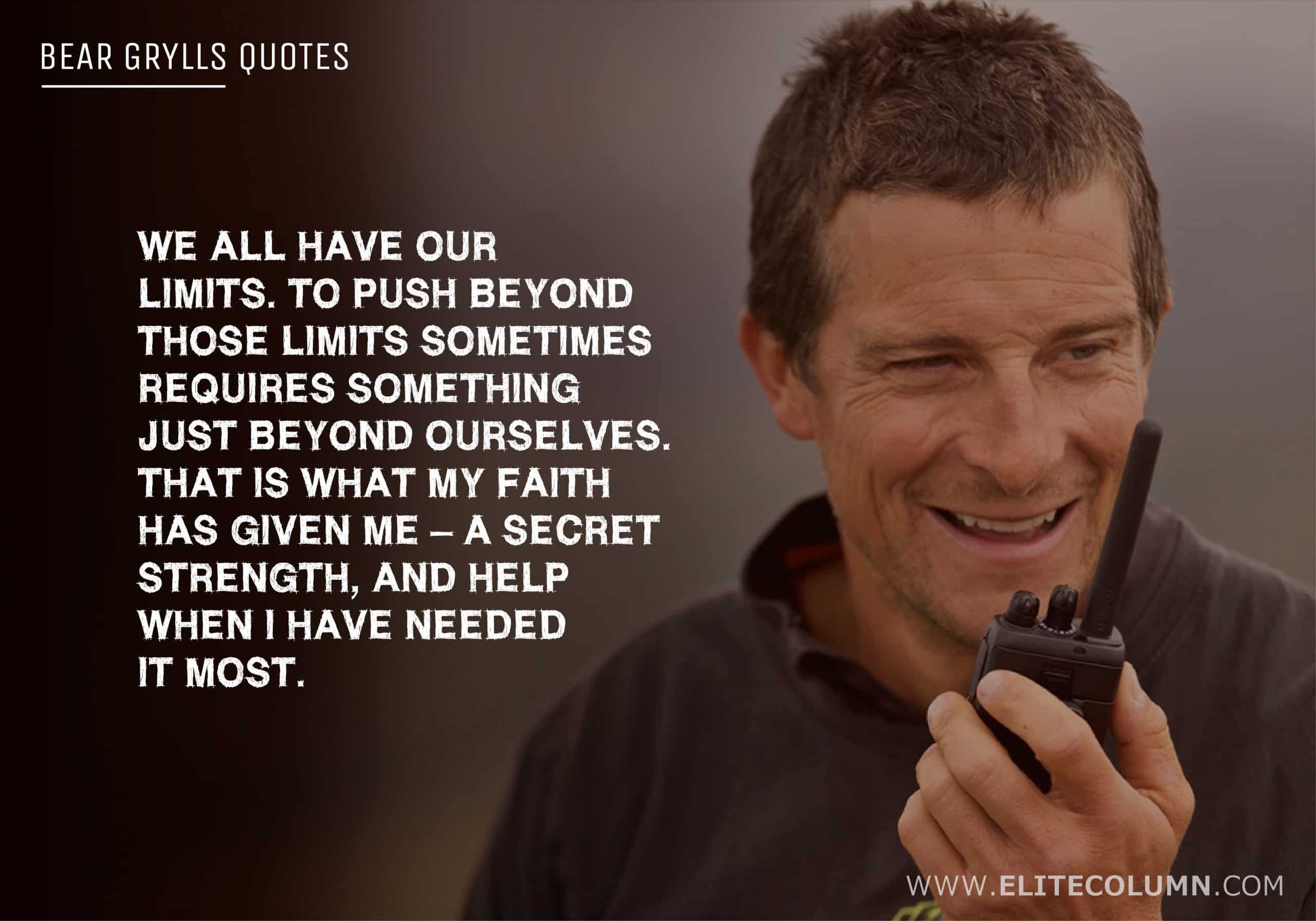 30. "We all have our limits. To push beyond those limits sometimes requires something just beyond ourselves. That is what my faith has given me – a secret strength, and help when I have needed it most." – Bear Grylls
31. "Don't be scared to dream big, and don't be afraid to be close to people. And never give up! It's the tenacious not the talented that win." – Bear Grylls
32. "Success almost always follows great attitude. The two attract each other!" – Bear Grylls
33. "Once a job it has begun, do not stop until it's done. Whether it is big or small, do it well or not all." – Bear Grylls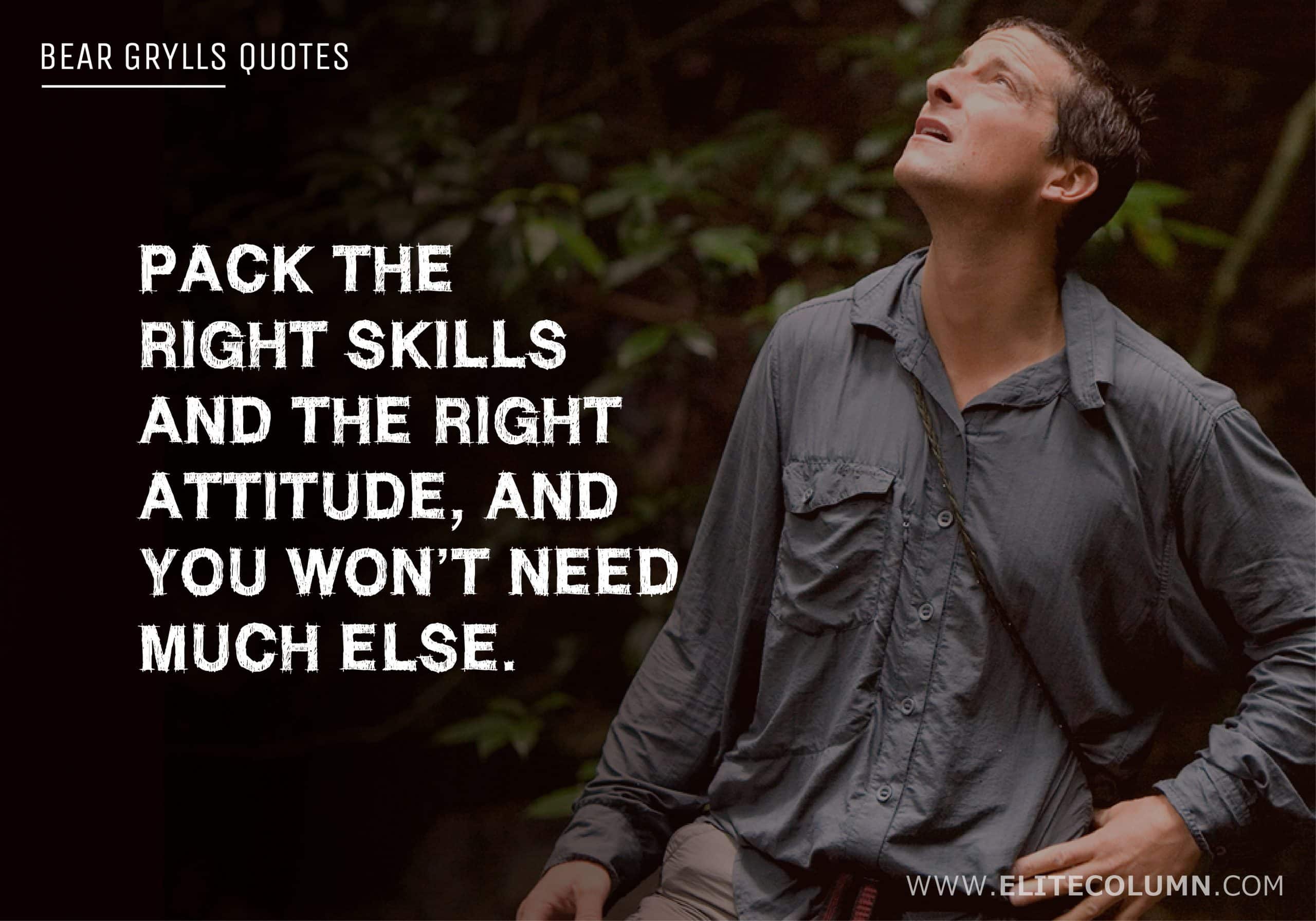 34. "Pack the right skills and the right attitude, and you won't need much else." – Bear Grylls
35. "Both faith and fear may sail into your harbor, but only allow faith to drop anchor." – Bear Grylls
36. "This is your life. Be bold with it. Live it with energy and purpose in the direction that excites you. Listen to your heart, look for your dreams: they are god-inspired." – Bear Grylls
37. "Sometimes you have just got to tackle these mountains head-on." – Bear Grylls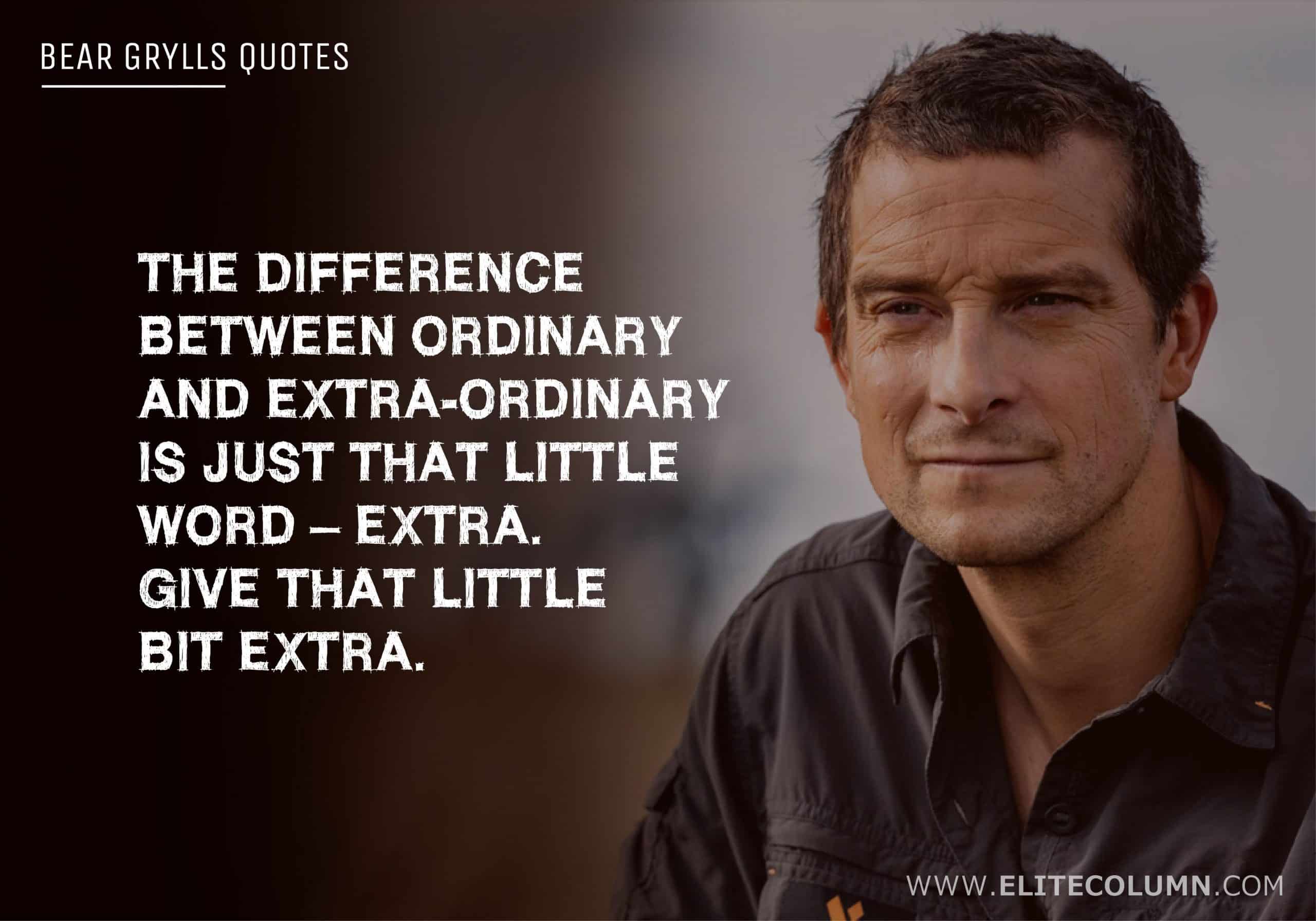 38. "The difference between ordinary and extra-ordinary is just that little word – extra. Give that little bit extra." – Bear Grylls
39. "You can't become a decent horseman until you fall off and get up again, a good number of times. There's life in a nutshell." – Bear Grylls
40. "Make a little time to be quiet by yourself every day and just be." – Bear Grylls
41. "It is only when you really step out of your comfort zone that you grow." – Bear Grylls
42. "Our dreams are just wishes, if we never follow them through with action. And in life, you have got to be able to light your own fire." – Bear Grylls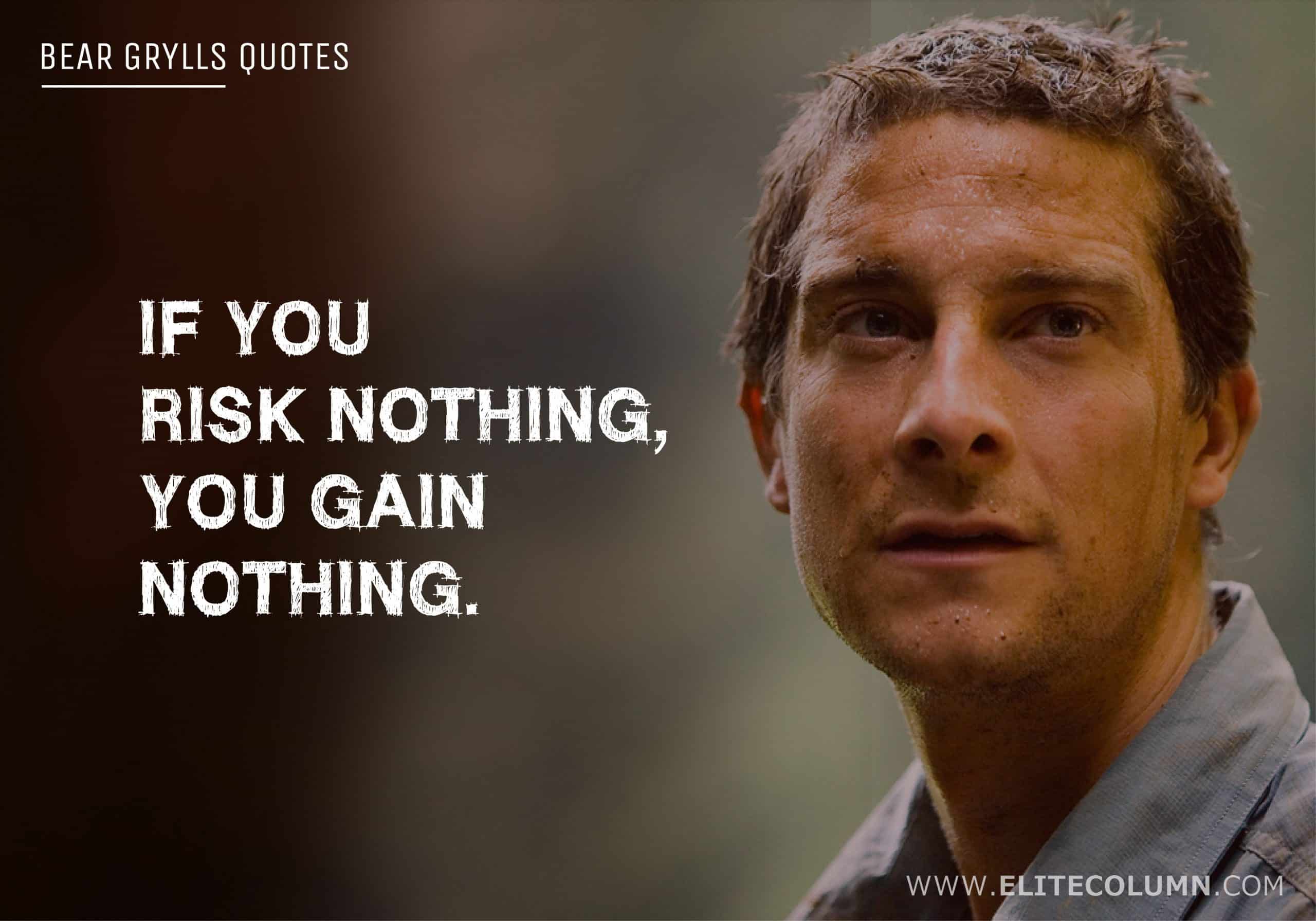 43. "If you risk nothing, you gain nothing." – Bear Grylls
44. "You're not human if you don't feel fear. But I've learnt to treat fear as an emotion that sharpens me. It's there to give me that edge for what I have to do." – Bear Grylls
45. "Weather can kill you so fast. The first priority of survival is getting protection from the extreme weather." – Bear Grylls
46. "Live a wild, generous full, exciting life – blessing those around you and seeing the good in all." – Bear Grylls
47. "A wise man knows; learn from others, never get complacent and know where the classic old dangers come from." – Bear Grylls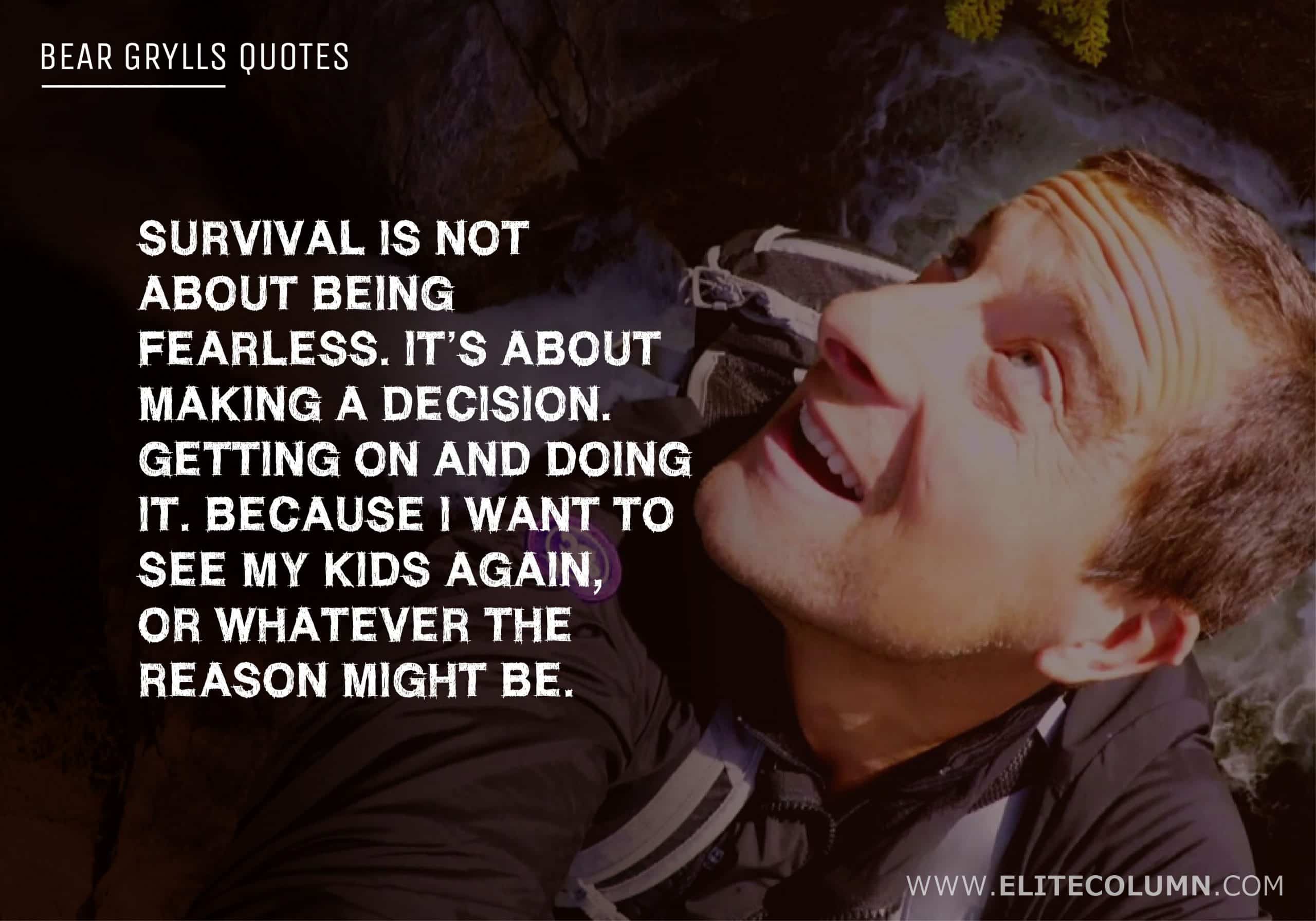 48. "Survival is not about being fearless. It's about making a decision. Getting on and doing it. Because I want to see my kids again, or whatever the reason might be." – Bear Grylls
49. "Keep focused on the step in front of you. Nothing else." – Bear Grylls
50. "Take every chance you get in life. Because some things only happen once." – Bear Grylls
51. "Good things don't come easy." – Bear Grylls
52. "There's no magic to running far or climbing Everest. Endurance is mental strength. It's all about heart." – Bear Grylls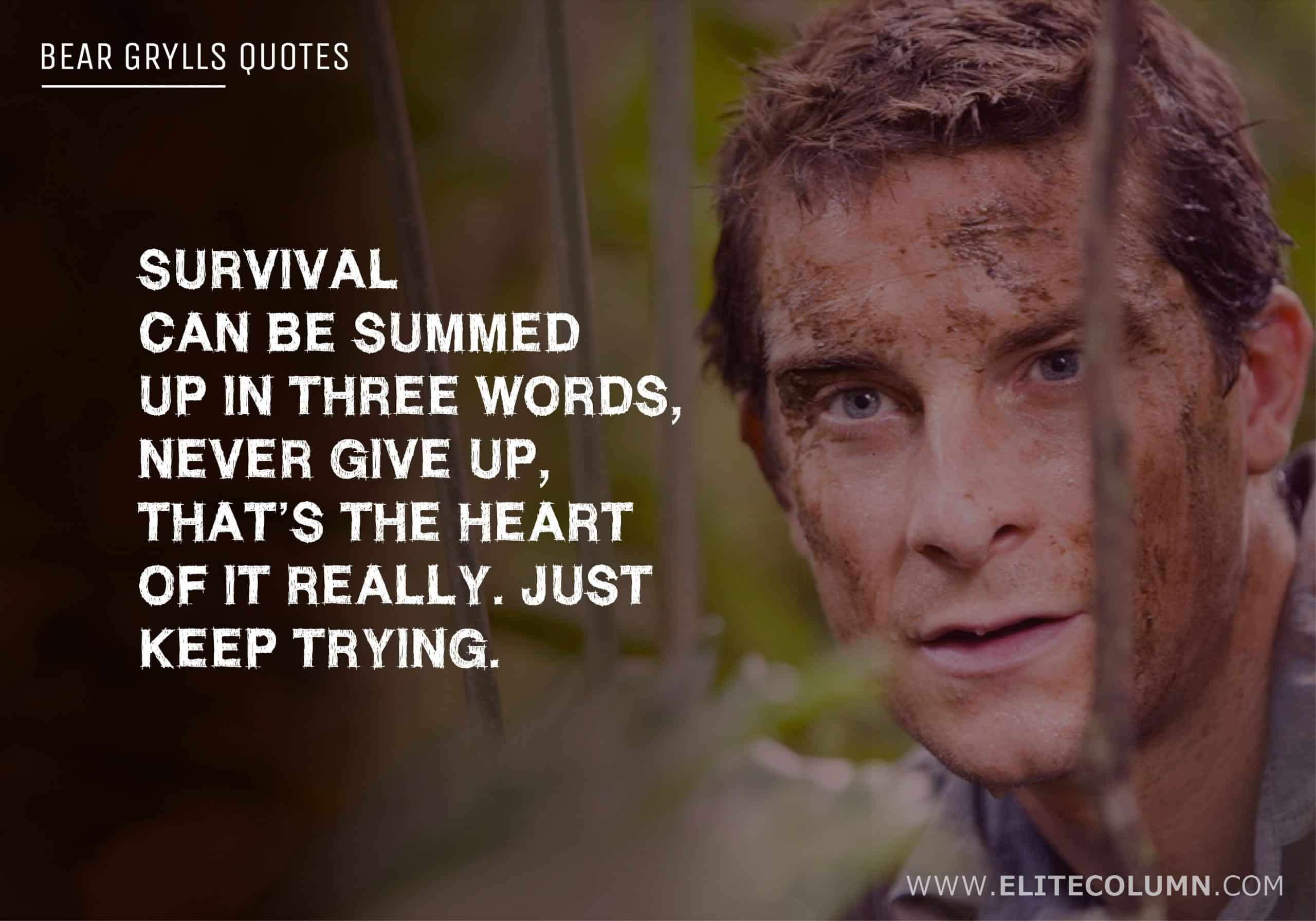 53. "Survival can be summed up in three words, never give up, that's the heart of it really. Just keep trying." – Bear Grylls
54. "The storms in life gotta make you stronger, the tougher it gets the more positive you gotta be." – Bear Grylls
55. "Being brave isn't the absence of fear. Being brave is having that fear but finding a way through it." – Bear Grylls
56. "Survival requires us to leave our prejudices at home. It's about doing whatever it takes – and ultimately those with the biggest heart will win." – Bear Grylls
57. "You can't live someone else's expectations in life. It's a recipe for disaster." – Bear Grylls
58. "Nobody wants to end up super rich and famous – but divorced. I'm always clear on that and try to stay on the right side of the line." – Bear Grylls
Thanks for checking out the best Bear Grylls quotes. Feel free to share the quotes with your friends. Leave a comment below and which are your favorite Bear Grylls quotes ?
See also:
Jk Rowling Quotes | Khloe Kardashian Quotes | Haruki Murakami Quotes | Ernest Hemingway Quotes
You can find us at – Facebook | Instagram | LinkedIn | Pinterest | Twitter