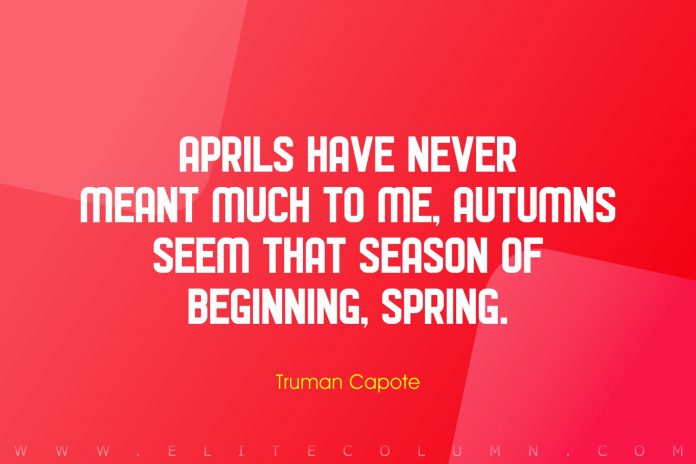 Check out 42 Autumn Quotes today.
42 Best Autumn Quotes
1. "Never let me lose what I have gained, and adorn the branches of your river with leaves of my estranged Autumn." – Federico Garcia Lorca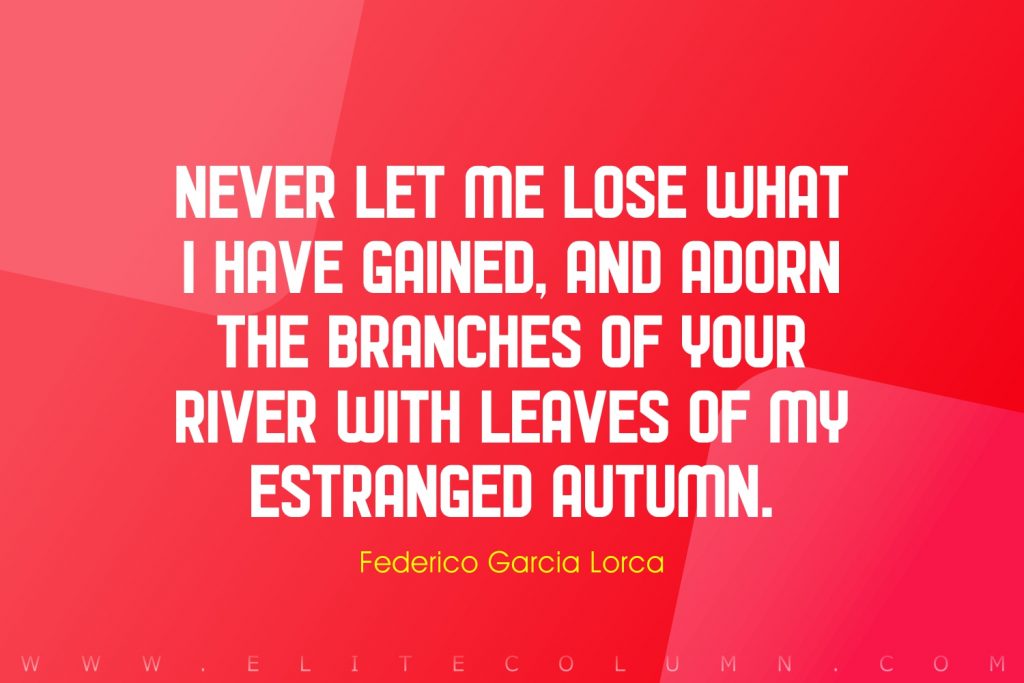 2. "Autumn lingered on as if fond of its own perfection." – Winston Graham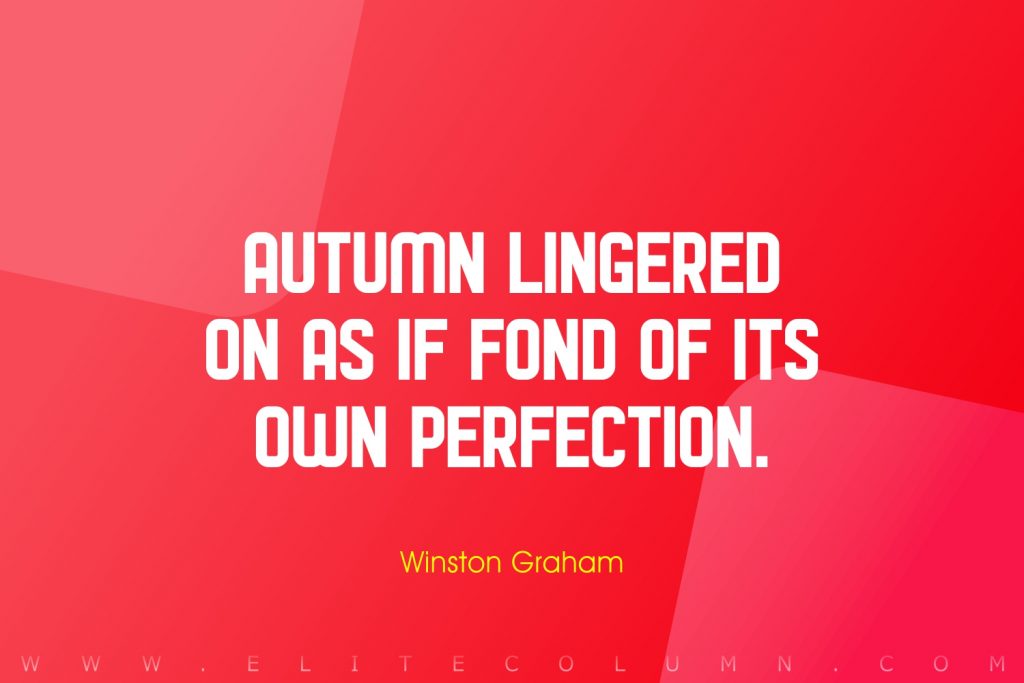 3. "If you run, then allow those first few breaths on a cool Autumn day to FREEZE your lungs and do not just be alarmed, be ALIVE." – Kyle Lake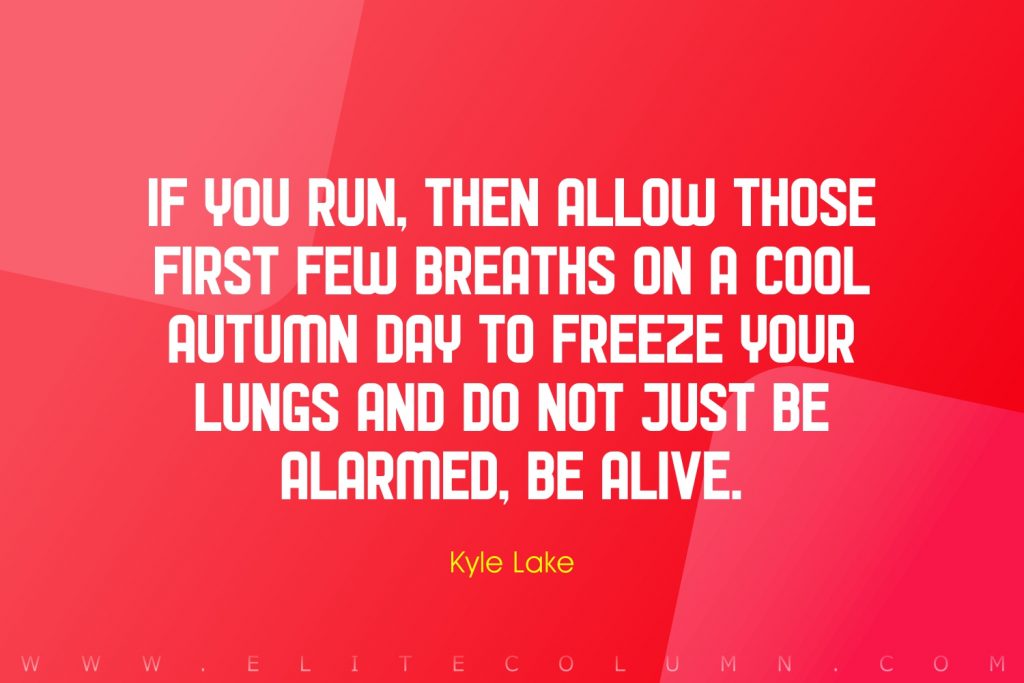 4. "It was one of those perfect English autumnal days which occur more frequently in memory than in life." – P.D. James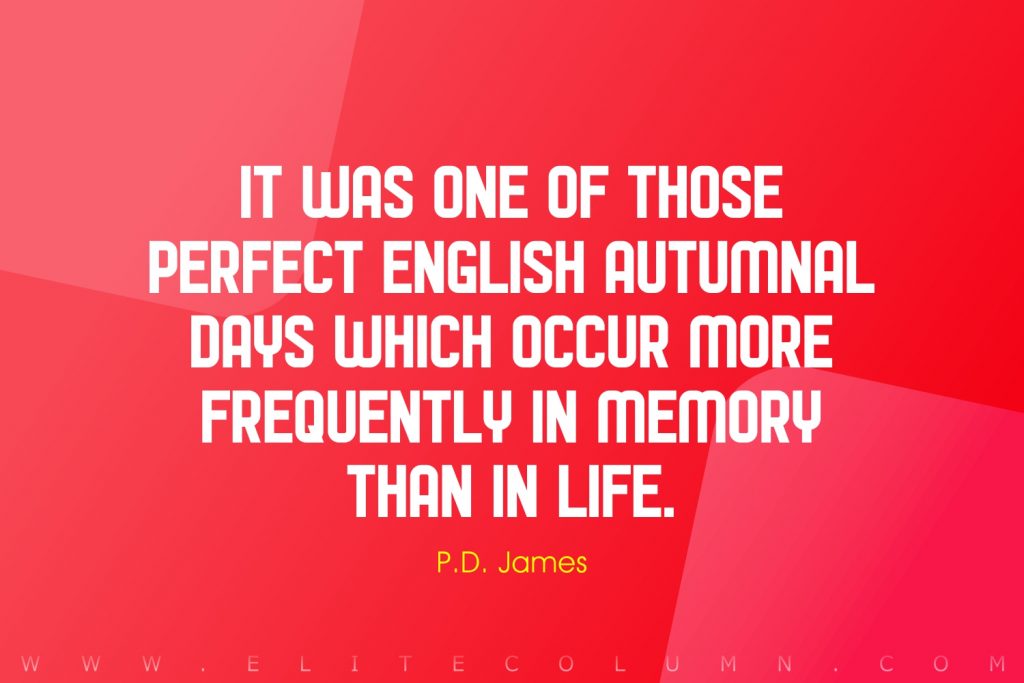 5. "Aprils have never meant much to me, autumns seem that season of beginning, spring." – Truman Capote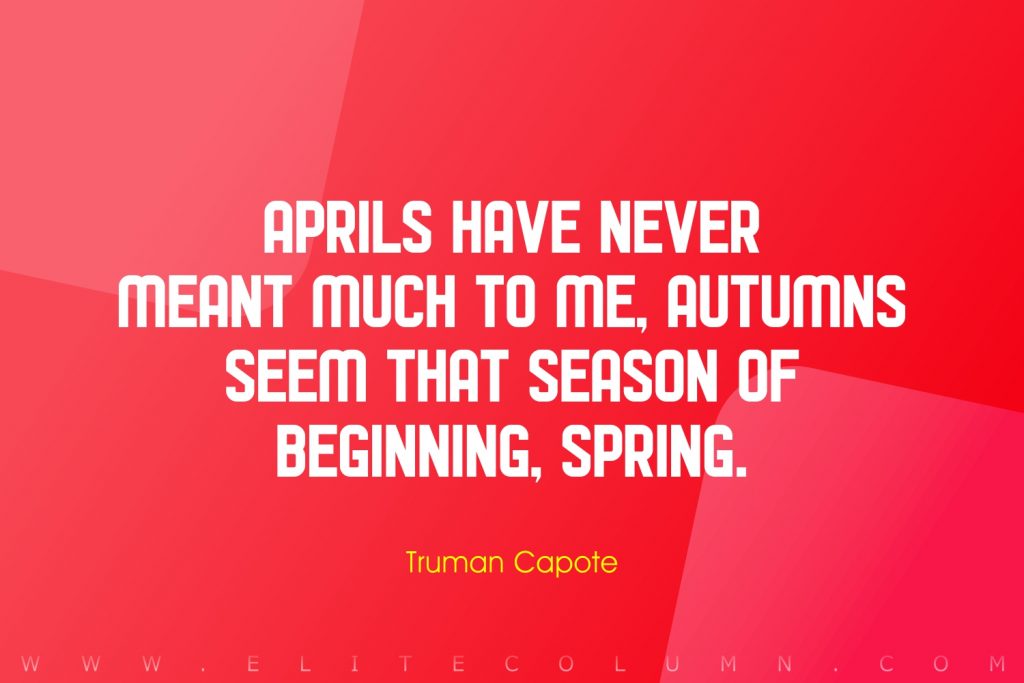 6. "I cannot endure to waste anything so precious as autumnal sunshine by staying in the house." – Nathaniel Hawthorne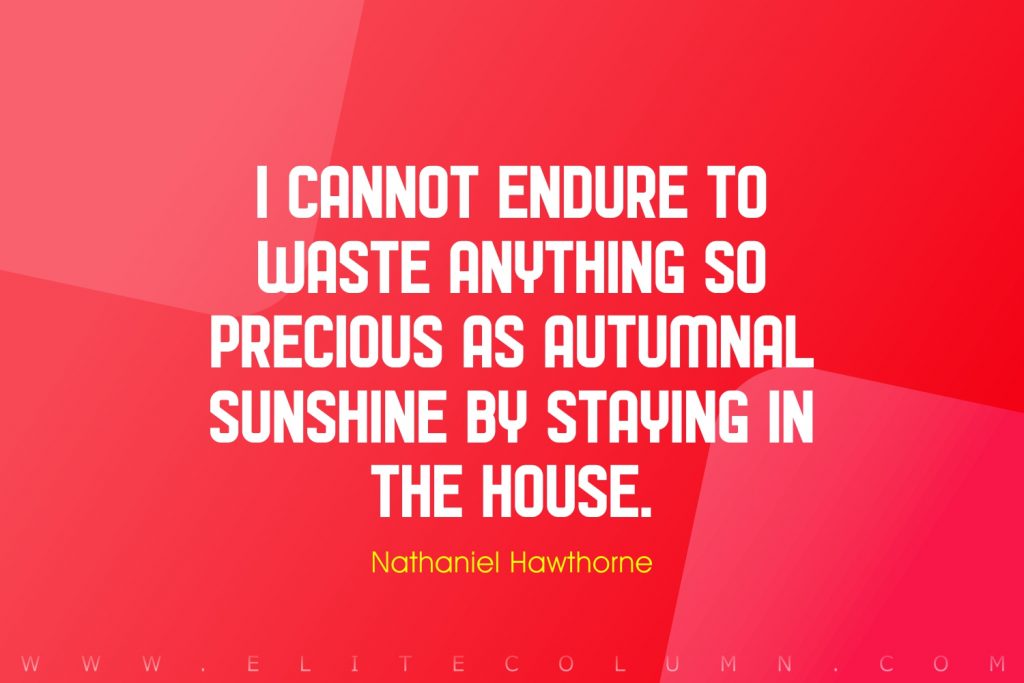 7. "Autumn seemed to arrive suddenly that year. The morning of the first September was crisp and golden as an apple." – J.K. Rowling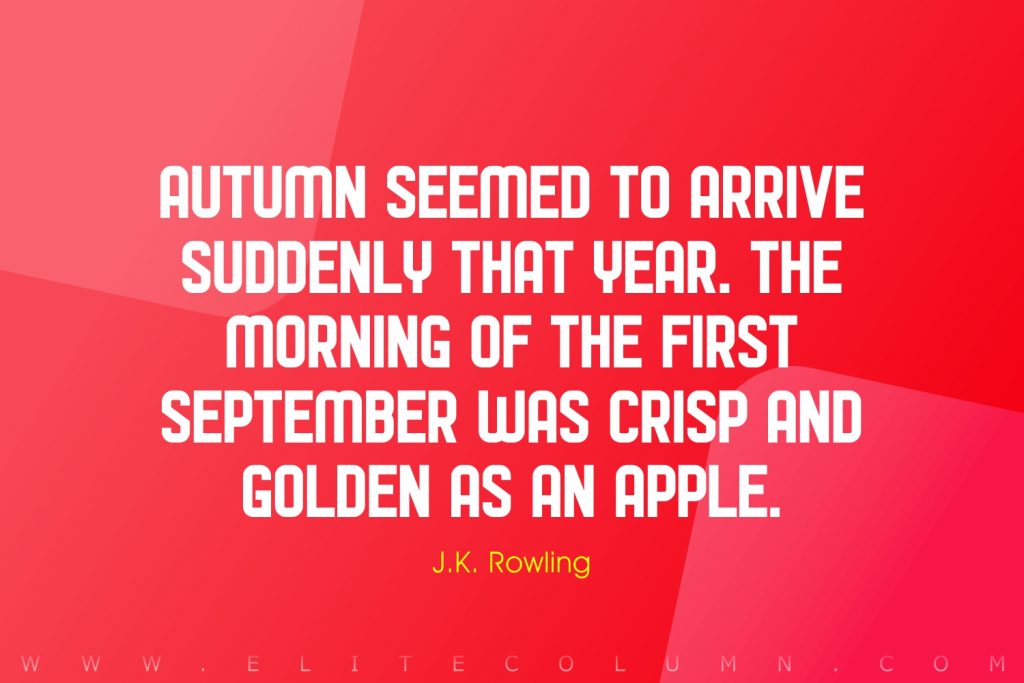 8. "Autumn carries more gold in its pocket than all the other seasons." – Jim Bishop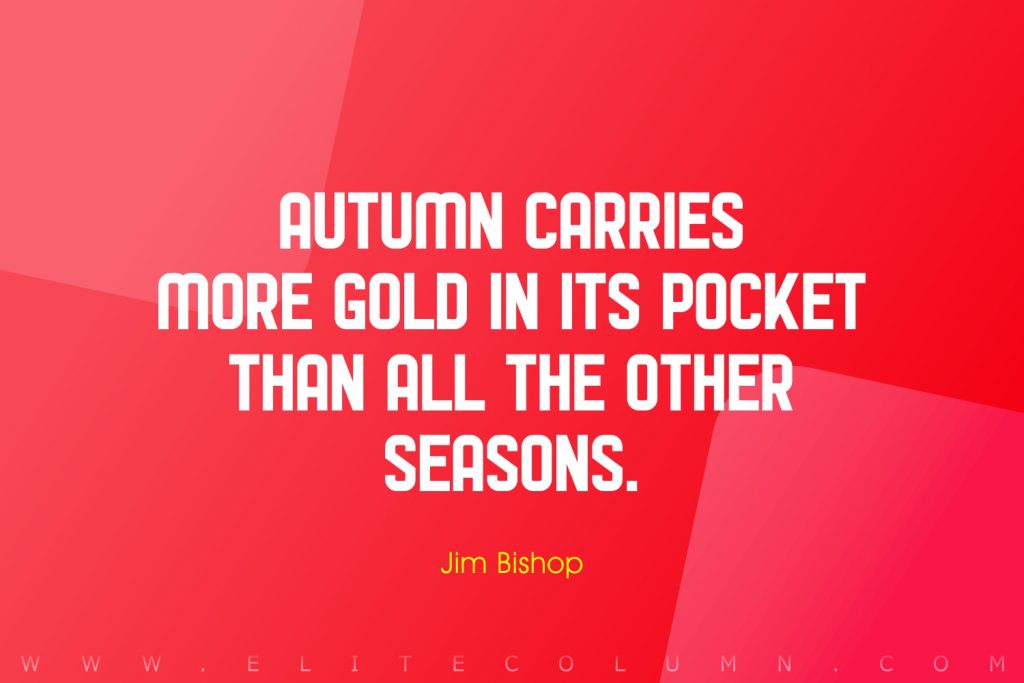 9. "Don't you love New York in the fall? It makes me want to buy school supplies. I would send you a bouquet of newly sharpened pencils if I knew your name and address." – Nora Ephron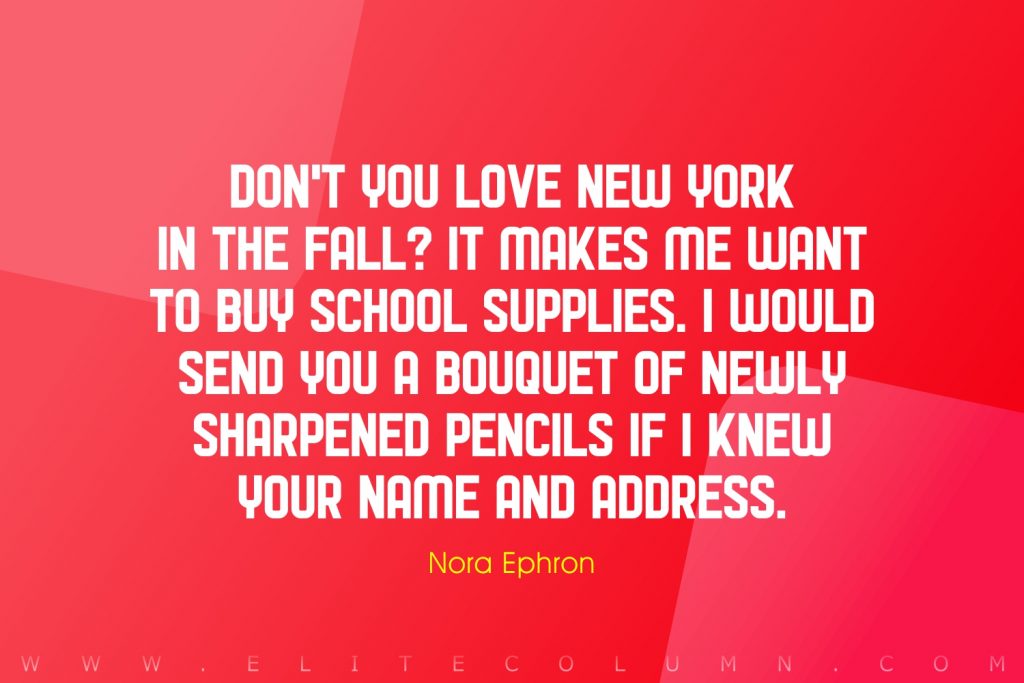 10. "Just as a painter needs light in order to put the finishing touches to his picture, so I need an inner light, which I feel I never have enough of in the autumn." – Leo Tolstoy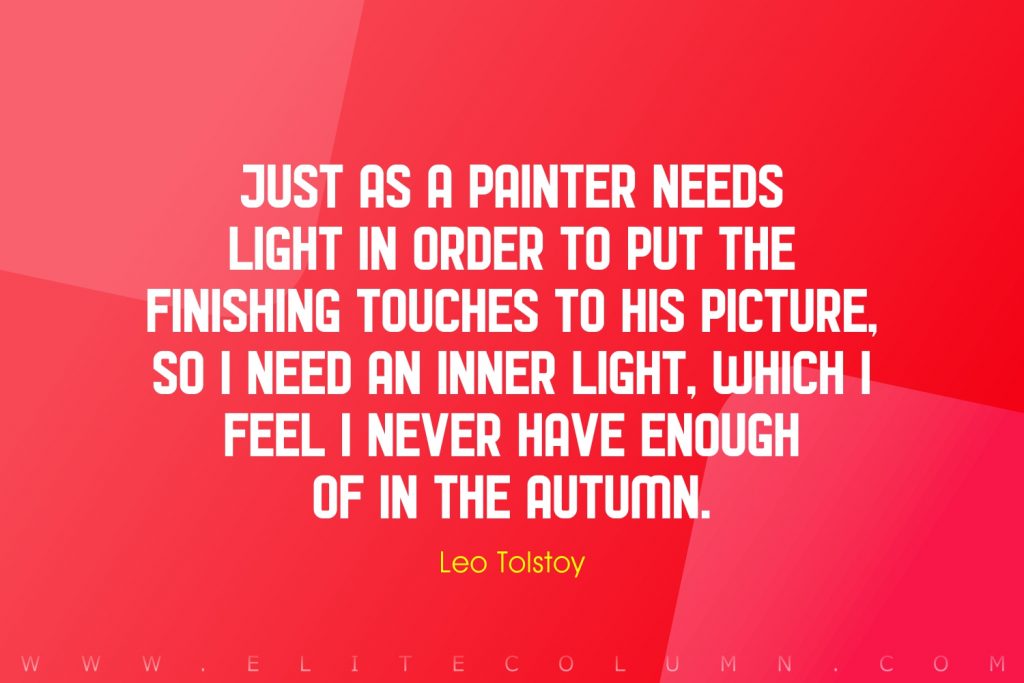 11. "Is not this a true autumn day? Just the still melancholy that I love that makes life and nature harmonize." – George Eliot
12. "Autumn…the year's last, loveliest smile." – John Howard Bryant
13. "The heat of autumn is different from the heat of summer. One ripens apples, the other turns them to cider." – Jane Hirshfield
14. "He found himself wondering at times, especially in the autumn, about the wild lands, and strange visions of mountains that he had never seen came into his dreams." – J.R.R Tolkien
15. "Why is summer mist romantic and autumn mist just sad?" – Dodie Smith
16. "Autumn is the hardest season. The leaves are all falling, and they're falling like / they're falling in love with the ground." – Andrea Gibson
17. "Autumn leaves don't fall, they fly. They take their time and wander on this their only chance to soar." – Delia Owens
Bottom of Form
18. "Two sounds of autumn are unmistakable…the hurrying rustle of crisp leaves blown along the street…by a gusty wind, and the gabble of a flock of migrating geese." – Hal Borland
19. "Give me juicy autumnal fruit, ripe and red from the orchard." – Walt Whitman
20. "Autumn is a second spring when every leaf is a flower." – Albert Camus
21. "Autumn passes and one remembers one's reverence." – Yoko Ono
22. "I would rather sit on a pumpkin, and have it all to myself, than be crowded on a velvet cushion." – Henry David Thoreau
23. "I'm so glad I live in a world where there are Octobers." – L.M. Montgomery
24. "Love the trees until their leaves fall off, then encourage them to try again next year." – Chad Sugg
25. "It looked like the world was covered in a cobbler crust of brown sugar and cinnamon." – Sarah Addison Allen
26. "Fall has always been my favorite season. The time when everything bursts with its last beauty, as if nature had been saving up all year for the grand finale." – Lauren DeStefano
27. "Autumn is as joyful and sweet as an untimely end." – Remy de Gourmont
28. "I was drinking in the surroundings: air so crisp you could snap it with your fingers and greens in every lush shade imaginable offset by autumnal flashes of red and yellow." – Wendy Delsol
29. "A wind has blown the rain away and blown the sky away and all the leaves away, and the trees stand. I think, I too, have known autumn too long." – e.e. cummings
30. "It was a beautiful bright autumn day, with air like cider and a sky so blue you could drown in it." – Diana Gabaldon
31. "I loved autumn, the one season of the year that God seemed to have put there just for the beauty of it." – Lee Maynard
32. "Your heart, Bessie, is an autumn garage." – J.D. Salinger
33. "Days decrease, / And autumn grows, autumn in everything." – Robert Browning
34. "The leaves fall, the wind blows, and the farm country slowly changes from the summer cottons into its winter wools." – Henry Beston
35. "Life starts all over again when it gets crisp in the fall." – F. Scott Fitzgerald
36. "Finally, she mused that human existence is as brief as the life of autumn grass, so what was there to fear from taking chances with your life?" – Mo Yan
37. "Autumn is the mellower season, and what we lose in flowers we more than gain in fruits." – Samuel Butler
38. "There is something incredibly nostalgic and significant about the annual cascade of autumn leaves." – Joe L. Wheeler
39. "Listen! The wind is rising, and the air is wild with leaves / We have had our summer evenings, now for October eves!" – Humbert Wolfe
40. "No spring nor summer beauty hath such grace as I have seen in one autumnal face." – John Donne
41. "And all the lives we ever lived and all the lives to be are full of trees and changing leaves…" – Virginia Woolf
42. "Why did dusk and fir-scent and the afterglow of autumnal sunsets make people say absurd things?" – L.M. Montgomery
Thanks for checking out the best Autumn Quotes. Feel free to share the quotes with your friends. Leave a comment below and which are your favourite Memories Quotes ?
See also:
Winter Quotes | Spring Quotes | Summer Quotes | Finding Yourself Quotes | Good Quotes | Thanksgiving Quotes |Moving Forward Quotes
You can find us at – Facebook | Instagram | LinkedIn | Pinterest | Twitter