We all know what anger is and we've all felt it: whether as a fleeting annoyance or as full-fledged rage. Anger is a completely normal, usually considered as a healthy human emotion. But when it gets out of control and turns destructive, it can lead to problems – problems at work, in your personal relationships and in the overall quality of your life. And it can make you feel as though you're at the mercy of an unpredictable and powerful emotion. Memories of traumatic or enraging events can also trigger angry feelings. EliteColumn brings you 12 best anger quotes.
12 Best Anger Quotes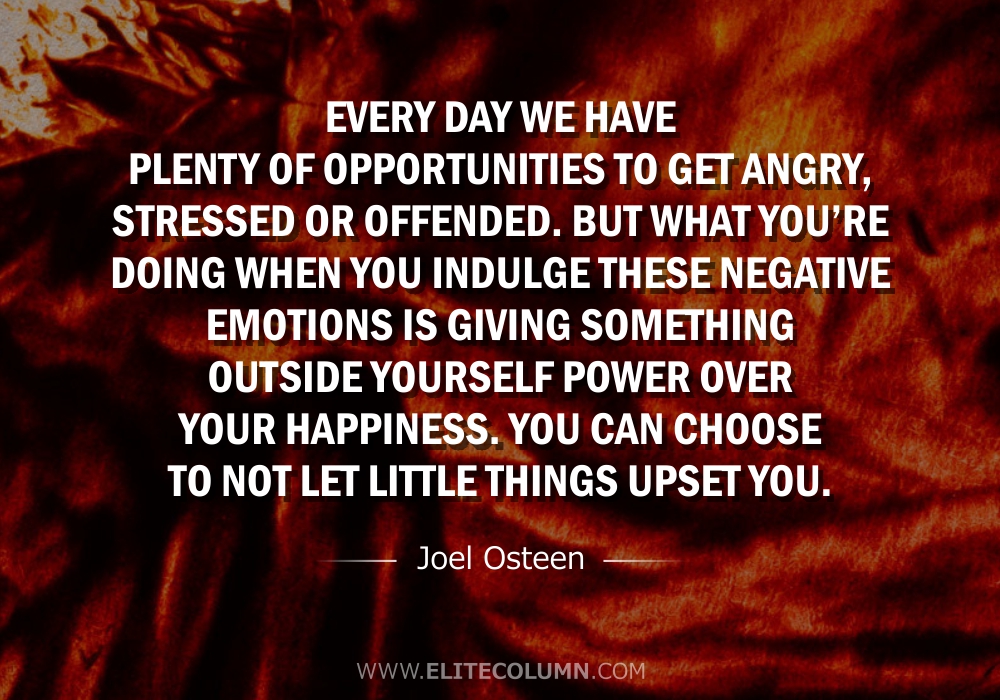 "Every day we have plenty of opportunities to get angry, stressed or offended. But what you're doing when you indulge these negative emotions is giving something outside yourself power over your happiness. You can choose to not let little things upset you." – Joel Osteen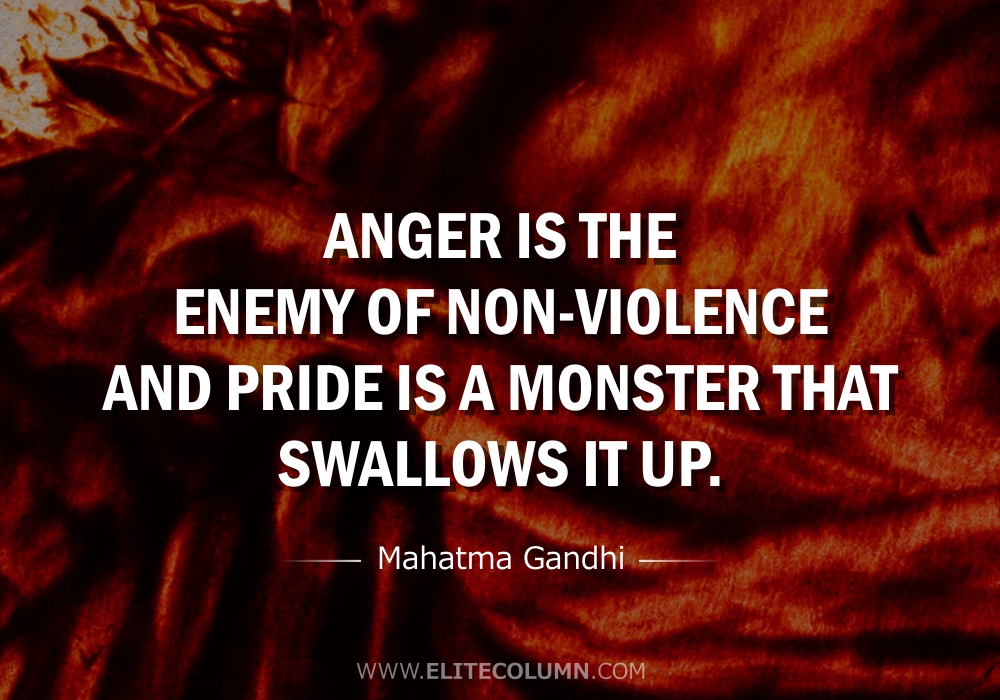 "Anger is the enemy of non-violence and pride is a monster that swallows it up." – Mahatma Gandhi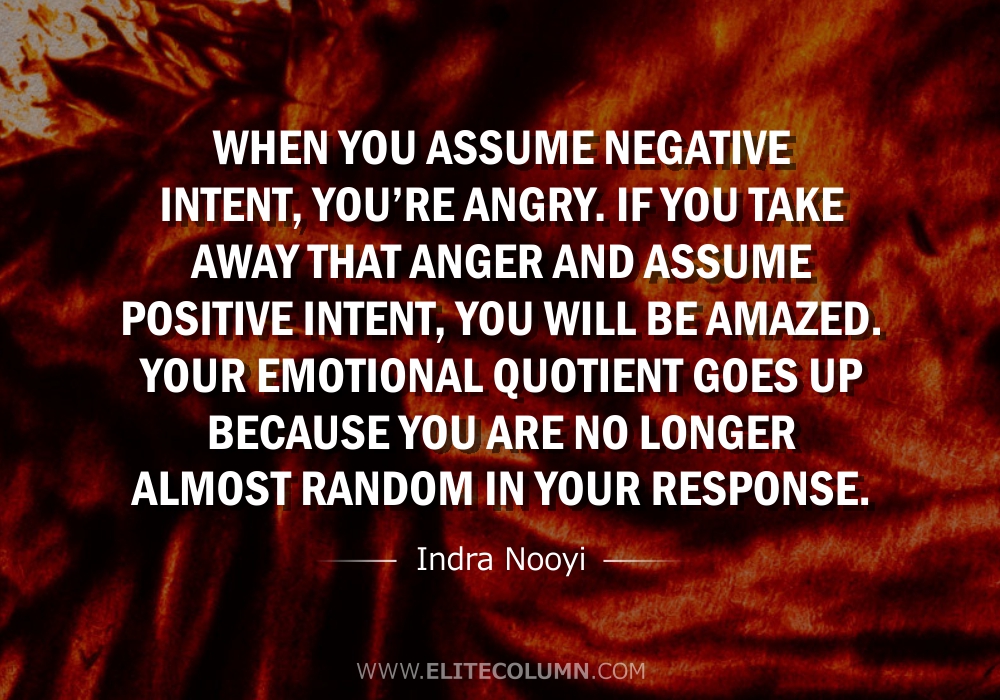 "When you assume negative intent, you're angry. If you take away that anger and assume positive intent, you will be amazed. Your emotional quotient goes up because you are no longer almost random in your response." – Indra Nooyi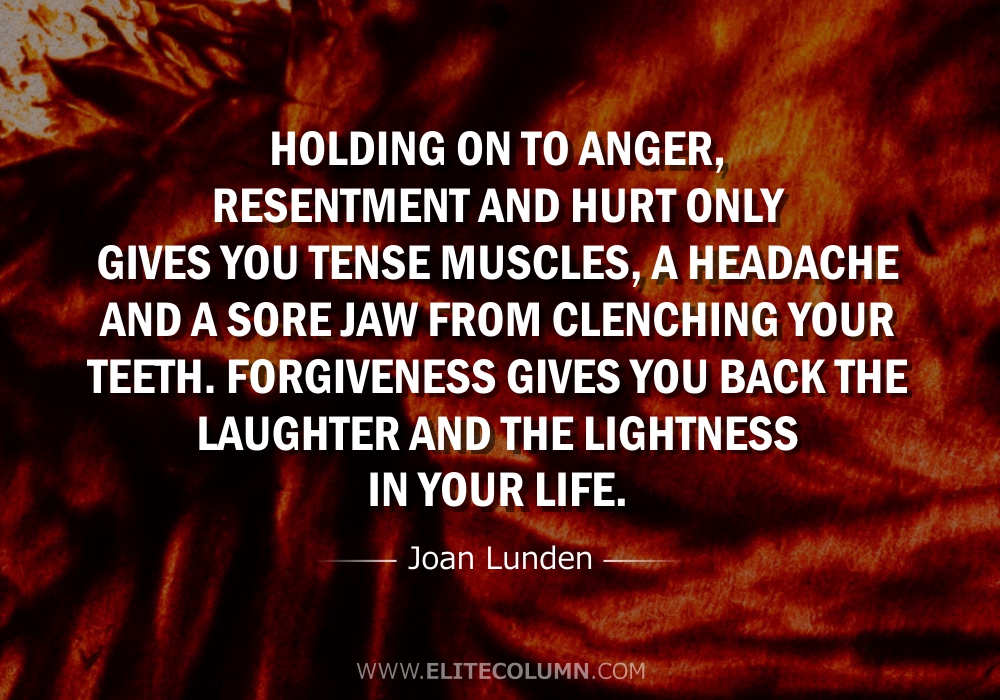 "Holding on to anger, resentment and hurt only gives you tense muscles, a headache and a sore jaw from clenching your teeth. Forgiveness gives you back the laughter and the lightness in your life." – Joan Lunden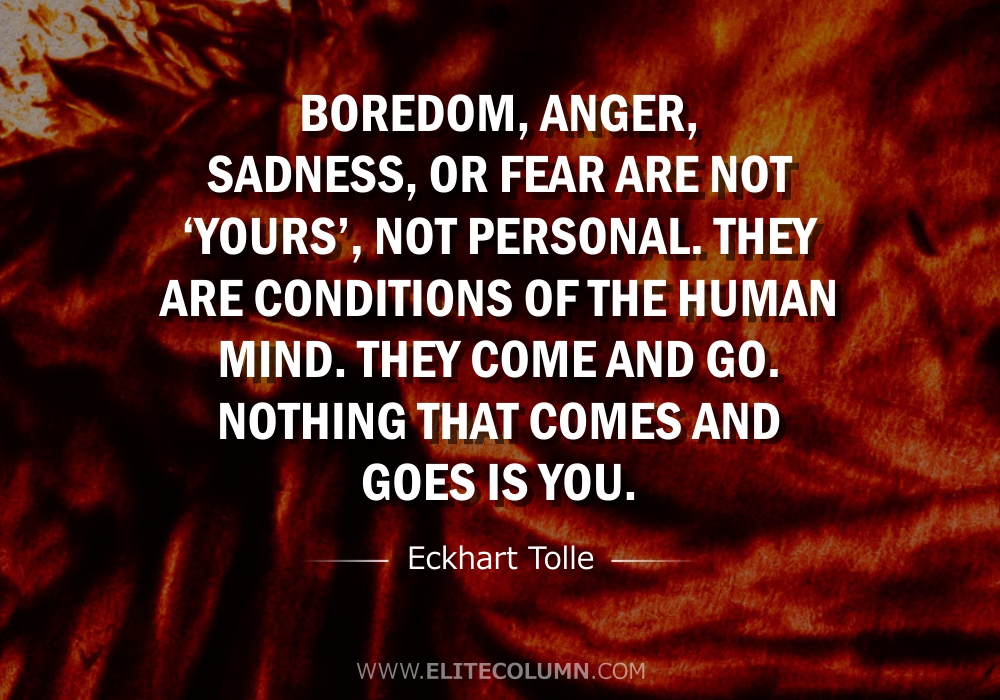 "Boredom, anger, sadness, or fear are not 'yours,' not personal. They are conditions of the human mind. They come and go. Nothing that comes and goes is you." – Eckhart Tolle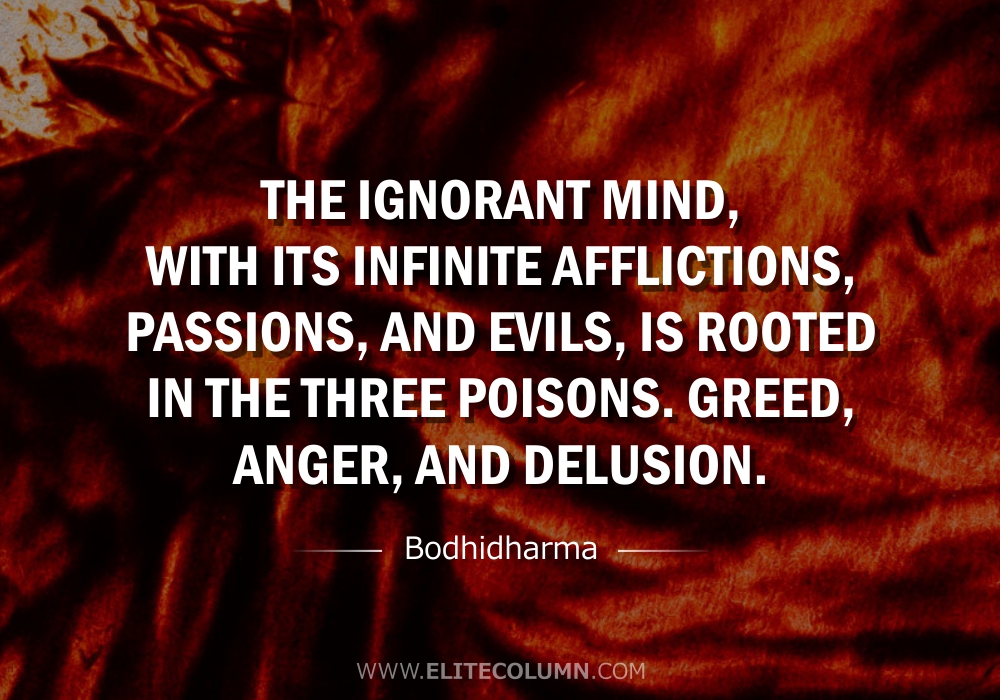 "The ignorant mind, with its infinite afflictions, passions, and evils, is rooted in the three poisons. Greed, anger, and delusion." – Bodhidharma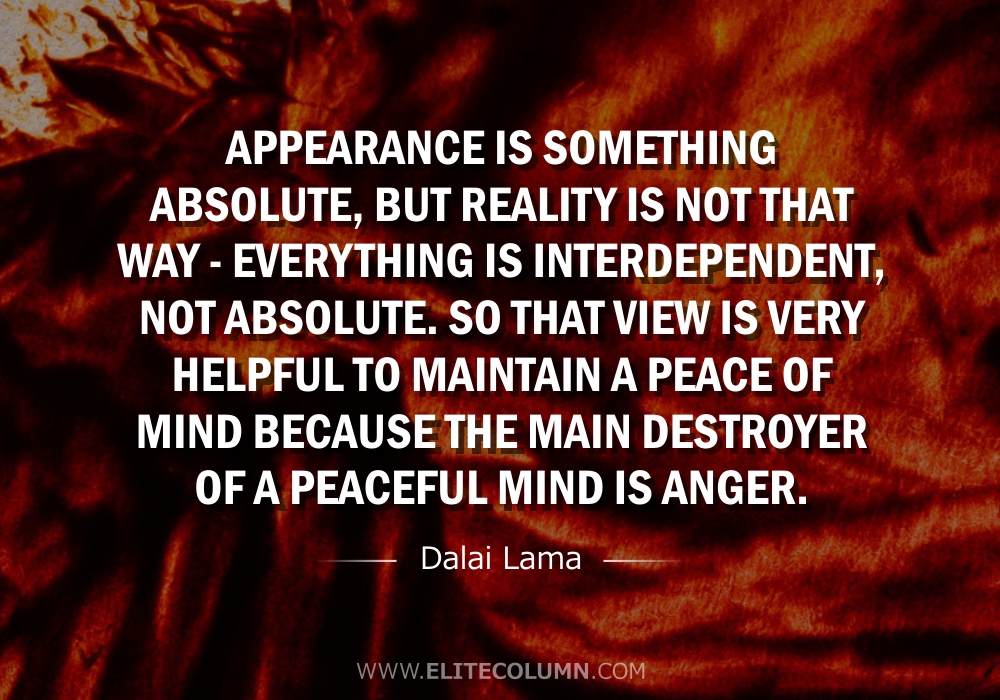 "Appearance is something absolute, but reality is not that way – everything is interdependent, not absolute. So that view is very helpful to maintain a peace of mind because the main destroyer of a peaceful mind is anger." – Dalai Lama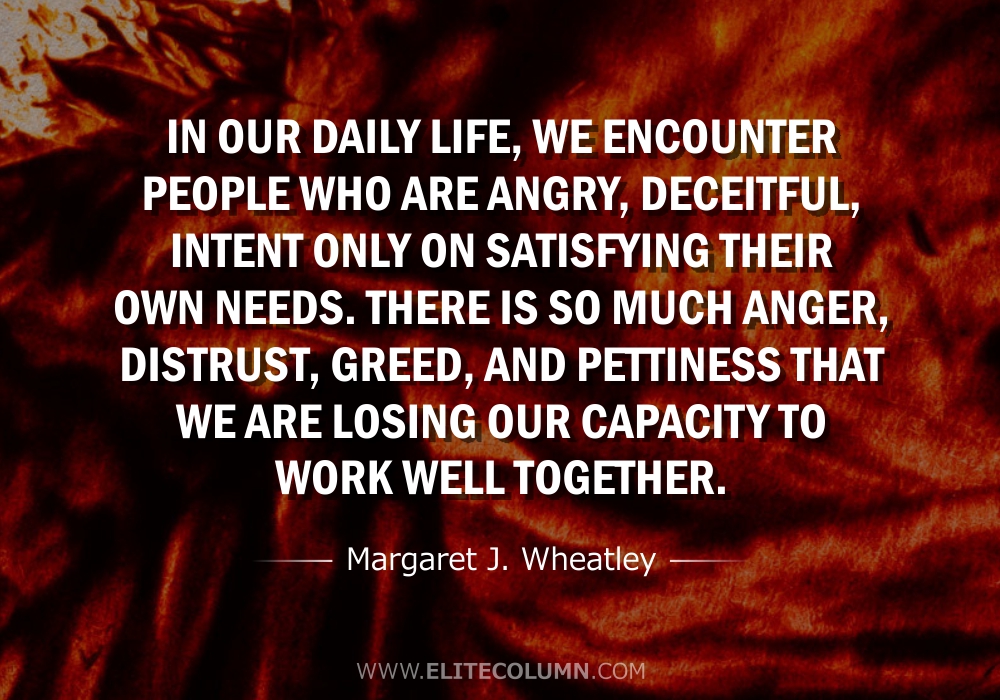 "In our daily life, we encounter people who are angry, deceitful, intent only on satisfying their own needs. There is so much anger, distrust, greed, and pettiness that we are losing our capacity to work well together." – Margaret J. Wheatley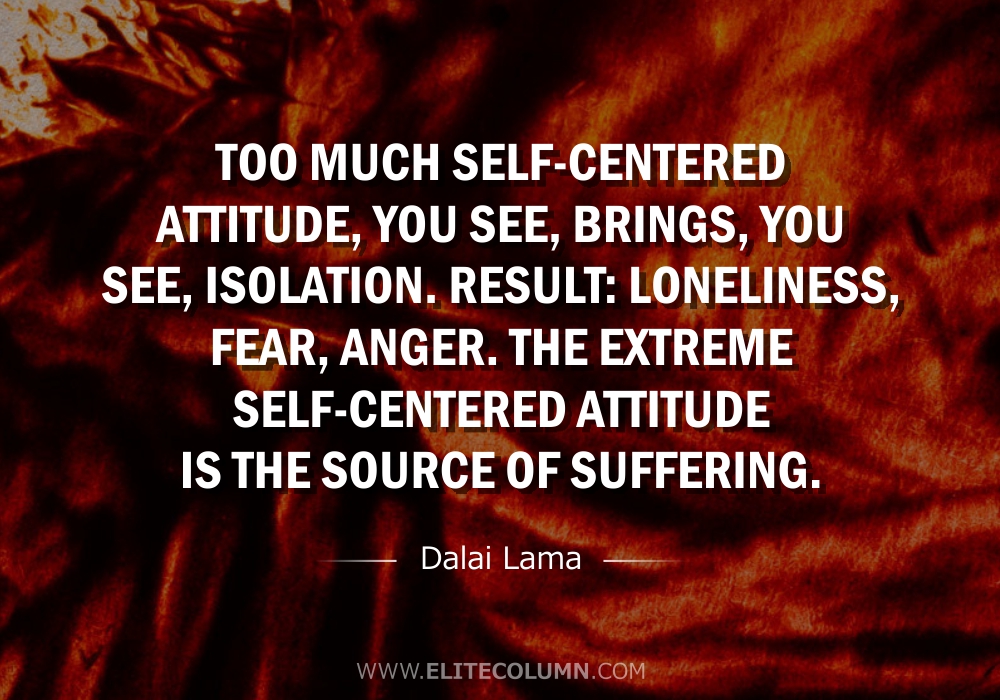 "Too much self-centered attitude, you see, brings, you see, isolation. Result: loneliness, fear, anger. The extreme self-centered attitude is the source of suffering." – Dalai Lama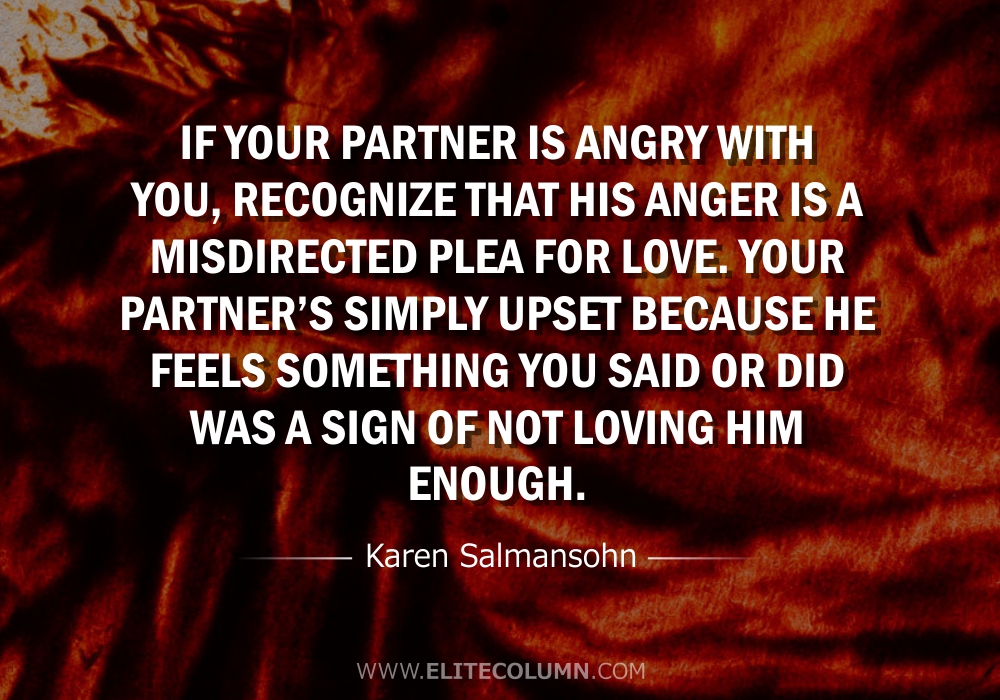 "If your partner is angry with you, recognize that his anger is a misdirected plea for love. Your partner's simply upset because he feels something you said or did was a sign of not loving him enough." – Karen Salmansohn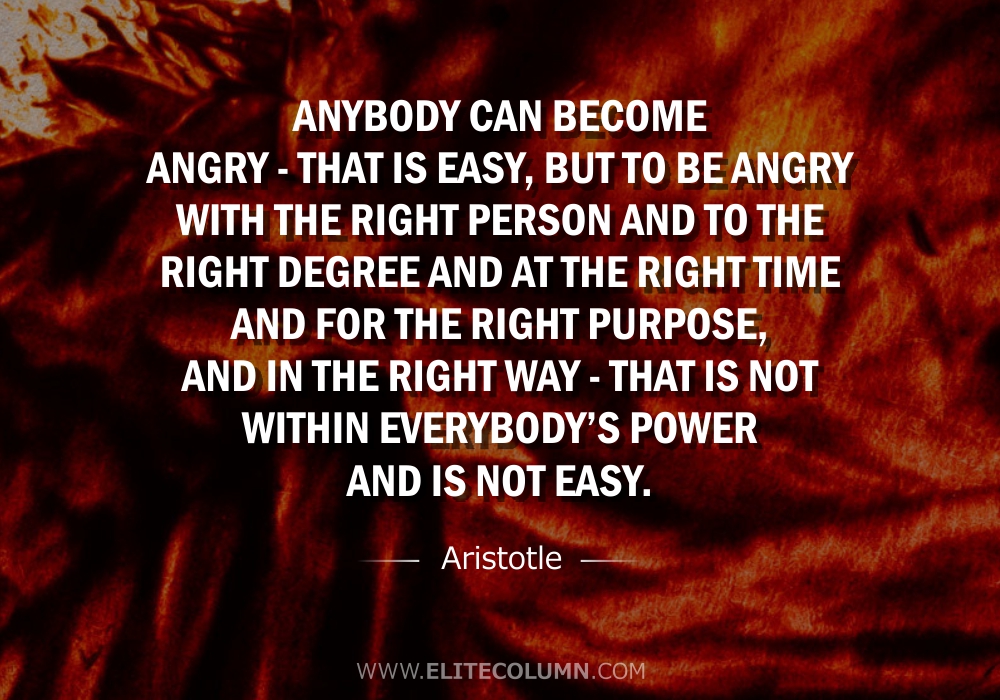 "Anybody can become angry – that is easy, but to be angry with the right person and to the right degree and at the right time and for the right purpose, and in the right way – that is not within everybody's power and is not easy." – Aristotle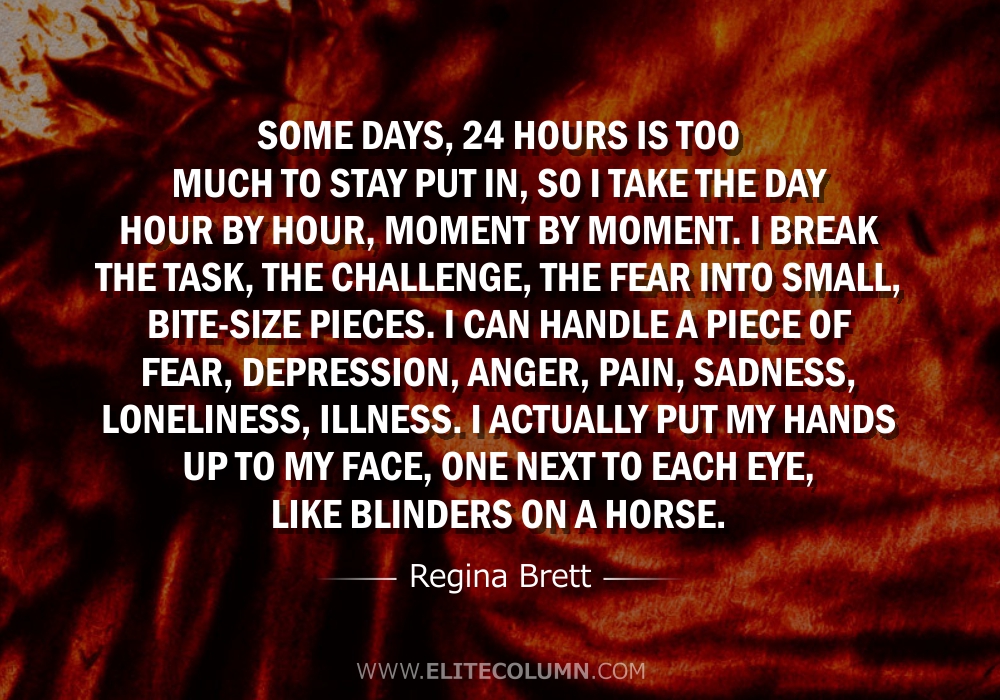 "Some days, 24 hours is too much to stay put in, so I take the day hour by hour, moment by moment. I break the task, the challenge, the fear into small, bite-size pieces. I can handle a piece of fear, depression, anger, pain, sadness, loneliness, illness. I actually put my hands up to my face, one next to each eye, like blinders on a horse." – Regina Brett
Thanks for checking out the best Anger quotes. Feel free to share the quotes with your friends. Leave a comment below and which are your favorite Anger quotes ?
See also:
Karma Quotes | Plato Quotes | Sun Tzu Quotes | Dalai Lama Quotes | Sadhguru Quotes | Confucius Quotes | Lao Tzu Quotes | Positive Quotes | Happiness Quotes | Inspirational Quotes | Life Quotes