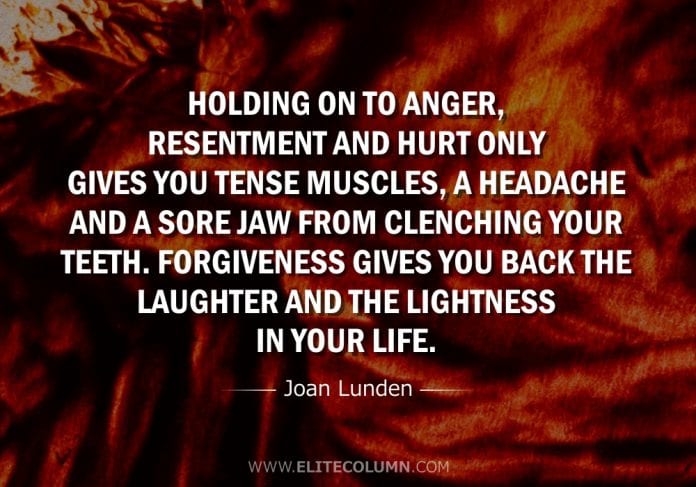 We all know what anger is and we've all felt it: whether as a fleeting annoyance or as full-fledged rage. Anger is a completely normal, usually considered as a healthy human emotion. But when it gets out of control and turns destructive, it can lead to problems – problems at work, in your personal relationships and in the overall quality of your life. And it can make you feel as though you're at the mercy of an unpredictable and powerful emotion. Memories of traumatic or enraging events can also trigger angry feelings. EliteColumn brings you 12 best anger quotes.
58 Anger Quotes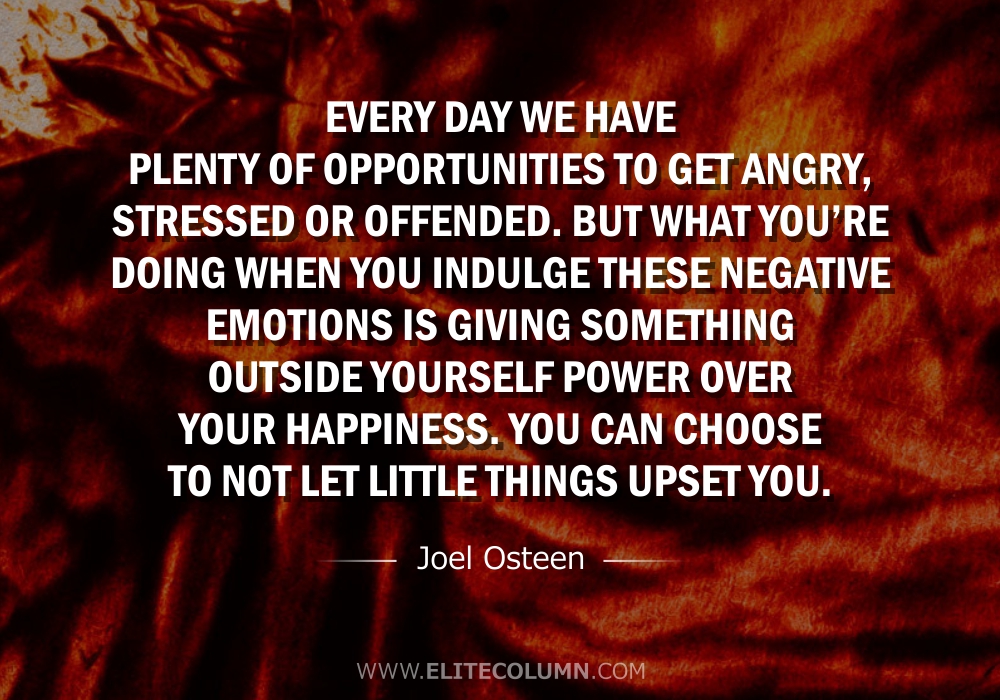 1. "Every day we have plenty of opportunities to get angry, stressed or offended. But what you're doing when you indulge these negative emotions is giving something outside yourself power over your happiness. You can choose to not let little things upset you." – Joel Osteen
2. "Don't waste your time in anger, regrets, worries, and grudges. Life is too short to be unhappy." – Roy T. Bennett
3. "If you kick a stone in anger, you will hurt your foot." – Mitch Albom
4. "Letting go gives us freedom, and freedom is the only condition for happiness. If, in our heart, we still cling to anything – anger, anxiety, or possessions – we cannot be free." – Thich Nhat Hanh
5. "Postpone today's anger until tomorrow." – Steve Maraboli
6. "Anger, resentment and jealousy doesn't change the heart of others – it only changes yours." – Shannon Alder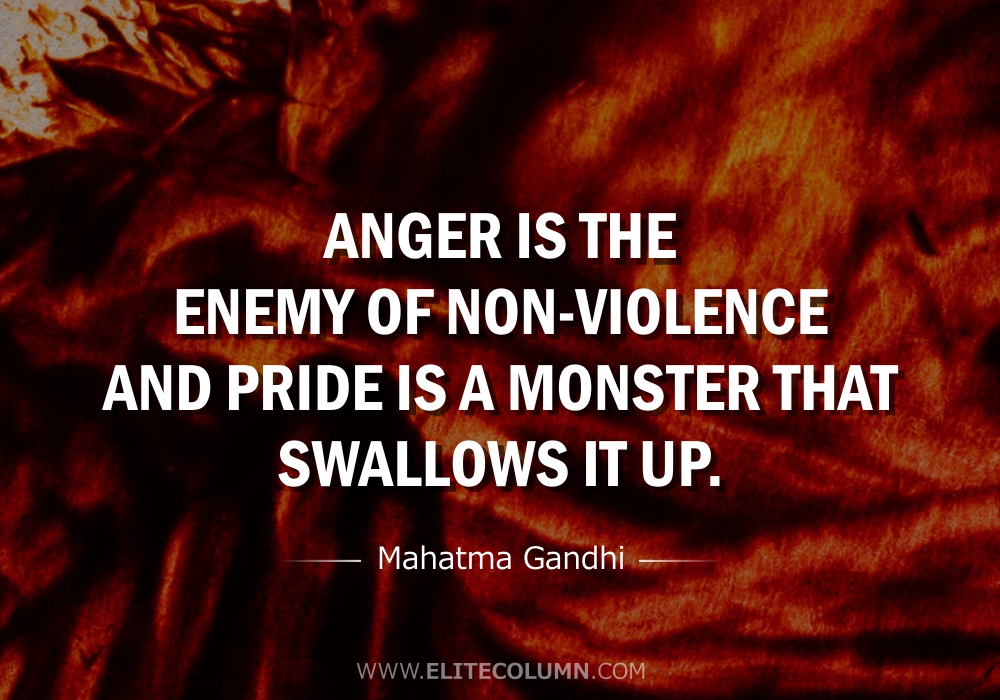 7. "Anger is the enemy of non-violence and pride is a monster that swallows it up." – Mahatma Gandhi
8. "Anger is one letter short of danger." – Eleanor Roosevelt
9. "If you are patient in one moment of anger, you will escape a hundred days of sorrow." – Toni Morrison
10. "Speak when you are angry and you'll make the best speech you'll ever regret." – Ambrose Brierce
11. "When angry, count to ten before you speak; if very angry, count to a hundred." – Thomas Jefferson
12. "Anger is an acid that can do more harm to the vessel in which it is stored than to anything on which it is poured." – Mark Twain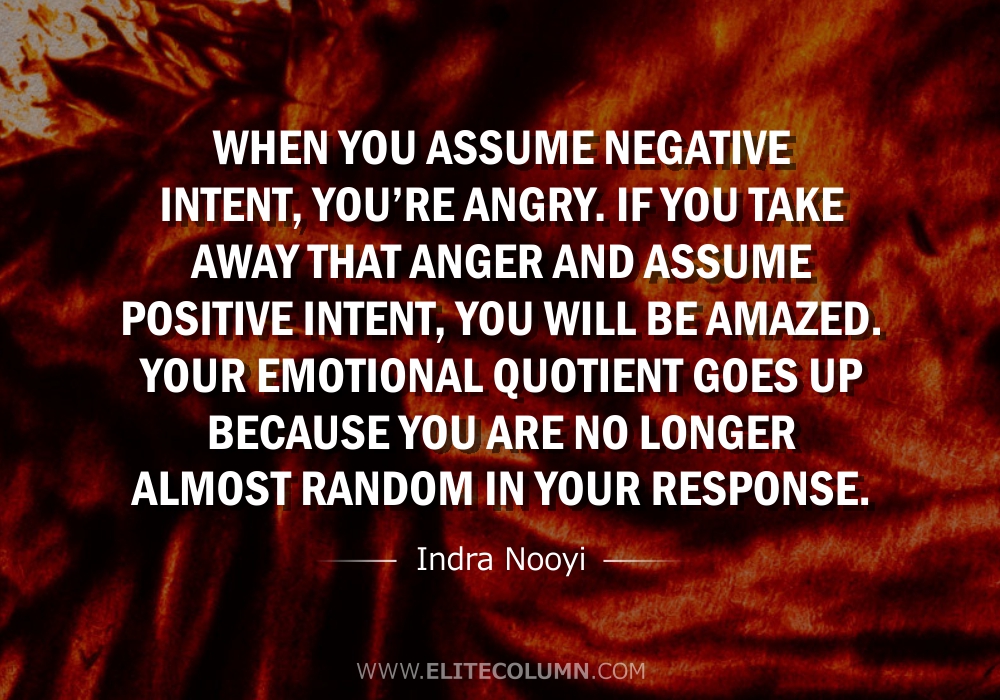 13. "When you assume negative intent, you're angry. If you take away that anger and assume positive intent, you will be amazed. Your emotional quotient goes up because you are no longer almost random in your response." – Indra Nooyi
14. "Anger is a sign that something needs to change."
15. "He who angers you conquers you." – Elizabeth Kenny
16. "Never respond to an angry person with a fiery comeback, even if he deserves it. Don't allow his anger to become your anger." – Bohdi Sanders
17. "How much more grievous are the consequences of anger than the causes of it." – Marcus Aurelius
18. "A heart filled with anger has no room for love." – Joan Lunden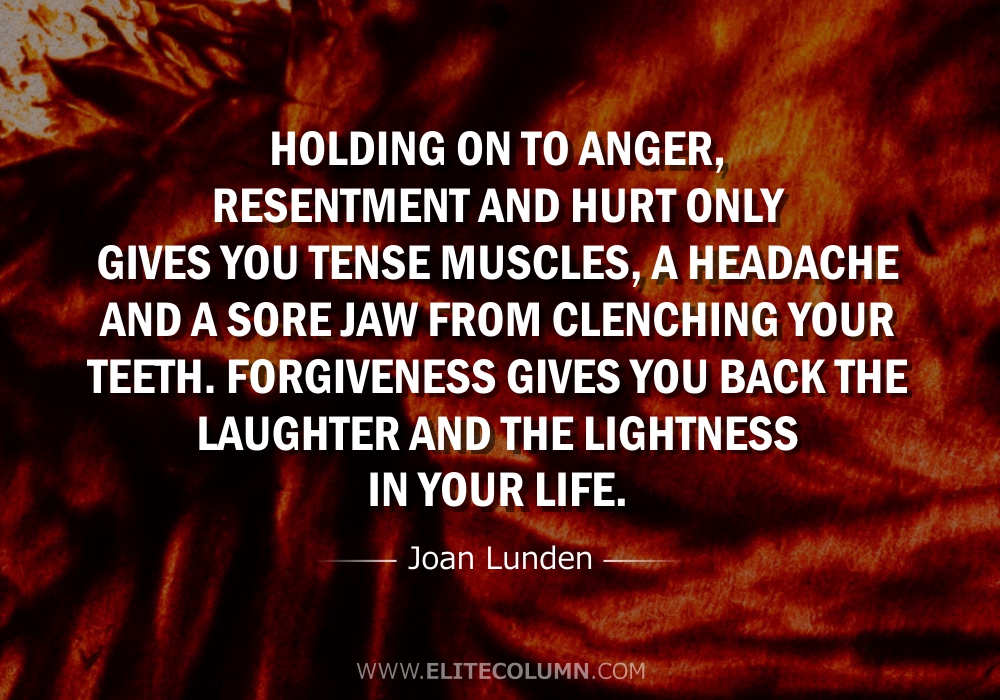 19. "Holding on to anger, resentment and hurt only gives you tense muscles, a headache and a sore jaw from clenching your teeth. Forgiveness gives you back the laughter and the lightness in your life." – Joan Lunden
20. "Whoever is able to anger you is able to control you." – Lamine Pearlheart
21. "The best fighter is never angry." – Lao Tzu
22. "Make your anger so expensive that no one can afford it, and make your happiness so cheap that people can almost get it free."
23. "Conquer the angry one by not getting angry; conquer the wicked by goodness; conquer the stingy by generosity, and the liar by speaking the truth." – Siddhartha Gautama
24. "Don't get angry quickly – be kind, be forgiving, be patient." – Patricia Meyers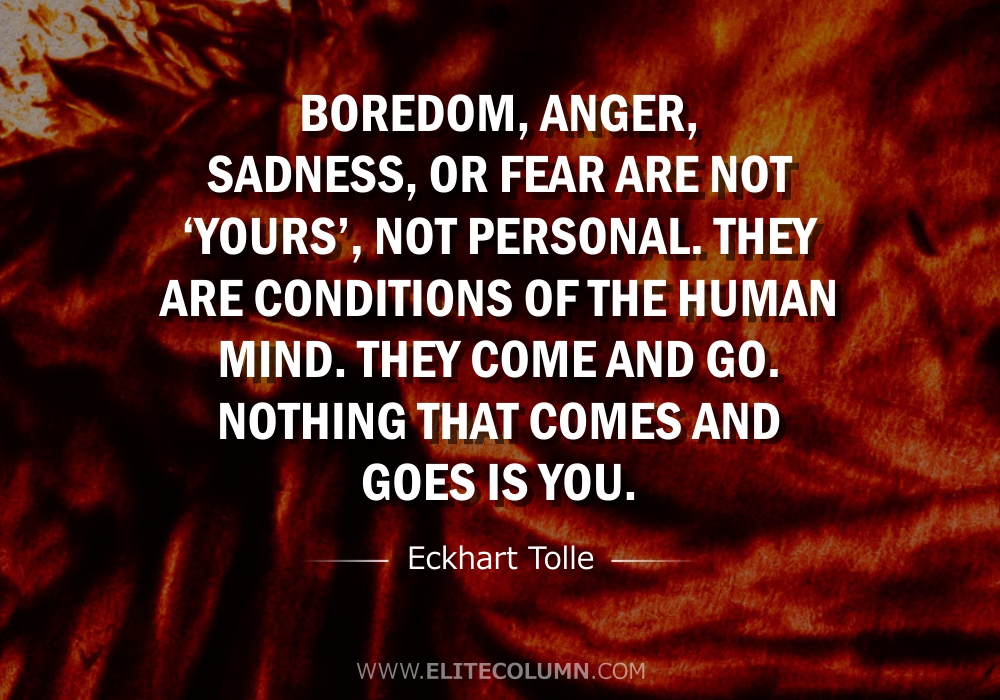 25. "Boredom, anger, sadness, or fear are not 'yours,' not personal. They are conditions of the human mind. They come and go. Nothing that comes and goes is you." – Eckhart Tolle
26. "The greatest remedy for anger is delay." – Thomas Paine
27. "Anger is useful only to a certain point. After that, it becomes rage, and rage will make you careless." – Lauren Oliver
28. "Scores of studies have shown that venting doesn't soothe anger; it fuels it." – Susan Cain
29. "Love gives us a heightened consciousness through which to apprehend the world, but anger gives us a precise, detached perception of its own." – Scott Spencer
30. "Hold your words when you are angry because sometimes words spoken in anger leave a scar that can never be healed."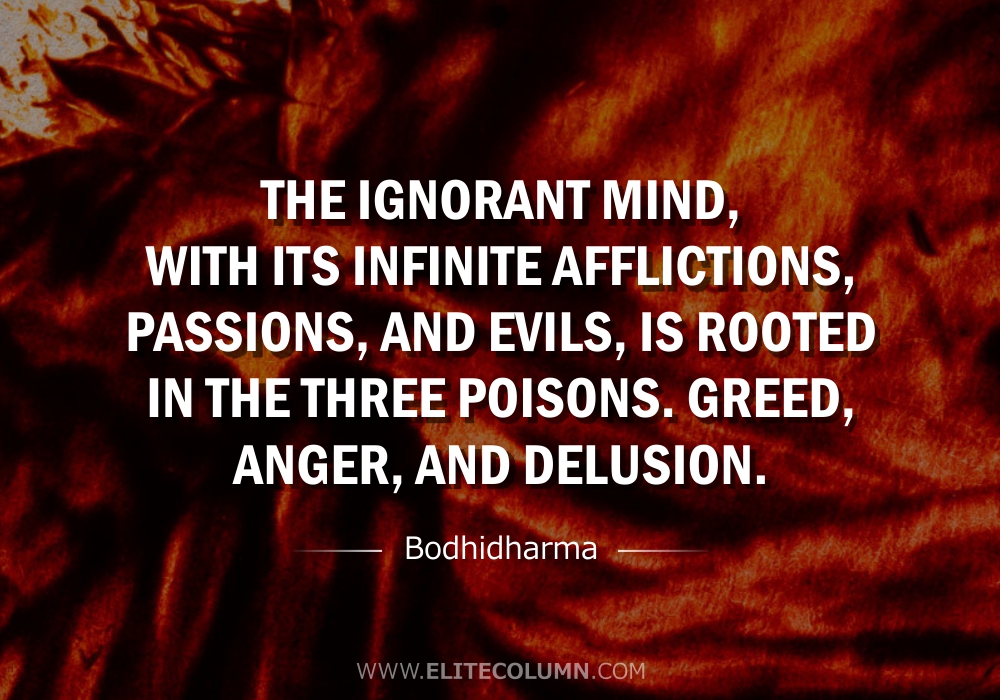 31. "The ignorant mind, with its infinite afflictions, passions, and evils, is rooted in the three poisons. Greed, anger, and delusion." – Bodhidharma
32. "For every minute you remain angry, you give up sixty seconds of peace of mind." – Ralph Waldo Emerson
33. "A void in my chest was beginning to fill with anger. Quiet, defeated anger that guaranteed me the right to my hurt, that believed no one could possibly understand that hurt." – Rachel Sontag
34. "It is okay to talk about the past, as long as there's no bitterness and anger. It only gives you a heart attack. It won't change the past either." – Ann Marie Aguilar
35. "Anger ventilated often hurries towards forgiveness; and concealed often hardens into revenge." – Edward G. Bulwer-Lytton
36. "It is wise to direct your anger towards problems, not people; to focus your energies on answers, not excuses." – William Arthur Ward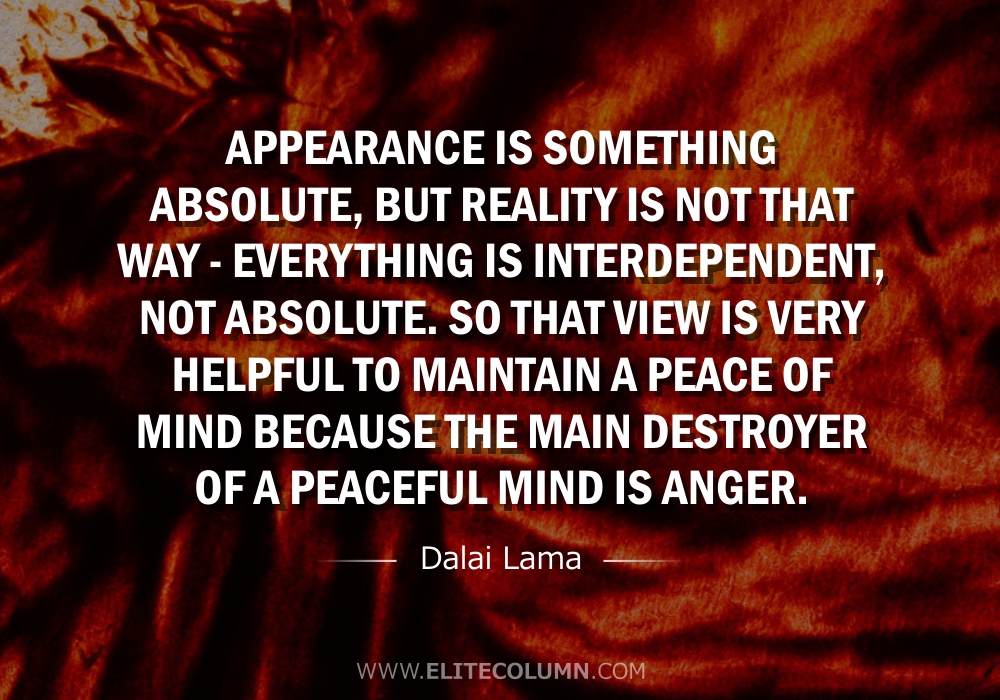 37. "Appearance is something absolute, but reality is not that way – everything is interdependent, not absolute. So that view is very helpful to maintain a peace of mind because the main destroyer of a peaceful mind is anger." – Dalai Lama
38. "Anger is a true messenger of wisdom, if you are willing to listen. It whispers to you, your deepest wounds, that need healing." – Drishti Bablani
39. "The boiling water that does not cool down only dries out!" – Ernest Agyemang Yeboah
40. "Anger is an acid that can do more harm to the vessel in which it is stored than to anything on which it is poured." – Mark Twain
41. "Anger is a valid emotion. It's only bad when it takes control and makes you do things you don't want to do." – Ellen Hopkins
42. "Anger is a brief madness." – Horace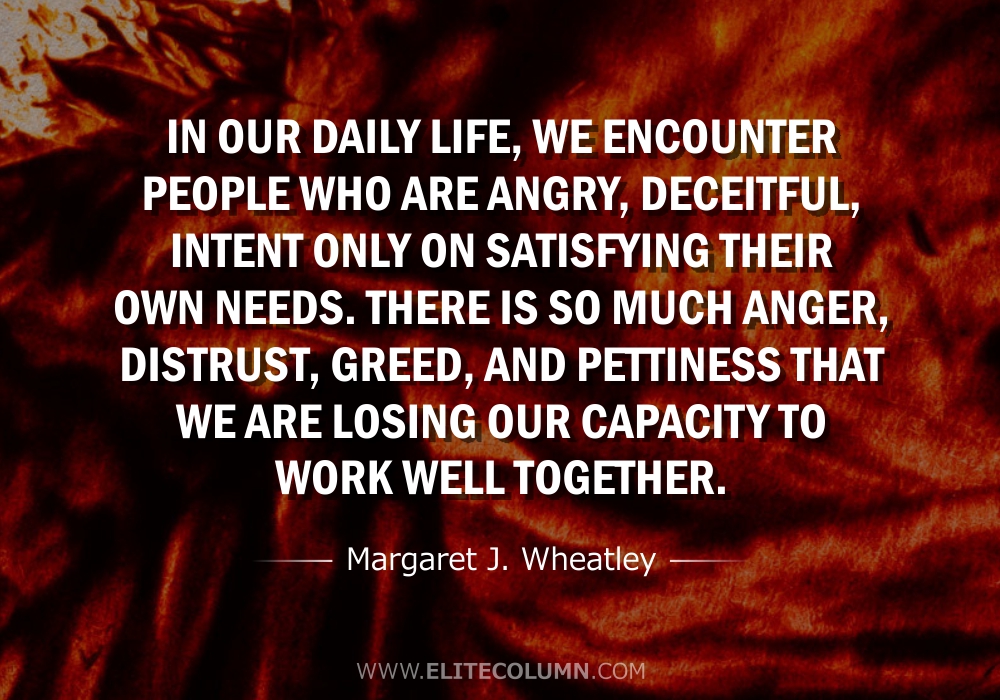 43. "In our daily life, we encounter people who are angry, deceitful, intent only on satisfying their own needs. There is so much anger, distrust, greed, and pettiness that we are losing our capacity to work well together." – Margaret J. Wheatley
44. "To be angry is to revenge the faults of others on ourselves." – Alexander Pope
45. "As soon as anger knocks at one's door, wisdom prepares to leave." – Pawan Mishra
46. "Where there is anger there is always pain underneath." – Eckhart Tolle
47. "Anger is useful only to a certain point. After that, it becomes rage, and rage will make you careless." – Lauren Oliver
48. "The trouble with anger is, it gets hold of you. And then you aren't the master of yourself. Anger is." – Jeanne DuPrau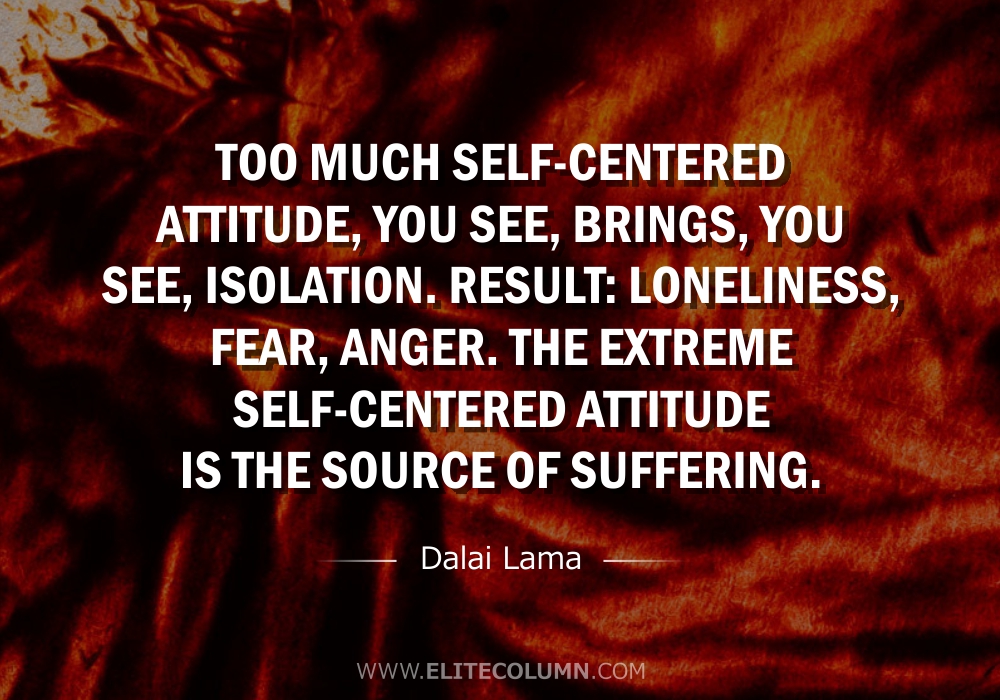 49. "Too much self-centered attitude, you see, brings, you see, isolation. Result: loneliness, fear, anger. The extreme self-centered attitude is the source of suffering." – Dalai Lama
50. "Anger hurts the one who is possessed by it more than the one against whom it is directed." – Carl Sandburg
51. "Anger only gets in the way." – Katherine Applegate
52. "It's futile to talk reason to anger." – Bangambiki Habyarimana
53. "Letting go of anger frees us to connect with more of our vital energy." – Kristi Bowman
54. "The only person you hurt when you stay angry or hold grudges is you. Forgive everyone, including yourself." – Tom Giaquinto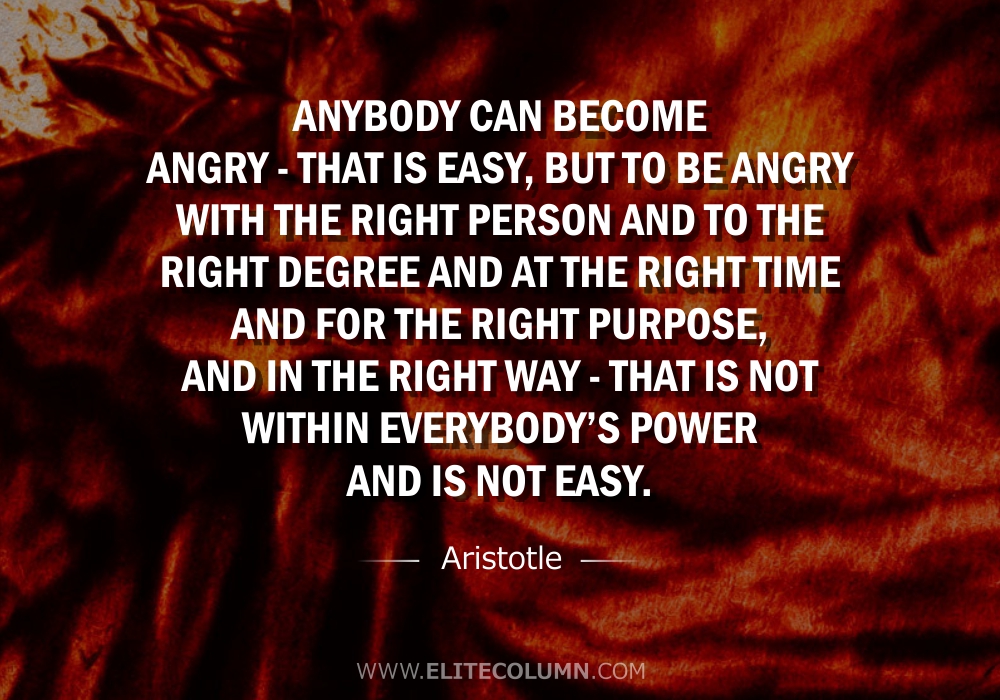 55. "Anybody can become angry – that is easy, but to be angry with the right person and to the right degree and at the right time and for the right purpose, and in the right way – that is not within everybody's power and is not easy." – Aristotle
56. "We can achieve more in a moment of compassion than in an hour of anger." – Sam Owen
57. "Forgiveness will show your wisdom. Anger will only show your immaturity." – Anthony T.Hincks
58. "When you are angry – stop, breath, relax, step back, think, and forgive before you react." – Debasish Mridha
Thanks for checking out the best Anger quotes. Feel free to share the quotes with your friends. Leave a comment below and which are your favorite Anger quotes ?
See also:
Karma Quotes | Plato Quotes | Sun Tzu Quotes | Dalai Lama Quotes | Sadhguru Quotes | Confucius Quotes | Lao Tzu Quotes | Positive Quotes | Happiness Quotes | Inspirational Quotes | Life Quotes
You can find us at – Facebook | Instagram | LinkedIn | Pinterest | Twitter