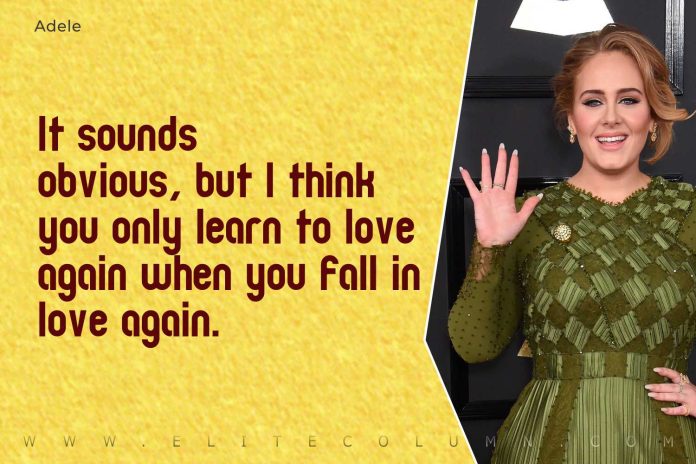 Check out 40 Adele Quotes today.
40 Best Adele Quotes
1. "It sounds obvious, but I think you only learn to love again when you fall in love again." – Adele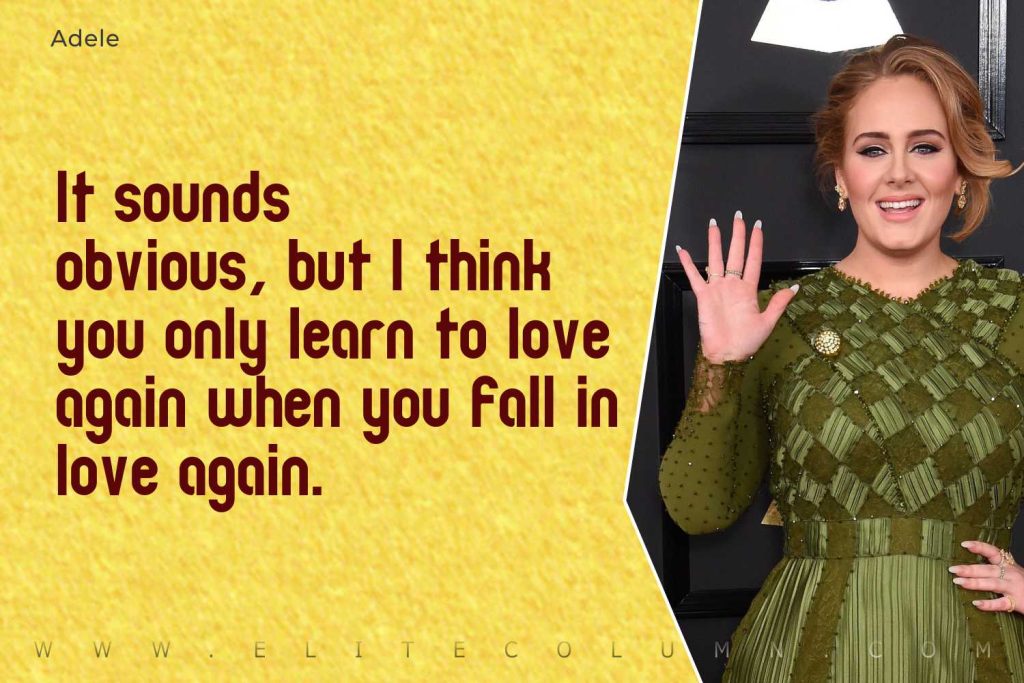 2. "However far away I will always love you/However long I stay I will always love you/Whatever words I say I will always love you/I will always love you" – Adele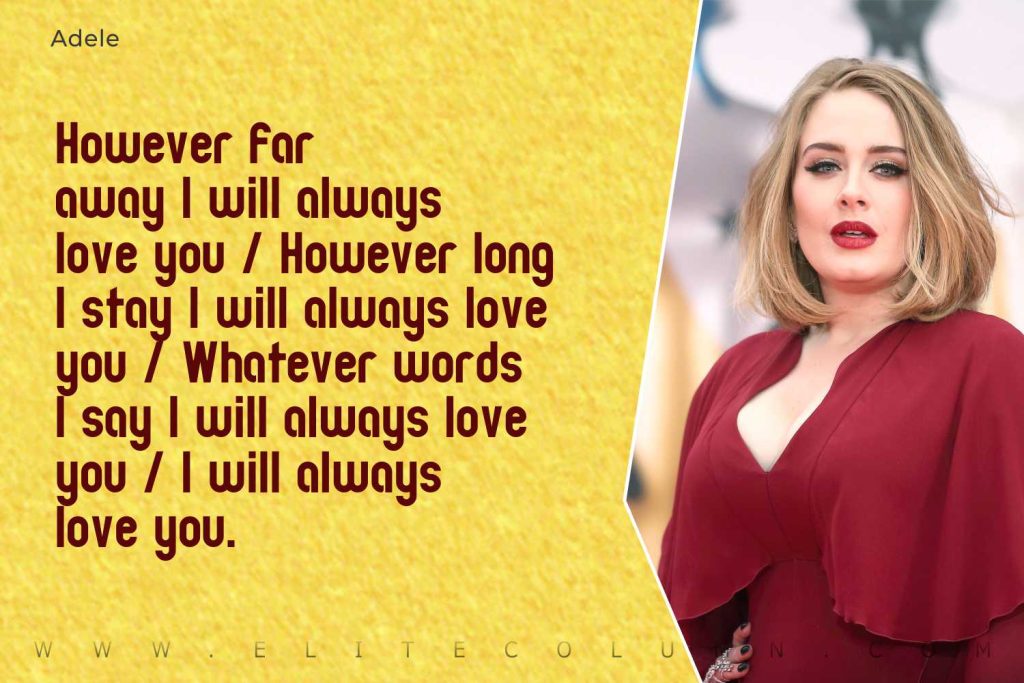 3. "I miss you. I miss not touching each other. Not seeing each other, not breathing in each other. I want you. All the time. No one else." – Adele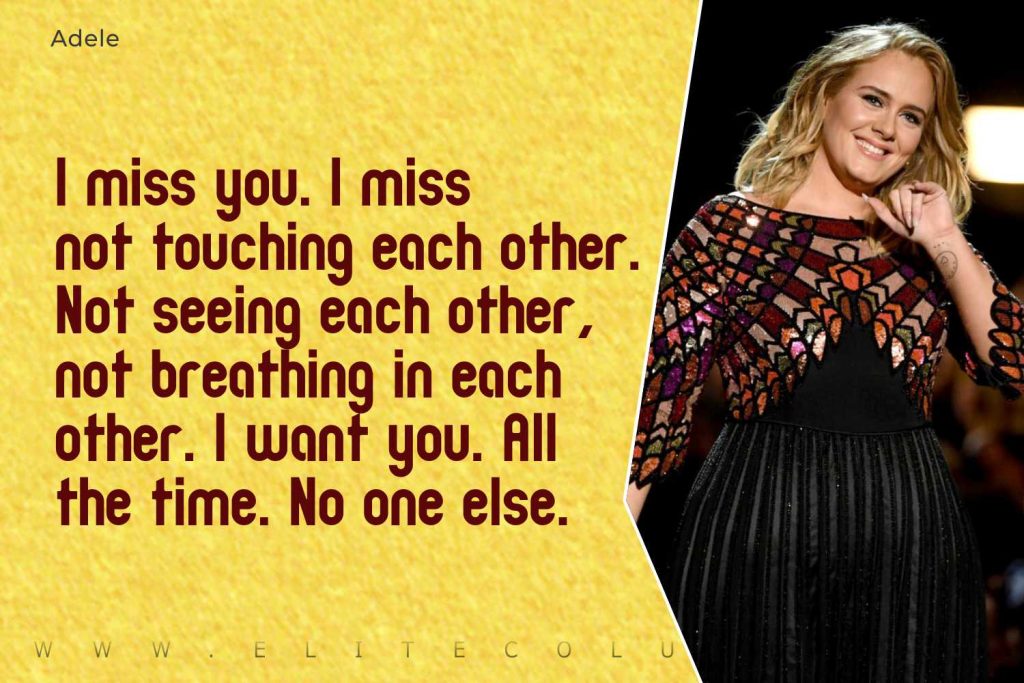 4. "The bigger that your career gets, the smaller your life gets." – Adele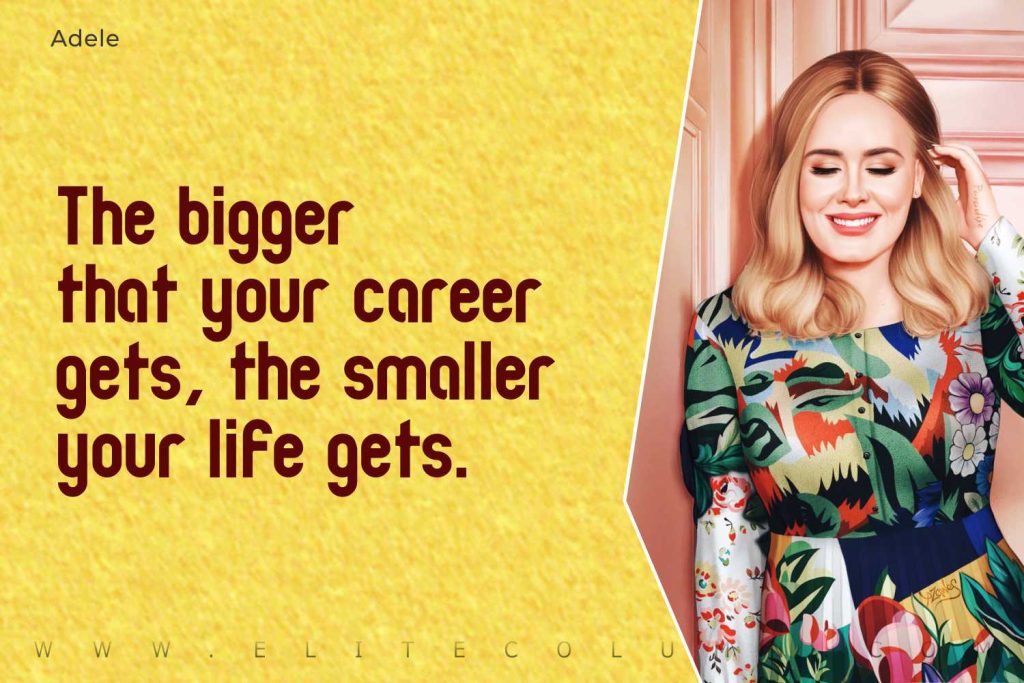 5. "I've never seen magazine covers or music videos and been like, 'I need to look like that to be a success.'" – Adele
6. "I am quite loud and bolshie." – Adele
7. "I've always written down how I feel." – Adele
8. "You have to prioritize what you stress about when you have a child." – Adele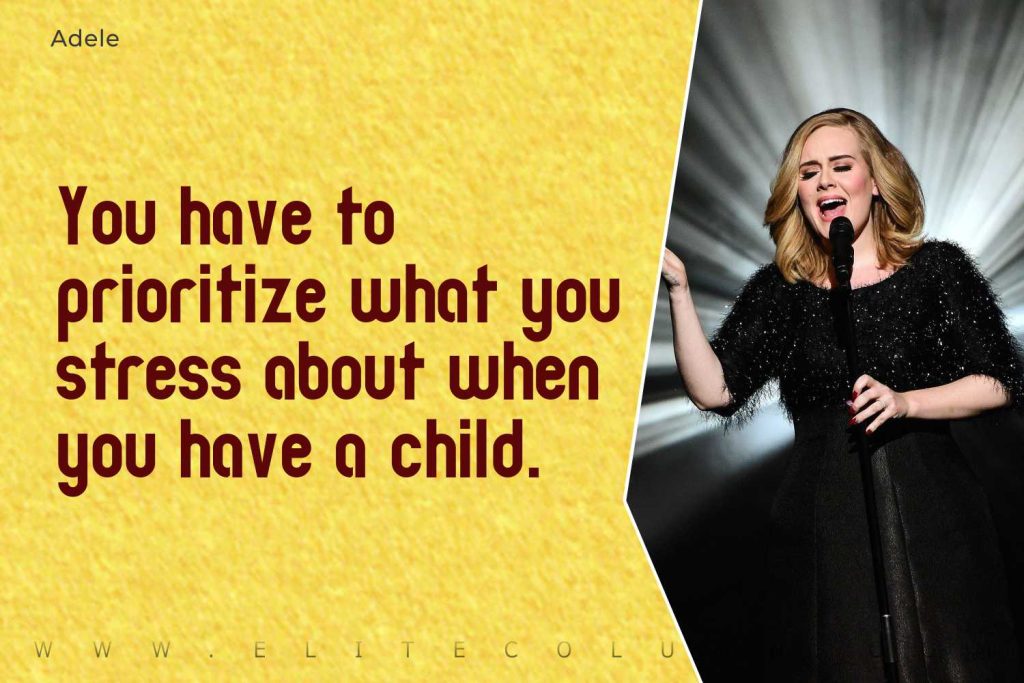 9. "Crying is really bad for your vocal cords." – Adele
10. "Nothing that I wouldn't do, to make you feel my love." – Adele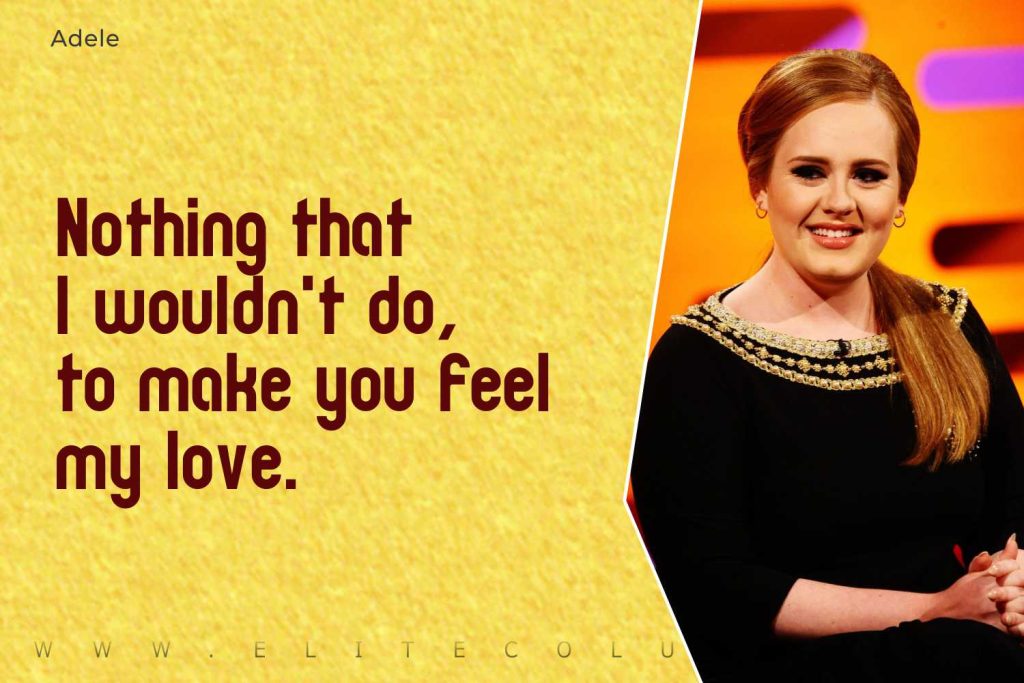 11. "I was wondering if after all these years you'd like to meet To go over everything They say that time's supposed to heal ya But I ain't done much healing" – Adele
12. "Love has no gender. Take whoever loves you." – Adele
13. "I am happy. I'm happy with you, like this. It's my way of being happy." – Adele
14. "Cause I can't make you love me if you don't/You can't make your heart feel Somethin' that it won't" – Adele
15. "I don't write songs about a specific, elusive thing. I write about love, and everyone knows what it is like to have your heart broken." – Adele
16. "The scars of your love remind me of us they keep me thinking that we almost had it all the scars of your love they leave me breathless I can't help feeling we could have had it all." – Adele
17. "Regrets and Mistakes, they're Memories made." – Adele
18. "I know you haven't made your mind up yet, But I will never do you wrong. I've known it from the moment that we met, No doubt in my mind where you belong." – Adele
19. "Time against us, Miles between us, Heavens cried, I know I left you speechless" – Adele
20. "Pacing floors and opening doors/Hoping you'll walk through/And save me boy/Because I'm too crazy for you." – Adele
21. "We've gotta let go of all of our ghosts/We both know we ain't kids no more" – Adele
22. "So is it over is this really it You've given up so easily I thought you loved me more than this." – Adele
23. "When the evening shadows and the stars appear, And there is no one there to dry your tears, I could hold you for a million years To make you feel my love." – Adele
24. "I like looking nice, but I always put comfort over fashion." – Adele
25. "Be happy and healthy." – Adele
26. "I don't want to have plastic surgery. I'm going to look like this forever. Deal with it. Once you deal with it, you feel more calm about it." – Adele
27. "I'm really happy to be me, and I'd like to think people like me more because I'm happy with myself and not because I refuse to conform to anything." – Adele
28. "I'm a big personality. I walk into a room, big and tall and loud." – Adele
29. "I've never wanted to look like models on the cover of magazines. I represent the majority of women and I'm very proud of that."
30. "I'm very confident. Even when I read people saying horrible stuff about my weight."
31. "Be brave and fearless to know that even if you do make a wrong decision, you're making it for a good reason." – Adele
32. "There's only one of you, so why would you want to look like everyone else?" – Adele
33. "You can't complain about your dressing room or you'll look like Celine Dion." – Adele
34. "A drunk tongue is an honest one in my opinion." – Adele
35. "I don't have time to worry about something as petty as what I look like." – Adele
36. "I don't make music for eyes. I make music for ears." – Adele
37. "I can't be a product; no one can do that to me. I have all the say; I have power over everything I do." – Adele
38. "Life is so much easier when you don't hoard your past." – Adele
39. "I don't care if you're black, white, short, tall, skinny, rich or poor. If you respect me I'll respect you." – Adele
40. "I haven't got time to fall apart. I'm the backbone for my kid, and I want to be there for him." – Adele
Thanks for checking out the best Adele Quotes. Feel free to share the quotes with your friends. Leave a comment below and which are your favourite Adele Quotes ?
See also:
Post Malone Quotes | Mac Miller Quotes | Bob Marley Quotes | Elvis Presley Quotes | The Weeknd Quotes | Elton John Quotes | Britney Spears Quotes | Billie Eilish Quotes
You can find us at – Facebook | Instagram | LinkedIn | Pinterest | Twitter