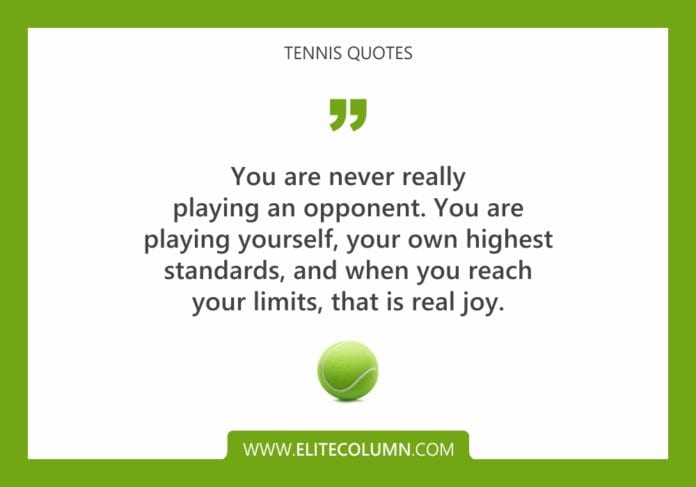 Tennis, one of the most popular racket sport has been present since time immemorial. Historians believe that the origin if the game can be traced back to 12th Century northern France. It is also an Olympic sport and is played in all levels of society at all ages. Part of the appeal of tennis stems from the simplicity of equipment required to play the sport. Tennis quotes will help you become a better player both and on and off field. EliteColumn brings you the 30 best handpicked tennis quotes for every player.
30 Inspirational Tennis Quotes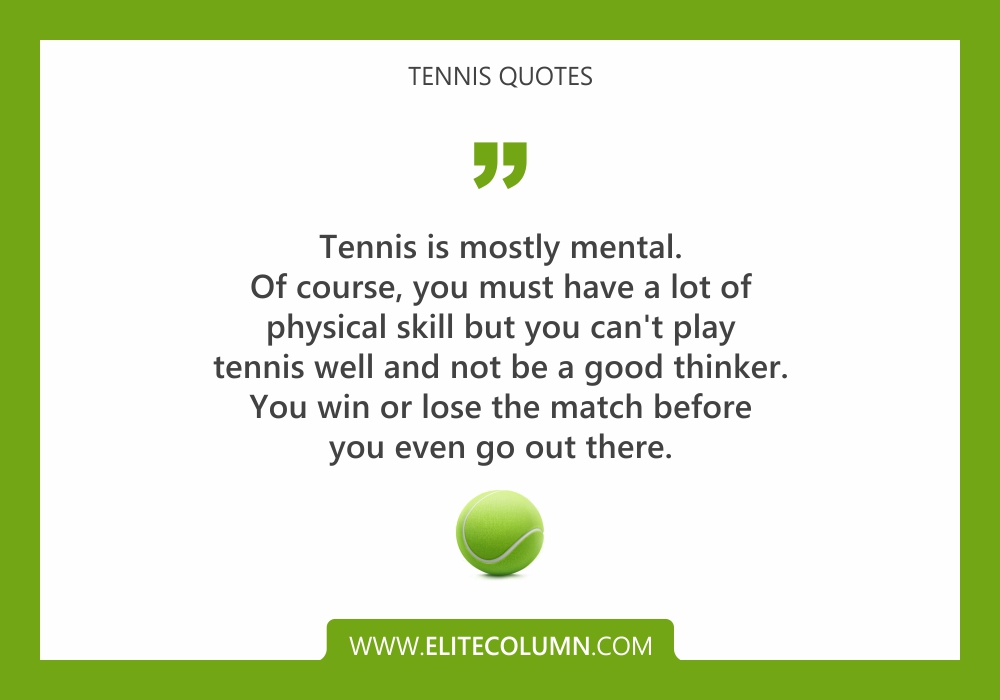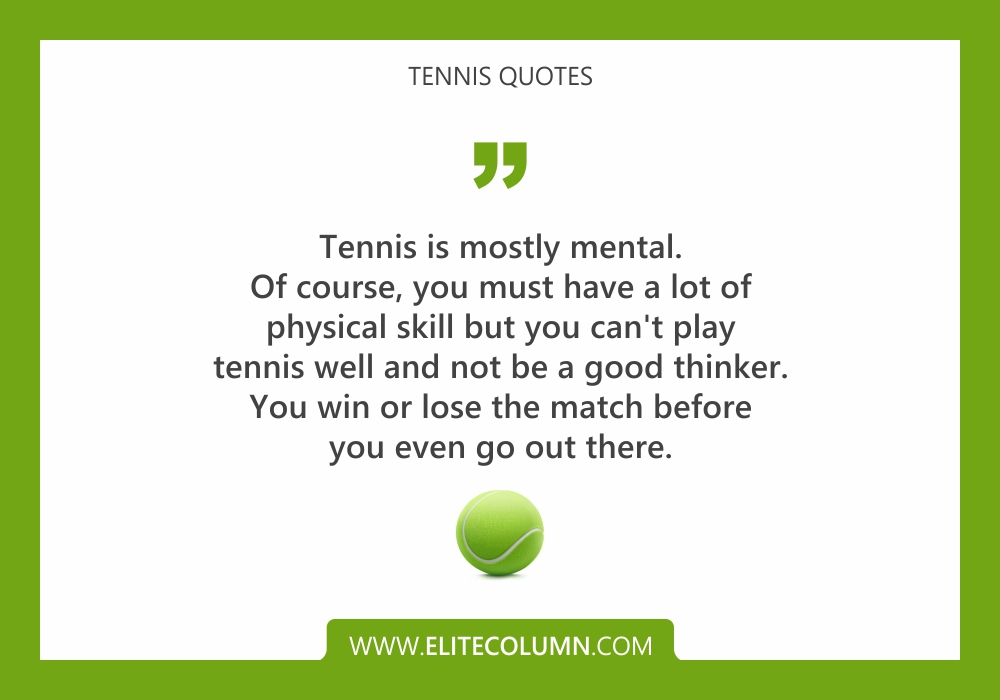 1. "Tennis is mostly mental. Of course, you must have a lot of physical skill but you can't play tennis well and not be a good thinker. You win or lose the match before you even go out there."
2. "Being champion is all well and good, but you can't eat a crown." – Althea Gibson
3. "Dreams do come true if you keep believing in yourself. Anything is possible." – Jennifer Capriati
4. "Everybody loves success, but they hate successful people." – John McEnroe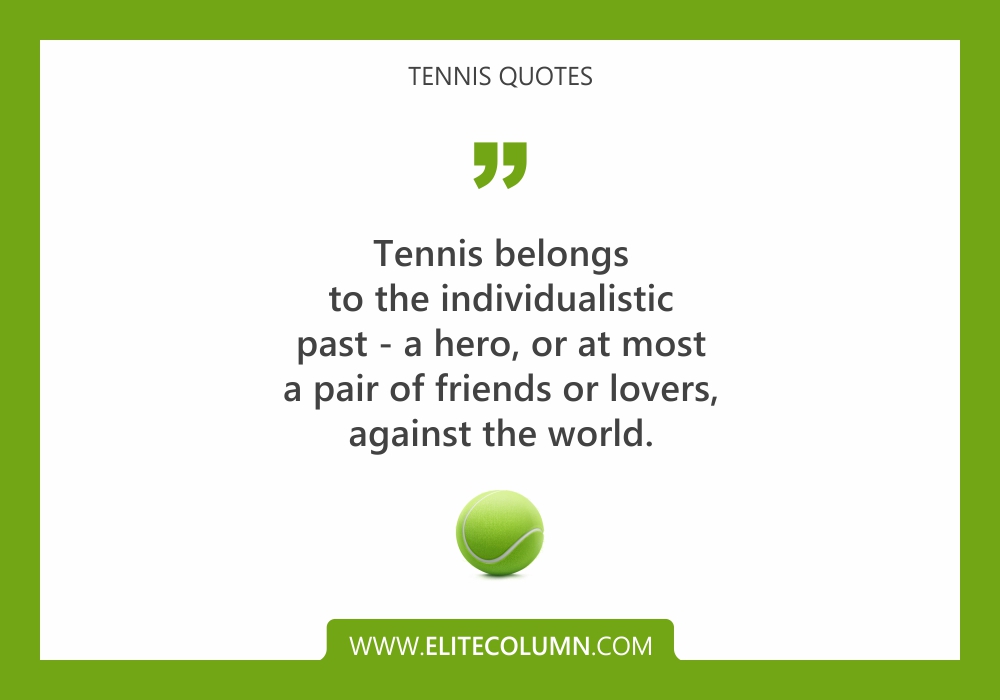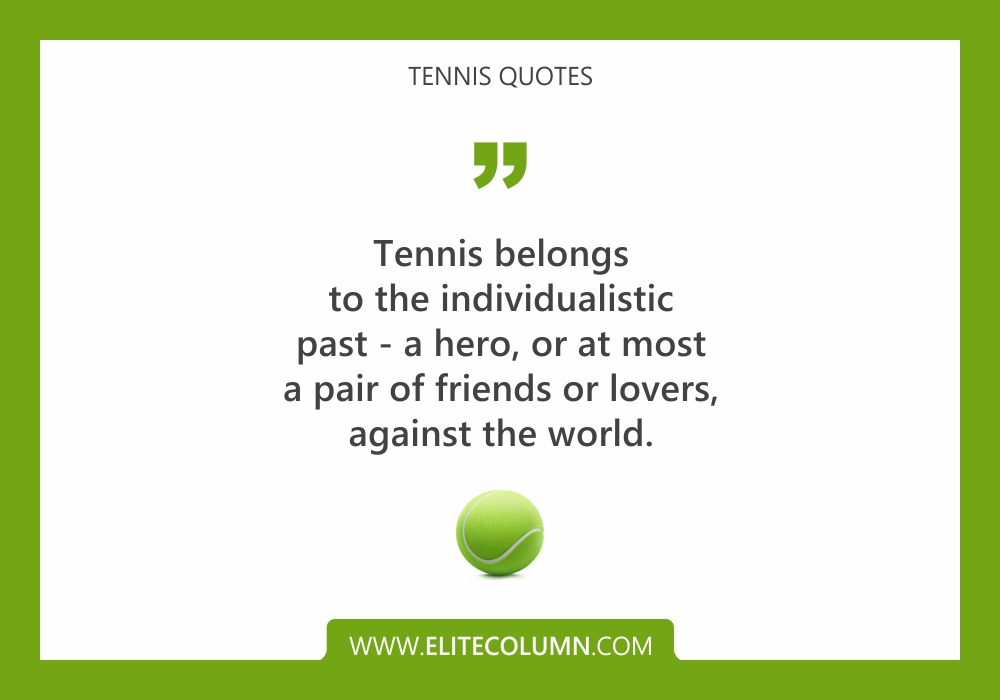 5. "Tennis belongs to the individualistic past – a hero, or at most a pair of friends or lovers, against the world."
6. "Experience is a great advantage. The problem is that when you get the experience, you're too damned old to do anything about it." – Jimmy Connors
7. "From what we get, we can make a living; what we give, however, makes a life." – Arthur Ashe
8. "If you're a champion, you have to have it in your heart." – Chris Evert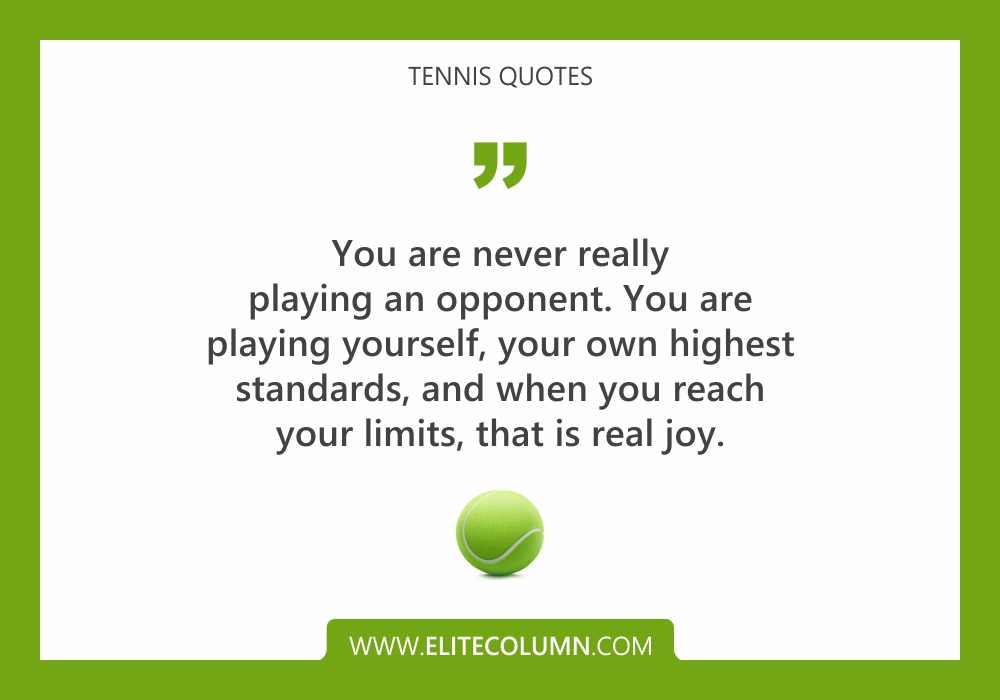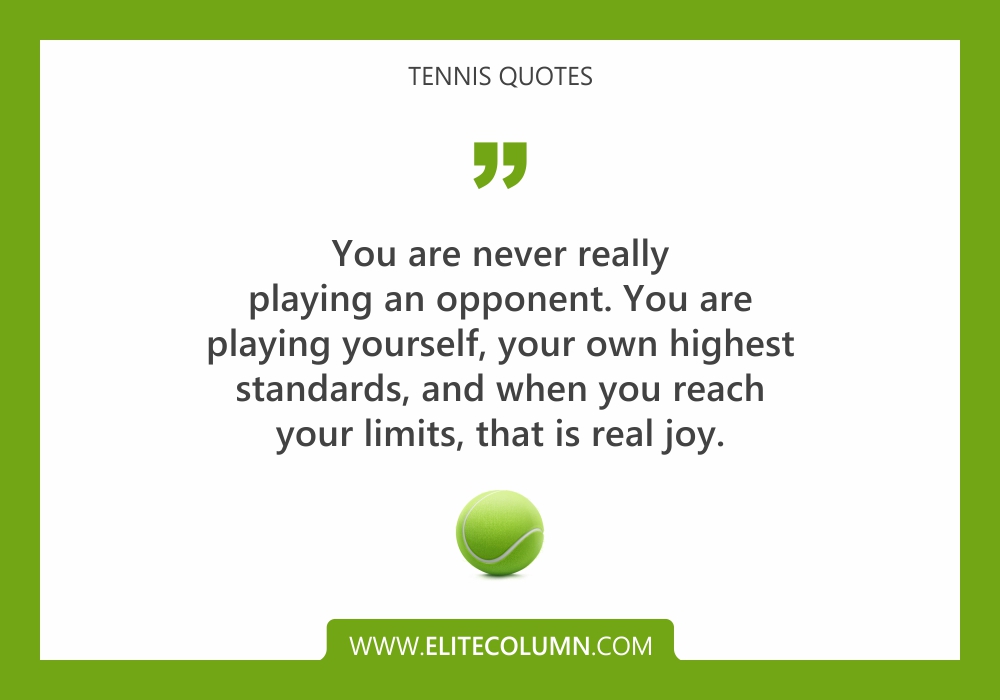 9. "You are never really playing an opponent. You are playing yourself, your own highest standards, and when you reach your limits, that is real joy."
10. "Just go out there and do what you have to do." – Martina Navratilova
11. "Losing is not my enemy, fear of losing is my enemy." – Rafael Nadal
12. "Regardless of how you feel inside, always try to look like a winner." – Arthur Ashe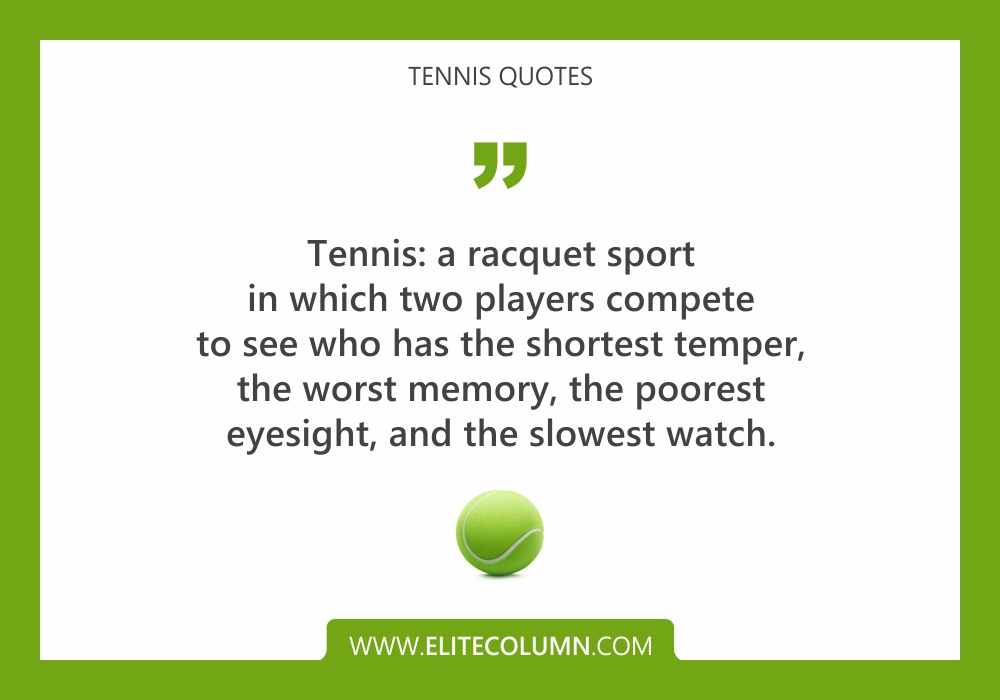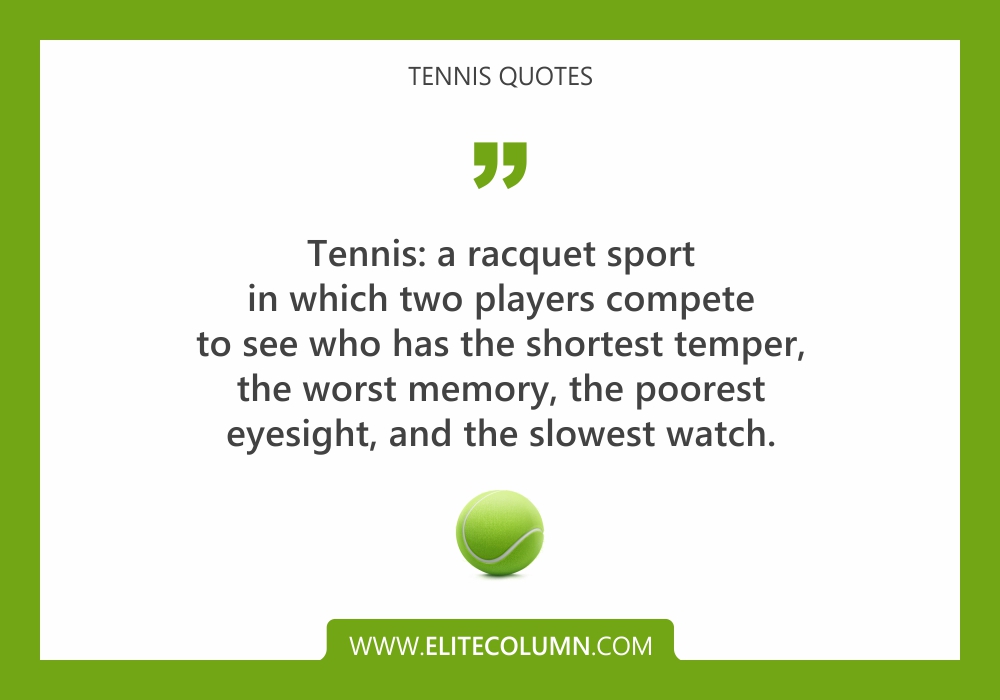 13. "Tennis: a racquet sport in which two players compete to see who has the shortest temper, the worst memory, the poorest eyesight, and the slowest watch."
14. "Spectacular performances are preceded by spectacular preparation". – Frank Giampaolo
15. "Success is a journey not a destination. The doing is usually more important than the outcome." – Arthur Ashe
16. "Tennis uses the language of life. Advantage, service, fault, break, love — the basic elements of tennis are those of everyday existence, because every match is a life in miniature." – Andre Agassi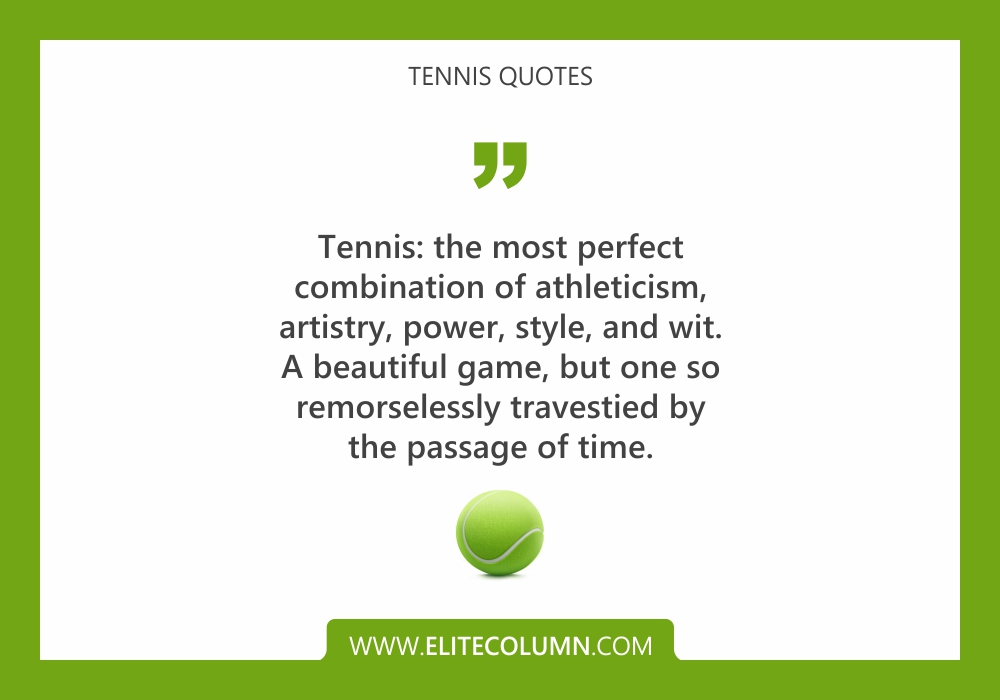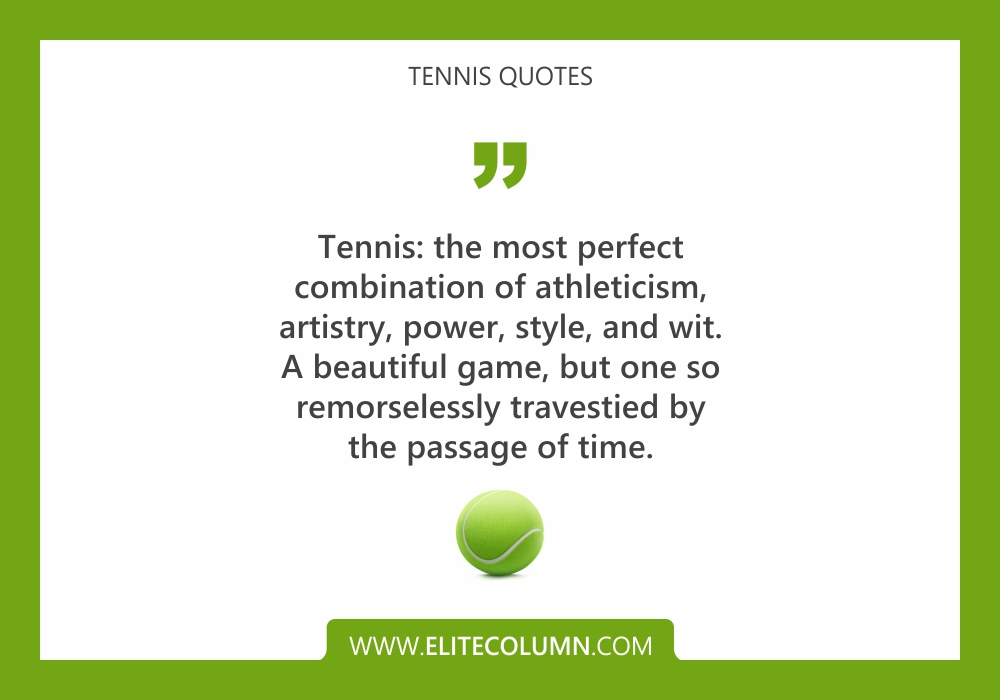 17. "Tennis: the most perfect combination of athleticism, artistry, power, style, and wit. A beautiful game, but one so remorselessly travestied by the passage of time."
18. "The fifth set is not about tennis, it's about nerves." – Boris Becker
19. "The mark of great sportsmen is not how good they are at their best, but how good they are at their worst." – Martina Navratilova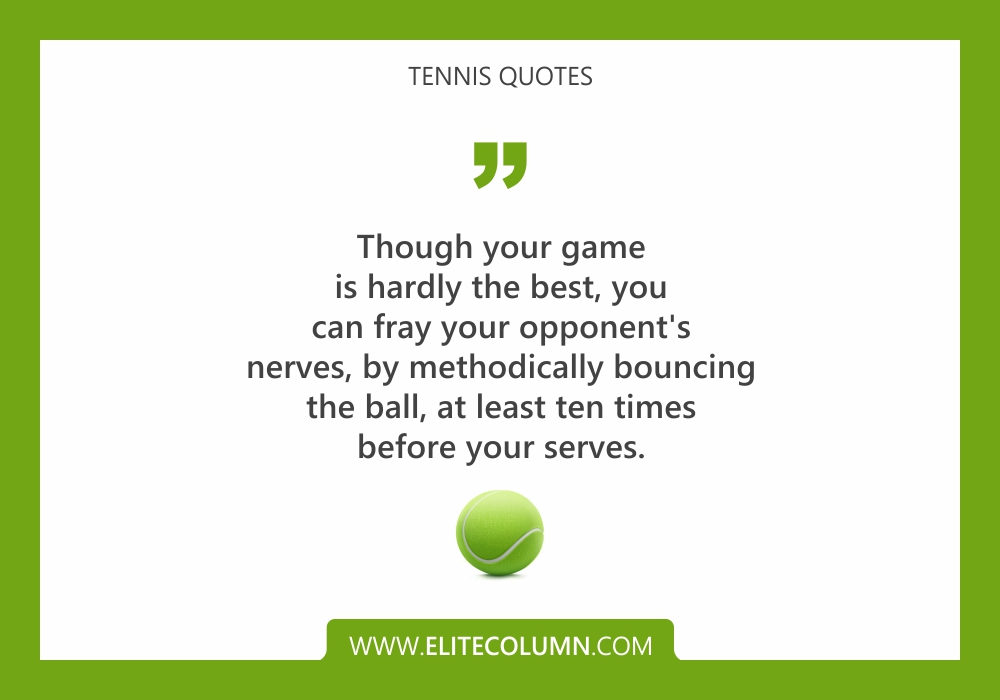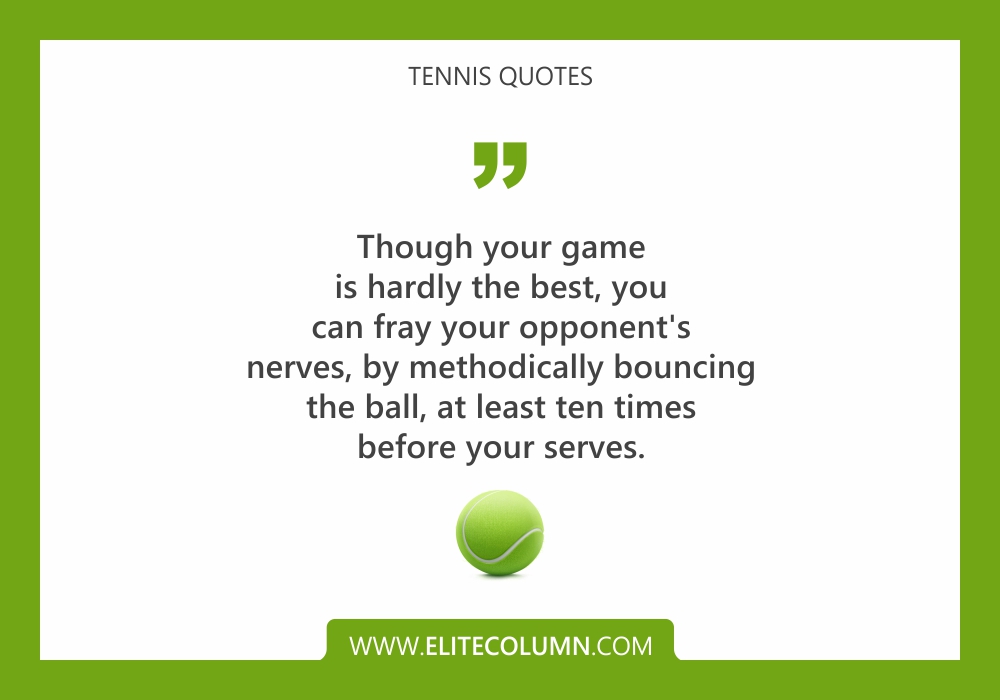 20. "Though your game is hardly the best, you can fray your opponent's nerves, by methodically bouncing the ball, at least ten times before your serves."
21. "True heroism is remarkably sober, very undramatic. It is not the urge to surpass all others at whatever cost, but the urge to serve others at whatever cost." – Arthur Ashe
22. "What makes something special is not just what you have to gain, but what you feel there is to lose." – Andre Agassi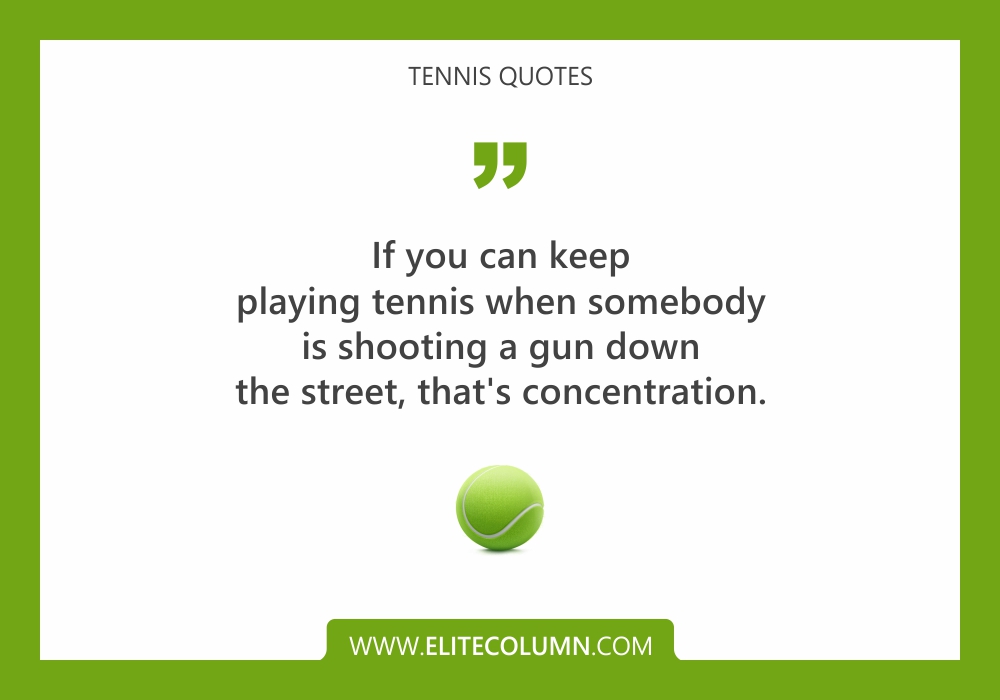 23. "If you can keep playing tennis when somebody is shooting a gun down the street, that's concentration."
24. "Winning is a way of expressing yourself." – Boris Becker
25. "Writing free verse is like playing tennis with the net down." – Robert Frost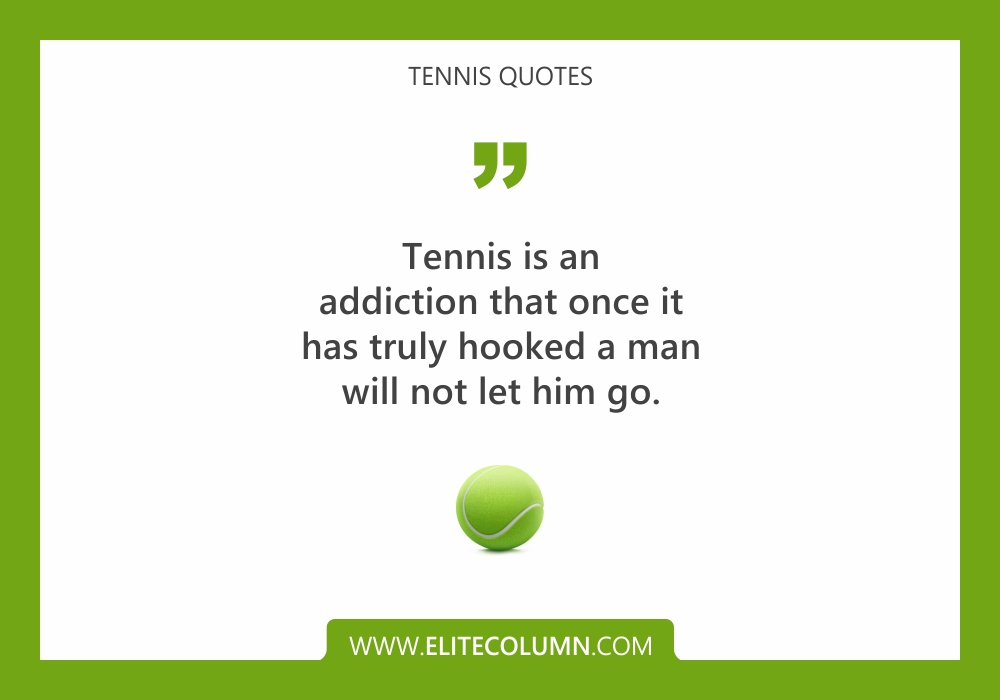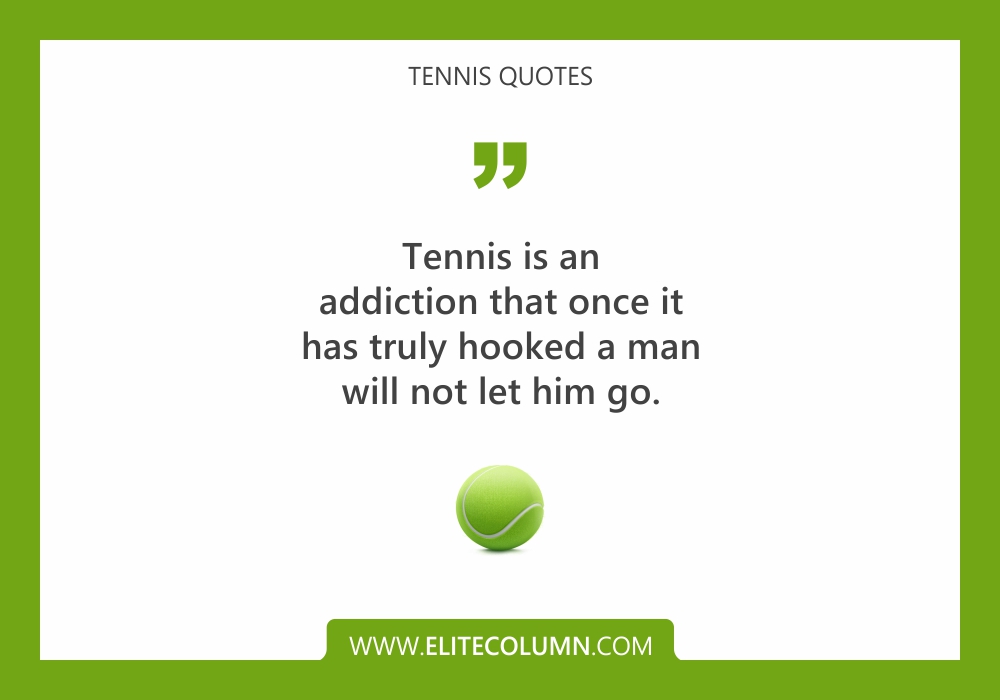 26. "Tennis is an addiction that once it has truly hooked a man will not let him go."
27. "You don't have to hate your opponents to beat them." – Kim Clijsters
28. "You have to believe in the long term plan you have but you need the short term goals to motivate and inspire you." – Roger Federer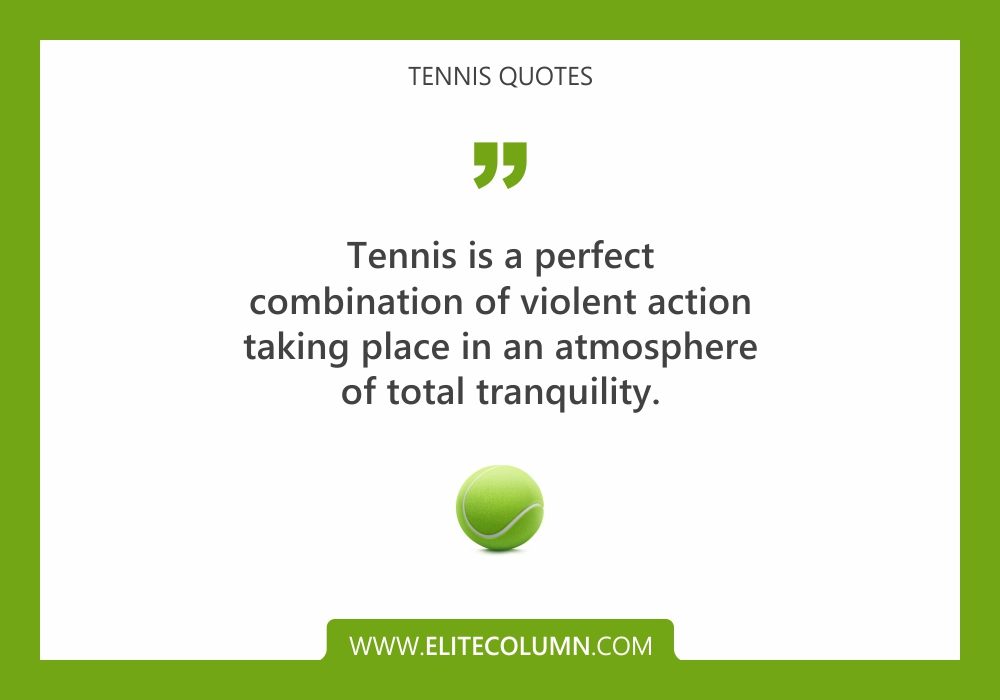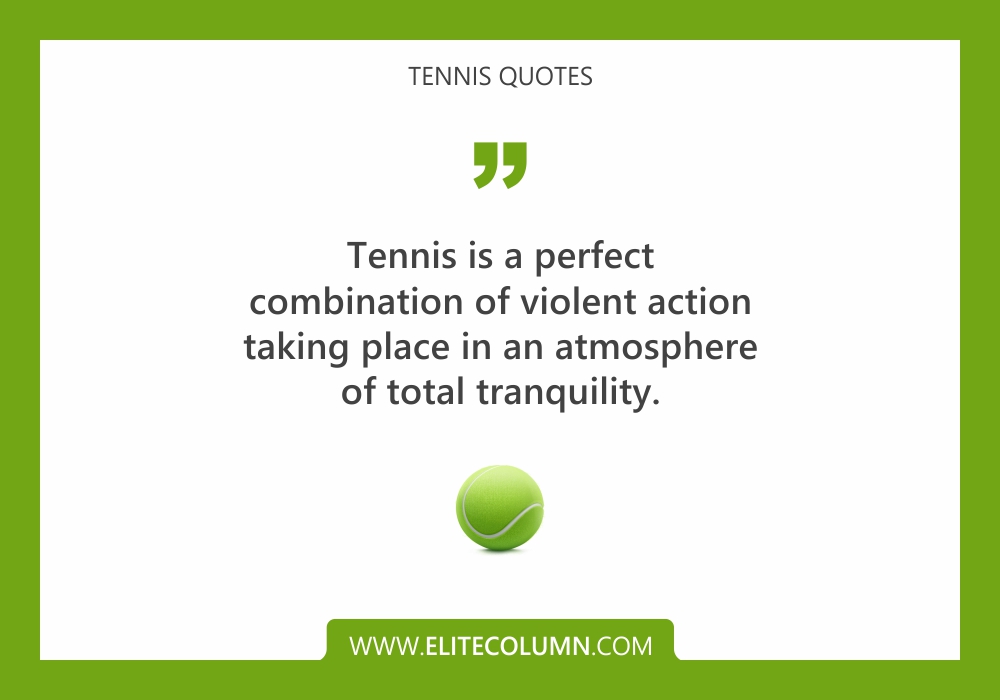 29. "Tennis is a perfect combination of violent action taking place in an atmosphere of total tranquility."
30. "You've got to get to the stage in life where going for it is more important than winning or losing." – Arthur Ashe
Thanks for checking out the best Tennis quotes. Feel free to share the quotes with your friends. Leave a comment below and which are your favorite Tennis quotes ?
See also:
Rafael Nadal Quotes | Michael Schumacher Quotes | Sourav Ganguly Quotes | Virat Kohli Quotes
You can find us at – Facebook | Instagram | LinkedIn | Pinterest | Twitter