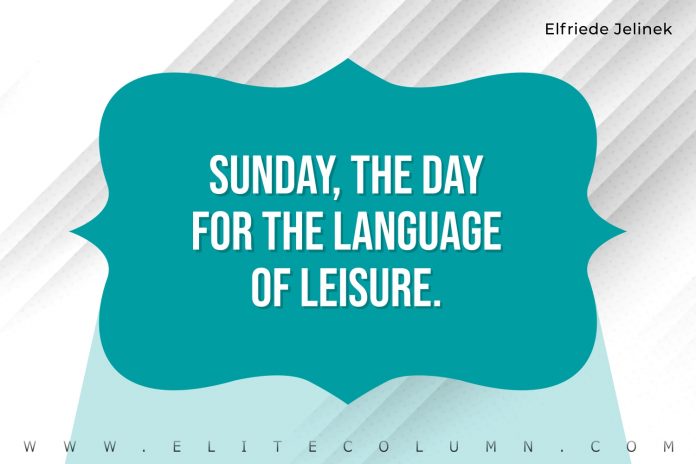 Check out 50 Sunday Quotes today.
50 Best Sunday Quotes
1. "Just in terms of allocation of time resources, religion is not very efficient. There's a lot more I could be doing on a Sunday morning." – Bill Gates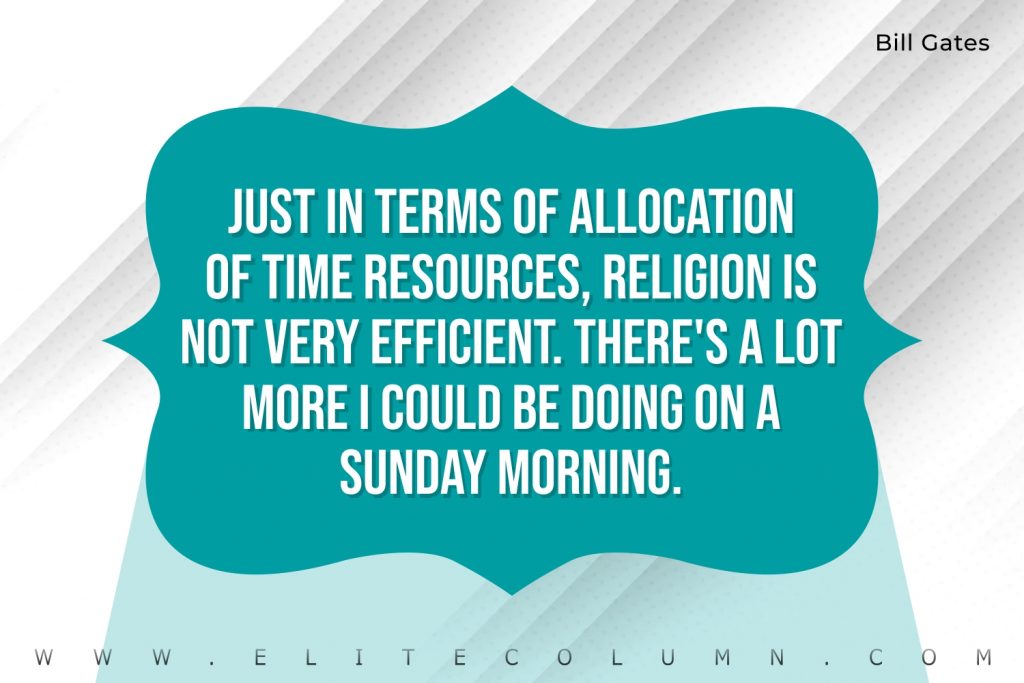 2. "Sunday evenings often feel like the weekend is over before it's even begun." – Catherine McCormack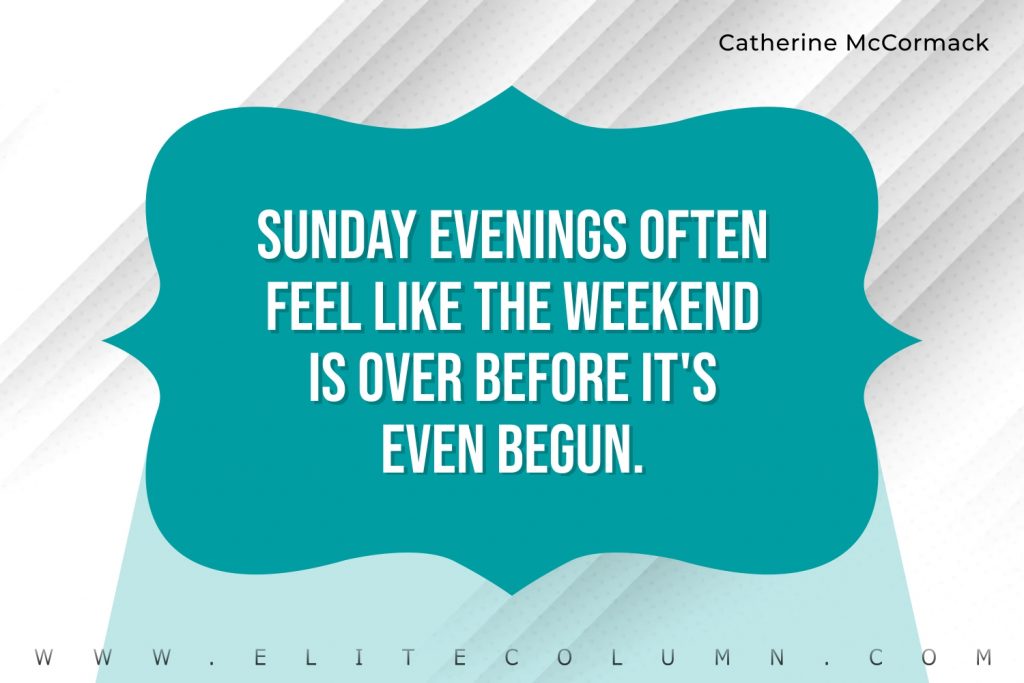 3. "I always look forward to Sunday a day to offer my thanks; to give glory to the one true God of the universe and the purveyor of all peace." – Byron Pulsifer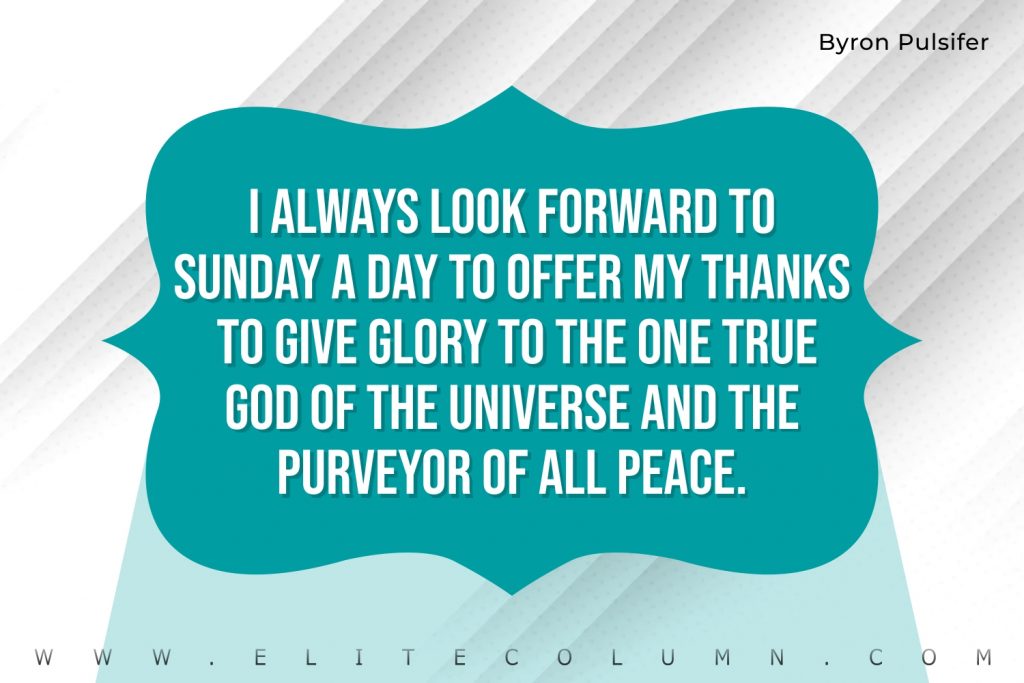 4. "Sunday, the day for the language of leisure." – Elfriede Jelinek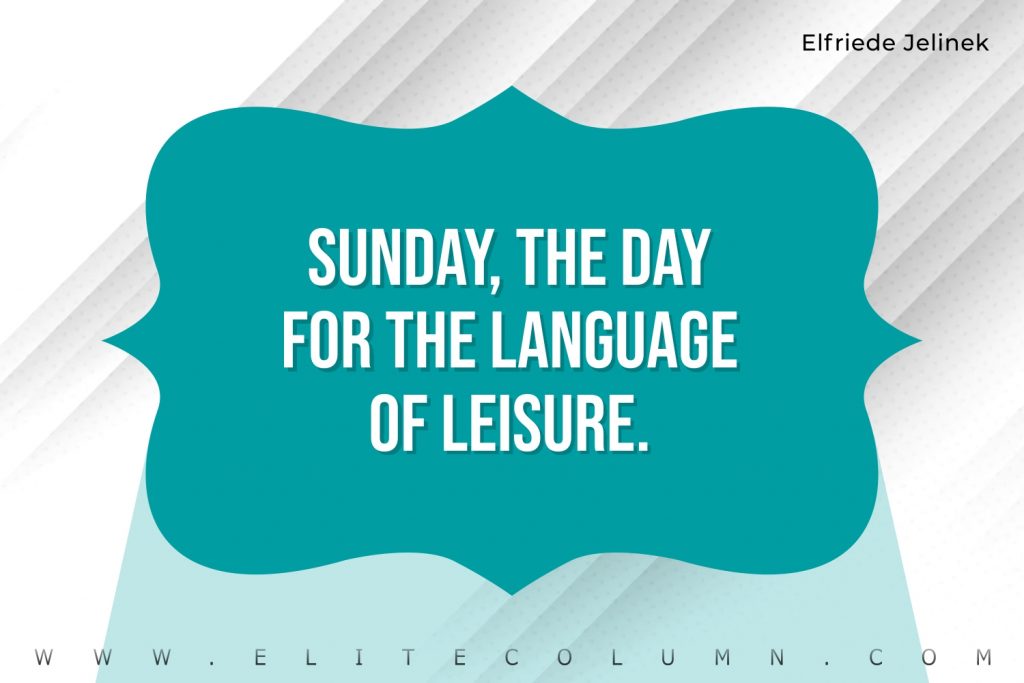 5. "Sunday would be lost without Saturday, and I would be lost without you." – Anthony T. Hincks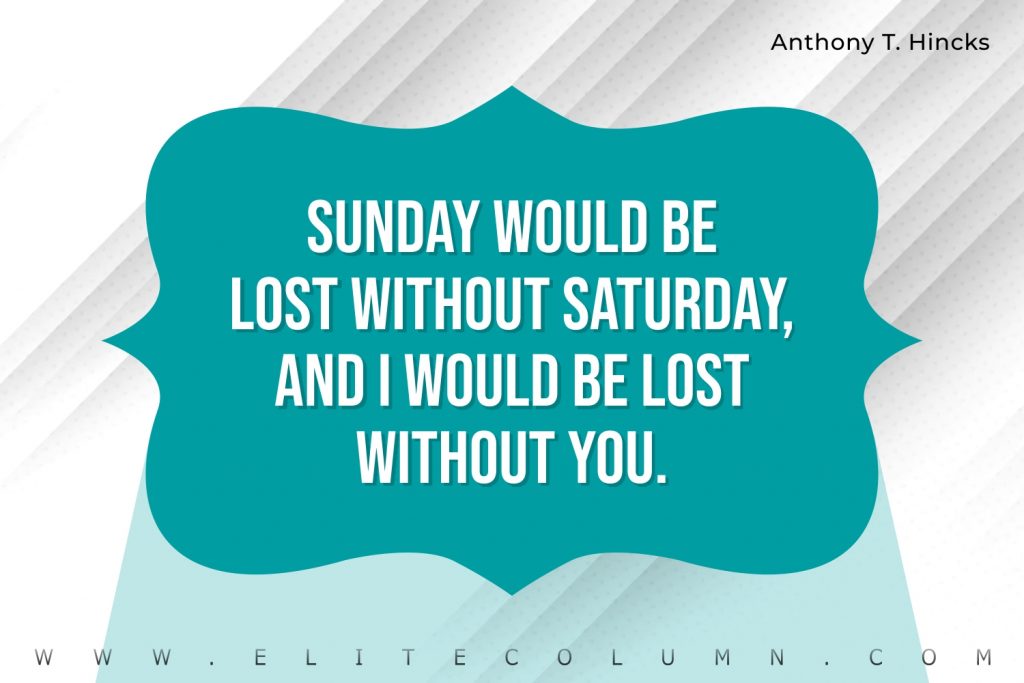 6. "It was Sunday morning, and old people passed me like sad grey waves on their way to church." – Barbara Comyns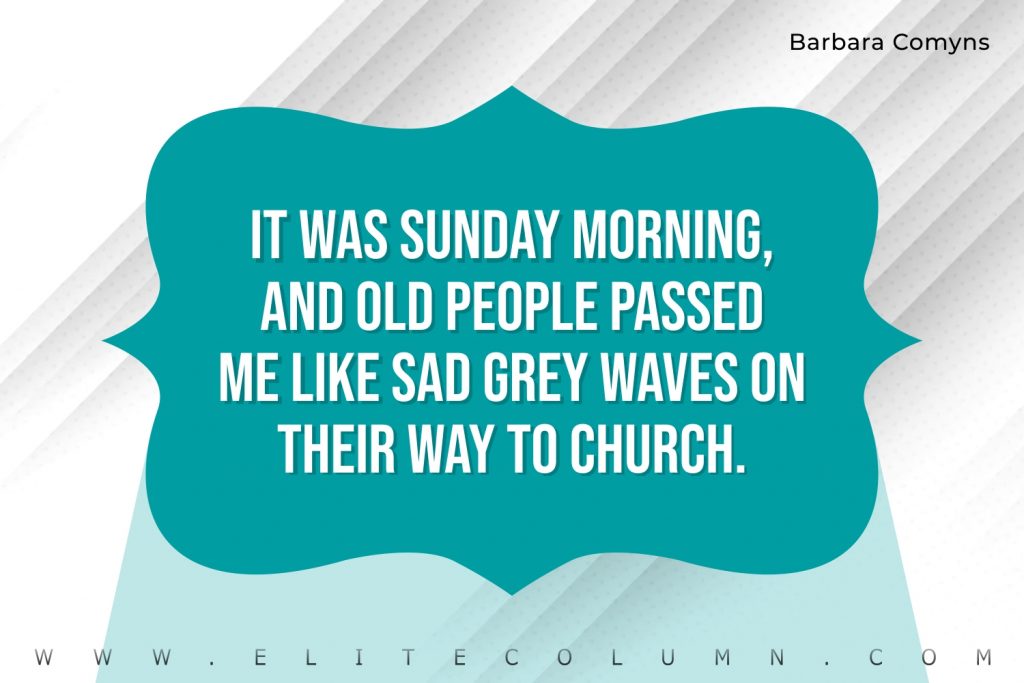 7. "On Sunday mornings, as the dawn burned into day, swarms of gulls descended on the uncollected trash, hovering and dropping in the cold clear light." – Edward Conlon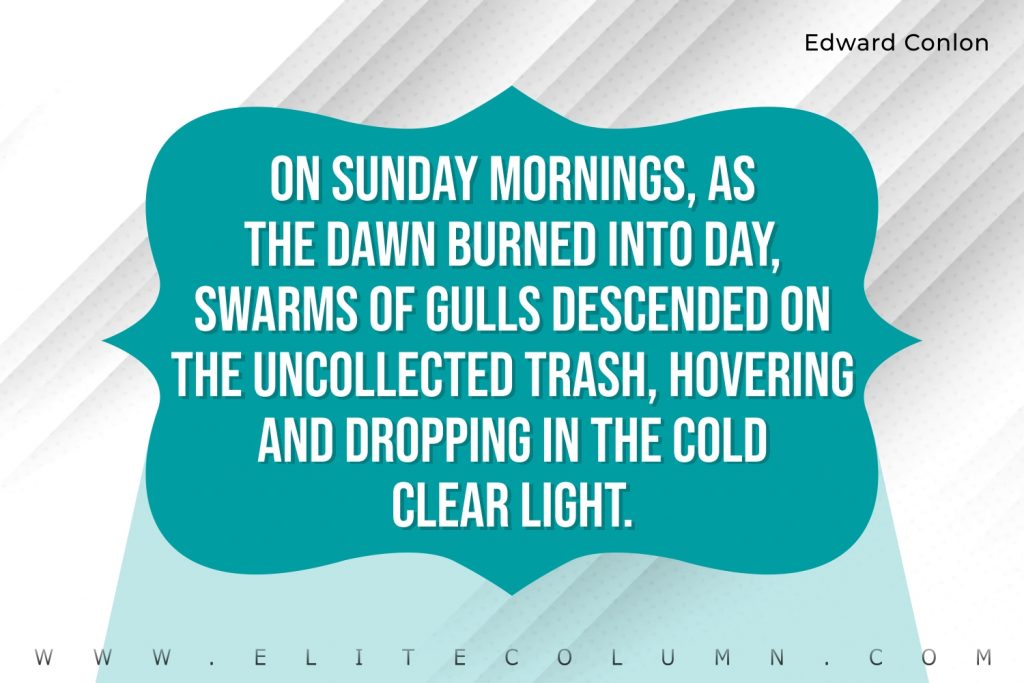 8. "Without Sunday, I wouldn't know when to put on the brakes of a hurtling life." – Byron Pulsifer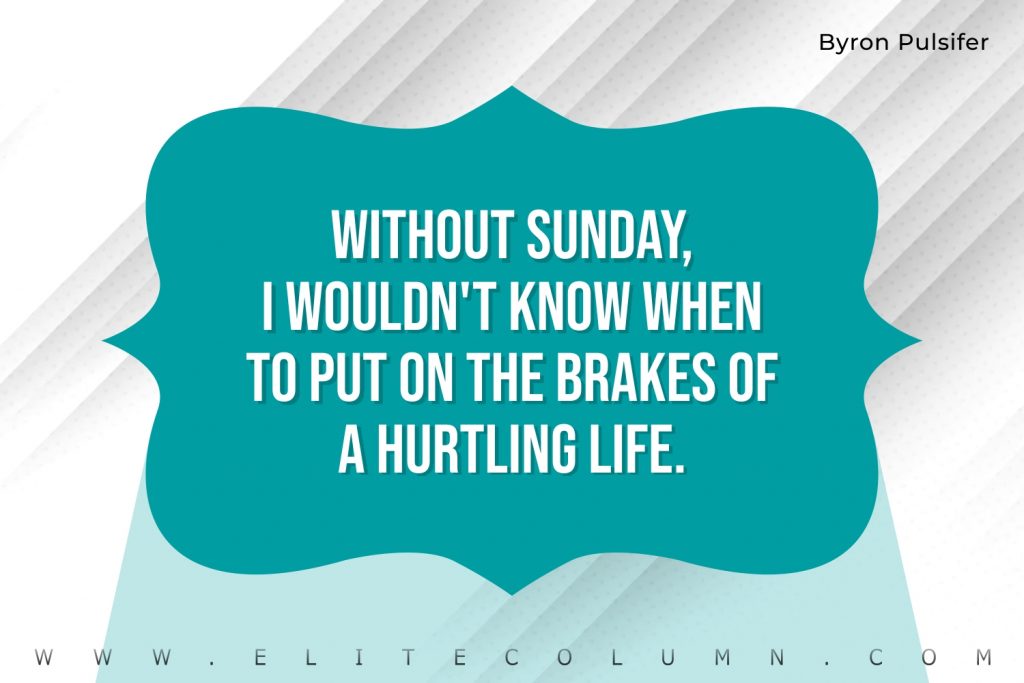 9. "No matter how you rush into the 7 days of each week, at least one day will be your relax and recharge day." – Kathy Henn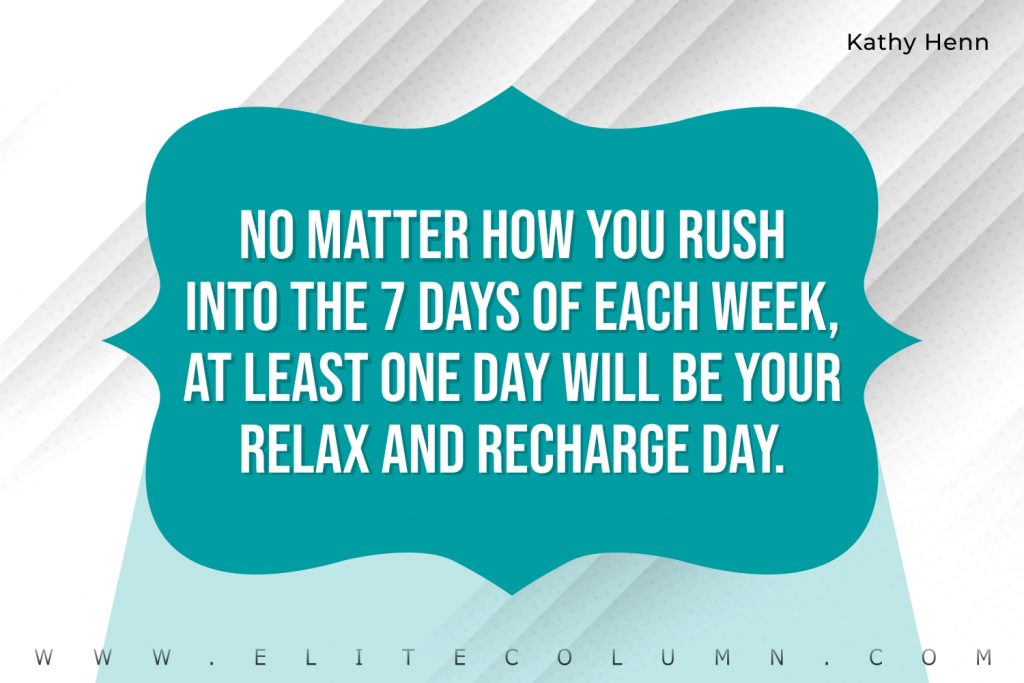 10. "I try to not work too many Sundays. At least on Sunday nights, I try to chill out a little bit. I call it Sunday Funday." – Miley Cyrus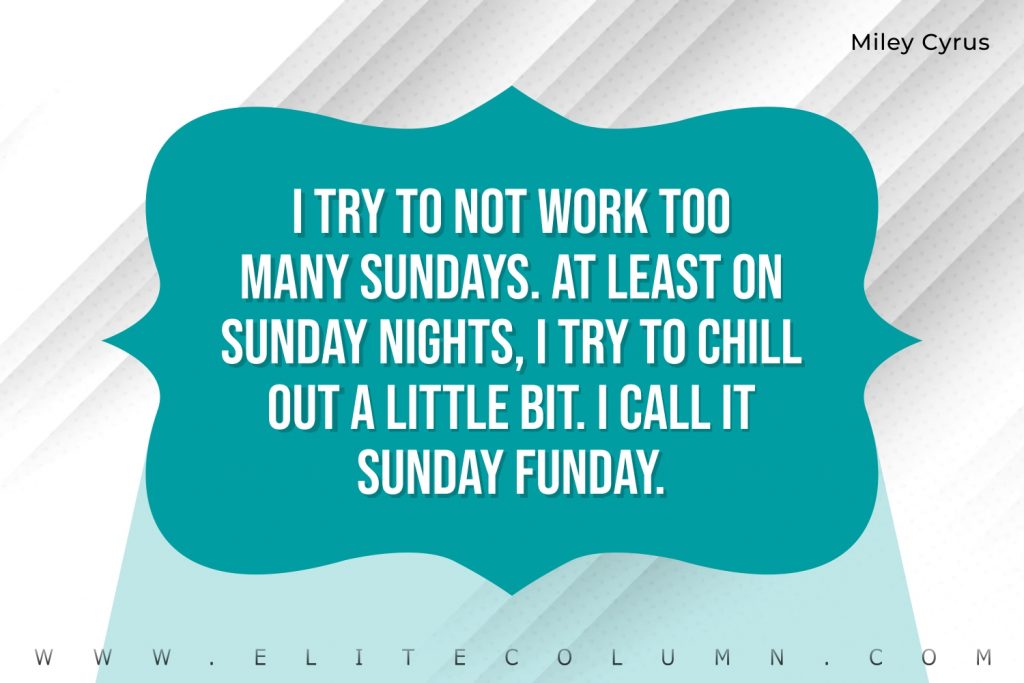 11. "You will repeatedly feel like giving up on your goal. Do not ever give up." – Avinash VS
12. "Sunday, a day of rest declared by God for our benefit; appreciate the day and rest." – Byron Pulsifer
13. "May your Sunday be full of sun and laughter." – Kate Summers

14. "When sunlight meets rain, rainbows are born in love with the world. Happy wet Sunday." – Anthony T. Hincks
15. "Time flows in a strange way on Sundays." – Haruki Murakami
16. "Sunday's silence can only mean one thing. Monday's here!" – Anthony T. Hincks
17. "The goal of Sunday is to leave my home as little as possible." – Mark Morris
18. "There is always something new to learn and feel each Sunday." – Bishop Gerald Causse
19. "Oh dear Sunday, I want to sleep in your arms and have fun day." – Santosh Kalwar
20. "So that Sunday morning I ended up going to church and that's when I got saved." – Russell Wilson

21. "God is not a Sunday plumber – he's always available…" – John Geddes
22. "Champagne makes you feel like it's Sunday and better days are just around the corner." – Marlene Dietrich
23. "It was a melancholy day indeed when the sister of solitude was Sunday's silver lining." – Alethea Kontis
24. "On Sunday morning, I'm not nervous… I can't wait to tell what God wants me to say." – Charles Stanley
25. "SUNDAY, The day… I planned a lot but actually do nothing." – Lovely Goyal
26. "Sunday is the golden clasp that binds together the volume of the week." – Henry Wadsworth Longfellow
27. "The city takes a breath on Sunday. Of all that's lost with the pursuit of what's next, I hope we don't lose that…" – Hawksley Workman
28. "Sunday is a day just for you. Spend it the way you want it." – Anthony T. Hincks
29. "There are many persons who look on Sunday as a sponge to wipe out the sins of the week." – Henry Ward Beecher
30. "Sunday is the only day you have to push like a handcart,' Thomas wrote in The Book Of Everything. ' The other days roll down the bridge by themselves." – Guus Kuijer
31. "Sunday was always the best of days for being the self you had intended to be, but were not, for one reason or another." – Jesse Ball
32. "Although I understand that all days are equal with 24 hours each, most of us agree that Friday is the longest day of the week and Sunday the shortest!" – D.S. Mixell
33. "Do not let Sunday be taken from you. If your soul has no Sunday, it becomes an orphan." – Albert Schweitzer
34. "Sunday is God's day, and he was committed to honoring it. Just because he was in Paris to compete in the Olympics didn't justify changing his lifelong commitment." – Craig Groeschel
35. "Sunday is a time when you sit back and reflect on all the blessings that you have received. Smile at all the good things that you are enjoying." – Sera Train

36. "Sunday is a day to clear the mind of all that has transpired the week before." – Byron Pulsifer
37. "Observe the Lord's Day as he would have you, and perhaps He will observe your days as you would have Him." – Richelle E. Goodrich
38. "Well, there's nothing better than putting your feet up on a Sunday afternoon and grabbing a good book." – Chris Klein
39. "Sunday is a wonderful day to spend in the circle of your family and friends, make impressions for the whole week today." – Anonymous
40. "Without Sunday as my day of rest, my honey-do-list would beckon me." – Byron Pulsifer
41. "After a week of the contained chaos that is my job, I need some solitary running time. On Sundays, I can unwind and reconnect with the natural world." – Linda Jones
42. "You cannot have the beginnings of a productive week without a Sunday spent in the calmness of the day." – Byron Pulsifer
43. "Sundays are like confetti floating in the air in slow motion, in the evening they reach the ground and you hope a bit of wind could blow on them so they could fly a bit longer." – Alain Bremond
44. "Sunday! A family day with a touch of weekend thrown in for good measure." – Anthony T. Hincks
45. "Sunday is a day of reflection. A day in which we think of the week past, and of the week ahead. Have a happy Sunday." – Anthony T. Hincks
46. "The feeling of Sunday is the same everywhere, heavy, melancholy, standing still." – Jean Rhys

47. "Sunday clears away the rust of the whole week." – Joseph Addison
48. "Sunday owes its existence to the other days in the week." – Anthony T. Hincks
49. "People can be great competitors on Sunday and mates on Monday." – Casey Stoner
50. "Stuttering is painful. In Sunday school, I'd try to read my lessons, and the children behind me were falling on the floor with laughter." – James Earl Jones
Thanks for checking out the best Sunday Quotes. Feel free to share the quotes with your friends. Leave a comment below and which are your favourite Sunday Quotes ?
See also:
Couple Quotes | Fake Friends Quotes |Cuddle Quotes |Monday Quotes |Tuesday Quotes |Wednesday Quotes |Thursday Quotes |Friday Quotes |Saturday Quotes
You can find us at – Facebook | Instagram | LinkedIn | Pinterest | Twitter