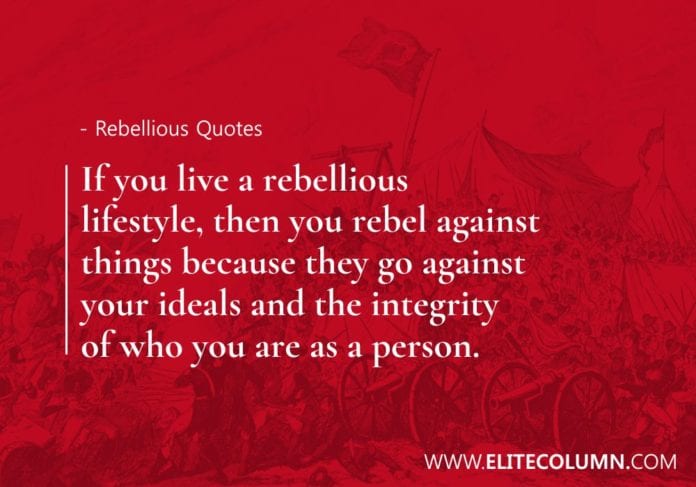 Dictionary defines 'rebellious' as 'showcasing a desire to resist authority, control or convention'. It is a refusal of obedience or order by an individual, a group or an organization. It is a protest against the authority that disturbs the peace of our society and violates the rights rather than serving good. It is accompanied by a range of behaviours from disobedience to violent attempts to destroy an established authority. There are negative sides of a rebel which is more threatening to the society than the cause. Rebellious Quotes will help you face the world fearless. EliteColumn presents some of the famous rebellious quotes to provoke the inner beast in you.
26 Best Rebellious Quotes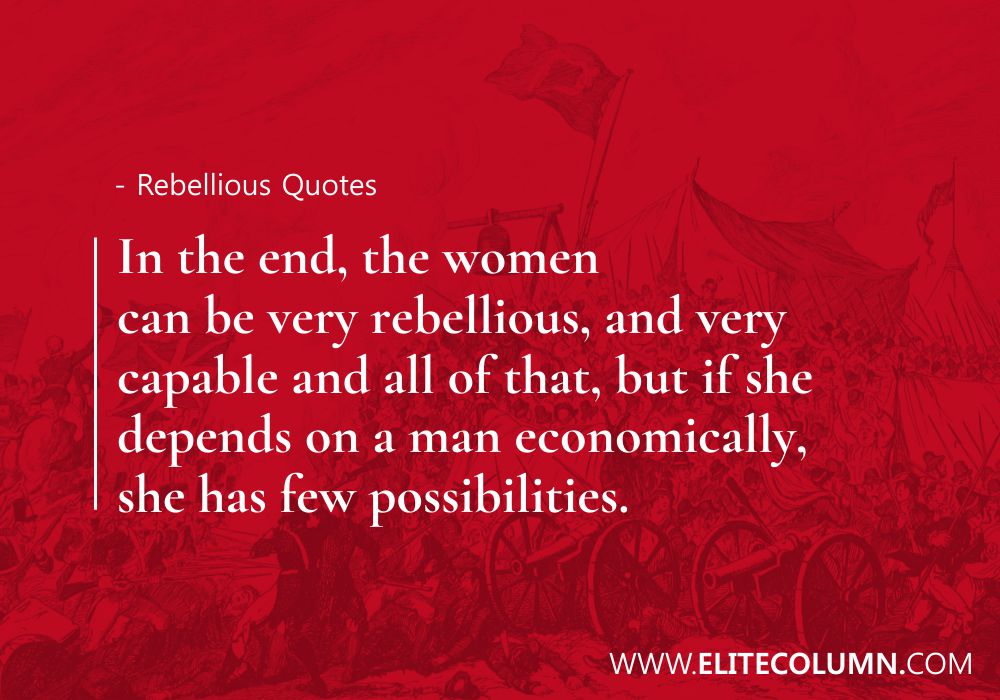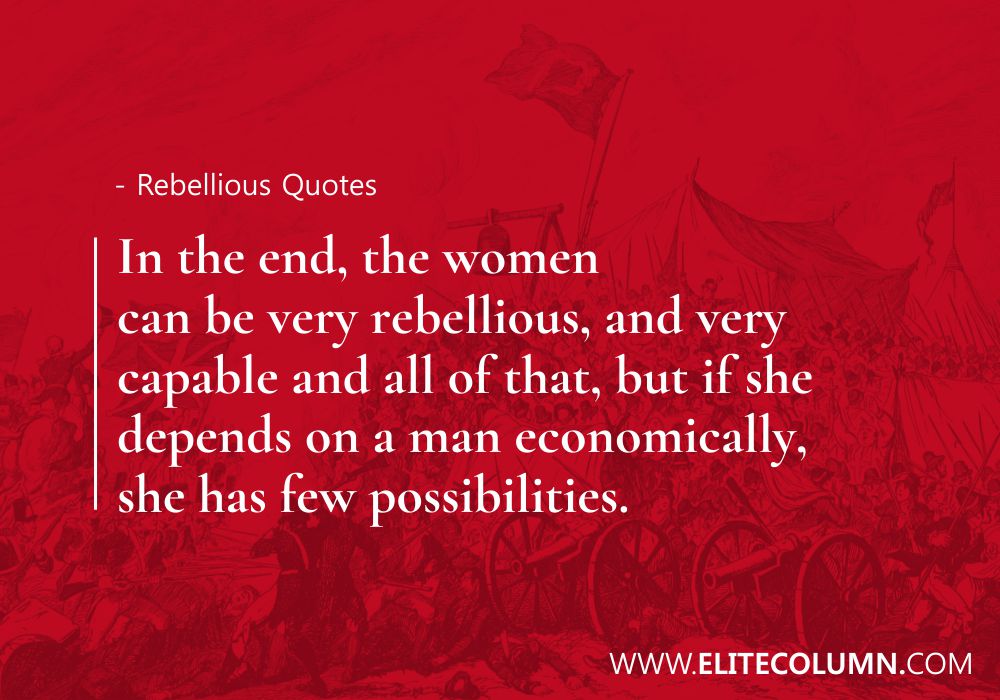 "In the end, the women can be very rebellious, and very capable and all of that, but if she depends on a man economically, she has few possibilities."
2. "It's kind of rebellious to be yourself," – Kate Moss
3. "Love is rebellious bird that nobody can tame, and it's all in vain to call it if it chooses to refuse." – Georges Bizet
4. "I have always been very rebellious and gone against the grain. I've always challenged the standards set before me." – Amber Heard
5. "I wasn't rebellious. Maybe I was just more human than the average person." – Katie Kacvinsky
6. "The questioning spirit is the rebellious spirit. A rebellion is always either a cloak to hide a prince, or the swaddling wrapper of a new rule." – Honore De Balzac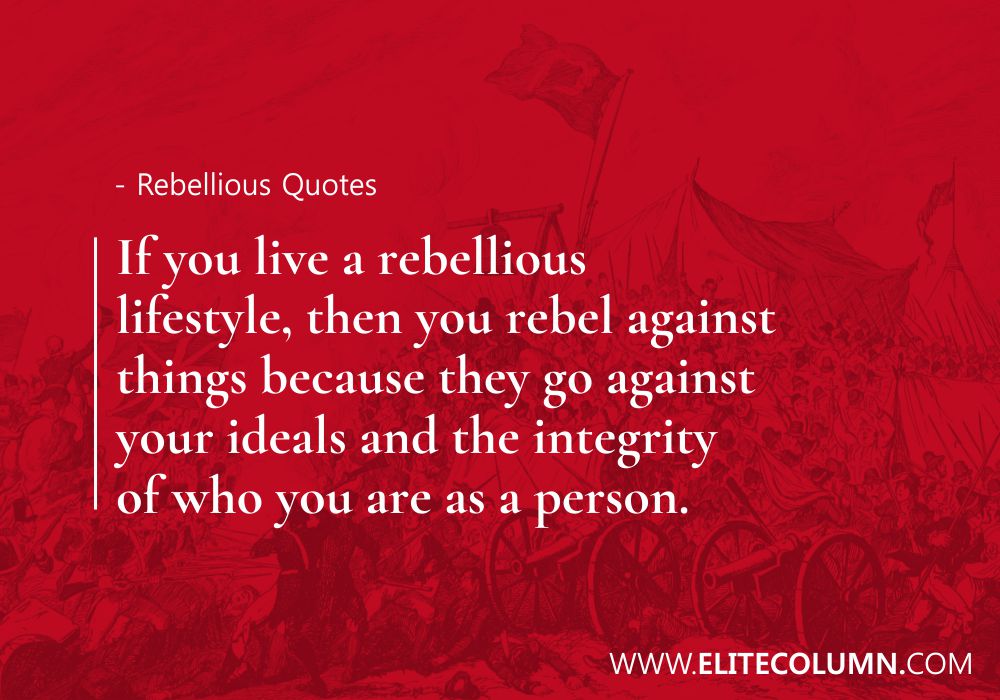 7. "If you live a rebellious lifestyle, then you rebel against things because they go against your ideals and the integrity of who you are as a person."
8. "When I read a daring book or listen to rebellious music, I feel like I've found what freedom really means." – Carla H. Krueger
9. "Time and oppression are the fathers of rebellious invention." – Philip G. Zimbardo
10. "Why are the people rebellious? Because the rulers interfere too much. Therefore they are rebellious." – Laozi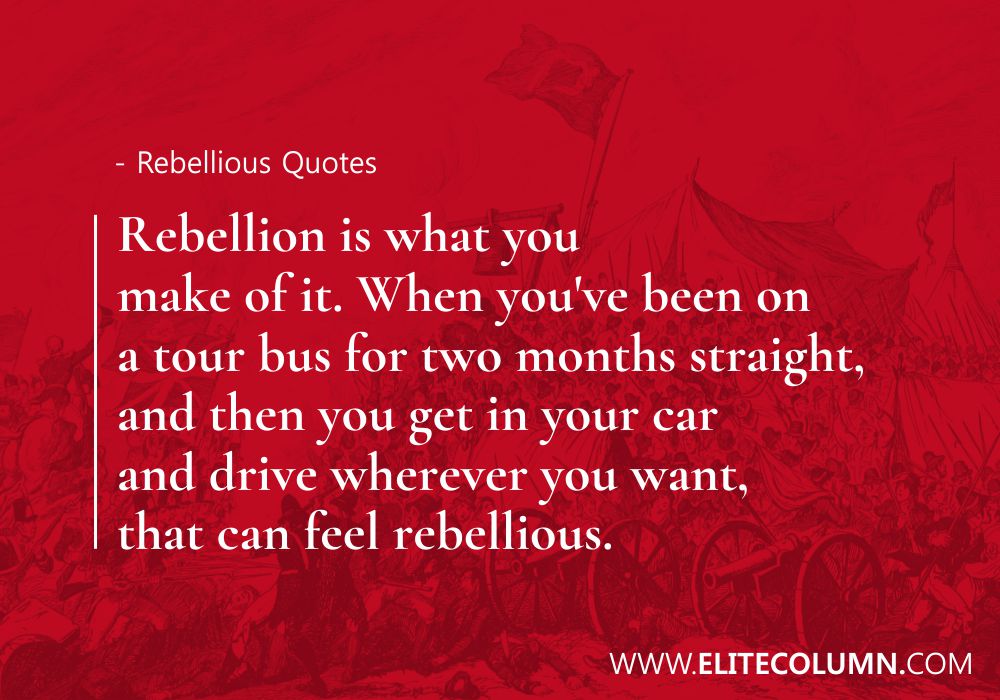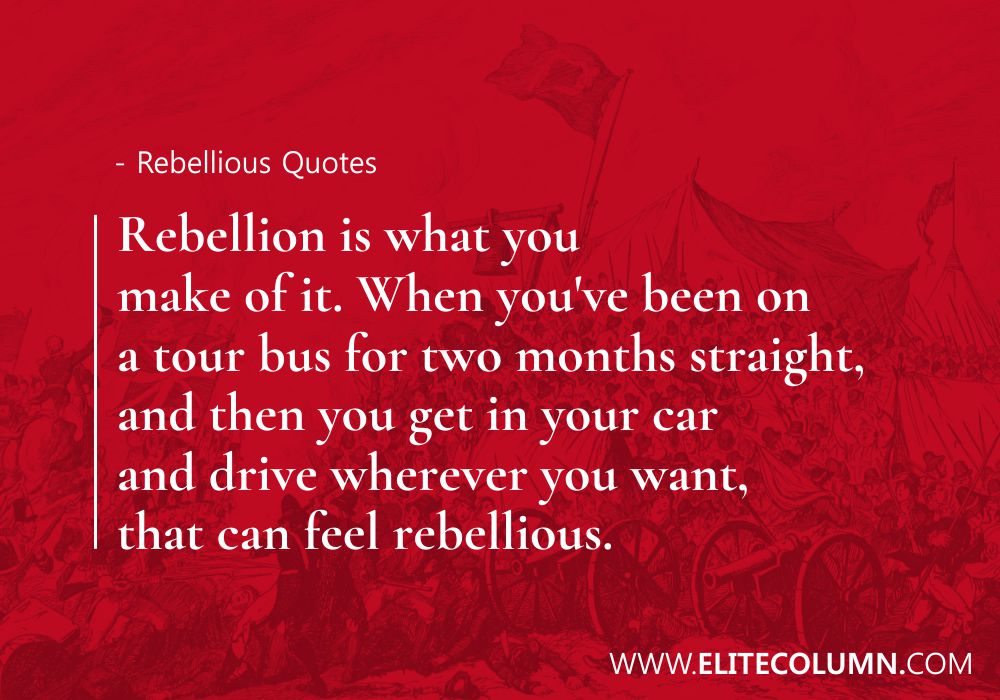 11. "Rebellion is what you make of it. When you've been on a tour bus for two months straight, and then you get in your car and drive wherever you want, that can feel rebellious."
12. "They were rebellious through their artistic expression and their uplifting spirits." – Evan Meekins
13. "My energy comes from freedom and a rebellious spirit." – Rei Kawakubo
14. "What a rebellious act it is to love yourself naturally in a world of fake appearances." – Nikki Rowe
See also:
Karma Quotes | Plato Quotes | Sun Tzu Quotes | Dalai Lama Quotes | Sadhguru Quotes | Confucius Quotes | Lao Tzu Quotes | Positive Quotes | Happiness Quotes | Inspirational Quotes | Life Quotes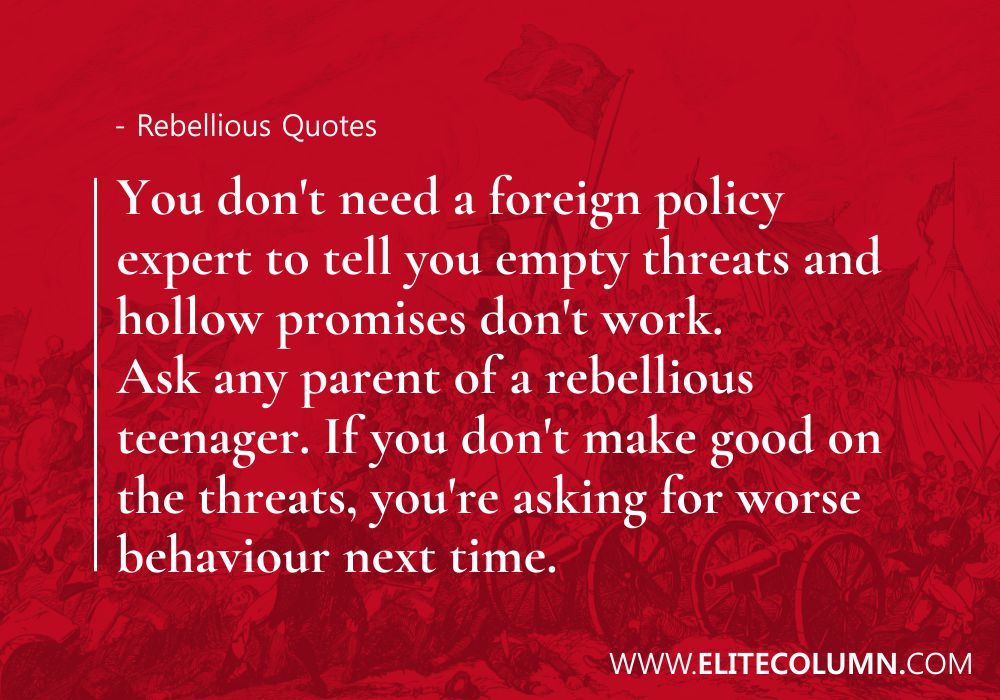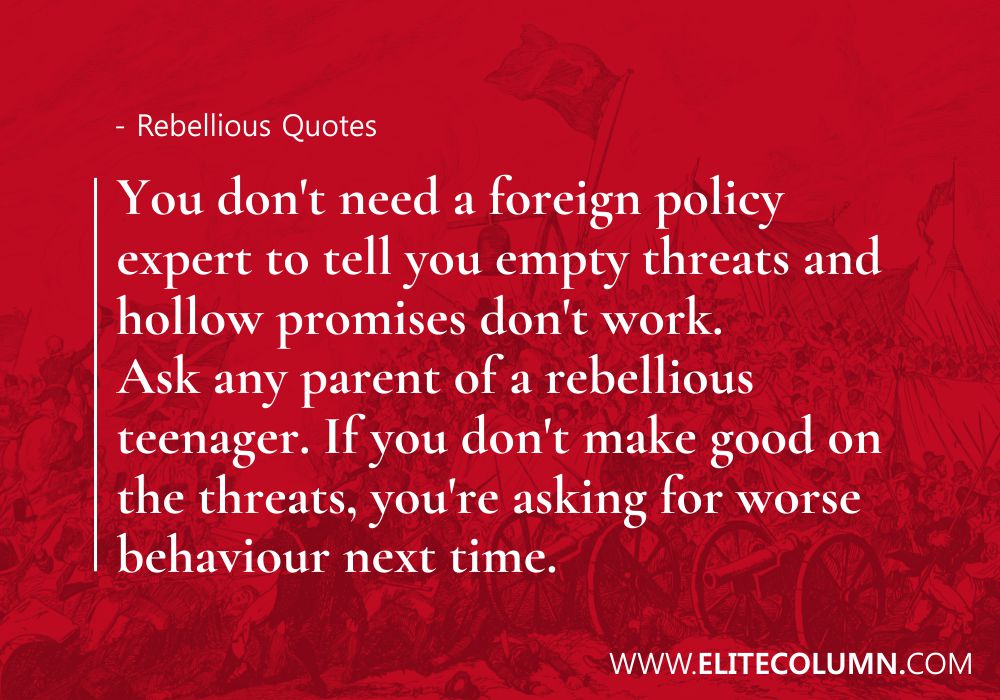 15. "You don't need a foreign policy expert to tell you empty threats and hollow promises don't work. Ask any parent of a rebellious teenager. If you don't make good on the threats, you're asking for worse behaviour next time."
16. "I am extremely rebellious. I have this strong, defiant spirit." – Yoko Ono
17. "Love is a rebellious bird that nobody can tame." – Veronica Rossi
18. "I was becoming a product of society, a hardened juvenile! Now I was becoming rebellious and hateful." – Stephen Richards
19. "The truth is, going against the internal stream of ignorance is way more rebellious than trying to start some sort of cultural revolution." – Noah Levine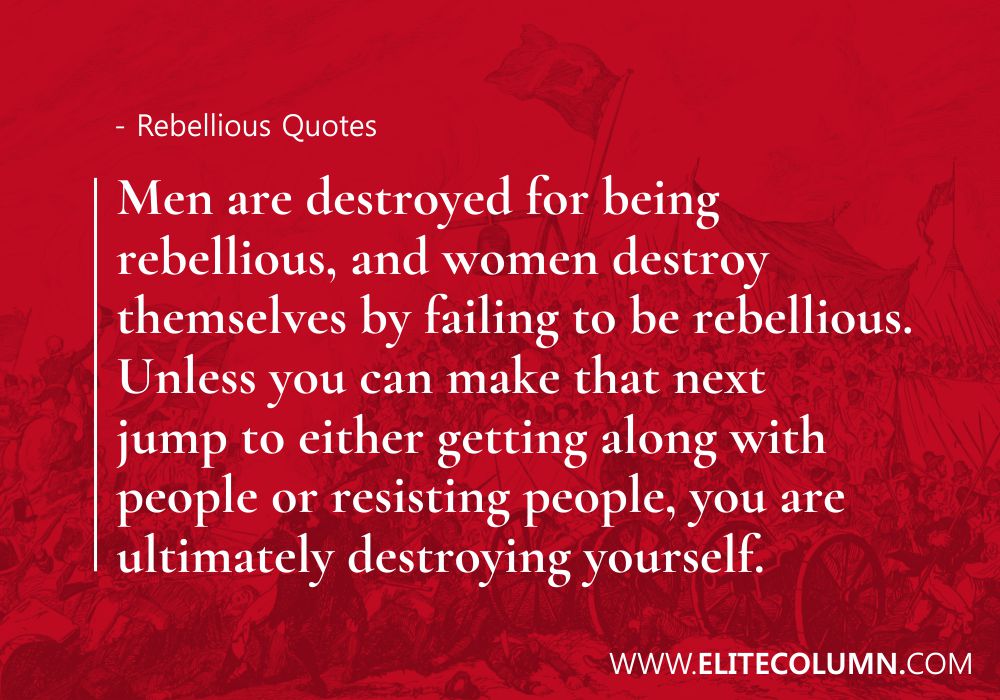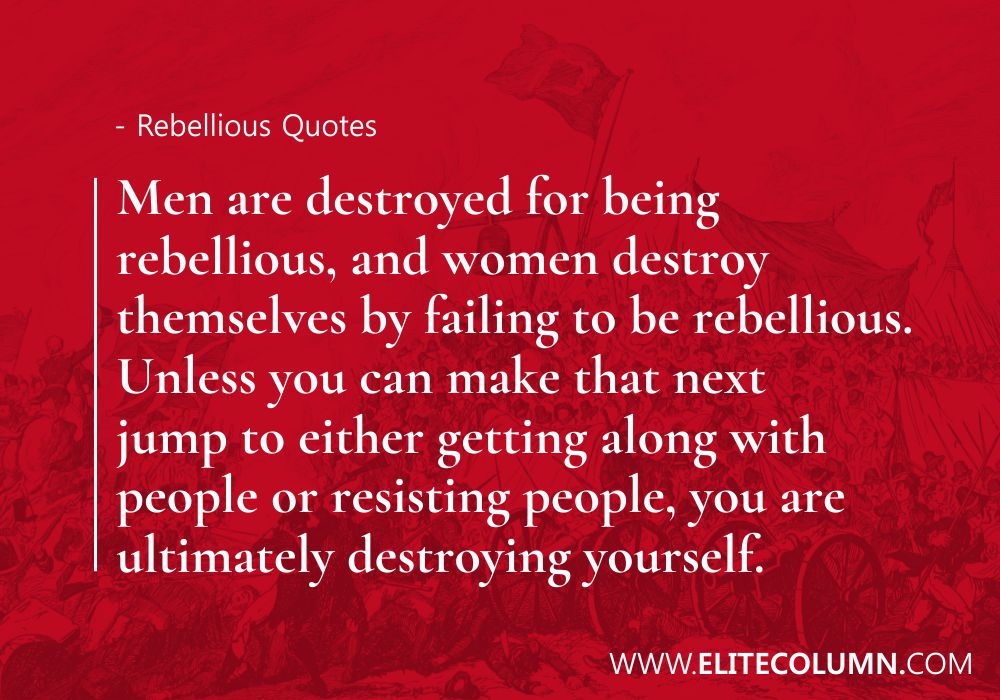 20. "Men are destroyed for being rebellious, and women destroy themselves by failing to be rebellious. Unless you can make that next jump to either getting along with people or resisting people, you are ultimately destroying yourself."
21. "Only true rebelliousness can change the world for the better. Be rebellious." – Debasish Mridha
22. "Love is a rebellious birf that nobody can tame." – Veronica Rossi
23. "One of the most rebellious things a woman can do is allow people to think she's mean." – Joan Rivers
24. "It's something rebellious about picking up and leaving buying a one way ticket and not knowing when you want to return." – Turcois Ominek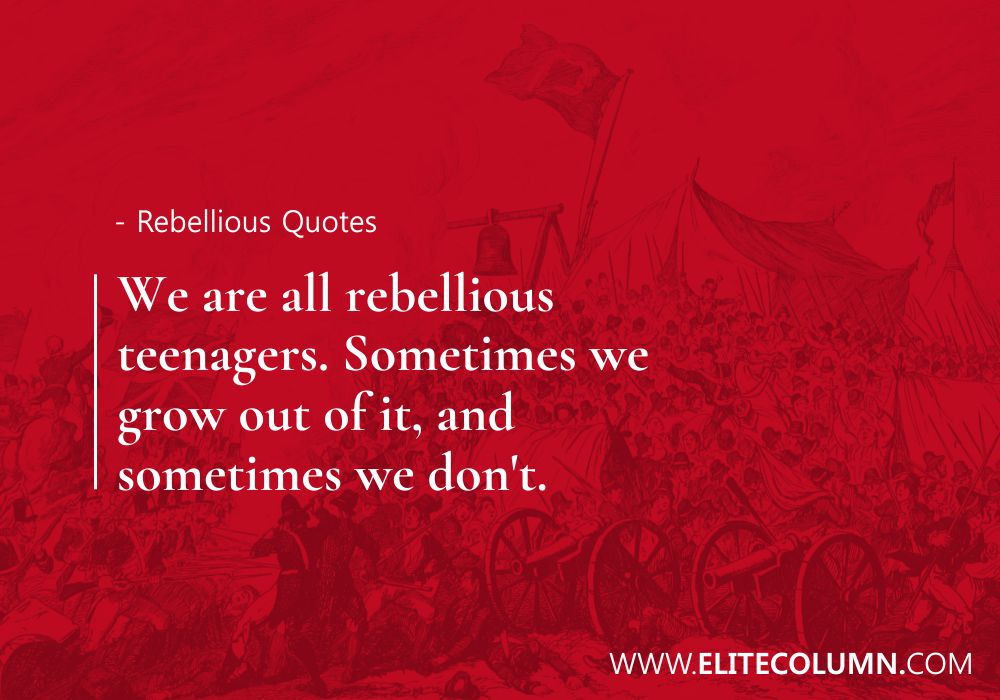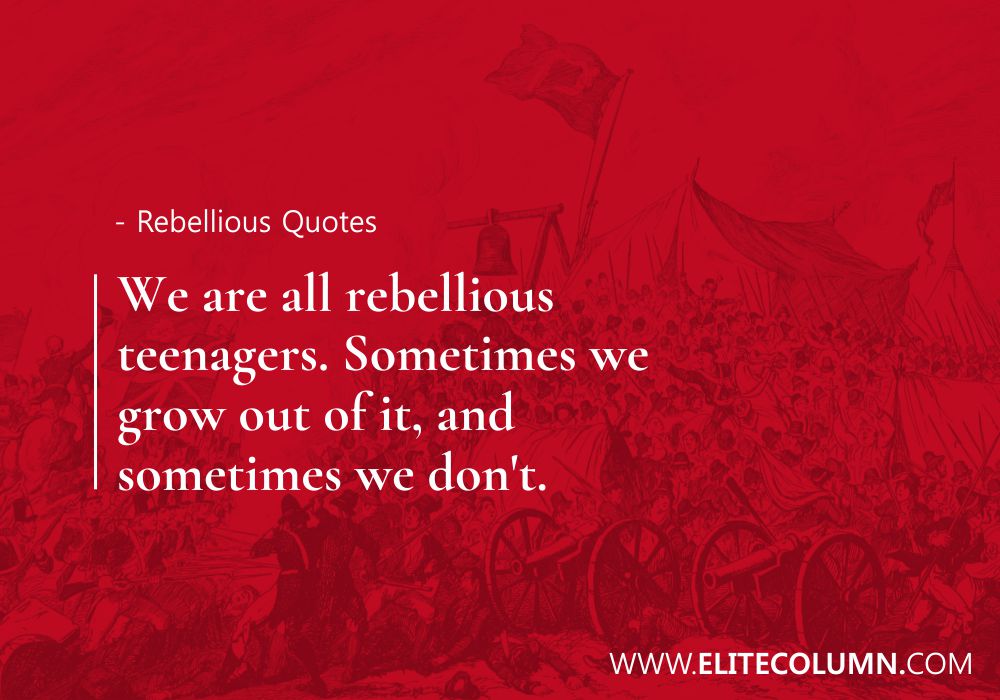 25. "We are all rebellious teenagers. Sometimes we grow out of it, and sometimes we don't."
26. "I'm not rebellious, but I am very strong-willed. I know what I believe in, and I know what I think is right." – Alli Simpson
Thanks for checking out the best Rebellious quotes. Feel free to share the quotes with your friends. Leave a comment below and which are your favorite Rebellious quotes ?
See also:
Smile Quotes | Relationship Quotes | Woman Quotes | Heartbreak Quotes | Growing Up Quotes | Intimacy Quotes | Music Quotes
You can find us at – Facebook | Instagram | LinkedIn | Pinterest | Twitter