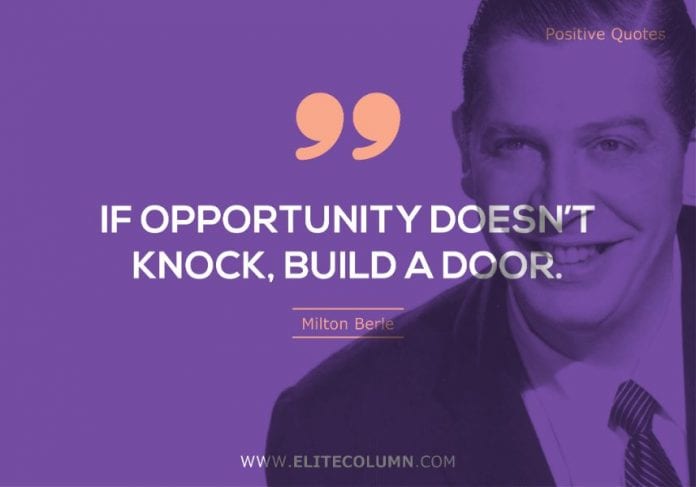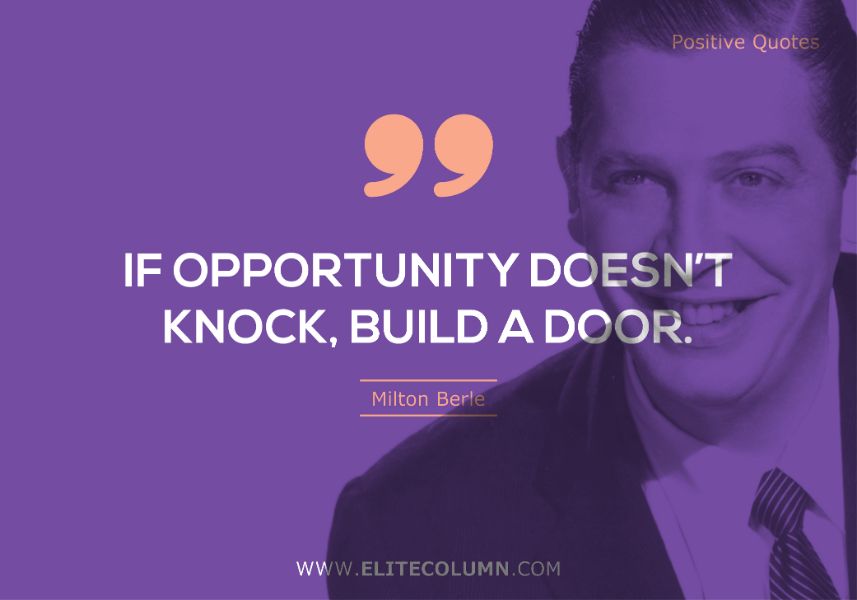 Positive thinking is an optimistic state of mind. It helps to see the bright side of life and brings more harmony, happiness, improves relationships, and attracts success into your life. It is a mental and emotional attitude of expecting good and favourable results, and not getting discouraged when plans do not proceed as expected. EliteColumn brings you hand-picked positive quotes and below depicted best positive quotes will help you set a positive mindset in your life.
72 Best Positive Quotes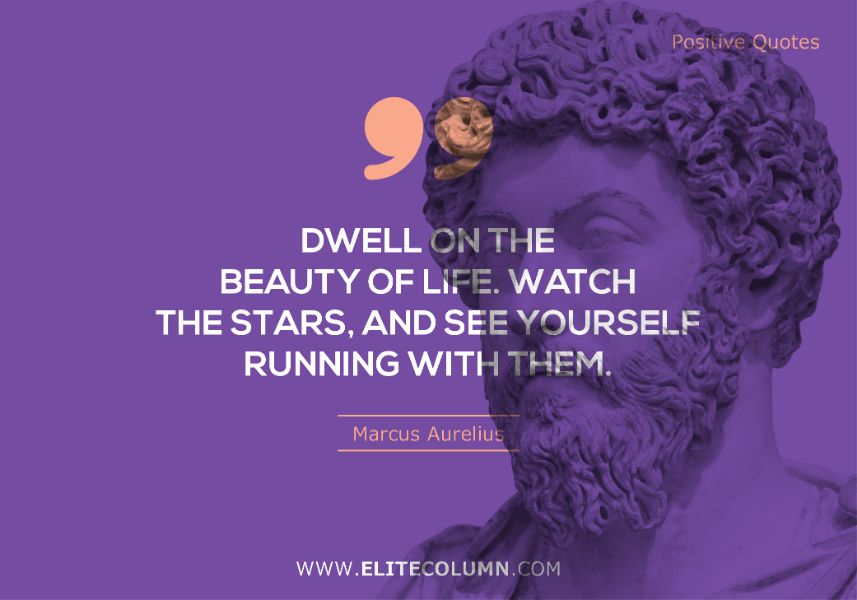 "Dwell on the beauty of life. Watch the stars, and see yourself running with them." – Marcus Aurelius
2. "Nothing will work unless you do."- Maya Angelou
3. "Don't make excuses, don't blame the past. The rest of your life can be the best of your life." – Joel Osteen
4. "If there is no struggle, there is no progress." – Frederick Douglass
5. "You must be the change you wish to see in the world" – Mahatma Gandhi
6. "Be like a tree. Let the dead leaves drop" – Rumi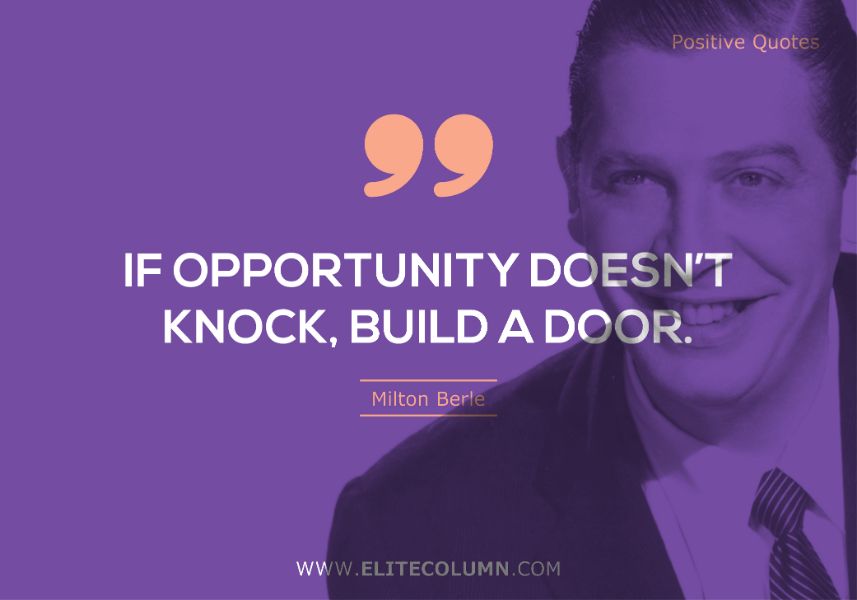 7. "If opportunity doesn't knock, build a door." – Milton Berle
8. "Success is getting what you want. Happiness is wanting what you get."- Dale Carnegie
9. "Successful people are simply those with successful habits." – Brian Tracy
10. "Success is the sum of small efforts repeated day in and day out." – Robert Collier
11. "It is our attitude at the beginning of a difficult task which, more than anything else, will affect its successful outcome." – William James
12. "A year from now you may wish you had started today." – Karen Lamb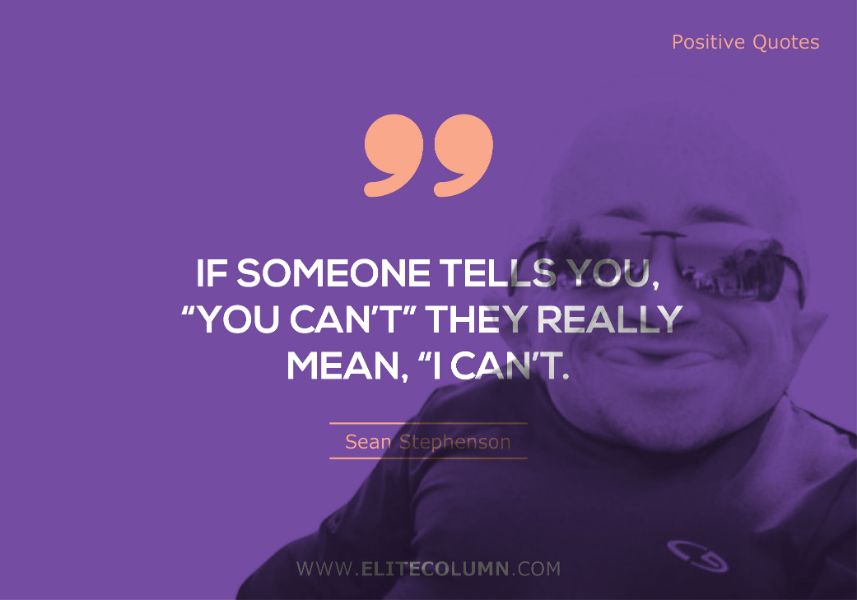 13. "If someone tells you, "You can't" they really mean, "I can't." – Sean Stephenson
14. "Don't mistake activity with achievement." – John Wooden
15. "Creativity is allowing yourself to make mistakes. Art is knowing which ones to keep." – Scott Adams
16. "There are two mistakes one can make along the road to truth… not going all the way, and not starting." – Buddha
17. "Don't worry about failures, worry about the chances you miss when you don't even try ." – Jack Canfield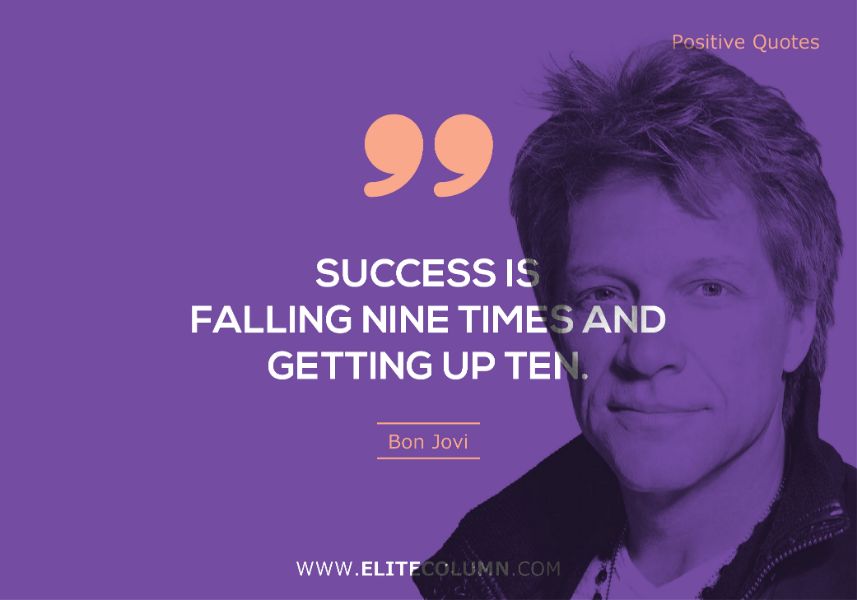 18. "Success is falling nine times and getting up ten." – Bon Jovi
19. "There are two ways to get enough. One is to continue to accumulate more and more. The other is to desire less." – G.K. Chesterton
20. "Choose people who lift you up." – Michelle Obama
21. "You cannot soar with the eagles as long as you hang out with the turkeys." – Joel Osteen
22. "You are your choices." – Lucius Annaeus Seneca
23. "There is no right time, there is only right now." – Mel Robbins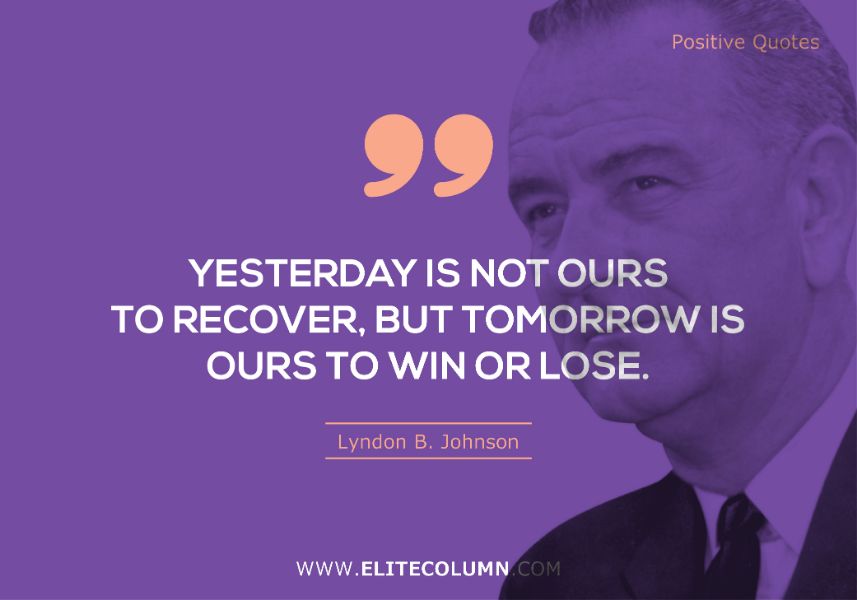 24. "Yesterday is not ours to recover, but tomorrow is ours to win or lose." – Lyndon B. Johnson
25. "Knowing what you need to do to improve your life takes wisdom. Pushing yourself to do it takes courage." – Mel Robbins
26. "Nobody can go back and start a new beginning, but anyone can start today and make a new ending." – Maria Robinson
27. "Even the strongest blizzards start with a single snowflake." – Sara Raasch
28. "An obstacle is often a stepping stone." – William Prescott
29. "Keep your face to the sunshine and you cannot see a shadow."- Helen Keller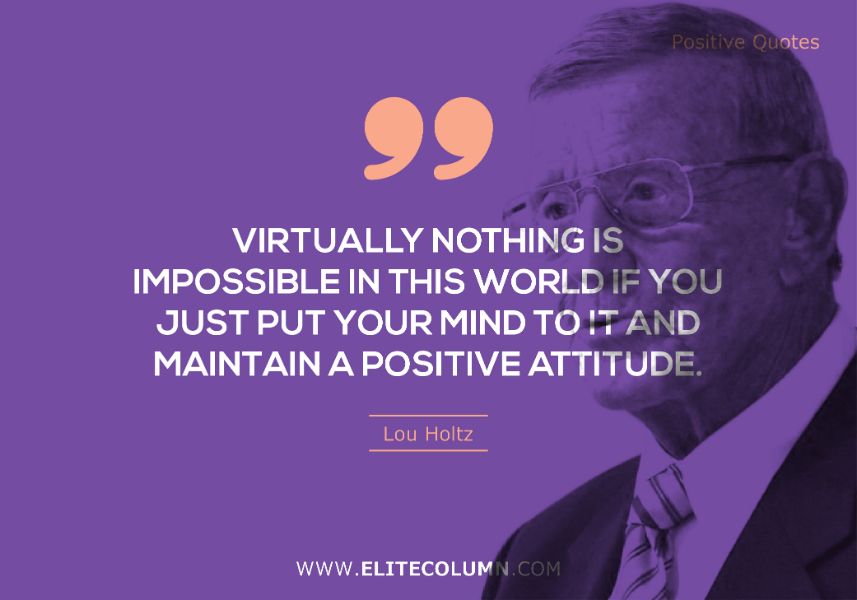 30. "Virtually nothing is impossible in this world if you just put your mind to it and maintain a positive attitude." – Lou Holtz
31. "The distance is nothing; it's only the first step that is difficult." – Marquise du Deffand
32. "Logic gets you from A to B, imagination gets you anywhere." – Albert Einstein
33. "Only a mediocre person is always at his best." – W. Somerset Maugham
34. "Simplify. Remove steps. Remove options. Remove instructions. Remove clutter." – Gabor Cselle
35. "Those that can, do. Those that can't, complain." – Linus Torvalds
See also:
Heartbreak Quotes | Growing Up Quotes | Intimacy Quotes | Music Quotes | Rebellious Quotes | Smile Quotes | Relationship Quotes | Woman Quotes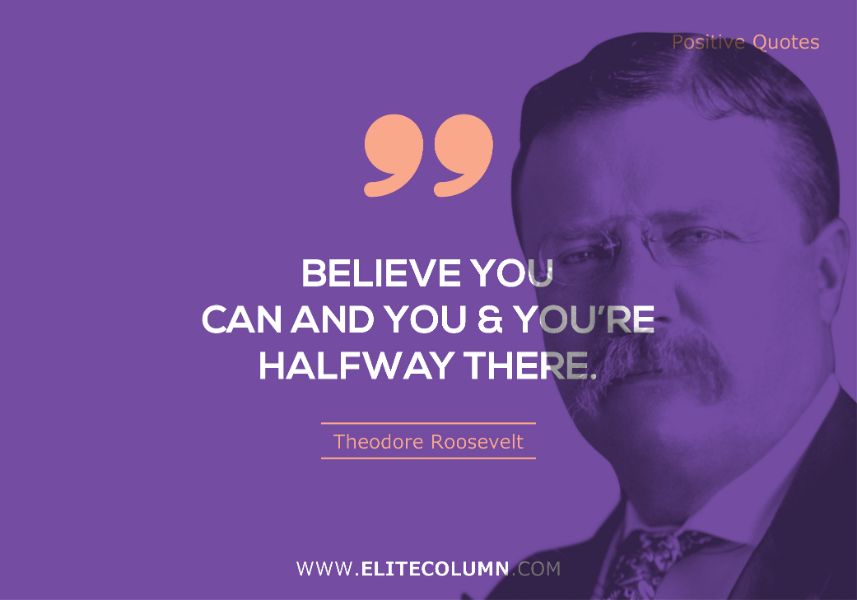 36. "Believe you can and you're halfway there." – Theodore Roosevelt
37. "Hang in there. Hang in there. Your time will come." – Avinash VS
38. "In the depth of winter, I finally learned that within me there lay an invincible summer."- Albert Camus
39. "We delight in the beauty of the butterfly, but rarely admit the changes it has gone through to achieve that beauty." – Maya Angelou
40. "Experience is what you get when you don't get what you want." – Dan Stanford
41. "Even the greatest was once a beginner. Don't be afraid to take that first step."- Muhammad Ali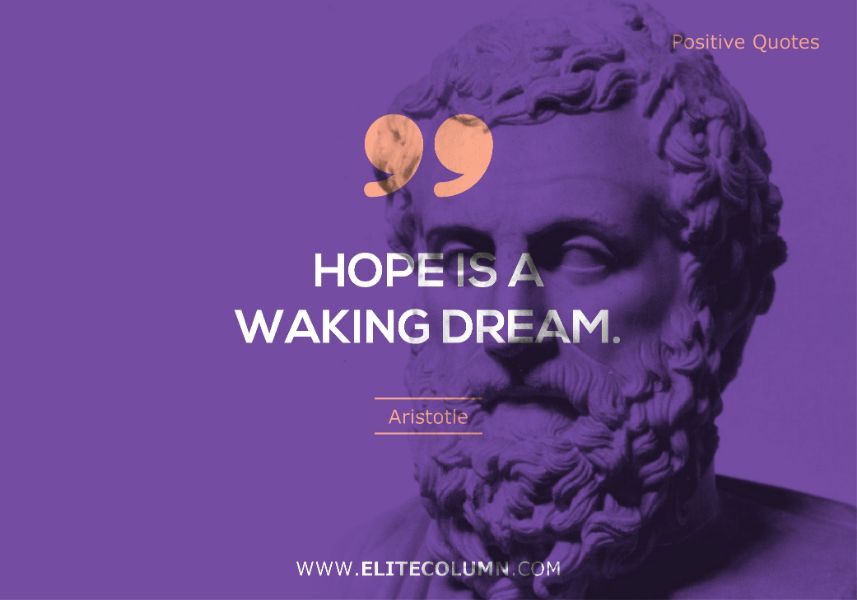 42. "Hope is a waking dream." – Aristotle
43. "Do what you can with all you have, wherever you are." – Theodore Roosevelt
44. "Anyone can do something when they WANT to do it. Really successful people do things when they don't want to do it." – Dr. Phil
45. "Persevere and get it done." – George Allen Sr
46. "The most important things in life aren't things." – Anthony J. D'Angelo
47. "A place for everything, everything in its place." – Benjamin Franklin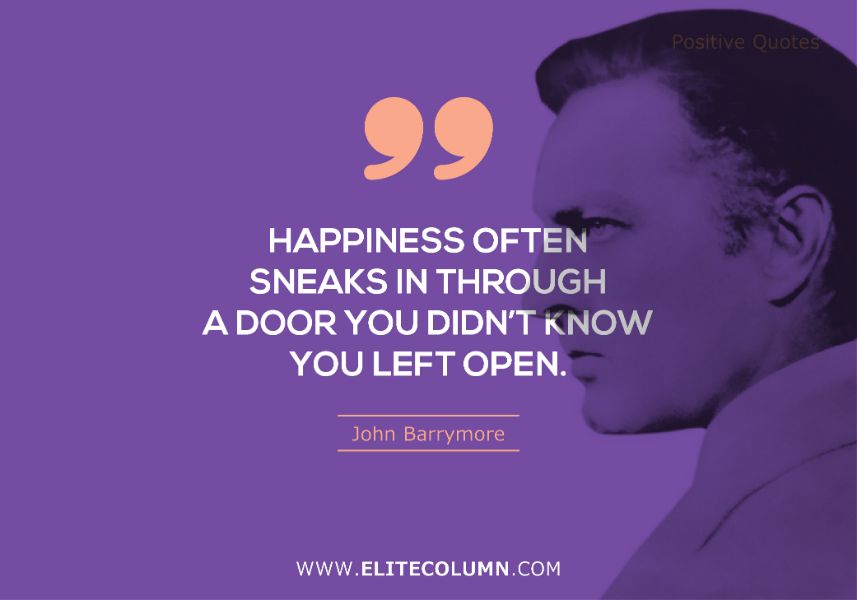 48. "Happiness often sneaks in through a door you didn't know you left open." – John Barrymore
49. "Think big when you set your goals. Dare to think big and then set a series of smaller goals to get you there." – Les Brown
50. "Goals should never be easy, they should force you to work, even if they are uncomfortable at the time." – Michael Phelps
51. "If you want to be happy, set a goal that commands your thoughts, liberates your energy, and inspires your hopes." – Andrew Carnegie
52. "What you get by achieving your goals is not as important as what you become by achieving your goals." – Zig Ziglar
53. "Goals help you channel your energy into action." – Les Brown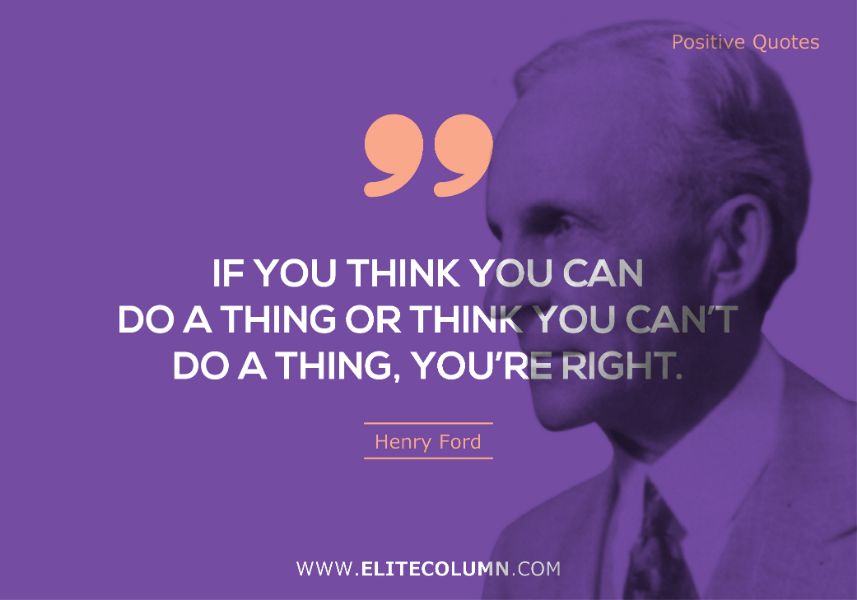 54. "If you think you can do a thing or think you can't do a thing, you're right." – Henry Ford
55. "Owning less is great, wanting less is better." – Joshua Becker
56. "Enjoy all you have while pursuing all you want." – Jim Rohn
57. "If I cannot do great things, I can do small things in a great way." – Martin Luther King Jr
58. "Every morning is a fresh start. Wake up with a thankful heart." – Kristen Butler
59. "We tend to get what we expect." – Norman Vincent Peale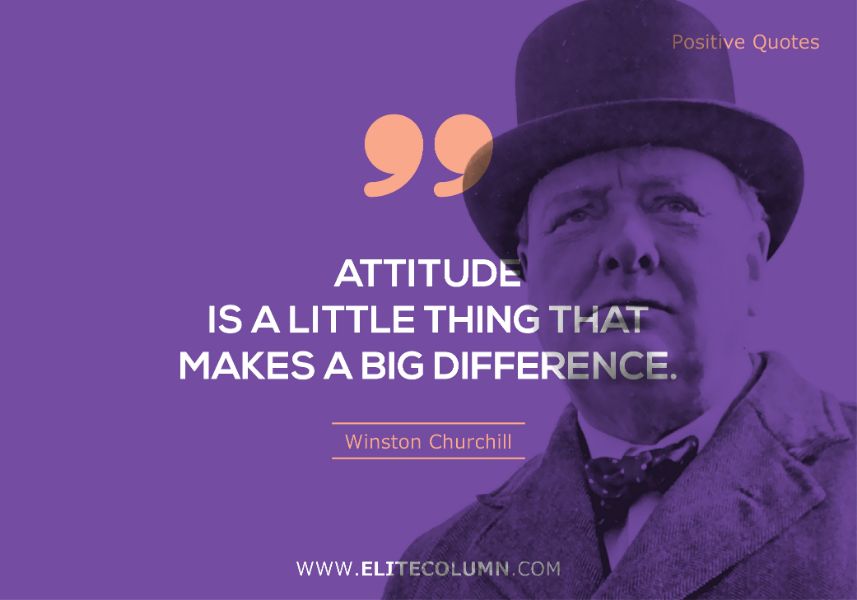 60. "Attitude is a little thing that makes a big difference." – Winston Churchill
61. "You are never too old to set another goal or dream a new dream." – C.S.Lewis
62. "Motivation is what gets you started. Habit is what keeps you going." – Jim Rohn
63. "To sit on an idea or fail to act on a goal is not really goal-setting, but wishful thinking." – Les Brown
64. "Start now. Start where you are. Start with fear. Start with pain. Start with doubt. Start with your hands shaking. Just start." – Mel Robbins
65. "Get a good idea and stay with it. Do it, and work at it until it's done right." – Walt Disney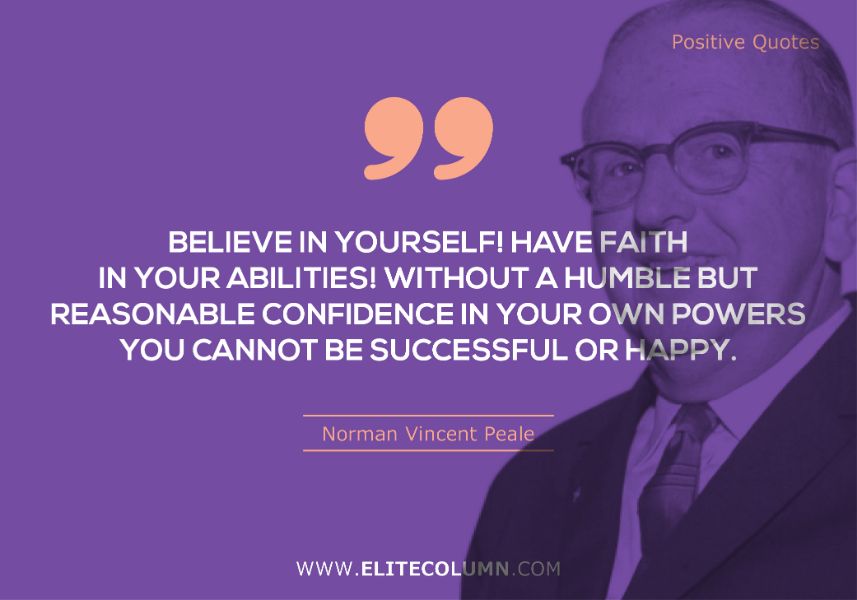 66. "Believe in yourself! Have faith in your abilities! Without a humble but reasonable confidence in your own powers you cannot be successful or happy." – Norman Vincent Peale
67. "It isn't what you do, but how you do it." – John Wooden
68. "Don't wait. The time will never be just right." – Napoleon Hill
69. "We are what we repeatedly do. Excellence, then, is not an act, but a habit." – Aristotle
70. "The difference between ordinary and extraordinary is that little extra." – Jimmy Johnson
71. "The way to get started is to quit talking and begin doing." – Walt Disney
72. "Done is better than perfect." – Sheryl Sandberg
Thanks for checking out the best Positive quotes. Feel free to share the quotes with your friends. Leave a comment below and which are your favorite Positive quotes ?
See also:
Happiness Quotes | Inspirational Quotes | Life Quotes | Karma Quotes | Plato Quotes | Sun Tzu Quotes | Dalai Lama Quotes | Sadhguru Quotes | Confucius Quotes | Lao Tzu Quotes
You can find us at – Facebook | Instagram | LinkedIn | Pinterest | Twitter