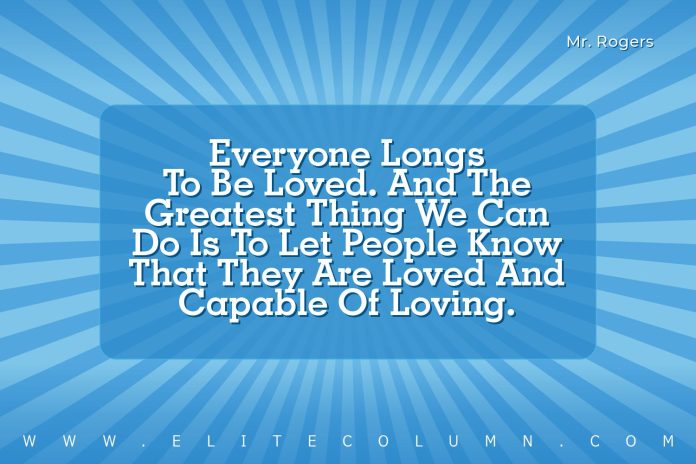 Check out 45 Mr. Rogers Quotes today.
45 Best Mr. Rogers Quotes
1. "The world needs a sense of worth, and it will achieve it only by its people feeling that they are worthwhile." – Mr. Rogers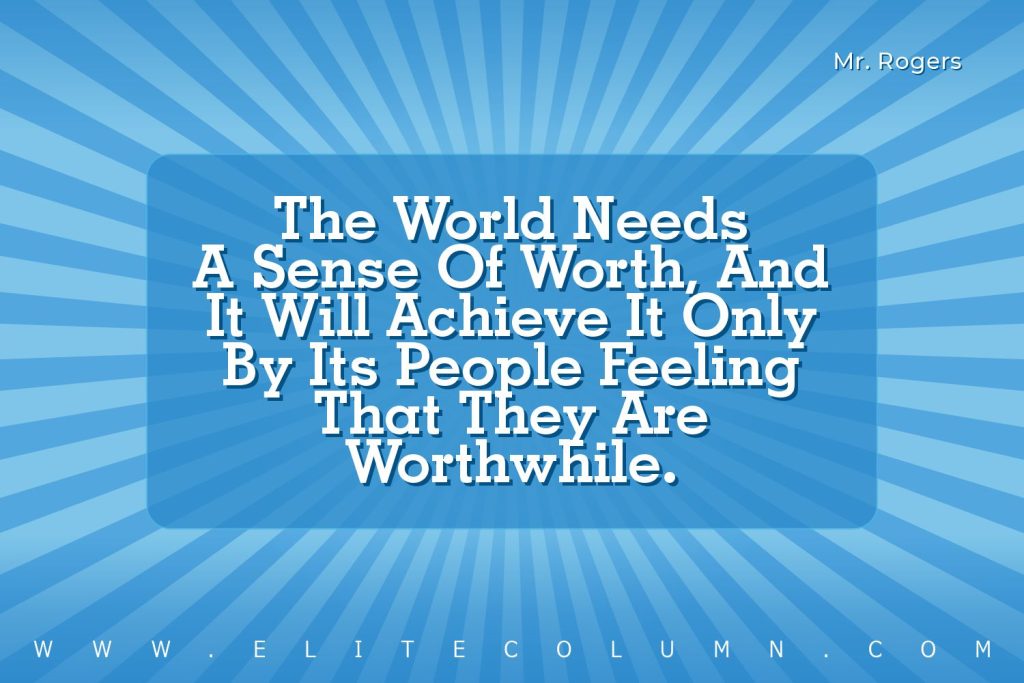 2. "There are three ways to ultimate success: The first way is to be kind. The second way is to be kind. The third way is to be kind." – Mr. Rogers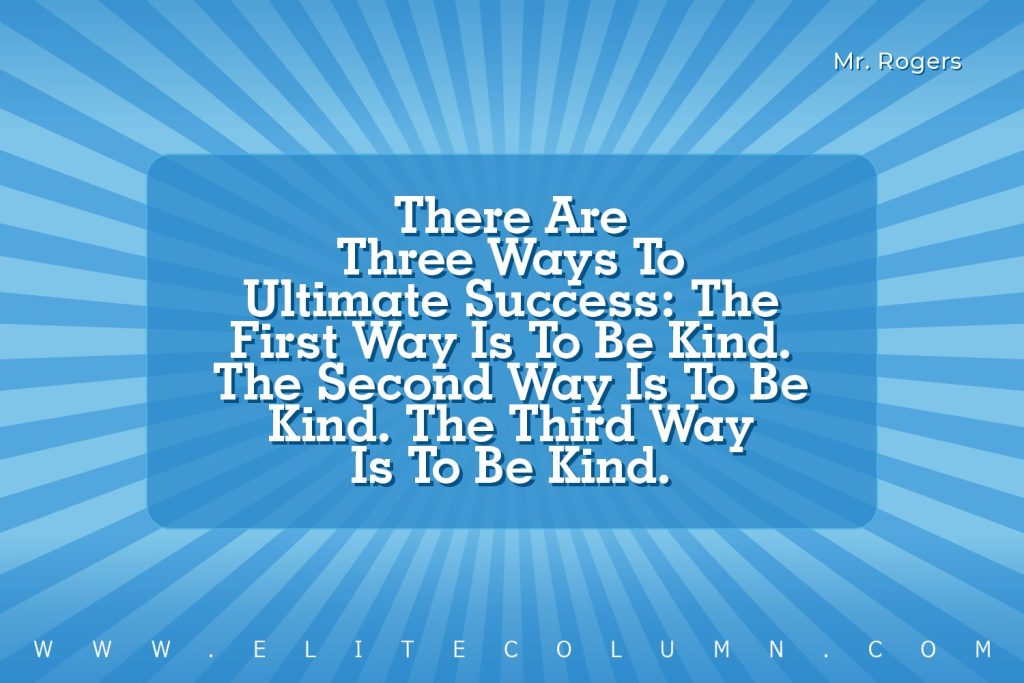 3. "How many times have you noticed that it's the little quiet moments in the midst of life that seem to give the rest extra-special meaning?" – Mr. Rogers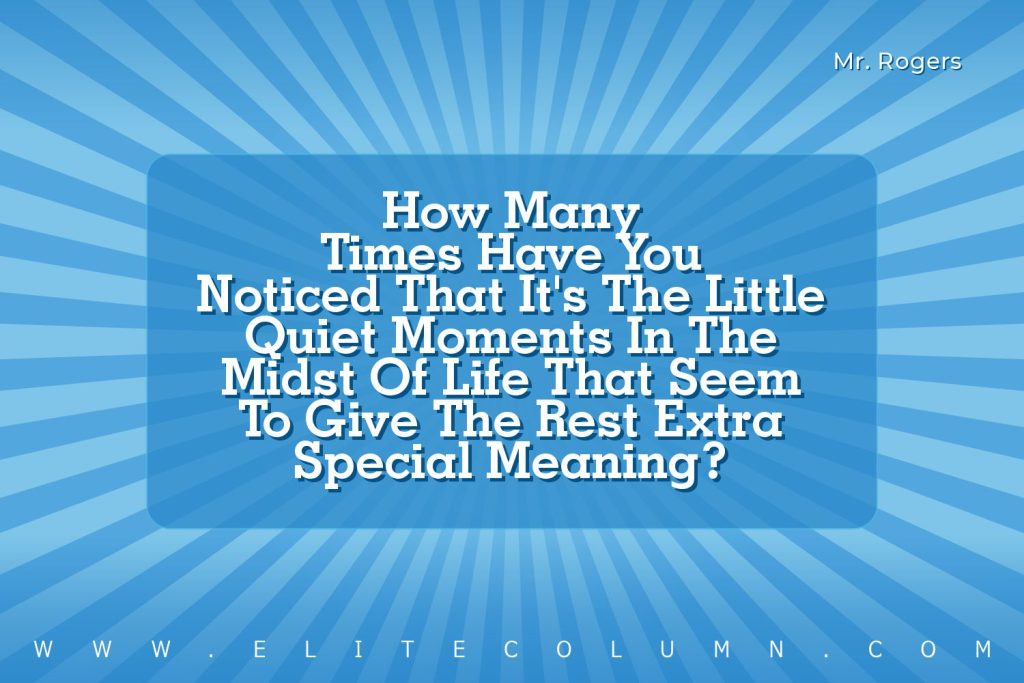 4. "I don't think anyone can grow unless he's loved exactly as he is now, appreciated for what he is rather than what he will be." – Mr. Rogers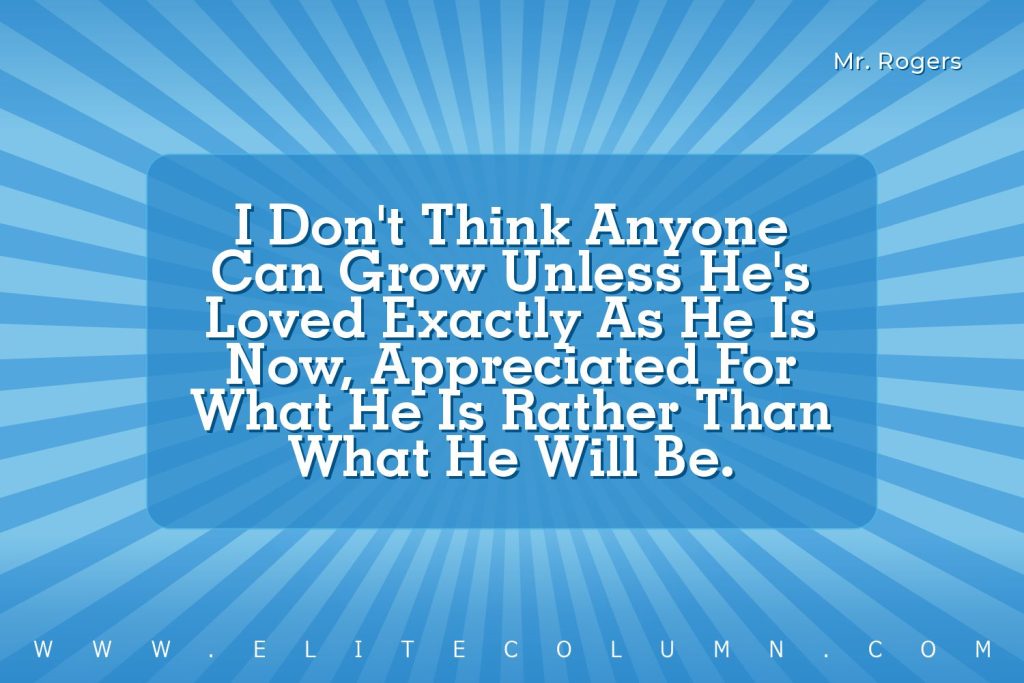 5. "I hope you're proud of yourself for the times you've said 'yes,' when all it meant was extra work for you and was seemingly helpful only to someone else." – Mr. Rogers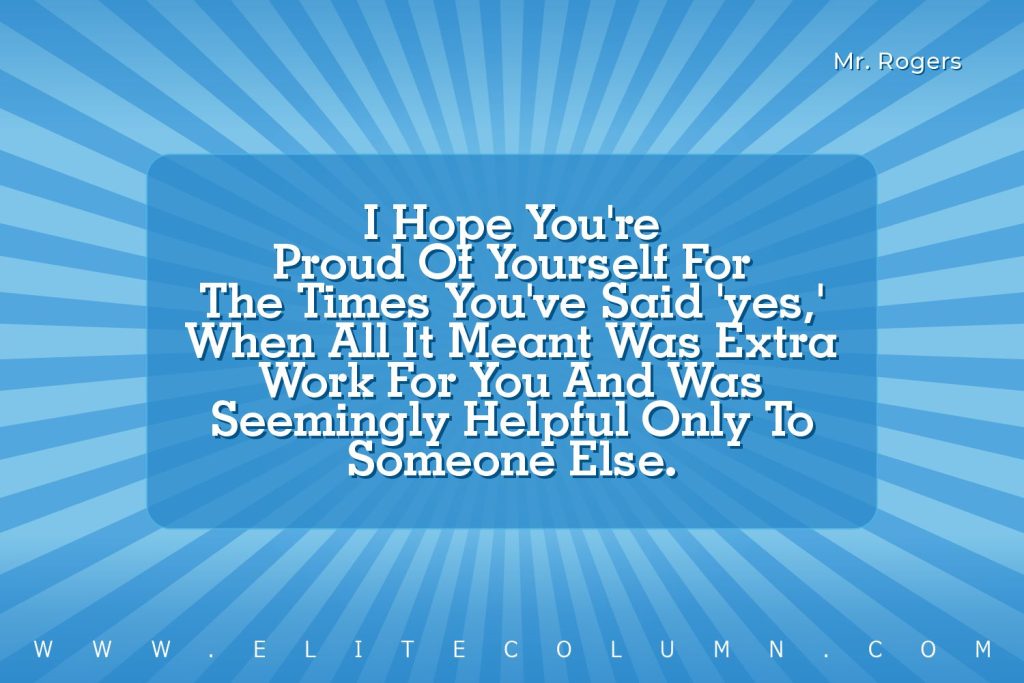 6. "I feel so strongly that deep and simple is far more essential than shallow and complex." – Mr. Rogers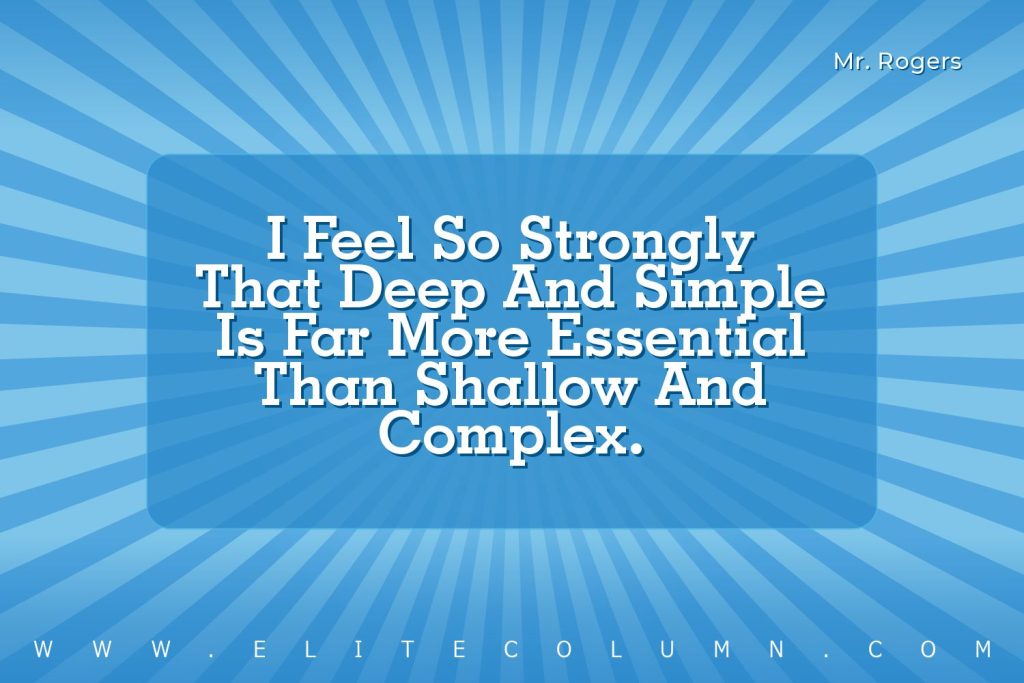 7. "We all have different gifts, so we all have different ways of saying to the world who we are." – Mr. Rogers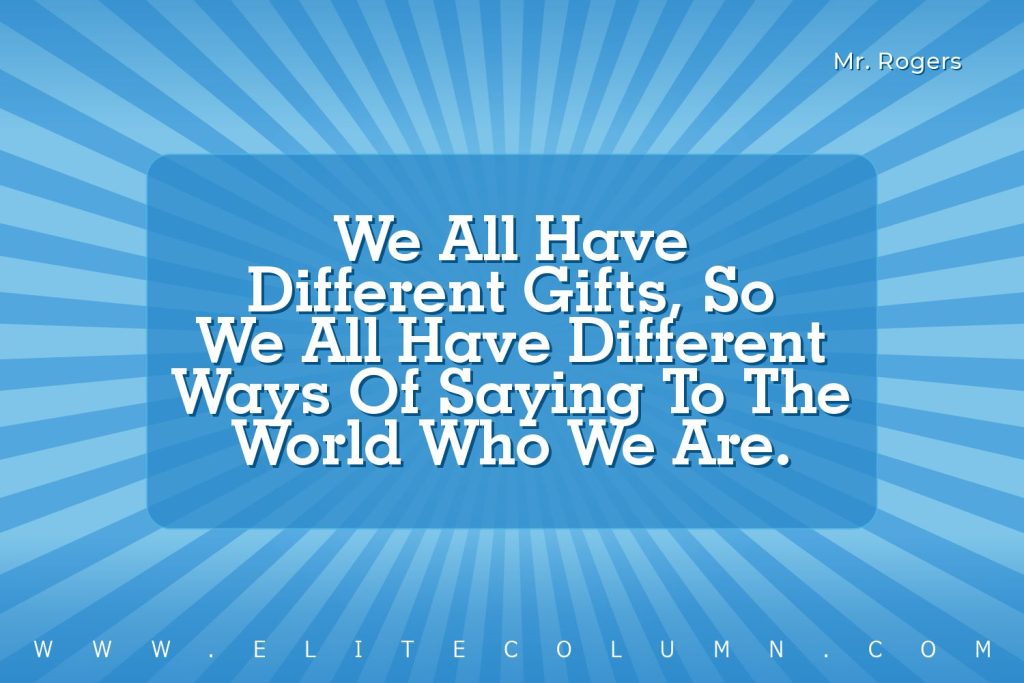 8. "Fame is a four-letter word; and like 'tape' or 'zoom' or 'face' or 'pain' or 'life' or 'love,' what ultimately matters is what we do with it." – Mr. Rogers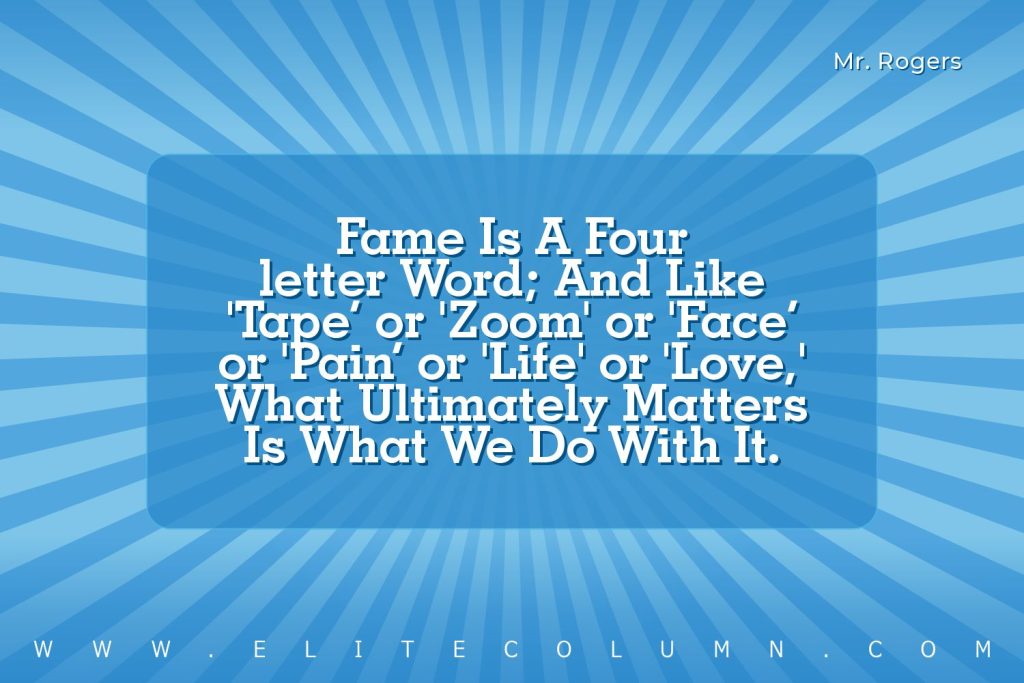 9. "When I was a boy and I would see scary things in the news, my mother would say to me, 'Look for the helpers. You will always find people who are helping.'" – Mr. Rogers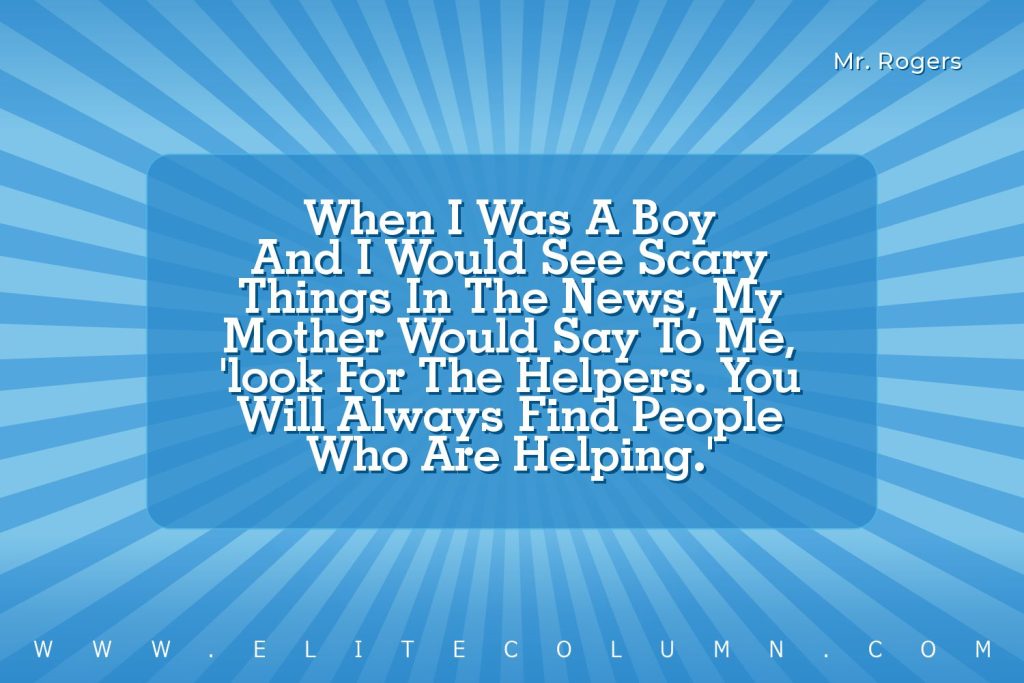 10. "Everyone longs to be loved. And the greatest thing we can do is to let people know that they are loved and capable of loving." – Mr. Rogers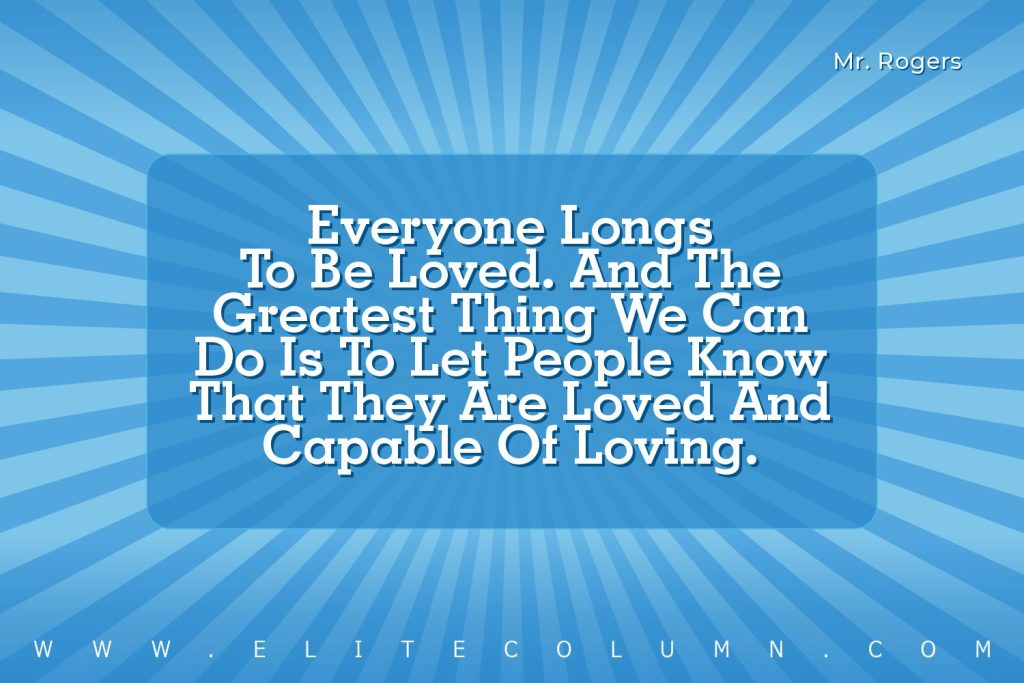 11. "The only thing evil can't stand is forgiveness." – Mr. Rogers
12. "Taking care is one way to show your love. Another way is letting people take good care of you when you need it." – Mr. Rogers
13. "It's not so much what we have in this life that matters. It's what we do with what we have." – Mr. Rogers
14. "Often when you think you're at the end of something, you're at the beginning of something else." – Mr. Rogers
15. "Try your best to make goodness attractive. That's one of the toughest assignments you'll ever be given." – Mr. Rogers
16. "Love and trust, in the space between what's said and what's heard in our life, can make all the difference in this world." – Mr. Rogers
17. "You can think about things and make believe. All you have to do is think and they'll grow." – Mr. Rogers
18. "You rarely have time for everything you want in this life, so you need to make choices. And hopefully your choices can come from a deep sense of who you are." – Mr. Rogers
19. "There's a part of all of us that longs to know that even what's weakest about us is still redeemable and can ultimately count for something good." – Mr. Rogers
20. "Knowing that we can be loved exactly as we are gives us all the best opportunity for growing into the healthiest of people." – Mr. Rogers
21. "Little by little we human beings are confronted with situations that give us more and more clues that we are not perfect. "- Mr. Rogers
22. "Love and success, always in that order. It's that simple AND that difficult." – Mr. Rogers
23. "Real strength has to do with helping others." – Mr. Rogers
24. "The greatest gift you ever give is your honest self." – Mr. Rogers
25. "Imagine what our real neighborhoods would be like if each of us offered, as a matter of course, just one kind word to another person." – Mr. Rogers
26. "There is no normal life that is free of pain. It's the very wrestling with our problems that can be the impetus for our growth." – Mr. Rogers
27. "Nobody else can live the life you live." – Mr. Rogers
28. "Anyone who does anything to help a child in his life is a hero." – Mr. Rogers
29. "We speak with more than our mouths. We listen with more than our ears." – Mr. Rogers
30. "You are special. You're special to me. There's only one in this wonderful world." – Mr. Rogers
31. "In a way, you've already won in this world because you're the only one who can be you." – Mr. Rogers
32. "You can't really love someone else unless you really love yourself first." – Mr. Rogers
33. "I'm proud of you for the times you came in second, or third, or fourth, but what you did was the best you had ever done." – Mr. Rogers
34. "Who we are in the present includes who we were in the past." – Mr. Rogers
35. "It's good to be curious about many things." – Mr. Rogers
36. "Often out of periods of losing come the greatest strivings toward a new winning streak." – Mr. Rogers
37. "It's the people we love the most who can make us feel the gladdest…and the maddest! Love and anger are such a puzzle!" – Mr. Rogers
38. "Who you are inside is what helps you make and do everything in life." – Mr. Rogers
39. "Listening is where love begins: listening to ourselves and then to our neighbors." – Mr. Rogers
40. "Often, problems are knots with many strands, and looking at those strands can make a problem seem different." – Mr. Rogers
41. "When we can talk about our feelings, they become less overwhelming, less upsetting and less scary." – Mr. Rogers
42. "There are times when explanations, no matter how reasonable, just don't seem to help." – Mr. Rogers
43. "Feeling good about ourselves is essential in our being able to love others." – Mr. Rogers
44. "Even though no human being is perfect, we always have the chance to bring what's unique about us to life in a redeeming way." – Mr. Rogers
45. "Discovering the truth about ourselves is a lifetime's work, but it's worth the effort." – Mr. Rogers
Thanks for checking out the best Mr. Rogers Quotes. Feel free to share the quotes with your friends. Leave a comment below and which are your favourite Mr. Rogers Quotes ?
See also:
John Keats Quotes | Jack Kerouac Quotes | Carrie Fisher Quotes | Marcel Proust Quotes | Arthur Miller Quotes | Tennessee Williams Quotes | Mozart Quotes
You can find us at – Facebook | Instagram | LinkedIn | Pinterest | Twitter