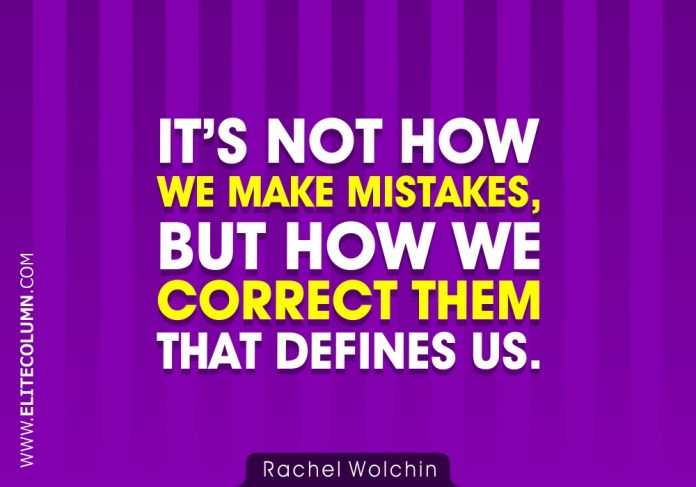 Check out 50 Mistake Quotes today.
50 Best Mistake Quotes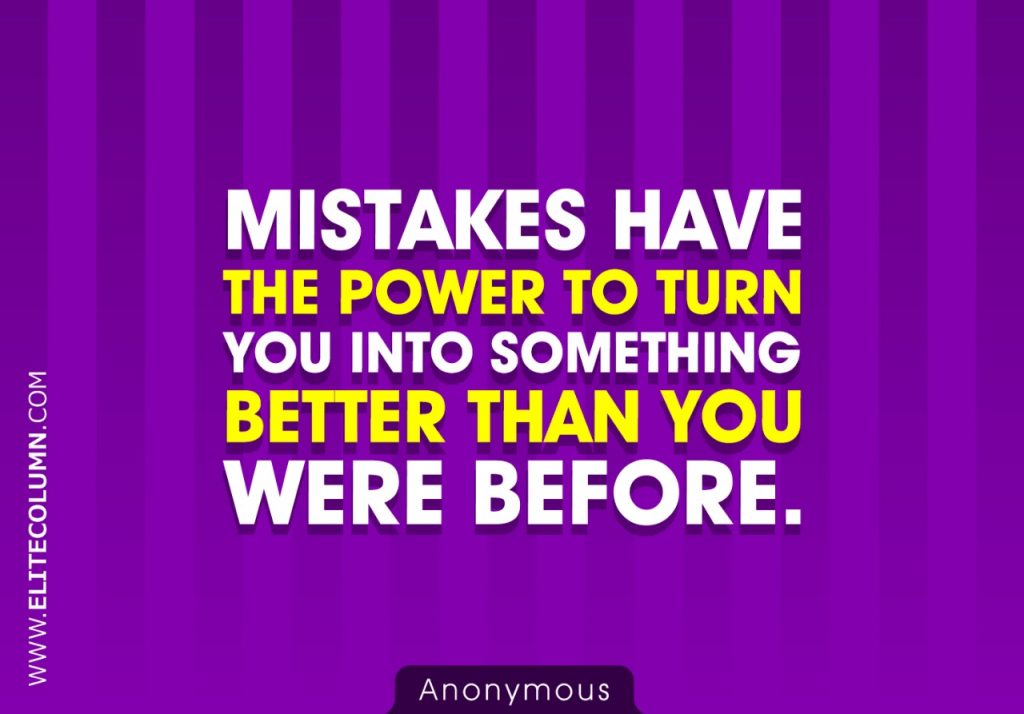 1. "Mistakes have the power to turn you into something better than you were before." – Anonymous
2. "Don't be ashamed by your mistakes, they only prove that you try hard and never give up." – Riley Czarkowski
3. "Do not be afraid to ask questions even if it makes you look stupid." – Avinash VS
4. "Success lies in one's ability to learn from mistakes." – Dr Prem Jagyasi
5. "There are no failures, if you learn and grow from your mistakes; there are only lessons learned." – Dee Waldeck
6. "Let all your regrets and mistakes become your sails and your rudders, and not your anchors" – Sotero M Lopez II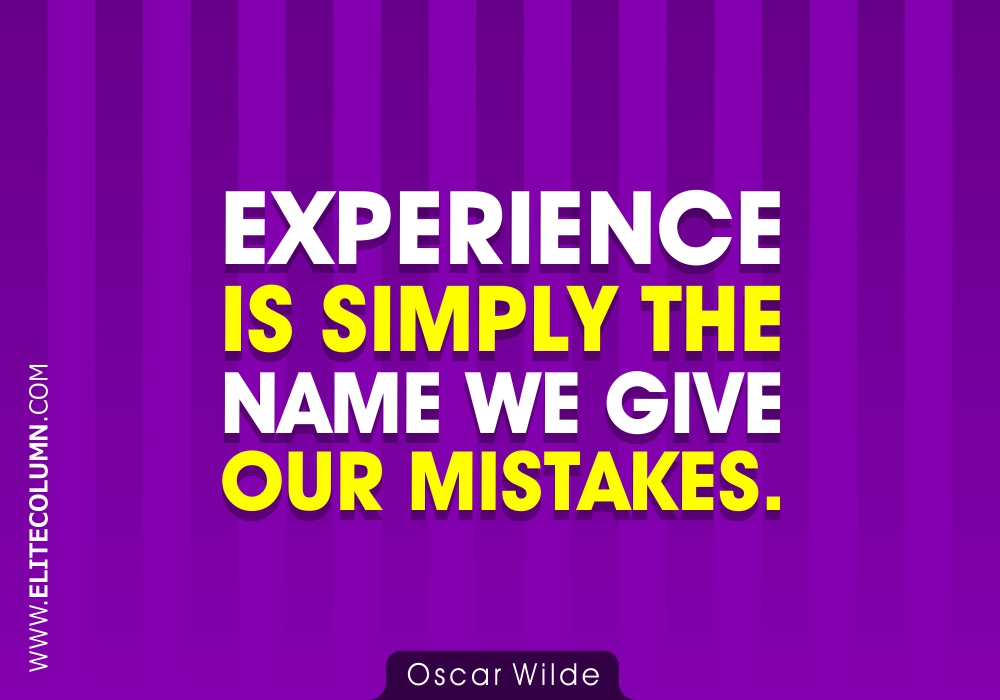 7. "Experience is simply the name we give our mistakes." – Oscar Wilde
8. "You can take a break, as many times as you like and do not stop going after what you want though." – Avinash VS
9. "Don't let the mistakes and disappointments of the past control and direct your future." – Zig Ziglar
10. "We learn from failure, not from success!" – Bram Stoker
11. "The mistakes we regret the most are the ones we were too scared to make." – Ollie Slaney
12. "Well, we all make mistakes, dear, so just put it behind you. We should regret our mistakes and learn from them, but never carry them forward into the future with us." – L.M. Montgomery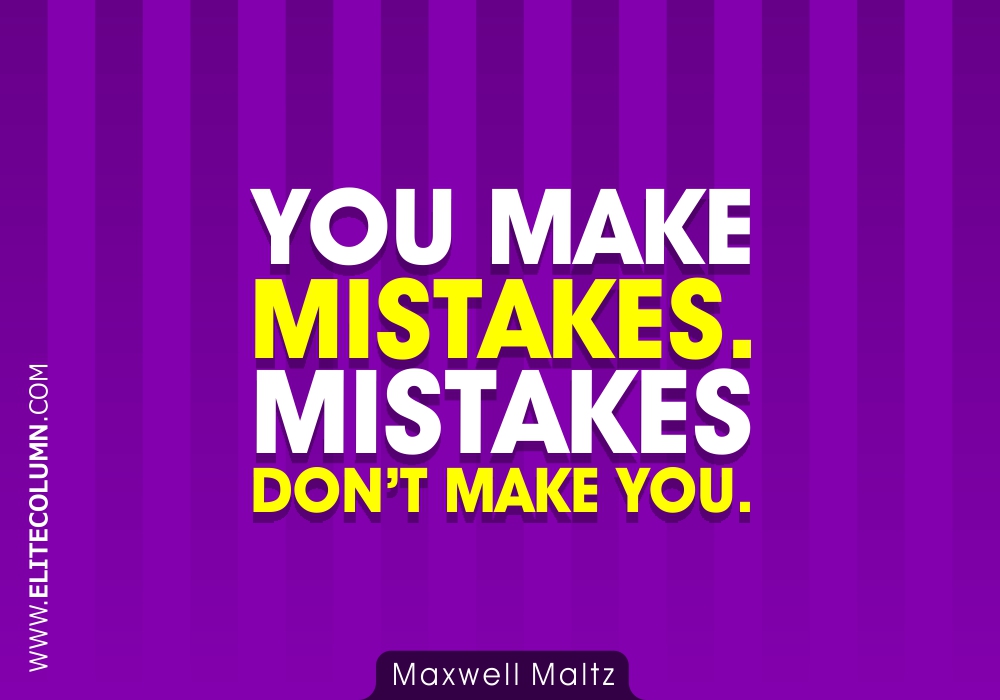 13. "You make mistakes. Mistakes don't make you." – Maxwell Maltz
14. "A man must learn from his own mistakes, to be what he wishes to be." – Lailah Gifty Akita
15. "I have learned all kinds of things from my many mistakes. The one thing I never learn is to stop making them." – Joe Abercrombie
16. "I have made so many mistakes but I have learned a lot and I'm confident to say – he who never made a mistake never made any discovery" – Bernard Kelvin Clive
17. "All men make mistakes, but a good man yields when he knows his course is wrong, and repairs the evil. The only crime is pride." – Sophocles
18. "Mistakes are, after all, the foundations of truth, and if a man does not know what a thing is, it is at least an increase in knowledge if he knows what it is not." – Carl G.Jung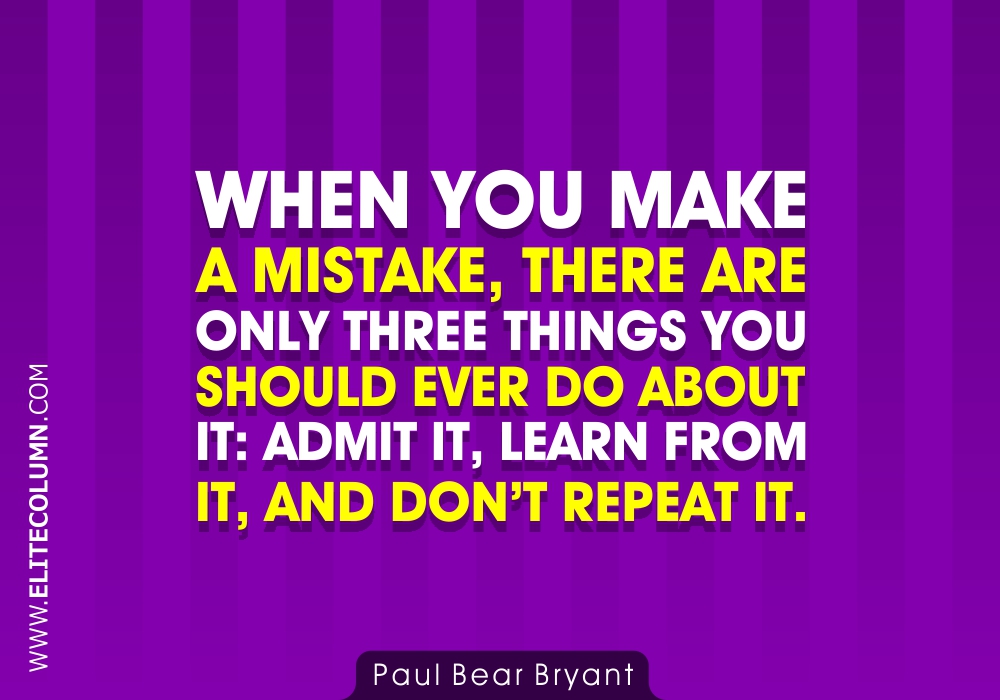 19. "When you make a mistake, there are only three things you should ever do about it: admit it, learn from it, and don't repeat it." – Paul Bear Bryant
20. "The sooner you make your first five thousand mistakes the sooner you will be able to correct them." – Kimon Nicolaides
21. "Don't confuse poor decision-making with destiny. Own your mistakes. It's ok; we all make them. Learn from them so they can empower you!" – Steve Maraboli
22. "Forget your mistakes but remember what they taught you." – Vannetta Chapman
23. "It takes guts and humility to admit mistakes. Admitting we're wrong is courage, not weakness." – Roy T. Bennett
24. "We make our discoveries through our mistakes: we watch one another's success: and where there is freedom to experiment there is hope to improve." – Sir Arthur Thomas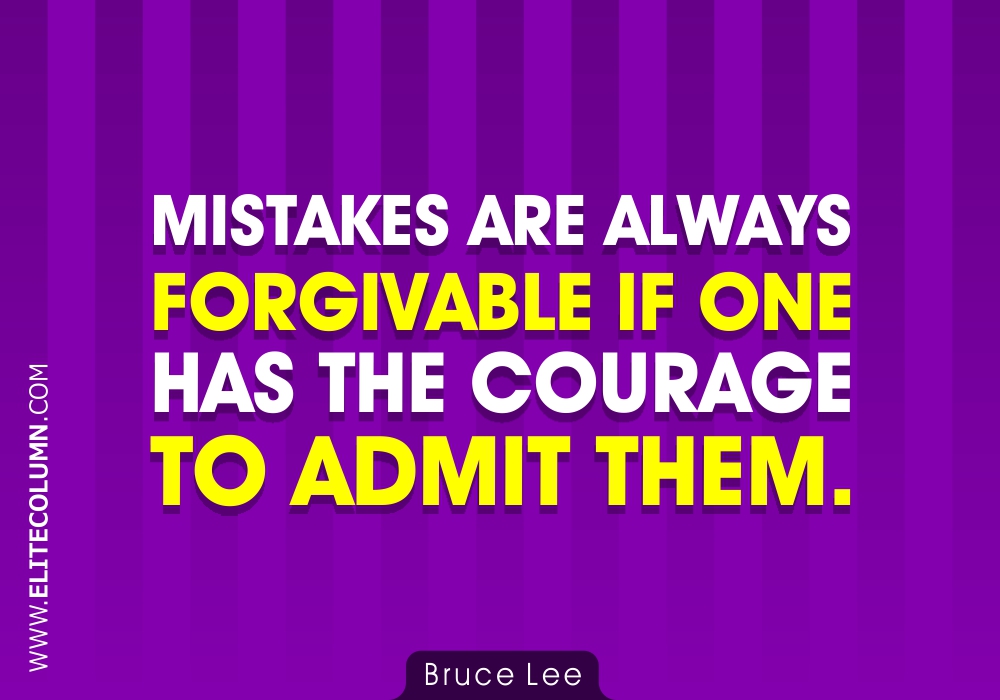 25. "Mistakes are always forgivable if one has the courage to admit them." – Bruce Lee
See also:
Spiritual Quotes | Time Quotes | Family Quotes | Zen Quotes | Pain Quotes | Peace Quotes | Health Quotes | Humble Quotes
26. "We all mess up. It's what we learn from our mistakes that matters." – Lauren Myracle
27. "Everyone makes mistakes. The important thing is to not make the same mistake twice." – Stephanie Perkins
28. "Nothing is a mistake. There's no win and no fail. There's only make." – Corita Kent
29. "One mistake does not have to rule a person's entire life." – Joyce Meyer
30. "Embrace being perfectly imperfect. Learn from your mistakes and forgive yourself, you'll be happier." – Roy Bennett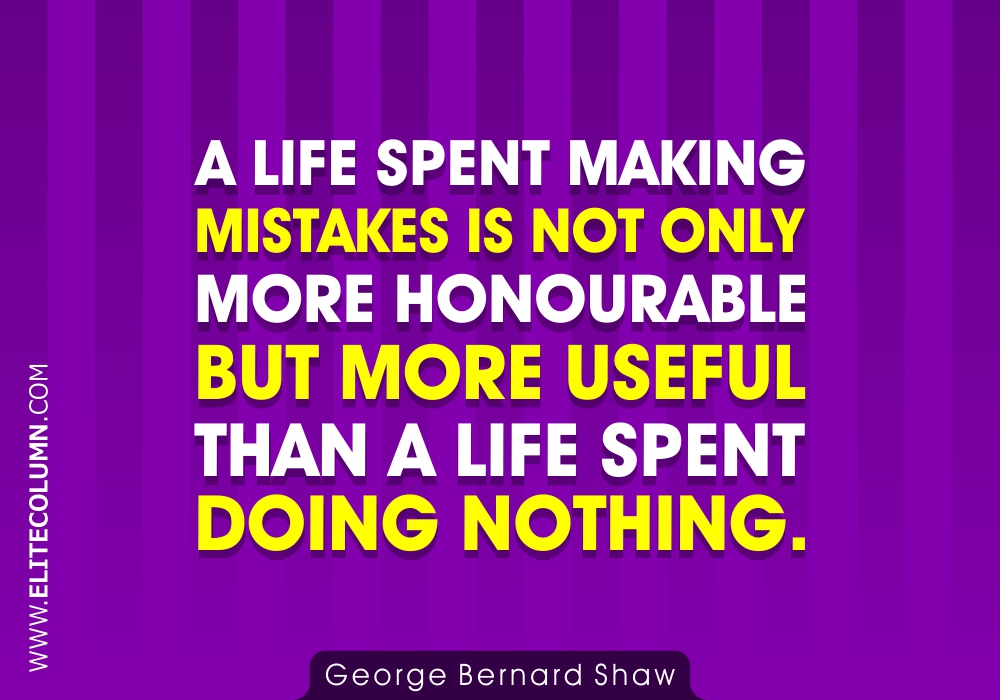 31. "A life spent making mistakes is not only more honourable but more useful than a life spent doing nothing." – George Bernard Shaw
32. "Mistakes are painful when they happen, but years later a collection of mistakes is what is called experience." – Denis Waitley
33. "And a step backward, after making a wrong turn, is a step in the right direction." – Kurt Vonnegut
34. "Our mistakes and regrets are not barriers to becoming who we can be; they are a necessary ingredient." – David Schnarch
35. "Mistakes are the growing pains of wisdom." – William Jordan
35th Mistake Quotes
36. "Mistakes are the usual bridge between inexperience and wisdom." – Phyllis Theroux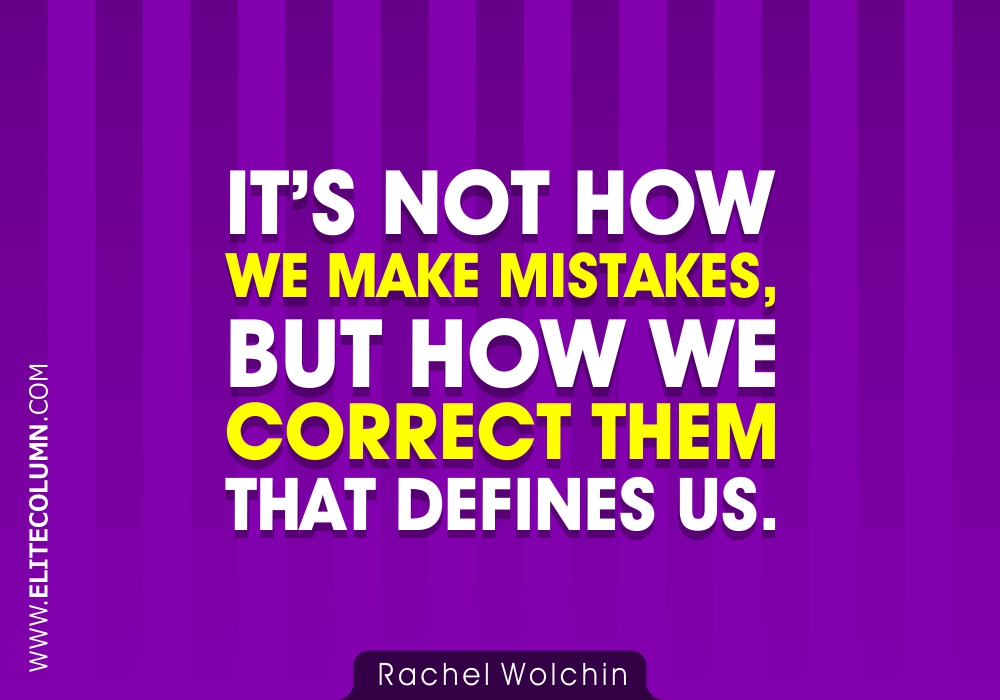 37. "It's not how we make mistakes, but how we correct them that defines us." – Rachel Wolchin
38. "To make no mistakes is not in the power of man; but from their errors and mistakes the wise and good learn wisdom for the future." – Plutarch
39. "If you are afraid to take a chance, take one anyway. What you don't do can create the same regrets as the mistakes you make." – Iyanla Vanzant
40. "We have to make mistakes, it's how we learn compassion for others." – Curtis Sittenfeld
41. "Anyone who has never made a mistake has never tried anything new." – Albert Einstein
42. "Freedom is not worth having if it does not include the freedom to make mistakes." – Mahatma Gandhi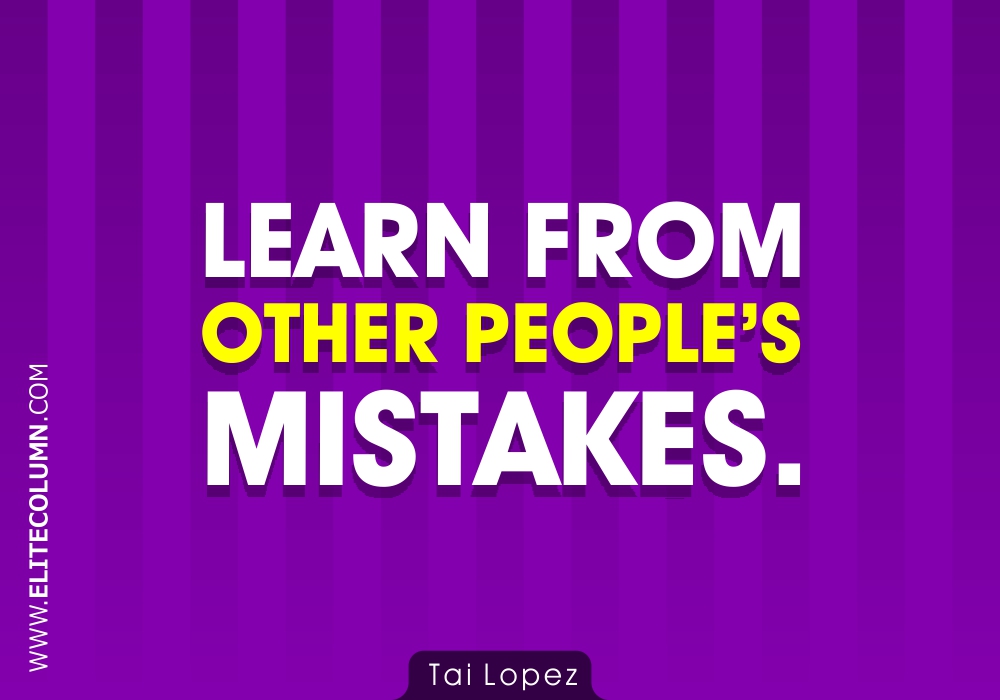 43. "Learn from other people's mistakes." – Tai Lopez
44. "Success does not consist in never making mistakes but in never making the same one a second time." – George Bernard Shaw
45. "The greatest mistake you can make in life is to be continually fearing you will make one." – Elbert Hubbard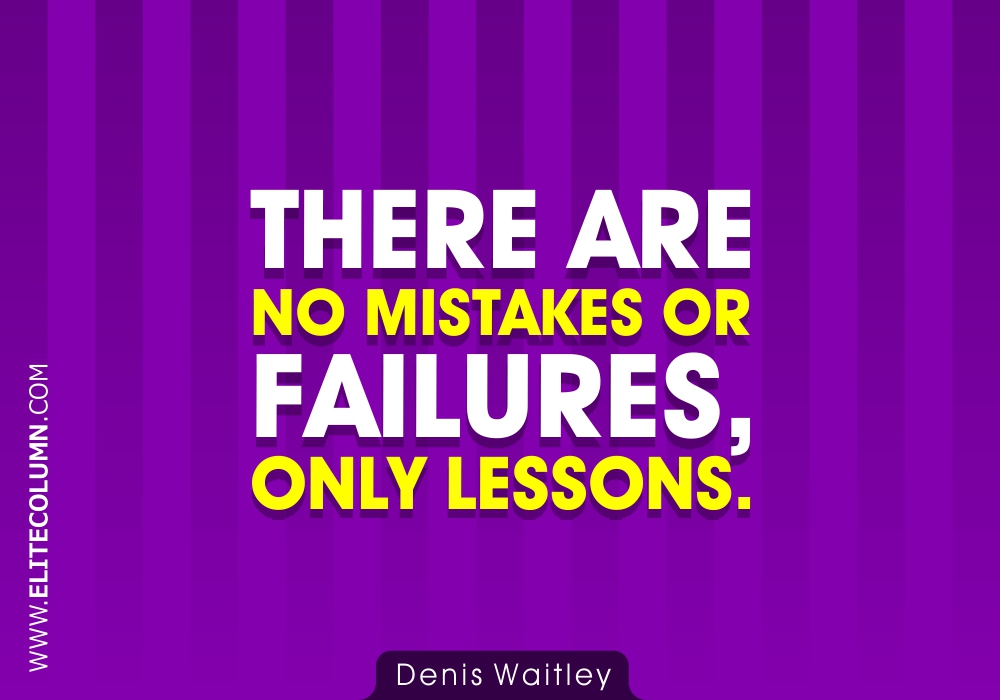 46. "There are no mistakes or failures, only lessons." – Denis Waitley
47. "Failure is instructive. The person who really thinks learns quite as much from his failures as from his successes." – John Dewey
48. "Smart people learn from their mistakes. But the real sharp ones learn from the mistakes of others." – Brandon Mull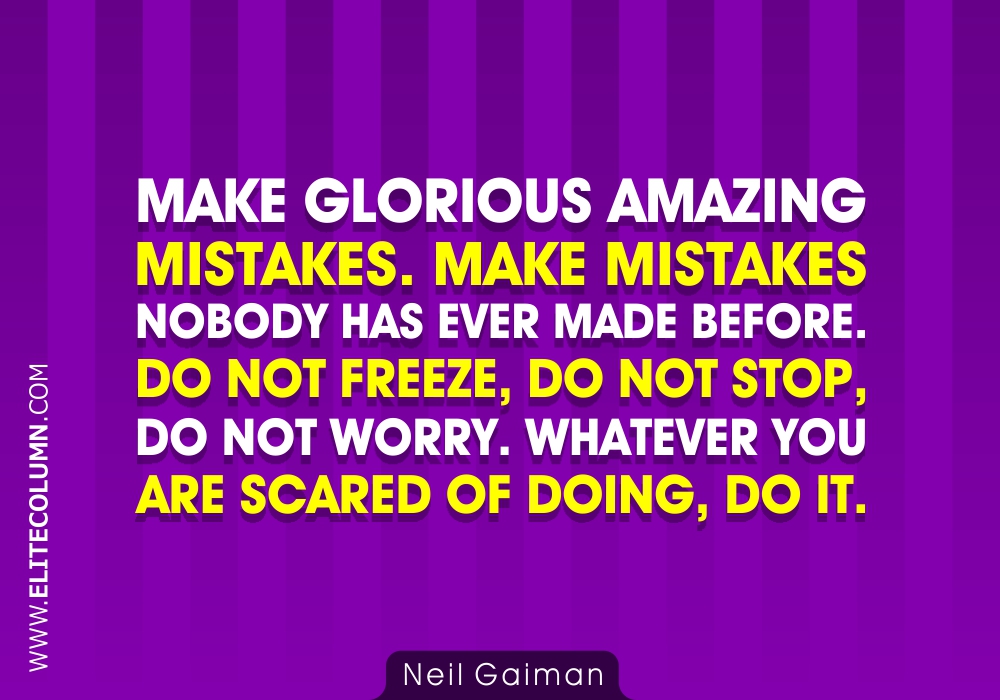 49. "Make glorious amazing mistakes. Make mistakes nobody has ever made before. Do not freeze, do not stop, do not worry. Whatever you are scared of doing, do it." – Neil Gaiman
50. "We often need to lose sight of our priorities in order to see them." – John Irving
Thanks for checking out the best Mistake Quotes. Feel free to share the quotes with your friends. Leave a comment below and which are your favourite Mistake Quotes ?
See also:
Fear Quotes | Honesty Quotes | Art Quotes | Silence Quotes | Freedom Quotes | Confidence Quotes | Attitude Quotes | Patience Quotes
You can find us at – Facebook | Instagram | LinkedIn | Pinterest | Twitter