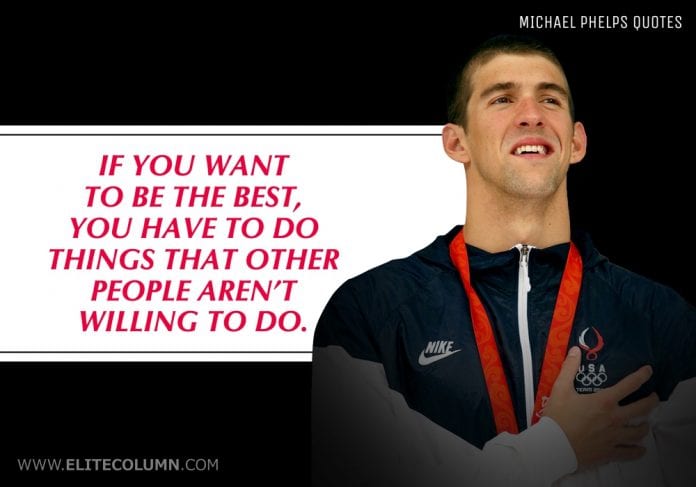 Michael Phelps is an American swimmer who holds the record for the most Olympics medals won by any athlete at 28, including 23 gold medals and 13 individual golds. Phelps competed in his first Olympics at the age of 15, as part of the U.S. men's swim team. He was the first American male swimmer to earn a spot on five Olympic teams and also made history as the oldest individual gold medalist in Olympic swimming history at the age of 28. During an interview in the midst of the 2008 Beijing Summer Olympics, he told NBC that he ate 12,000 calories per day to fuel his five-hour, six-days-per-week training leading up to the Games. Michael Phelps quotes will boost your motivation in your life. EliteColumn presents a list of handpicked Michael Phelps quotes.
17 Motivational Michael Phelps Quotes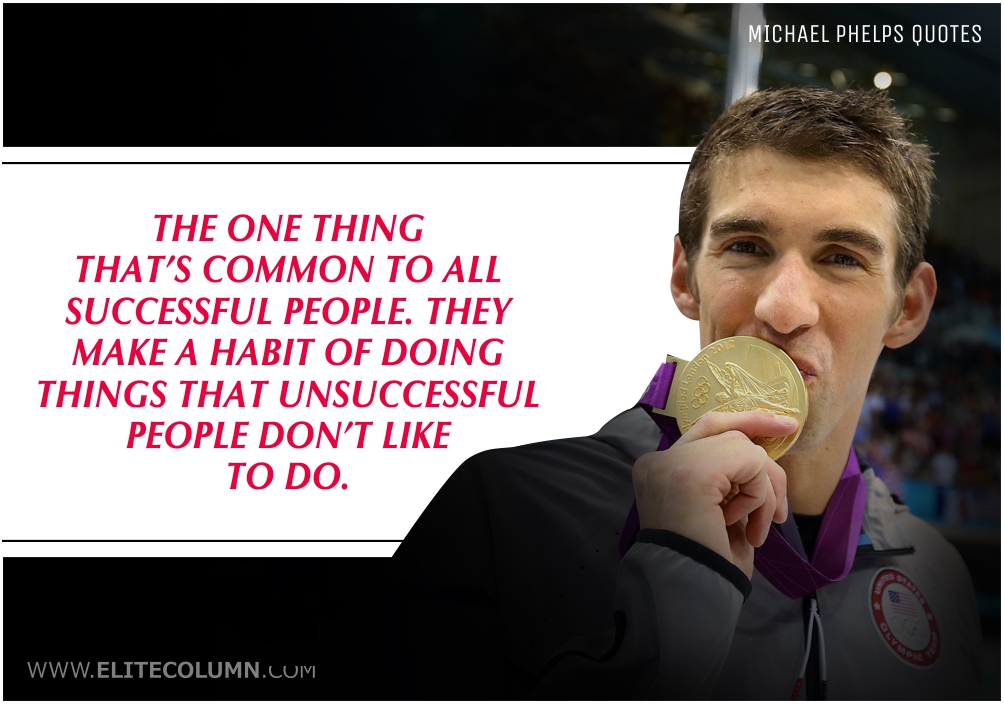 1. "The one thing that's common to all successful people. They make a habit of doing things that unsuccessful people don't like to do." – Michael Phelps
2. "If you say 'can't' you're restricting what you can do or will ever do." – Michael Phelps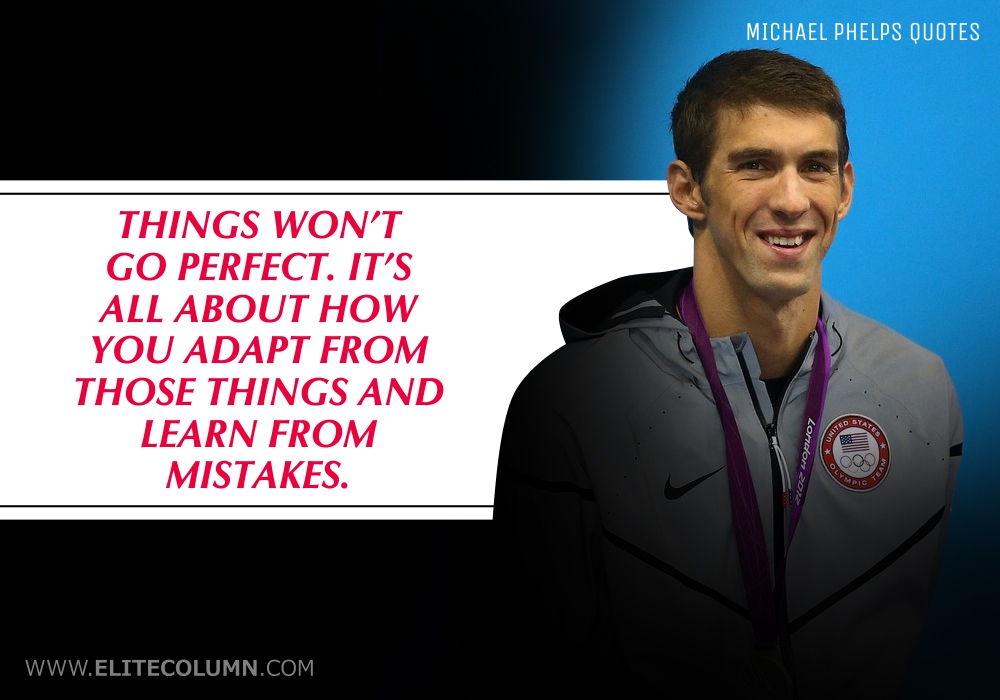 3. "Things won't go perfect. It's all about how you adapt from those things and learn from mistakes." – Michael Phelps
4. "With so many people saying it couldn't be done, all it takes is an imagination." – Michael Phelps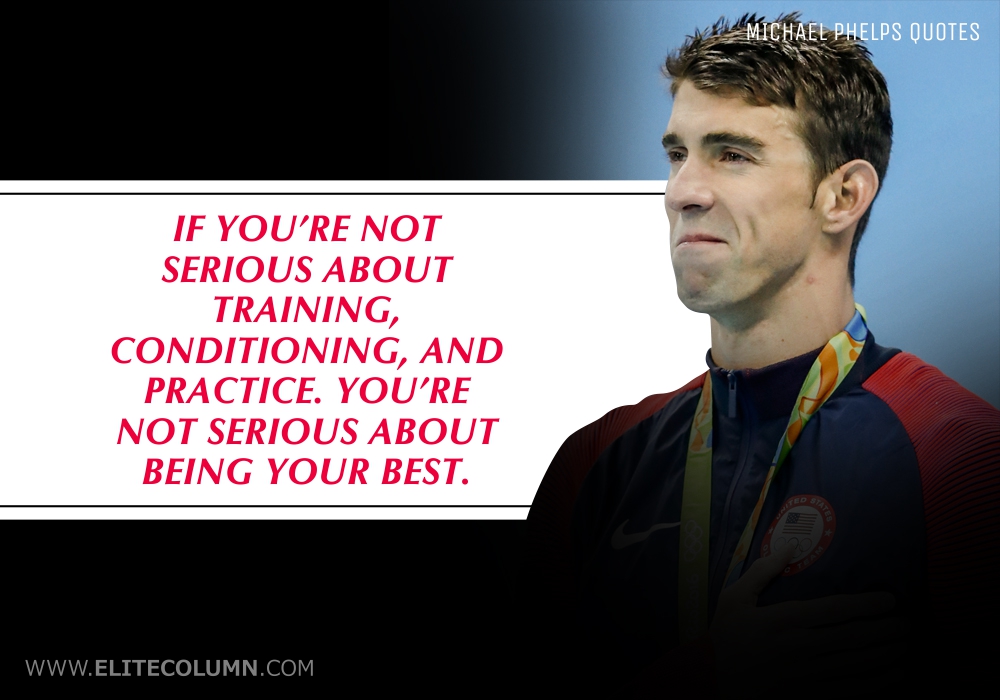 5. "If you're not serious about training, conditioning, and practice. You're not serious about being your best." – Michael Phelps
6. "You have to have a dream so that you can get up in the morning." – Michael Phelps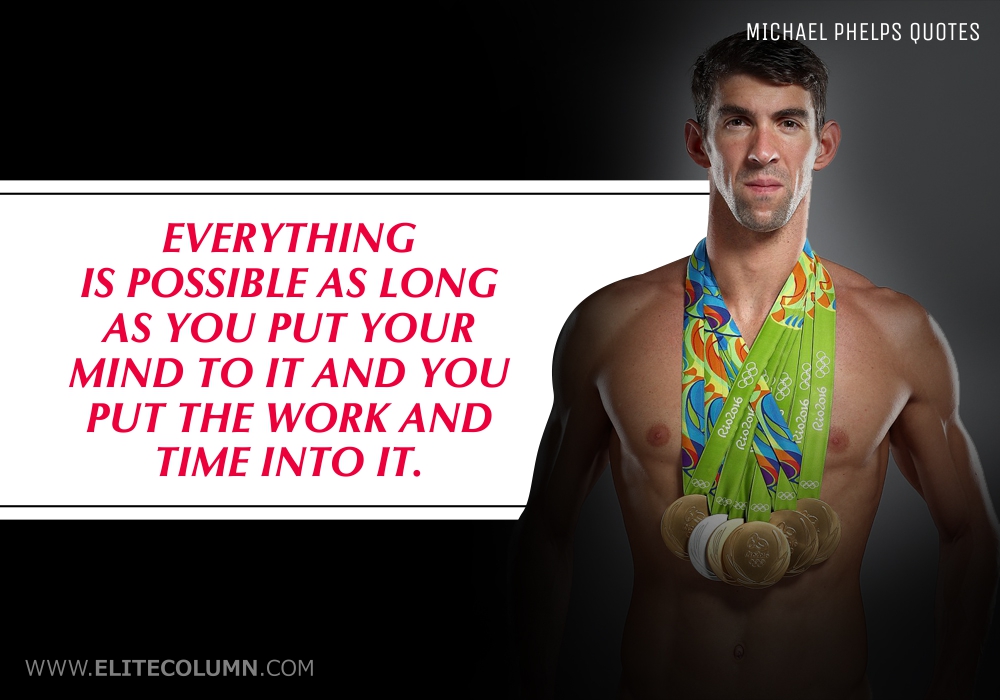 7. "Everything is possible as long as you put your mind to it and you put the work and time into it." – Michael Phelps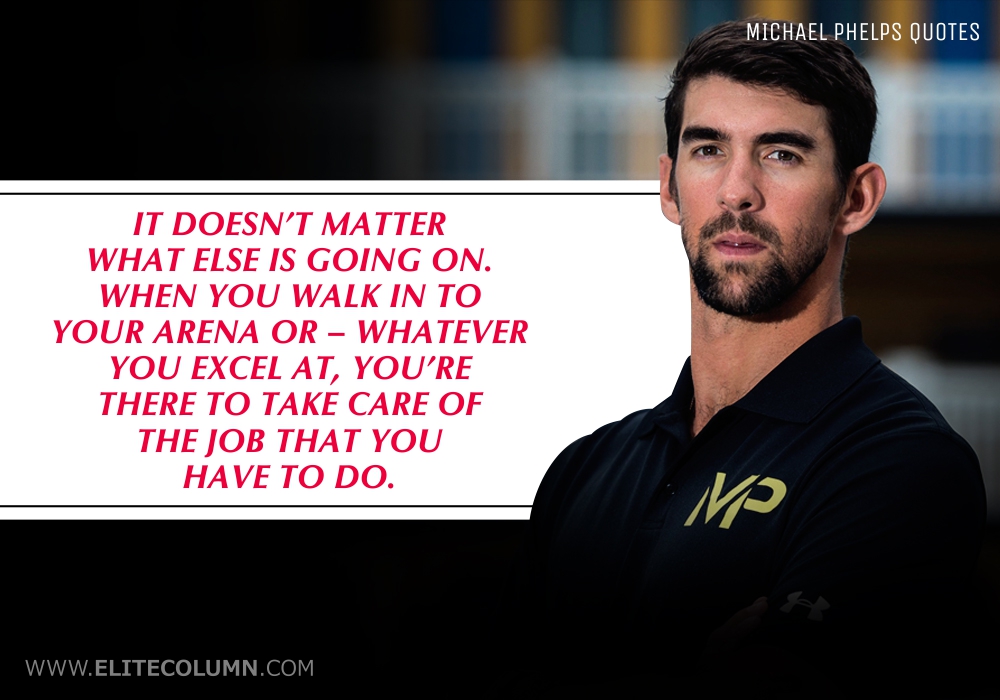 8. "It doesn't matter what else is going on. When you walk in to your arena or – whatever you excel at, you're there to take care of the job that you have to do." – Michael Phelps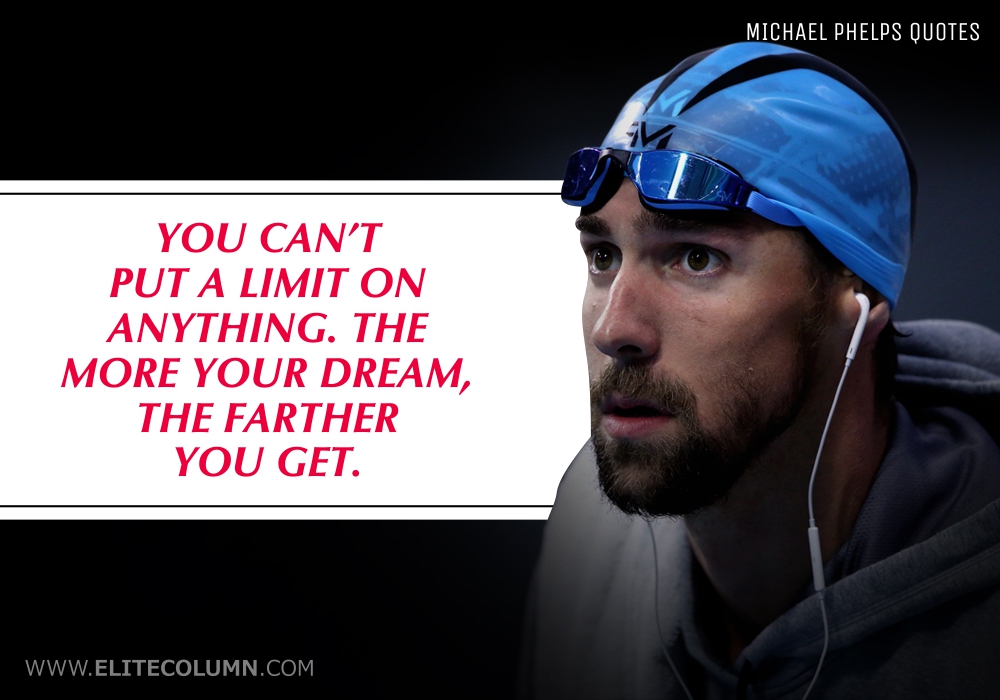 9. "You can't put a limit on anything. The more your dream, the farther you get." – Michael Phelps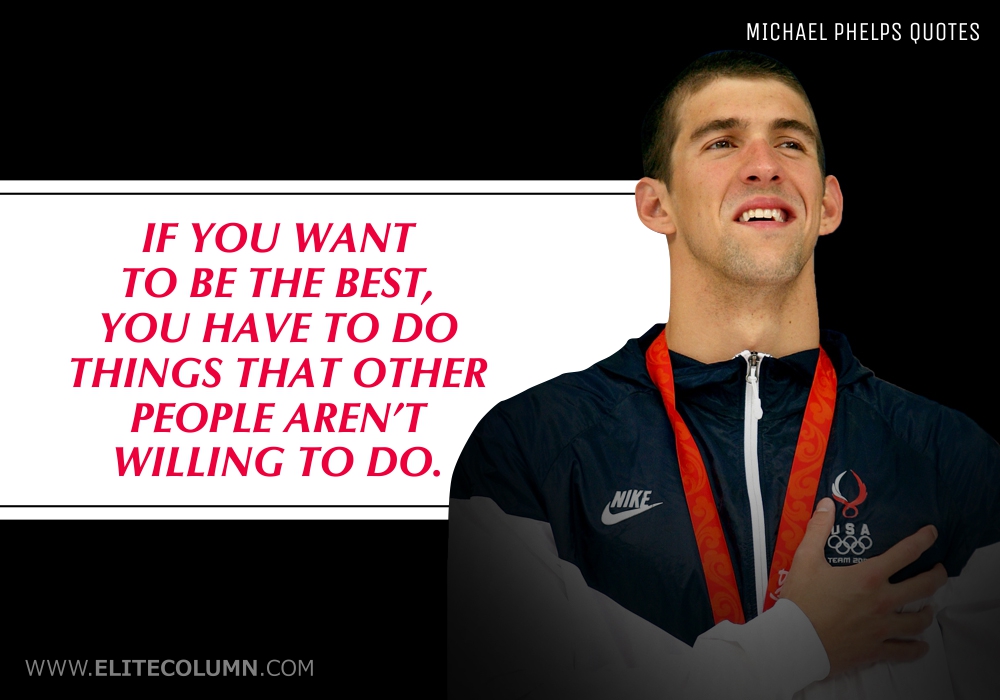 10. "If you want to be the best, you have to do things that other people aren't willing to do." – Michael Phelps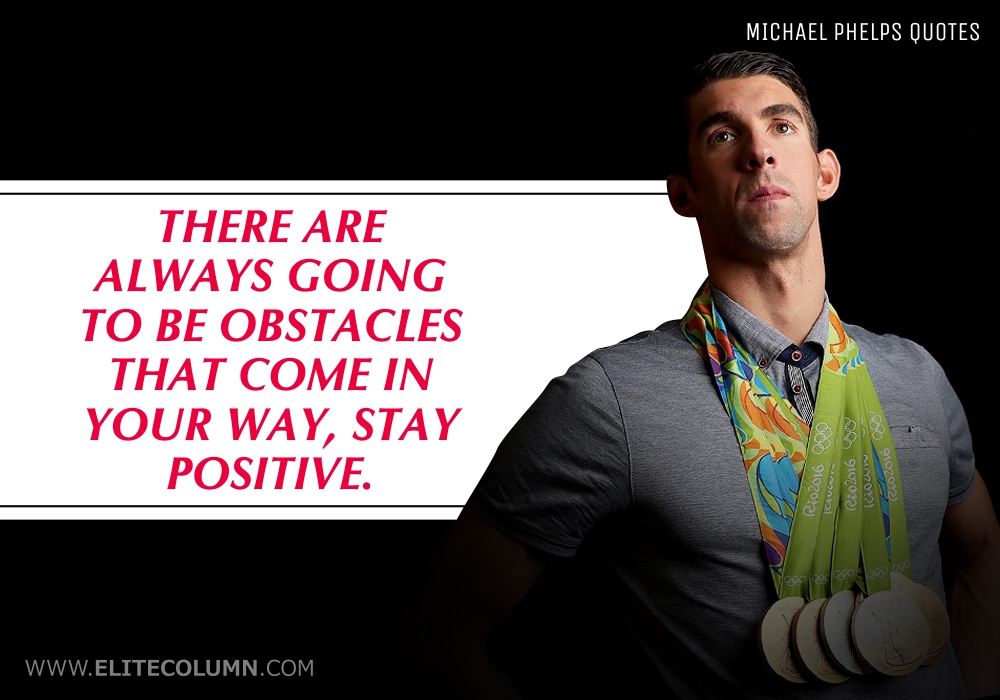 11. "There are always going to be obstacles that come in your way, stay positive." – Michael Phelps
12. "The more you dream the more you achieve." – Michael Phelps
13. "Records are always made to be broken no matter what they are. Anybody can do anything that they set their mind to." – Michael Phelps
14. "Perseverance, determination, commitment, and courage – those things are real. The desire for redemption drives you." – Michael Phelps
15. "I think goals should never be easy, they should force you to work, even if they are uncomfortable at the time." – Michael Phelps
16. "It all starts with a goal." – Michael Phelps
17. "Being able to do something that's never been done before, that's what I've always wanted to do. . . . There was nothing that was going to stand in my way of being the first" – Michael Phelps
Thanks for checking out the best Michael Phelps quotes. Feel free to share the quotes with your friends. Leave a comment below and which are your favorite Michael Phelps quotes ?
See also:
Mike Tyson Quotes | Michael Schumacher Quotes | Tennis Quotes | Rafael Nadal Quotes
You can find us at – Facebook | Instagram | LinkedIn | Pinterest | Twitter