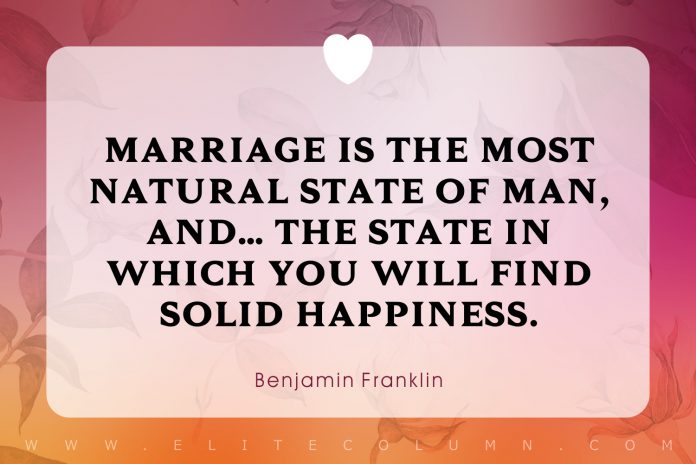 Check out 59 Marriage Quotes today.
59 Best Marriage Quotes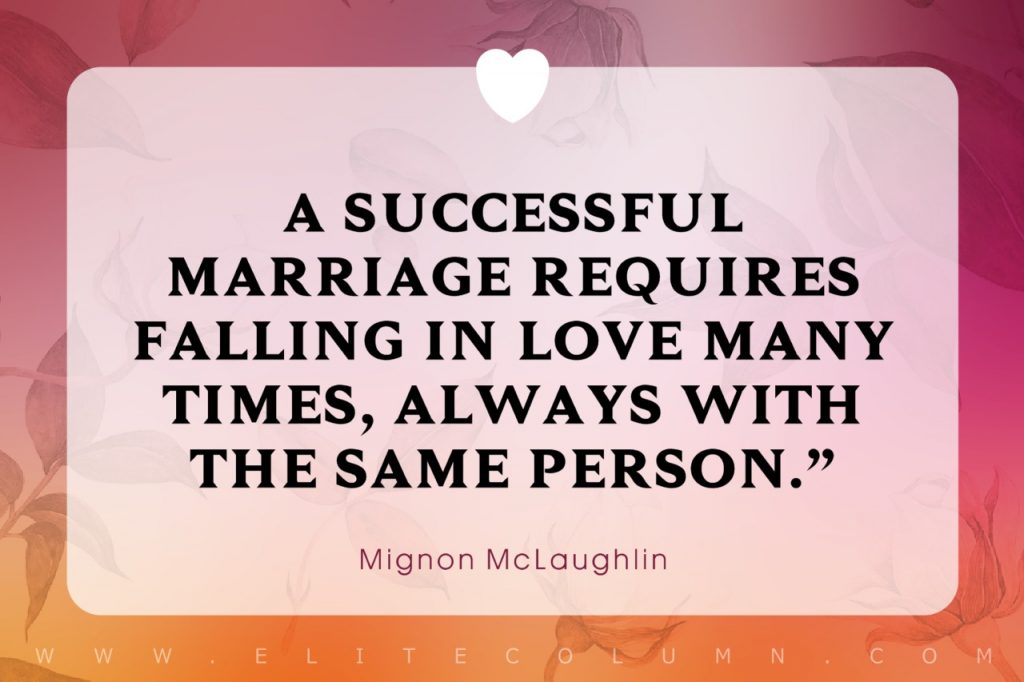 1. "A successful marriage requires falling in love many times, always with the same person." – Mignon McLaughlin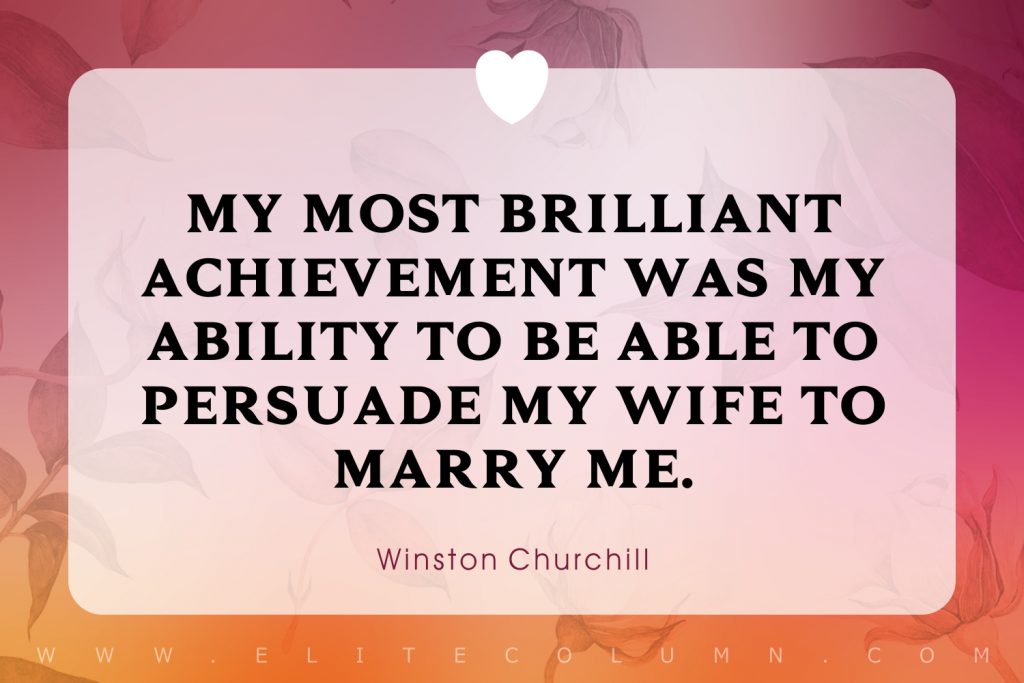 2. "My most brilliant achievement was my ability to be able to persuade my wife to marry me." – Winston Churchill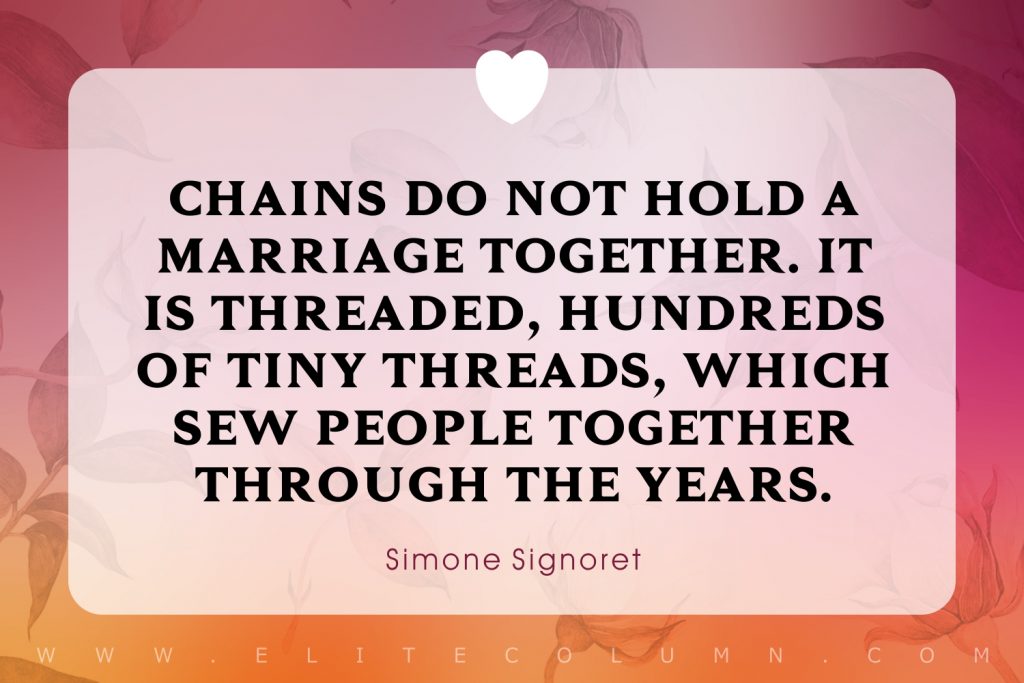 3. "Chains do not hold a marriage together. It is threaded, hundreds of tiny threads, which sew people together through the years." – Simone Signoret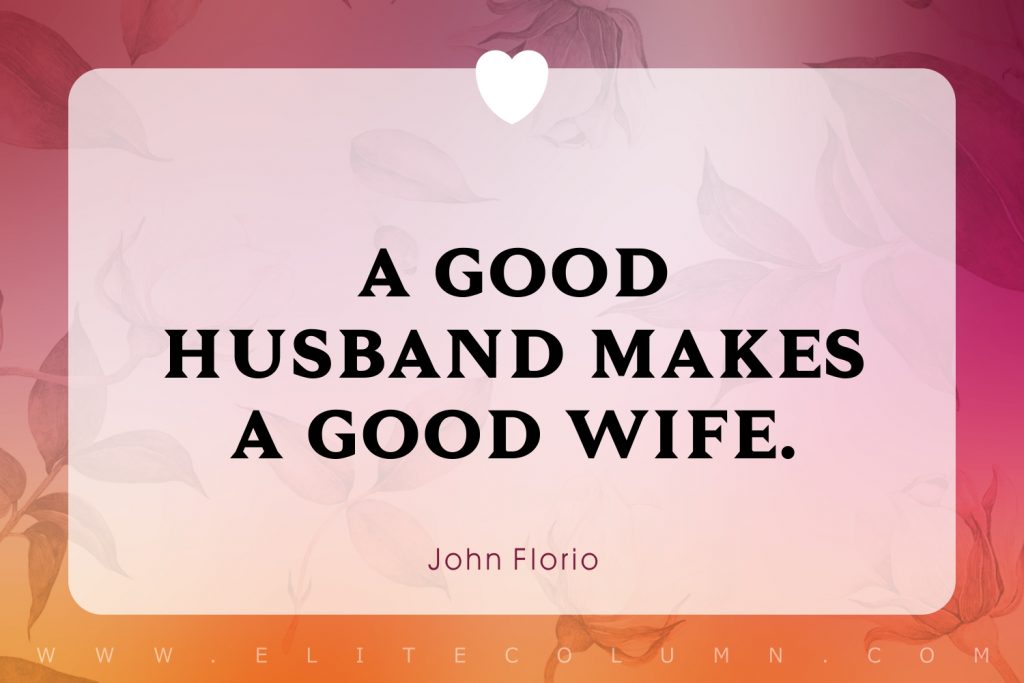 4. "A good husband makes a good wife." – John Florio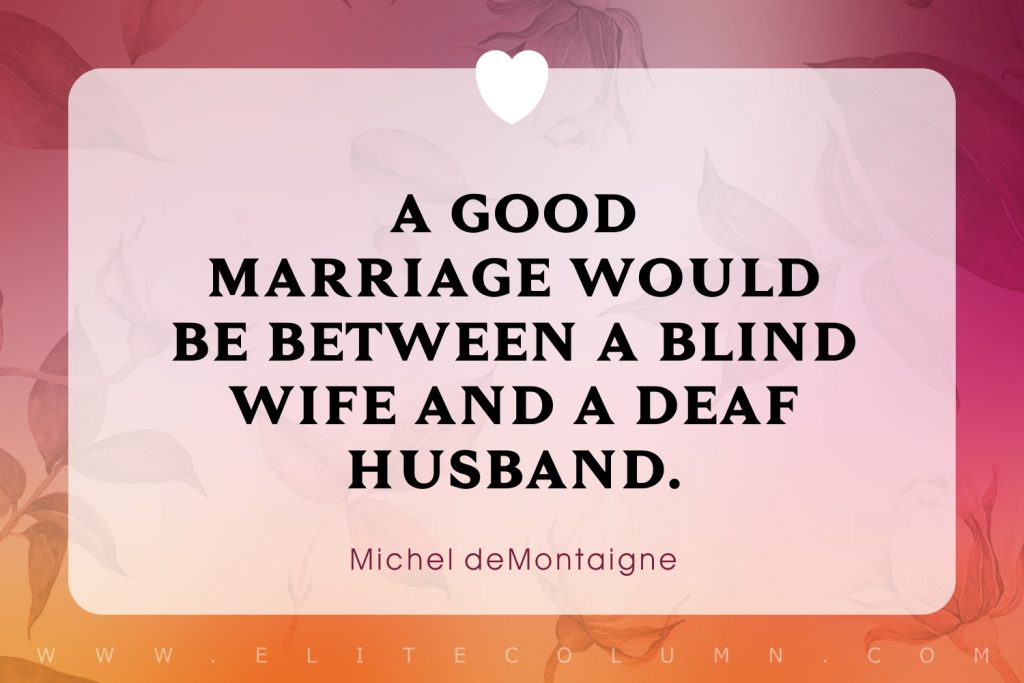 5. "A good marriage would be between a blind wife and a deaf husband." – Michel de Montaigne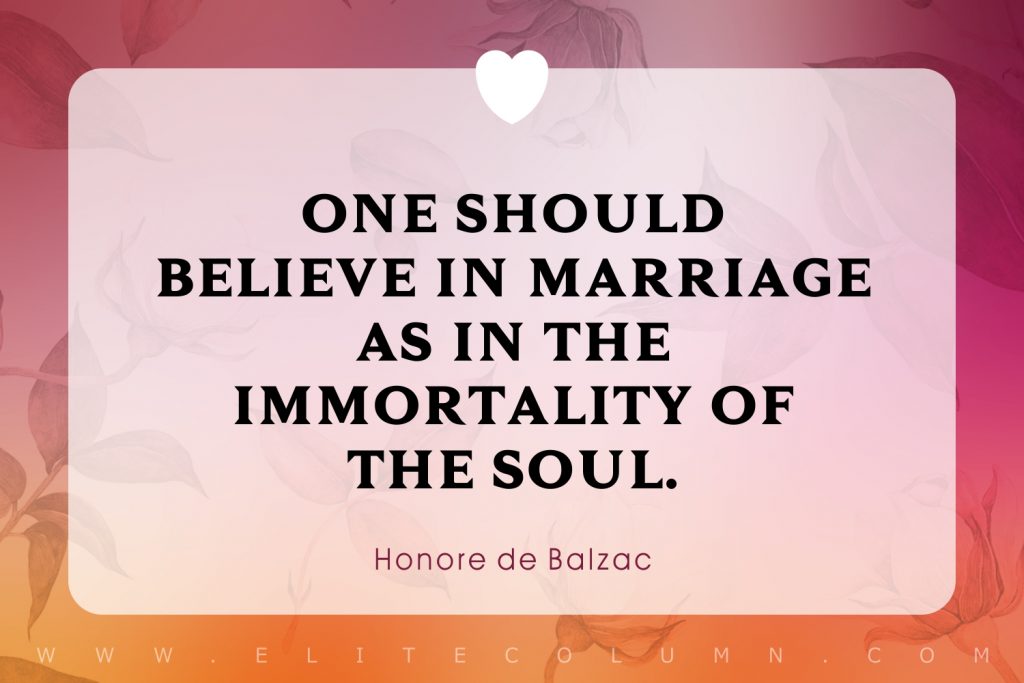 6. "One should believe in marriage as in the immortality of the soul." – Honore de Balzac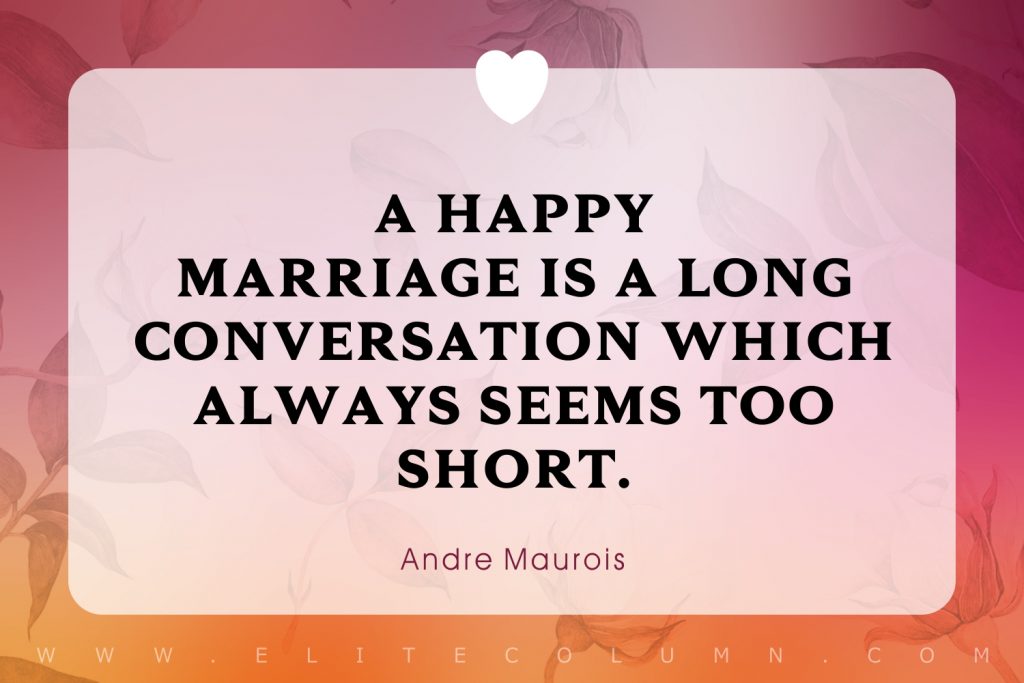 7. "A happy marriage is a long conversation which always seems too short." – Andre Maurois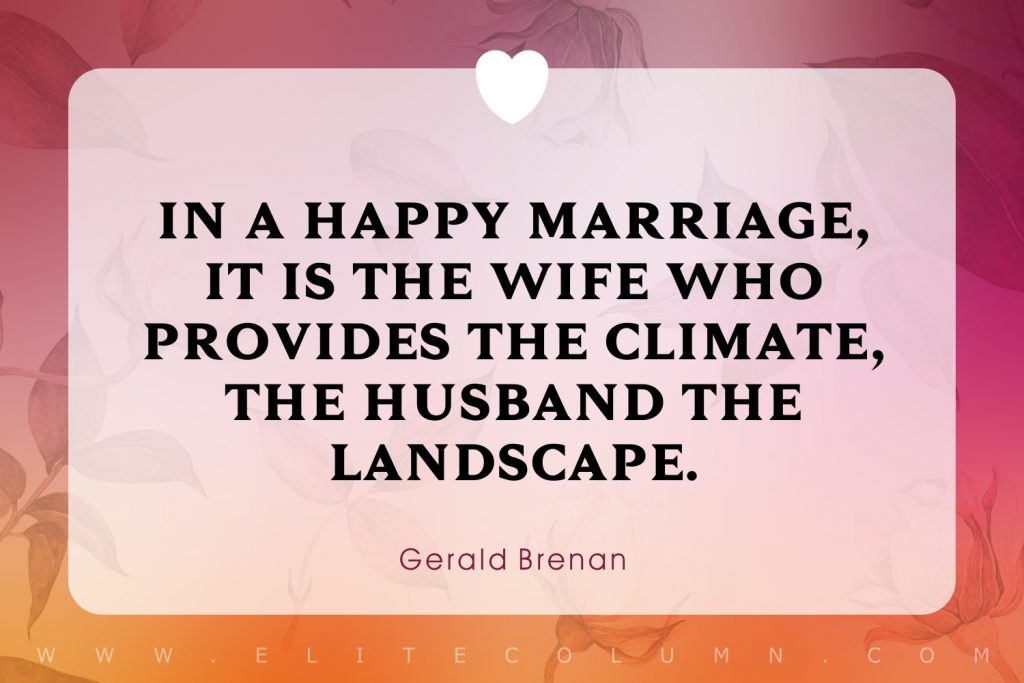 8. "In a happy marriage, it is the wife who provides the climate, the husband the landscape." – Gerald Brenan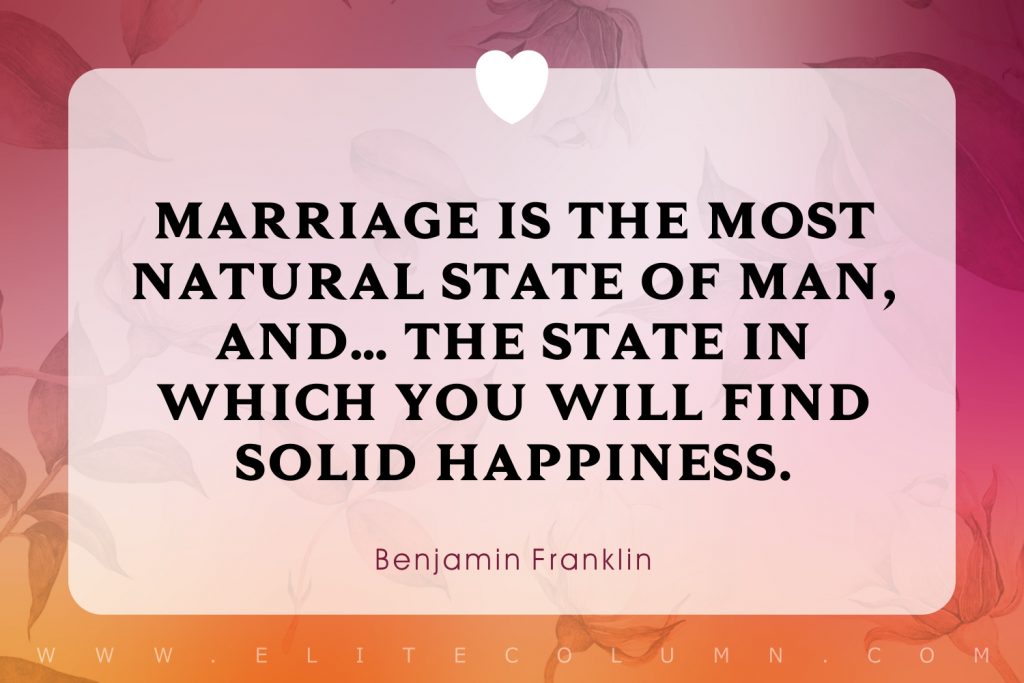 9. "Marriage is the most natural state of man, and… the state in which you will find solid happiness." – Benjamin Franklin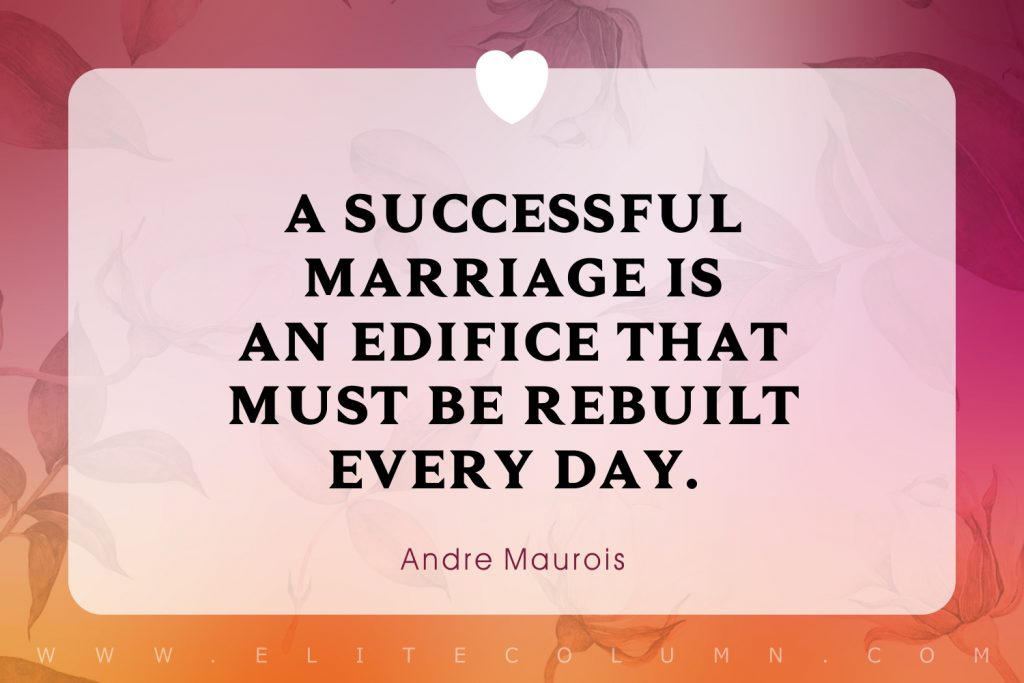 10. "A successful marriage is an edifice that must be rebuilt every day." – Andre Maurois
11. "Remember that creating a successful marriage is like farming: you have to start over again every morning." – H. Jackson Brown, Jr.
12. "Being loved just as you are is the greatest currency on earth. It is immeasurable in value and can never truly be repaid." – Fawn Weaver
13. "Success in marriage does not come merely through finding the right mate, but through being the right mate." – Barnett R. Brickner
14. "The bonds of matrimony are like any other bonds – they mature slowly." – Peter De Vries
15. "And in the end, the love you take is equal to the love you make." – John Lennon
16. "Love is always bestowed as a gift -freely, willingly, and without expectation. We don't love to be loved, we love to love." – Leo Buscagalia
17. "Keep the fire lit in your marriage and your life will be filled with warmth." – Fawn Weaver
18. "A great marriage is not when the 'perfect couple' comes together. It is when an imperfect couple learns to enjoy their differences." – Dave Meurer
19. "Marriage is a commitment- a decision to do, all through life, that which will express your love for one's spouse." – Herman H. Kieval
20. "Marriage is a mosaic you build with your spouse. Millions of tiny moments that create your love story." – Jennifer Smith
21. "We come to love not by finding a perfect person, but by learning to see an imperfect person perfectly." – Sam Keen
22. "Being in a long marriage is a little bit like that nice cup of coffee every morning – I might have it every day, but I still enjoy it." – Stephen Gaines
23. "Marriages are like fingerprints; each one is different and each one is beautiful." – Maggie Reyes
24. "Love doesn't make the world go round. Love is what makes the ride worthwhile." – Franklin P. Jones
25th Marriage Quotes
25. "The greatest marriages are built on teamwork. A mutual respect, a healthy dose of admiration, and a never-ending portion of love and grace." – Fawn Weaver
26. "If you are afraid of loneliness, don't marry." – Anton Chekhov
27. "Marriage is heaven nor hell, it is simply purgatory." – Abraham Lincoln
28. "A man doesn't know what happiness is until he's married. By then it's too late." – Frank Sinatra
29. "A good marriage would be between a blind wife and a deaf husband." – Michel de Montaigne
See also:
Hurt Quotes | Trust Quotes | Empathy Quotes | Business Quotes | Money Quotes | Stoic Quotes | Forgiveness Quotes | Perseverance Quotes
30. "When I get married, I want to be very married." – Audrey Hepburn
31. "Love: a temporary insanity curable by marriage." – Ambrose Bierce
32. "It is a truth universally acknowledged, that a single man in possession of good fortune, must be in want of a wife." – Jane Austen
33. "Keep your eyes wide open before marriage, and half shut afterward." – Benjamin Franklin
34. "They say all marriages are made in heaven, but so are thunder and lightning." – Clint Eastwood
35. "It is not lack of love but lack of friendship that makes unhappy marriages." – Friedrich Nietzsche
36. "'I am' is reportedly the shortest sentence in the English language. Could it be that 'I do' is the longest sentence?" – George Carlin
37. "By all means marry. If you get a good wife, you'll become happy; if you get a bad one, you'll become a philosopher." – Socrates
38. "Marriage, the most advance form of warfare in the modern world." – Malcolm Bradbury
39. "When we got married I told my wife 'If you leave me, I'm going with you.' And she never did." – James Fineous McBride
40. "To keep your marriage brimming, With love in the loving cup, Whenever you're wrong, admit it; Whenever you're right, shut up." – Ogden Nash
41. "An archeologist is the best husband any woman can have; the older she gets, the more interested he is in her." – Dame Agatha Christie
42. "What I love most about my home is who I share it with." – Tad Carpenter
43. "After the chills and fever of love, how nice is the 98.6 degrees of marriage." – Mignon McLaughlin
44. "What counts in making a happy marriage is not so much how compatible you are but how you deal with incompatibility." – Leo Tolstoy
45th Marriage Quotes
45. "You are the butter to my bread, and the breath to my life." – Julia Child
46. "The secret of a happy marriage remains a secret." – Henny Youngman
47. "Marriage is the triumph of imagination over intelligence. Second marriage is the triumph of hope over experience." – Oscar Wilde
48. "Happily ever after is not a fairy tale. It's a choice." – Fawn Weaver
49. "There is no more lovely, friendly and charming relationship, communion or company than a good marriage." – Martin Luther
50. "Happy is the man who finds a true friend, and far happier is he who finds that true friend in his wife." – Franz Schubert
51. "Even hooligans marry, though they know that marriage is but for a little while. It is alimony that is forever." – Quentin Crisp
52. "He felt now that he was not simply close to her, but that he did not know where he ended and she began." – Leo Tolstoy
53. "Love recognizes no barriers. It jumps hurdles, leaps fences, penetrates walls to arrive at its destination full of hope." – Maya Angelou
54. "When you realize you want to spend the rest of your life with somebody, you want the rest of your life to start as soon as possible." – Harry Sally
55. "Where there really is marriage, that is to say, where there is love, the ideal is mingled with it. A nuptial bed makes a halo in the darkness." – Victor Hugo
56. "Any good marriage is secret territory, a necessary white space on society's map. What others don't know about it is what makes it yours." – Stephen King
57. "The essential matrimonial facts: that to be happy you have to find variety in repetition; that to go forward you have to come back to where you begin." – Jeffrey Eugenides
58, "He's more myself than I am. Whatever our souls are made of, his and mine are the same." – Emily Bronte
59. "Nobody has ever measured, not even poets, how much the heart can hold." – Zelda Fitzgerald
Thanks for checking out the best Marriage Quotes. Feel free to share the quotes with your friends. Leave a comment below and which are your favourite Marriage Quotes ?
See also:
Future Quotes | Self Worth Quotes | Jealousy Quotes | Stress Quotes | Motivational Quotes | Work Quotes | Loyalty Quotes
You can find us at – Facebook | Instagram | LinkedIn | Pinterest | Twitter