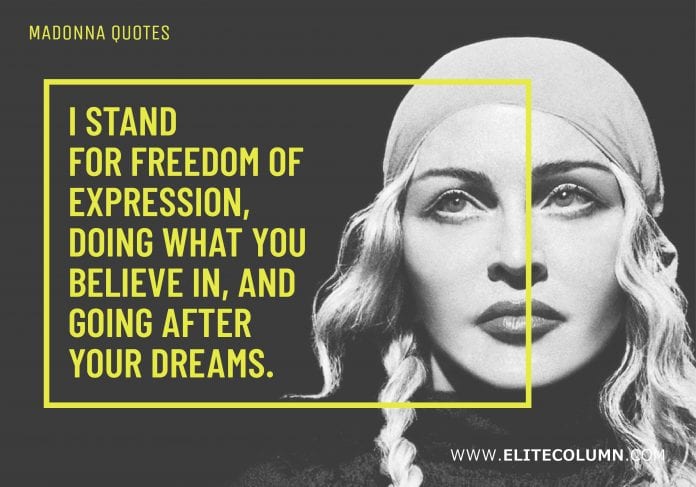 Pop legend Madonna is known for her constant reinvention as a performer. She went solo as a pop singer and became a sensation on the then male-dominated '80s music scene. She has achieved 21 Top 10 hits in the United States and has sold more than 70 million albums internationally. In January 2008, she was named the world's wealthiest female musician by Forbes magazine. Madonna quotes will make you stronger and EliteColumn brings you 12 strongest Madonna quotes.
28 Best Madonna Quotes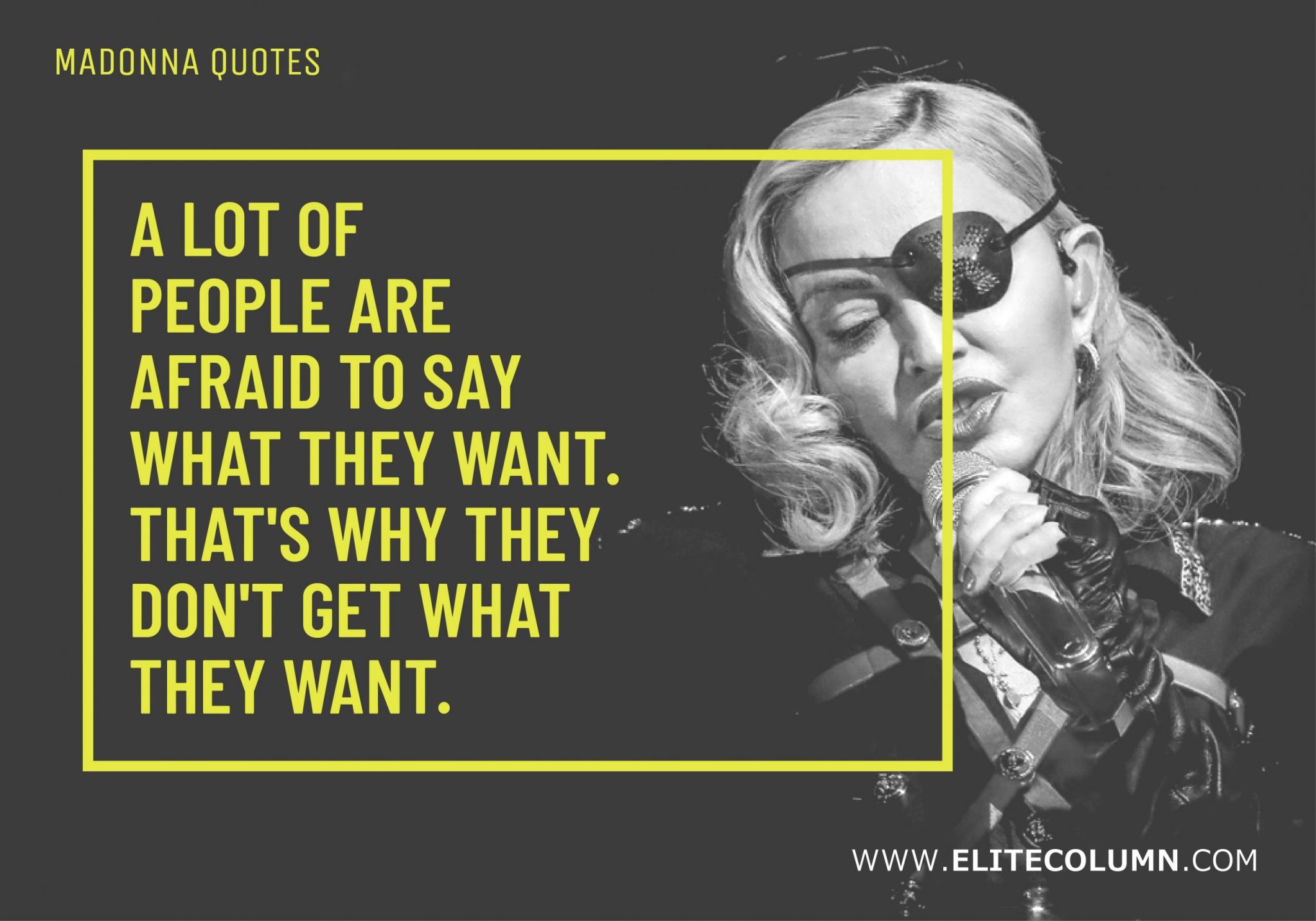 "A lot of people are afraid to say what they want. That's why they don't get what they want." – Madonna
2. "I think you can be defiant and rebellious and still be strong and positive." – Madonna
3. "I have the same goal I've had ever since I was a girl. I want to rule the world." – Madonna
4. "Power without guilt, love without doubt." – Madonna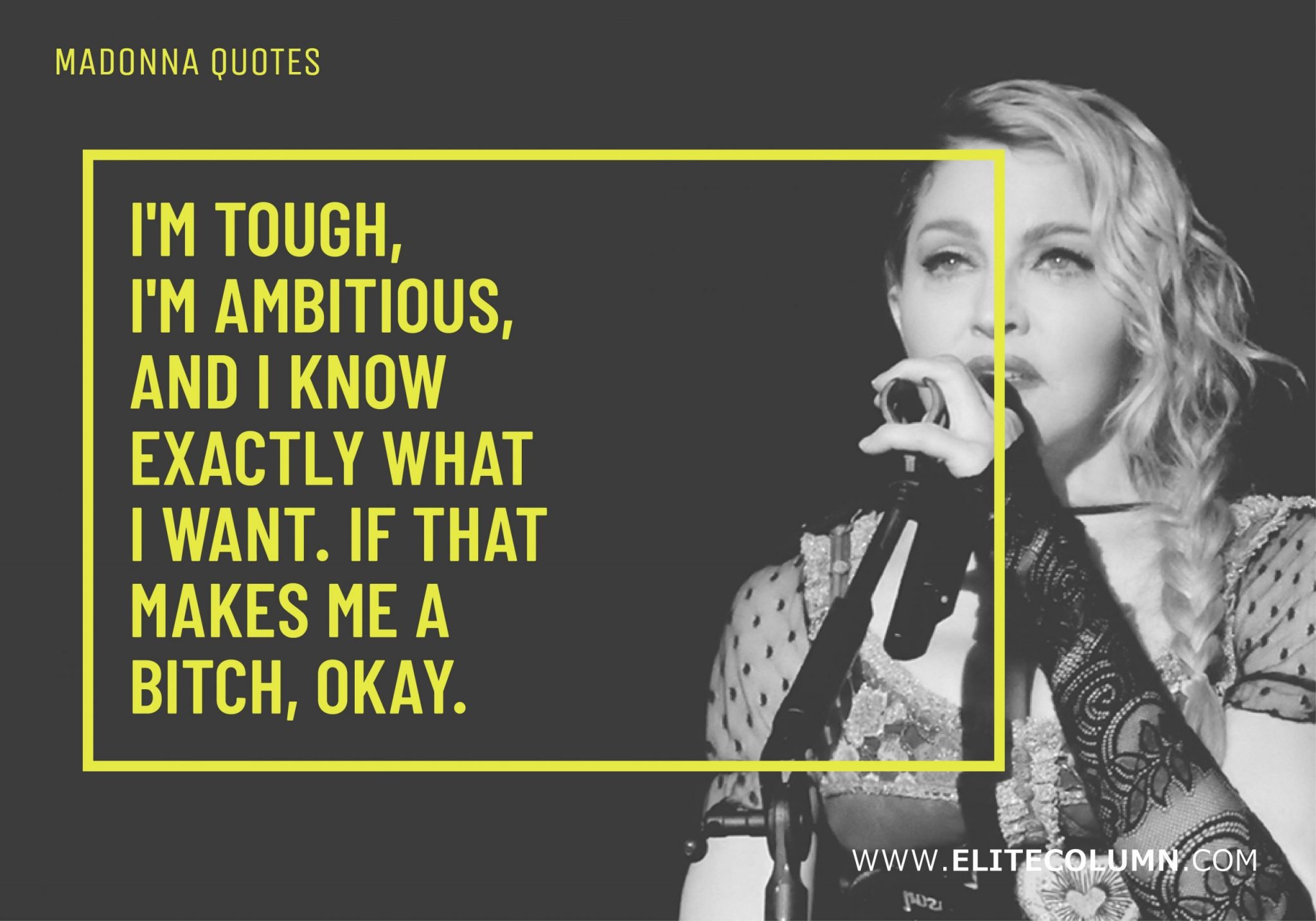 5. "I'm tough, I'm ambitious, and I know exactly what I want. If that makes me a bitch, okay." – Madonna
6. "We learn our lessons; we get hurt; we want revenge. Then we realize that actually, happiness and forgiving people is the best revenge." – Madonna
7. "I've never really lived a conventional life, so I think it's quite foolish for me or anyone else to start thinking that I am going to start making conventional choices." – Madonna
8. "If I can't be daring in my work or the way I live my life, then I don't really see the point of being on this planet." – Madonna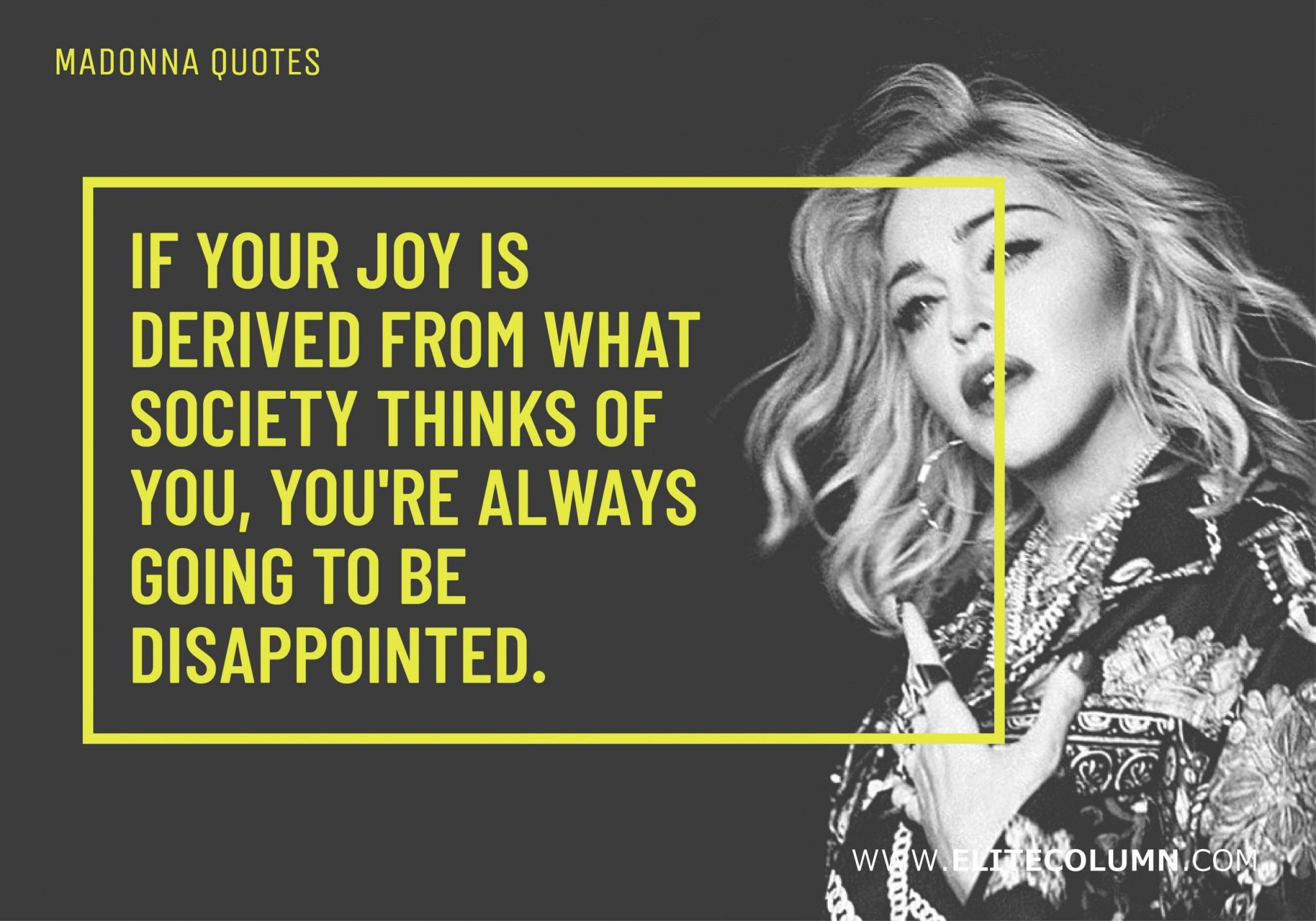 9. "If your joy is derived from what society thinks of you, you're always going to be disappointed." – Madonna
10. "I feel just as hungry today as I did the day I left home." – Madonna
11. "Fame is a form of misunderstanding." – Madonna
12. "My priority is my family, absolutely, 100 percent." – Madonna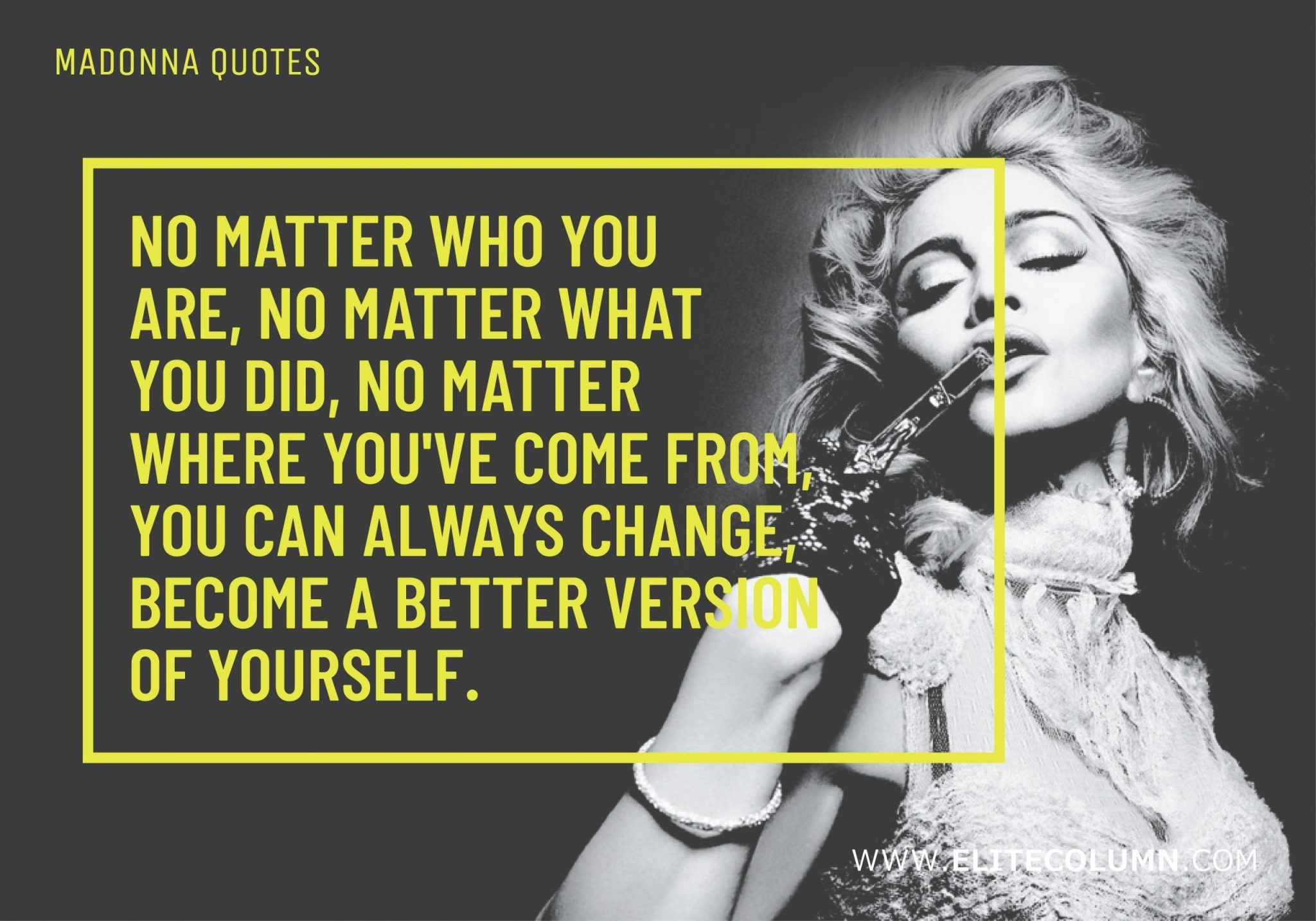 13. "No matter who you are, no matter what you did, no matter where you've come from, you can always change, become a better version of yourself." – Madonna
14. "Be strong, believe in freedom and in God, love yourself, have a sense of humor, don't judge people by their religion, color or habits, love life and your family." – Madonna
See also:
Justin Bieber Quotes | Ed Sheeran Quotes | Taylor Swift Quotes | Eminem Quotes | Michael Jackson Quotes | Nicki Minaj Quotes
15. "Power is being told you're not loved and not being destroyed by it." – Madonna
16. "I'm not going to compromise my artistic integrity." – Madonna
17. "I am rich and famous. I have a talented and gorgeous husband and two beautiful children. I could go on." – Madonna
18. "It's not my nature to just kick back." – Madonna
19. "I am because we are. We all bleed the same color. We all want to love and be loved." – Madonna
20. "I laugh at myself. I don't take myself completely seriously. I think that's another quality that people have to hold on to… you have to laugh, especially at yourself." – Madonna
See also:
Tupac Shakur Quotes | Lady Gaga Quotes | Jay Z Quotes | Demi Lovato Quotes | Harry Styles Quotes | Chester Bennington Quotes | Beyonce Quotes | Katy Perry Quotes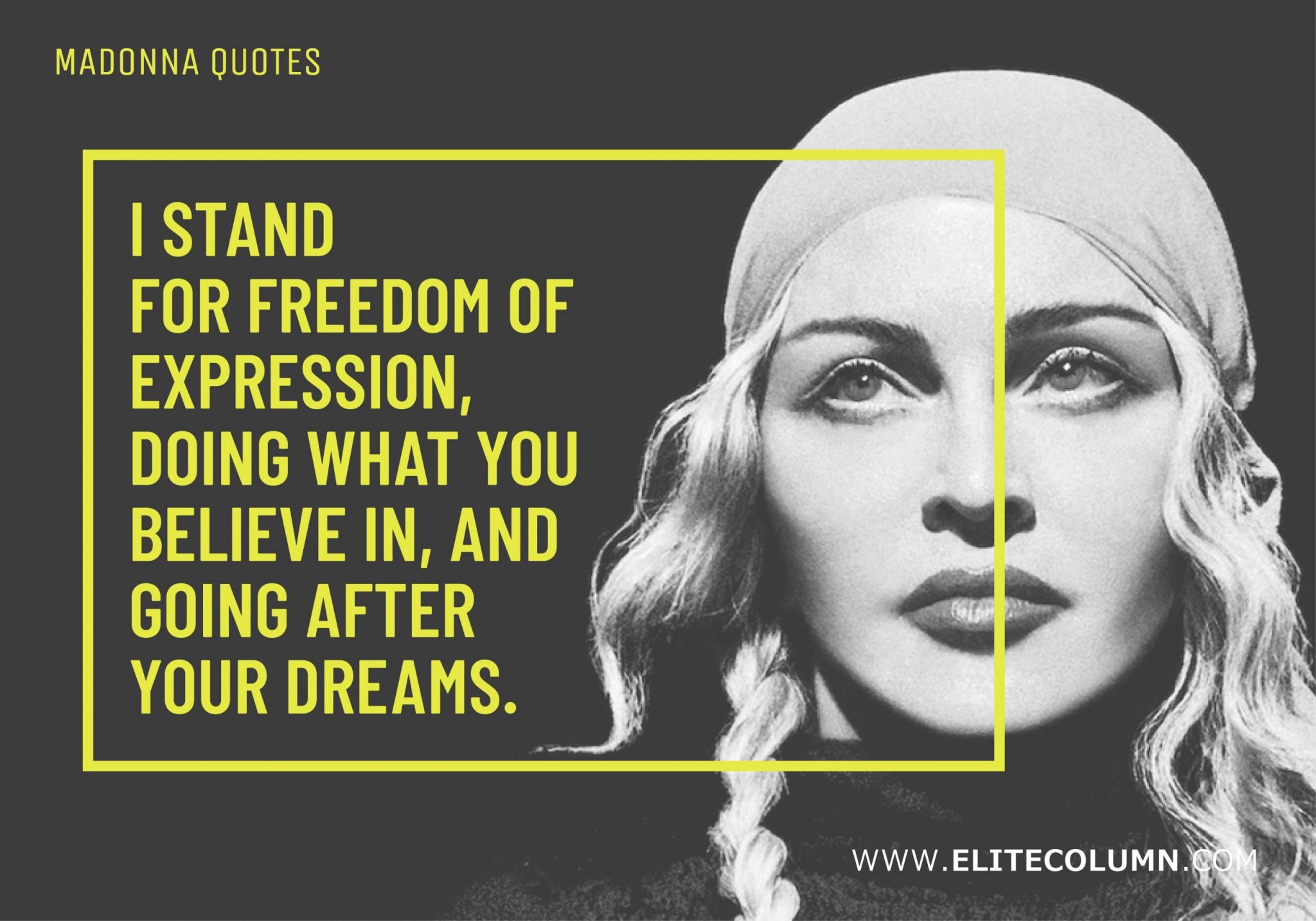 21. "I stand for freedom of expression, doing what you believe in, and going after your dreams." – Madonna
22. "I wouldn't have turned out the way I was if I didn't have all those old-fashioned values to rebel against." – Madonna
23. "Never forget to dream." – Madonna
24. "In the blink of an eye everything can change! Why waste time?" – Madonna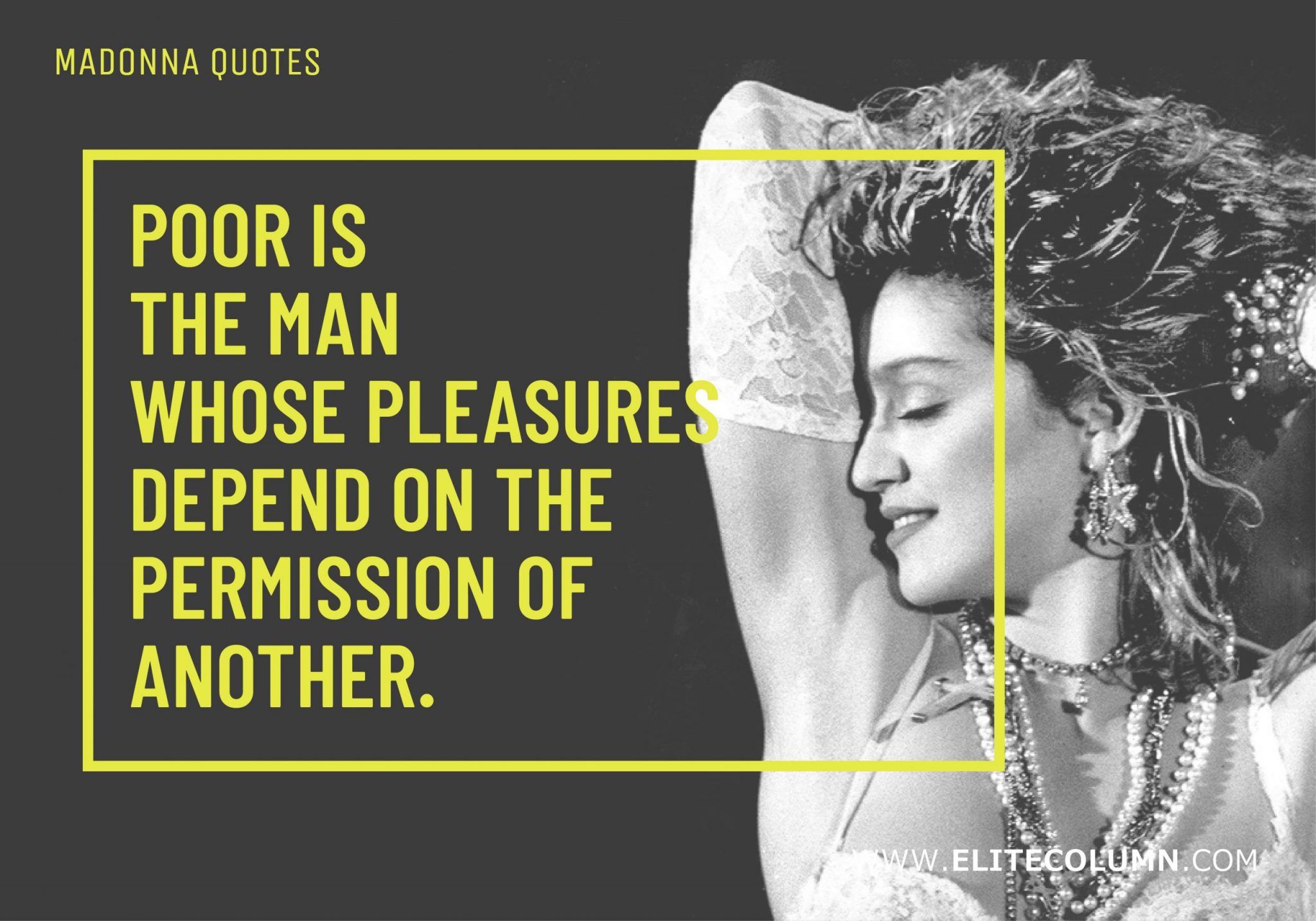 25. "Poor is the man whose pleasures depend on the permission of another." – Madonna
26. "Better to live one year as a tiger, then a hundred as sheep." – Madonna
27. "We all fall to the floor at some point. It's how you pick yourself up that's the real challenge. Isn't it?" – Madonna
28. "I'm always looking for something new: a new inspiration, a new philosophy, a new way to look at something, new talent." – Madonna
Thanks for checking out the best Madonna quotes. Feel free to share the quotes with your friends. Leave a comment below and which are your favorite Madonna quotes ?
See also:
Bruno Mars Quotes | Kanye West Quotes | Rihanna Quotes | Drake Quotes | Ariana Grande Quotes
You can find us at – Facebook | Instagram | LinkedIn | Pinterest | Twitter