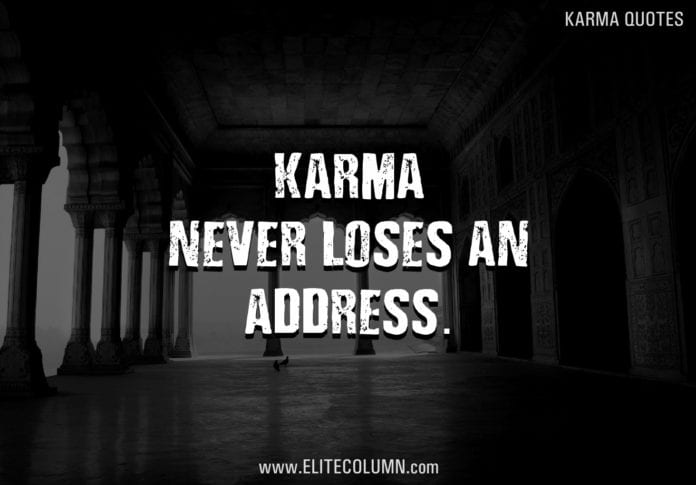 Karma, according to the ancient Indian wisdom means the cycle in which ones actions affects ones future. Or in other words – whatever the person is experiencing in one's life is the result of his past deeds. Today, when greed and self-indulgence have become more important to people than internal peace, it is extremely relevant to just peak a little into our history and try to understand the teachings of the scholars to help us redeem our Karma. Karma quotes will enlighten your life with wisdom. Below are some of the Karma quotes which can help everyone deal with the confusions and temptations of his/her life.
55 Best Karma Quotes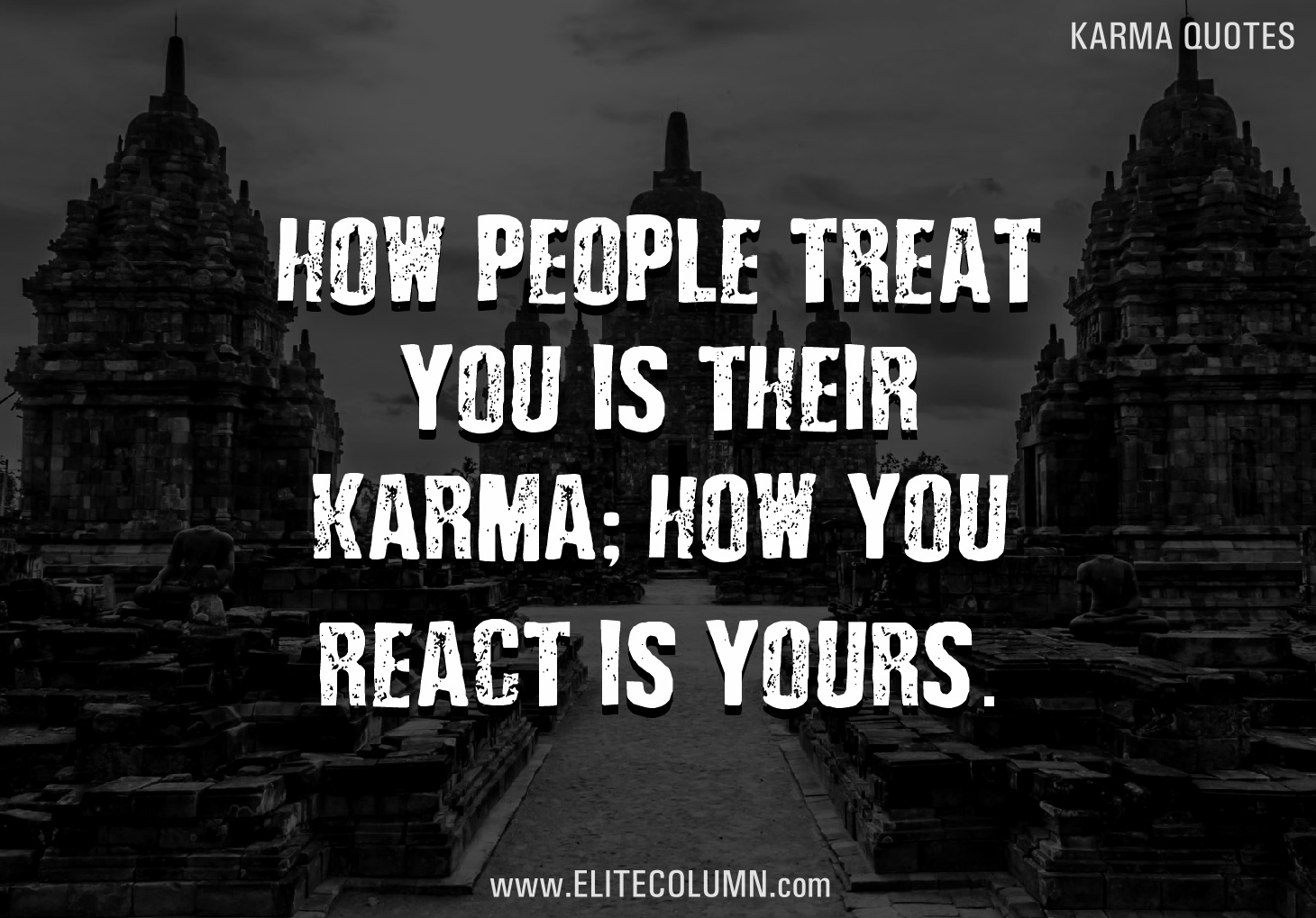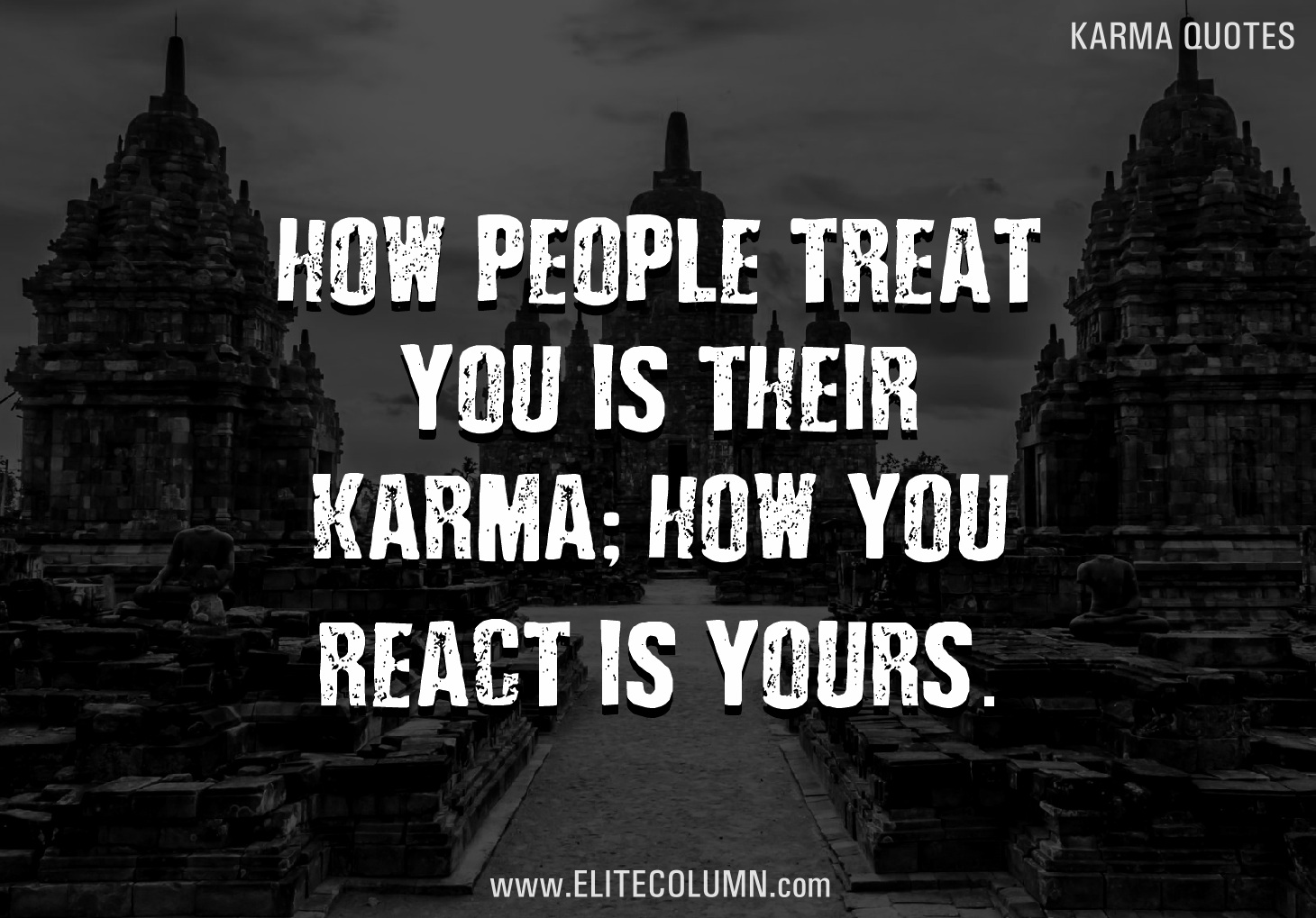 1. "How people treat you is their karma; how you react is yours."
2. "It's already bad. I'm honestly not sure how much worse it's going to get."
3. "Eventually you are answerable to yourself for your deeds. Be good and do good."
4. "Karma is like boomerang, bad the karma bigger the force."
5. "Someday people will ask me what is the key to my success…and I will simply say, Good Karma."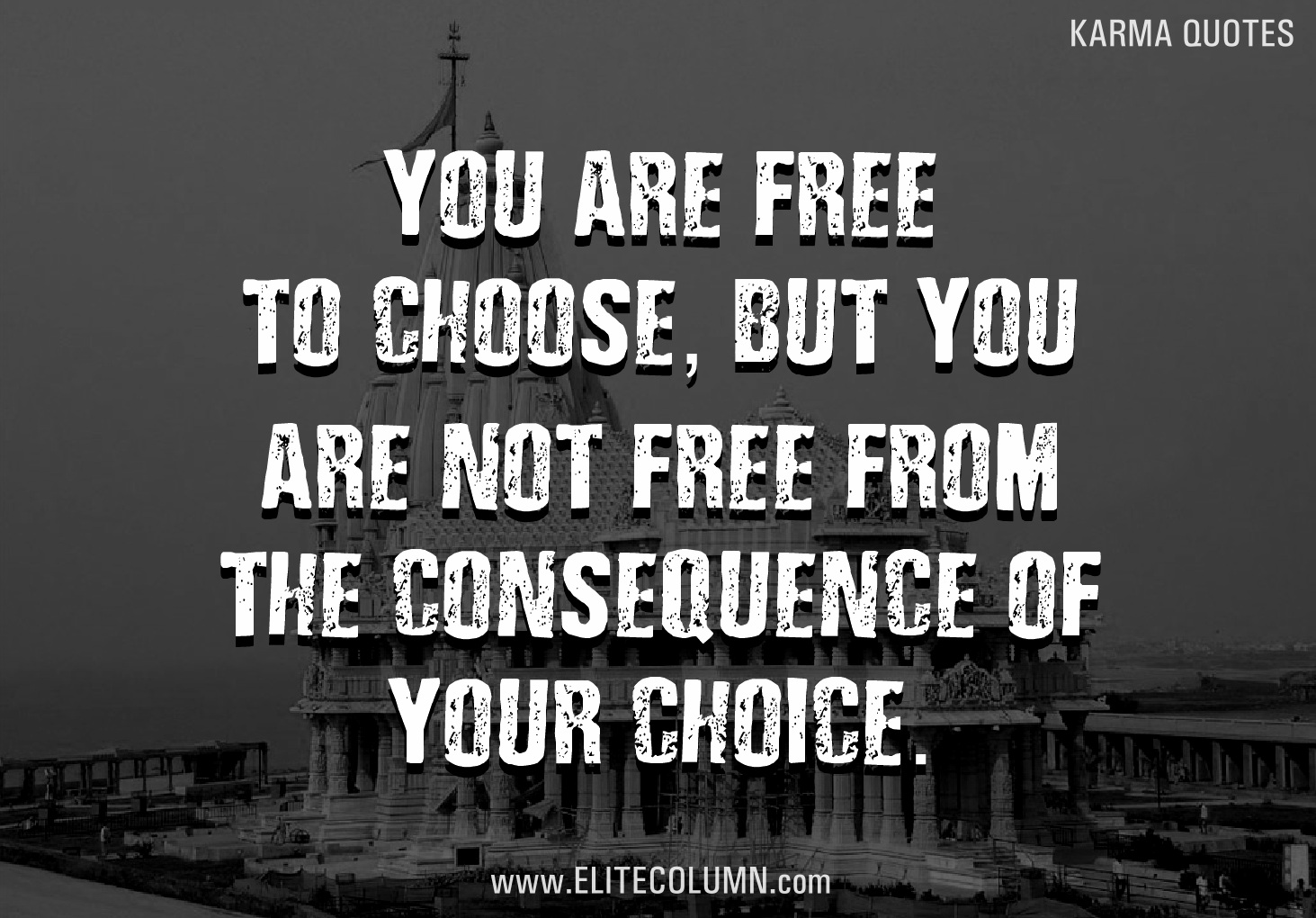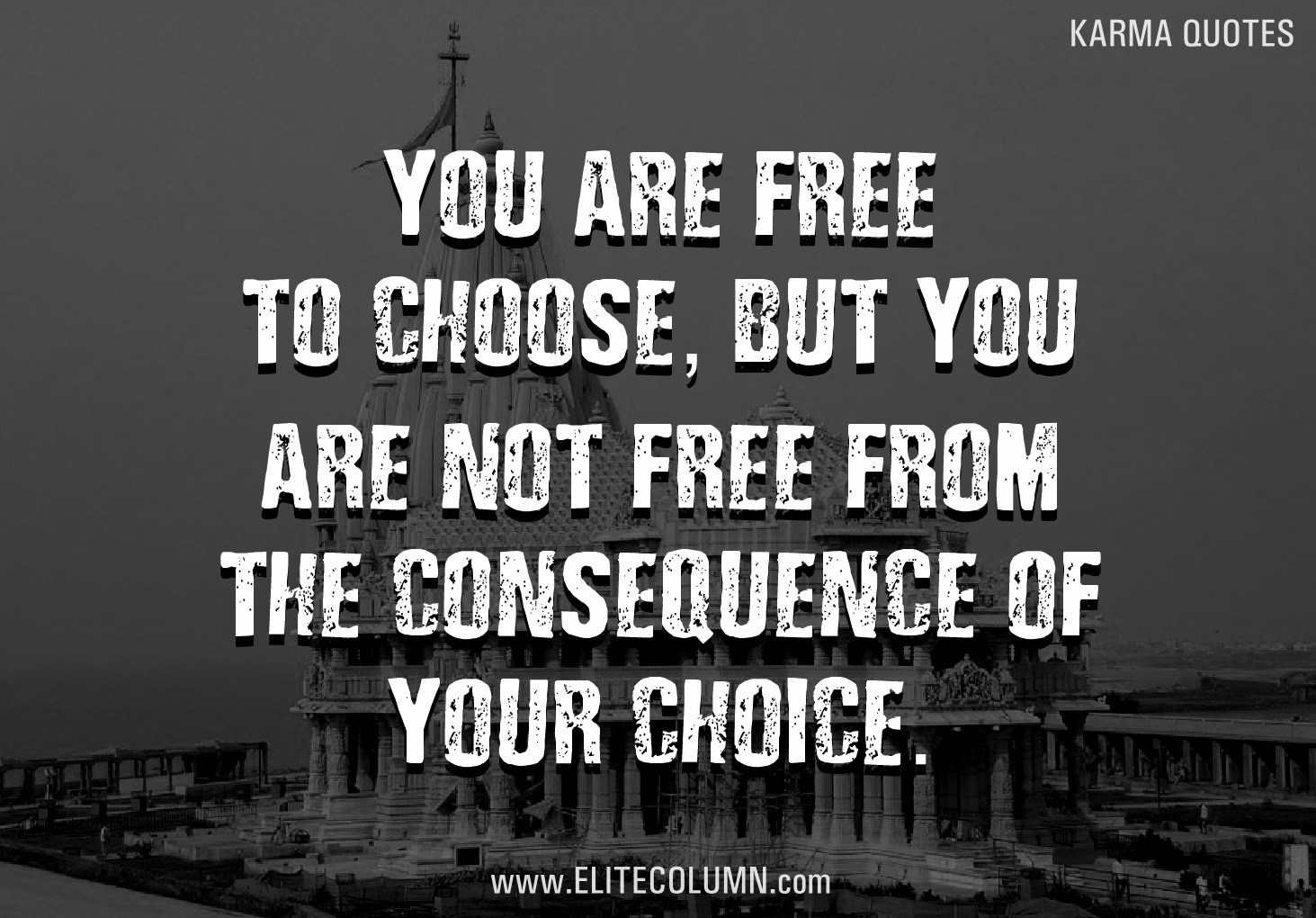 6. "You are free to choose, but you are not free from the consequence of your choice."
7. "When someone has a strong intuitive connection, Buddhism suggests that it's because of karma, some past connection."
8. "If you are smart, you will know why it happened in your life."
9. "Even if things don't unfold the way you expected, don't be disheartened or give up."
10. "Is Fate getting what you deserve, or deserving what you get?"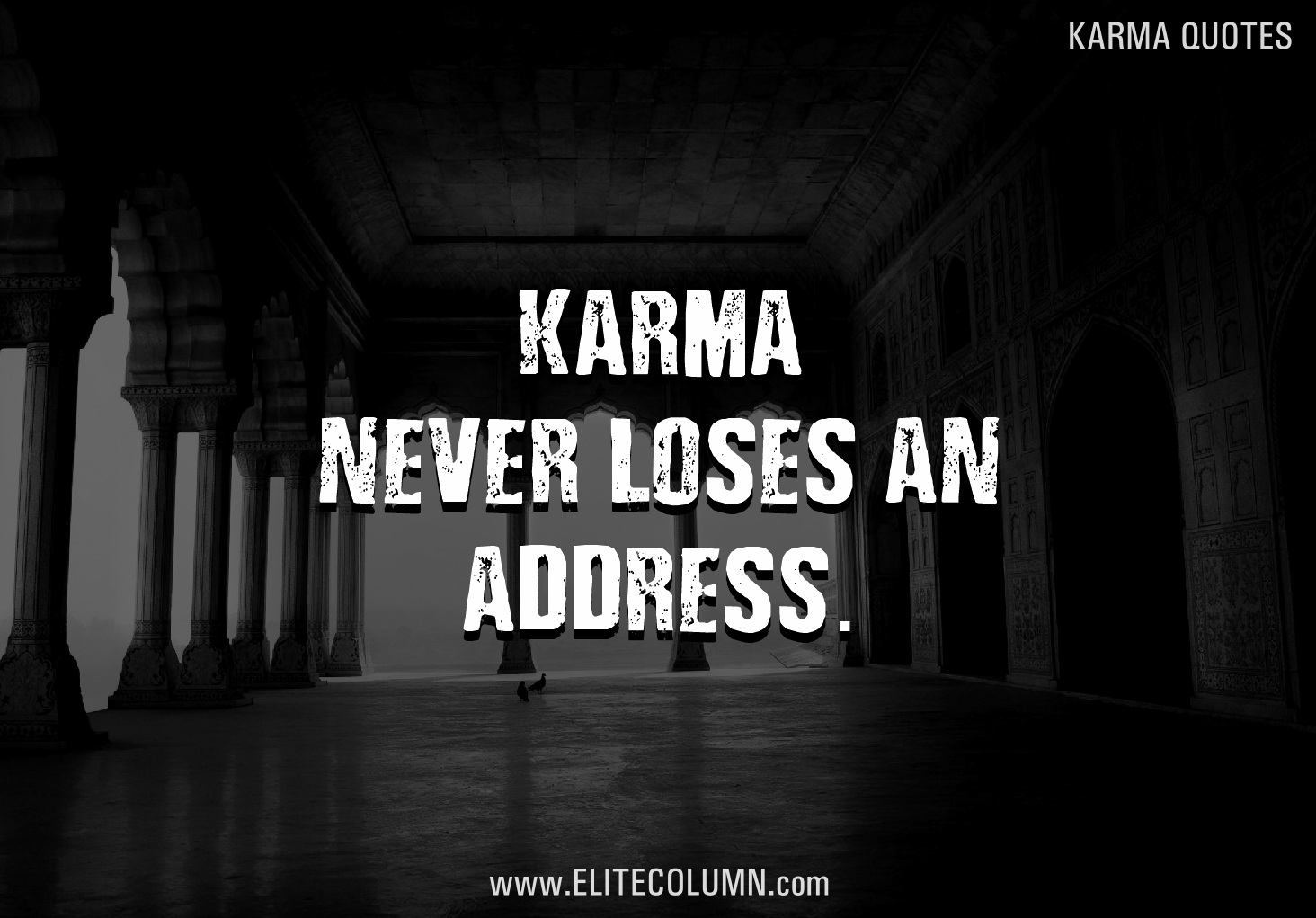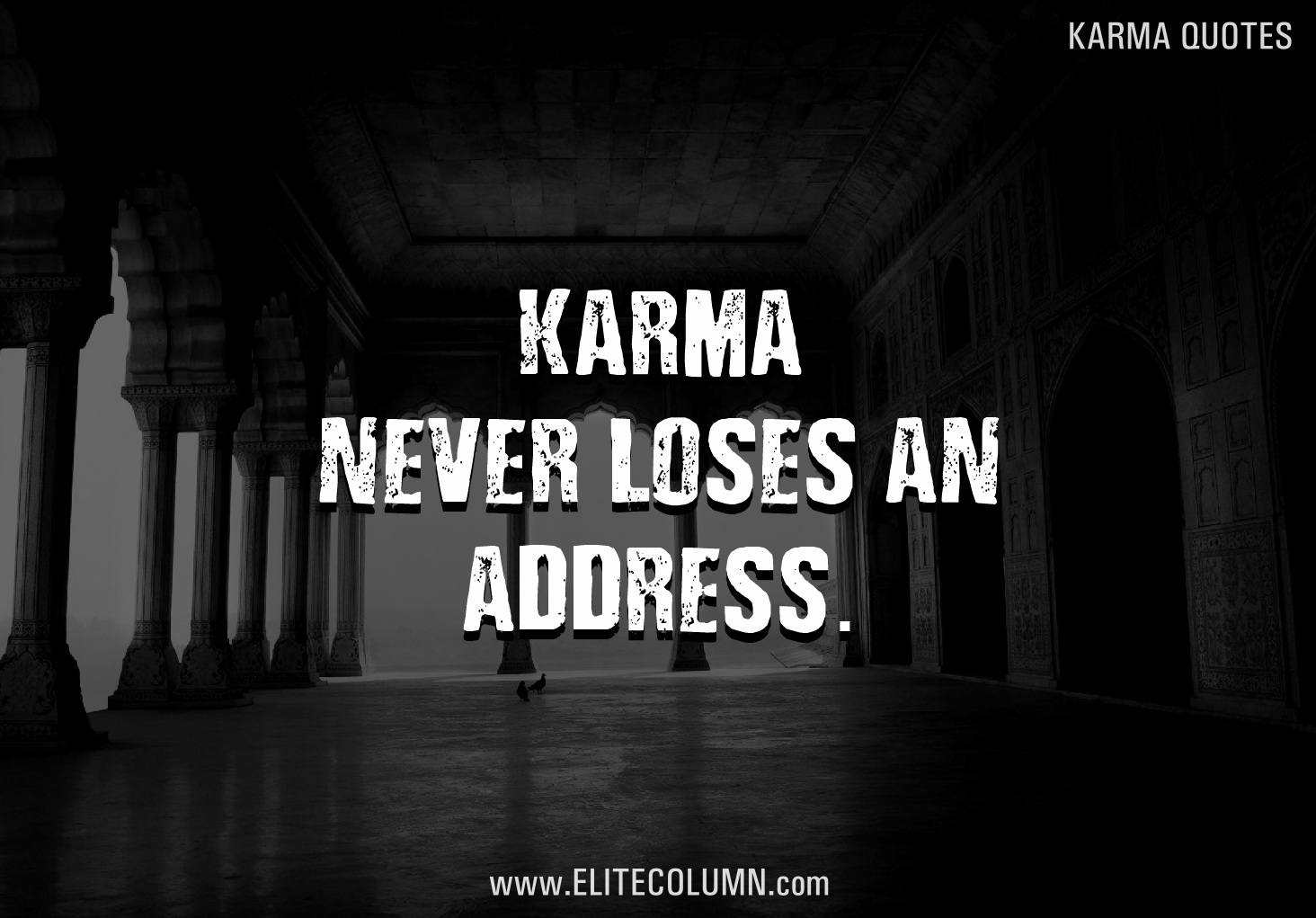 11. "Karma never loses an address."
12. "Realize that everything connects to everything else."
13. "Don't waste time on revenge. The people who hurt you will eventually face their own karma."
14. "What goes around comes back around."
15. "Do good and good will follow you."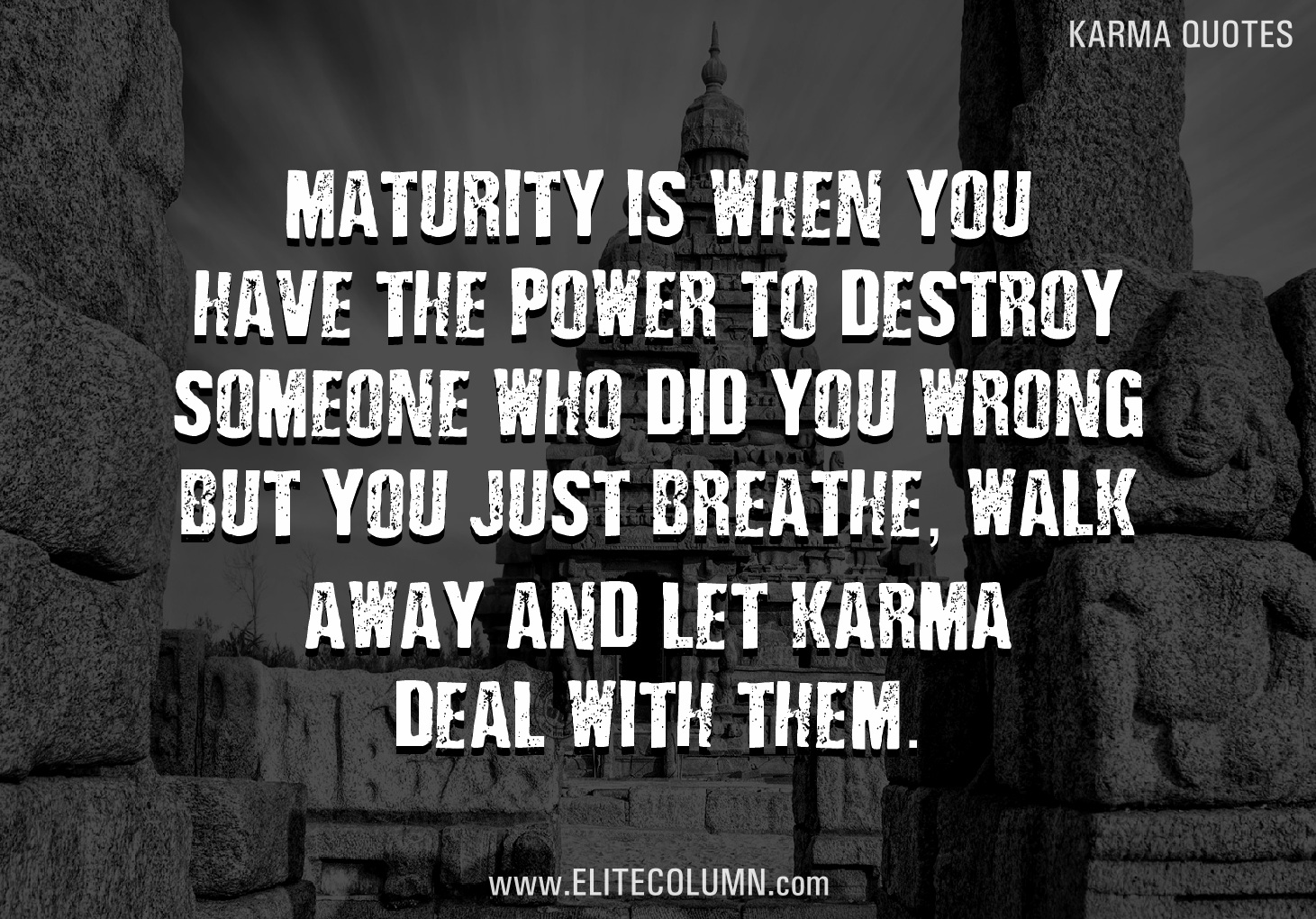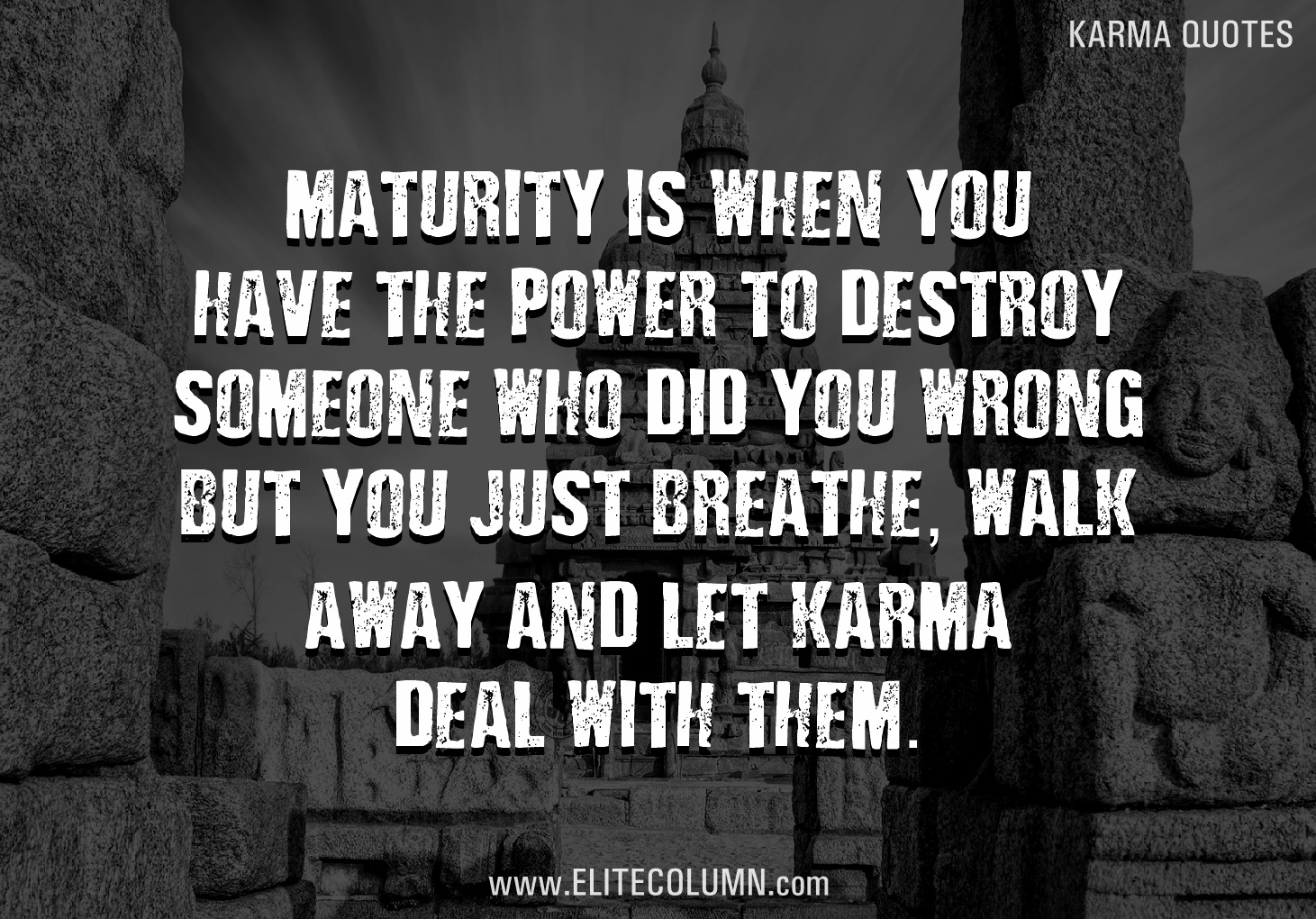 16. "Maturity is when you have the power to destroy someone who did you wrong but you just breathe, walk away and let karma deal with them."
17. "Don't worry, eventually everything falls into its rightful place."
18. "Even death is not to be feared by one who has lived wisely."
19. "Karma is a cruel mistress."
20. "Most times, how you treat your children is how they grow up to treat you."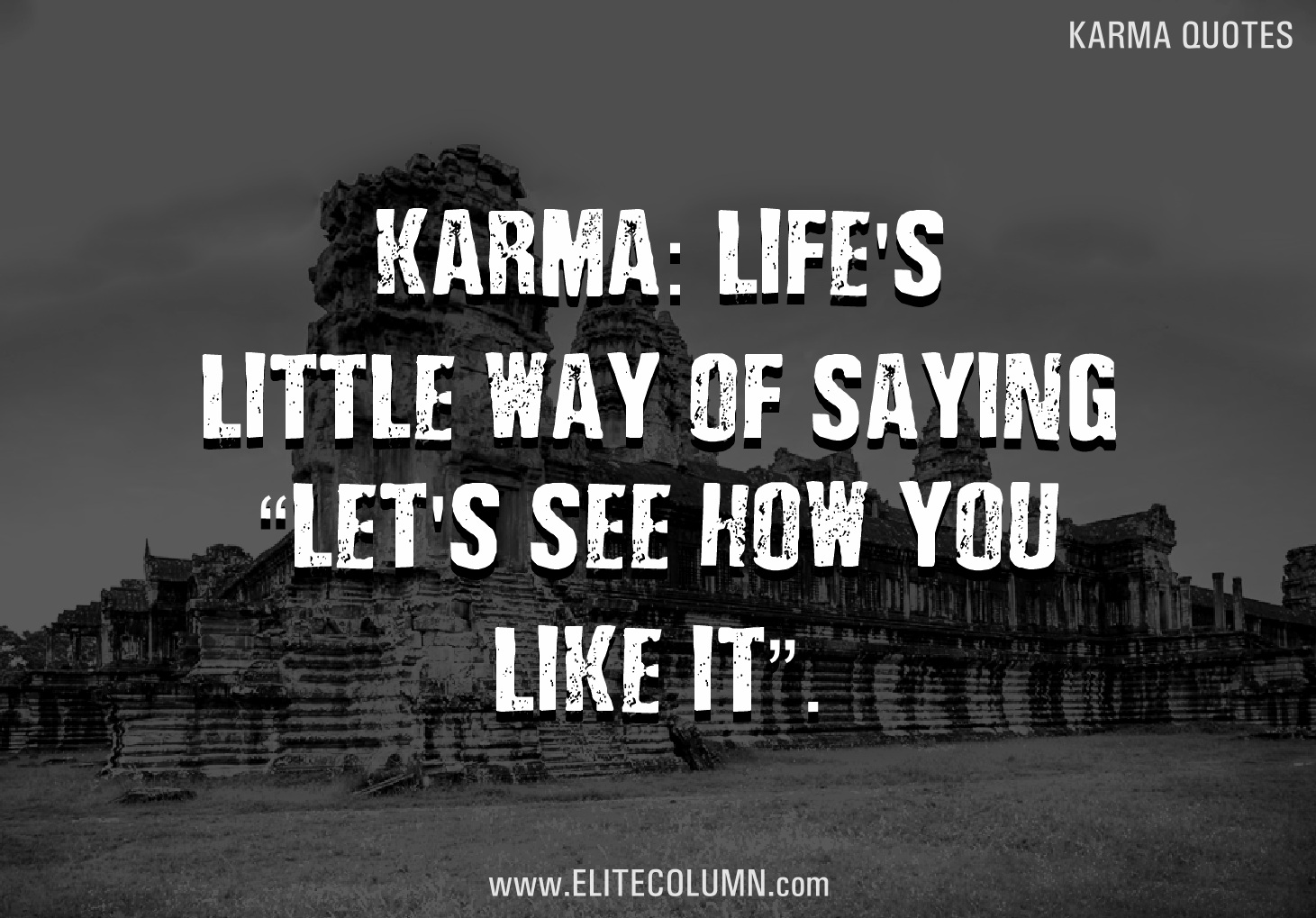 21. "Karma: Life's little way of saying "Let's see how you like it".
22. "Dangerous consequences will follow when politicians and rulers forget moral principles."
23. "Worthless people blame their karma."
24. "One who continues to advance will win in the end."
25. "A boomerang returns back to the person who throws it."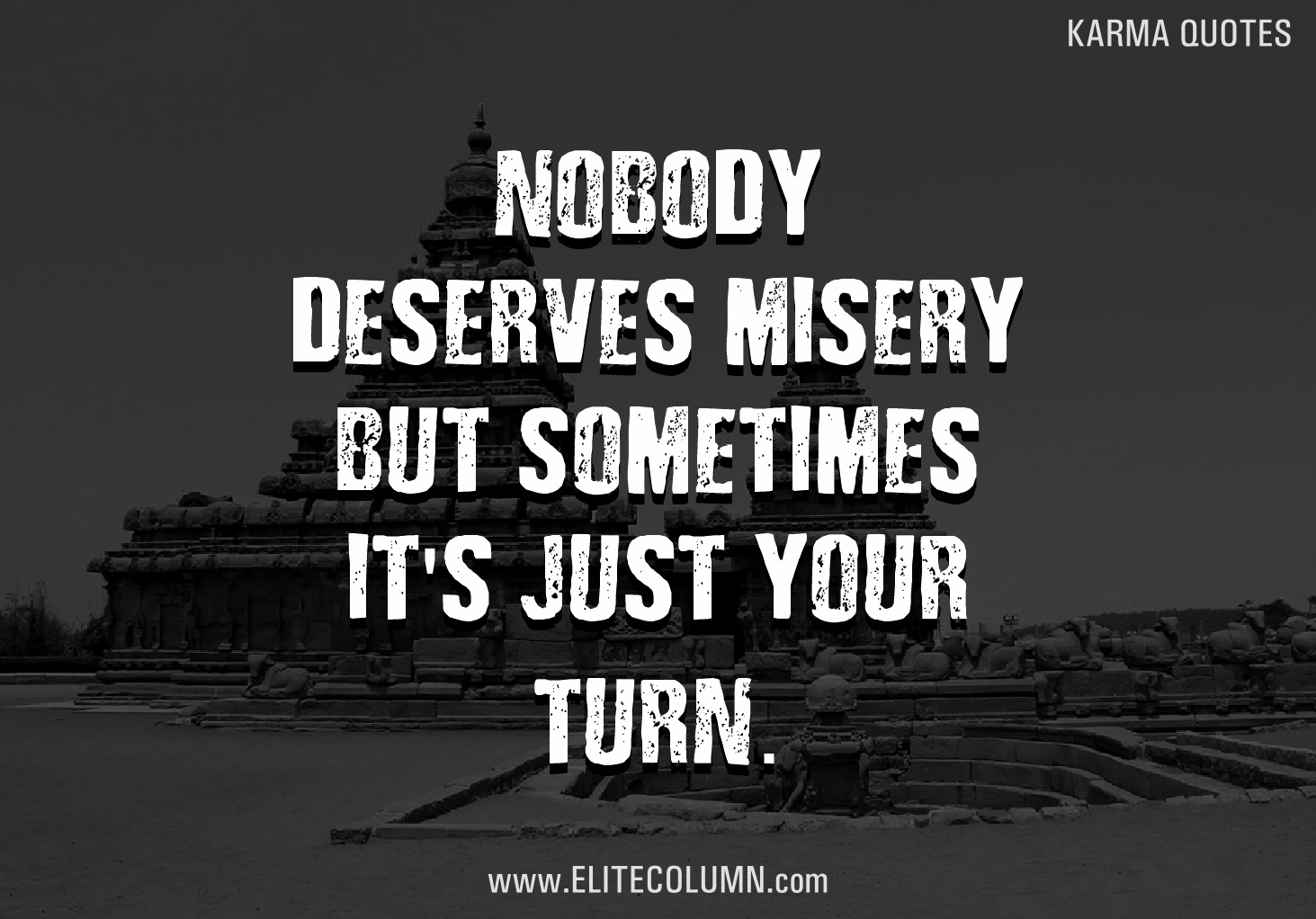 26. "Nobody deserves misery but sometimes it's just your turn."
27. "Like gravity, karma is so basic we often don't even notice it."
28. "Karma has no problem getting back in touch with you when need be."
29. "Revenge will never solve anything, karma will."
30. "Do good and good will follow you."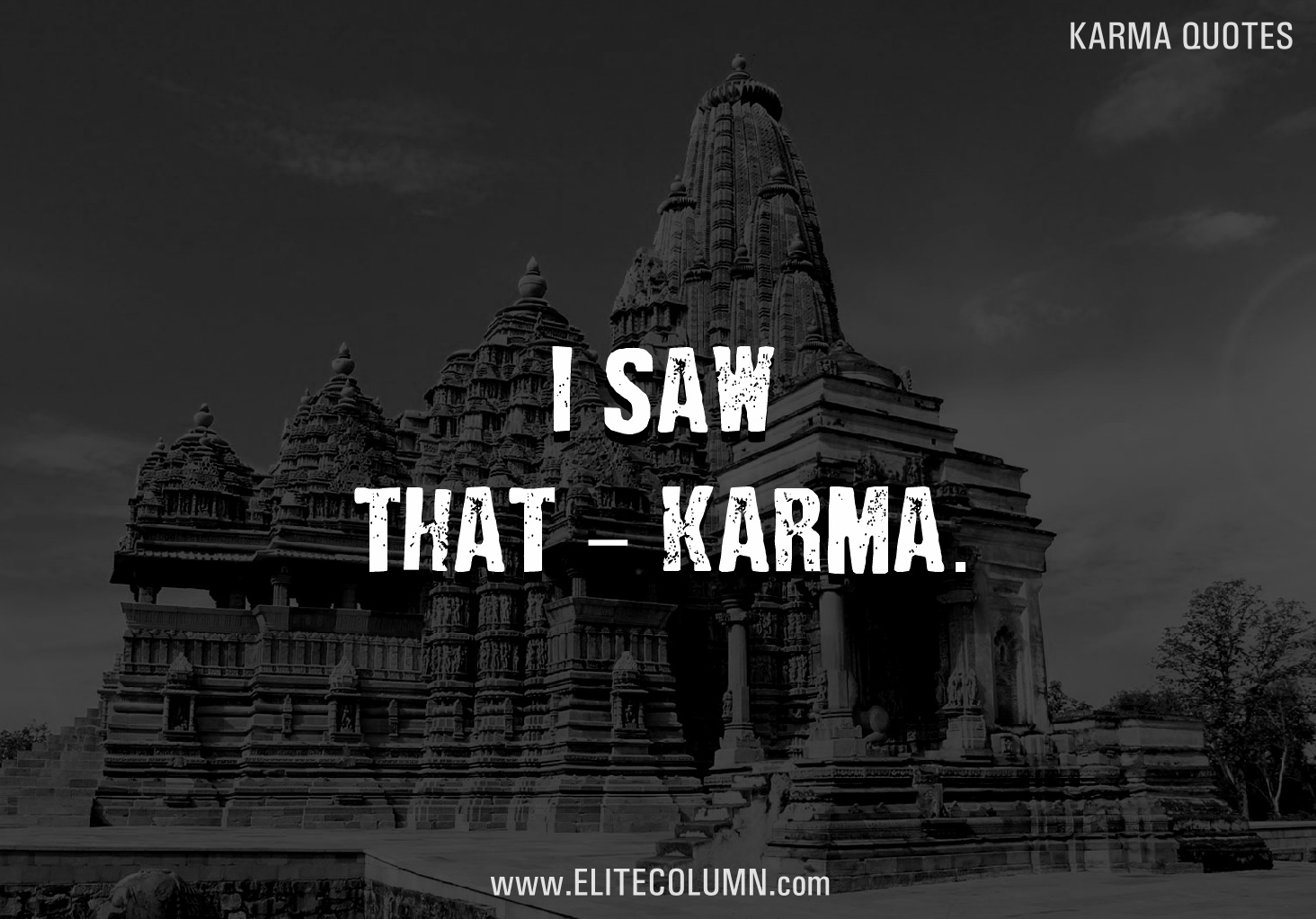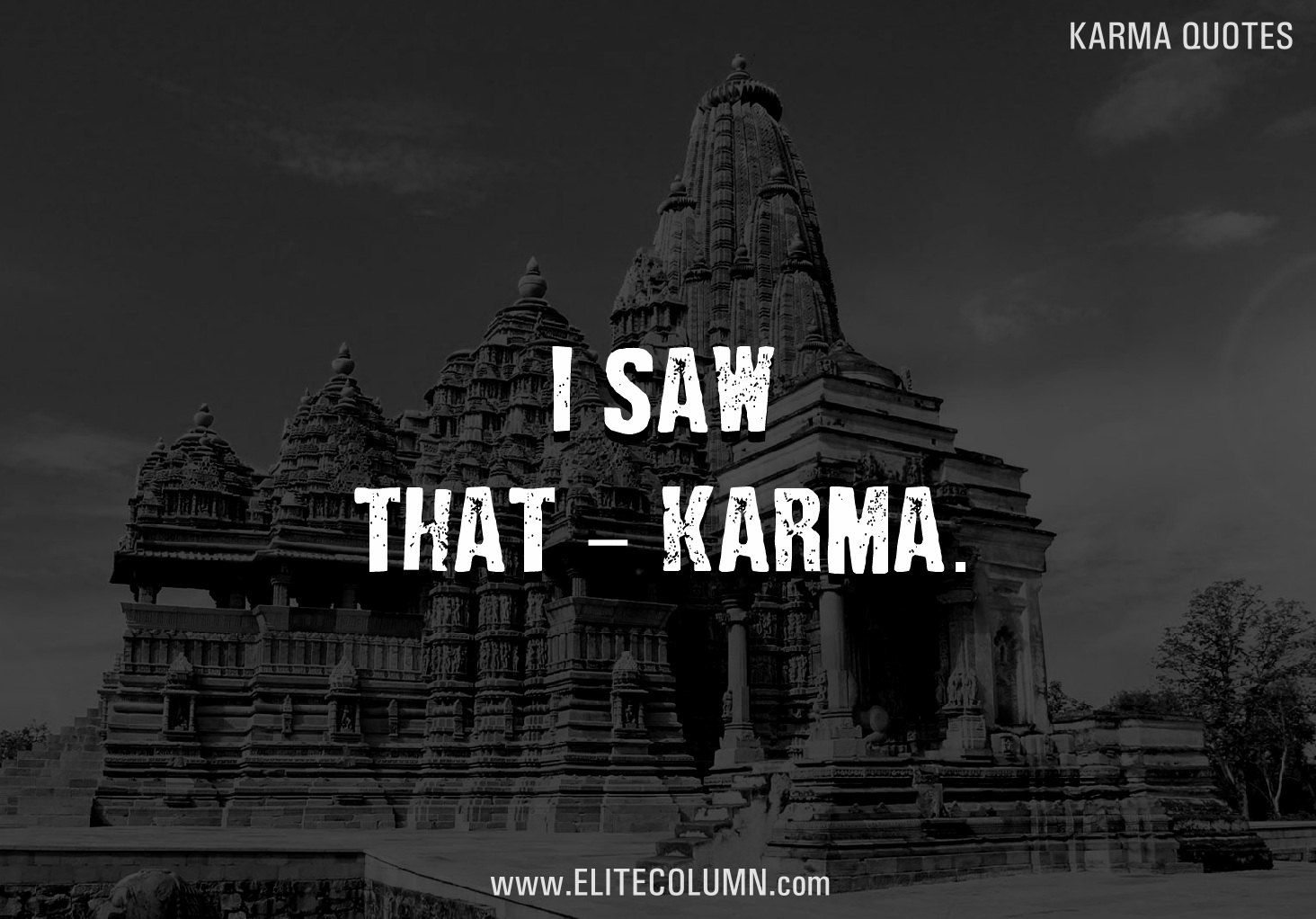 31. "I saw that – Karma."
32. "The law is simple. Every experience is repeated or suffered till you experience it properly."
33. "Karma is extremely efficient, if one is extremely patient."
34. "Show a little faith in someone when they need it. It's amazing how it comes back around to you."
35. "All you have to do is to sit back and watch."
See also:
Heartbreak Quotes | Growing Up Quotes | Intimacy Quotes | Music Quotes | Rebellious Quotes | Smile Quotes | Relationship Quotes | Woman Quotes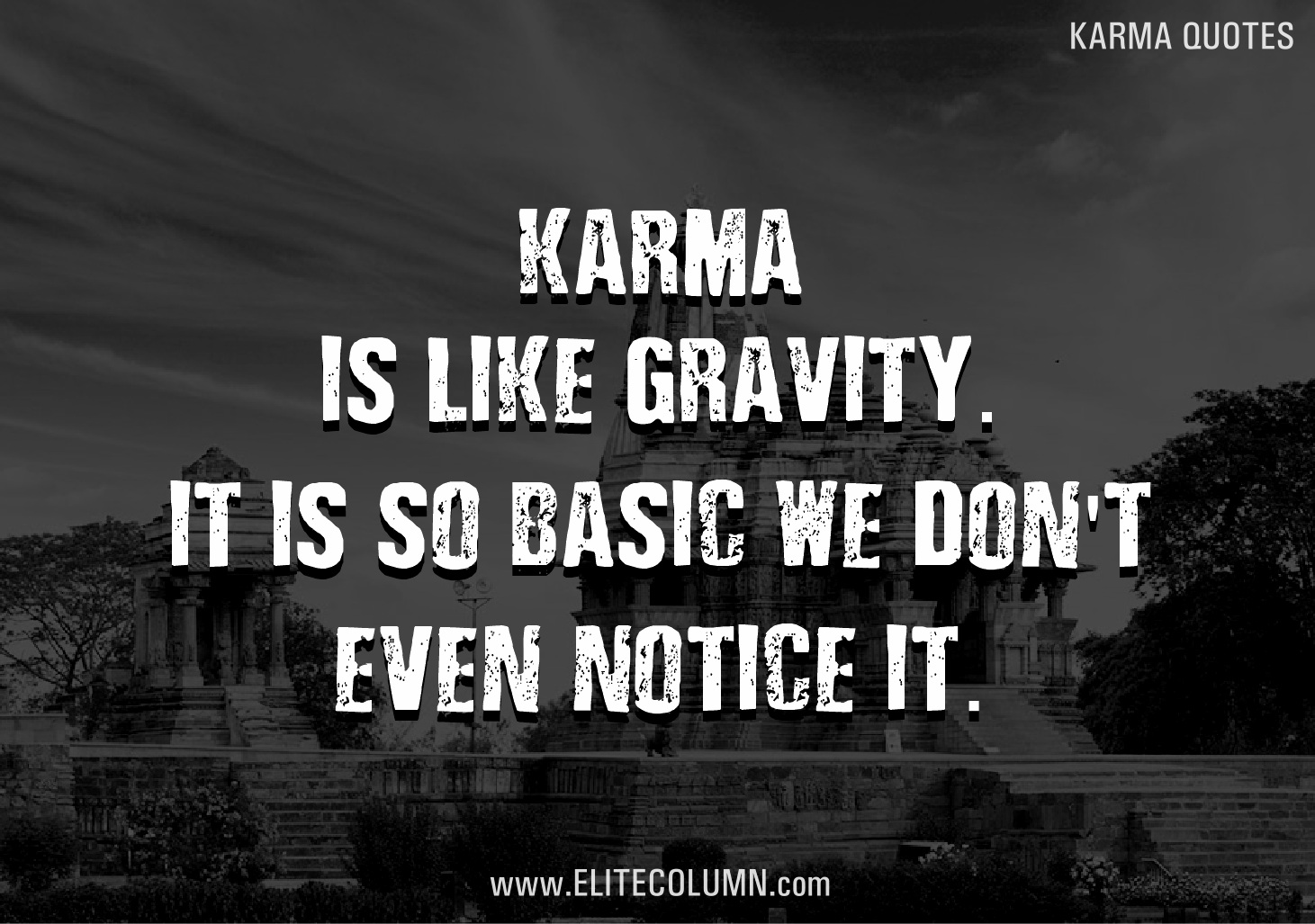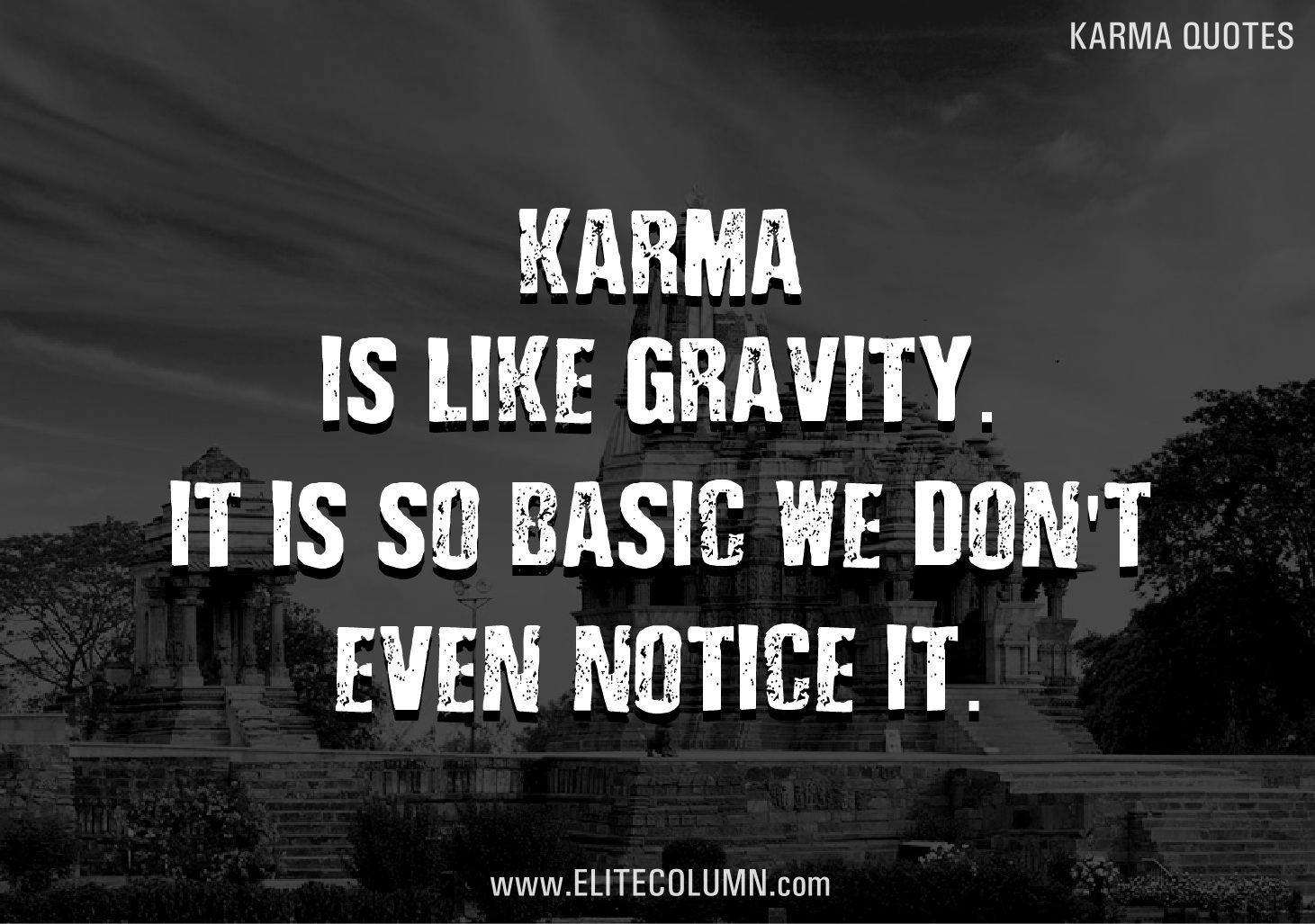 36. "Karma is like gravity. It is so basic we don't even notice it."
37. "Even if things don't unfold the way you expected, don't be disheartened or give up."
38. "Quiet the mind, and the soul will speak."
39. "Because this is the experience you are having at this moment."
40. "Regardless of what we do, our karma has no hold on us."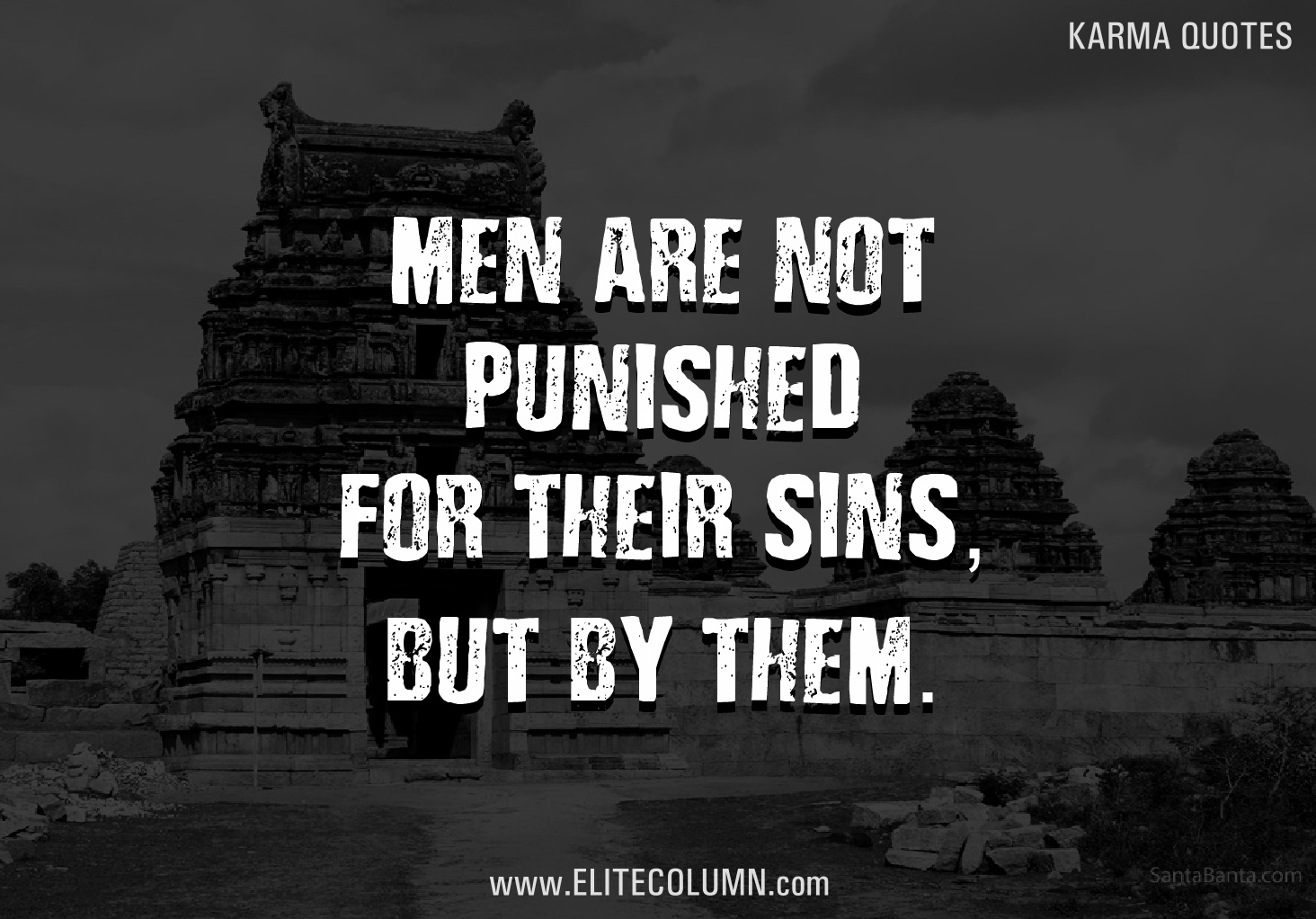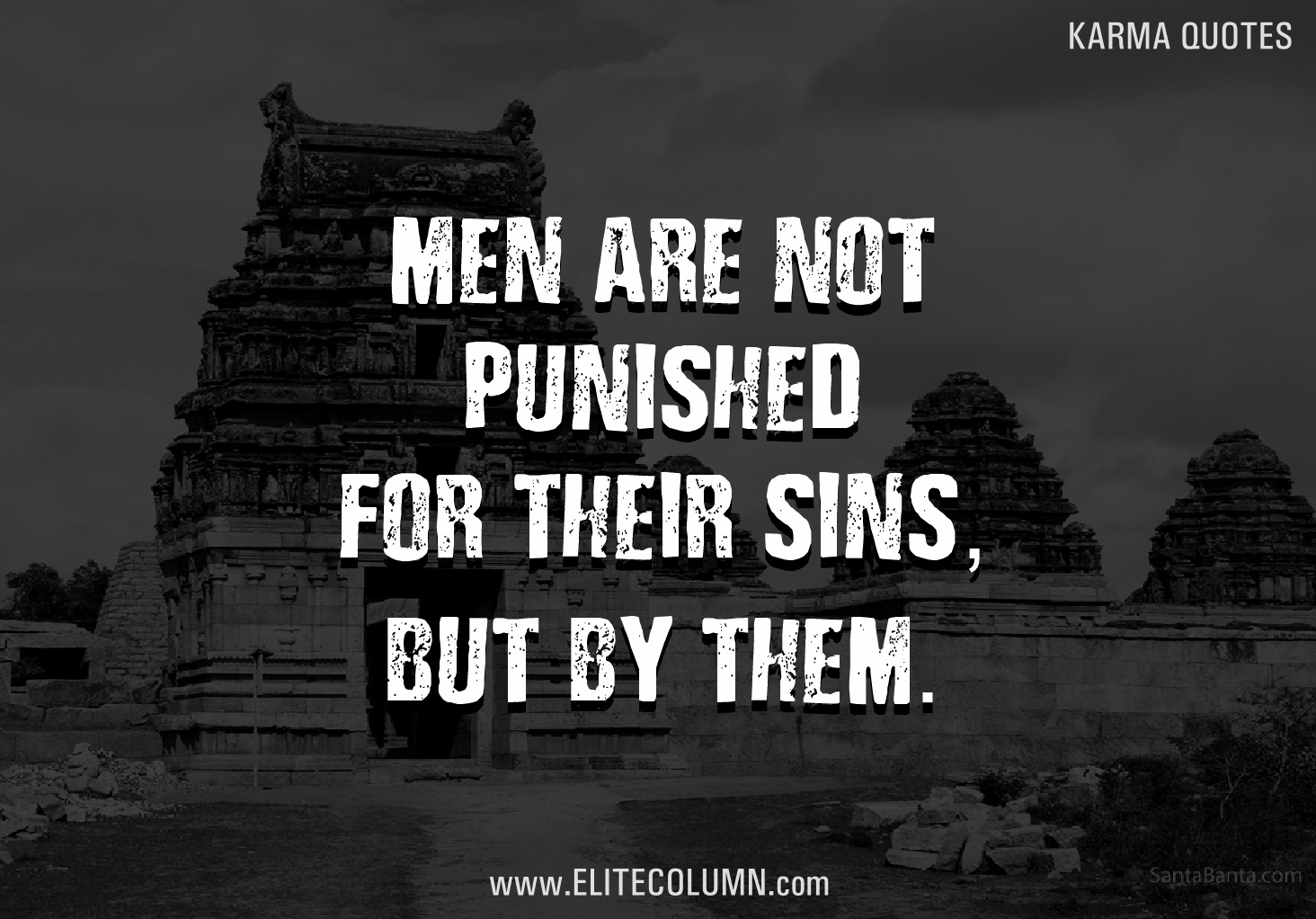 41. "Men are not punished for their sins, but BY THEM."
42. "If you're really a mean person you're going to come back as a fly and eat poop."
43. "The ones you judge today, may be the judgments you endure tomorrow."
44. "Karma is the universe's way of letting you know that you just thought you got away with it."
45. "Karma has no problem getting back in touch with you when need be."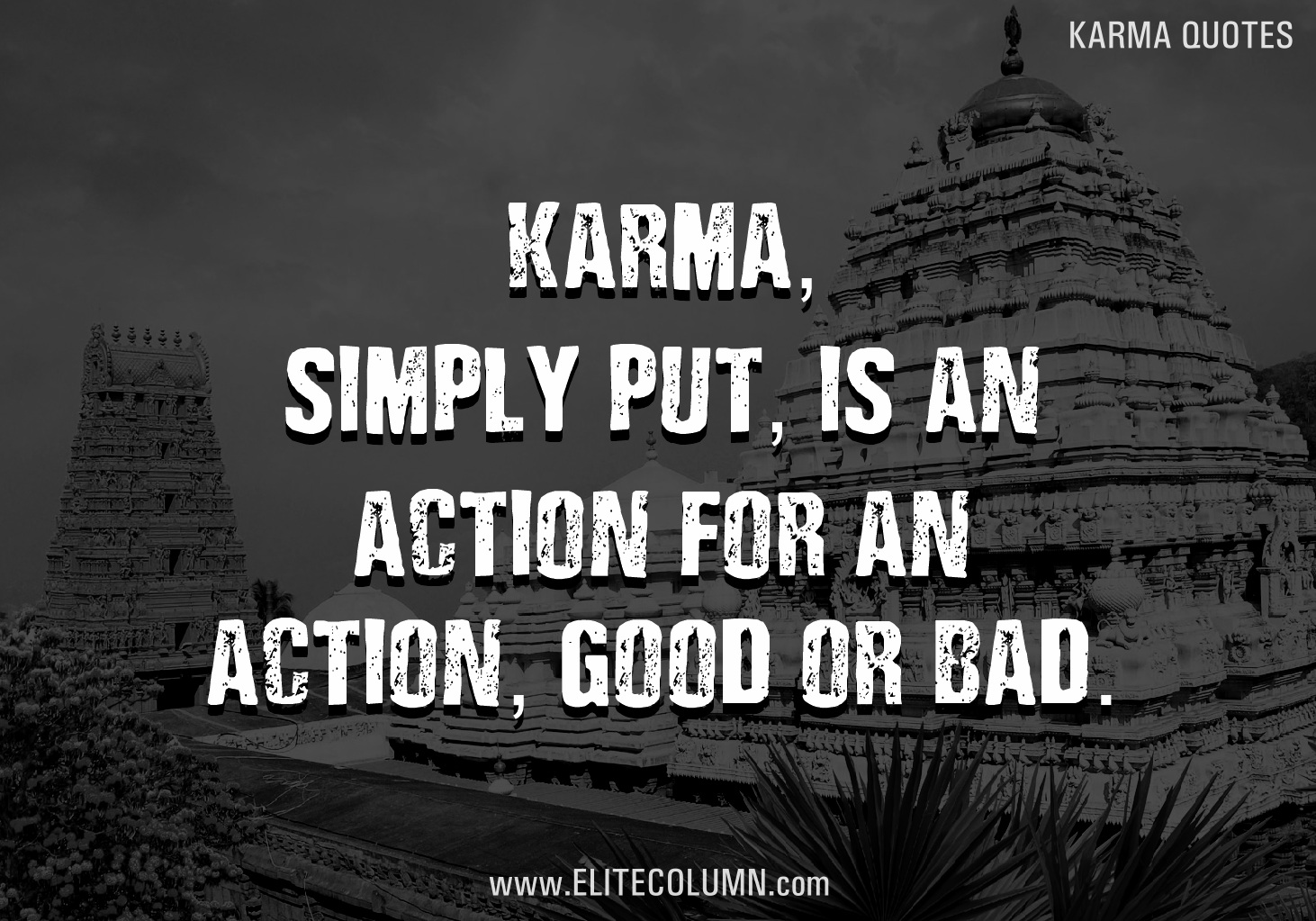 46. "Karma, simply put, is an action for an action, good or bad."
47. "Dear Karma, I really hate you right now, you made your point."
48. "When you do something bad: it comes back to you later."
49. "How wonderful it is that nobody needs to wait a single moment before starting to improve the world."
50. "I'm a true believer in karma. You get what you give, whether it's bad or good."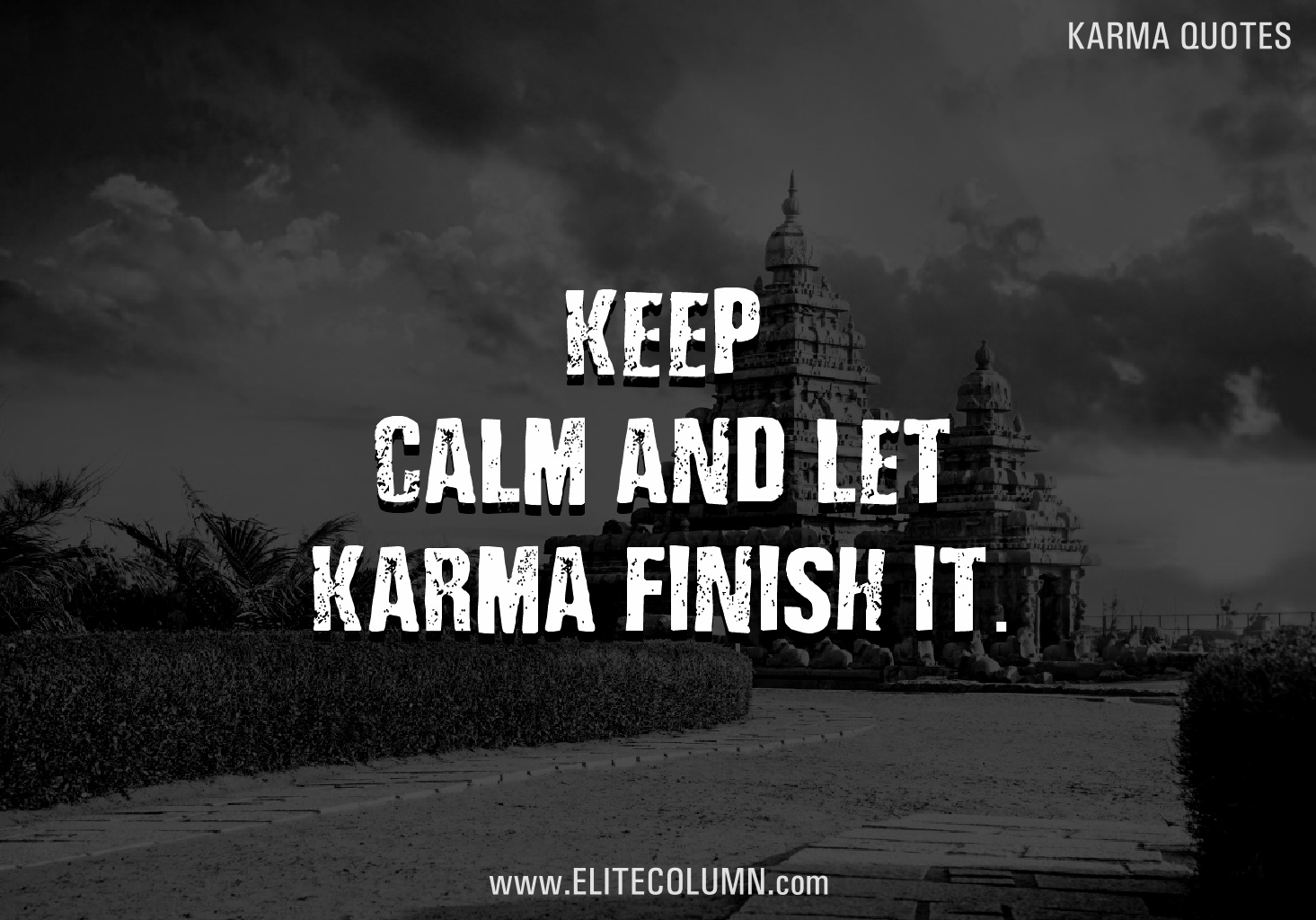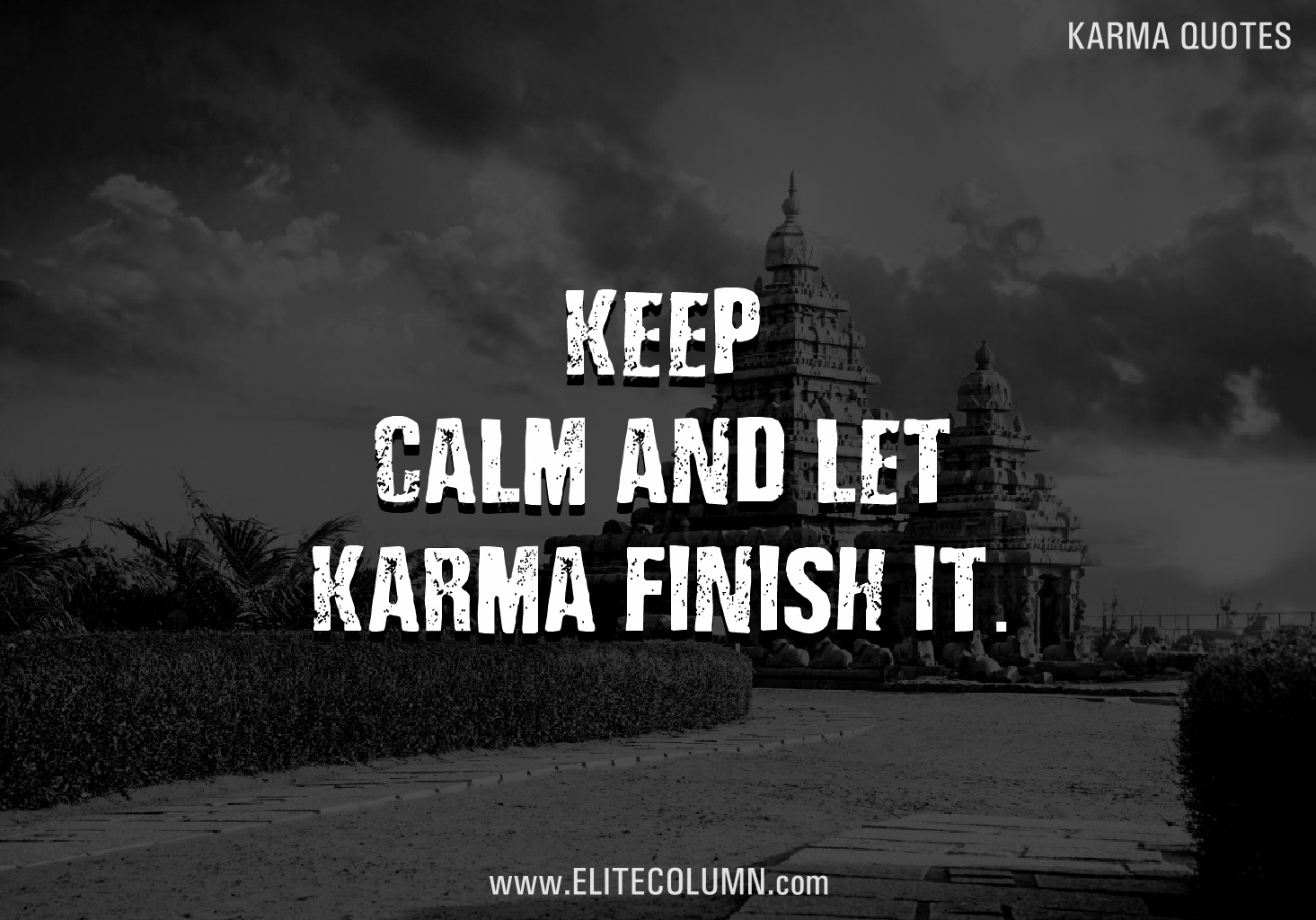 51. "Keep calm and let Karma finish it."
52. "I'm a very firm believer in karma and put it this way: I get a lot of good parking spots."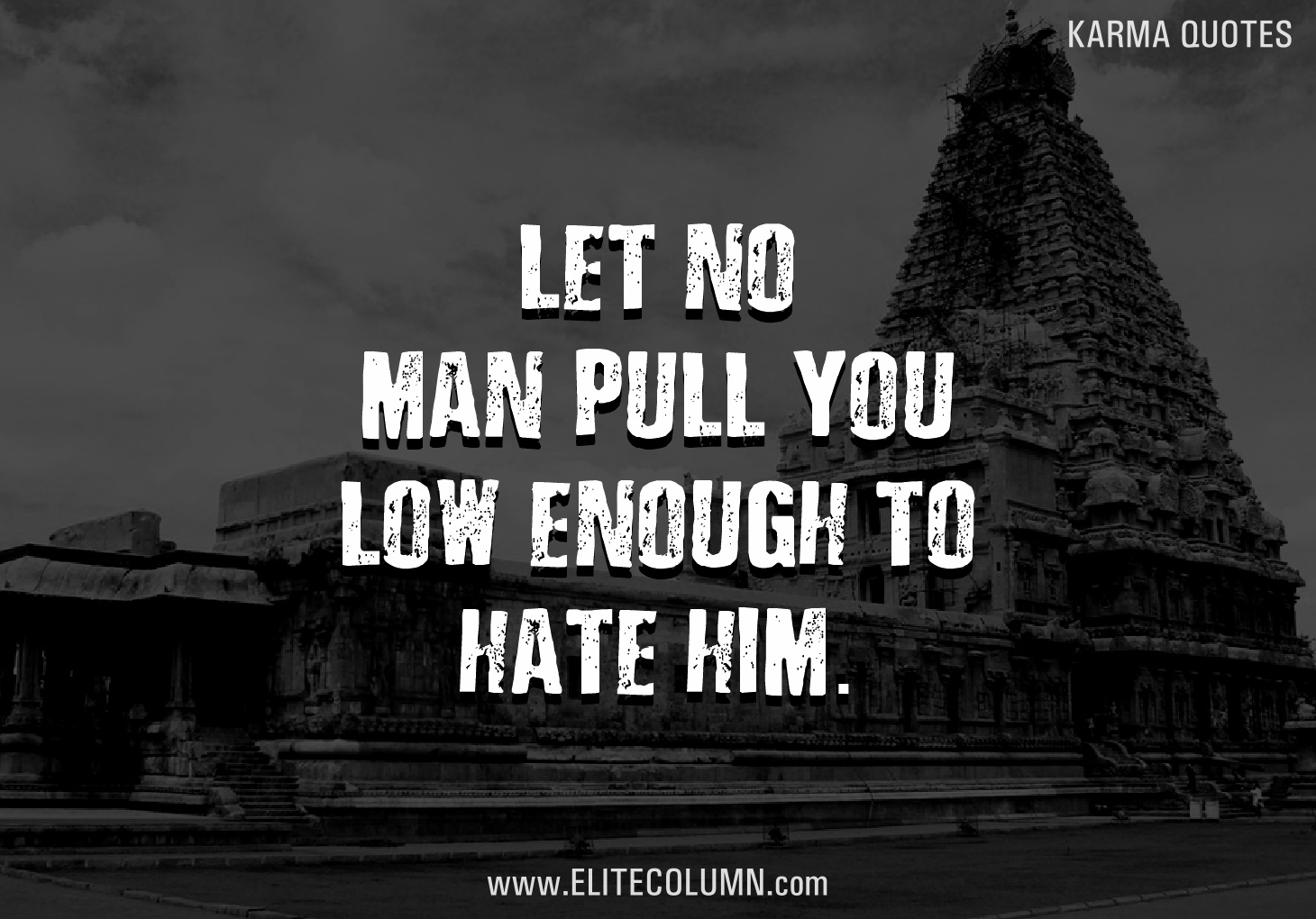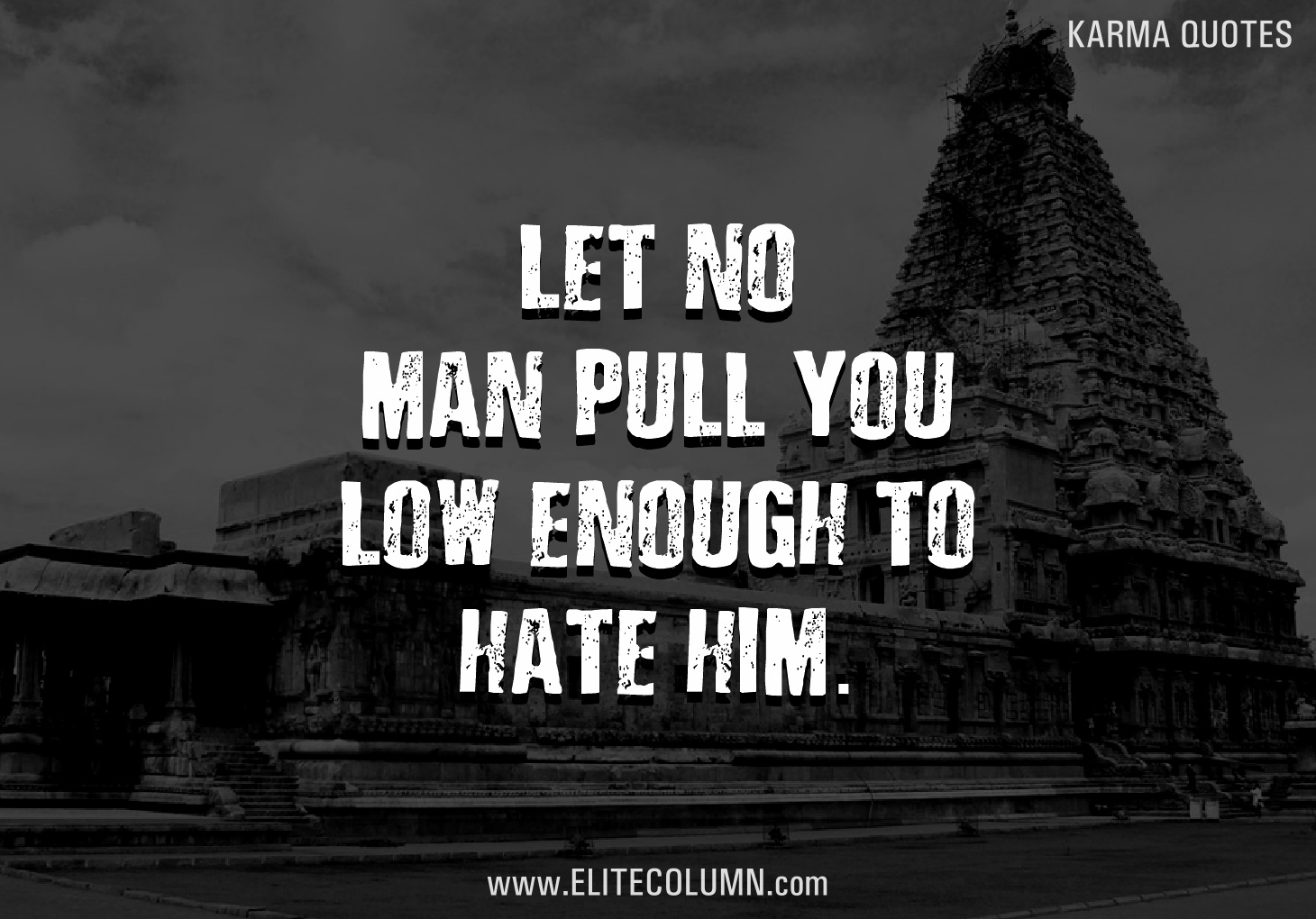 53. "Let no man pull you low enough to hate him."
54. "So never rule out retribution. But never expect it."
55. "Karma can be seen as a curse or a gift because it keeps us attached to this world."
Thanks for checking out the best Karma Quotes. Feel free to share the quotes with your friends. Leave a comment below and which are your favorite Karma Quotes ?
See also:
Plato Quotes | Sun Tzu Quotes | Dalai Lama Quotes | Sadhguru Quotes | Confucius Quotes | Lao Tzu Quotes | Positive Quotes | Happiness Quotes | Inspirational Quotes | Life Quotes
You can find us at – Facebook | Instagram | LinkedIn | Pinterest | Twitter