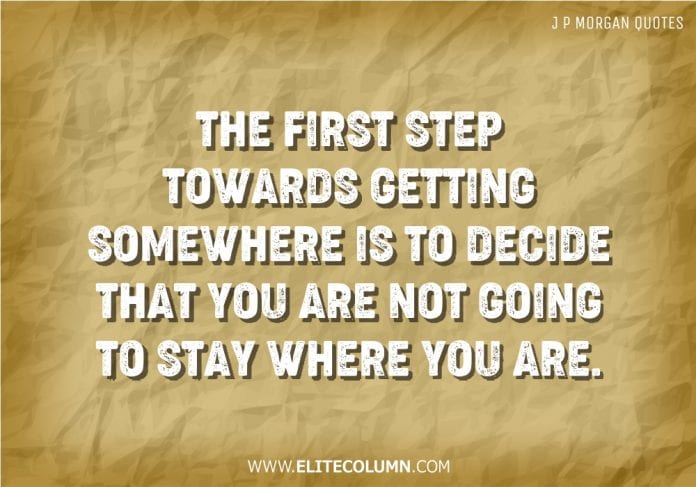 John Pierpont Morgan Sr. or more famously known as the legendary JP Morgan was the great American financer and banker of the early 20th century. He is credited to single handedly revolutionize the American banking sector with his acute sense of risk analysis and experimentation. His continuous hard work and insistence on modernization helped transform numerous American businesses. JP Morgan quotes will help you think like a rich man. Here are some of the best JP Morganquotes which are still inspirational for their pure simplicity and in-depth wisdom.
26 Motivational JP Morgan Quotes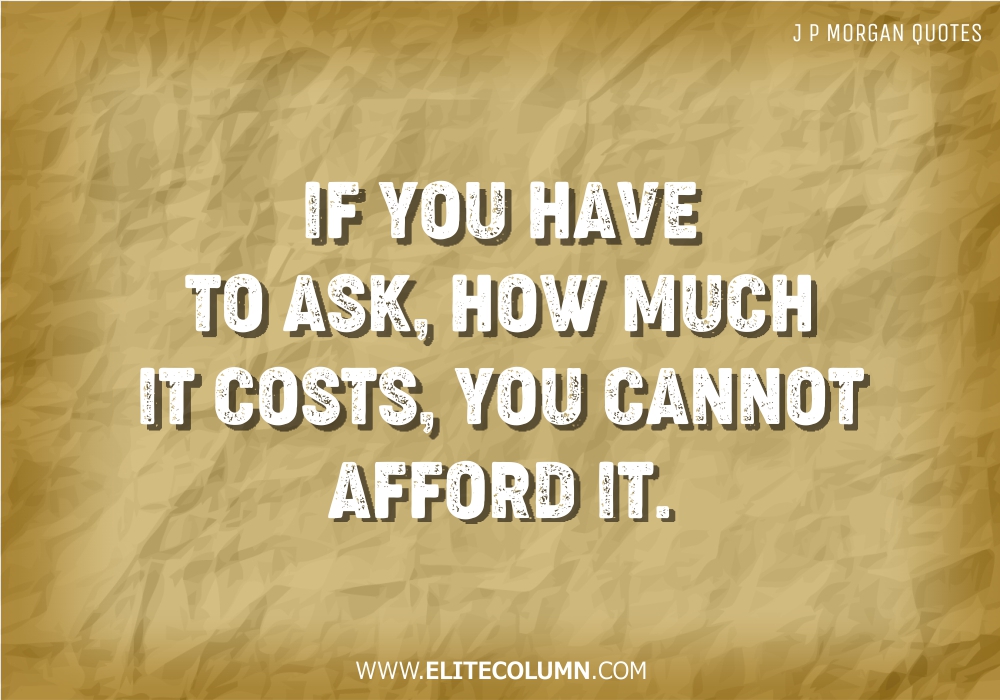 "If you have to ask, how much it costs, you cannot afford it." – JP Morgan
2. "It was not really a question of price. It was a question of success." – J P Morgan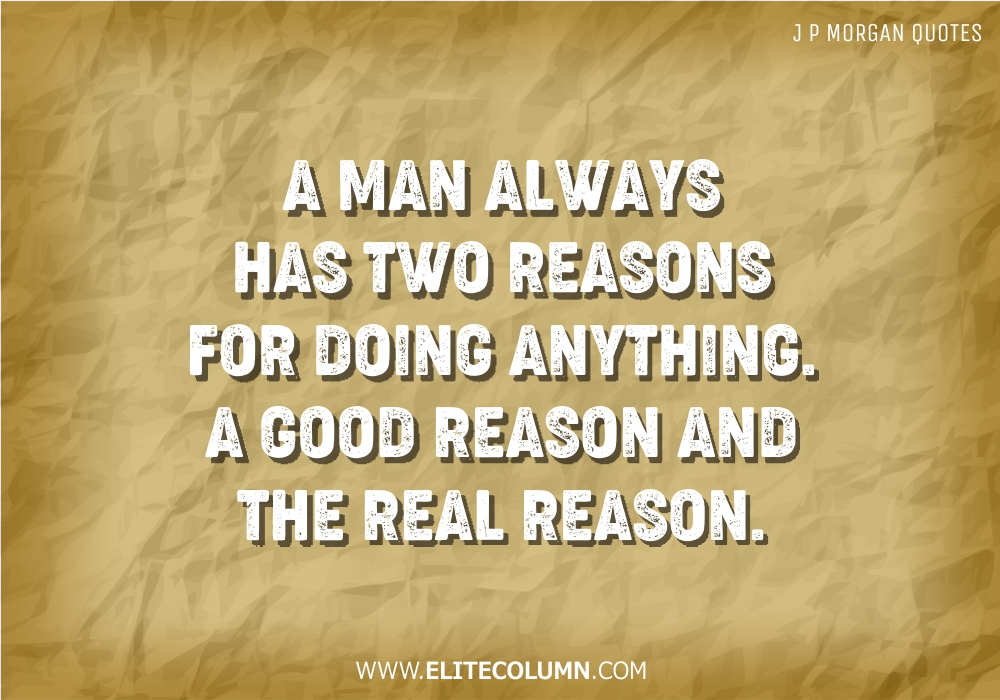 3. "A man always has two reasons for doing anything. A good reason and the real reason." – JP Morgan
4. "Go as far as you can see; when you get there, you'll be able to see farther." – J P Morgan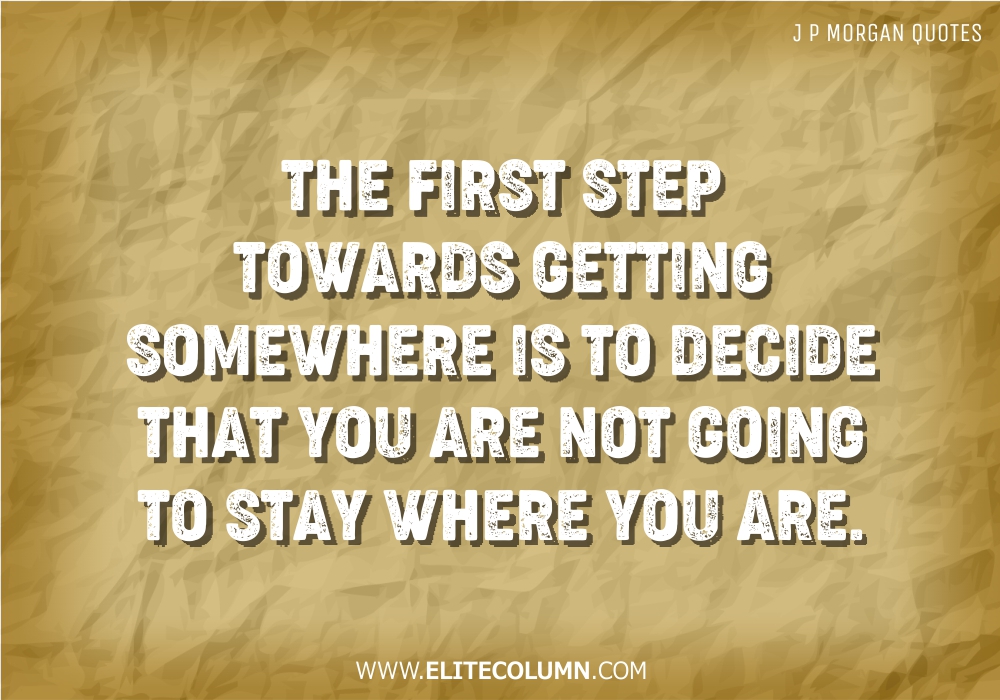 5. "The first step towards getting somewhere is to decide that you are not going to stay where you are." – JP Morgan"
6. "I feel bound in honour when I reorganise a property and am morally responsible for its management, to protect it – and I generally do protect it." – J P Morgan
7. "If you want time to pass quickly, just give a banker your note for 90 days." – J P Morgan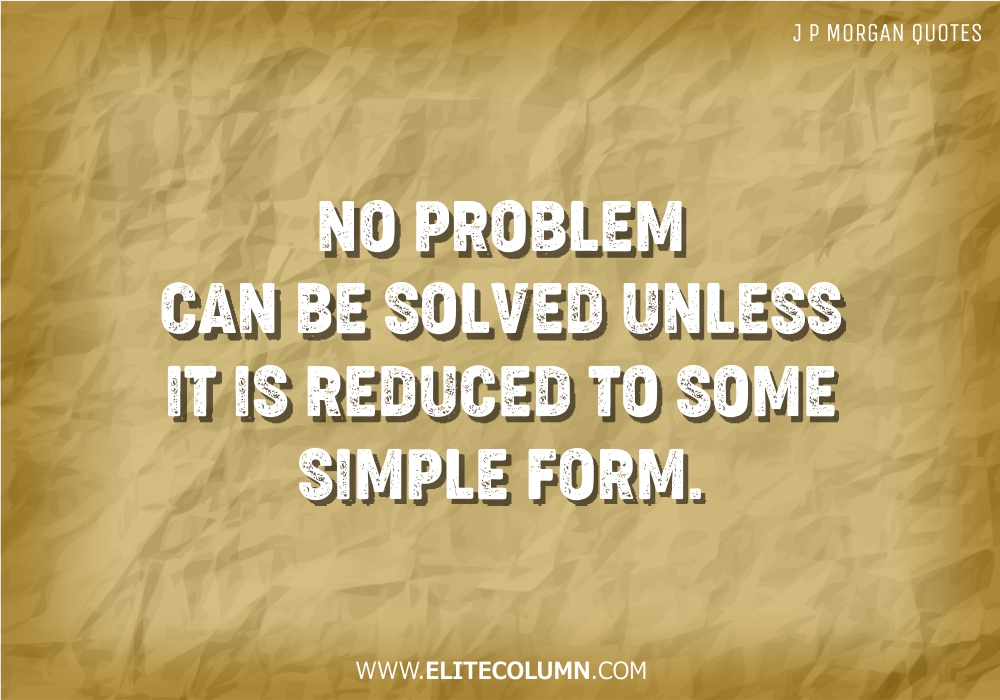 8. "No problem can be solved unless it is reduced to some simple form." – JP Morgan
9. "Any man who has to worry about the annual upkeep of his yacht can't afford to own one." – J P Morgan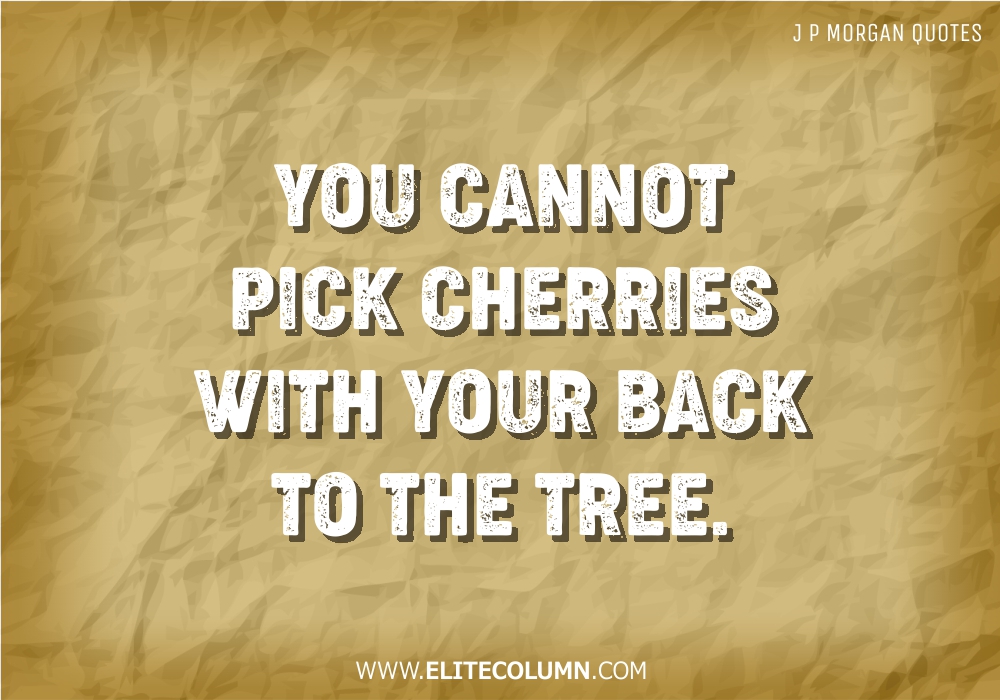 10. "You cannot pick cherries with your back to the tree." – JP Morgan
11. "You are rich when you can buy what you want." – J P Morgan
See also:
Mel Robbins Quotes | Robert Kiyosaki Quotes | Tony Robbins Quotes | Simon Sinek Quotes | Sundar Pichai Quotes | David Meltzer Quotes | Gary Vaynerchuk Quotes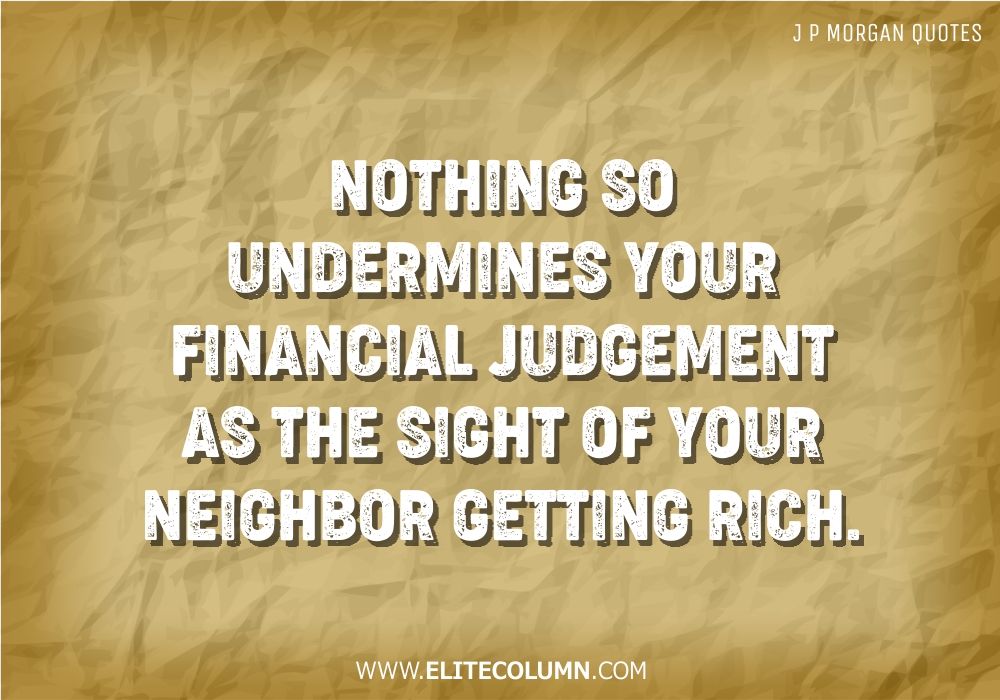 12. "Nothing so undermines your financial judgement as the sight of your neighbor getting rich." – JP Morgan
13. "The first thing is character… Money cannot buy it." – J P Morgan
14. "The ability to obtain credit is largely a matter of personality." – J P Morgan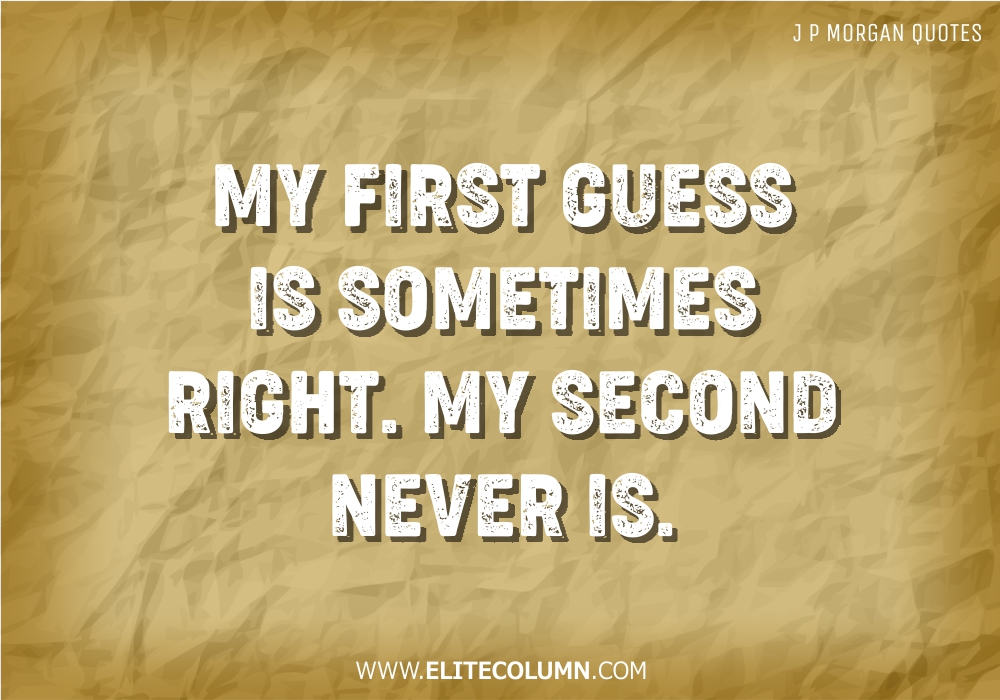 15. "My first guess is sometimes right. My second never is." – JP Morgan
16. "If it is good business for the interests of the country to do it, I do it." – J P Morgan
17. "You can't unscramble eggs."- J P Morgan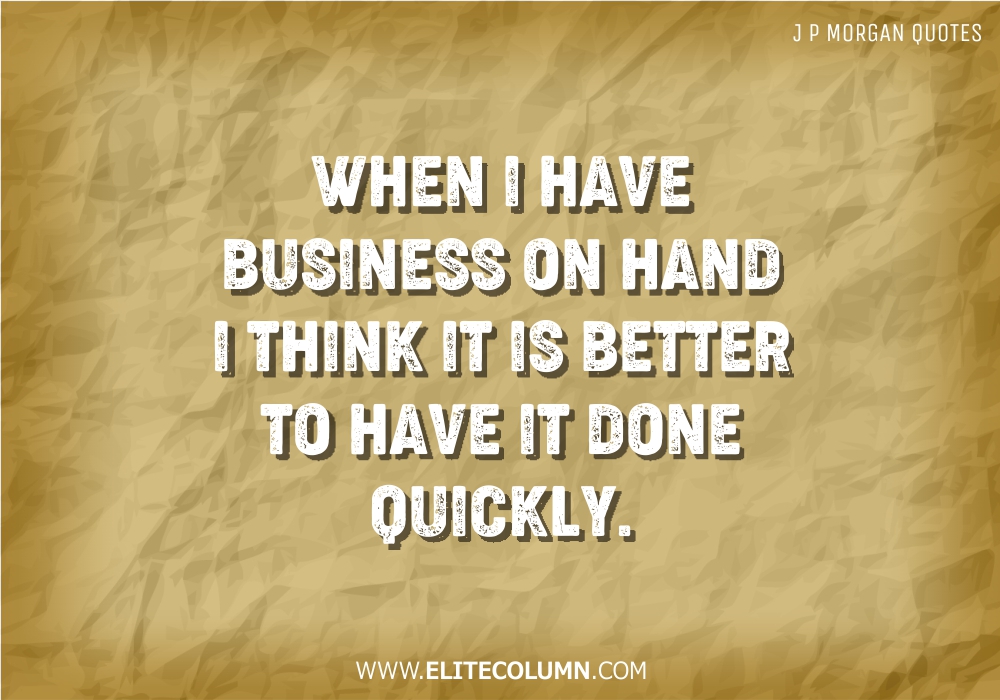 18. "When I have business on hand I think it is better to have it done quickly." – JP Morgan
19. "No price is too great for a work of unquestioned beauty and known authenticity." – J P Morgan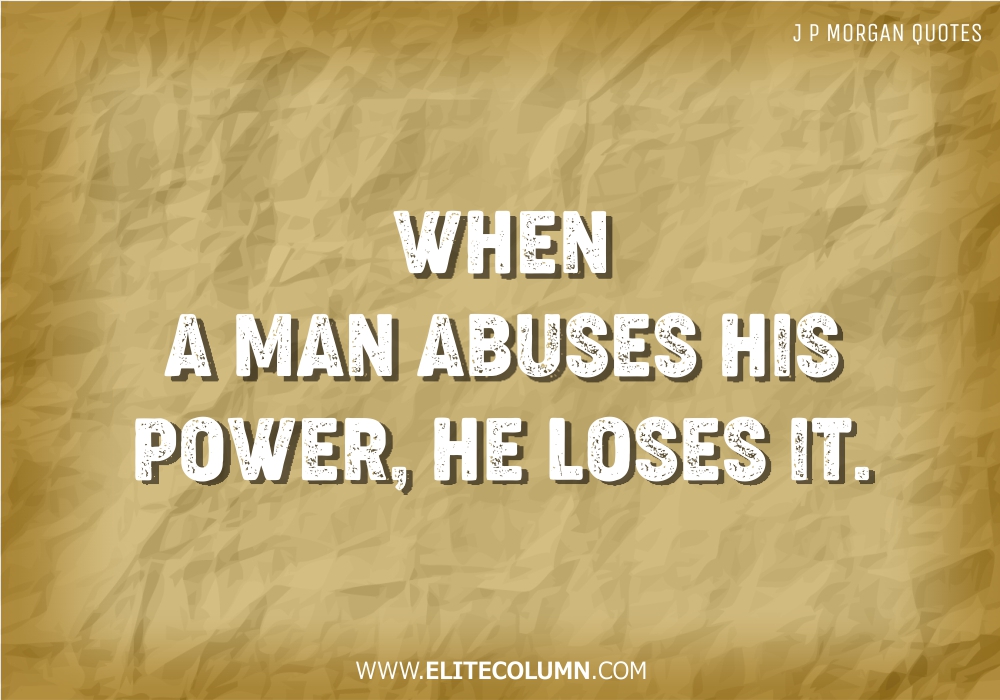 20. "When a man abuses his power, he loses it." – JP Morgan
21."Well, I don't know as I want a lawyer to tell me what I cannot do. I hire him to tell how to do what I want to do." – J P Morgan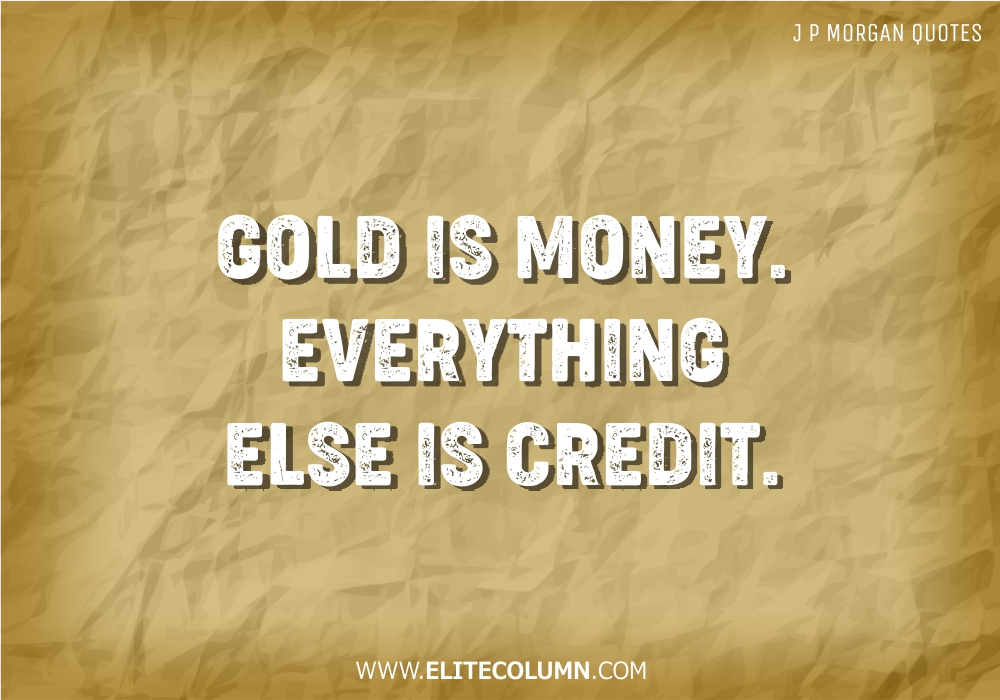 22. "Gold is money. Everything else is credit." – JP Morgan
23. "Millionaires don't use Astrology, billionaires do." – J P Morgan
24. "Remember, my son, that any man who is a bear on the future of this country will go broke." – J P Morgan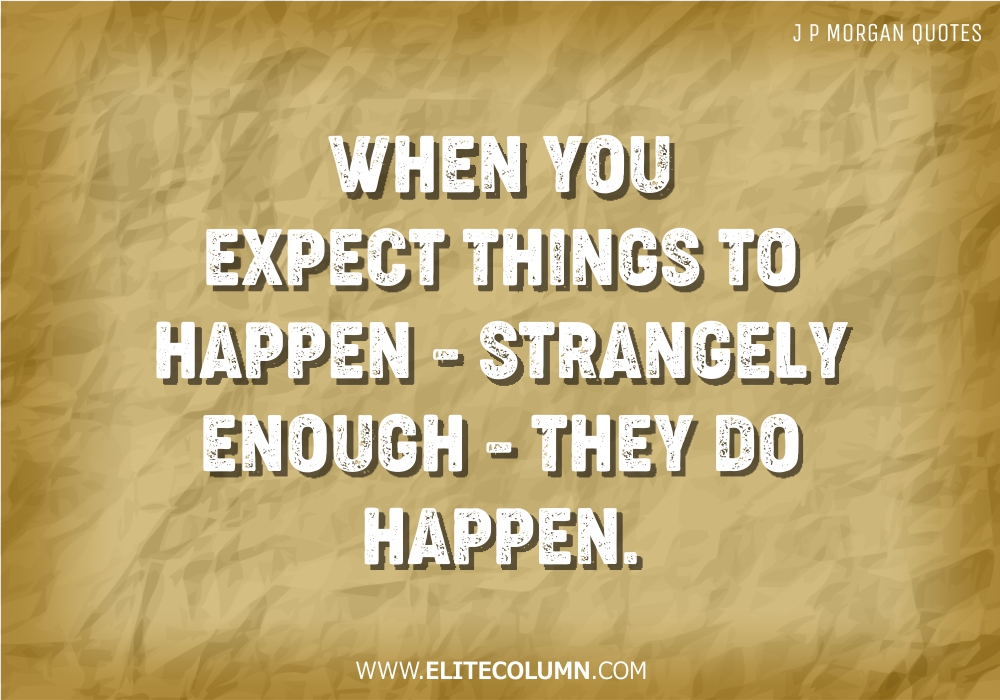 25. "When you expect things to happen – strangely enough – they do happen." – JP Morgan
26. "Money equals business which equals power, all of which come from character and trust." – J P Morgan
Thanks for checking out the best JP Morgan quotes. Feel free to share the quotes with your friends. Leave a comment below and which are your favorite JP Morgan quotes ?
See also:
Swami Vivekananda Quotes | Sergey Brin Quotes | Elon Musk Quotes | Chris Gardner Quotes | John Nash Quotes | Stephen Hawking Quotes | Warren Buffett Quotes | Jack Ma Quotes | Jeff Bezos Quotes
You can find us at – Facebook | Instagram | LinkedIn | Pinterest | Twitter