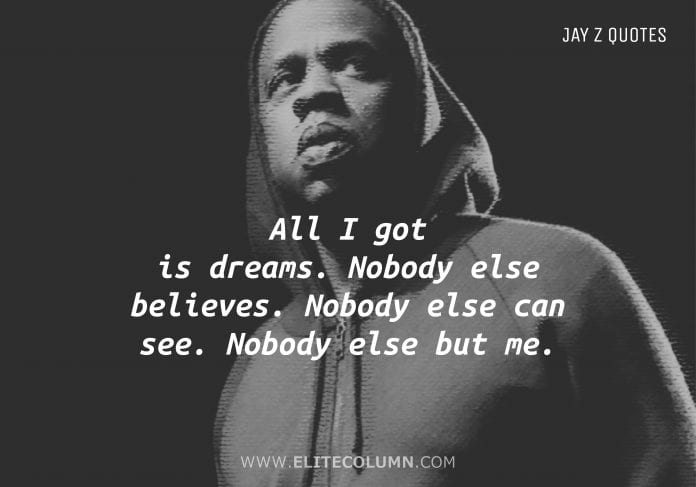 Apart from his award-winning hip-hop tracks, Jay Z is known for an array of successful business interests, as well as his marriage to singer Beyoncé. As he grew up in a drug-infested Marcy Projects, he used rap as an escape, appearing for the first time on 'Yo! MTV Raps'. After selling millions of records with his Roc-a-Fella label, Jay Z created his own clothing line and founded an entertainment company. Jay Z quotes will help boost your confidence level. EliteColumn brings you the best hand-picked Jay Z quotes.
40 Motivational Jay Z Quotes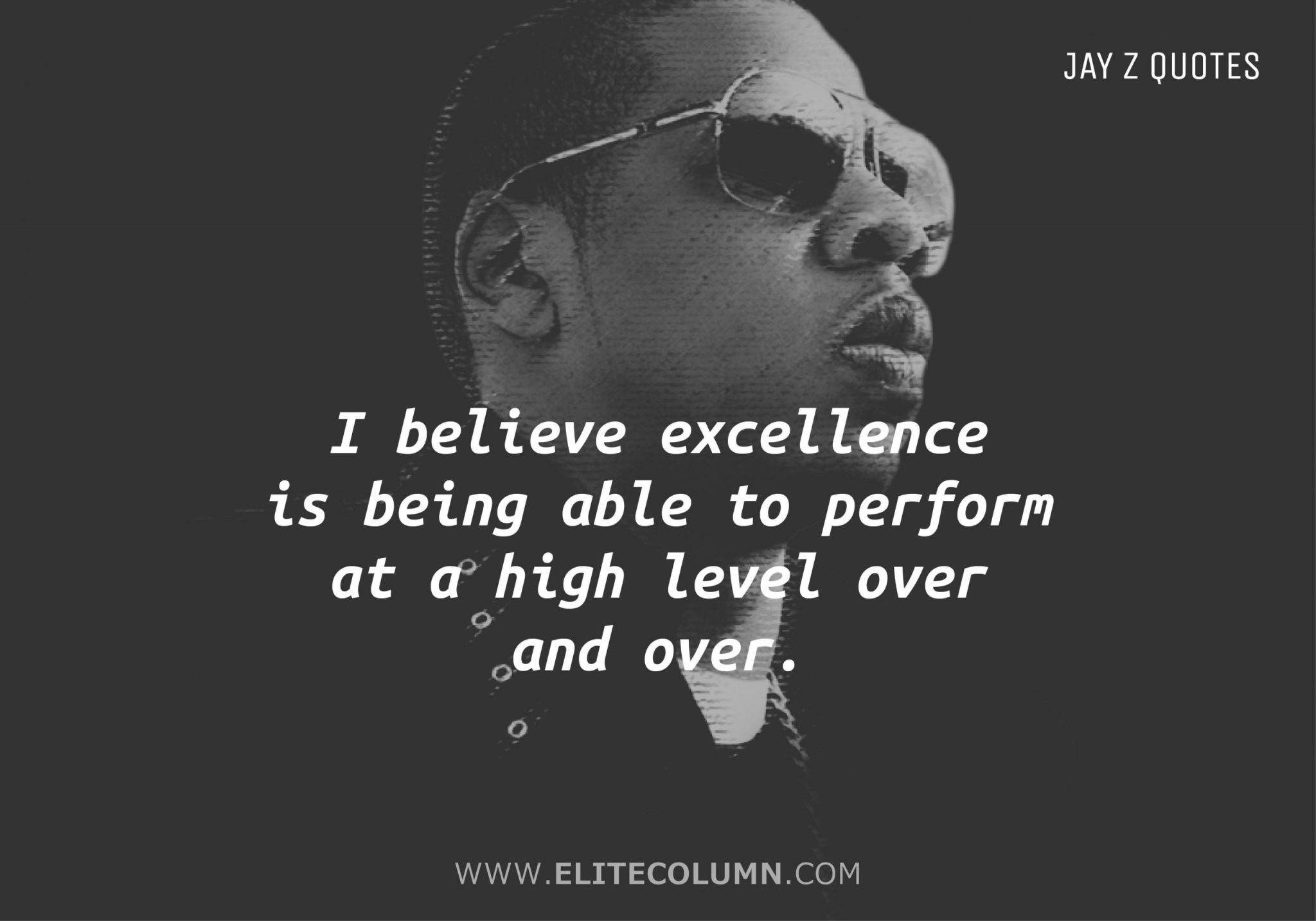 "I believe excellence is being able to perform at a high level over and over." – Jay Z
2. "Everything evens up, you just wait. Even a garage can gets a steak. You are not even a garbage can, you have faith!" – Jay Z
3. "You can pay for school but you can't buy class. "- Jay Z
4. "You learn more in failure than you ever do in success. "- Jay Z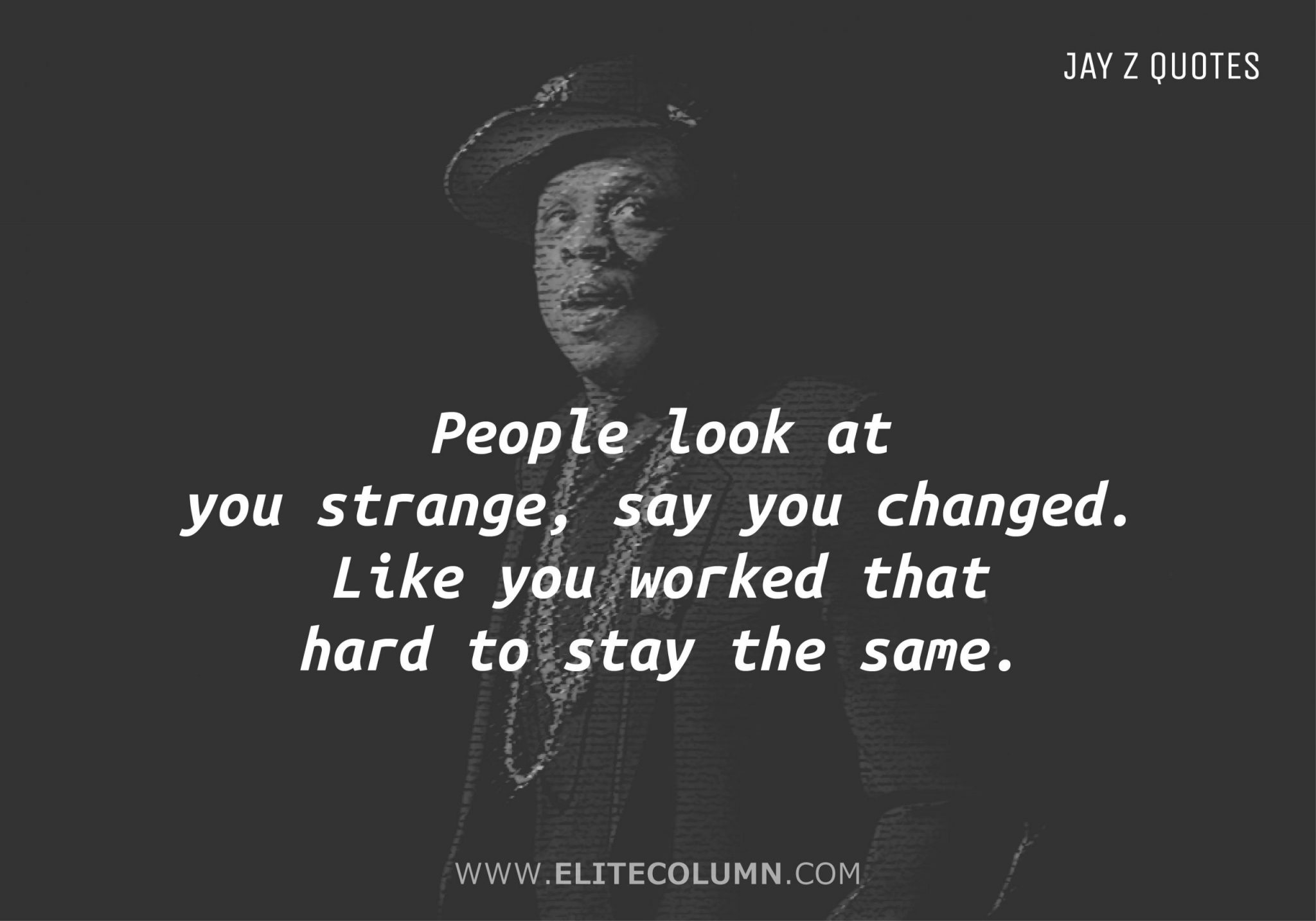 5. "People look at you strange, say you changed. Like you worked that hard to stay the same." – Jay Z
6. "I will not lose, for even in defeat, there's a valuable lesson learned, so it evens up for me." – Jay Z
7. "Difficult takes a day, impossible takes a week." – Jay Z
8. "Either love me, or leave me alone." – Jay Z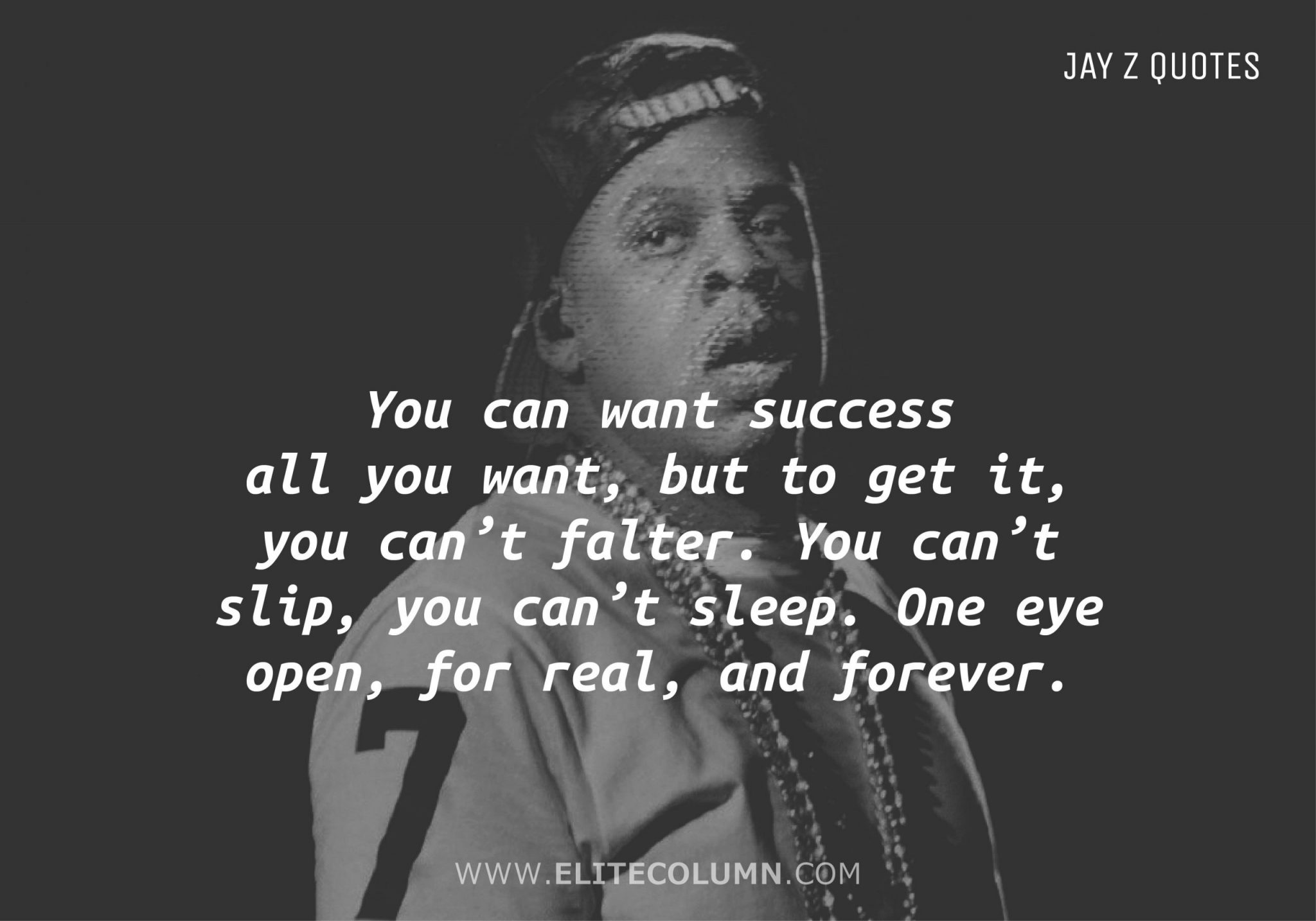 9. "You can want success all you want, but to get it, you can't falter. You can't slip, you can't sleep. One eye open, for real, and forever." – Jay Z
10. "Don't tell me what was said about me… Tell me why they were so comfortable to say it to you." – Jay Z
11. "It's a brand new world. Let me show you." – Jay Z
12. "They talk. We live. Who cares what they say?" – Jay Z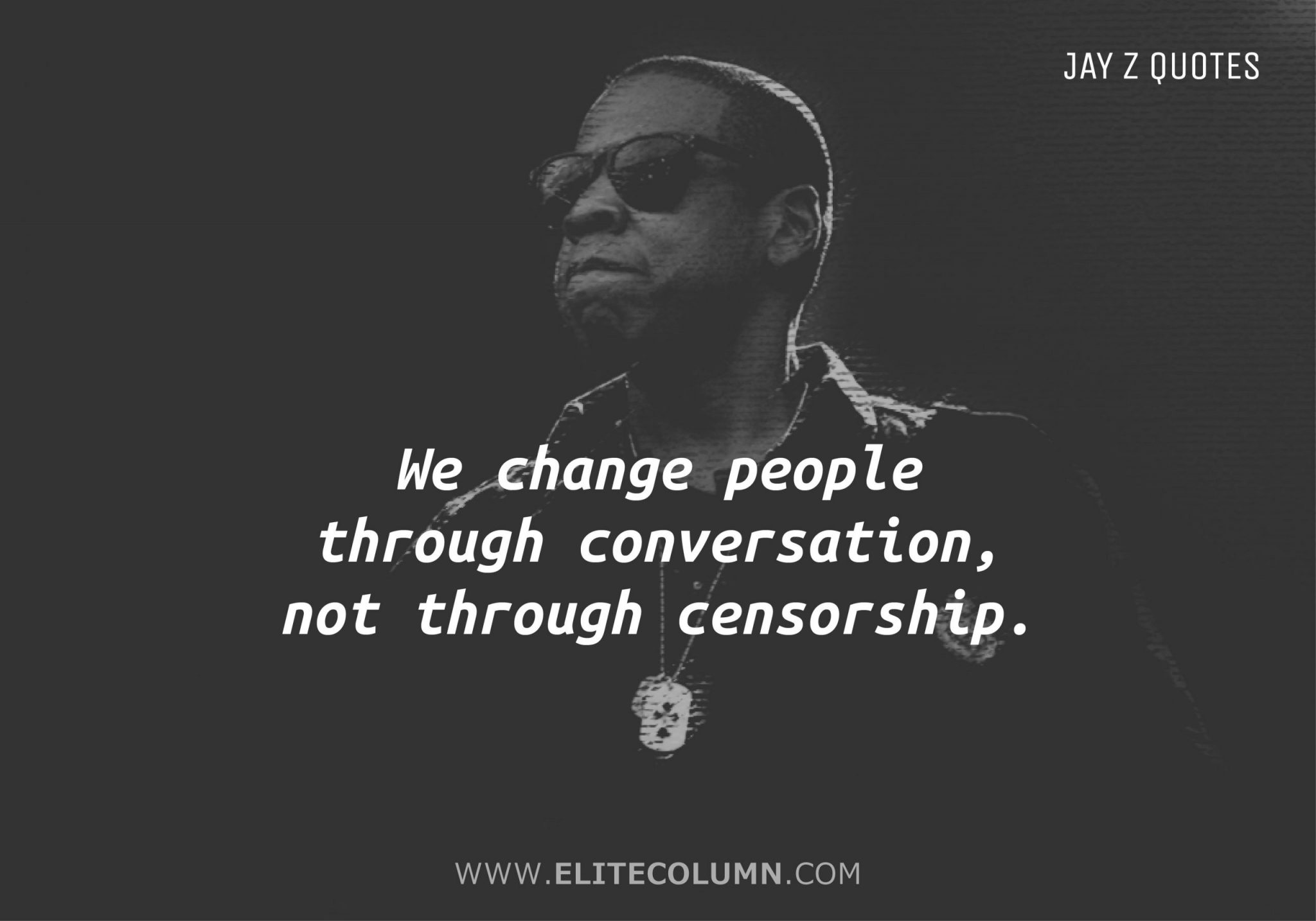 13. "We change people through conversation, not through censorship." – Jay Z
14. "Those who are successful overcome their fears and take action. Those who aren't submit to their fears and live with regrets." – Jay Z
15. "If ya'll can't already see, I ain't worried about ya'll, 'cause I'm already me. "- Jay Z
16. "I'd rather die enormous than live dormant." – Jay Z
See also:
Justin Bieber Quotes | Ed Sheeran Quotes | Taylor Swift Quotes | Eminem Quotes | Michael Jackson Quotes | Nicki Minaj Quotes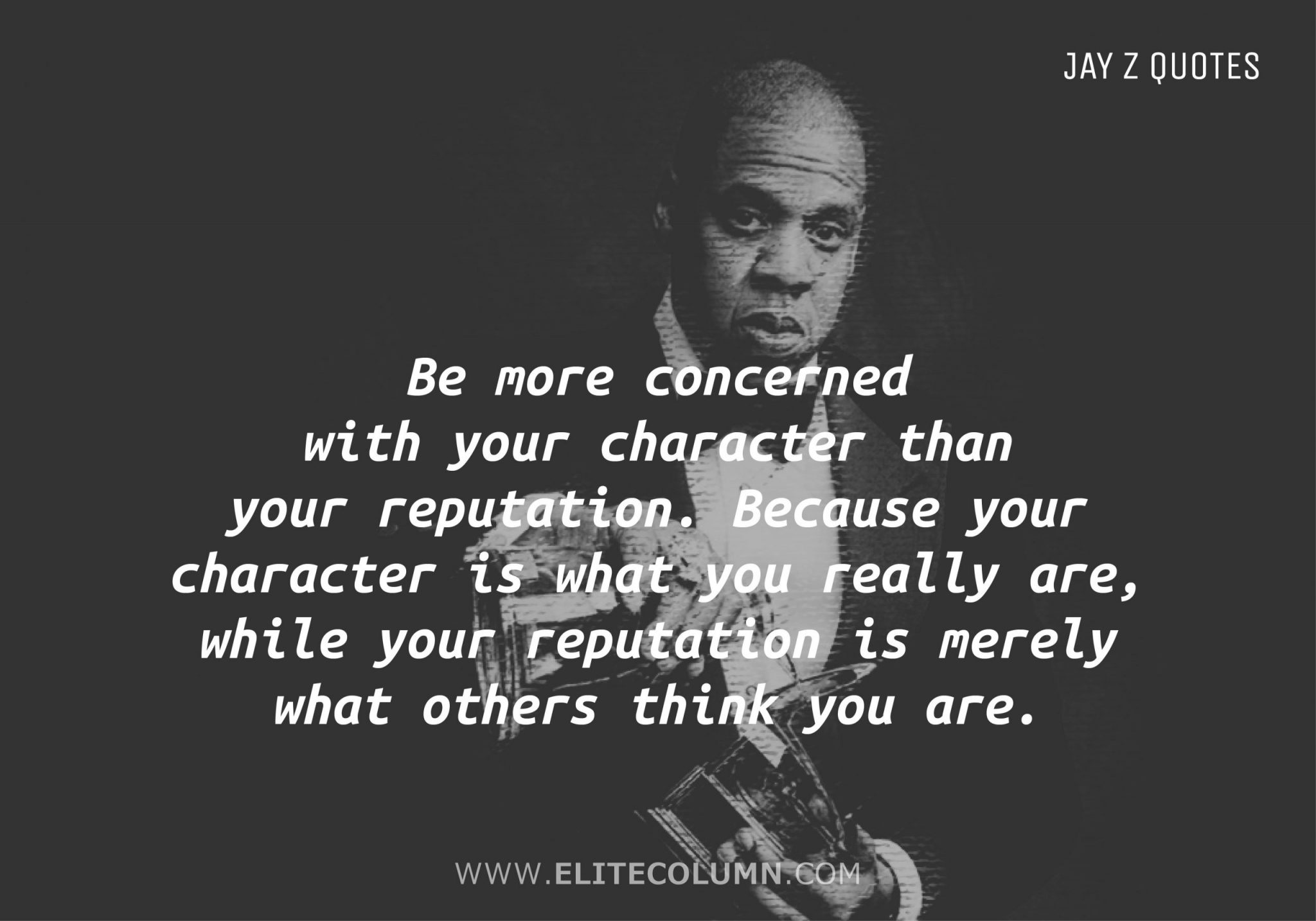 17. "Be more concerned with your character than your reputation. Because your character is what you really are, while your reputation is merely what others think you are." – Jay Z
18. "If it's you and me against the world, then so be it." – Jay Z
19. "I'm like a dog, I never speak, but I understand." – Jay Z
20. "I'm a hustler baby; I sell water to a well." – Jay Z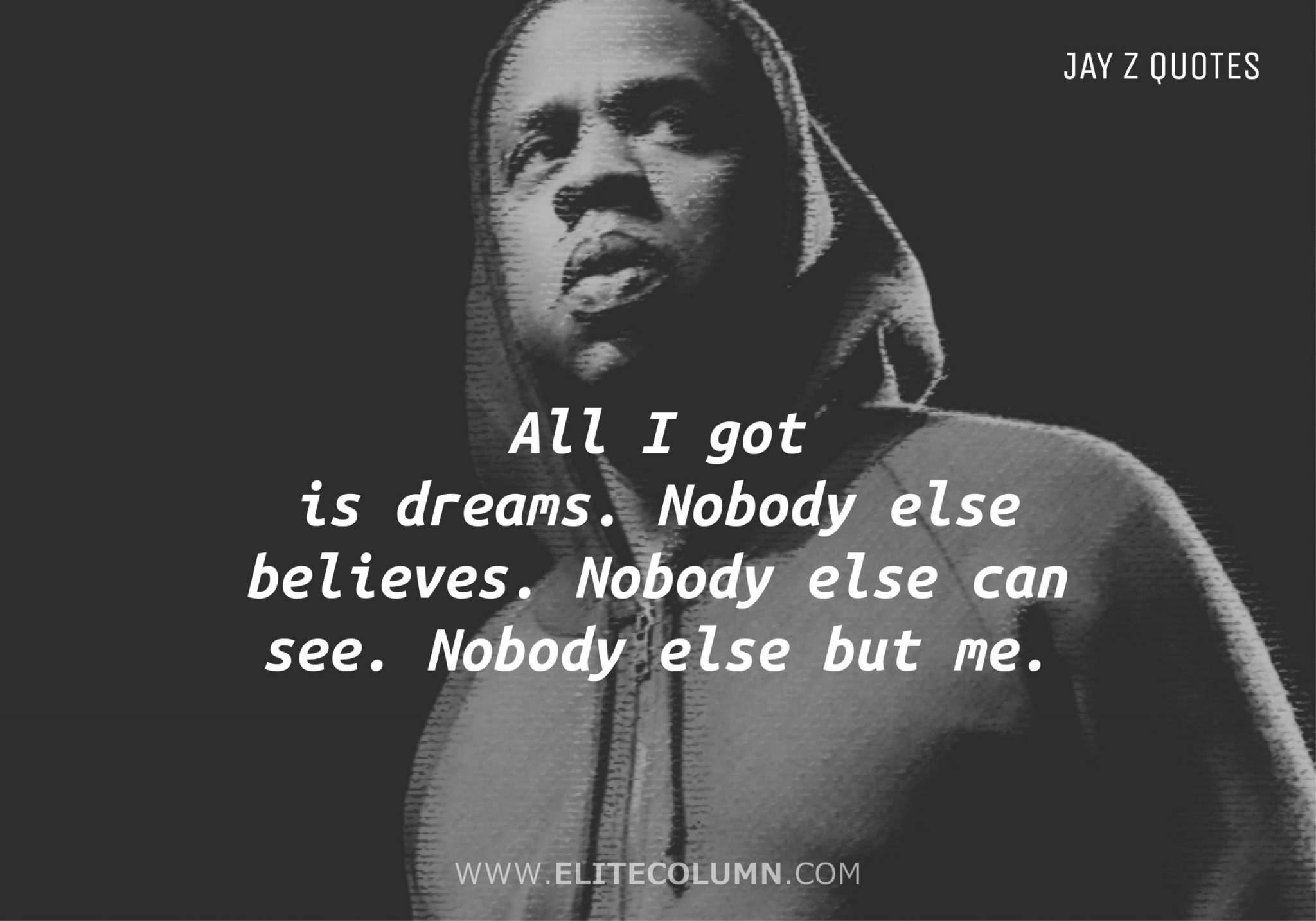 21. "All I got is dreams. Nobody else believes. Nobody else can see. Nobody else but me." – Jay Z
22. "If people don't hate you, you're probably not doing very big things." – Jay Z
23. "I believe everybody in the world is born with genius-level talent. Apply yourself to whatever you're genius at and you can do anything in the world." – Jay Z
24. "I went through hell, I'm expecting heaven." – Jay Z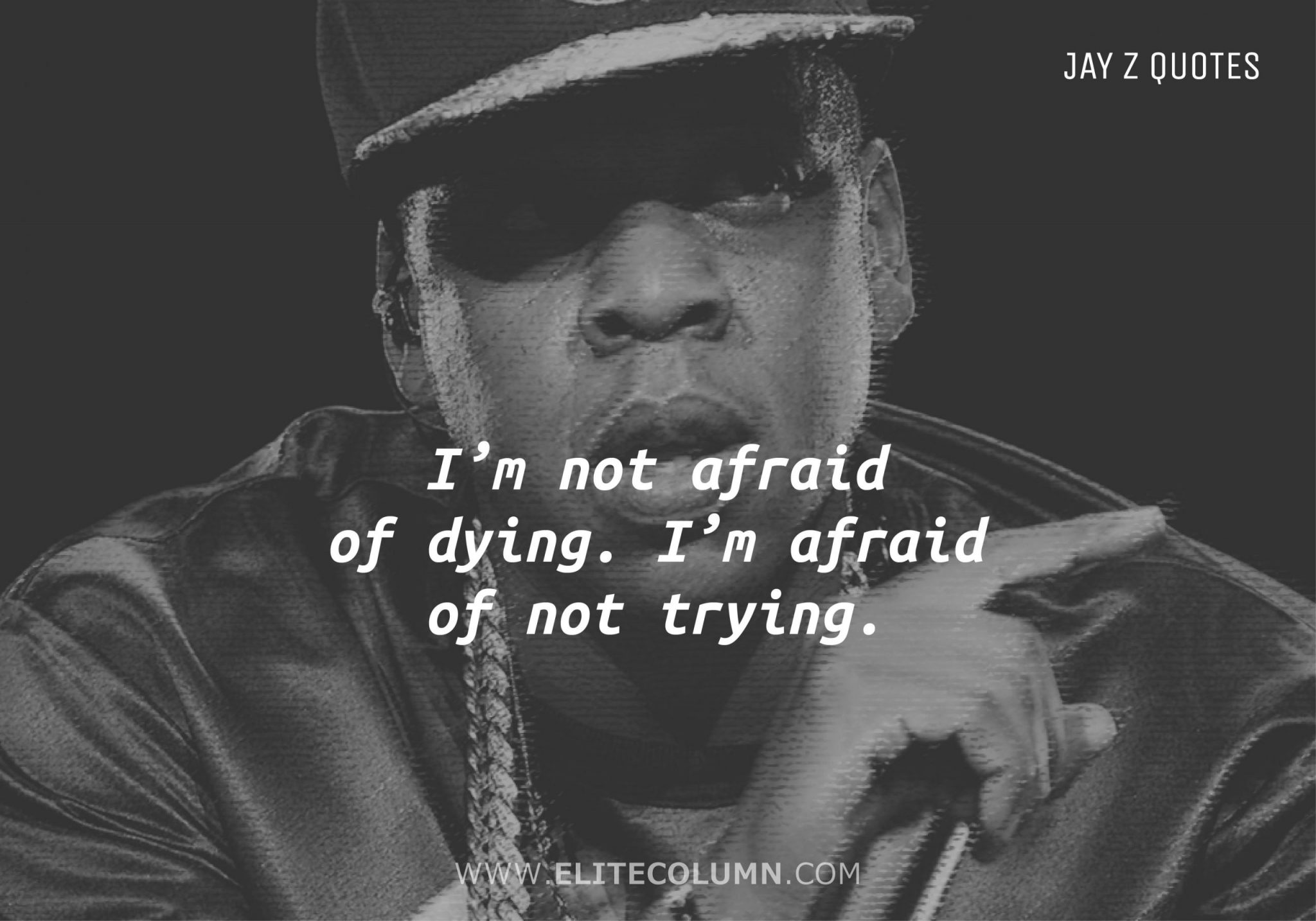 25. "I'm not afraid of dying. I'm afraid of not trying." – Jay Z
26. "I'm far from being god, but I work god damn hard." – Jay Z
27. "I think relationships are broken up because of the media." – Jay Z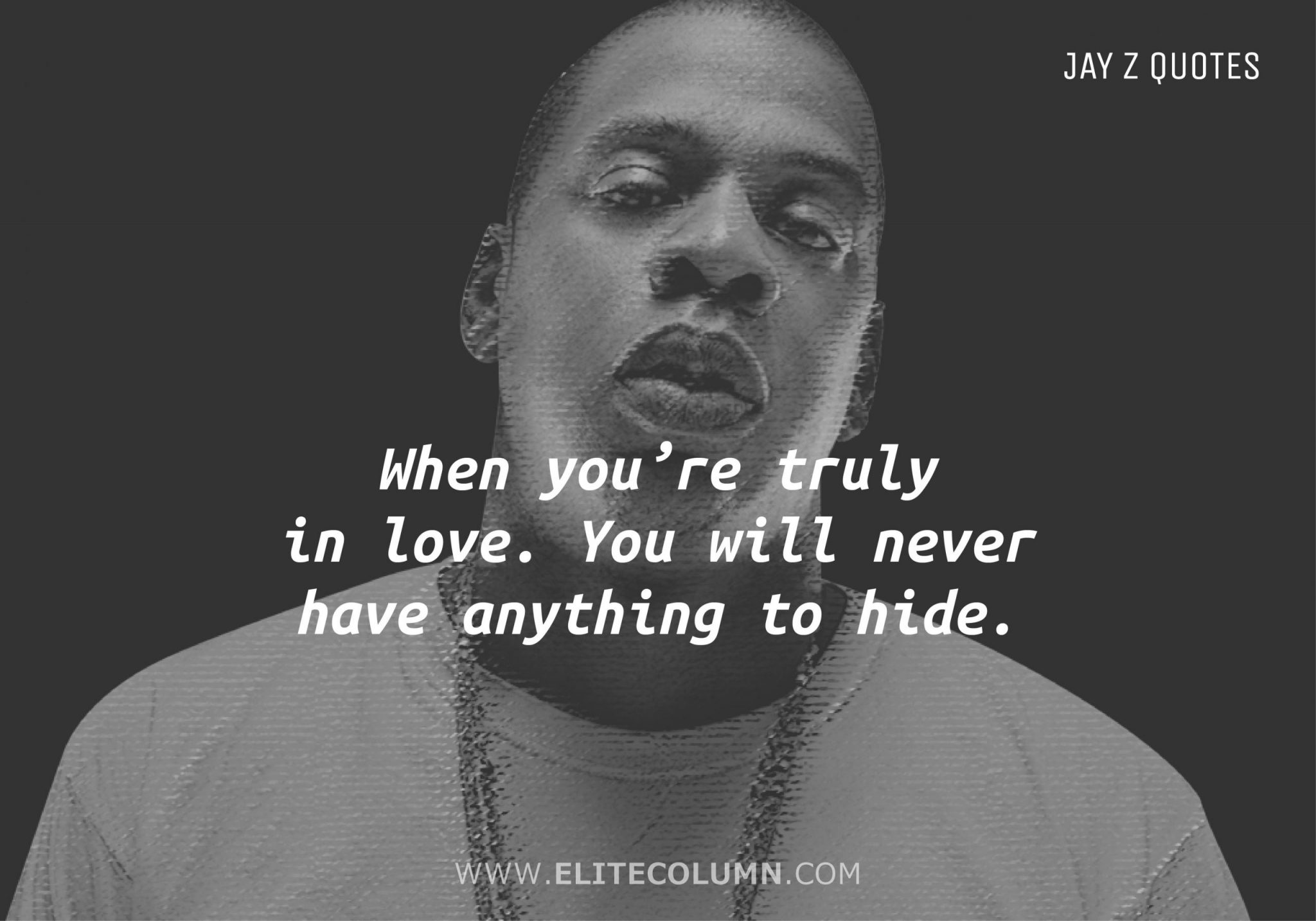 28. "When you're truly in love. You will never have anything to hide." – Jay Z
29. "My brands are an extension of me. They're close to me. It's not like running GM, where there's no emotional attachment." – Jay Z
30. "Wherever I go, I bring the culture with me, so that they can understand that it's attainable.
31. "Do me a favor. Don't do me no favors. I handle mine." – Jay Z
See also:
Ariana Grande Quotes | Madonna Quotes | Bruno Mars Quotes | Kanye West Quotes | Rihanna Quotes | Drake Quotes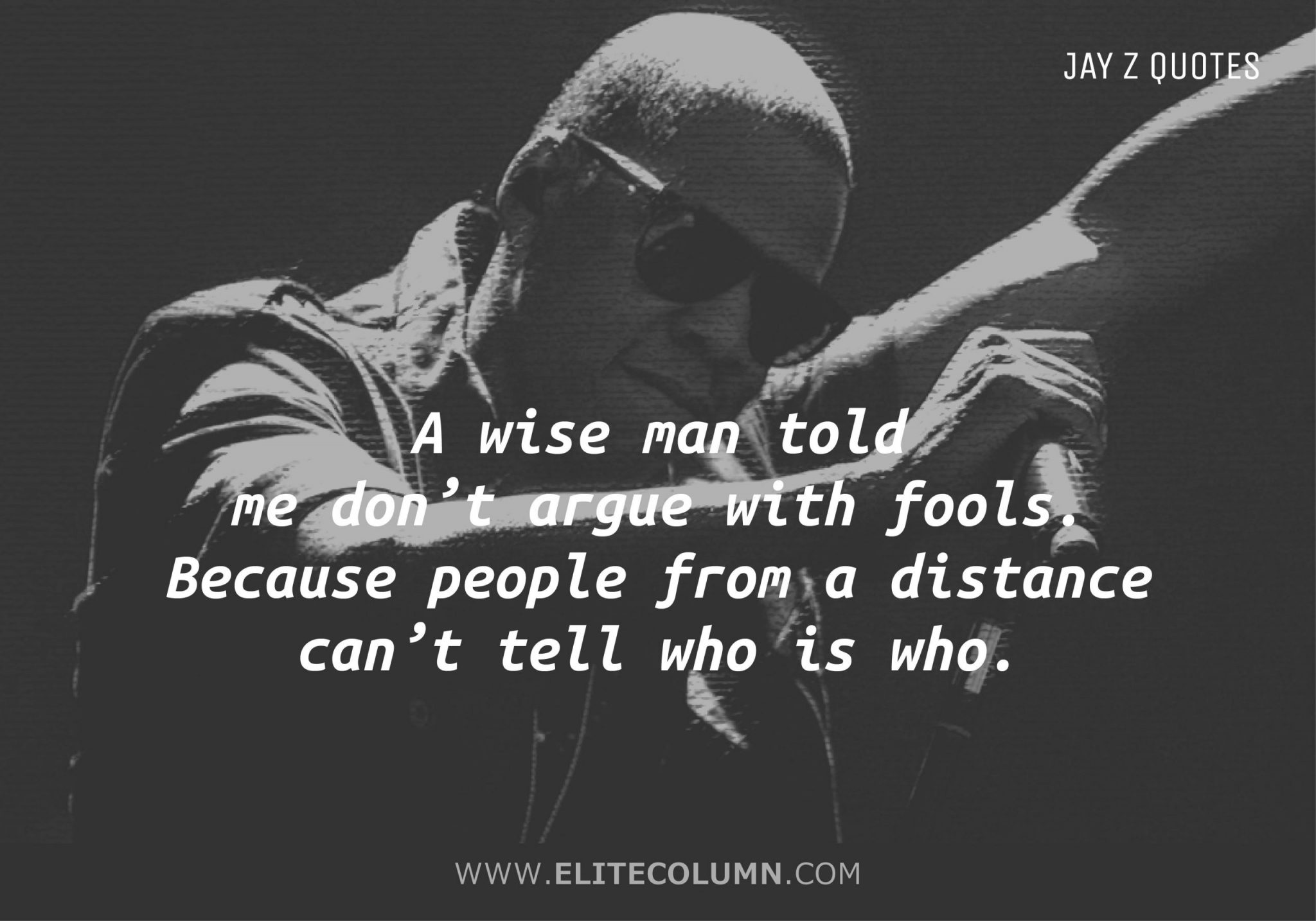 32. "A wise man told me don't argue with fools. Because people from a distance can't tell who is who." – Jay Z
33. "People respect success. They respect big. They don't even have to like your music. If you're big enough, people are drawn to you. "- Jay Z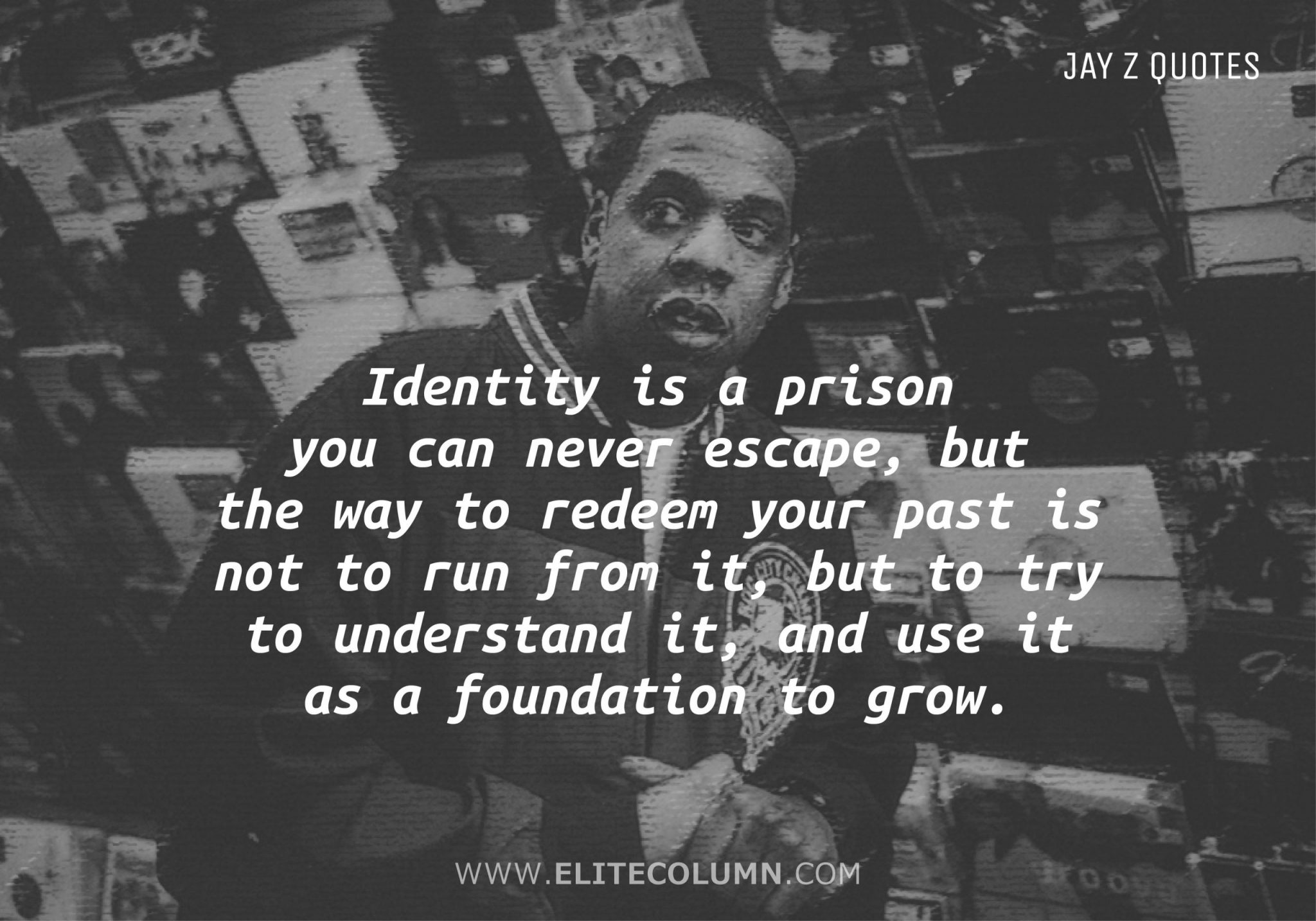 34. "Identity is a prison you can never escape, but the way to redeem your past is not to run from it, but to try to understand it, and use it as a foundation to grow." – Jay Z
35. "Leave a mark they can't erase, neither space nor time." – Jay Z
36. "Photoshoot fresh looking like wealth, I'm about to call the paparazzi on myself." – Jay Z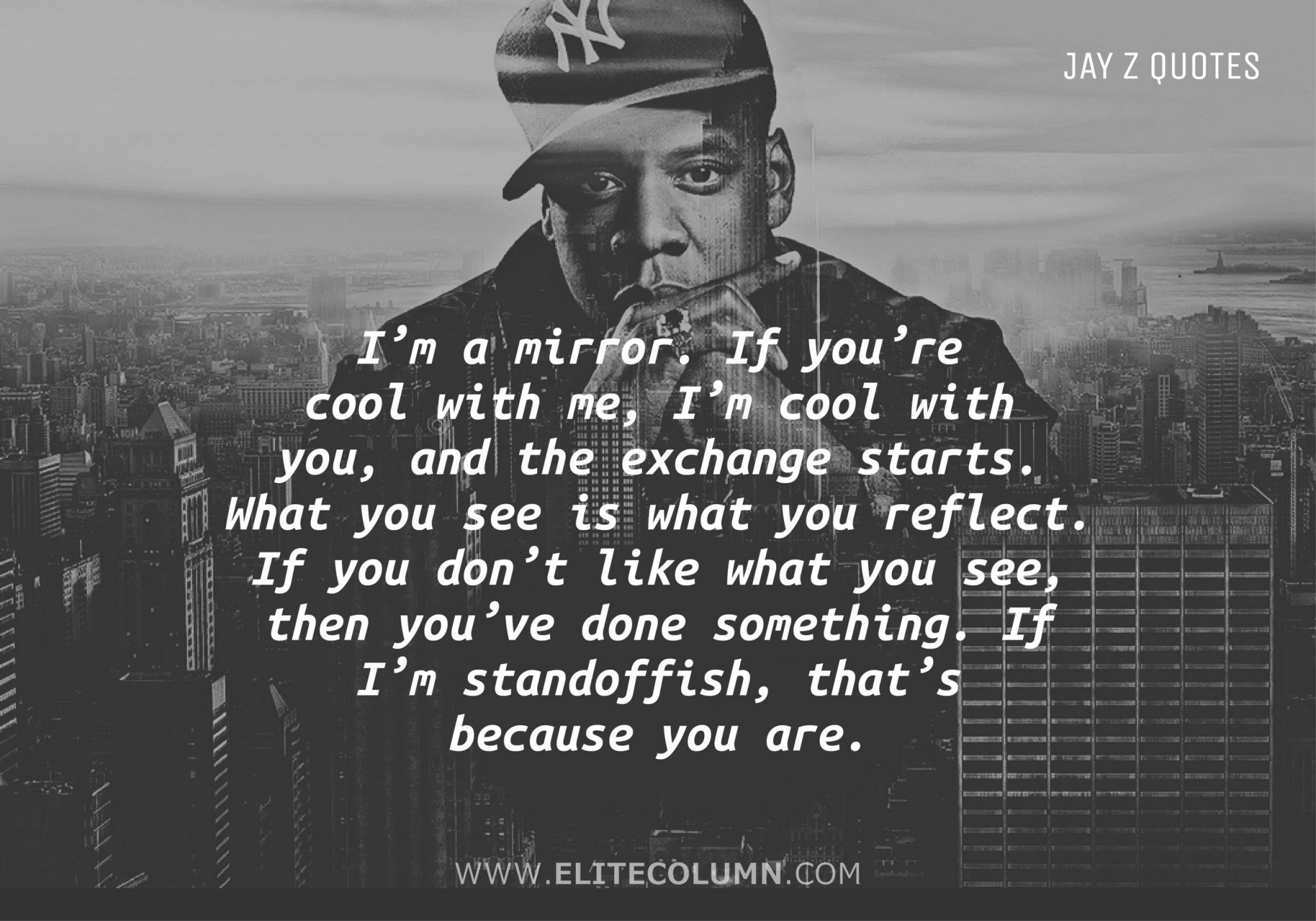 37. "I'm a mirror. If you're cool with me, I'm cool with you, and the exchange starts. What you see is what you reflect. If you don't like what you see, then you've done something. If I'm standoffish, that's because you are." – Jay Z
38. "Belief in oneself and knowing who you are, I mean, that's the foundation for everything great." – Jay Z
39. "I sell ice in winter, I sell fire in hell." – Jay Z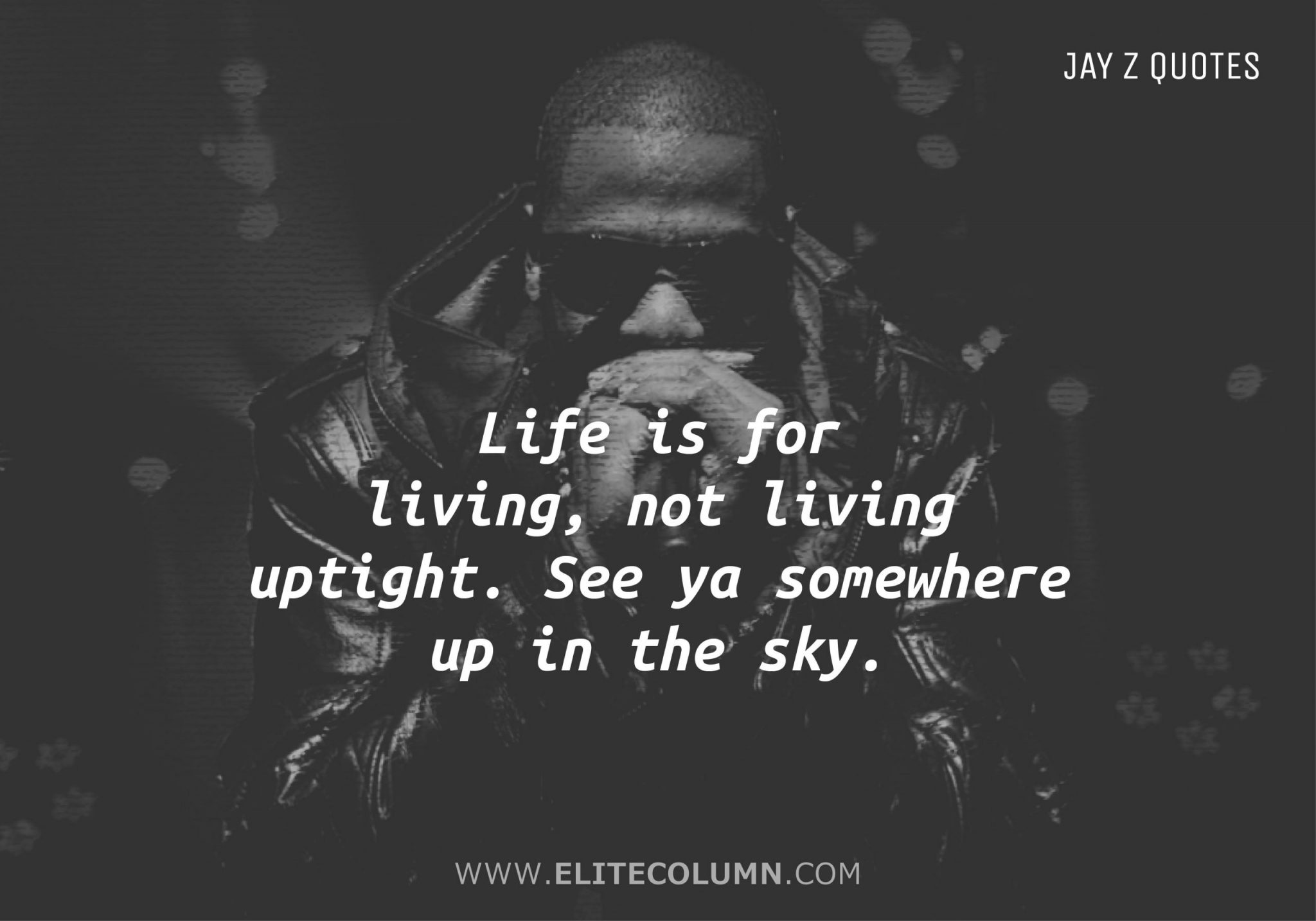 40. "Life is for living, not living uptight. See ya somewhere up in the sky." – Jay Z
Thanks for checking out the best Jay Z quotes. Feel free to share the quotes with your friends. Leave a comment below and which are your favorite Jay Z quotes ?
See also:
Demi Lovato Quotes | Harry Styles Quotes | Chester Bennington Quotes | Beyonce Quotes | Katy Perry Quotes | Tupac Shakur Quotes | Lady Gaga Quotes
You can find us at – Facebook | Instagram | LinkedIn | Pinterest | Twitter